I am no good at numbered lists or rankings. What follows is simply a collection of films that stood out to me, for one reason or another, over the past year. Stories that impacted me and the world around us. 2016 was a completely shitshow for a variety of reasons, but film was not one for them. There were some extraordinary stories put out there that gave me joy, hope and a moment of peace when the rest of the world seemed to be crumbling. And here they are.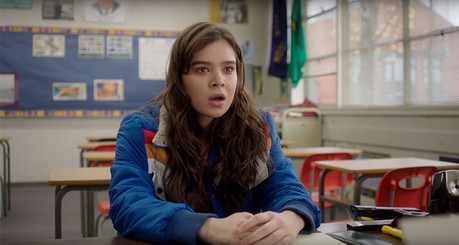 THE EDGE OF SEVENTEEN - I am really looking forward to the world discovering this amazing coming of age story when it hits Blu-ray and streaming services in a couple of months. It was far too ignored in theaters, and is one of the best teen films I have ever seen. A story about understanding yourself and how you fit into the world around you, discovering empathy and taking a vital step toward adulthood, this film is funny, smart and touching.
JACKIE - A beautiful portrait of grief that also embraces notions of history and remembrance. It also showed a strong woman dealing with impossible horrors and still remaining in control of her own narrative. Well acted and wonderfully structured. Natalie Portman's performance was stellar, capturing the fear, the despair, the uncertainty, and the hope of a woman facing down something unthinkable and pulling herself through.
LA LA LAND - this film made my heart soar. A wonderful marriage of spectacle, love and the importance of art and creators. Beautiful from beginning to end. Great visuals, great music, incredible leads and an undying celebration for creating and chasing the impossible.
ROGUE ONE - In addition to being a great addition to the Star Wars universe and building upon established mythology, ROGUE ONE is a film that feels very of our time. It feels needed. Seeing this band of characters come together for a seemingly impossible task of unfathomable importance and shouldering that responsibility for the greater good feels very personal. Very relatable and inspiring. I think this film would have played well at any time, but in this particular moment, it strikes a particular chord and encourages us all to look to the future and our role in shaping it.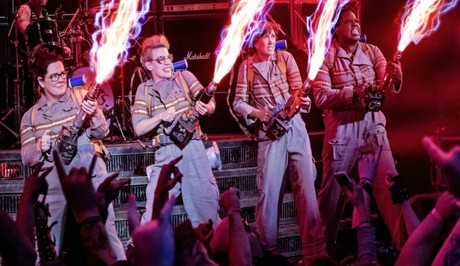 GHOSTBUSTERS - Overcoming a storm of hate before the trailer even hit, the new GHOSTBUSTERS gave me a wonderful sense of joy and hope. Watching a group of smart, capable women doing science, working together and saving the day made my heart smile and my eyes leak a salty liquid substance. Despite a clunky script, these characters and this story connected with so many people and left a mark that goes deeper than box office numbers. Having this story is important, and it made me feel connected to something bigger and to millions of other women that I have never even met. We find a joy and a sense of celebration and camaraderie in this film that we don't often get in real life.
KUBO AND THE TWO STRINGS - Laika continues to impress with their beautiful worlds and stories, and their latest delivered a timeless tale of family in perhaps their most stunning visual style to date. This film had me from beginning to end and delivered a delightful and emotional story.
THE NICE GUYS - Shane Black returned this year with another win. Like KISS KISS BANG BANG, THE NICE GUYS gave us a stylized mystery wrapped in the comedic talents of its cast. Gosling and Crowe are sheer perfection and every second of this film is glorious. I can't wait to watch it a thousand more times.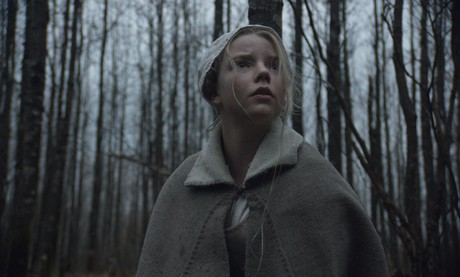 THE WITCH - If this list had been numbered and ranked, THE WITCH would absolutely be at the top. My very favorite film of 2016. No question. Robert Eggers gave us a horror film that is uniquely terrifying, brilliantly acted and steeped in a rich atmosphere. Every second of this film is used well and creates a story that scares and fascinates in a way that few others can.
THE INVITATION - Few films had my heart racing the way Karyn Kusama's THE INVITATION did. A well-paced look at grief and guilt that slowly works its way under your skin and refuses to leave, this film is expertly crafted, building slowly and steadily throughout, before finally exploding in a heart-stopping grand finale.
DEADPOOL - Ryan Reynolds has been training for this role his entire life. And the result is pure gold. Funny, action-packed and the right amount of insane, DEADPOOL gives us a comic book movie that isn't kid safe, but is just as much fun as any of its contemporaries.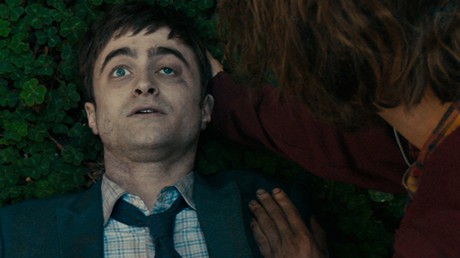 SWISS ARMY MAN - This was perhaps one of the most unexpected surprises of the year. When word came out of Sundance that there was a movie in which Paul Dano rode Daniel Radcliffe's corpse like a jet ski, propelled by farts, of course I was in. Duh. But when that film delivered a beautiful, funny, yet whimsically sad meditation on life and the human condition, the experience of watching it became so much more.
OUIJA: ORIGIN OF EVIL - I have been a fan of Mike Flanagan's since ABSENTIA, and watching him grow and take on new horror films has been a pleasure. His latest continues to demonstrate his ability to turn in something utterly frightening, yet also incorporates a solid emotional component via our connection with and concern for the Zander family. Given the source material, nobody expected this film to be as strong as it was, and it was absolutely one of my favorite horror offerings this year.
The CONJURING 2 - James Wan's continuation into the case files of Ed and Lorraine Warren once again delivered a film that handled the horror while also giving us an interesting story and mythology. I love the first film, but I would honestly rate the sequel a hair ahead of its predecessor. Really, this movie wins for the scene where Patrick Wilson sings Fools Rush In, but the freaky nun and the Crooked Man certainly don't hurt either.
TICKLED - One of the strangest, most surprising and compelling docs I saw all year focused on the black hole the filmmaker dove down when investigating the seemingly harmless, quirky world of competitive endurance tickling. This doc was not nearly as goofy as it appeared at the start, and we followed directors David Farrier and Dylan Reeve down some pretty dark and dangerous paths as they searched for the truth of this bizarre story.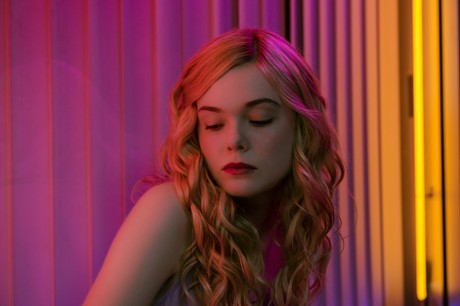 THE NEON DEMON - I loved this film. A horrific examination of our obsession with beauty. Nicolas Winding Refn's work hits me at a primal level, and the gorgeous colors, shot compositions, lighting and Cliff Martinez's hypnotic score all came together to create sheer perfection. This is a film that sharply divided audiences, but for me, it was an experience like none other.
ARRIVAL - The kind of science fiction that we need more of. A wonderfully creative story that reflected our imperfections as a society and gave us something to strive for. Well constructed and rooted in thoughtful ideas and concepts, as opposed to empty action set pieces, ARRIVAL offered a fascinating story as well as hope for the future and a better version of ourselves.
10 CLOVERFIELD LANE - John Goodman. Goddamn. In a career full of memorable performances, the work he did here is particularly stand out. A simple story almost reminiscent of a TWILIGHT ZONE episode, the script relied heavily on the talents of its cast to pull off the many moments of fear, paranoia and intimidation necessary to sell the premise of a trio of strangers trapped in an underground bunker as the world falls to pieces above them. Mary Elizabeth Winstead and John Gallagher Jr. counterbalanced Goodman beautifully, and Winstead's turn as the immensely capable and kick-ass Michelle was particularly memorable. The film remains one of my favorite sci-fi moments of the year.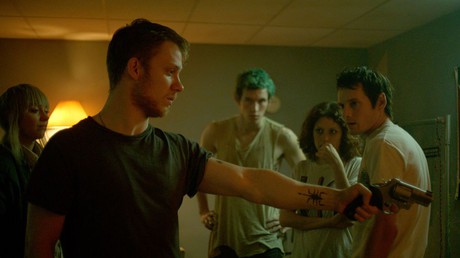 GREEN ROOM - Damn this film was great. Perfectly paced, well written and brilliantly acted, GREEN ROOM was a terrifying film and a masterful exercise in tension. Patrick Stewart, Imogen Poots and Anton Yelchin gave incredible performances that will be celebrated and admired for years to come. Jeremy Saulnier again delivered a tightly woven story with an immensely worthy payoff.
MOONLIGHT - Perfection. Beautifully acted by all of its leads, MOONLIGHT demonstrated how to accept who we are and how to lead the life that we want. In the various chapters of Chiron's life, we see him finding compassion, friendship and finally love, as he struggles to find and become the man he chooses to be.
HUNT FOR THE WILDERPEOPLE - This film was a beautiful look at what makes a family and the joy of finding your people. A heart touching look at how we can support, and in turn, find support, from those around us when it seems impossible. Julian Dennison totally stole the show, and Taika Waititi continues to make an impression as a skilled storyteller.
MANCHESTER BY THE SEA - Kenneth Lonergan's new film was a brilliant examination of grief and how it pushes us to and past the point of breaking. Sometimes life is filled with more tragedy and sorrow than we think we can stand, and yet, somehow we manage to find a way through it. With amazing performances from Casey Affleck and Michelle Williams, this film is beautiful in every sense and cuts to the heart of what makes us human, even in moments of unparalleled sadness.
In a lot of ways, 2016 was an unmitigated disaster. The social and political landscape has never felt this uncertain, there is more open, unchecked hatred in the world than we imagined there could be, and we have lost so many amazing and talented icons throughout the year. But looking over this list, I see so many examples of the art and the creativity that has helped to get me through it all. Has helped me cope, has helped me escape, has helped me understand and has helped me connect. These are just some of the things from the past year that I celebrate. 2016 has not been a weak year for art and expression, and hopefully 2017 will bring us even more.
Happy New Year, everyone!