Ahoy, squirts! Quint here. We don't often get a glimpse at the composing stage of movie production. I guess at some point it all looks the same. Conductor with wand, musicians surrounding, sometimes footage playing on a screen behind them.
Still, it's a radically undercovered aspect of movie-making. I've only personally seen one film score being recorded, for Bolt with John Powell conducting, and it was incredible. They let me sit in the pit with the musicians as they recorded and being surrounded by the music, having the bass shake my sternum, was an experience unlike any other.
Since I adore this side of production and since we just did a James Bond BTS pic, I figured it was time to pull out this shot of John Barry recording the score for You Only Live Twice.
The thing that stands out the most to me about this shot is how low-tech it is. It's almost ramshackle in how everybody's just kinda set up in a clump. Considering how amazing and lush and big Barry's scores feel I had a giant orchestra, musicians dressed to the nines, in a massive room in my mind. Not so much, it seems. Thanks to my buddy and Bond fanatic Fred Dekker for digging this one up!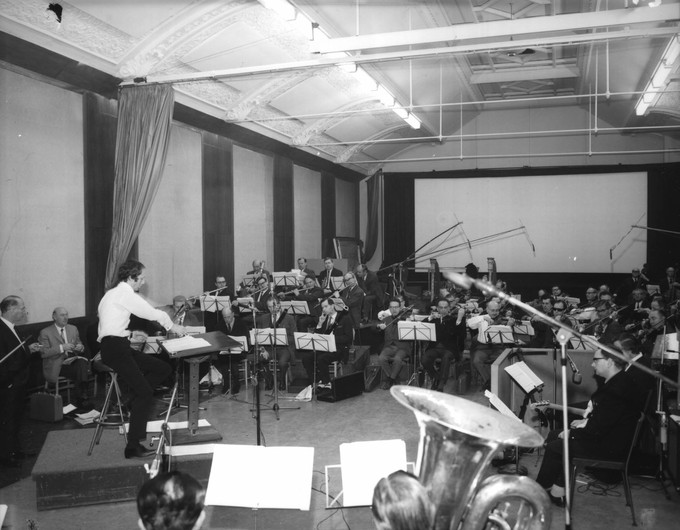 I'm traveling to San Francisco tomorrow, so I'm not sure what my internet situation will be, but provided I can find a connection I have a pretty good candid shot from one of the biggest movies of all time to share!
-Eric Vespe
"Quint"
quint@aintitcool.com
Follow Me On Twitter