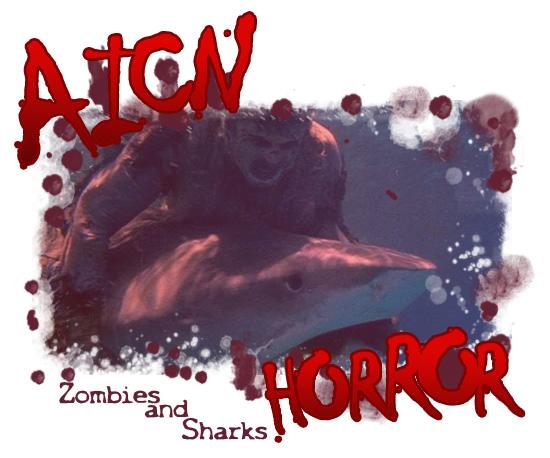 Logo by Kristian Horn
What the &#$% is ZOMBIES & SHARKS?
---
Greetings, all. Ambush Bug here. Happy Birthday to AICN HORROR which celebrates its sixth year in October! Always hoping to pass on new and exciting films for all of you ravenous readers, I have once again compiled a list counting down to my favorite horror film released since last October and covered in this here AICN HORROR: ZOMBIES & SHARKS column. Some of these films might be new to you since there isn't a lot of horror in theaters these days. That said, there were more on this list that DID have a theatrical run than in previous years which means the horror genre does seem to be on the upswing. Some of these films have only seen the light of day on Video On Demand or simply go straight to DVD/BluRay or digital download.

As far as how I compiled this list? Well, I simply looked over my AICN HORROR columns over the last year since October 1st, 2015 (which happens to be the birthday of this little column five years ago!) and worked and reworked the list until I had 31. No real method to my special brand of madness. We'll be counting down every day until Halloween to my favorite horror film of the year. I'll also provide a second film suggestion at the end of each post that is worth nothing or missed being on the list by a little bit for those who can't get enough horror.

So let's get to it! Chime in after the article and let me know how you liked the film I chose, how on the nose or mind-numbingly wrong I am, and most importantly, come up with your own list…let's go!
#1 – THE WITCH - #1
Why is THE WITCH #1? Yeah, fine, you guessed it. The best horror movie of the year is THE WITCH. No movie was able to harness the darkness more than this authentically played, amazingly realized, and shockingly authentic cautionary tale. The lengths filmmaker Robert Eggers went to make this film look, sound, and feel like it was some kind of snapshot from an ancient, more dangerous time are astounding and while some might have felt the film was much ado about nothing, I felt the film was a shining achievement in depicting how insane this paranoid and superstitious era in history really was. Filled with deafening sounds and sights of horror, THE WITCH is the best horror movie you're going to find this year, hands down.
You can find it here on iTunes
, and
Amazon here
. Here's my review of THE WITCH from February 20th!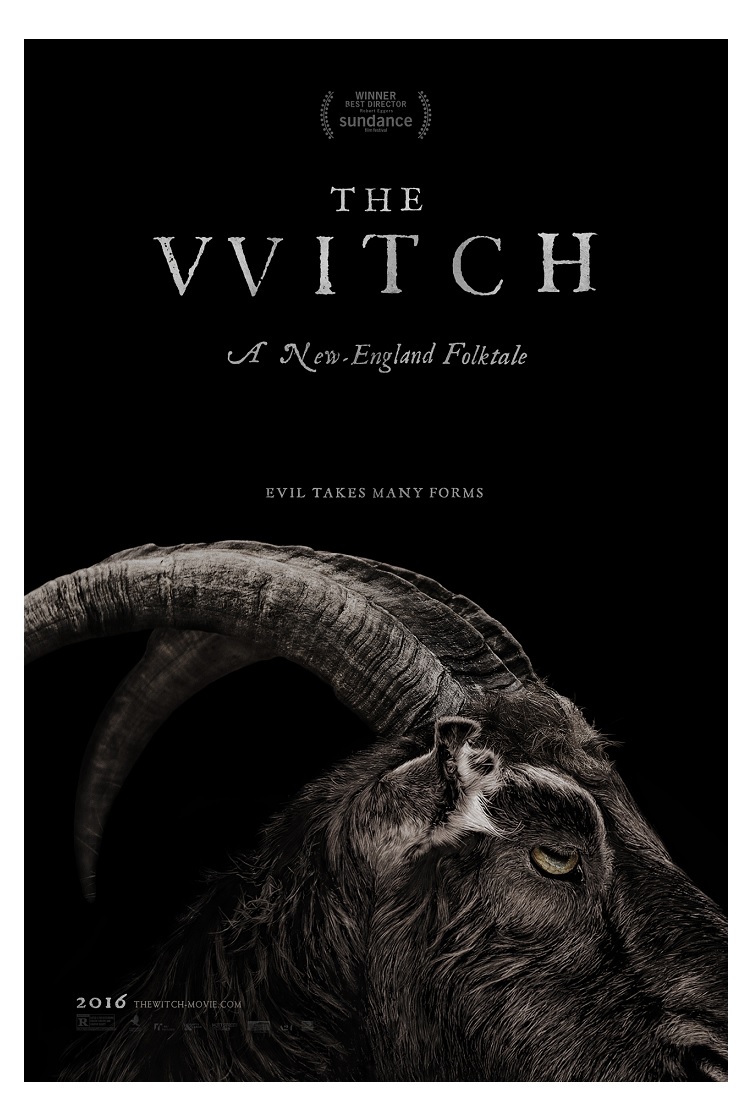 THE WITCH (2015)
Directed by Robert Eggers
Written by Robert Eggers
Starring Anya Taylor-Joy, Ralph Ineson, Kate Dickie, Harvey Scrimshaw, Ellie Grainger, Lucas Dawson, Sarah Stephens, Julian Richings, Wahab Chaudhry as Black Phillip, and Bathsheba Garnett as the Witch!
Find out more about this film here, on Facebook here, and @TheWitchMovie
Reviewed by Ambush Bug
The key to understanding the inner logic of THE WITCH, you have to look at the title itself. Not that this is a difficult film to understand, but if you consider the title "THE WITCH: A NEW ENGLAND FOLKLORE," it's much easier to go with the flow with this film and understand the type of story the filmmaker was trying to tell. I say this because in the theater I saw THE WITCH, there were a few people scratching their heads. Now, I know a lot of times, pre-screenings of films isn't always a good indicator as to the type of audience that will be seeking out THE WITCH, but I think it does indicate that there is a difference between horror movie goers—especially ones who only see horror in theatrical releases. THE WITCH is not your typical theatrically released horror. I wish it were typical. I think horror wouldn't get the stigmatism that is usually gets if there were more movies like THE WITCH, but alas, it's simply not what you usually see in theaters.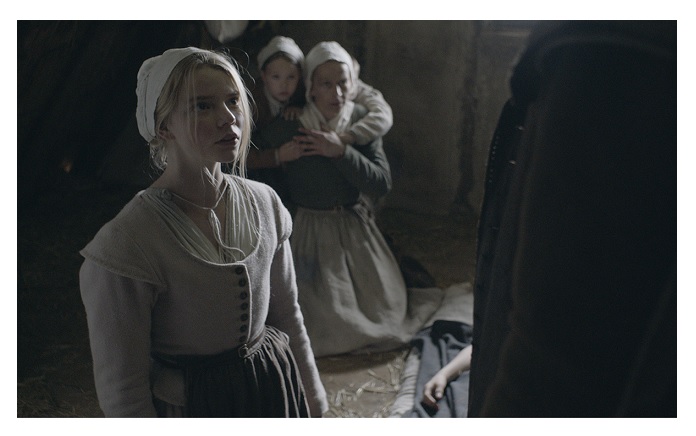 You're not going to find jump scares or cats jumping through windows or Don Music piano bangs in THE WITCH. THE WITCH is a rock solid story of William (Ralph Ineson), a simple New England farmer who has uprooted his family from a settlement to take off on his own and have a fresh start on a new plot of land. His spirited daughter Thomasin (Anya Taylor-Joy) is becoming a young woman and his God-fearing wife Katherine (Kate Dickie) seems to want her daughter to leave the home as she seems to be somewhat threatened by her daughters blossoming. Meanwhile, William's oldest son Caleb (Harvey Scrimshaw) is beginning to notice his sister's blooming sexuality as well and while the two are close, this for interests and frightens him. While watching her mother's infant child, Thomasin is dismayed when the baby disappears right from under her nose. When Caleb goes off alone to look for the baby and returns feverish and with wild stories of a witch in the woods, Katherine believes Thomasin to be the cause of it all and that her daughter is bringing the pall of the Devil's business onto their home.
THE WITCH, at its heart, is a cautionary tale to be told by God-fearing people to warn their children about evils outside of the comfort zone of the church and home. While there isn't a bookend to this tale with a camp leader telling a group of children a story around a campfire, that's exactly what this film is. While many witch stories either illustrate the evil of man and how the threat of womanhood can stamped down in the name of God (see THE CRUCIBLE or WITCHFINDER GENERAL) or go supernatural and show that there really is an evil presence that goes against the word of God (see CRY OF THE BANSHEE or any other cautionary possession film from ROSEMARY'S BABY to THE LAST EXORCISM), THE WITCH is the first film I can remember to illustrate both sides of the witch argument in an equally compelling and succinct fashion. For much of the film, there is a heavy dose of paranoia and persecution as Katherine's fanatical belief in God and a series of unfortunate events lead to her claiming her own daughter has been possessed by the Devil. On the other hand, there does seem to be a malevolent presence in the woods and we actually see an old crone who takes the form of many different creatures or uses them as familiars as the story goes on. Embracing both the psychological view as well as the supernatural view is sophisticated storytelling and THE WITCH balances on this fence between the two quite deftly. At any time, this film could go either way (a more real world based tale of hysteria or a supernatural tale of real evil forces unleashed) and I would have been ok with it.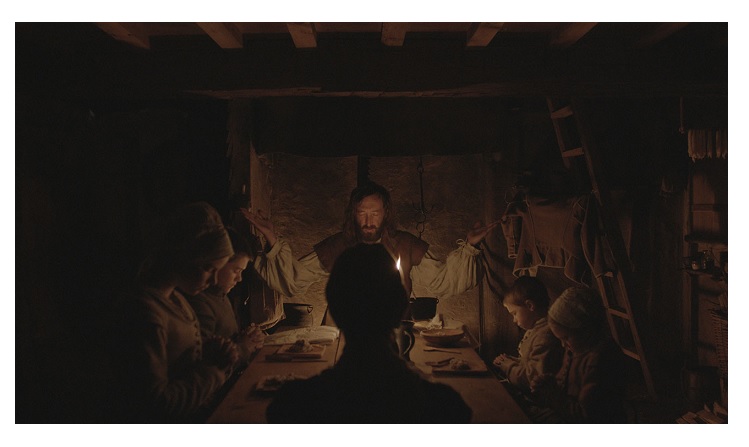 Eventually THE WITCH shows its hand and we find out what type of film this is, but by then, I was chilled to my very core. The culmination of horrific scenes set upon the backdrop of the undisturbed forest crescendos to a deafening volume by the end. The horrific imagery that plays out in this film is iconic and bizarre. While witchcraft has been shown in films in many forms, writer/director Robert Eggers manages to fill this film with horrific sights and sounds I have never seen before and while it is patient to get to the horror, every moment is filled with a heavy dread that you are compelled to never look away, even during the most terrifying of sequences.
The cast of THE WITCH is phenomenal. As Thomsin, Anya Taylor-Joy is the heart and soul of this film. She is still a young girl, but her body is evolving and she is not fully aware of the threat that contains. She shifts from child to adult with ease and sophistication here that many actresses of her age only dream of possessing. Ralph Ineson's William is fantastic as the cavernous-voiced patriarch of the family who portrays a prideful man who is trying to keep it together, even after it seems he has made the gravest of mistakes for leaving the colony in the first place. Though she plays more of the stereotypical hysterical woman, Kate Dickie still gives her all as Katherine and this paranoia she exudes is terrifying to see grow. But it was little Harvey Scrimshaw who shines here as Caleb. The scene where he feels as if he is seeing God himself is the most mesmerizing performance I've seen from a young actor ever. This little guy has the talent and soul that I haven't seen in a young actor since River Phoenix and I hope there will be so much more of him to see in future films as his performance is both crucial and harrowing here as he takes on both the supernatural and the paranoid with a furrowed brow and a look of determination that is convincing despite his age.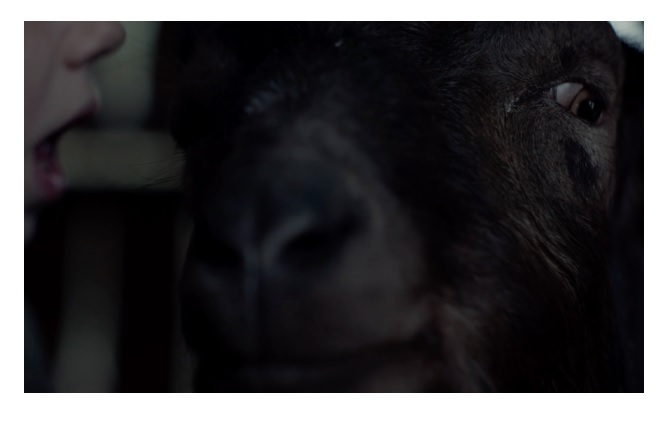 Eggers is a true find in horror and I hope he sticks with this genre. Everything from the look of the outfits to the home to the music which was made with instruments of the times shows the type of patience and expertise with the craft of suspense that the horror genre is lacking in. Every second and every inch of this film feels absolutely authentic. I hate to throw around the "K" word, but there are quiet, yet earth-shattering moments that mesmerize that reminded me of Stanley Kubrick or at the very least Jonathan Glazer's UNDER THE SKIN. In this film he got scintillating performances from both children and animals, so he should get a metal just for that. I know films released in theaters in February are rarely up for Oscar, but this is a film I would love to see get that type of attention. It surely deserves it.
I really feel sorry for those who are going to criticize THE WITCH for being boring or slow. The film takes its time to map out a complex dissection of the typical American family and all of the faults that go along with that concept. The characters are beyond compelling and Eggers keeps the characters evolving non-stop from beginning to end, so the static shots contained resonance to me and not a whiff of tedium. While I commend the House that Jason Blum built and all of the horrors he has unleashed through the years, films like INSIDIOUS/CONJURING/PARANORMAL ACTIVITY/SINISTER have become so interchangeable that it's hard to tell one plot from the other. It's also conditioned modern audiences to expect a jump scare every five minutes and pandered to the waning capacity for patience in modern audiences. Instead of giving into that, THE WITCH plays with that lack of patience and stretches the anticipation, which will unease you if you're that type of conditioned moviegoer. And unease is a good thing to feel in a horror movie. That's what horror is. And THE WITCH is what good horror is. I can only hope people remember THE WITCH come Oscar season so hopefully, we can see more horror like it in theaters rather than the interchangeable crap we've been inundated with for the last decade.
#1 – THE WITCH
#2 – GREEN ROOM
#3 – THE INVITATION
#4 – DON'T BREATHE
#5 – BONE TOMAHAWK
#6 – LAST SHIFT
#7 – THE SHALLOWS
#8 – THE BOY
#9 – TRAIN TO BUSAN
#10 - KRAMPUS
#11 – AVA'S POSSESSIONS
#12 – BODY
#13 – THE WAILING
#14 – THEY LOOK LIKE PEOPLE
#15 – DEATHGASM
#16 – 10 CLOVERFIELD LANE
#17 – DER BUNKER
#18 – HUSH
#19 – HOLIDAYS
#20– CARNAGE PARK
#21 – THE CONJURING 2
#22 – THE MIND'S EYE
#23 – DARLING
#24 – SUN CHOKE
#25 – THE HALLOWS
#26 – OVER YOUR DEAD BODY
#27 – SUMMER CAMP
#28 – EMELIE
#29 – BASKIN
#30 – I AM NOT A SERIAL KILLER
#31 – SOUTHBOUND


Well, that's it! My top 31 horror films of the year since last October 1, 2015! Below are my top picks from previous years and in those posts are more suggestions for the best of the best in horror for each year. Hope you had as much fun counting down the horrors as I did!


Best of lists from previous years;
2015 #1 – THE CANAL
2014 #1 – PROXY
2013 #1 - MANIAC
2012 #1 – THE WOMAN
2011 #1 – THE LAST CIRCUS


Happy Halloween from AICN HORROR!

Ambush Bug is Mark L. Miller, original @$$Hole/wordslinger/writer of wrongs/reviewer/interviewer/editor of AICN COMICS for over 15 years & AICN HORROR for 5. Follow Mark on the Twitters @Mark_L_Miller and on his new website collecting posts for AICN HORROR as well as all of the most recent updates on his various comic book projects on MLMillerWrites.com.



---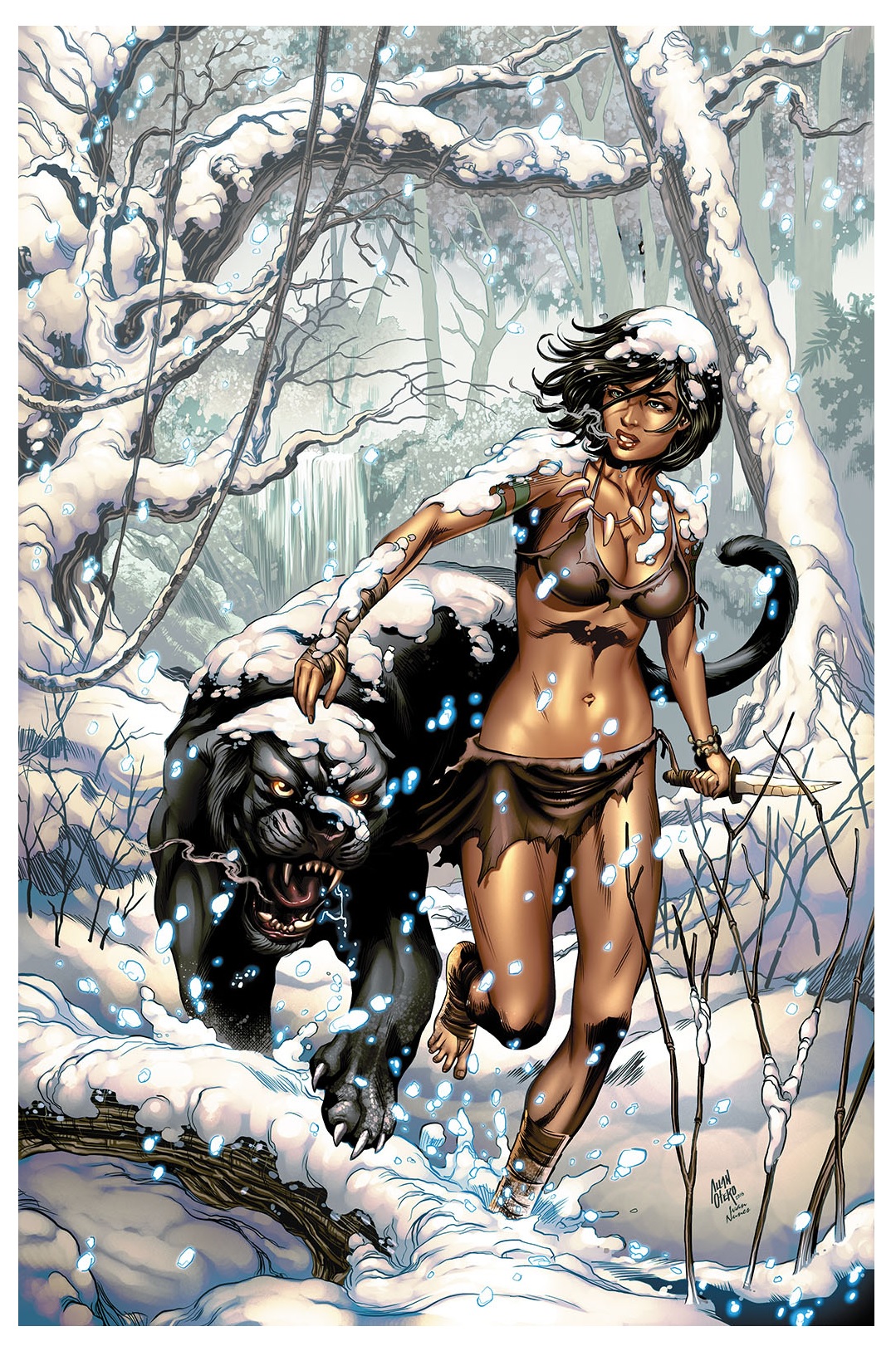 A quick plug for my own work. I have a new comic book coming out this December called THE JUNGLE BOOK HOLIDAY SPECIAL: BAGHEERA'S SECRET. It's a one shot reteaming my original JUNGLE BOOK artist Carlos Granda and myself (the same team who created PIROUETTE) and it is available to order now via Previews order# OCT162113. I'm getting pages of this book by the day and this book looks absolutely amazing so far. Fans of jungle adventure are going to love it! Please support me by telling your local comic book store to order tons of issues of this comic! Much appreciated, folks.


---
Look for Johnny Destructo, Stephen Andrade, Christian DiBari, and my own ramblings about random horror films on CultPop/PoptardsGo and Ain't It Cool on AICN HORROR's CANNIBAL HORRORCAST Podcast every other Thursday (or so…)!
---
Find more AICN HORROR including an archive of previous columns on AICN HORROR's Facebook page!
Finally, if you're having problems with the texts going over the image in this article, refresh the screen and that should do the trick!