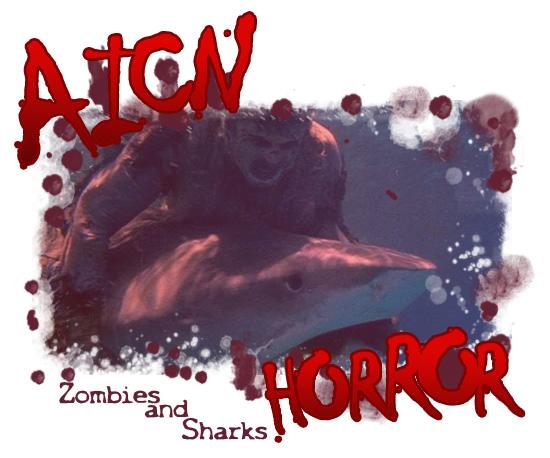 Logo by Kristian Horn
What the &#$% is ZOMBIES & SHARKS?
---
Greetings, all. Ambush Bug here. Happy Birthday to AICN HORROR which celebrates its sixth year in October! Always hoping to pass on new and exciting films for all of you ravenous readers, I have once again compiled a list counting down to my favorite horror film released since last October and covered in this here AICN HORROR: ZOMBIES & SHARKS column. Some of these films might be new to you since there isn't a lot of horror in theaters these days. That said, there were more on this list that DID have a theatrical run than in previous years which means the horror genre does seem to be on the upswing. Some of these films have only seen the light of day on Video On Demand or simply go straight to DVD/BluRay or digital download.

As far as how I compiled this list? Well, I simply looked over my AICN HORROR columns over the last year since October 1st, 2015 (which happens to be the birthday of this little column five years ago!) and worked and reworked the list until I had 31. No real method to my special brand of madness. We'll be counting down every day until Halloween to my favorite horror film of the year. I'll also provide a second film suggestion at the end of each post that is worth nothing or missed being on the list by a little bit for those who can't get enough horror.

So let's get to it! Chime in after the article and let me know how you liked the film I chose, how on the nose or mind-numbingly wrong I am, and most importantly, come up with your own list…let's go!
#2 – GREEN ROOM - #2
Why is GREEN ROOM #2? WHAT? THIS ISN'T A HORROR MOVIE? I can hear the outrage now even before posting this in the talkbacks, but while there is a heaping helping of action in Jeremy Saulnier's follow up to the amazing BLUE RUIN, the setup is pretty much horror in an ASSAULT ON PRECINT 13/NIGHT OF THE LIVING DEAD scenario where monsters are outside (in this case skinheads) and have our heroes trapped in a tight location. Much like much of the best horror this year, GREEN ROOM relies on tons of tension and suspense as a group of punk rockers find themselves trapped in a green room at a skinhead concert hall. Additionally, the gore is some of the most palpable and toe-curling blood n' guts work you're going to see in a film this year. And the sad recent death of Anton Yelchin simply adds to the power of this film due to his powerful performance. This is just a brutal and unforgiving film that leaves you feeling changed after viewing.
You can find it here on iTunes
, and
Amazon here
. Here's my review of GREEN ROOM from April 9th!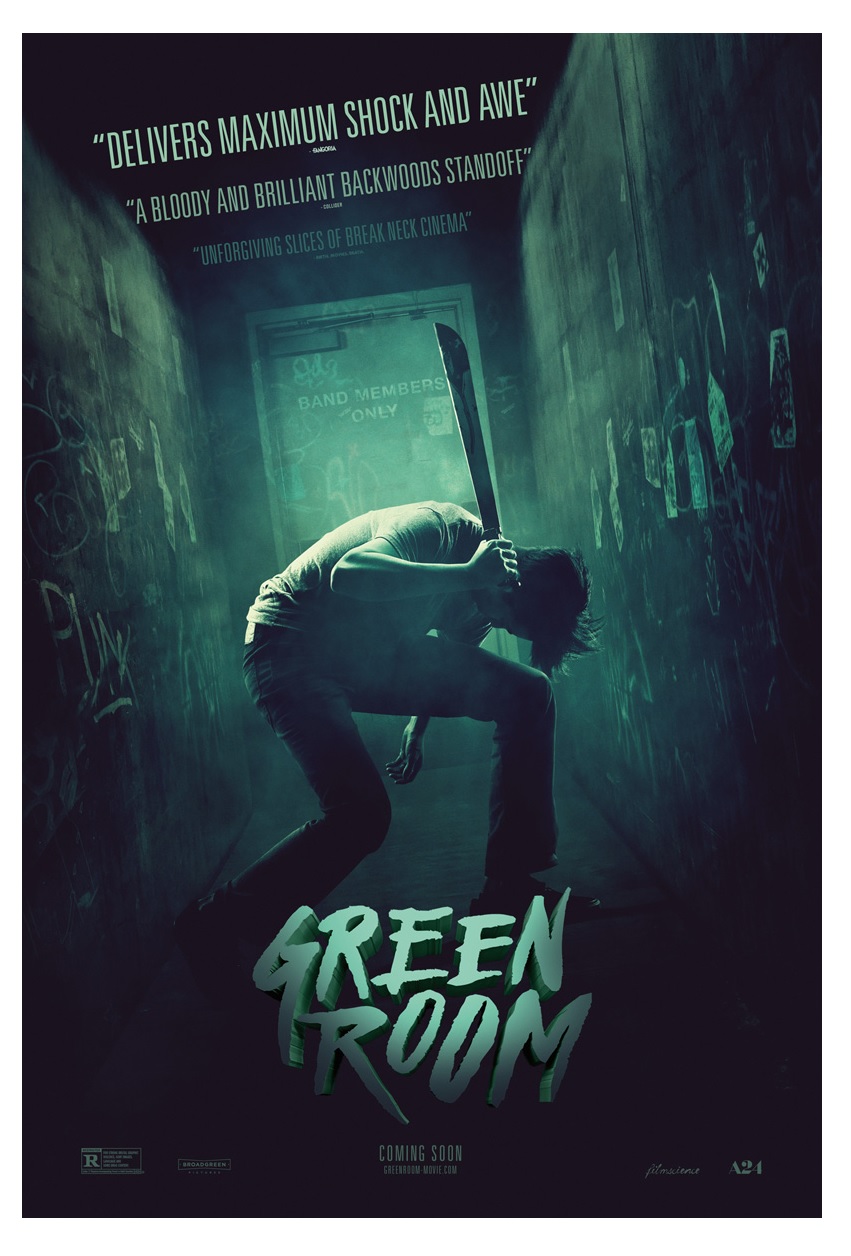 GREEN ROOM (2015)
Directed by Jeremy Saulnier
Written by Jeremy Saulnier
Starring Anton Yelchin, Imogen Poots, Alia Shawkat, Patrick Stewart, Joe Cole, Mark Webber, Callum Turner, Eric Edelstein, Taylor Tunes, Macon Blair, Kai Lennox, October Moore, David W. Thompson, Brent Werzner, Mason Knight, Samuel Summer, Colton Ruscheinsky
Find out more about this film here and on Facebook here
Reviewed by Mark L. Miller aka Ambush Bug
I have witnessed one of the most intense cinematic experiences this year and it comes from the director who brought us one of the most intense films from a few years ago. The filmmaker is Jeremy Saulnier and the film from a few years ago, if you didn't already know, is BLUE RUIN (
reviewed here
). But the most important thing you should take from this review is that you need to get out and see GREEN ROOM as it is one of the most horrifying film experiences I've seen in years.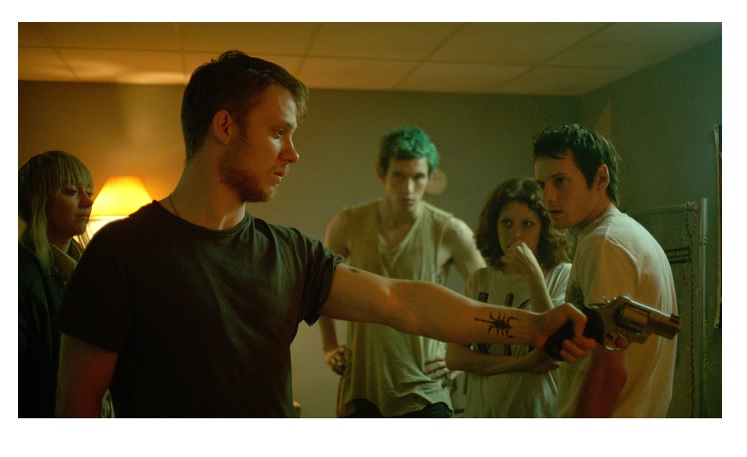 Made up of Pat (Anton Yelchin), Sam (Alia Shawkat), Reece (Joe Cole) and Tiger (Callum Turner), the Ain't Rights, a punk band who makes their way across country in a van by swiping gas from cars along the way, have fallen on hard times. So when an opportunity to make $350.00 comes up, they don't ask too many questions about it. Turns out, their latest gig is at a Nazi skinhead bar and when the band witnesses a murder, they hole up in the Green Room where the band gets ready to go on stage What transpires is an all out war between the trapped punk band inside the room and the murderous skinheads outside trying to make everything, including the Ain't Rights, disappear.
What impressed me the most about GREEN ROOM is the immersive way the film engulfs the viewer. Sure it helps to know a thing or two about the punk scene, but really, this is a film, not unlike ASSAULT ON PRECINCT 13, there a group is trapped in a small place and surrounded by murderous maniacs looking to get into the fortified place the group is hiding. While the punk band is trapped in this small room, there is no way for the skinheads, lead by a super restrained and deathly powerful Patrick Stewart and BLUE RUIN's soulful and subtle Macon Blair, to get in, so there's a standoff here of epic proportions. This high standard is achieved because we get to know and like this band in the opening moments and sympathize with their struggle to simply make enough money to get to their next gig. Because these opening moments are so genuinely engaging, I was rooting for the band to get out of this one alive, no matter how perilous the threat.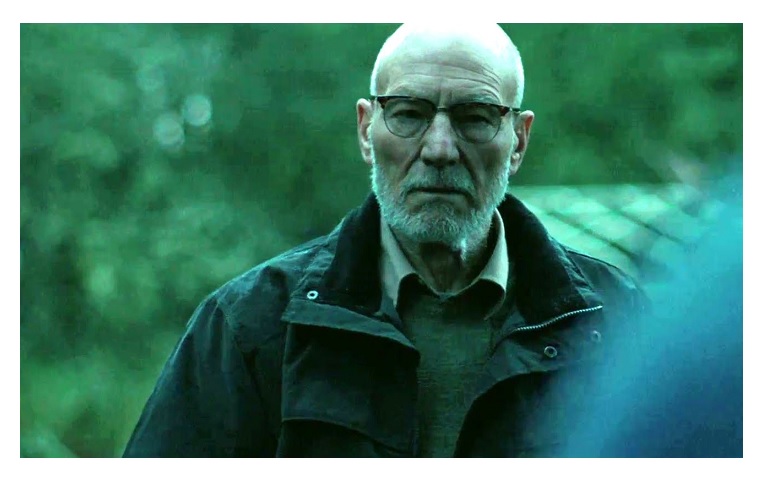 And that's exactly what Saulnier does here by making these Nazi skinheads, which are already pretty deplorable by name alone, truly menacing threats. As the band saunters into the backwoods bar and watches the scowling faces ready to take out their aggressions through angry music and much mosh pitting, Saulnier patiently scans the entire facility to plainly show this dire situation even before the band realizes what kind of hell they've wandered into. Keenly played negotiations between the band and the skinheads outside as Yelchin and Steward act as the mouthpieces for each group could be seen as tedious, but the performances are so good here and the setting has become such a character, that the scenes are chock-filled with tension and scares.
GREEN ROOM is much more of a gory and horrific action movie than a true horror film, though there is lots of blood, scares, and horrific things going on. Those scares are potent. The stakes are dire. The characters are likable, mainly because Saulnier has padded this film with top tier talent. This is one gut punchingly good film that never holds back and spits suspense, fire, sound, and gore right in your face from start to finish. Don't miss GREEN ROOM as it truly is one of the most in-your-facey, edge-of-your-seaty, balls-to-the-wallsy films you're going to experience this year!
Plus it's got an amazing soundtrack to boot by pretty much all of the punk bands you're every going to need to know!
---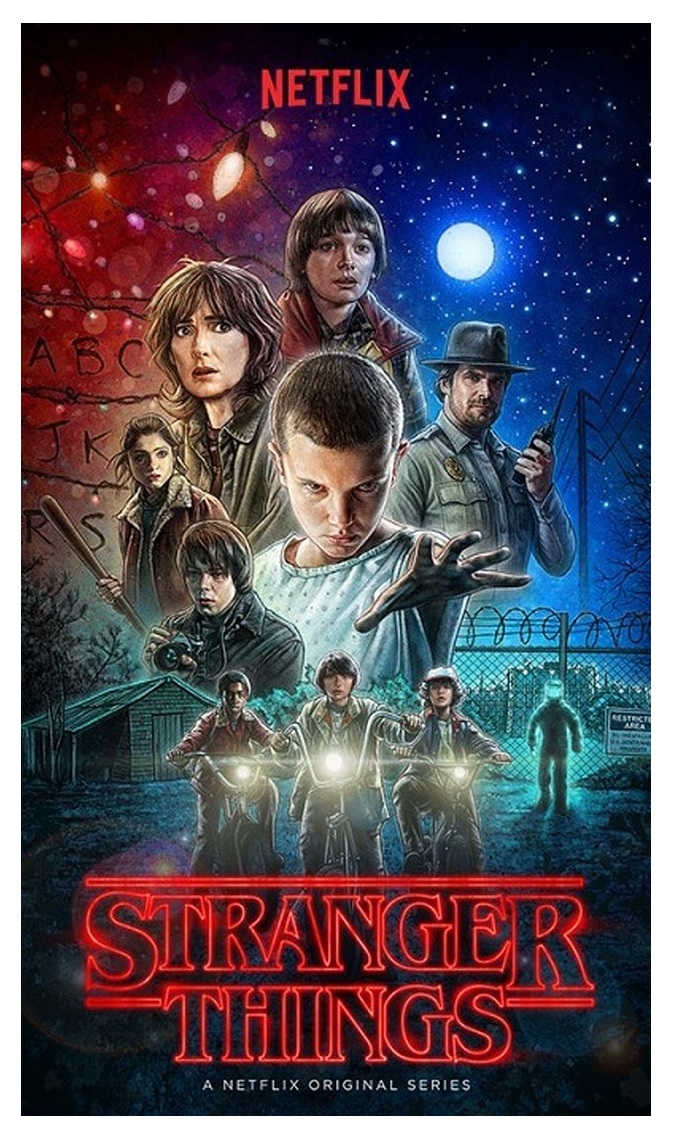 Worth noting: STRANGER THINGS!
While it's not a movie, it definitely is worth mentioning in this horror countdown. STRANGER THINGS took everything we loved about the eighties thrillers and made it all cool again. It was a phenomenon and one that actually lived up to the hype that was presented to it. So many eighties movies were referenced in this one and this amalgamation made for one of the most endearing and engrossing filmic experiences of the year. So while this is a countdown for movies, STRANGER THINGS is bigger than that and is going to be influential to many, many horror movies you're going to see in the coming years. You can
check out the series here on Netflix
!
THE COUNTDOWN SO FAR…

#2 – GREEN ROOM
#3 – THE INVITATION
#4 – DON'T BREATHE
#5 – BONE TOMAHAWK
#6 – LAST SHIFT
#7 – THE SHALLOWS
#8 – THE BOY
#9 – TRAIN TO BUSAN
#10 - KRAMPUS
#11 – AVA'S POSSESSIONS
#12 – BODY
#13 – THE WAILING
#14 – THEY LOOK LIKE PEOPLE
#15 – DEATHGASM
#16 – 10 CLOVERFIELD LANE
#17 – DER BUNKER
#18 – HUSH
#19 – HOLIDAYS
#20– CARNAGE PARK
#21 – THE CONJURING 2
#22 – THE MIND'S EYE
#23 – DARLING
#24 – SUN CHOKE
#25 – THE HALLOWS
#26 – OVER YOUR DEAD BODY
#27 – SUMMER CAMP
#28 – EMELIE
#29 – BASKIN
#30 – I AM NOT A SERIAL KILLER
#31 – SOUTHBOUND


Best of lists from previous years;
2015 #1 – THE CANAL
2014 #1 – PROXY
2013 #1 - MANIAC
2012 #1 – THE WOMAN
2011 #1 – THE LAST CIRCUS


See ya tomorrow, folks, as I count down the best of the best covered in AICN HORROR since October 1st, 2013!

Ambush Bug is Mark L. Miller, original @$$Hole/wordslinger/writer of wrongs/reviewer/interviewer/editor of AICN COMICS for over 15 years & AICN HORROR for 5. Follow Mark on the Twitters @Mark_L_Miller and on his new website collecting posts for AICN HORROR as well as all of the most recent updates on his various comic book projects on MLMillerWrites.com.



---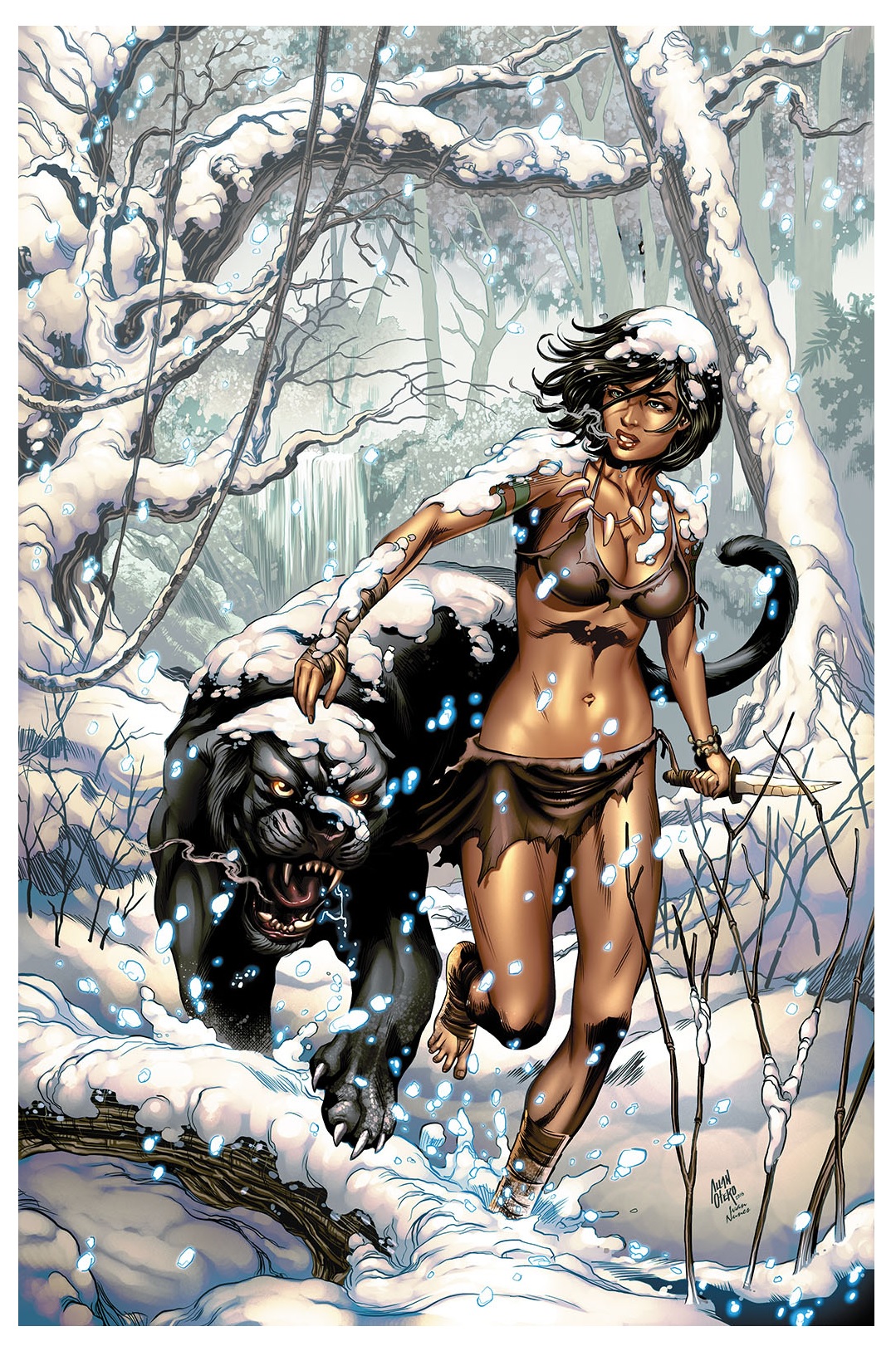 A quick plug for my own work. I have a new comic book coming out this December called THE JUNGLE BOOK HOLIDAY SPECIAL: BAGHEERA'S SECRET. It's a one shot reteaming my original JUNGLE BOOK artist Carlos Granda and myself (the same team who created PIROUETTE) and it is available to order now via Previews order# OCT162113. I'm getting pages of this book by the day and this book looks absolutely amazing so far. Fans of jungle adventure are going to love it! Please support me by telling your local comic book store to order tons of issues of this comic! Much appreciated, folks.


---
Look for Johnny Destructo, Stephen Andrade, Christian DiBari, and my own ramblings about random horror films on CultPop/PoptardsGo and Ain't It Cool on AICN HORROR's CANNIBAL HORRORCAST Podcast every other Thursday (or so…)!
---
Find more AICN HORROR including an archive of previous columns on AICN HORROR's Facebook page!
Finally, if you're having problems with the texts going over the image in this article, refresh the screen and that should do the trick!