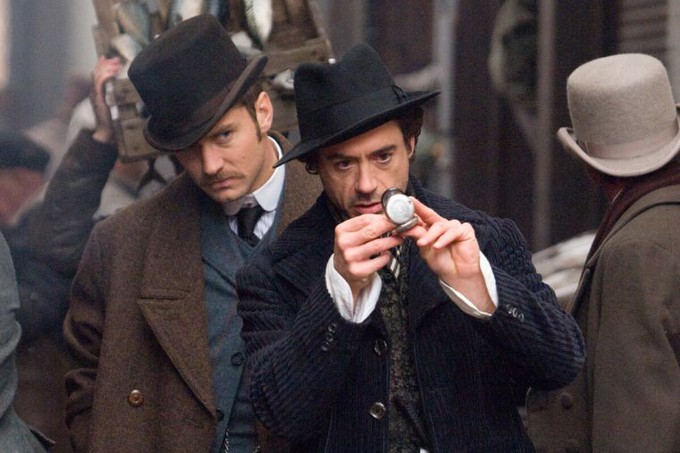 Ahoy, squirts! Quint here. The Writers Room concept is taking over tentpole filmmaking. Why hire writer after writer to polish the same story when you can have a room full of writers all working at once? Marvel's been doing it for a while (just not making as big a deal out of it), Pixar's been doing it since the beginning and more recently both Transformers and Universal's Monster series has taken this approach.
Now Warner Bros is doing it with their Sherlock Holmes franchise (per Variety), pulling in Rogue One's Gary Whitta, Guardians of the Galaxy's Nicole Perlman, Tomb Raider's Geneva Dworet-Robertson, Snowden's Kieran Fitzgerald and Baywatch's Justin Malen to kick around ideas for Sherlock 3, which is expected to reteam Robert Downey Jr., Jude Law and Guy Richie.
Downey will be busy with Avengers for a good chunk of 2017, but you know he's gotta be itching to get out of the armor and play someone else, even if it is another character he's done a couple of times.
I honestly don't have much of an opinion on this development. This model has worked and is still working for TV and that's a whole lot of good writers all gathered together. I would be excited if any one of them was singularly writing the next movie, so as long as the result isn't something that feels like a dozen voices are pulling in different directions I'm all for it.
What about you? What do you think?
-Eric Vespe
"Quint"
quint@aintitcool.com
Follow Me On Twitter