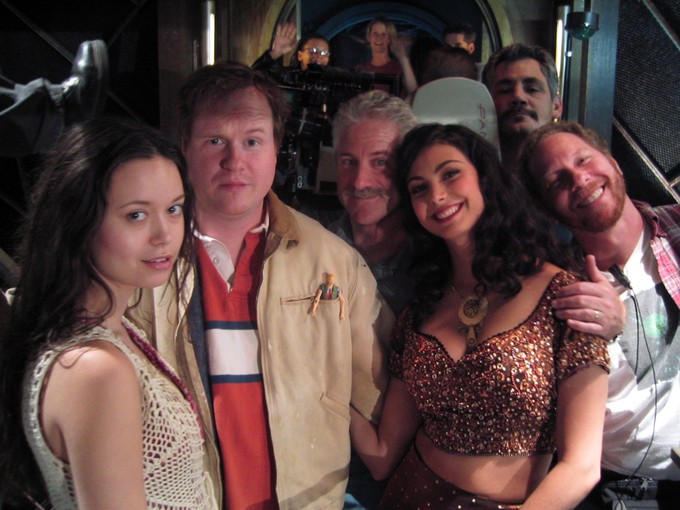 "Buffy The Vampire Slayer"/"Firefly" mastermind Joss Whedon, who wrote and directed the two most successful superhero movies in the history of history, says he may not be done with big-budget franchises after all.
"Do I want to make James Bond movie? Yeah," he tells Complex.com. "Anne Hathaway does Catwoman again? Sure, I'm in. Do I want to make a Star Wars movie? Yeah. I was like, "I don't want to make a Star Wars movie. Like, god dammit, why?" But I saw the trailer for Rogue awhile ago and I was like, "I want to do that." To make a Star Wars movie and not be wed to the bigger picture."
One could argue, I suppose, that Whedon already made his Star Wars Story with "Firefly" and "Serenity." But maybe he wants to play with lightsabers.
In the same Thursday interview Whedon seems to imply that longtime Marvel exec Kevin Feige is unusually key to the company's spectacular success, describing Feige as "a really good storyteller." Whedon also finds "interesting" that DC decided not to use "90210"/"Glee" vet Grant Gustin to play Barry Allen in the movies:
"I did not see Suicide Squad. I saw Batman vs. Superman. Everybody's got their own method. I think Marvel has been more successful systematically. DC has been more cinematic—their stuff looks amazing—but I feel like Kevin [Feige, President of Marvel Studios] is a really good storyteller. He really cares about coherence, and I feel like style never defeats substance at Marvel, but a little style creeps in. Ant-Man had some, Doctor Strange might be funky, and they are doing very fun things on TV. The Marvel-Netflix thing is working really well. DC's decision to have their shows on TV with different actors playing the same characters at the same time as their movies, is a little interesting."
It bears noting that at least three of Whedon's "Buffy" writers – Drew Goddard, Doug Petrie and Steven DeKnight – have had their hands in Netflix' Marvel series.
Whedon, who in 2005 wrote a "Wonder Woman" movie script he intended to direct, likes the trailer for the 2017 "Wonder Woman" movie he had nothing to do with:
"I want it to be good. The trailer was just wonderful. I'll probably be disappointed, me more than anybody else, because I'll be like, "Wow, my version…" or whatever, but I can still get myself up for it. The trailer had her shield and her fire hammer and yep, I'm good, this will be fine, everything is good. Such an image."
Despite all the stated franchise lust, the filmmaker has been traveling to Germany and Poland to research his new wholly original script, a piece of historical fiction set during World War II.
Find complex.com's new interview with Whedon here.