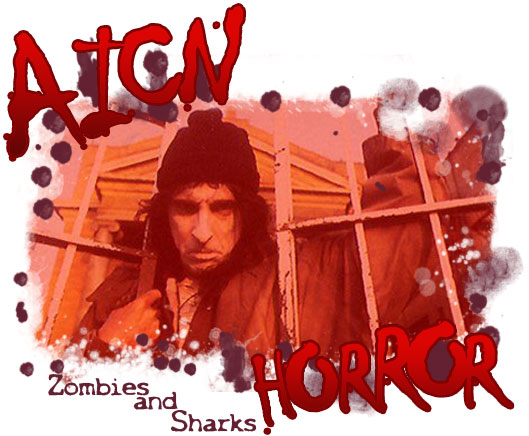 Logo by Kristian Horn
What the &#$% is ZOMBIES & SHARKS?
---
Welcome to the darker side of AICN! M.L. Miller aka Ambush Bug here with another AICN HORROR: ZOMBIES & SHARKS column. I'm at New York Comic Con this weekend and will be doing my "Reinventing Horror" panel Sunday at 2:30 at the con. Scheduled guests include producer/director/actor Larry Fessenden, Top Cow editor/writer Bryan Edward Hill, Black Mask Studios publisher Matt Pizzolo, former Dark Horse Editor Hanna Means-Shannon, and possibly a few special guests. It's always a lively discussion of all things horror, so if you're at the con, be sure to attend the panel and come say hi!
---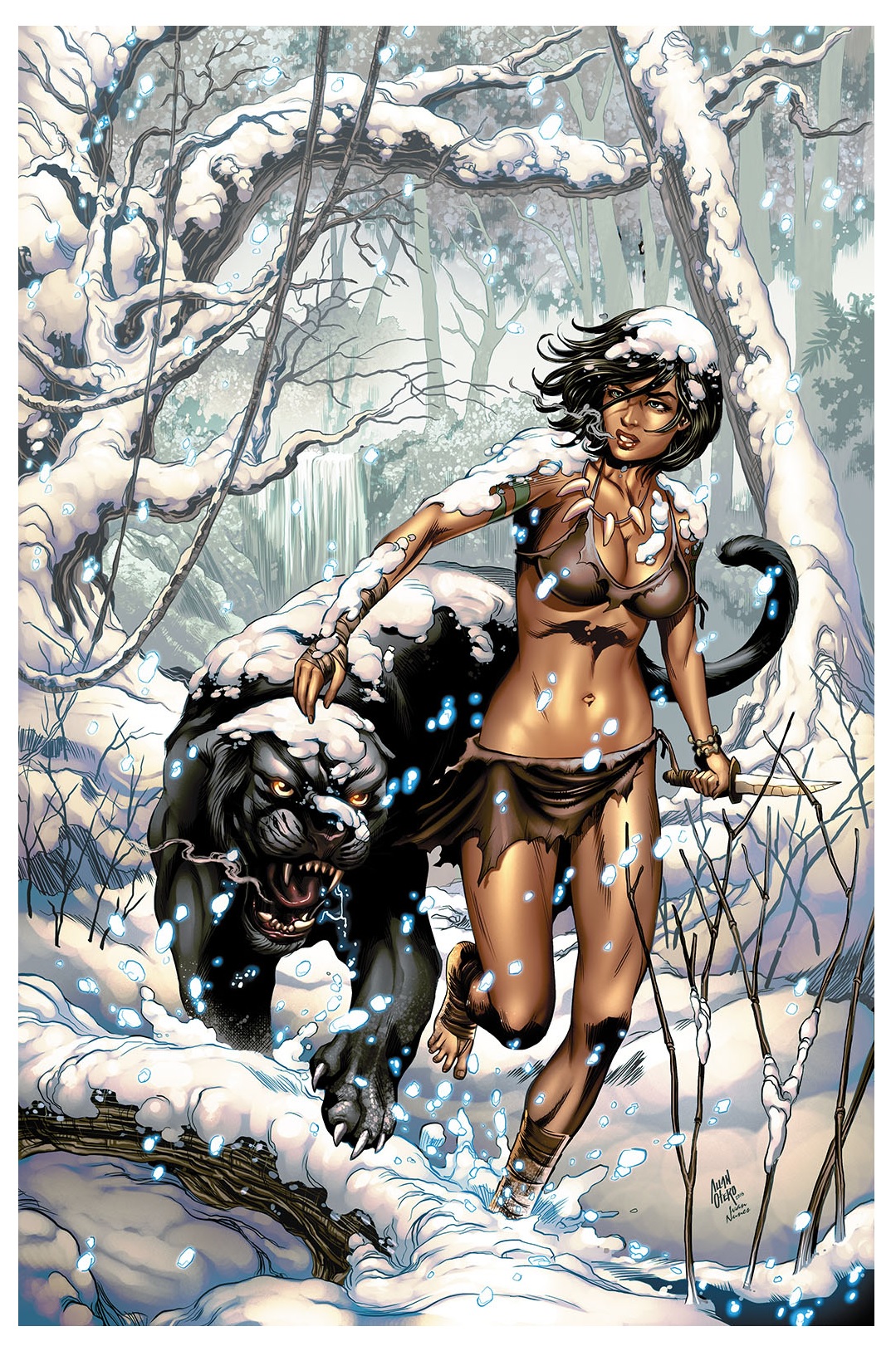 A quick plug for my own work. I have a new comic book coming out this December called THE JUNGLE BOOK HOLIDAY SPECIAL: BAGHEERA'S SECRET. It's a one shot reteaming my original JUNGLE BOOK artist Carlos Granda and myself (the same team who created PIROUETTE) and
it is available to order now via Previews order# OCT162113
. I'm getting pages of this book by the day and this book looks absolutely amazing so far. Fans of jungle adventure are going to love it! Please support me by telling your local comic book store to order tons of issues of this comic! Much appreciated, folks.
---
I loved AVA'S POSSESSIONS, a quirky, yet still scary film about what happens AFTER one is possessed by a demon and you try to piece your life back together. Just a really fun film full of great ideas. The film is being released overseas and director Jordan Galland sent me the trailers from Germany and France. What is interesting is that while the American trailer (which I'll post below too) focuses on the horror comedy aspects of the film, these trailers definitely have a darker and more dangerous tone. It's just interesting to me the way the same film is marketed in different countries. Check out the trailers below and see for yourself!
---
On with the horror reviews!
Today on AICN HORROR

(Click title to go directly to the feature)
Retro-review: DAUGHTER OF DRACULA (1972)
Retro-review: PHANTASM Remastered (1977)
FENDER BENDER (2016)
CLOWNTOWN (2016)
THE MIND'S EYE (2015)
THE DEMOLISHER (2015)
THE WAILING (2015)
And finally…Light's Out: Until Dead!
---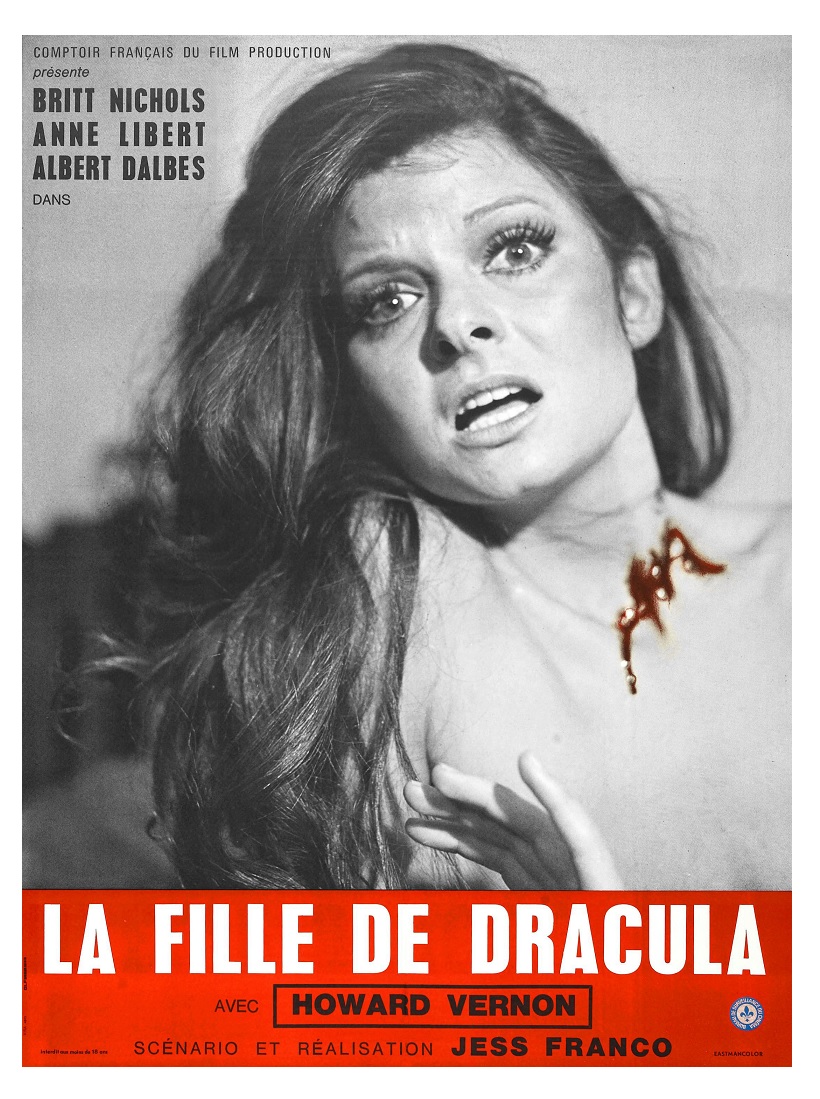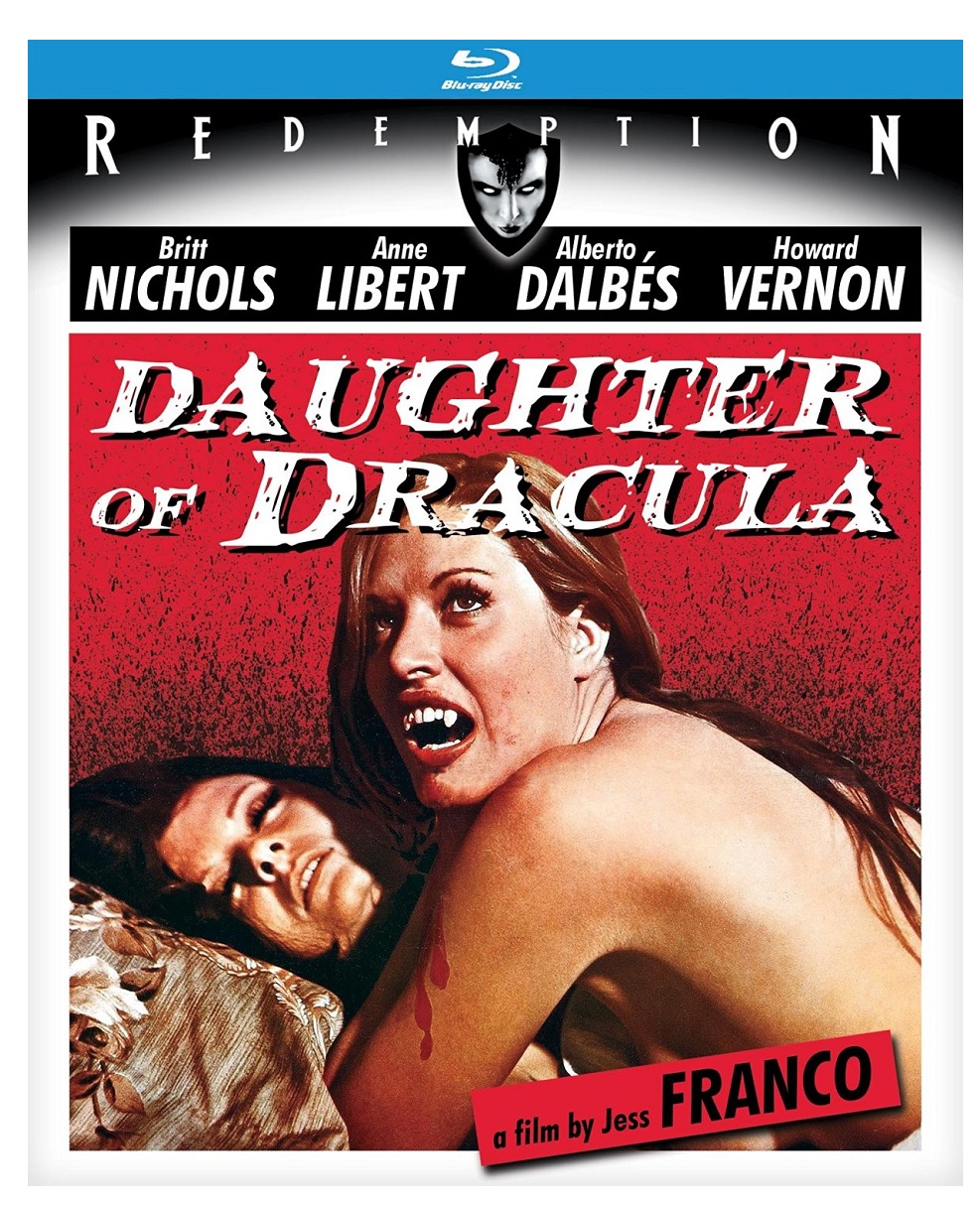 Retro-review: New this week on BluRay from Kino Lorber Redemption!
DAUGHTER OF DRACULA (1972)
DRACULA'S DAUGHTER
Directed by Jesús Franco (as Jess Franco)
Written by Jesús Franco (as Jess Franco)
Starring Britt Nichols, Anne Libert, Alberto Dalbés, Howard Vernon, Daniel White, Jesús Franco, Fernando Bilbao, Carmen Carbonell, Conchita Núñez, Yelena Samarina
Retro-reviewed by Mark L. Miller aka Ambush Bug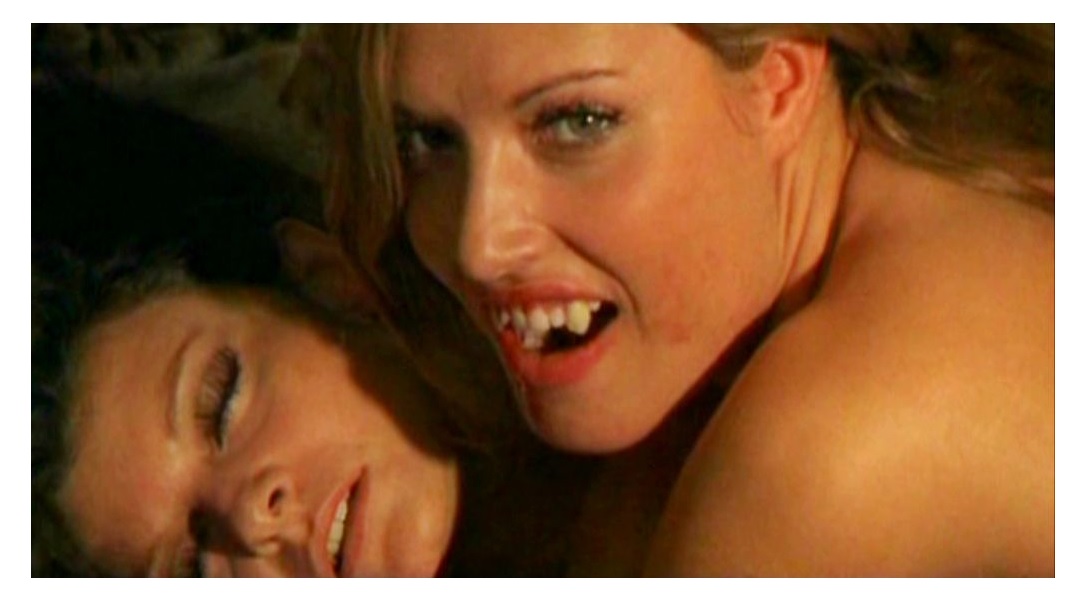 If you've seen one lesbian vampire film by Jess Franco, you're probably going to recognize the plot and style of DAUGHTER OF DRACULA. That's not to say the film isn't entertaining. It's just that much of what is expected in his films show up front and center here.
Mixing both the classic Bram Stoker story with Le Fanu's CARMILLA, Franco offers up a tale about how vampirism is just as easily passed from one to another through a bite or even a kiss. When a young woman Luisa (the stunning Britt Nichols) rushes to her grandmother's side before she dies, the old lady reveals that on the property a vampire is buried. Curiosity gets the better of her and Luisa goes to the tomb where the vampire is buried and is bitten by the vamp. But this bite has awoken a primal urge in Luisa, causing her to hypnotize, overcome, and rub all over pretty much every young pretty girl in this film and make them her sex slave.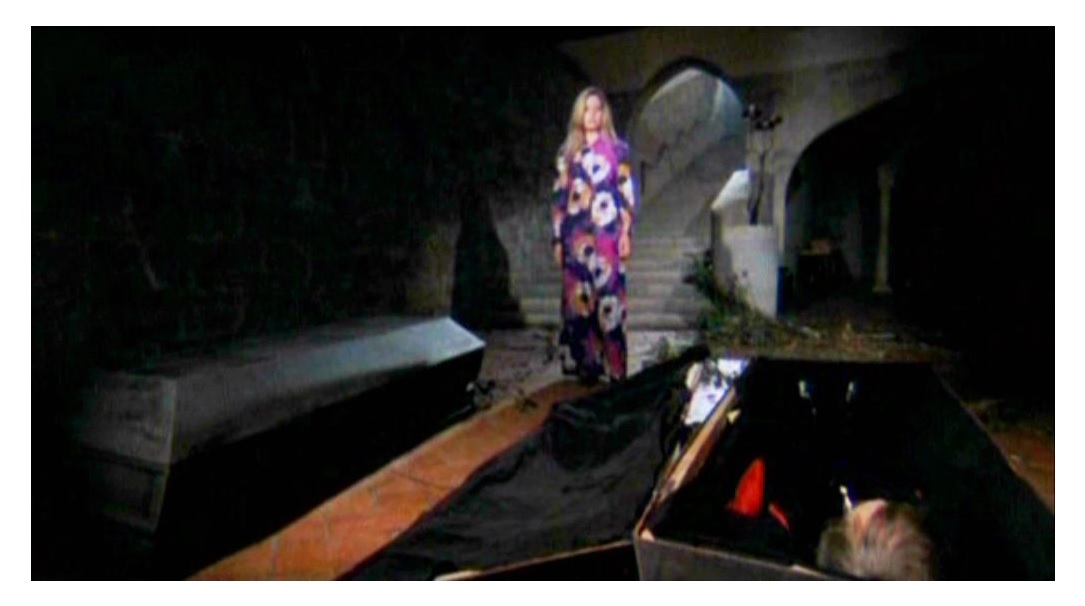 DAUGHTER OF DRACULA is a Jess Franco film. And with a Jess Franco film, you get a few things; you get people looking longingly into the camera for what seems like eons, you get women rubbing against one another in a silk bed and moaning, you get an artsy synth score, and you get a patient eye for the sex scenes and an impatient one whenever the story needs to move forward. All of this is present in DAUGHTER OF DRACULA, a lesbian vampire film where the vampirism symbolizes both the erotic and monstrous view against lesbianism. Like a trainwreck, Franco's camera can't look away during the sex scenes, but once the extended scenes are over, Franco can't wait to condemn the lesbians to torture, misery, and death.
While it might offend anyone who hasn't seen a Franco film, if you've seen as many as I have, this condemnation and fascination gets a little boring. The women are breathtaking in this film with Nichols' Luisa and her best friend Karine (played by the equally stunning Anne Libert) are quite fetching as they moan and writhe around and on one another in multiple scenes. But for me, if you've seen one of Franco's lesbian vampire flicks, you've seen them all. It's somewhat titillating, but light on story and the artsy aspect of it doesn't cover up the fact that every girl has to get nude and grind each other at least once.
BEWARE: Couldn't find a trailer for this one, but here is a scene from the film cutting between a twinkling piano and two ladies gettin' it on. This is definitely not safe for work (NSFW)!
---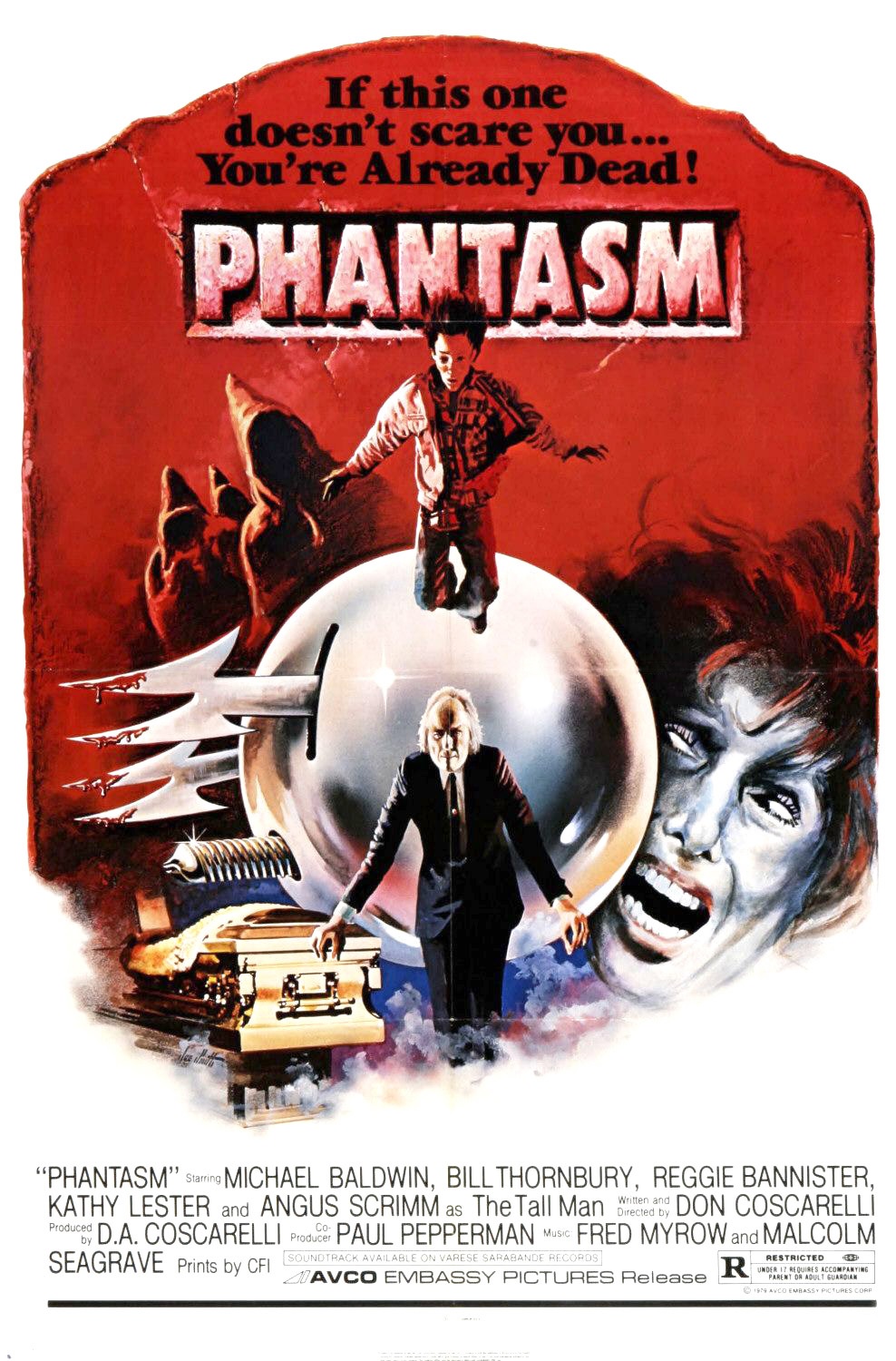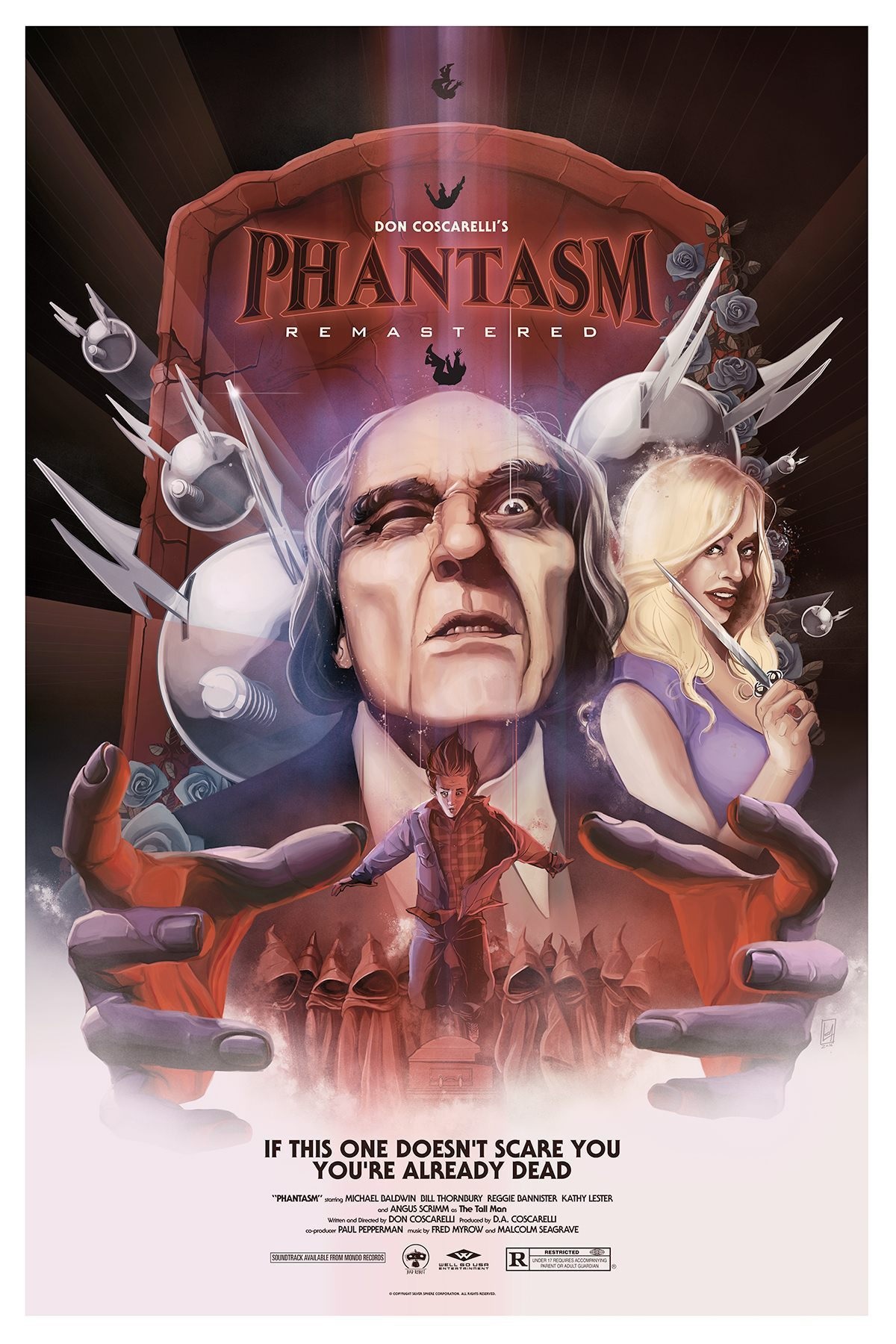 Retro-review: New this week in select theaters and On Demand from Well Go USA!
PHANTASM Remastered (1979)
aka MORNINGSIDE, THE NEVER DEAD, ZOMBIES
Directed by Don Coscarelli
Written by Don Coscarelli
Starring A. Michael Baldwin, Bill Thornbury, Reggie Bannister, Kathy Lester, Terrie Kalbus, Kenneth V. Jones, Susan Harper, Lynn Eastman-Rossi, David Arntzen, Ralph Richmond, Bill Cone, Laura Mann, Mary Ellen Shaw, Myrtle Scotton, and Angus Scrimm as The Tall Man!
Find out more about this film here and on Facebook here
Retro-reviewed by Mark L. Miller aka Ambush Bug
There's a wicked genius to the often nonsensical and often creatively overstuffed film called PHANTASM. It was a film I visited and revisted through the years. As I kid, I loved the endless waves of random monstrosities Michael, his hep cat brother Jody, and singin' ice cream man Reggie confront in this film. But as I grew older, I began to understand some of the method behind the madness.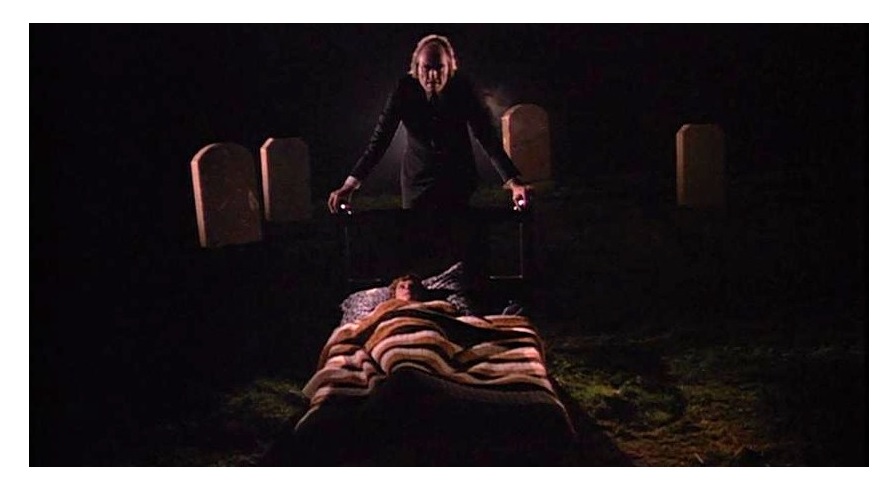 Watching the film again in this review, I kind of finally understood what PHANTASM is about. Sure there is a lot of hullabaloo about other worlds, corpse collecting Tall Men, silver flying balls, grunting Jawas, and toothy flies that just won't go down the drain. But at its core, it's about a young man trying to understand that which is unexplainable—death. As an adult, it's hard enough to understand why someone is taken from one's life, but as a child, it's even harder to fathom. As Michael (played by A. Michael Baldwin) tries to understand the death of his parents and ***SPOILER the death of his protective brother Jody (Bill Thornbury)END SPOILER***, he encounters one horror after another. Along the way, his brother appears to him, gives him advice, but then disappears just as quickly, leaving Michael to cope and understand the personification of death in the form of The Tall Man and his little Jawa monsters. A fan of scifi and horror as indicated by the posters and toys in his room, Michael of course incorporates familiar monstrosities from those films as physical threats to take him to the same place where they took his parents. We see this film through Michael's eyes, and because of that, the narrative is choppy and nonsensical. People pop in and out of the scene with little explanation. Motives are murky. And randomness abounds. But that is the world of a mind that doesn't fully understand what is happening after a tragedy, as the Tall Man appears again in the final moments, it's a feeling that seems never ending and indefinable. In one scene, Michael even climbs into a coffin himself in order to hide from the Tall Man, so he even experiences what it is like to be dead as an attempt to understand it. This film is a nightmare through a child's eyes with a childish understanding. If you understand that, you'll appreciate this film a whole lot more.
Then again, it is also a very amateurly made film. While symbolic significance can be applied to it, there are some very rough edges to Coscarelli's PHANTASM. If you are of a more literal minded viewer, I'm sure there will be aspects of this film that will be unforgivable and downright unwatchable. A maid, never before mentioned in the film, pops up for a jump scare. A hair-brained plan to knock the Tall Man into a well is hatched at the last second. People die and then appear alive ten minutes later. All of this is what makes this film much more of a stream of consciousness nightmare you just ride out rather than rack your brain to make sense of. If you do that, this film is sure to give you a headache and you'll be left wondering what the hubbub is all about with this movie.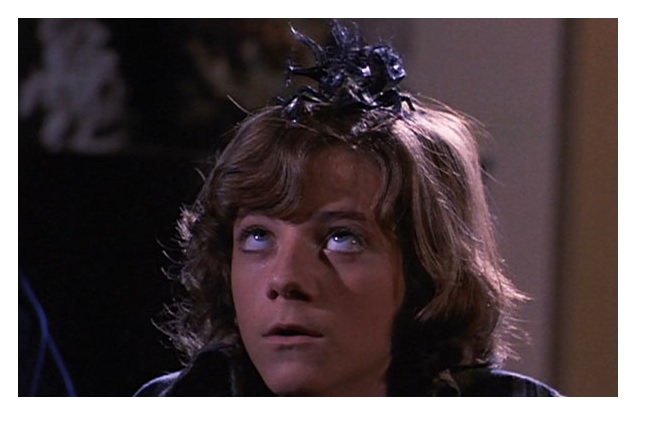 In terms of ideas, PHANTASM is loaded with them, but the genius in the ideas comes from how this film seems to have been pieced together with whatever was around that particular day. They have an idea for a fly that grows from a severed finger, so a fake fly is used for the scene. Someone has a few extra robes? Well, let's have the monsters be snarling Jawas. It's that type of ingenuity that makes this do it yourself nightmare fun. This is before CG effects, but somehow, Coscarelli manages to create an entire world and mythos with this first film—a mythos that is elaborated on and developed in future installments. But the charm here is that nothing is really explained. It's just random shit happening to Michael and his loved ones and this unpredictable nature makes the entire film a rapidly paced thrill ride of a film.
Sure the acting stinks. Seeing Baldwin trying to emote and not be nervous in the quieter scenes is wince inducing as are most of the other performances aside from the truly iconic look and feel of Scrimm as the Tall Man. It's because of Scrimm's every action that this film became the series it is today as everything about him makes him something that seems to have stepped from the most twisted childhood nightmare. But despite Scrimm, this is some rough thespian work exemplified here.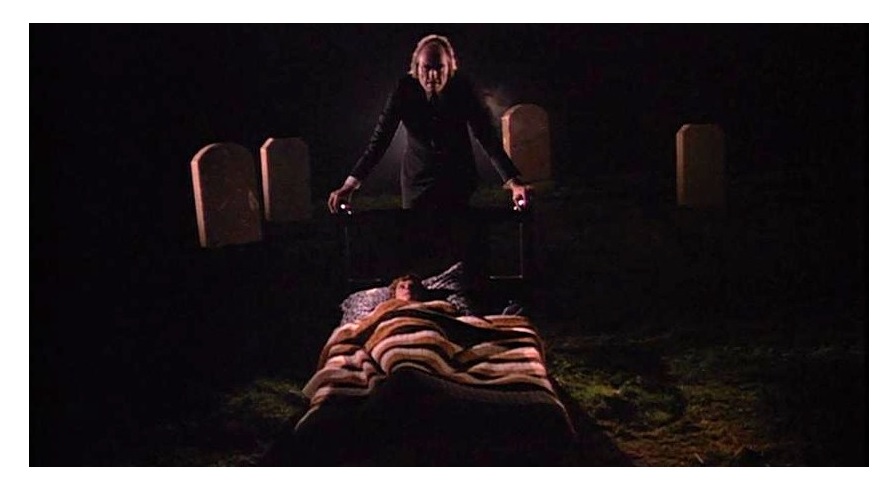 That said, this new restoration cleans up this film so well. It highlights the depths of the darkness Michael is running through and even delves in to clean up the effects by taking out the obvious wires the silver balls were floating on. But thee most significant improvement is the way this film sounds. Not only is the score cleaned up and sharpened, the creature effects make the whole thing feel all the more chilling; from the guttural grunts of the Jawas to the otherworldly hum of the silver orbs.
See PHANTASM if you can. If you saw it as a kid, you most likely didn't pick up on the heavy themes of death and acceptance. It plays with the narrative and tries to fool you into following one POV (Jody's), yet it is telling a story with an idealized version of that character seen through the eyes of his brother (Michael). These are themes that only made me appreciate this film more after seeing it again. Seeing it as an adult made me appreciate it more as well as long for that time when I simply marveled at the cool effects. It's one of those rare films that is just as good seeing it later in life as it is when you first saw it and if you've never seen it. Hang convention at the door and just dive into the oblivion. You'll enjoy it better that way.
---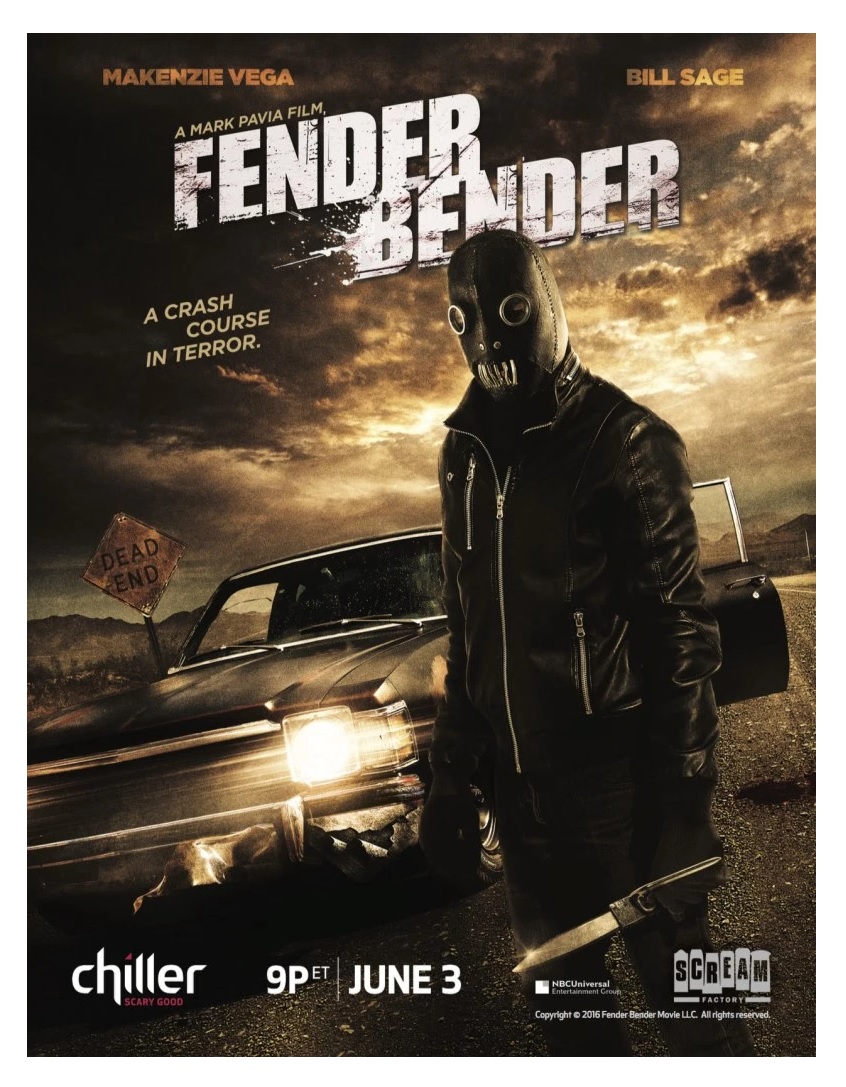 Airing tonight on Chiller from the Shout Factory!
FENDER BENDER (2016)
Directed by Mark Pavia
Written by Mark Pavia
Starring Makenzie Vega, Cassidy Freeman,Lora Martinez-Cunningham, Dre Davis, Steven Michael Quezada, Kelsey Leos Montoya, Harrison Sim, Gus Krieger, & Bill Sage as The Driver!
Find out more about this film here and on Facebook here
Reviewed by Mark L. Miller aka Ambush Bug
Not even some somewhat brutal kills can save FENDER BENDER from being anything more than a typical and mediocre slasher film.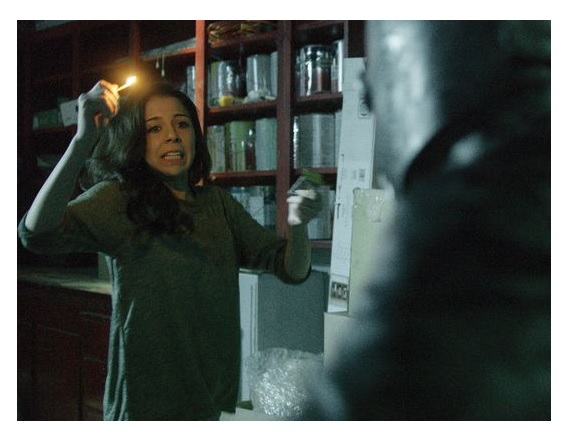 Hillary (Makenzie Vega) has had better days. She finds out her boyfriend is cheating on her and on her way home, she is rear ended by a man in a car. After exchanging information, Hillary makes it home to break the news to her parents, who scold her for scuffing up her mother's car (even though the accident isn't her fault) and up the punishment by not bringing her on the planned family weekend getaway. But the man who hit Hillary (Bill Sage) happens to be a serial killer whose MO is getting his victims information and then stalking and killing them at their residences. Now Hillary must survive the weekend alone in her house with this lame masked killer out to get her.
There really isn't anything in FENDER BENDER that you haven't seen a million and one times in every other slasher flick from the eighties. From the far-fetched punishment conveniently leaving Hillary home alone for the weekend to the amount of punishment the Driver can inexplicably withstand as he chases Hillary in and around her house; you could practically exchange this baddie with any other cinematic serial killer from the eighties and no one would notice. In fact, I think that's unfair to those films which at least were following a current trend, despite failing most of the time. FENDER BENDER attempts to be vague and mysterious as to who the killer is and why he bends fenders so, but only ends up being vapid and uninspired instead.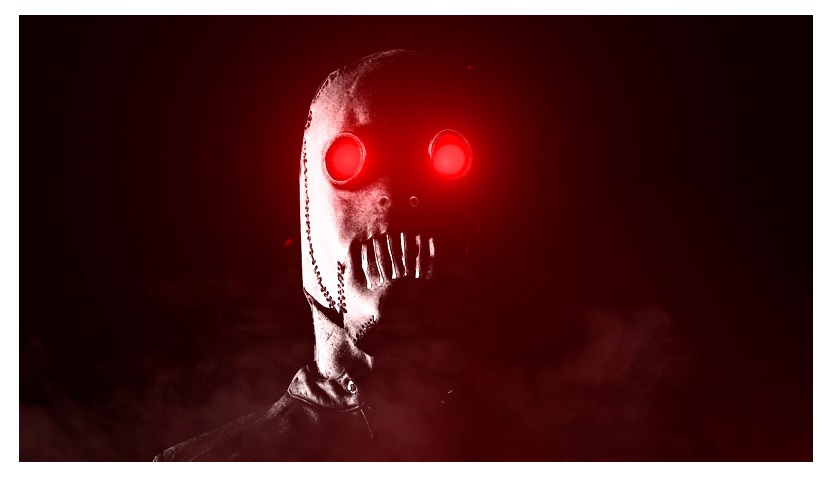 On top of the lack of creativity, there really is no point to the violence unfolding. Had Hillary done something deplorable and deserved this torment, I would understand this film as being a morality tale of some sort. But Hillary is completely innocent; a victim of a cheating boyfriend and now a victim of random violence. Though one might try to make the argument that this might be some kind of statement about random vehicular violence, there really isn't any kind of details supporting this peppered throughout. Instead, this is just a girl being victimized over and over for ninety minutes and I'd love to think horror has evolved beyond that.
FENDER BENDER does boast some decent gore and Sage does bring a brutality to the kills which is appreciated. But that simply doesn't save this film from being anything but a run-of-the-mill example of all of the reasons slasher films have a bad name. Having brought us the simply amazing
THE BOY
last year, I was hoping for something decent from Chiller with FENDER BENDER, but that's just not the case.
---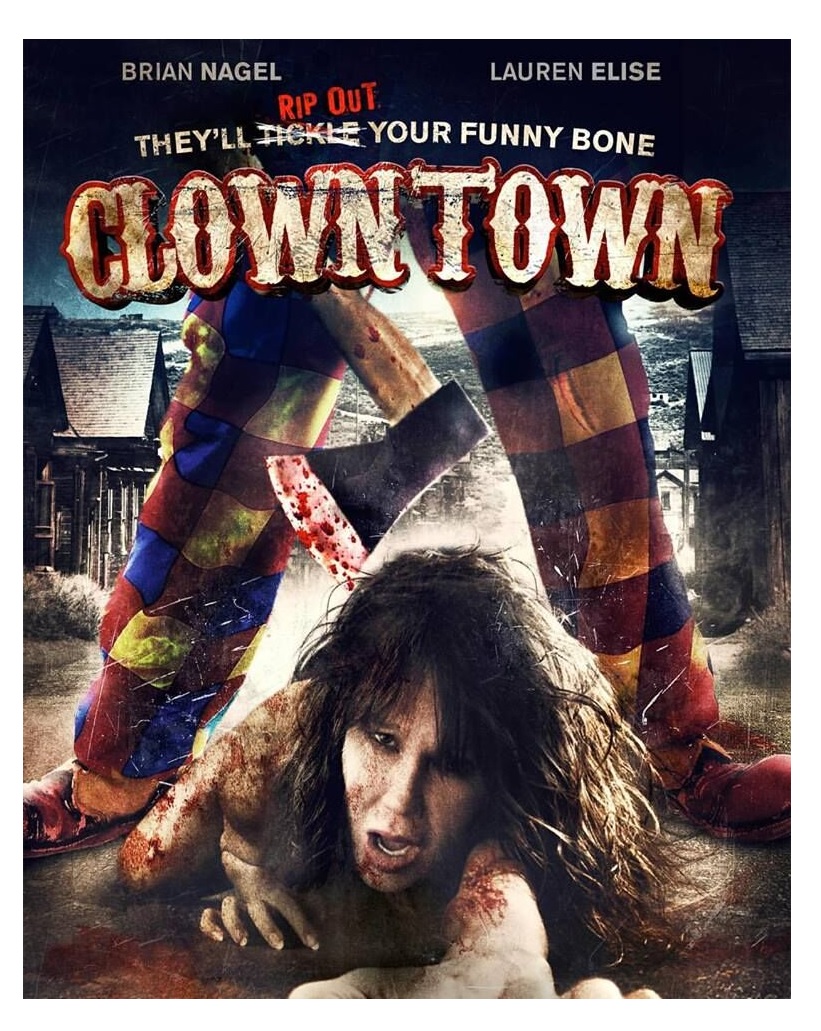 New this week in select theaters, On Demand, and BluRay/DVD from ITN Distribution!
CLOWN TOWN (2016)
Directed by Tom Nagel
Written by Jeff Miller
Starring Brian Nagel, Lauren Compton, Andrew Staton , Katie Keene, Tom Nagel, Greg Violand, Maryanne Nagel, Christopher Lawrence Chapman, Kaitlyn Sapp, Thomas A. Nagel, Nathan D. Goins, Ava Joy Anselmo, Jeff Denton, with David Greathouse, Ryan Pilz, Chris Hahn, Beki Ingram & Alan Tuskes as the Clowns!
Find out more about this film here and on Facebook here
Reviewed by Mark L. Miller aka Ambush Bug
"When you're alone and life is making you lonely
You can always go to CLOWN TOWN!
When you've got worries, all the noise and the hurry
Seems to help, I know, in CLOWN TOWN!
So go to CLOWN TOWN!
Things will be great when you're in CLOWN TOWN!
Everyone's here to kill you!"
Couldn't help it, but I was humming that tune through this whole demented little film.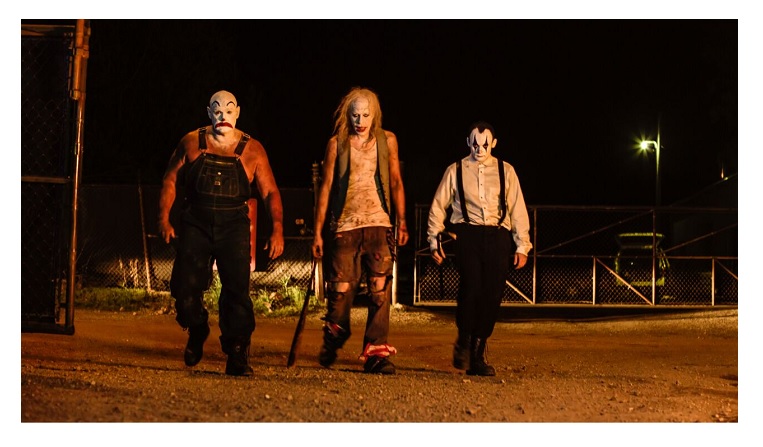 With clowns being all the talk in the news these days about stalking, menacing, and banning for Halloween, if you have a fear of clowns and love being scared by them, a new clowny horror film CLOWN TOWN. Directed by Tom Nagel from a story by Jeff Miller, CLOWN TOWN follows a group of pretty people on their way to a concert in the middle of Ohio only to find themselves broken down outside of the abandoned town of Clinton, nicknamed, you guessed it, Clown Town by the locals who warn the kids to steer clear of the place. But the kids don't listen and find themselves stalked and menaced by a group of clowns who are out to cause chaos, destruction, and murder.
What makes CLOWN TOWN so much fun is that it has a simple premise and doesn't try to explain too much. Clowns are scary, sure, with their painted grins and kooky laugh, but in this film, they are treated as any other monster; such as zombies, cannibals, or gingers (I'm a ginger, so I can say that). The world this film lives in simply understands that clowns exist and they aren't really human as much as they are goblin like chaos bringers. And I can get with that. There is no scientific explanation or deep history to their antics or existence. It's just a bunch of kids running from clowns with weapons. And while those looking for deeper meanings in their horror might take umbrage with that, sometimes a simple yet action packed chase scene of a horror movie is just what I need.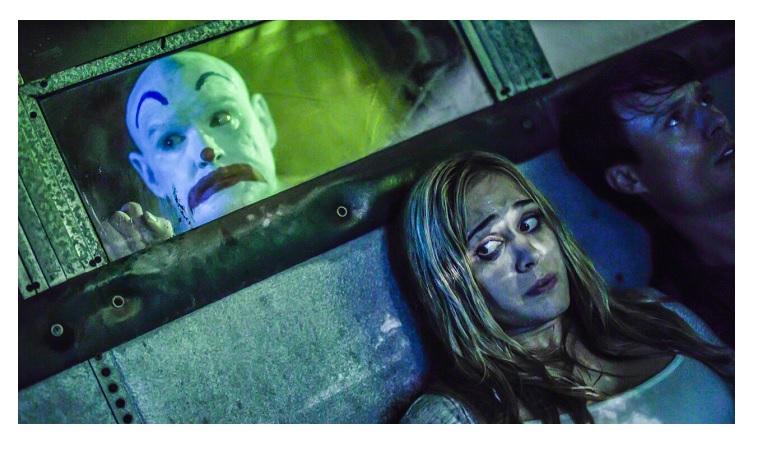 The action in CLOWN TOWN is pretty well done. Almost right from the beginning, the film starts out as a long chase where the group knows they are being chased by these painted monsters rather than having them killed one by one by an unseen killer. In this sense, it makes the whole film move at quite a rapid pace leading to a pretty brutal ending. While much of the blueprint of this film feels as if it were taken from a TEXAS CHAIN SAW MASSACRE film directed by Rob Zombie, I found myself endeared to it, despite its similarity to other films of this ilk.
The acting is pretty sharp and I actually found myself liking these four kids out looking for a good time and instead find their worst nightmare. Usually the pretty people in peril are interchangeable and unmemorable, but these folks felt more like real people, and thus, I was more invested. CLOWN TOWN isn't really breaking new ground in terms of travelers wanter into an uncharted land filled with cannibal/zombie/hillbilly type films, but it does that dance remarkably well and entertained me to the end. The clowns were scary for the most part, mainly the hissing one who looks like a white haired Alice Cooper, and their antics are going to freak out those with a fear of clowns, for sure.
---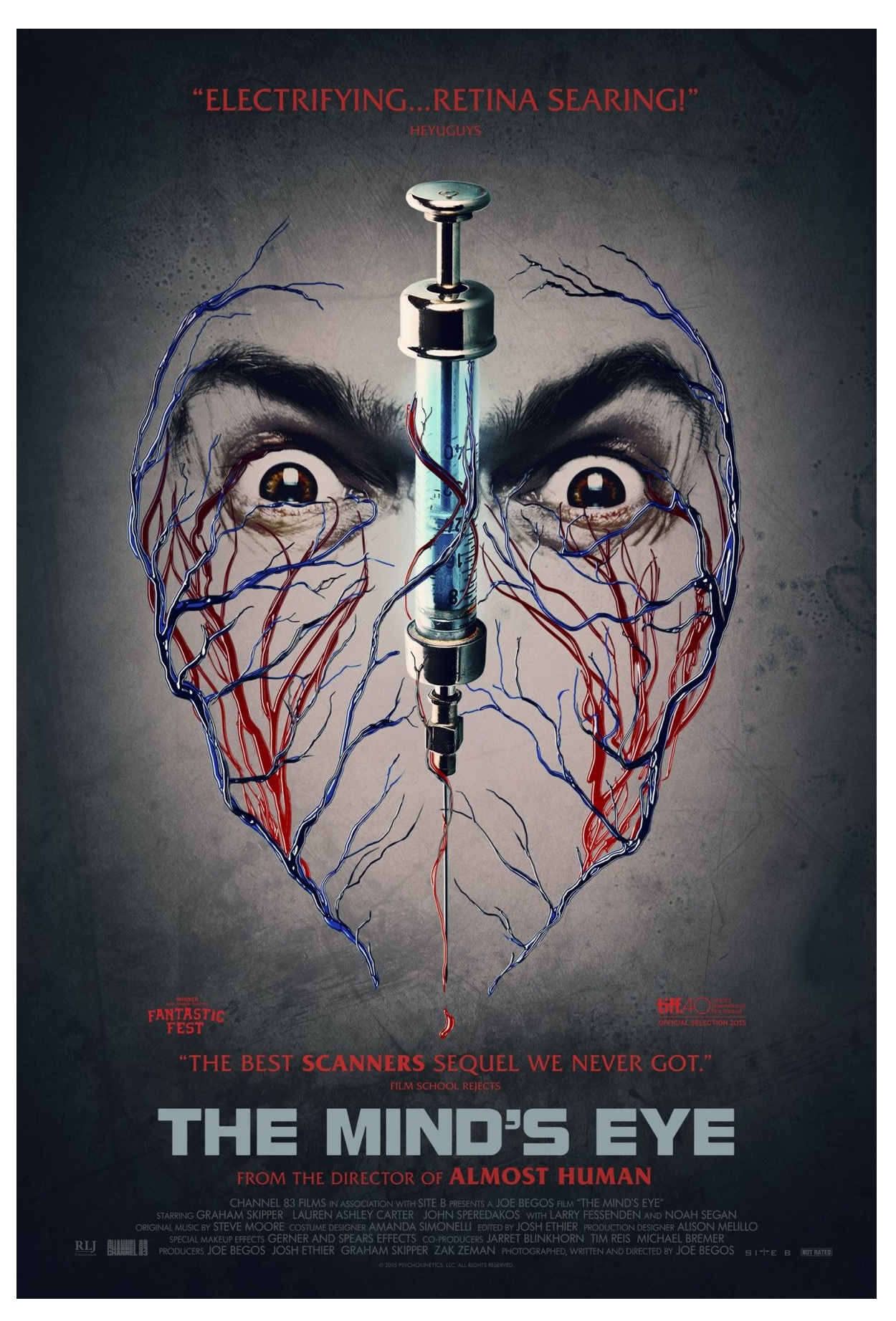 New this week on BluRay/DVD, On Demand, and iTunes from RLJ Entertainment!
THE MIND'S EYE (2015)
Directed by Joe Begos
Written by Joe Begos
Starring Graham Skipper, Lauren Ashley Carter, John Speredakos, Larry Fessenden, Noah Segan, Matt Mercer, Michael A. LoCicero, Jeremy Gardner, Patrick M. Walsh, Brian Morvant, Josh Ethier, Susan T. Travers, Chuck Doherty, Jesse Dufault, Graham Reznick
Reviewed by Mark L. Miller aka Ambush Bug
Joe Begos burst onto the scene a short while ago with ALMOST HUMAN (
reviewed here
) an ode to John Carpenter which modernized Carpenter's style, subject matter (specifically THE THING and maybe a bit of STARMAN), and even swiped the font for the title credits. Some felt this homage was a bit too on the nose, while others felt it was the emergence of a fresh new voice in horror. This year, Begos is making waves once again with another film that lifts quite a bit from films like David Cronenberg's SCANNERS, Brian De Palma's THE FURY, and maybe a bit of FIRESTARTER and THE DEAD ZONE tossed in there, but still offers up enough fun to make it much more than just parts from previous genre films.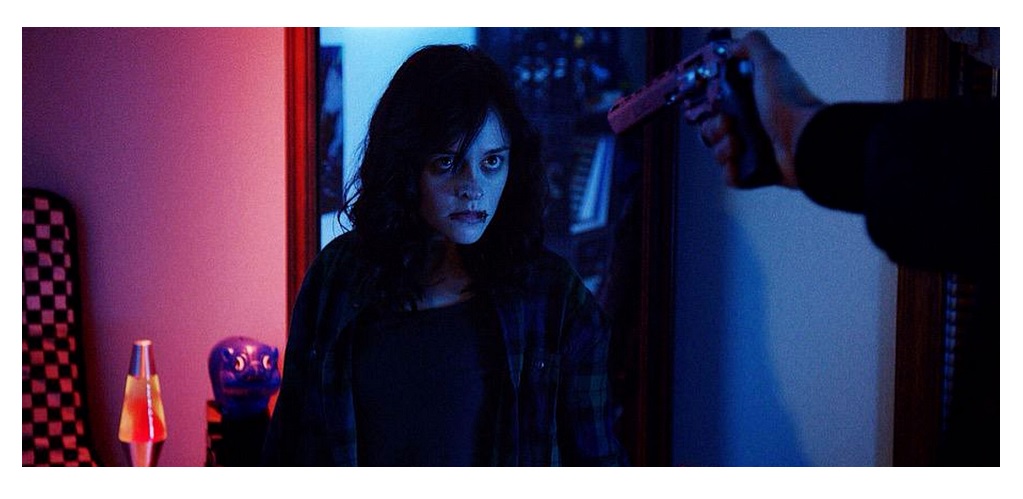 The film follows the troubled life of Zach Connors (played by the almost-too-much-looking-like-Elijah-Wood-that-it's-scary Graham Skipper—who starred in Begos last film) who is picked up by the police as he wanders through a small town, much like John Rambo in FIRST BLOOD. After a run-in with he cops where Zach displays telekinetic powers, Zach is put on the radar of Dr. Slovak (John Speredakos), who runs a clinic that specializes in treating people with psychic powers. In this clinic is Rachel (the always amazing and beautiful Lauren Ashley Carter from
DARLING
and
POD
), Zach's missing girlfriend who also has powers of her own. Agreeing to return to the clinic with Slovak, Zach uncovers the doctor's true intentions, which is stealing spinal fluid from the psychokinetic patients for selfish means. After a bold escape from the clinic, Zach and Rachel must face a psychokinetic-powered-up Slovak and his thuggish guards in order to regain their freedom.
Because there have been iconic horror movies made from this subject matter, comparisons are going to be many to those films I listed above in the first paragraph. And while they are valid comparisons, instead of accusing a lift, I feel Begos did a fantastic job of diluting what made those films about psychic phenomena so effective and was able to put together a really fun action and intrigue flick with a whole lot of gore and a ton of genre actors be sloshed with it. No horror fan should be disappointed as this film does a lot of the things SCANNERS did and while I give Cronenberg credit for the masterpiece that is SCANNERS, I found this film just as fun. Yes, there is a slo-mo exploding head, but man, does it come at a time in this film that fits perfectly with the intensity of the action going on. There's a lot of really soppy, gooey gore in this film and I applaud Begos for going for broke with the wet stuff in this hard edged actioner. While the scope is pretty small, and most likely the budget was as well, money was spent on effects and they are definitely worth every penny.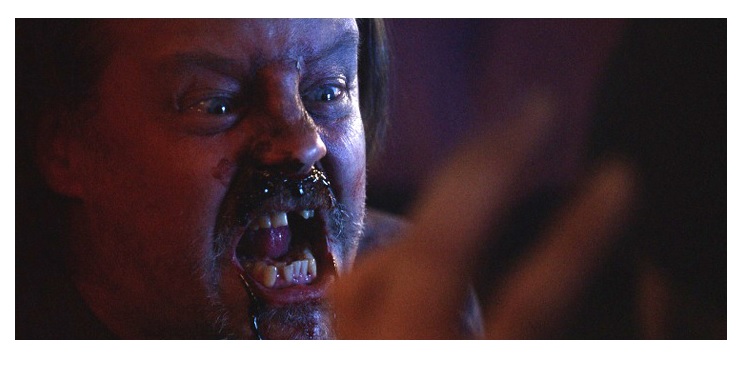 The other appeal to this film is that it stars some of the most loved faces in indie horror at the moment. Lauren Ashley Carter doesn't have as much to do here as she did in POD and DARLING, but what she does is great, providing the heart of the film with Rachel's relationship with Zach. Graham Skipper is damn great here as the lead and John Speredakos fills the shoes of the villain comfortably with a lot of growling menace. But the smaller roles are filled out with folks of equal talent such as the Godfather of modern horror Larry Fessenden as Zach's Dad, THE BATTERY's Jeremy Gardner as a jittery guard, CONTRACTED's Matt Mercer as a fellow patient in the clinic, THE DEAD GIRL and STARRY EYES' Noah Segan as a guard with powers of his own, and I especially enjoyed the down to earth snark from ALMOST HUMAN's Michael A. LoCicero as another guard at the facility. All of these familiar faces showing up in one movie makes this a genre fan's treat.
THE MIND'S EYE also offers up a synth score and special sound effects that take this film to another level of cool. The sound effects used to exemplify when powers are being used is very cool as is the Carpenter-esque synth music played throughout, once again calling back to the 80's. Sound is important here as most of the time, the camera is being focused on two guys grunting at one another as they try to fight each other with mind power. This could come off as goofy as hell, but with some finessed usage of sound effects, music, and editing, these scenes of mind battle come off as exciting rather than laughable.
One thing I noticed is that there's an awful lot of spitting in THE MIND'S EYE. Unless Begos is going for a specific gimmick or inside joke, I'd advise the filmmaker to watch the amount of saliva being hacked forth from mostly all of his actors. Loogeys are spat in faces in defiance and down at fallen opponents by almost everyone in the cast and it got to be quite fun to predict who is spitting at who as this film proceeded. That said, THE MIND'S EYE is yet another example of how filmmaker Begos is able to make big time horror on a low budget. Someone give this guy more money. If ALMOST HUMAN and THE MIND'S EYE are any indication, Begos is bound for greatness in the world of horror.
---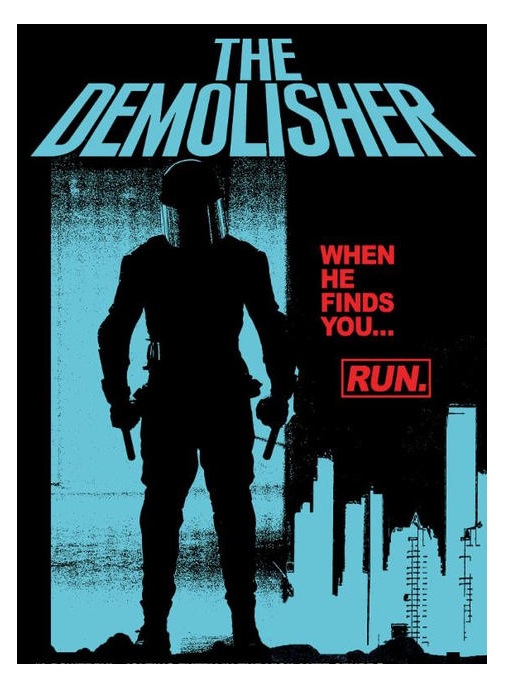 New this week on BluRay/DVD from Raven Banner/Dark Sky Films!
THE DEMOLISHER (2015)
Directed by Gabriel Carrer
Written by Gabriel Carrer
Starring Ry Barrett, Tianna Nori, Jessica Vano, Duncan McLellan, Gerrit Sepers, Bruce Turner, Duane Frey, Andrew Bussey, Owen Fawcett, Rich Piatkowski, Reese Eveneshen, Ashley Awde, John Cross, Brendan McKenna, Christian Burgess
Find out more about this film here and on Facebook here
Reviewed by Ambush Bug
Bursting at the seams with rage and frustration is this walking frayed nerve of a film called THE DEMOLISHER.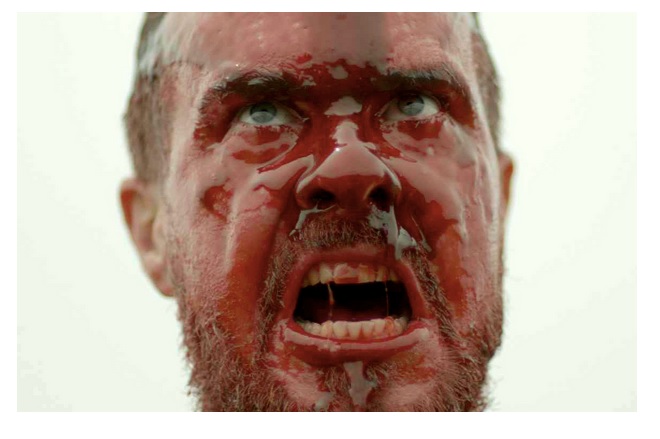 The revenge film is a subgenre in and of itself that often straddles the line between action and horror. When the film simply focuses on the act of revenge, it tends to be seen in the action section with someone like Steven Segal or Jean Claude Van Damme in the lead role. But when the revenge runs deep and the film isn't afraid to follow it, it can be the stuff of the most potent of psychological horrors as it shows what the human mind is capable of if the right things are taken away. That's the type of film THE DEMOLISHER is. It highlights the horror of losing something and how that can be a devastating blow to one's psyche.
Bruce (THE DROWNSMAN's Ry Barrett) is a cable TV repairman whose police officer wife Samantha (Tianna Nori) was crippled and assaulted by a local gang. Overflowing with rage, Bruce dons riot gear and goes out at night beating the living shit out of gangs in the hope of tracking down the ones who hurt his wife. Meanwhile, Marie (Jessica Vano) is coping with violence herself in her own way in a support group. This tale of the impact of violence and the horror it often unleashes is intense from beginning to end, as it opens with Bruce punching a thug over and over again in the middle of the street. As Bruce and Marie's paths cross, it becomes clear that once the subject of violence you remain forever changed. Bruce is coming undone at the seams with his rage overflowing into his day job, while Marie finds herself haunted by the violence that she endures during every waking minute. It's a two-pronged assault of the impact of violence, and this film is not afraid to show how hard that impact can be.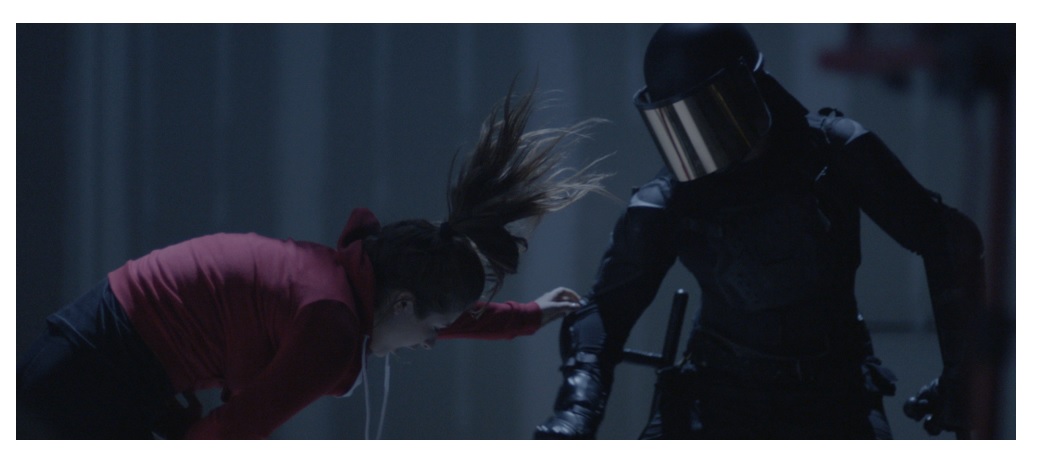 While much of the film is without dialog and we simply see Bruce wandering the streets in full riot gear looking for a fight, the film speaks volumes in the distressed face of Bruce, the disappointed and understanding face of his wife Samantha who is aware of his vigilante exploits, and the pained look of despair in Marie's face as she recounts the night she crosses paths with Bruce. The violence is ever-present as Bruce stares in absolute rancor at the viewer and we become privy to the primal dreams he has of simply destroying everything in his path. These dream sequences are fantastic and surreal, yet terrifying. Equal in effectiveness are the scenes of Bruce wandering the streets in riot gear surrounded by the empty Toronto streets. Misguided and looking for anyone to hurt, Bruce is not discerning in who he massacres with his billy clubs and fists. If you're on the street at night, you're a threat in his eyes, and the scenes of him on patrol are terrifying because we as the viewer are privy to his skewed perspective.
Unrelenting and powerful, THE DEMOLISHER is a bold statement on untapped rage. From start to finish, this film had me shaking with anticipation as to how far down the thorny rabbit hole the characters are going to plummet. If you like your horrors resonant and angry, THE DEMOLISHER will decimate expectations and show you what real anger is.
---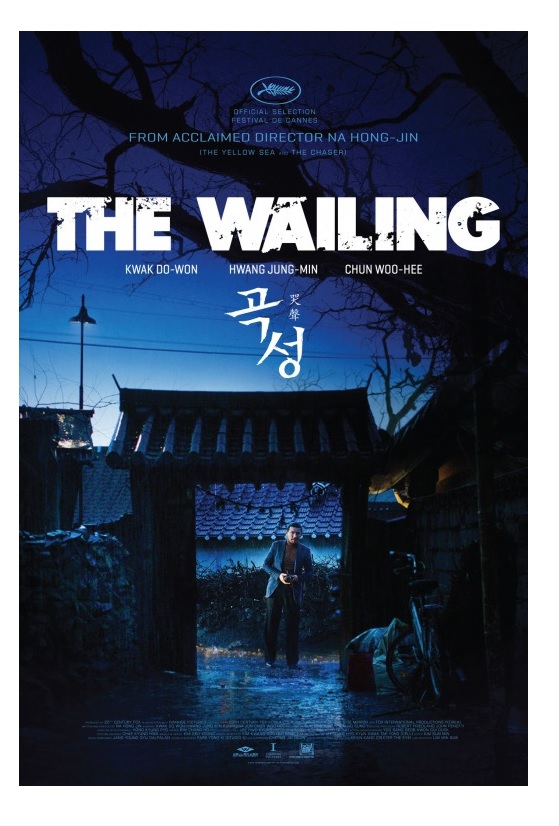 New this week on BluRay/DVD from Well Go USA!
THE WAILING (2016)
aka GOKSUNG
Directed by Hong-jin Na
Written by Hong-jin Na
Starring Do Won Kwak, Woo-hee Chun, Jeong-min Hwang, Han-Cheol Jo, So-yeon Jang, & Jun Kunimura as The Stranger!
Find out more about this film on Facebook here
Reviewed by Mark L. Miller aka Ambush Bug
I've heard the world a tour de force used in terms of films and I guess that means a myriad of emotions are tugged and jostled leaving the film somewhat uncategorizable in terms of what specific type of genre it rests in. If that's the case, THE WAILING is such a film as it is equal parts drama, comedy, tragedy, horror, and police procedural. And the sum of these parts makes it one of the most engaging and harrowing films you're going to see this year.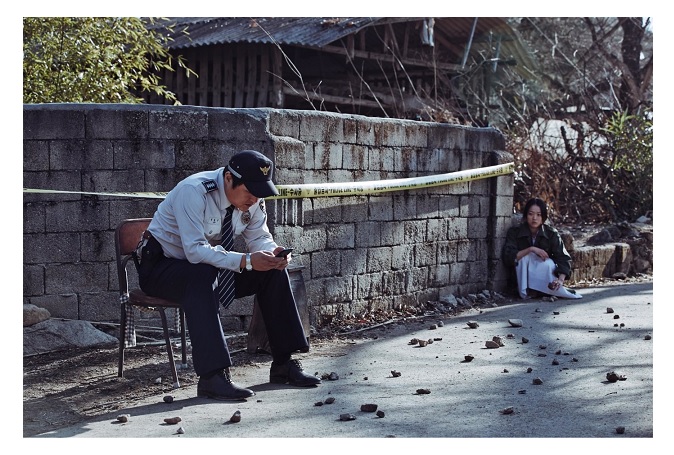 Do Won Kwak plays Jong-Goo, a loving father, dutiful husband, but a bumbling police officer. When a string of seemingly random acts of violence plague the small village he lives in, it is only Jong-Goo who sees the connections between them and follows the trail to the shack of a mysterious Japanese man living in the hills outside of town. This stranger (Jun Kunimura) has very little to say, but the secret rooms in his shack indicate some kind of black magic going on. This black magic seems to follow Jong-Goo home and possesses his little daughter. Seeking the aid of a shaman (Jeong-min Hwang), Jong-Goo begins a harrowing journey to save the life of his daughter from the clutches of evil spirits that are invading his small village and his own home.
What I absolutely love about this film is the seemingly seamless transition Jong-Goo makes from clumsy policeman to desperate father through the course of this story. THE WAILING is a long one—clocking in at about two and a half hours, but this gives the characters a chance to really evolve and show multiple sides of their characters. The film starts out comical as Jong-Goo stumbles through investigations, screams like a little girl at the creepy shit that is going on, and takes part in almost slapstick scenes where he attempts to take on these evil spirits. Do Won Kwak is the perfect actor to play this because he is somewhat pudgy and not your typical leading man material, but his love for his daughter allows the viewer to really get to know and like him beyond his comical stumblings. So when Jong-Goo's family is threatened and he ventures into darker and darker territory, you're with him 100%. When things get dire, this closeness you feel to his character really carries weight.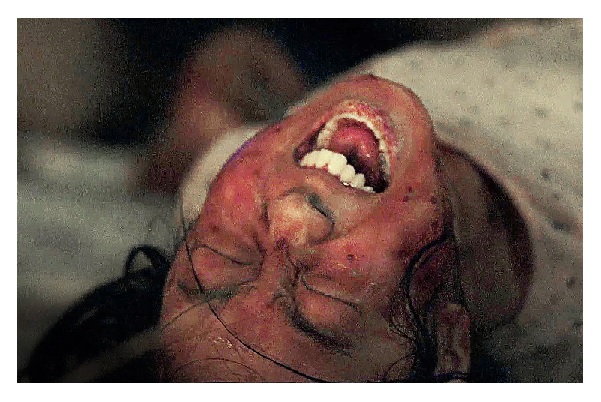 I also loved the way this film twisted and turned your expectations from beginning to end. Hollywood films dumb down their stories to reflect simply one style or genre. THE WAILING is many all wrapped up into one. There are moments of sheer tension as Jong-Goo unravels this mystery. There are moments of cultural beauty and oddity as we are made witness to a shamanistic exorcism performed to save the life of Jong-Goo's daughter. There is even thematic heft involving mistrust for those from outside one's own culture as the South Korean police immediately peg the strange Japanese man in the woods as the culprit. And the humor works as well as I laughed out loud at some of the scenes where Jong-Goo reacts at the sight of a supernatural creature (one specific sequence where a zombie like creature appears out of the woods and a group of villagers comically attempt to battle it with shovels and rakes comes to mind). And there are moments of sheer terror as the stakes are risen to biblical levels by the end of this thing with not only the life of Jong-Goo's family at stake, but possibly the entire world. All of these elements fit together perfectly without a moment of awkward transition.
I can't recommend this South Korean masterpiece more as it tugs on heartstrings and then rips them out with fiendish glee. It will make you laugh and shriek. Those who don't enjoy international cinema are missing out on some amazing horror these days as this is where the real risks are taken. THE WAILING is a rollercoaster of a film. It's long and complex. It's equal parts heartwarming and wrenching as the story goes on. It firmly embraces the realm of horror, but does so in a way that doesn't insult the viewer's intelligence. THE WAILING is one urban ghost story that is worth seeking out with fantastic performances, surreally beautiful culture, and absolutely riveting moments of sheer terror.
---
And finally…here's another radio play from the classic "Light's Out" series from a time before pretty much all of us were born. This one's called "Until Dead!"
---
See ya next week, folks!

Ambush Bug is Mark L. Miller, original @$$Hole/wordslinger/writer of wrongs/reviewer/interviewer/editor of AICN COMICS for over 15 years & AICN HORROR for 5. Follow Mark on the Twitters @Mark_L_Miller and on his new website collecting posts for AICN HORROR as well as all of the most recent updates on his various comic book projects on MLMillerWrites.com.



---
Look for our bi-weekly rambling about random horror films on Poptards and Ain't It Cool on AICN HORROR's CANNIBAL HORRORCAST Podcast every other Thursday!
---
Find more AICN HORROR including an archive of previous columns on AICN HORROR's Facebook page!