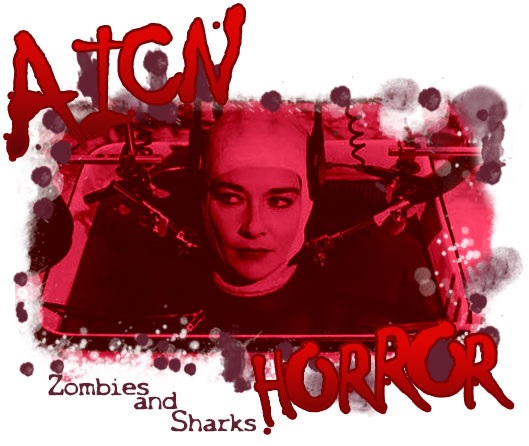 Logo by Kristian Horn
What the &#$% is ZOMBIES & SHARKS?
---
Welcome to the darker side of AICN! Mark L. Miller aka Ambush Bug here with another AICN HORROR: ZOMBIES & SHARKS column. So I'm getting ready to kick off my sixth annual AICN HORROR: BEST OF THE BEST series of posts that will run all through October counting down the best films I've reviewed since last October 1st. I've been toiling and troubling over a list of top notch scary movies to present for your viewing pleasure over the next thirty days. The countdown starts tomorrow, October 1st, so check in all weekend and every day through our favorite month. Of course, we still have this week's batch, which may or may not contain films from the countdown. But before we check out this week's books, there's this…
---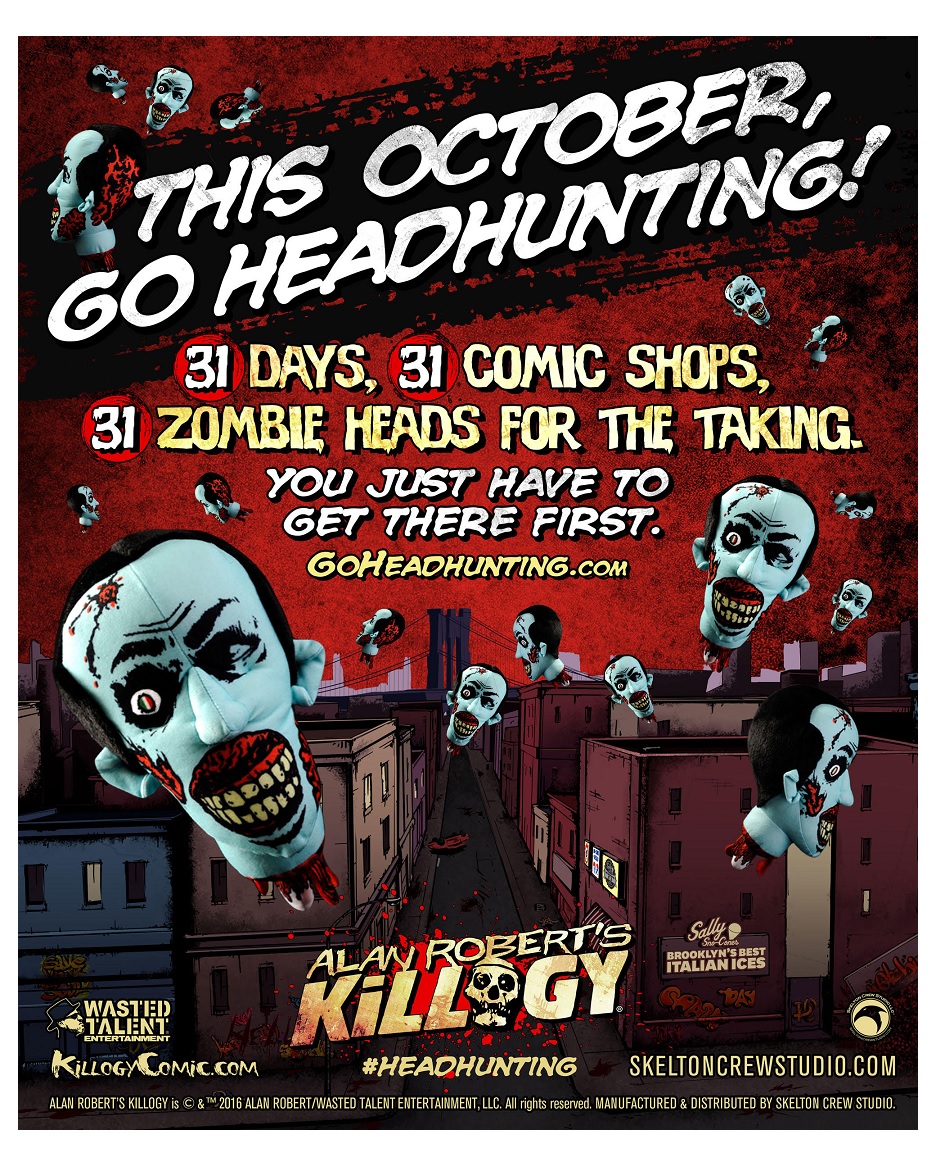 Alan Robert has had quite a fantastic career writing and drawing horror comics as well as playing rock music on stage with his band "Life In Agony." His latest project KILLOGY is both a comic book series and an upcoming animated cartoon. For 31 days, starting October 1st, a plush zombie head from Alan Robert's hit comic KILLOGY will be hidden at a comic shop somewhere from Maine to California, yours free for the taking... you just have to get there first! By 8 p.m. each night EST, Robert will post the location of the next day's shop
here
. The first person to ask for it at the counter snags a cuddly, bloody limited edition zombie head for their very own. Use #headhunting to tag the folks at KILLOGY with your winning zombie pic on Twitter and Facebook!
---
On with the horror reviews!
Today on AICN HORROR

(Click title to go directly to the feature)
SHE KILLS (2016)
APT 3D (2014)
CELL (2016)
THE NEON DEMON (2016)
THE SHALLOWS (2016)
CARNAGE PARK (2016)
And finally…Ghosts In The Graveyard's BETTER IN BLACK
---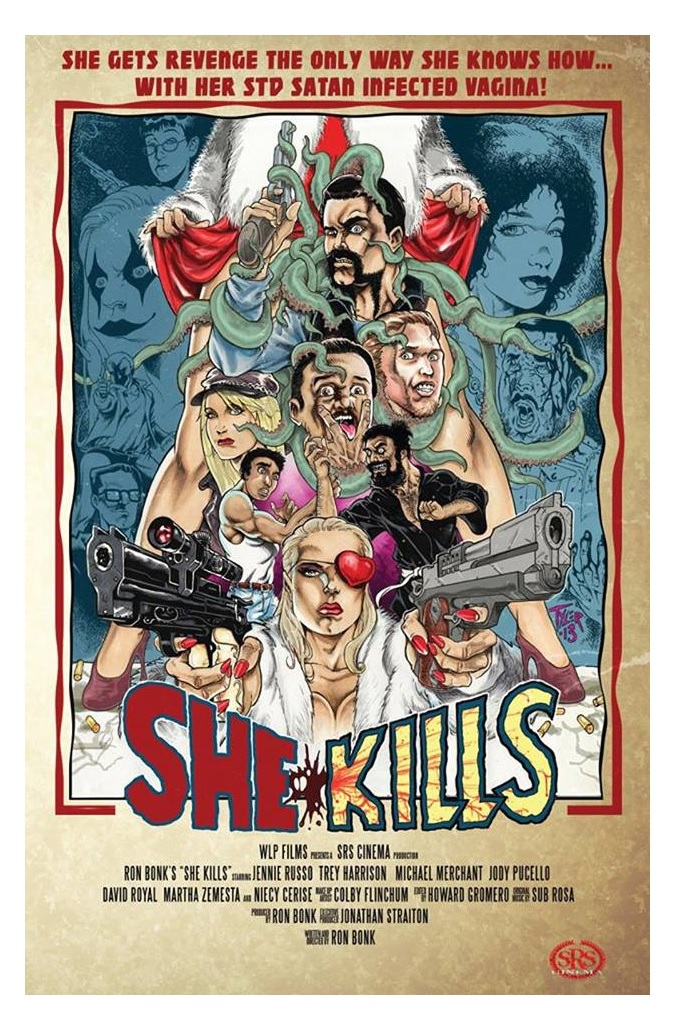 New this week on itunes and on Amazon Video!
SHE KILLS (2016)
Directed by Ron Bonk
Written by Ron Bonk
Starring Jennie Russo, Trey Harrison, Michael Merchant, Jody Pucello, David Royal, Martha Zemsta
Find out more about this film here, on Facebook here!
Reviewed by Ambush Bug
SHE KILLS lets you know it is something extremely unconventional as Sadie (Jennie Russo) walks though a lovely field of wildflowers set to sweeping piano music. As she comes to rest on a grassy spot, she opens her blouse and tickles her nipple with a flower as a biker punk wearing a leather jacket with "The Touchers" painted across the back watches intently and licks his lips. Right off the bat, the film lets you know that it is not your typical movie. SHE KILLS is raunchy, gory, and altogether wrong in so many ways. It's also a pretty damn good time.
As the credits attest, SHE KILLS is based on the fictional novel "She Kills with Her Crotch" by Sir Bertrand Covington. This may not be true, in fact, I'm sure it isn't, but it only adds to the layers of raunchy fun this film oozes from every orifice. Taking the tone of some of the best Troma farces, SHE KILLS spoofs the grindhouse revenge genre with all kinds of clichés gone gory and wrong.
Sadie is a virginal young woman, looking forward to marrying her fiancée and starting a family, but on her wedding night, a ruthless gang named "The Touchers" murder her husband and as they attempt to rape Sadie, one whiff from her crotch whips them into an uncontrollable rage. The Touchers wake up the next morning to find out that they ate her husband and that Sadie's honeypot has the power to drive people mad. Vowing revenge against the Touchers, Sadie goes to a mystic who says she is cursed with "the fire crotch" and that Sadie can have her revenge, though she can never be with a man again. The spell is performed and Sadie busts out to unleash some vaginal revenge on her tormentors.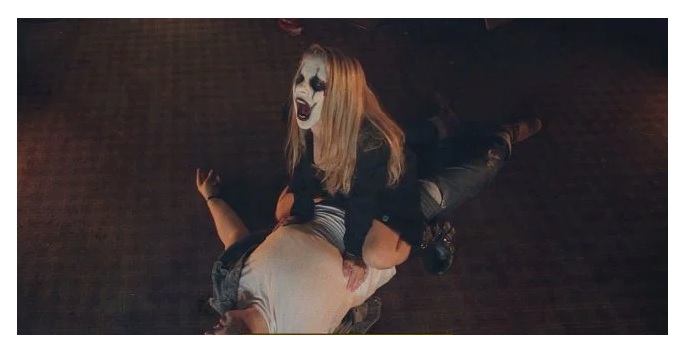 So, this is a film that centers on rape and tosses every gory and crude thing plus the kitchen sink at you. And while rape is not usually a subject to take so lightly, this film does so in a way that is so wrong, you're going to feel kind of raunchy just tittering at it. There will be those sensitive types that will get their panties in a bunch about the frivolous way the subject matter is dealt with, but this isn't really a movie for folks who take things that seriously. There's not a sincere bone in this film's body and I have to admire the balls this film has for going full on grossout the way it did.
Balls are kicked so hard they are coughed up. Much 70's bush is unleashed. People are dry humped to death. And you will believe a vagina will eat a human being. These are but a few of the horrifically wrong things that happen in SHE KILLS, a film made for a particular gore-minded folks who laugh uncontrollably at times when one is supposed to be offended. The cast and filmmakers of this film committed to make something truly disgusting and juvenile and they succeeded in spades. If you're a fan of Troma films, SHE KILLS is going to be your flavor, guaranteed.
---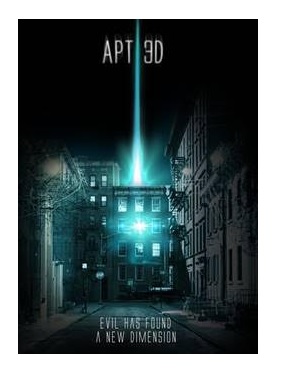 New On Demand from Indican Pictures!
APT 3D (2014)
aka THE PEOPLE DOWNSTAIRS
Directed by Zack Imbrogno, Horst Dieter Baum
Written by Zack Imbrogno & Jordan Lewis
Starring Maxxe Sternbaum, Zack Imbrogno, Jordan Lewis
Reviewed by Mark L. Miller aka Ambush Bug
The subtlety of APT 3D might be a little too much for viewers to take, especially those looking for a strong and intense chills. The horror of this film is a little quieter than most and it feels more like an exercise in paranoia than anything else, but with a strong, but difficult to like cast, and these controlled chills, I don't know if I can fully recommend this one.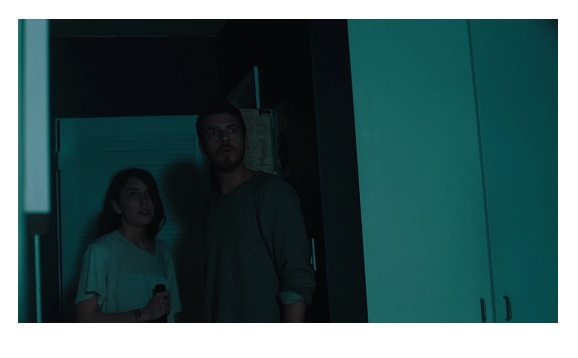 Ben and Erin (director/writer Zack Imbrogno and Maxxe Sternbaum) are a couple who decide to move to New York for Ben to take a job as a writer for a TV show. Even in the opening moments, Erin looks miserable as she sits in the passenger seat in a car driven by Ben entering the city. Almost immediately, things seem off as the couple enter the apartment they are staying in which belongs to Ben's sister. Though no one is there to meet them and his sister's phone is left on the table, Ben is too busy anticipating his new job to worry about that is going on. Erin, on the other hand is left to stay in the apartment to continue writing her blog and basically make Ben feel like shit for taking the job and uprooting their lives to New York. Soon Erin begins to hear strange noises that will not be picked up through her phone recorder. Windows are found open and strange lights are seen in the distant night sky. Though their neighbor (co-writer Jordan Lewis) offers scant answers, he does warn them about the strange things occurring in their apartment and hints at how to deal with them.
Two things are effective in APT 3D. The film offers up subtle terrors; shadows in the periphery that disappear, strange lights, and stranger sounds happen all over the house. The couple also are effected physically the longer they stay in the house. All of these factors are not your usual over the top haunting/alien visitor/government conspiracy film, which makes the whole thing much more believable than most of this genre. The other thing is that the relationship is extremely well acted out in a believable manner as Erin is passive and not so passive aggressive about the whole situation and Ben is frustrated between the choice Erin is forcing him to choose between his own occupational happiness and his happiness he shares with Erin. This does not make Erin or Ben the most likable of protagonists, but it does make them feel very real. Actors Zack Imbrogno and Maxxe Sternbaum are brave to portray these characters in such a way, but while it makes things more real, it also made me root for whatever it is disrupting this couple in the apartment to do away with them as they seem to be selfish and at each others' throats most of the film.
The film never really comes to a satisfying resolution either as Ben and Erin make a decision that feels impulsive and not really well thought out no matter what freaky shit occurs. Because the audience are never really given a clear picture of what is occurring in the apartment, the resolution just kind of ends the film and you're left with so many questions that I felt as if I invested myself in a story that left me hanging instead of left me entertaining. APT 3D is well acted—that is without question, but the story is most likely going to frustrate you. It certainly did me.
Don't have a trailer, but here's a clip of the film, which is pretty indicative of what I was talking about above.
---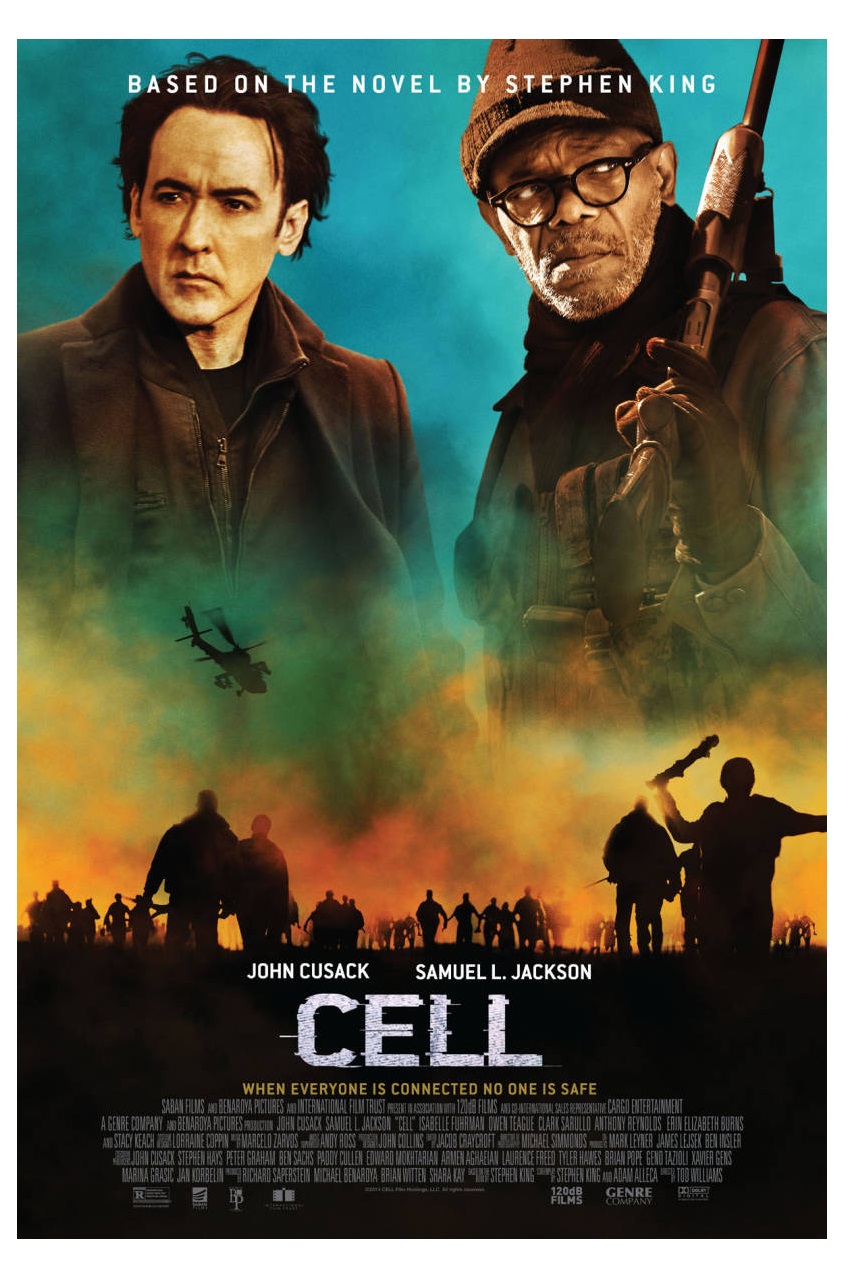 New this week on BluRay/DVD from Lionsgate Home Entertainment!
CELL (2016)
aka SIGNAL
Directed by Tod Williams
Written by Adam Alleca & Stephen King (screenplay), based on the novel by Stephen King
Starring John Cusack, Samuel L. Jackson, Isabelle Fuhrman, Clark Sarullo, Ethan Andrew Casto, Owen Teague, Stacy Keach, Joshua Mikel, Anthony Reynolds, Erin Elizabeth Burns, Wilbur Fitzgerald, Mark Ashworth, Jeff Hallman, Catherine Dyer, E. Roger Mitchell, Alex ter Avest, Gaby Leyner, and Lloyd Kaufman
Find out more about this film here and on Facebook here
Reviewed by Mark L. Miller aka Ambush Bug
Somewhere in CELL is a decent movie, but the film uses way too many pastiches and trends from other films that it, along with its stars, feels very tired.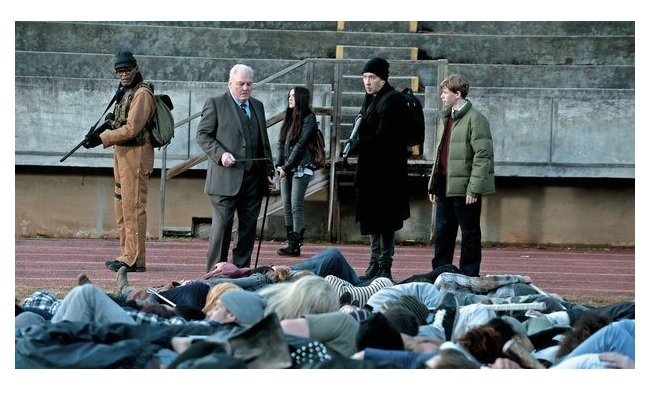 CELL follows Clay Riddell (John Cusack) a comic book artist who is one of the few people who are not on their phone when a signal sounds and turns them all into mindless and rampaging psychopaths who tear apart anyone not infected by the signal. Clay teams up Tom McCourt (Cusack's co-star from 1408 Samuel L. Jackson), a train conductor and treks across the country to Clay's house to find his family and then on to a find someplace not infected by the evil signal.
The problem is that, aside from the unique way the infected became infected, they still are just zombies running after our heroes across a dreary and drab landscape. This is a muddy looking film and it looked like an arduous one to film, as everyone seems to be wet and cold all of the time. THE ROAD was like this, and I liked that film, but here, Riddell and McCourt seem to be too capable of surviving despite the fact that neither have any kind of survivalist training. They are also kept very clean, despite having to run and hide for their lives throughout the length of this film. Sure it's kind of cool when the cell-infected stand and give off radio frequencies through their mouths, but turn the volume of this one down and it's just super-stars who don't want to get muddy running around in a drab environment.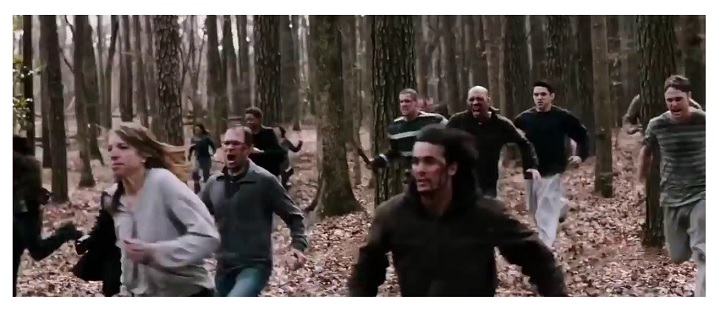 The actors themselves look like they are more miserable than anything through this whole film. There is misery that comes from acting as a person worn out by the challenges in the story and then there is the misery exemplified here that covers the face of people who don't want to be in this movie. Cusack has that face, as does Jackson. This is supposed to be a desperate trek across miles of dangerous territory and filled with creepy zombies with radio waves shooting out of their pie-holes, but Cusack hits every scene with a blank stare and little effort to make this performance stand out. Once quirky, Cusack has become ever-aloof and non-plussed about anything but getting a paycheck here.
There are some decent scenes in CELL. One scene shows promise where Cusack and Jackson destroy a stadium of sleeping cell-infecteds by running over them with a truck spraying gasoline and lighting them on fire. Again, this could have been a scene played for its visceral effect, but neither actor seems that grossed out by it and the director fails to show what the truck is doing to the sleeping monsters, so it comes off as tame. A few references to other King movies are tossed in with little impact; one man is killed like Scatman Crothers from THE SHINING by a man with an axe, another scene has Riddell's kid painting the same picture than hangs on the wall in the room in 1408. But for every decent scene, there's a laughably bad scene of Cusack and Jackson being accurate Rambos with their guns and the longest refrigerator magnet message ever put to film. The ending, though, is ballsy. While it doesn't resolve a damn thing, it does take a darker path than the everything will be ok route. I'd love to see someone reedit this film and maybe add some kind of ending that wraps stuff up better. There are elements of fun and this is not the worst King adaptation, but despite a ballsy ending and a pretty thrilling opener in an aitport, all of the batteries (from the actors' to the director's) seem to be running low.
---
---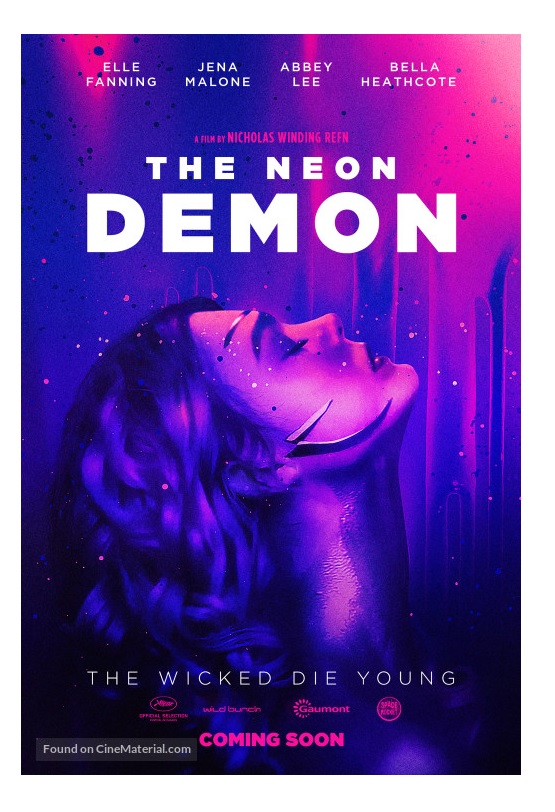 New this week on BluRay/DVD from Broadgreen Pictures!
THE NEON DEMON (2016)
Directed by Nicolas Winding Refn
Written by Nicolas Winding Refn (story/screenplay), Mary Laws & Polly Stenham (screenplay)
Starring Elle Fanning, Christina Hendricks, Keanu Reeves, Abbey Lee, Jena Malone, Bella Heathcote, Jamie Clayton, Desmond Harrington, Alessandro Nivola, Taylor Marie Hill, Charles Baker, Karl Glusman
Find out more about this film here and on Facebook here
Reviewed by Mark L. Miller aka Ambush Bug
I haven't seen the PUSHER films, but upon going into THE NEON DEMON, Nicholas Winding Refn was 2 for 3 with me in terms of making decent, watchable films. BRONSON was amazing. As was DRIVE, but like many, ONLY GOD FORGIVES was an exercise in tedium from a director who seemed to love the smell of his own farts. While not as impenetrable as ONLY GOD FORGIVES, if that film annoyed you, you're bound to have an issue or two with NWR's latest film, THE NEON DEMON.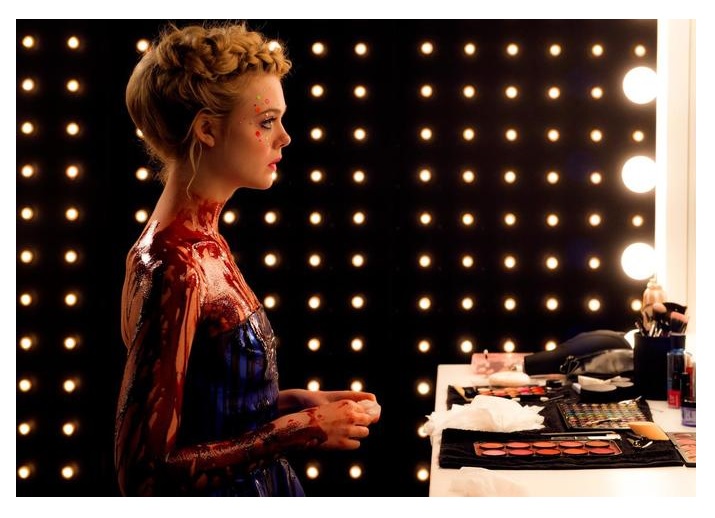 To start off, the multiple times THE NEON DEMON takes the opportunity to mention that this is a film by Nicholas Winding Refn or even more pretentiously NWR in the credits at the beginning and the end indicates that Refn is proud of his work in THE NEON DEMON—and the man should be, I guess. But the sheer amount of times his name or the NWR initials show up in the credits was off-putting to me right from the get go. He is a talented director with an undisputable eye for beauty. There are scenes in THE NEON DEMON that are absolutely breathtaking—many of which are focused on its star Elle Fanning who plays Jesse, naïve noob to the LA modeling scene who has a look most in the industry would kill for. This film centers on Jesse's beauty which she exudes without even trying. Everyone in this film, from her wannabe boyfriend (Karl Glusman) to a pervy industry photographer (DEXTER's Desmond Harrington) to her equally pervy hotel manager (Keanu Reeves) to an egotistical designer (Alessandro Nivola) to her lusting makeup artist (Jenna Malone) to her envious fellow models (Abby Lee & Bella Heathcote), want to either be her or be with her—and sometimes both. Jesse is less of a character and more of an object in this film to be desired and envied as she is given only fragments of a past to share with the audience. What is refreshing is that she is more than willing to admit she is beautiful, though it does tend to make her character less appealing the more she talk about it. And as Jesse makes her short trip to stardom, she still manages to make plenty of enemies along the way.
While this is a striking film, the story itself is, in many ways, very much like the horror film
STARRY EYES
which was released just last year. I couldn't help but think of STARRY EYES while watching this film because while THE NEON DEMON looks fantastic and sounds amazing, I kept going back to that little horror film and liking is infinitely more due to the fact that filmmakers Kevin Kolsch and Dennis Widmyer were able to touch upon a lot of the same points in a more entertaining fashion. Sure, THE NEON DEMON has an eye for beauty, but it is also extremely self-indulgent. DRIVE had it's fair share of silences, but it was hooked to a compelling story and the action on screen made these silences worth while. THE NEON DEMON is a very quiet film as well, and while it doesn't fall into the ocean of tedium that was ONLY GOD FORGIVES, after the second hour mark, I was definitely looking at my watch and wondering how long this story of beauty begets ugliness was going to go on. This is especially true as the story can really be summed up in a much tidier and less obnoxious manner by snipping a scene or three of Fanning zoning out to the beauty of being in the spotlight.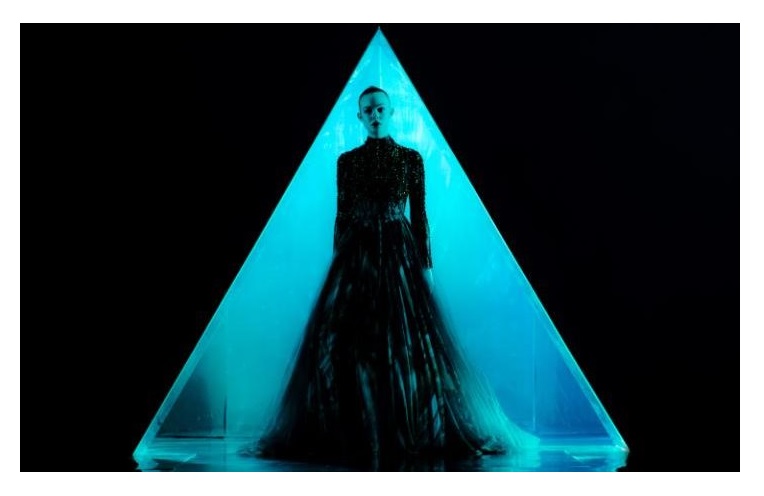 It doesn't help that much like her overnight success in the model industry, Jesse's leap into fame and the ugliness that comes with that type of narcissistic world is rather quick. Jesse gets one job with a fashion designer and is asked to be the final girl in the show and seemingly from that one gig, she becomes a vacant, jaded. and dead eyed creature she scoffed at earlier in the movie through doe-eyes. For such a long film, this transformation from wide-eyed newbie to mirror-addicted mannequin happens in one scene and it just didn't feel believable.
Another rather weird aspect of THE NEON DEMON is that while Refn's style is often categorized as Kubrikian, he tosses in one homage after another to Kublrick in this film. A lipstick shade is called "Red Rum," someone is warned about a specific room in a hotel, and right before the blood starts flowing, someone draws on a mirror in lipstick. Refn prepares us for the bloody conclusion of this film in the first seconds with a crime scene model shoot focusing on a blood covered model looking dead into the camera. This not-so-subtle foreshadowing, accompanied with the Kubrick lifts from THE SHINING, felt more like force-feeding rather than nuance. The thing with Kubrick is that he did have an otherworldly feel with long silences to punctuate violence, feeling, and moments of resonance, but he also bookended these silences with something we haven't seen before. To have so many obvious nods to Kubrick this late in the game doesn't speak well of Refn.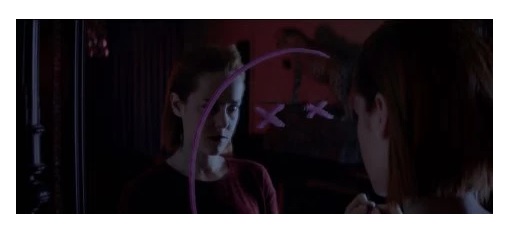 But I don't want to rag on this film too much as it does in many ways encapsulate the modeling industry and all the horrors that accompany it. Beautiful on the outside and somewhat hollow on the inside is the foundation of what the industry is built upon. Fanning really is gorgeous and charismatic in the lead and it is evident that the young woman has a huge career ahead of her. While the shift from virgin to pro is an abrupt one in the story, it isn't her fault and she plays both aspects of this character well exuding innocence in one moment and a stare that could eat you alive in the next. This film definitely feels like Fanning's "Wrecking Ball" moment where she is announcing to the world that she's no longer a little girl, but a woman and for "Wrecking Ball" moments, this definitely is an impactful one. But it is Jenna Malone who offers up a performance that culminates into the film's most memorable scene as a makeup artist who has conflicting feelings of both lust for Jesse as well as a motherly sense of protection. Her morgue scene is one that will make this film memorable and iconic and surely shows Malone is an actress who fears nothing and will go to great lengths to shock, entertain, and fascinate.
Somewhere, under a whole lot of navel-gazing and ponderous scenes of neat, but droning imagery, THE NEON DEMON is a strong story about the ugliness of an industry that exploits the beautiful. It's got amazing performances from Elle Fanning, Jenna Malone, and Abby Lee (whose eyes are the stuff dreams and nightmares are made of). It a gorgeous looking ad for something we know very well is corrupt and damaging. While it tries to give off a message of how fame devours the soul, it is a theme that has been well delved into in films that have done so at greater depth, though not through a prettier lens. THE NEON DEMON makes its point well enough, but doesn't do it in any way we didn't already know or already have seen in other films in better ways. I'm sure there are those who will be dazzled by this film's dream-like beauty, but THE NEON DEMON, sadly, doesn't have anything new to say about this subject matter that hasn't been said before.
---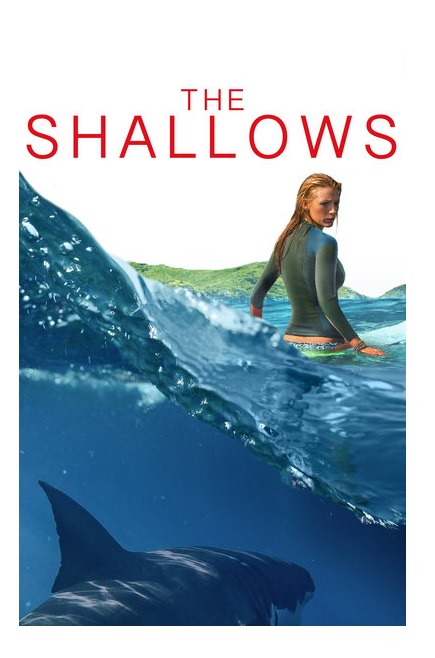 New this week on BluRay/DVD from Sony Pictures Home Entertainemt!
THE SHALLOWS (2016)
aka IN THE DEEP
Directed by Jaume Collet-Serra
Written by Anthony Jaswinski
Starring Blake Lively, Óscar Jaenada, Brett Cullen, Sedona Legge
Find out more about this film here and on Facebook here
Reviewed by Mark L. Miller aka Ambush Bug
Sharks scare the shit out of me. I can watch werewolves, zombies, serial killers, the most gut-churning gore, and any other beastie the horror genre tosses at me, but sharks are the one thing that will have my heart pumping and my feet pulled up to my chin more than anything. I spent most of the time tapping my leg in nervous tension while watching THE SHALLOWS, which is a surefire indication that this shark movie is one of the best killer shark films in ages.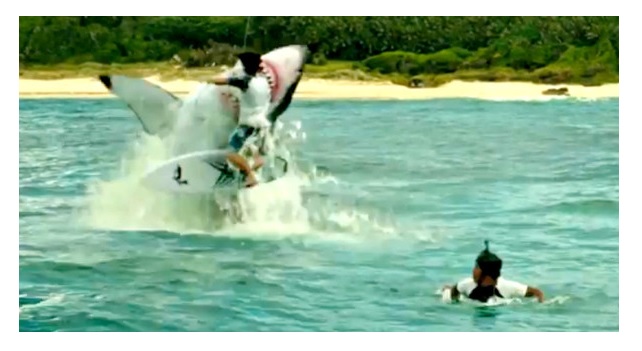 The premise is about as simple as it comes. After losing her mother to cancer, Nancy (Blake Lively) tracks down a secret beach her mother went to before she was born to surf and reminisce about what to do next with her life. With her friend left hung over in the hotel room, Nancy goes to this hidden cove alone. After running into a pair of surfers and catching a few waves, Nancy comes across the carcass of a whale floating near her and finds herself in the feeding ground of a very large and very mean great white shark. Wounded and trapped only a few hundred yards from the beach, Nancy fights the elements, the tides, and a big fucking shark in hopes to survive.
This is a (wo)man vs. nature story at its simplest. Apart from Lively talking herself through this problematic scenario, much of this film is simply hard core action with stakes that are most dire. There is an intensity in the way Jaume Collet-Serra makes this film as he gets the camera up close to Lively trapped on a rock yards from the beach and even into the mouth of that horrifying shark. There is not much by way of quiet and calm moments here. Even though a day passes in the timeframe of the film, there is never a moment that felt dull or pointless. The lead in to this perilous situation is short and quick, but even then, Collet-Serra manages to show us things you haven't seen before by going into the surf and watching these surfer do their thing under and above the waves. One of the more terrifying techniques the director used to make me need a new change of underwear was the way he places the camera right on the crest of the water, so we as the viewer get to peek quickly under the waves. Knowing this is a shark movie, I knew a shark was coming, so every time Collet-Serra gives us a glimpse, I found myself scanning everything I could see in order to make sure the coast was clear. This technique is used throughout the film and it got me on edge every damn time.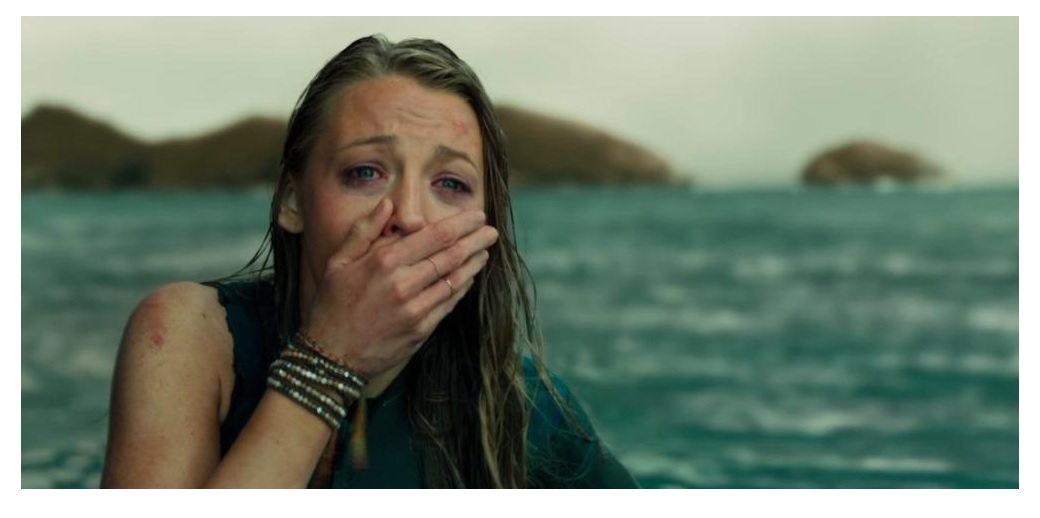 While JAWS may be a fantastic film, there are scenes where the shark just doesn't do it for me. It was a sign of the times and while it still manages to terrify my, I was hoping and waiting for a film to come along and make a scarier shark. While JAWS remains king, I dub THE SHALLOWS queen of the shark movies given the gender of its hero and the shark in this one is pants-shittingly horrifying. Again, by using the continuous undulation of the waves and putting the camera right on the edge of the water, Collet-Serra embraces the element of surprise and allows for some moments where the shark leaps right out of the water and into your face. See this film with an audience if you can. I don't think I have ever heard screams as loud as the ones I heard from the audience while watching this movie. The attack scenes are nightmare fuel and as I write this review the night of seeing it, I don't look forward to going to bed tonight. I'm sure the shark was CG, but it looked amazing and terrifyingly real all the way through.
Collet-Serra even references JAWS, but not in an annoying way. Imagine if the whole of JAWS took place in the first segment with the girl swimming at night and that buoy. That's pretty much what THE SHALLOWS is. The buoy itself plays a major role in this one and makes for the setting of one of the most brilliant climaxes I've seen in ages as Nancy clings to it for dear life as the shark batters away at it from all sides.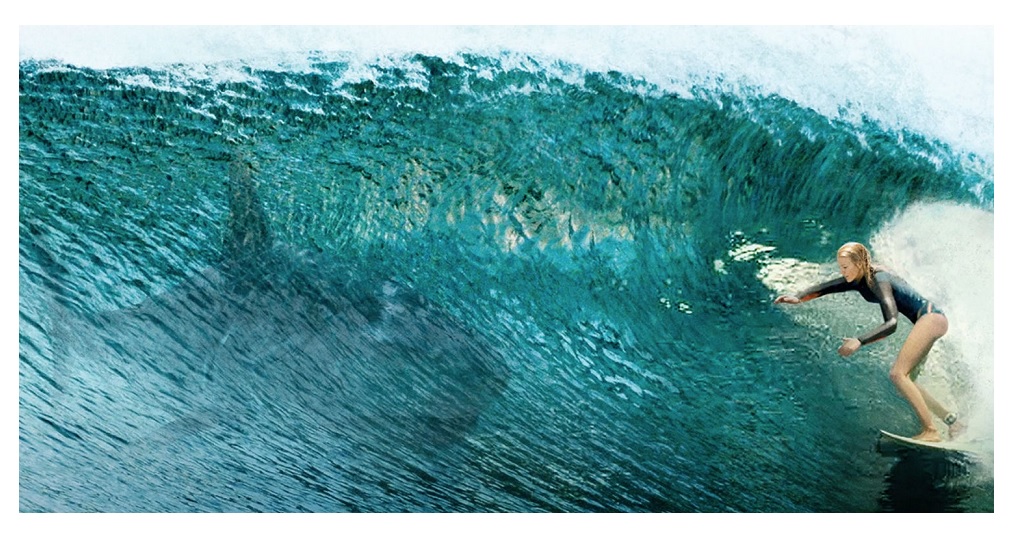 One of the things I often see folks criticizing mainly the JAWS sequels and less of the original is the fact that the shark develops a human-like hunger for revenge, which makes things feel less believable. While the shark is relentless in THE SHALLOWS, it feels less angry as it is simply always hungry and prefers moving prey rather than the carcass of the whale which is floating just a few yards away from Nancy. Sure the shark is determined to get Nancy, but it never feels like it is anything more than an animal looking for its prey. For Nancy, this story is personal. But in this film, the shark's motivation seems to purely be hunger, which makes it feel less contrived and more believable.
Marvel movies blundered big time by choosing Brie Larson for their CAPTAIN MARVEL as Blake Lively proved herself as a tough as nails action star that can carry a movie charismatically and capably. She's absolutely gorgeous and scrumptious in a bikini, but despite her beauty there's a thoughtfulness and likability to her sincere smile, her furrowed brow, and her gritted teeth here. While there are bigger movies out there this summer, nothing has yet topped the experience I had watching THE SHALLOWS. Lively proves she has star power to the max here and director Collet-Serra shows us that there can be more than one shark in the shark movie subgenre. I absolutely loved this film and hope people go see it this weekend. It will definitely make you rethink that beach vacation and have you thanking that you are walking out of the theater on dry land.
---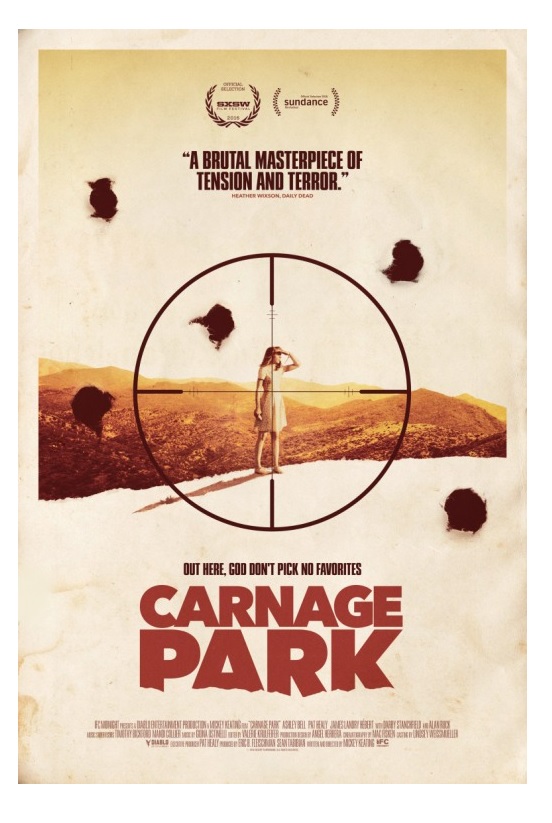 Available On Demand from IFC Midnight!
CARNAGE PARK (2016)
Directed by Mickey Keating
Written by Mickey Keating
Starring Ashley Bell, Pat Healy, James Landry Hébert, Michael Villar, Bob Bancroft, Larry Fessenden, Andy Greene, Alan Ruck, Graham Skipper, Darby Stanchfield
Reviewed by Mark L. Miller aka Ambush Bug
While the film is derivative of many a movie you're bound to know, CARNAGE PARK offers up a glimpse of what
DARLING
and
POD
director Mickey Keating is capable of given a bigger budget. Keating keeps things relatively small scale, but still manages to get great performances out of his actors as well as keeps the pace of this gory heist road movie at a breakneck pace.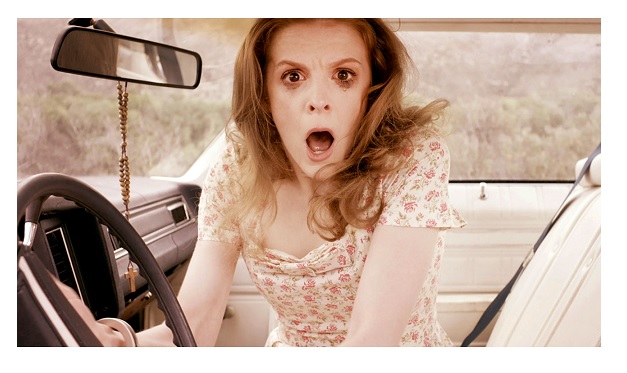 A pair of villainous types make their way through a desert, one of them is shot and screaming and everything from the way the shot is set up to the dialog is straight out of RESERVIOR DOGS. Apart from Keating's previous works, where there are similarities to other films such as REPULSION with DARLING, this homage is obvious as it apes the opening scene of this iconic movie. With this scene, some folks might scoff at Keating for imitating a truly iconic movie. Personally, I think this is where the genius lays in CARNAGE PARK. It definitely pays homage to films like RESERVOIR DOGS (which in itself is an homage to many a film), but it also plays with those expectations one might have with these films. Just when you think you know where this film is going to go, Keating veers off course and turns all expectation ass-upwards. Keating is paying homage more to the films that inspired Tarantino like Fredrick R. Friedel's
AXE
and
KIDNAPPED COED
here and that distinction makes CARNAGE PARK so much more than a knockoff one might have found in the bargain bin at Blockbuster in the nineties. Keating's film has a grit to it, from the choice of secluded desert scenery for the bulk of the film to the grimy way the caracters portray themselves, to the warped music played through the loudspeaker that echoes across Wyatt Moss' (CHEAP THRILLS and THE INNKEEPERS' Pat Healy's) property.
Turns out these no-goodniks have wandered onto Wyatt Moss' property unknowlingly and he meets trespassers with the business end of a sniper rifle. After taking out the vehicle of Scorpion Joe (LOOPER's James Landry Hébert) and the wounded Lenny (Michael Villar)—aka the two no-goodniks, we find out they have kidnapped the debutante daughter of a well to do businessman named Vivian (THE LAST EXORCISM's Ashley Bell). Just when you think this is a movie about a kidnapping, captor and captee must team up to survive against a mad sniper (Healy). Meanwhile Wyatt's brother (FERRIS BEULLER'S DAY OFF's Alan Ruck) toils over whether or not his brother has finally crossed a line he cannot cover up and battles his conscience to take him out. The story turns into a cat and mouse game where Healy's Wyatt takes aim on everyone.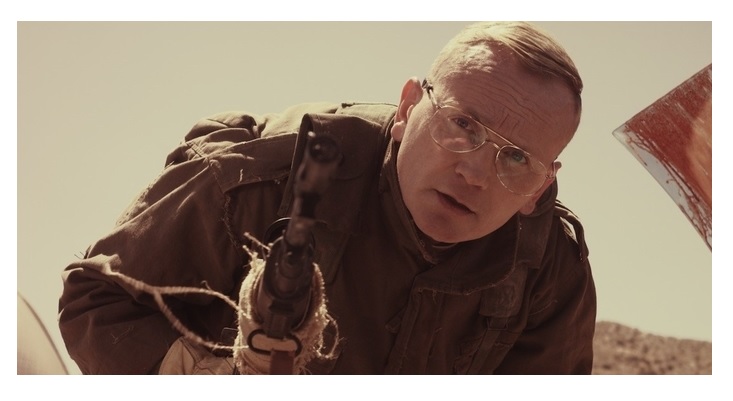 It is Pat Healy who really shines in this film. Often cast as the nebbish good guy, here he is a bonafide madman, laughing at voices in his head and taking way too much joy in the hell he unleashes upon the rest of the small cast. Healy is fascinating and terrifying, in many ways like the lived in characters of Tobe Hooper's TEXAS CHAIN SAW MASSACRE. He is a character that has so much more story in him that this single nightmare allows, but gives little to nothing back in terms of how he ended up as this madman with a rifle. Ashley Bell is, as always, awesome as Vivian, somewhat pampered rich girl, freaking out from this situation, but showing a lot of gruff and tough when her predators show a moment of distraction or weakness. It is truly fascinating to follow Healy and Bell through this obstacle course from hell.
CARNAGE PARK ends abruptly. Again, harkening back to the age of rogue cinema where proper cinematic tropes are ignored. While I want to praise this film for the ballsiness of simply dropping the mic and walking away, most likely, the budget ran out and the decision to simply roll credits was necessary. Still, this reminds me of the startling endings of some of the best grindhouse films which most likely ran into the same obstacle. CARNAGE PARK is Keating's biggest film to date and proves that he can handle the open plain as capably as he does one setting, indoors films. I hope CARNAGE PARK opens the doors for bigger budgets and bigger ideas for Keating. I loved the attitude and feel of this film which accentuates its coolness with musical beats, surprise arterial explosions, and screams for bloody murder. It's an ode to grindhouse in the purest sense that saves the scratched film filter and goes straight for the essence of what grindhouse is all about. Highly recommended.
---
And finally…here's Ghosts In the Graveyard's BETTER IN BLACK. Their album "Monsters for the Masses" is available here now!
---
See ya next week, folks!

Ambush Bug is Mark L. Miller, original @$$Hole/wordslinger/writer of wrongs/reviewer/interviewer/editor of AICN COMICS for over 15 years & AICN HORROR for 5. Follow Mark on the Twitters @Mark_L_Miller and on his new website collecting posts for AICN HORROR as well as all of the most recent updates on his various comic book projects on MLMillerWrites.com.



---
Look for our bi-weekly rambling about random horror films on Poptards and Ain't It Cool on AICN HORROR's CANNIBAL HORRORCAST Podcast every other Thursday!
---
Find more AICN HORROR including an archive of previous columns on AICN HORROR's Facebook page!