9/2/16 AICN HORROR looks at SHELLEY! FLYTRAP! CHOPPING BLOCK! 2 JENNIFER! DAYLIGHT'S END! & Gene Wilder's THE ADVENTURE OF SHERLOCK HOLMES' SMARTER BROTHER!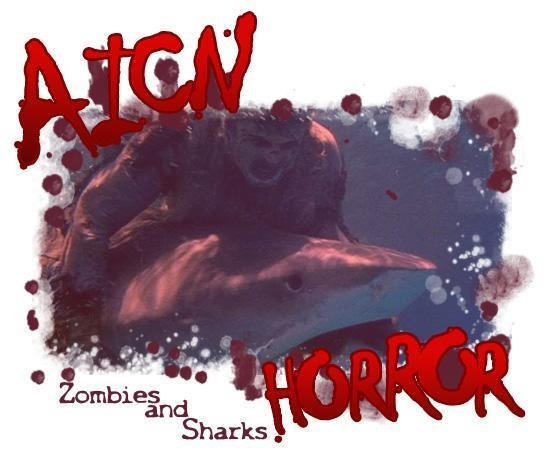 Logo by Kristian Horn
What the &#$% is ZOMBIES & SHARKS?
---
Welcome to the darker side of AICN! Mark L. Miller aka Ambush Bug here with another AICN HORROR: ZOMBIES & SHARKS column. This week, I have some low budget goodies for you and a tribute to the late, great Gene Wilder. All in all, not a flashy, but a fine week in horror.
---
AICN HORROR has a new sponsor: Things From Another World—also known as TFAW!
TFAW carries everything from comics to toys and any kind of collectible in between. Show your support for AICN HORROR and TFAW and click the pic above. You just might find something you can't live without such as Cullen Bunn's excellent Southern Gothic Horror Tale from Dark Horse Comics!
On with the horror reviews!
Today on AICN HORROR

(Click title to go directly to the feature)
Retro-review: THE ADVENTURE OF SHERLOCK HOLMES' SMARTER BROTHER (1975)
CHOPPING BLOCK (2016)
2 JENNIFER (2016)
FLYTRAP (2015)
DAYLIGHT'S END (2016)
SHELLEY (2016)
And finally…LIGHT'S OUT: HAUNTED CELL!
---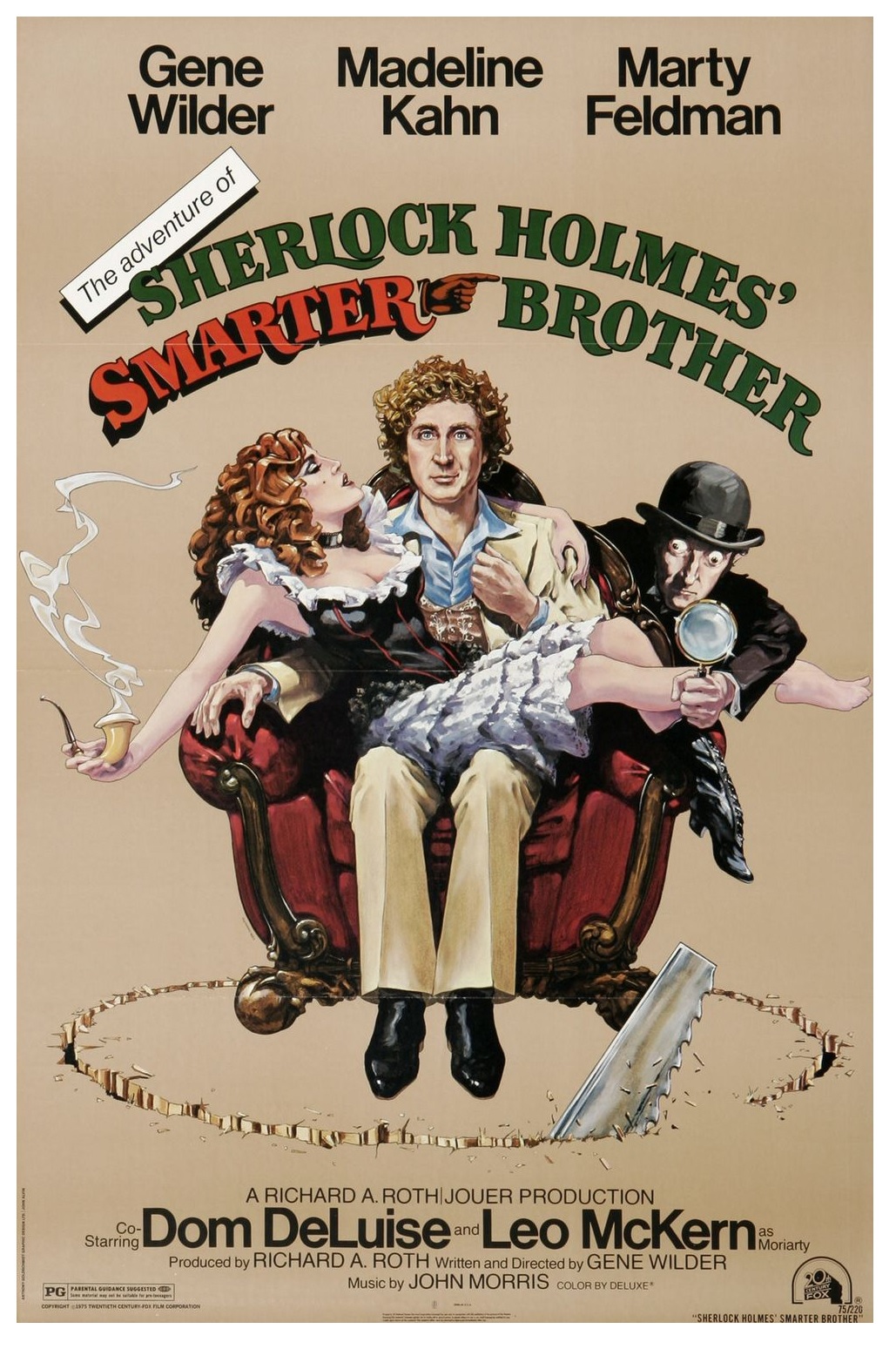 Retro-review: Available on BluRay from Kino Lorber on September 27th!
THE ADVENTURE OF SHERLOCK HOLMES' SMARTER BROTHER (1975)
Directed by Gene Wilder
Written by Gene Wilder
Starring Gene Wilder, Madeline Kahn, Marty Feldman, Dom DeLuise, Leo McKern, Roy Kinnear, John Le Mesurier, Douglas Wilmer, Thorley Walters, George Silver, Nicholas Smith, John Hollis, Aubrey Morris, Tommy Godfrey, Susan Field
Retro-reviewed by Mark L. Miller aka Ambush Bug
I usually wait for the week of release for BluRay's I get for review, but with the death of Gene Wilder occurring this week, I felt the need to watch THE ADVENTURE OF SHERLOCK HOLMES' SMARTER BROTHER because a) I simply needed to see the man in action again in his prime, and more importantly, b) I'd never seen the film. Let's check this one out together, shall we?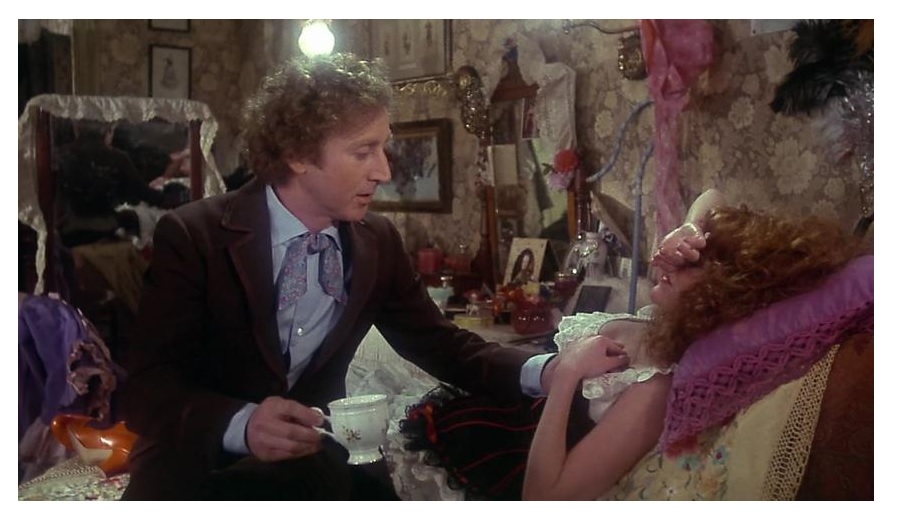 Reuniting three of the cast from YOUNG FRANKENSTEIN, Gene Wilder takes a stab at writing and directing with another spoof of sorts of a classic literature character. When Sherlock Holmes finds himself too busy to take care of a minor case, he hires a Scotland Yard detective with photographic hearing named Sgt. Orville Stanley Sacker (Marty Feldman) to seek out Sigerson Holmes (Gene Wilder), Sherlock's younger brother who is jealous of all of the fame his older brother has achieved. After given key evidence by opera singer Bessie Bellwood aka Jenny Hill (Madeline Kahn), Sigerson sets out to thwart longtime Sherlock foe Moriarty (Leo McKern) from attaining an important document that was stolen from Queen Victoria. Antics ensue with Sigerson and Orville on the case.
While not as funny or well made as YOUNG FRANKENSTEIN, it is fun to see three of its cast together in another film. Wilder, Kahn, and Feldman seem comfortable together with the moments between Wilder and Feldman playing out with comedic precision. I wish the two of these actors were in more movies together as they definitely have a comedic chemistry many only dream of achieving. But that's what made Gene Wilder so great. While he definitely was a star and able to steal the show with his mania-laden performances, he also was able to interact with other talented actors and bring out the best in them as well (see Harrison Ford in THE CISCO KID, Cleavon Little in BLAZING SADDLES, and any film he did with Richard Pryor). Wilder does this with Feldman in numerous scenes where Feldman's Sacker plays Watson to Wilder's Holmes. I wouldn't say they are all laugh out loud funny, but there is a palpable energy between them, specifically when Sacker meets Holmes for the first time as Holmes tries to impress Sacker with his not-so-impressive powers of deduction.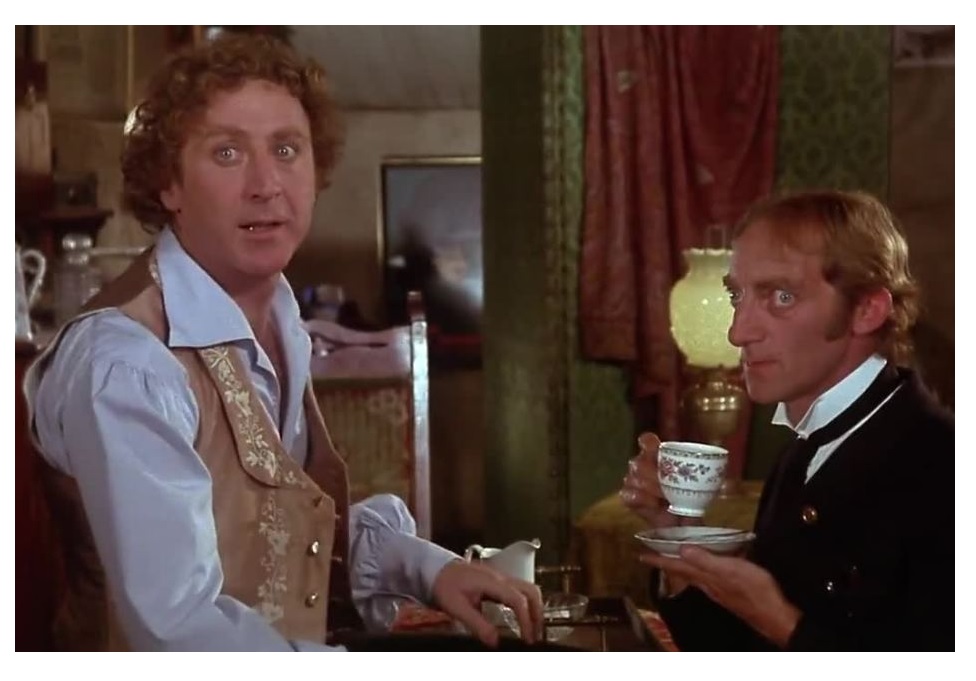 Madeline Kahn was always amazing in my book, but she is at her sultriest in this film as Holmes' love interest Bessie who is as deceptive as she is flirtatious. She also shows off her talent for song as well in numerous opera numbers (with Dom DeLuise as a horny opera singer) and to infectiously catchy "Karngaroo Hop" song which burrows into one's brain after viewing.
There's not much by way of horror in this one. I reviewed this film mainly because of my love of the work of Gene Wilder and while THE ADVENTURE OF SHERLOCK HOLMES' SMARTER BROTHER isn't his best, it was a treat seeing this film for the first time. Like many comedies, the comedy gets kind of stale by the end, but the talent and conviction Wilder displays actually makes the final scenes of this film when Holmes and Moriarty face off on the roof of a castle more intense than one would expect in a farce. There are quite a few surprisingly good action sequences in this film, one with Wilder sword fighting on a moving carriage and the aforementioned swordfight with Moriarty in the finale that are both thrilling and filled with all sorts of sight gags and humor. The subplot of a brother trying to live in the shadow of his more famous brother is one made all the more heavy with Wilder playing the part. If you're looking for a lesser known Sherlock story, this one is a fun one. The commentary track with Wilder got me misty as I heard about the conviction Wilder had with this film. This week's loss was a real hit to the entertainment world and this little known comedic gem is but one of many baubles in Wilder's crown as one of the true kings of comedy.
---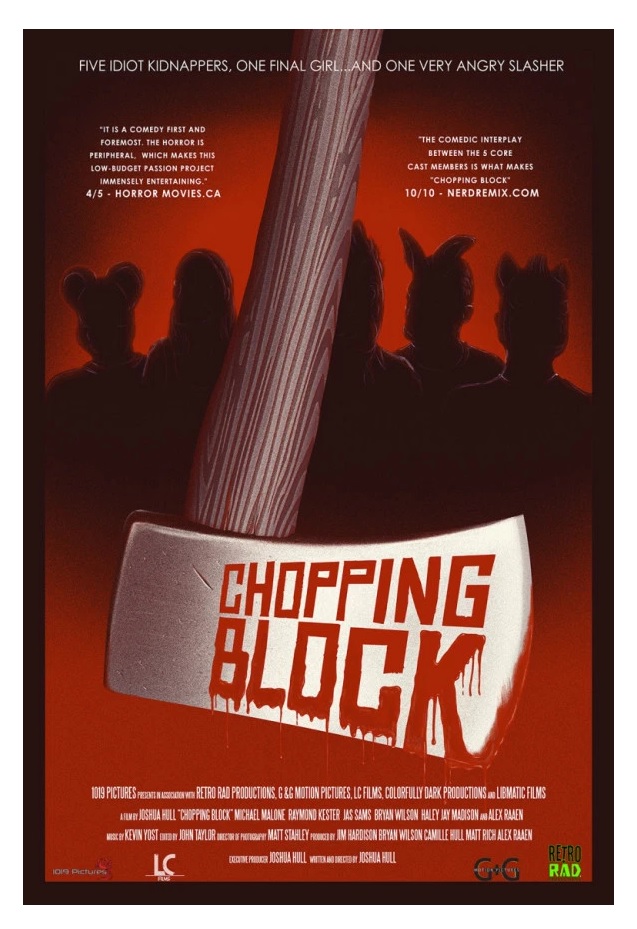 Available on BluRay from Legless Corpse Films!
CHOPPING BLOCK (2016)
Directed by Joshua Hull
Written by Joshua Hull
Starring Jas Sams, Michael Malone, Bryan Wilson, Nick Wayne, Raymond Kester, Melissa Revels, Haley Madison, Dennis Crosswhite, Cliff Edens, Alex Raaen, Tia Mapes
Find out more about this film here and on Facebook here
Reviewed by Mark L. Miller aka Ambush Bug
A clever script and some fine comedic acting makes CHOPPING BLOCK an unpredictable indie horror comedy.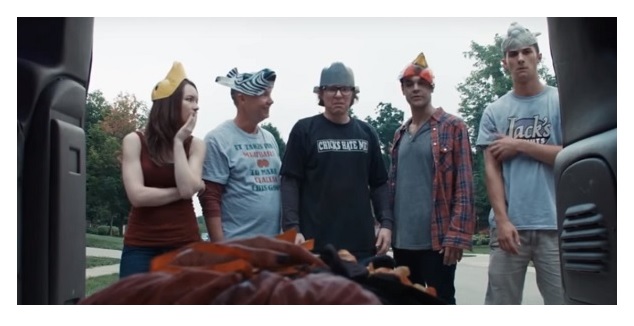 After getting his entire team fired due to his own slacking, Donnie (Michael Malone) hatches a scheme to kidnap the boss' daughter for a big ransom. Everything is going according to plan until the boss' daughter is found covered in blood as she is the final girl after a serial killer's rampage. Seizing the opportunity, Donnie and his inept team stick to the plan, nab the girl, and take her to a warehouse, but the killer is close behind and ready to cut, mince, slice, and chop his way through Donnie and his crew to get to his final girl.
Funny is funny. No matter how big the budget and though this is a film made with little money, it still has a ton of solid laughs and isn't afraid to douse it with copious amounts of blood. The film is not one to be taken seriously. The characters playing out this comedy of errors feel like sitcom characters who are established in their distinct personalities early on, yet continue to be effectively funny and likable all the way through. This is due to the solid comedic writing of Joshua Hull, who also wrote and directed the clever low budget zombie film BEVERLY LANE (
reviewed here
).
Across the board, the cast delivers line after line of laugh out loud funnies, often of the blackest and wrongest kind. CHOPPING BLOCK is a treat of a horror comedy that deserves an audience.
---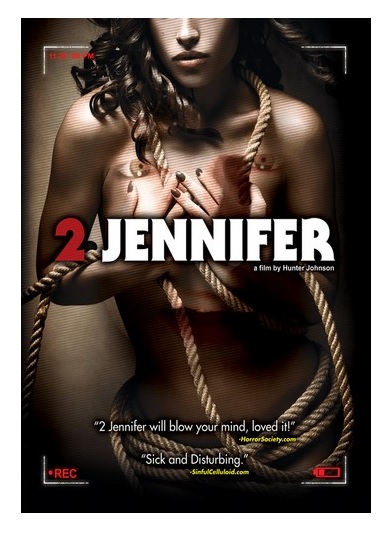 Available On Demand from Sector 5 Films!
2 JENNIFER (2016)
Directed by Hunter Johnson
Written by Hunter Johnson, James Cullen Bressack (characters)
Starring Hunter Johnson, David Coupe, Lara Jean Mummert, Felissa Rose, Erin Marie Hogan, Veronica Ricci, Jody Barton, James Cullen Bressack, Jarrett Furst, Josh Brown, Charles Chudabala, Matt Holbrook, Chrissy Cannone, Marv Blauvelt, Erin Killean
Reviewed by Mark L. Miller aka Ambush Bug
While the format is going to annoy some folks (this is a found footager), but those who can look past the shakiness will find an absolutely unnerving little descent into madness tale with 2 JENNIFER, a sequel to James Cullen Bressack's equally creepy TO JENNIFER (
reviewed here
).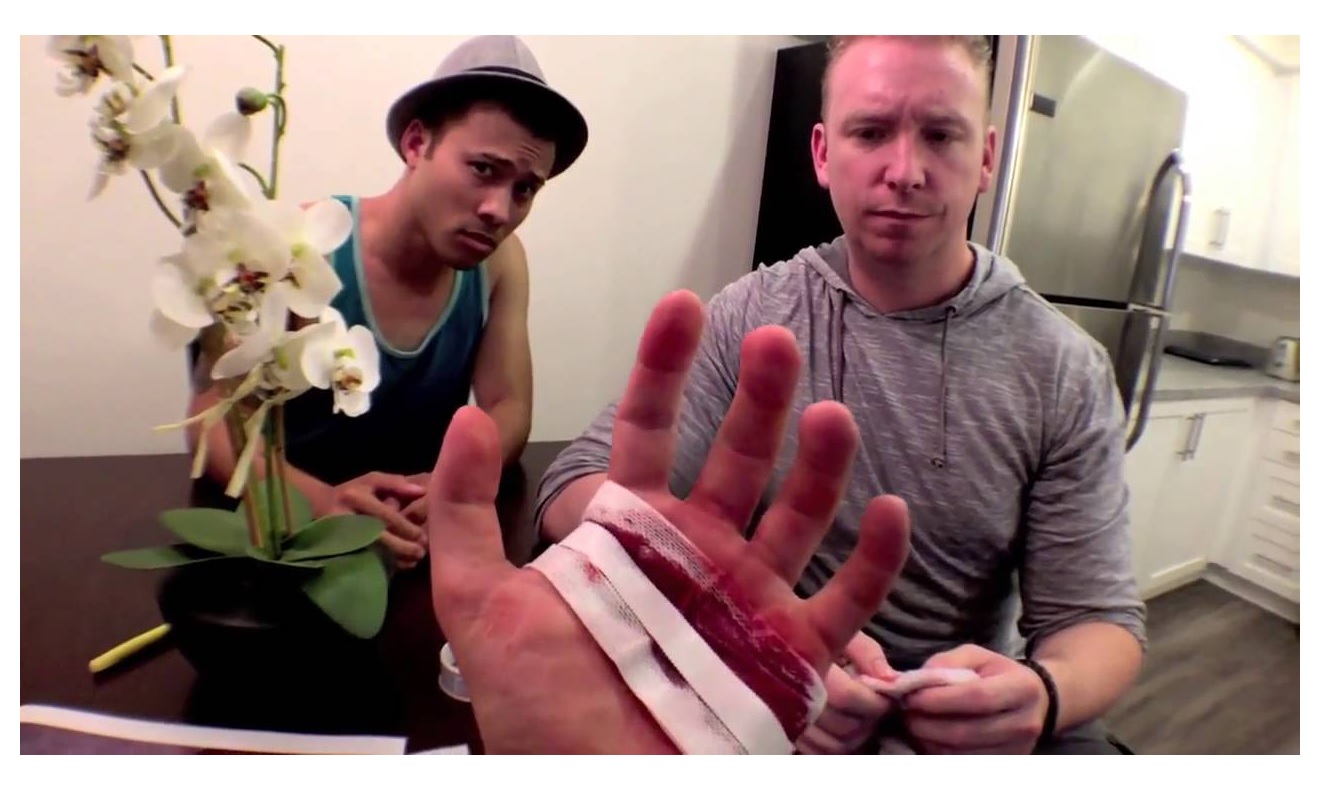 Writer/director Hunter Johnson plays Spencer, a man obsessed with the film TO JENNIFER, directed by James Cullen Bressack. He loves the film so much, he has convinced his friend Mack (David Coupe) into thinking he has the rights to make a TO JENNIFER sequel with Bressack's blessing. Spencer goes so far as to write a script and goes through the motions to hire a lead actress to play the part of the lead in the film. But as the filming goes on, Spencer's plan begins to unravel and it is pretty obvious that this delusion that he is making a film about stalking and killing someone because he actually wants to stalk and kill someone.
While the metatextual stuff of a person making an unauthorized sequel to the original film is a bit too heady, the film does adhere to this format most of the time. There are some moments where it sounds like an underscore of noise is used as a score that simply shouldn't exist if this were an actual found footage film (and the point of found footagers is to try its best to make the viewer believe everything that is happening is real and happening in real time). There is also some editing between the cameras that don't make sense given the fact that this is one person putting this thing all together and splicing the footage together simply isn't something that is possible given the fate of all involved.
But aside from those technical blips, the performance by the lead (director/writer Johnson) is utterly successful in encapsulating a complete madman. From the eerie stare Johnson gives the camera as he films his confessionals about his plans to kill the lead actress and anyone getting in his way naked in front of the mirror in the bathroom, to the horrifying giggling Johnson does when someone is beating his ass, this film gets crazy right. The final moments when Johnson goes off the deep end are horrifying and while 2 JENNIFER might not be a perfect film, it is successful in characterizing a psychopath that will get under your skin and haunt you for nights to come after viewing.
---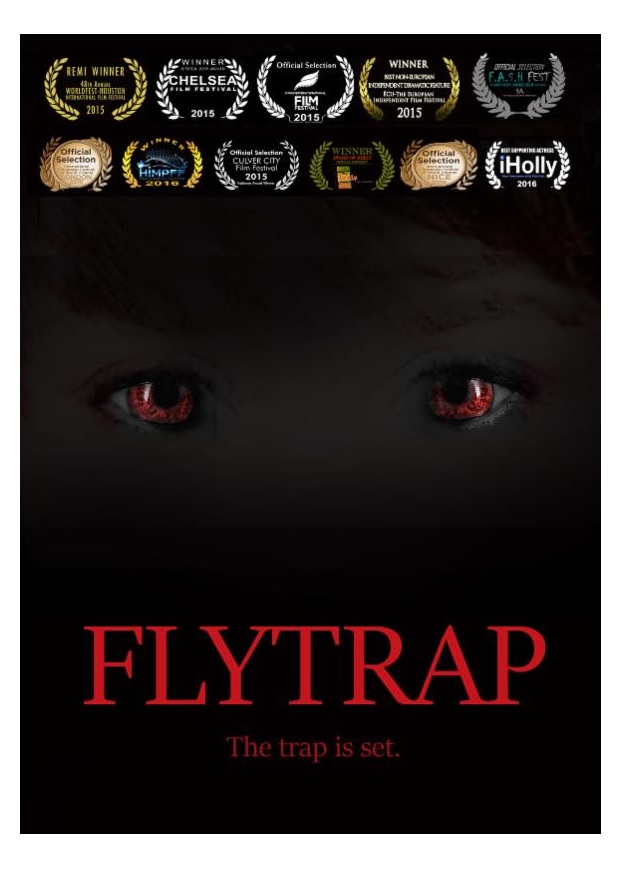 Available on digital download from iTunes and other digital platforms!
FLYTRAP (2015)
Directed by Stephen David Brooks
Written by Stephen David Brooks
Starring Jeremy Crutchley, Ina-Alice Kopp, Jonah Blechman, Gabrielle Stone, Jonathan Erickson Eisley, Billy 'Sly' Williams, Samantha Hale, Jason Duplissea
Find out more about this film here and on Facebook here
Reviewed by Mark L. Miller aka Ambush Bug
For the most part, this film was made in a small house, a car, and a park. After hiring the actors and getting a few cameras, it probably cost very little to make. In many cases, that would make a film unwatchable, but a rock solid script and some talented turns at acting make FLYTRAP an elegant, little paranoia trip.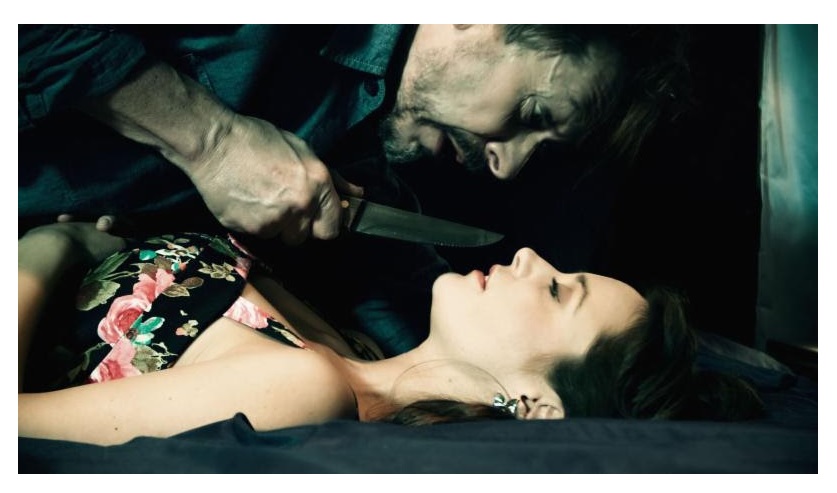 Jimmy (Jeremy Crutchley) plans on visiting his friend who he hasn't seen in a while but his car breaks down right in front of what looks to be a typical house in a suburban neighborhood. When he knocks on the door to get some assistance, he is invited in by the beautiful Mary Ann (Ina-Alice Kopp). When Jimmy accepts the invitation, he has no idea how bad an idea it is. Soon Jimmy finds himself trapped in this house with what might be aliens sent to this earth to study its inhabitants and possibly destroy them. Or the people in the house are just batshit crazy.
What makes FLYTRAP work is the undeniable charm of its star Jeremy Critchley. He's got an English everyman quality that reminds me of Pierce Brosnan whose likability and relatability makes one care about him. The way in which Jimmy is lured into the home seems to be the first few lines of a Penthouse forum submission where the lovely woman offers the weary traveler a drink and then immediately invites him to have sex with her. But Jimmy's reaction is as real as it comes. Sure he ends up sleeping with her, but along the way, he can't believe his luck. Of course, immediately after the deed is done he regrets it as he realizes that this woman is crazy, but again, it's this type of huckster, faulted character that made me like him all the more.
As the plot unfolds, this turns out to be a pretty dialog heavy film. It relies on character development and interaction rather than elaborate set pieces and action sequences. With low budgeters, this usually is a signal for some horrifically boring scenes, but again, with the level of acting talent involved here, I ended up being engrossed in finding out whether Jimmy was going to get out of this seemingly innocent, but very deadly scenario alive. I also loved the very simple effects at play here. Light play and some contact lenses (or maybe it's low scale CG) add just enough of an otherworldly feel to make you wonder what really is going on in this bizarre house inhabited by people who say they are not from this earth.
In the end, FLYTRAP feels like a stage play, but its limited settings and low budget really do make the writing and acting stand out. It's a strong film that takes pages from INVASION OF THE BODY SNATCHERS and other alien invasion films that hinge on paranoia, but does so in a small scale manner that I can't help but be endeared to.
Flytrap Trailer from Stephen David Brooks on Vimeo.
---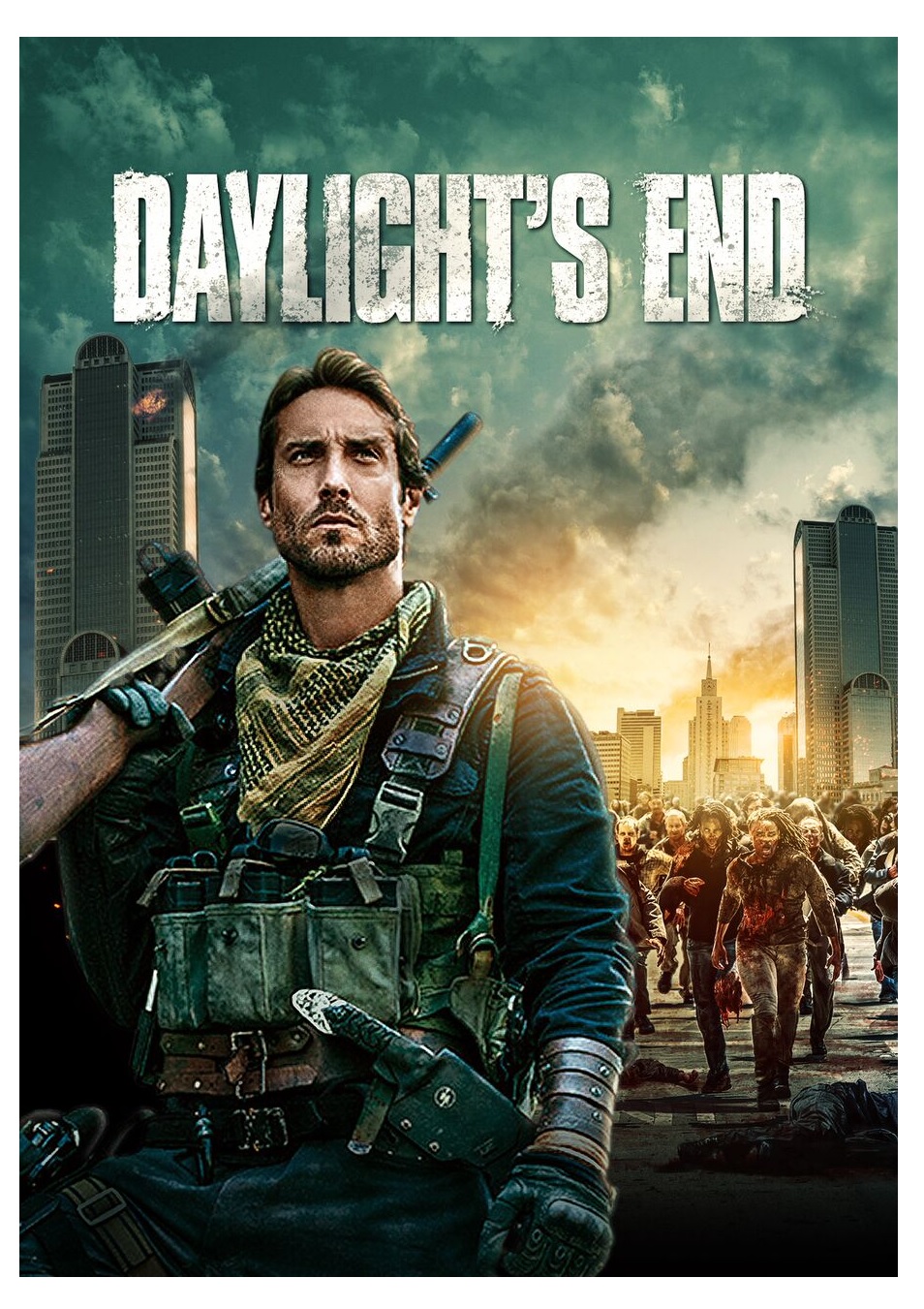 Out now in select theaters from Vertical Entertainment!
DAYLIGHT'S END (2016)
Directed by William Kaufman
Written by Chad Law
Starring Johnny Strong, Lance Henriksen, Louis Mandylor, Hakeem Kae-Kazim, Chris Kerson, Chelsea Edmundson, Gary Cairns, Mark Hanson, Heather Kafka, Sonny Puzikas, Farah White, Ed Spila, Matt Beckham, Susana Gibb, Sawyer Bell, Andy Mackenzie, Brent Anderson, Frederic Doss, Lloyd Luthas, Craig Cole, Cameron Spooner, Joshua Hertel, James Yeager, Mike Lobo Daniel, Bjorn Nauf, Michael P. Brown, Ricardo Campbell, Brandon Slagle, Kate Summers, Sophia Puzikas, Krzysztof Soszynski as the Alpha!
Find out more about this film on Facebook here
Reviewed by Mark L. Miller aka Ambush Bug
While DAYLIGHT'S END doesn't really bring anything new to the table in terms of vampire fare, it does deliver a pretty sweet action film that embraces 80's action standards (an era of action movies which I like to refer to as the Golden Years of Action Films).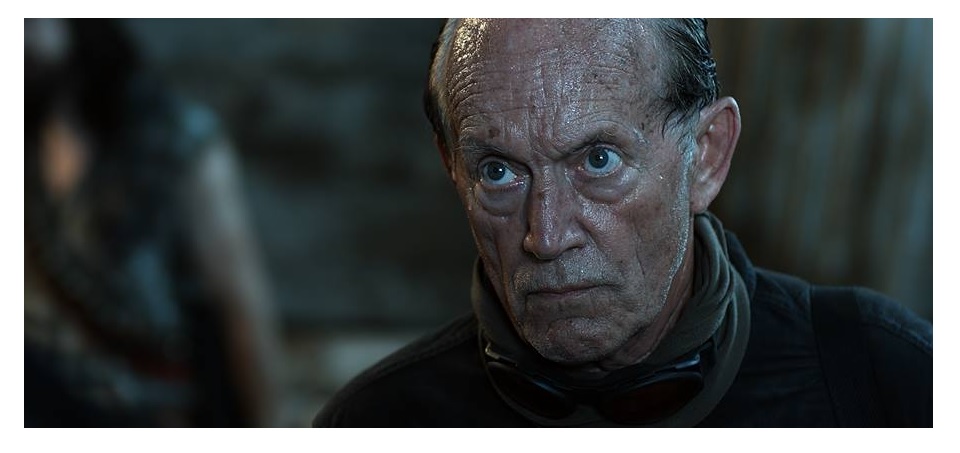 In a world overrun by a vampire plague, a lone wolf survivor Thomas Rourke (Johnny Strong) finds himself in the middle of saving a bunch of other survivors who most likely wouldn't have much of a chance of living unless he gets involved. Basically, the story is the same as ROAD WARRIOR, except instead of Outback mutants, it's mindless vampires. Leading the group is a gritty Lance Hanricksen and his son, head alpha dog for Thomas to butt heads with, and brother of Costas Mandylor, Louis Mandylor. But the lone wolf is being followed by a mega-vampire who seems to be calling the shots with the other vamps he has dubbed Alpha (Krzysztof Soszynski). The shit goes down in an epic climax in a prison where the vampires pour in and the survivors unload round after round of machine gun carnage upon them.
A lot, and I mean A LOT, of this film is lifted directly from other films. Everything from the basic plot structure of ROAD WARRIOR to the emotionless way Rourke pulls vampires out into the sun a la BLADE to the shootout at the prison which is extremely similar to THE WALKING DEAD is going to be familiar to any genre fan. The thing is, though, in terms of action, this is a pretty top notch film. I don't want to oversell this one, but it follows a familiar blueprint very well and executes it like a pro. The action is bloody and brutal. Strong does a great job as the mostly silent killing machine. There's machismo slathered around like they were giving it away for free at the corner store. And they toss in Lance Henricksen, which is always a great sight to see, but often underused in these types of films. In this one he's got a little meat to his part as the war torn leader of the resistance.
This is not heady horror. It's bloody action fare and I happened to be in the right mood for this type of carnage when I watched it. Not all horror has to stimulate the brain pan. DAYLIGHT'S END goes for the gut and it delivers even though the recipe is a tried and true one.
---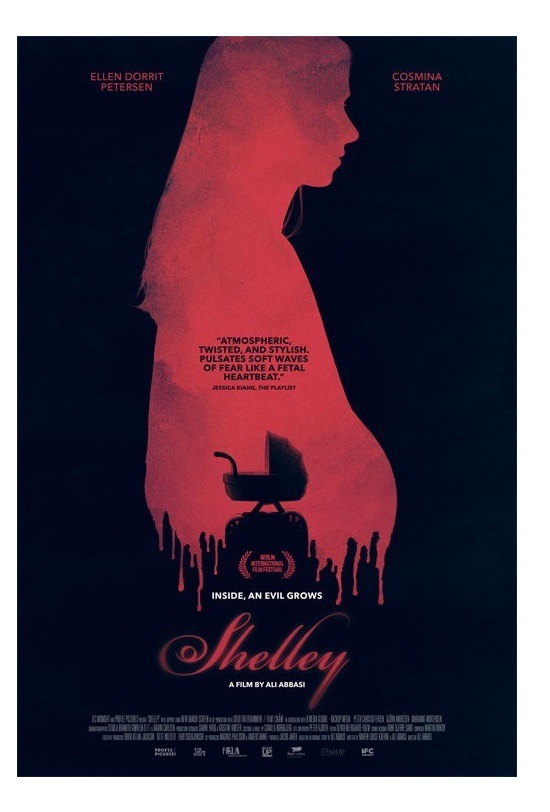 Available On Demand and in select theaters from IFC Midnight!
SHELLEY (2016)
Directed by Ali Abbasi
Written by Ali Abbasi, Maren Louise Käehne
Starring Ellen Dorrit Petersen, Cosmina Stratan, Peter Christoffersen, Björn Andrésen, Marlon Kindberg Bach, Kenneth M. Christensen, Marianne Mortensen, Patricia Schumann
Reviewed by Mark L. Miller aka Ambush Bug
I don't need to have everything explained to me in films. I rather like it when a film leaves some of the horror to my imagination, which often times is more horrifying than anything a filmmaker can put on screen. But SHELLEY kind of goes a little bit too far into the realm of vague making a rather frustrating film that never pays off in the end.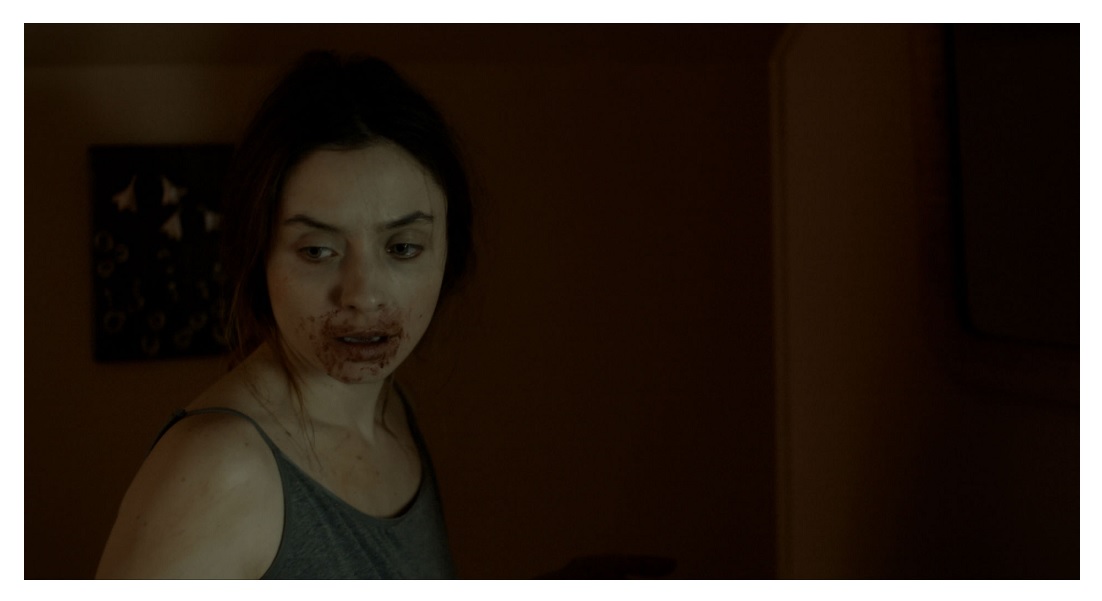 Elena (Cosmina Stratan) is a Romanian immigrant who answers an ad for a housekeeper for a couple living off the grid in the middle of the wilderness. The couple (Louise played by Ellen Dorrit Petersen and Kasper played by Peter Christoffersen) become close with Elena and ask her to be a surrogate mother for their child as the sickly Louise is unable to bear children. Hoping to use the money she receives to buy and apartment for her son who still lives in Romania, Elena agrees, but almost immediately becomes sick with side effects suggesting that the baby inside of Elena is evil.
In ROSEMARY'S BABY, the cause of the horrors are the witches next door. In other demon baby flicks, there's usually some kind of malevolent force that suggests where the evil has come from. This film has none of that. Kasper does not seem to be evil and seems to be fearful of the baby. Elena is a complete innocent, naïve to the horrors she is experiencing. Even Louise, who is characterized as sickly, but not evil, shows a caring and motherly side to her even to the point of risking her life to protect those in her family. Because there is no real "bad guy" in this film, it really makes this one a hard film to peg down. I guess the bad guy here is the baby, but because babies are seen as the ultimate in innocence, it's really hard to believe that and this film poses no real answers, even in the end, to let us know why Elena has to endure all of this suffering and why so much calamity must befall this couple who seem to be pretty ok.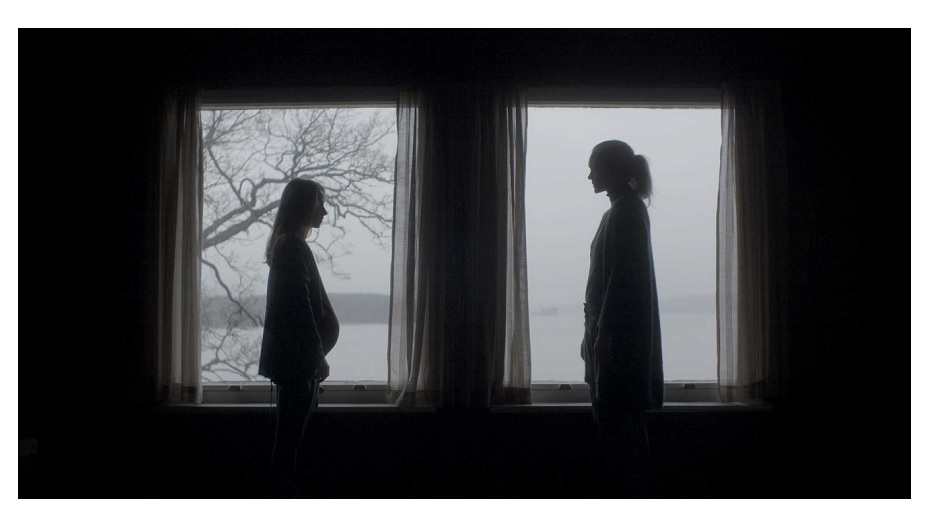 The film does have quite a few effective scenes that will make you wince. More than once, Elena lashes out against her body, hitting her own pregnant stomach and knowing that something evil is as work with this pregnancy. There are other scenes where the horror is merely suggested in dreams Elena has and the dense blackness that surrounds the home which has no electricity. This film captures the mood of horror very well and it makes the unresolved ending all the more frustrating as the lead up is so well done.
SHELLY is an exercise in agonizing expectation as it feels as if it simply doesn't have a final act where we are explained why we took the time to invest ourselves into these characters. Horrible things happen, but there is no comeuppance to sinners or even reward to them. This is just terrible things happening to random people who don't really deserve it and while that can be said for many films, the lack of any kind of resolution makes the film feel all the more pointless. Somewhere, there is a final act laying around for SHELLEY that ends on a satisfying note. It's just too bad that the final cut of the film lacks that last act.
---
And finally…I sometimes play haunting music videos at the end of this column in the "And finally" section so to finish this one off, let's honor the passing of Gene Wilder with his rendition of "Puttin' on the Ritz" from YOUNG FRANKENSTEIN and after that, what the hell, here's the "Kangaroo Hop" from THE ADVENTURE OF SHERLOCK HOLMES' SMARTER BROTHER!
---
See ya next week, folks!

Ambush Bug is Mark L. Miller, original @$$Hole/wordslinger/writer of wrongs/reviewer/interviewer/editor of AICN COMICS for over 15 years & AICN HORROR for 5. Follow Mark on the Twitters @Mark_L_Miller and on his new website collecting posts for AICN HORROR as well as all of the most recent updates on his various comic book projects on MLMillerWrites.com.



---
AICN HORROR has a brand new sponsor: Things From Another World—also known as TFAW!


Please support AICN HORROR by clicking the Things From Another World banner and checking out all of their amazing collectibles! TFAW carries everything from comics to toys and any kind of collectible in between. You just might find something you can't live without!


---
Look for our bi-weekly rambling about random horror films on Poptards and Ain't It Cool on AICN HORROR's CANNIBAL HORRORCAST Podcast every other Thursday!
---
Find more AICN HORROR including an archive of previous columns on AICN HORROR's Facebook page!