Hey everyone! Dr Charlie Oughton (@DrKCOughton on Twitter) here some horror news and a review of interest!

Horror Channel FrightFest (as it's now known) returns to London again this August 25-29th. As well as showing 60-odd films featuring everything from stalk and slash through to Stephen King, and from documentaries to demons on the loose, Horror Channel FrightFest has expanded this year. Directors Greg Day, Paul McEvoy, Alan Jones and Ian Rattray are lifting the lid to let fear fanatics to get in on the action behind the scenes via talks and workshops. Here's some of my picks of the potentially petrifying, puke-inducing and just plain enjoyably daft.
Split between the main Horror Channel, Arrow and Splice Media screens and the 3 Discovery screens, Thursday night begins with MY FATHER DIE. It looks like a crowd-pleasing redneck revenge thriller that should help fans settle in the festival's new venue in London's Hammersmith. Not that attendees should get too cozy, of course – straight afterwards the adaptation of Stephen King's CELL features 1408 favorites John Cusack and Samuel L. Jackson to remind all to turn their bloody phones off. The action finishes on the main screens on Monday with Yeon Sang-Ho's TRAIN TO BUSAN, a father/daughter fight for survival on an infected ride that should make those repairing home on the London night buses feel very lucky indeed.
On the sweetly silly side, there's THEY CALL ME JEEG ROBOT, described as a 'spaghetti superhero' feature, alongside Andy Edwards' IBIZA UNDEAD. Considering Edwards' work in anthologies such as the forthcoming GRINDSPLOITATION, things could get pretty peculiar very quickly. J-horror bitch slap-a-thon SADAKO VS KAYAKO sounds like it'll do exactly what it says on the tin.
For something completely different, there's a slew of documentaries from the devilishly serious to, well, one on the work of debonair raconteur David McGillivray himself. HOSTAGE TO THE DEVIL's a documentary on exorcism that looks less hoary (if not less horny, ahem) than most. On a similar straight we find FURY OF THE DEMON, based around satanic shenanigans surrounding the legendary cinematographer, George Melies. It may put his famous A TRIP TO THE MOON in a completely different context. FACING HIS FEARS, on the other hand, sees scriptwriter, producer and all around horror legend David McGillivray guest to introduce his never-before-seen documentary, HORROR ICON. For the man behind camp British comedy institutions including Julian Clary, I suspect we'll all be feeling him that night.
Fans of meat and spuds scares will be equally pleased with some of the talent that will be reappearing in films at FrightFest this year. There's maybe-creature-feature ENCLOSURE with CURSE OF CHUCKY's Fiona Dourif, and ABATTOIR with Michael Pare (seen last year in John Fallon's THE SHELTER). Also of interest is THE NEIGHBOR, featuring none other than STARRY EYES' Alex Essoe, about whom people are still (totally understandably) raving.
A truly delightful development is a particular strand of horror from the UK itself. Included amongst these leading lights is director Kate Shenton. Shenton's a regular face at the festival, having previously shown her documentary, ON TENDER HOOKS, as well as a number of shorts. She's back with lacerating industry satire, EGOMANIAC (which pulls absolutely no punches), and she is also nominated for the inaugural Screen International Horror Rising Star Award. Lawrie Brewster comes with similar acclaim and a beautifully surreal back catalogue and was behind the folk horrorific OWLMAN that screeched its way to leading newspaper The Sun's pages when its pranks went viral. Brewster's PTSD-related feature, THE UNKINDNESS OF RAVENS, is showing at the festival.
In addition to the films on offer, the festival has expanded activities to include industry discussions about the state of horror and workshops on screenwriting and SFX with established talent. Over 200 guests representing over half the films showing will also be in attendance.
Tickets are available now on the Frightfest website here
.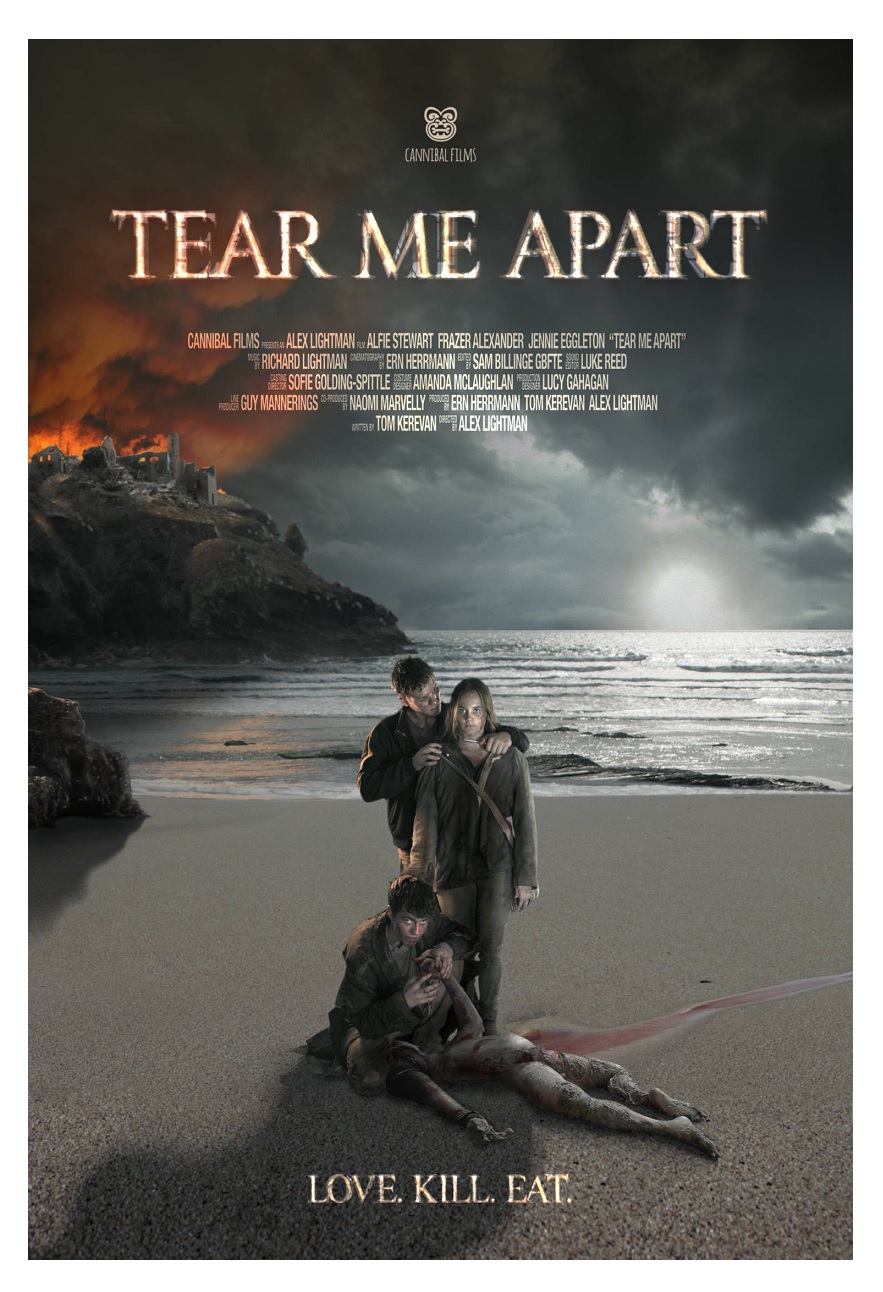 Next is my review of Alex Lightman's Tear Me Apart!
The brutal beauty of the untamed landscape, coupled with brittle folk melodies, is the backdrop to TEAR ME APART's tale of two brothers who find themselves at the end of the world with a woman whom they may either romance or eat. They must decide if, or how, they are to survive while fending off attacks from the remains of humanity with whom they share the unforgiving space.
While the premise of director Alex Lightman's film may sound OTT, this is a surprisingly sweet exploration of mechanical survival challenged by emotions that are not happy to just lay down and die.
The key trio are impressive not only for their skill at handling the material, but also because this is their first feature as leads. Molly (Jennie Eggleton) is the young woman who is found by the boys. She has the open face of Taryn Manning, which gives her wild-eyed vulnerability warmth. It's not surprising how the boys fall for her. Frazer Alexander, as Older Brother, does a good job of conveying precisely how human desires (with or without ceremony) are still present even in a place where society has fallen apart. Alfie Stewart, as Younger Brother, manages a genuine sense of actual savagery without having to resort to any demonstration of activity itself. Stewart even looks the part, which is unfortunately more than can be said for the rest of the cast. They all give nicely subtle performances but are undermined by costume and makeup – they look too damned clean and healthy by miles. It is a jarring oversight that contrasts against cinematography so stark it gives you wind-chill just by looking at it.
The landscape becomes as much a character as the people and together with the music it refers back to the kind of cinematic folklore of the apocalypse that enables the audience's imagination to fill in the occasional gaps within the script. That said, the minimal dialogue helps the discombobulated storyline to come across as a separation from humanity that is almost poetic in its abstraction. As Lightman's first time as a fiction feature director, TEAR ME APART is impressive in its reliance on emotion above either action or gore.
TEAR ME APART premiered at Austin Film Festival and is available to rent or buy now from
www.tearmeapartmovie.com
You can follow Dr. Charlie Oughton on Twitter @DrKCOughton