HOLY SHIRT!! That was the wildest TCA panel I've yet attended!! if you want to read all my initial notes on the "Star Trek: Discovery" panel, kndly click here!!
What we learned at the too-brief Wednesday afternoon "Star Trek: Discovery" TCA panel held at the Beverly Hilton:
* "Discovery" is another prequel, set in the Shatner (not JJ Abrams) universe ten years before Kirk and Spock's famous five-year mission depicted in the 1960s TV series.
* It follows that "Discovery" is set about 100 years after "Star Trek Enterprise."
* "Discovery's" lead character will be a human female. The female part has only happened once before, with "Star Trek: Voyager," another series creator-showrunner Bryan Fuller helped write.
* For the first time since the early episodes of "Deep Space Nine," the lead character will not be a captain. When I asked creator-showrunner Bryan Fuller if he could describe the lead character's rank, he replied "lieutenant commander." A few minutes later though Fuller told me exclusively "she will hold many ranks."
* The series will explore an incident mentioned in the 1960s series. (In the 1969 episode "Whom Gods Destroy," there's a reference to a war the Federation was fighting about 15 years earlier.)
* Fuller seemed to hint he would pursue Winona Ryder to reprise the role of Spock's mother, Amanda Grayson. Hers would not be a regular role. When I asked if Grayson would appear in the first season of "Discovery," Fuller smiled and replied "maybe."
* Other established characters besides Greyson could appear. For example, a young Doctor McCoy could turn up, allowed Fuller, but Fuller also said there are no plans for McCoy.
* Shooting on the series is still months away and no one has been cast yet.
* The series will not be subject to broadcast standards and will feature "slightly more graphic content" than a typical Trek series.
* The CBS All Access exec who introduced Fuller indicated that there will only be 13 episodes of "Discovery" per season, and certainly no more than 13 airing in 2017. Prior live-action seasons of Star Trek have typically run north of 20 episodes, often as many as 26.
* The same exec indicated there will be about 12 minutes of commercials interrupting each episode of "Star Trek: Discovery." This is about 25% less than the typical 16-minute commercial load carried by most network programs.
* Fuller described the series as one 13-episode novel. Trek has featured copious episode-to-episode continuity in the past, notably during the third season of "Star Trek: Enterprise."
* The infamous Kobayashi Maru incident (used to train Starfleet cadets) occurred prior to the events of "Discovery," and will be referenced in the series.
* Fuller confirmed Starfleet's super-secret black-ops division Section 31 may be a component of the series. Discovery's registry number is NCC-1031.
* Sets, makeup and effects will be upgraded to 2016 standards, just as these things were upgraded to 2002 standards for fellow prequel "Star Trek Enterprise."
Did you know every live-action season of "Star Trek" from 1966 to 2005 featured at least two time-travel episodes? And that five of the 14 Star Trek movies employ time travel? I asked Fuller if "Discovery" would feature time travel. He did not say "no."
Here's the exchange I shared with Fuller, in context:
REPORTER: How much of a secret do you want the premise of the show to be in how you are trying to parcel out information gradually?
BRYAN FULLER: Well, it's an interesting process, because I've never been a part of something in this position as big as "Star Trek." So normally, if you ask me a question, I'll tell you the answer with very little censorship. But I have an anvil hanging over my head about what I can say and when. And that's really about just keeping it fresh. And we want to arc out the information, and so you'll get a little information today. You'll get a little more information in October. And we'll keep building the evolution of reveal with this show as we go.
HERC: What are you willing to tell us today?
FULLER: You have to ask a much more specific question than that.
(Laughter.)
HERC: Will there be robots?
FULLER: Yes.
HERC: Will there be time travel?
FULLER: Are you allowed more than one question?
(Laughter.)
FULLER: I think what's great about "Star Trek" and how it relates to CBS All Access is that you have access to all of these things at once. So, "Star Trek," you can bend time and space. And on All Access, you can bend time and space to get to "Star Trek."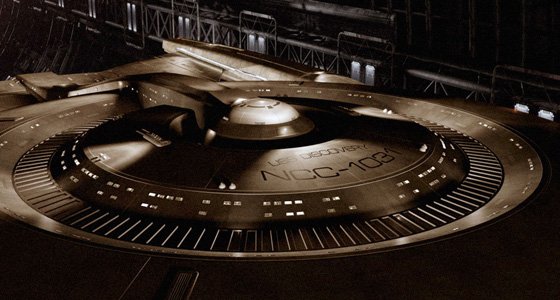 UPDATE 4:06pm
I think maybe I'll post updates in this post's talkback. My words seem to get on the site faster that way.
UPDATED 4:01pm
Hmmm, there;s a nasty lag between posting and publishing
It might make more sense to post updates on Twitter first. Consider clicking on that Follow HERC on Twitter button below.
UPDATED 3:55pm:
Have you been to Comic Com? The International Ballroom at the Beverly Hilton during TCA is San Diego's Hall H on steroids. More days: 16 instead of three or four. More people typing into laptops. But TV panels all morning and afternoon. Right now we're watching a panel on "MacGyver." CSI icon George Eads!
CBS All Access starts in about 30 minutes.
There's a cup of coffee right next to my laptop. I'm thinking of ditching it in case there's some exciting Horta news or something. THIS IS THE TIME TO SPILL BEANS, NOT COFFEE!!
ORIGINAL POST:
Will there be time travel?
Will there be robots?
Will Angela Bassett play the Discovery's captain?
And what's this business about "crews"?
All or none of this will be discussed during today's TCA CBS All Access panel, slated to run from 4:30pm to 5:15pm PT today (Wednesday).
"Star Trek Discovery" showrunner Bryan Fuller tells me he'll be spilling all sorts of beans regarding the first new Trek TV project in more than a decade, which hits CBS' streaming service in January.
WATCH THIS PAGE, AND KEEP REFRESHING IT! I shall be in the Beverly Hilton's International Ballroom, trying to update this post with any and all Trek-related developments.