UPDATED 8/11/2016
Remember this story from July 20? The one about Batwoman and Batman maybe joining "Supergirl" for its second season?
Well, it looks like Bleeding Cool's source was full of shit.
I just asked the producers of the CW's four Greg Berlanti DC Comics superhero shows, who were paneling this morning at a Beverly Hills TCA event, and they said its all bullshit;. They never asked Fox for permission to use Batman on Supergirl. Batwoman is not coming to Supergirl. No one even asked Fox for permission to use Batman.
So I gather the rest of last month's Bleeding Cool rumors are horseshit also. Ditch that source, Bleeding Cool! That source is NO BUENO!!
Also at the Aug. 11, 2016 panel:
* That Kryptonian capsule at the end of "Supergirl" last season will not contain Krypto or Superboy but rather Legion of Superheroes fixture Mon-El.
* Producers confirmed that the time-altering events of May's season finale of "Flash" will affect "Arrow" and "Legends of Tomorrow," but not "Supergirl" or Earth 2 or 3.
* 76-year-old Lance Henriksen will be playing the Justice Society's Obsidion (who in the comics is the son of the Frist Green Lantern, Alan Scott).
* Dolph Lundgren will appear in the Russia-set "Arrow" flashbacks this season.
* We have confirmation that the "Arrow" flashbacks are going away after this coming season.
* There will be a muscial crossover between "Flash" and "Supergirl" that "Godspell"/"Legends of Tomorrow" star Victor Garber may participate in. Unlike Buffy's "Once More With Feeling," the muscial episodes will feature mostly pre-existing songs.
* Shannon Leal wiill be joining "Supergirl" as Young Justice vet Miss Martian.
* "Legends of Tomorrow" only has a 13-episode order this season, but that could expand to 22.
ORIGINAL JULY 20 POST YOU SHOULD DISREGARD: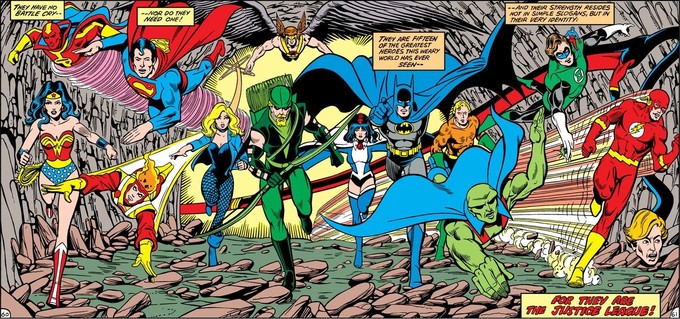 A Bleeding Cool source says CW producers are negotiating with Fox (producer of "Gotham") to drag Batman into the CW superhero shows alongside fellow Justice Leaguers Superman, Supergirl, Flash, Green Arrow, Black Canary, Atom, Hawkman, Hawkgirl, Firestorm, Martian Manhunter, Red Tornado and Snapper Carr*. The source says The CW is willing to pay Fox for the privilege.**
(*Waiting for an engraved invitation, Hal Jordan?)
(**According to the Bleeding Cool source, even if "Gotham" ceases production after its upcoming third season, Fox will continue to control the Batman TV rights as long as Warner Bros. Home Entertainment continues to sell the 1960s Adam West TV series "Batman" on Blu-ray and DVD.)
But wait, there's more.
The same piece says The CW is pondering bringing Matt Ryan's John Constantine back for a "Constantine-led" series that sounds to me like a TV version of Justice League Dark (a comic that also starred Swamp Thing, Zatanna, The Phantom Stranger, Deadman, Tim Hunter, Black Orchid, Doctor Mist, Zauriel, Raven, Shade The Changing Man, Madame Xanadu and Frankenstein, among others).
A Bleeding Cool source says Kate "Batwoman" Kane will appear as Maggie Sawyer's girlfriend on "Supergirl" and Barbara "Oracle" Gordon will buddy up with Kara Danvers on the same series.
Expect lots of established characters to flit from CW series to CW series all next season, including the Earth-3 Jay Garrick (John Wesley Shipp), Malcolm Merlyn (John Barrowman) and Captain Cold (Wentworth Miller).
Find all of Bleeding Cool's story on the matter here.