Right before I left Geek Headquarters with FatherGeek on the heels of a mighty storm that knocked the house to and fro and left branches from trees all over my street… Well, I received a call from my baby sis asking if I could watch my nephew, KublaKhan, as she had a date for Stand Up Comedy and – well, what are big brothers for? So, I responded with… "Can he spend the night?" You see, I knew he hadn't seen the last 3 episodes of GAME OF THRONES yet… and I was giddy to show them to him.
The nephew is turning 16 this Friday. He's a great kid, but I wondered… Maybe I should've chosen LEGEND OF TARZAN, the competing Press Screening of the night. That said, "Trust in Spielberg" rang true in my head. The word coming out of Cannes wasn't particularly robust, but then… Cannes isn't where I would imagine the best audience for Spielberg's first Disney film would be awaiting. Cannes has a lot of critics with notepads and pens with lights to write by – and having just come from Spielberg's THE BFG… I can tell you, this film asks for you to sit back, open your eyes… extra big like. And behold.
From the first moments we watch Ruby Barnhill's Sophie at the head of the Orphanage stairs peeking out from under her quilt… Her voice telling us a story about herself – as we see her attending to tasks she performs, not for credit, but simply to occupy herself through the long nights she can never seem to sleep through. She's a late night book reader with a flashlight with a cover over her head… She's like so many of us were. We'd fall asleep with our nose in a book, but Sophie isn't entirely like you and me, she's going to have a whizpopper of an adventure.
By the time we meet the titular BFG played by Mark Rylance… I was finished with anything close to reality. This was the mental mind space I get in for a great Miyazaki film. The use of color conjured Maxfield Parrish and Howard Pyle in my mind. There's powerful whimsy at play here and at the center of that is Mark Rylance. Yes, trickery was used in the creation of the BFG, but watching that giant run across the countryside to leap upon crags before piercing the veil of reality that takes one to GIANT COUNTRY – and there's still other lands to see… But in that rush as Sophie is being abducted… My jaw fell a bit. The corners turned up and a big goofy grin upon my face.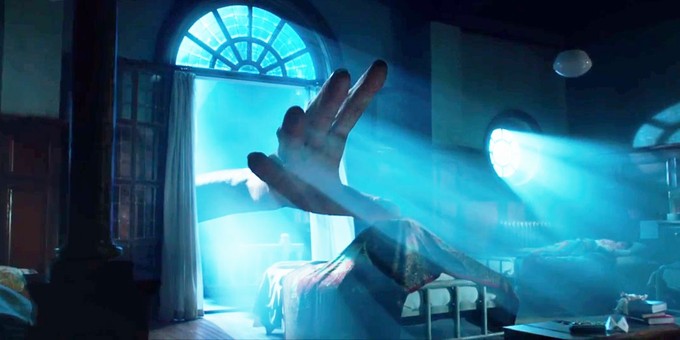 There's no escaping the idea of a giant hand coming into a bedroom takes my soul back to the Original KING KONG or Korda's THIEF OF BAGDAD under-foot. Mostly – the joy I felt was much like the joy I have at Rex Ingram's Genie in the Korda film. Rex definitely gave his giant character a personality equal to the task. Rylance's Giant, like Rex Ingram, had existed over a space of time we mortal beings couldn't imagine. In the BFG's case he wasn't trapped in a bottle floating upon ocean waves for who knows how long… instead, he was treated as the runt of a liter of giants most foul. The resulting character is like some magical concoction mixed of elements of E.T., Yoda & Don Knotts to me.
A hick dreamer of a giant living somewhere magically off the coast of England, he's been there as long as the Earth has – and he's given dreams to those in need of his special mixtures. The face of the BFG is just warming, as he smiles, as he rips off on a sentence filled with so much joyful nonsense that the kids in the crowd begin cheering and you may find yourself chuckling… or even repeating a whizdinger of a phrase under your breath with delight.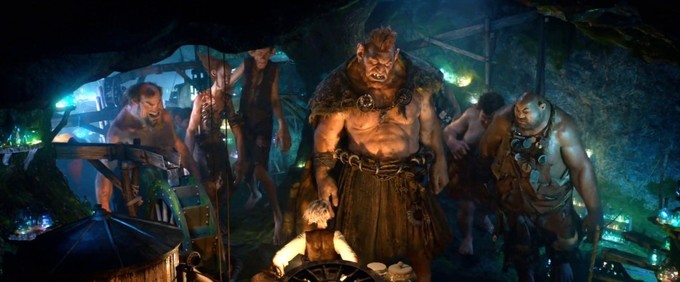 Now – the Can-Knee-Ba-Bulls of the Giants are a delight as well, they may be ferocious, but they hate vegetables and water, as well as being quite silly. The lead one is a built like me on steroids, redhead with a similar beard and hair style, but played by the great Jemaine Clement as Fleshlumpeater. He's the leader of the pack of Giants that occupy GIANT LAND. The Giants that follow him are crude and funny but they sleep under a cover of grass in a bed of cool dirt… and they hate water… so these stinkers are pretty grumpy in the morning. Now, we hear they eat people, but this isn't that kind of film. Threat of consumption, no real vision of it.
I love Penelope Wilton (Downton Abbey) as THE QUEEN – the scenes with her should be bottled and passed out as pure happy. I also love that this film is in the 80's but with very few REFERENCES to it, Steven has that covered in his next film. Look for the man-god MATT FREWER as one of the Generals that meet with the BFG & Queen.
If you don't know the story, discover it after the film. If you have children run see this movie with them. The script by Melissa Mathison, based upon the genius of Roald Dahl… Dahl knows how to delight children with made up words that communicates the silly joy of invention into the minds of all that hear that silly word play. Throughout the films, kids giggled at words. The words tickled them and filled them with energy, but encouraged them to LISTEN CLOSELY! It's magic to see this with its intended audience. In fact, it is infectious.
Parents with small children. DEFINITELY take your kids and play BFG with them afterwards. Parents were doing this after the screening tonight and it's the sort of thing that makes one's heart grow several sizes larger. Yes, maybe even you. I see you Grinching out there at your computer.
Mark Rylance's BFG is one of THOSE cinematic Spielberg creations. I know the basics of how he was made, but having a Mt. Rushmore 3D version of the BFG's face emoting right there in front of you with the wonder that is Barnhill's Sophie alongside… I fell in love. I like his simple wisdom that goes beyond the understanding of us silly beans. I love the notion that you could be staring right at him and not know what you're seeing. That magic in plain view specialness is throughout the film. When the BFG has a genuine moment of happiness… let it sweep over ya, don't fight it. He's teaching you the wonder of silliness and there isn't a damn thing wrong with that.
Of every human bean on the planet, I'm most curious to hear what Hayao Miyazaki thinks of this one. I predict he'll flip. There are scenes of technology and the BFG that are more happy than THE IRON GIANT in that violence isn't focused upon this BFG– and the magical motion of KIKI'S DELIVERY SERVICE or PORCO ROSSO are reflected in the joy of motion Spielberg effortlessly creates here.
Besides… don't you want to meet Fleshlumpeater, Bloodbottler, Manhugger, Butcher Boy, Maidmasher, Childchewer, Gizzardgulper, Bonecruncher and the Meatdripper?
John Williams' score soars along with the adventure, never failing to make me think, "Gosh, that's nifty!" as my eyes and ears smile at the results. As we were watching the end credits, my nephew leaned over and said, "I think that's my favorite animated movie!" - I didn't stop to correct him, because THE BFG is in the tradition of MARY POPPINS and BEDKNOBS & BROOMSTICKS – and for me, that's exactly what Spielberg was aiming to do. Take the kids and be the Big Friendly Giant they love! That's exactly what this film was made for.
With READY PLAYER ONE coming next... and seeing Spielberg flex his visual imagination in such a beautiful manner... We're in golden times my friends. This is magic.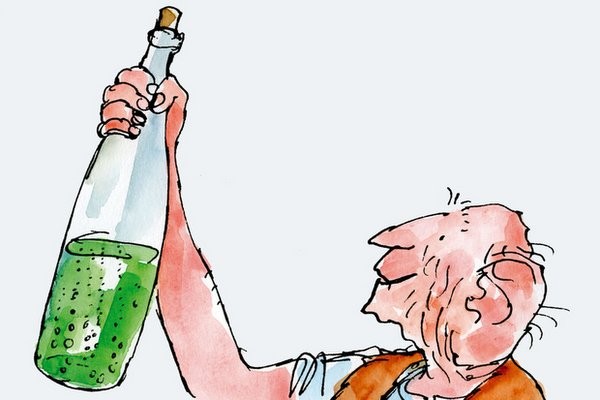 Keep it cool,
Harry