FINDING DORY is the entire point of the film. I love FINDING NEMO,but I wasn't particularly in love with Dory there. There were solid laughs, but I didn't get the character. Here, you find the soul of Dory, her Shirley Temple tale.
Frankly, FINDING DORY is epic. For most of her life, she just was trapped in a panic. It's pretty terrifying really. Her short term memory condition has been life long, but that day she wandered and never found her way back… it's heartbreaking. As she begins to remember key things about her family, a quest of discovery takes place with Marlin and Nemo along. Dory's pad and pen, keeping her on target to find her parents, her home.
You really shouldn't go into this one knowing too much. You will find yourself at a Marine Institute Touristy style, and I came home after the screening to crack open my JAWS 3 3D Blu – and I can report… these are two sequels to massive brilliant original films, that also take place in touristy marine institutes in 3D… and when I went into FINDING DORY, I was wearing my Sushi Patterned Shirt, and I wasn't particularly looking forward to the film. Nothing against Andrew Stanton, but I'd prefer another WALL*E before a sequel to FINDING NEMO focused on DORY. I just felt… obligated to see it though.
The movie absolutely swept me into the story. There's an action sequence, which is basically a how do Marlin & Nemo get from an aquarium to… a different body of water across a distance of space… And as I'm watching I'm totally with Marlin and Nemo – and I know these are awfully sentient expressive charismatic fish… but they're basically just really sentient fish… they can't run on their fins across concrete… they flop and die. And emotionally, I'm there – and I see the Looney Tunes logic to Marlin's death leap extravaganza and … I laughed, because I was held breathless by animated fish… again.
Wait till you meet the Octopus in this friggin movie! The whole time I was thinking about that crazy true story about the escaped Octopus that was all over the net a while back, I loved that story. I think this Octopus has to be the smartest Octopus around. Despite everything he does, I love his fixation upon the tag. The relationship between him and Dory is fantastic and leads to a sequence at the end that is just… BEAUTIFUL WORK! I mean, it's a scene, so incredibly insane. I was thinking of WALL*E and the fire extinguisher… That amazing flying sequence in UP at the end…. The Doors scene in MONSTERS, INC. Only, in a weird damn way, it's the entire movie. With Dory, you realize she has an incremental existence driven by a long time single minded goal. It's a perfect action character. It's about Connecting all the dots, and making the connecting of those dots incrementally more and more insane and crazy and scary and amazing, because… ya know… if this were real fish, these fish would be dead. Or still on the reef off Australia.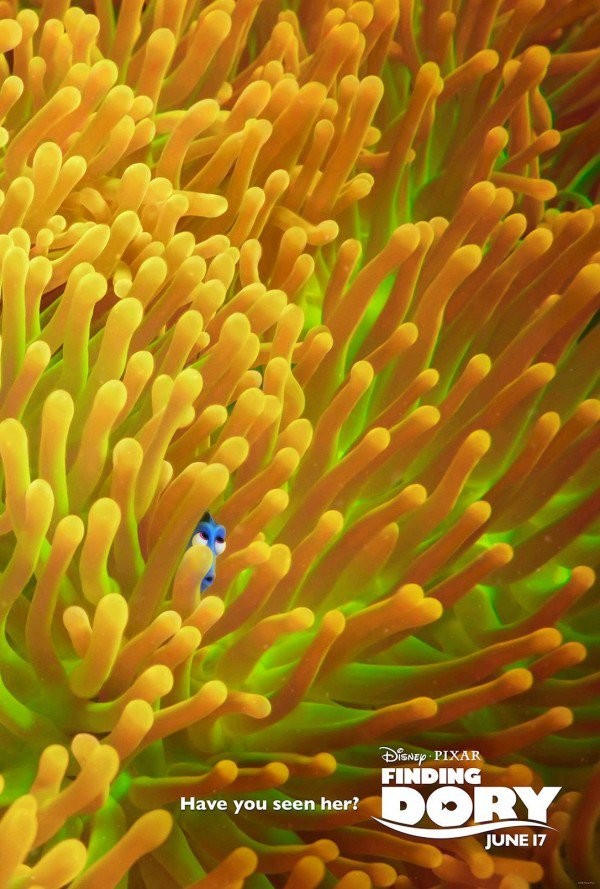 However, Fish in Andrew Stanton's capable current… they're able to see a swimming whale shark that's a Mr Magoo. A Beluga Whale that is an eco-location mastermind… and I love them whales, they do look like they should have advance brain super powers, if any marine life does, besides Dolphins, which, control the world.
There's also a great lesson in this film about how Nemo can teach his Dad to be a cooler fish. To chill a bit, have faith, be nice. It's a sweet story that's pretty useful. Listening to the younger generations about learned bad behavior is a quite solid narrative family device.
Sigourney Weaver is amazing and makes the whole film simply magic. Every time Sigourney speaks – I kinda died a happy boy inside. But the Seals on the rock, they're even better.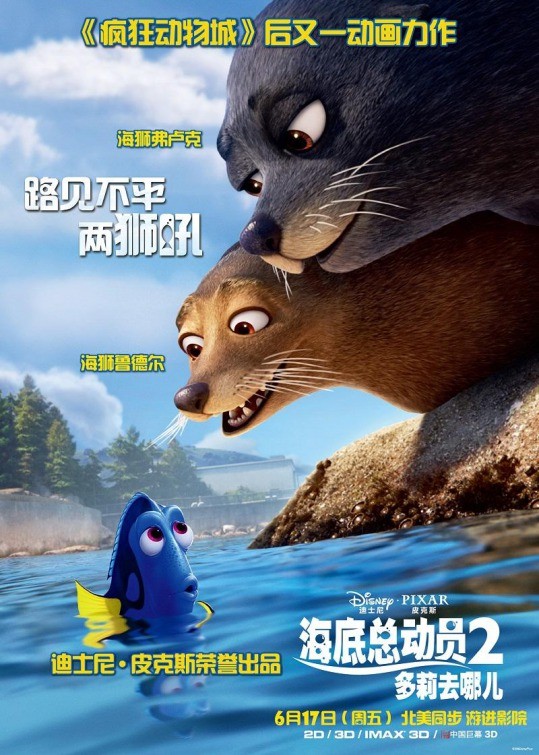 If the film doesn't make ya happy, I'm sorry, for me, it reminded me of so many adventures with Dad – and afterwards on the ride home we talked about the magic of films to make us care about Fish Tales. Next I hope to see Andrew Stanton doing another chapter of JOHN CARTER though. Right! Now I want an Octopus toy that can crawl and camoflage itself at the press of my phone. It'd die a mighty death at the hands of my puppies, but it'd be totally worth it.
These fish will make you a better human.
Keep it cool,
Harry