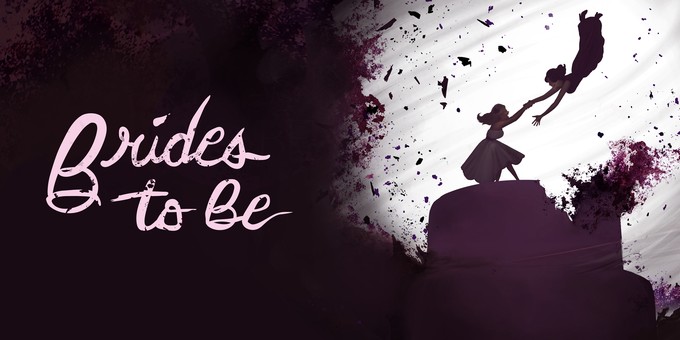 BRIDES TO BE is a supernatural horror tale that anchors itself in the love and emotion shared between its main characters. Robin (Angela DiMarco) and Jenna (Carollani Sandberg) are preparing for their wedding. Robin couldn't be more excited. She is in control, she is together, she is ready to make this day, and the rest of their lives amazing. Jenna, though very much in love with Robin, is more hesitant. She knows that Robin is the most important person in her life and is so happy with what they share, but she fears that she has nothing to offer the relationship. Consumed by uncertainty and dread, she has been suffering from panic attacks and is struggling to get her vows finished in time. She fears that her contribution to the relationship cannot possibly match Robin's and that she isn't worth it.
As the big day approaches, the two head out to the wedding site with their longtime friend Nate (Jesse Lee Keeter). The event will take place in a beautiful old mansion in the woods that has been converted to an event space. The owner has recently taken ill and his son, Bob (Linus Phillips), is trying to pull the arrangements together on his own, but with less than impressive results. When the group arrives, they find that none of the tables are arranged, none of the decorations are up, and they have a long night of work ahead of them in order to get everything set for the ceremony the following day.
As they begin to pull everything into shape, they notice a strangeness to their surroundings. In addition to Bob just being useless, he is also a bit odd, mumbling half-finished thoughts and sentences about the property and its history. While we don't get anything concrete from him, it is clear that this house has a story all its own – one that might have been awoken by the presence of the guests. As beautiful as the house is, there is an uncertainty within its walls. Strange dreams, visions and an array of unsettling noises plague the group as they try to go about their preparations, drawing them into a story that began years ago and doesn't seem to be quite finished.
Above all, BRIDES TO BE is a relationship story that focuses on the connection between Jenna and Robin. Two people completely in love and well matched, but with their own secrets still hidden. Jenna, in particular. Her trepidation about the wedding is affecting her strongly, and she wants nothing more than to keep this from Robin and to allow her partner to have her perfect day. The supernatural component serves as a backdrop to the fears and anxieties being experienced by Jenna as she tries to come to terms with her hesitations and worries before the ceremony. The entity that might be threatening them walks hand in hand with the threat of the couple being pulled apart by everything they are keeping from one another.
The characters are what really sell the film. They keep us invested in the story and worried for their well-being – not only at the mercy of whatever presence might be lying in wait in the house, but also for the stability of their relationship. Carollani and DiMarco are incredible in the way they inhabit Jenna and Robin and the way they bring them to life. We instantly fall in love with them, both as characters and as a couple, and are cheering for them to get past their respective issues before their wedding day arrives. Their interactions are very realistic and we feel like we are a part of their lives immediately.
Kris Boustedt and Lindy Boustedt incorporate a few creepy supernatural sequences, but this one is light on the overt scares and more steeped in atmosphere. Jenna's sense of dread is reflected in the sinister history of the house and whatever might lie within its walls. Above all, this is a love story, and the house and its secrets cloak that in an air of mystery. BRIDES TO BE offers a horror story with an emotional center and characters that we instantly bond with. We are invested in their story as they make their way through the evening. We care about them, we want to see them come out of this unscathed – not just by the ghostly entity, but they their own internal demons.
BRIDES TO BE hits VOD on July 1st. Don't miss it.