Hey folks, Harry here. It has been my great honor to shake the hand of the coolest dwarf killing ball dodging, quadro-asskicking-shotgun-slinging ice cream serving bald man on the planet. I am, of course, talking about Reggie Bannister... And some day I will have my Reggie Action Figure to stand next to my ASH figure and I will imagine them kicking ass... side by side for an eternity in some wickedly screwed up askewed universe that you and I will steer way clear of. Now ordinarily, knowing Reggie as the guy he is, I would of sent him a babe to converse with, but given that fair Spanish Maiden that Quint has been seen with, I figured he wouldn't mind talking with Quint... and steal that maiden while he was at it. Here's Reggie and Quint... Be sure to click on part 2 too... it kicks mucho ass!
Ahoy, constant readers! The unerringly crusty seaman here once more, this time with a little one on one with the coolest ball busting, Tall Man hunting, quad shotgun wielding, dwarf hunter around, Reggie Bannister.
In this interview we learn who the man behind the bald head really is. We even get some glimmers of hope for all the Phans out there about the next Phantasm flick. I for one can not wait. I've read a few different drafts of Phantasm 5 (currently called Phantasm's End) written by Roger Avary and they are really cool. Throw Angus Scrimm, Don Coscarelli, Roger Avary, Reggie Bannister and Bruce Campbell together and you will have geek perfection.
This interview is transcribed as true as possible to help you readers get an accurate view of Reggie's personality through his speech. So, all the "likes" and "you know" and "kindas" are all in there. When he said, "How ya' doin' buddy," I wrote it as thus, not "How are you doing buddy?" With that in mind, continue forth! Without any further adieu here is my interview with Reggie Bannister... the man... the myth... the legend.
RING RING... RING RING....
REGGIE BANNISTER: Hello.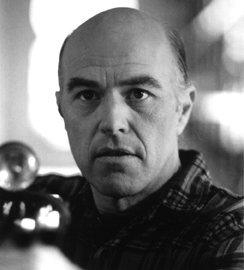 QUINT: HEY, REG.
RB: Is this Quint? How ya' doin' buddy?
Q: JUST FINE. YOU?
RB: Good-good-good-good-good-good. Hey, are you on a speaker phone?
Q: YEAH.
RB: Could you get on another phone? Would that make a difference to you? 'Cause I just hate speaker phones. (laughs)
Q: I WOULD, BUT THIS IS THE ONLY WAY I CAN RECORD THE INTERVIEW.
RB: I see. OK... OK. That's cool.
Q: SORRY.
RB: That's alright. It's just disconcerting 'cause, you know, there's that cut-off sound and the kind of distant feeling of the person on the other end. It's like, "I'm receiving a message from Uranus... No. Wait a minute. It's Venus." (laughs)
Q: I UNDERSTAND. I PREFER IN PERSON INTERVIEWS MYSELF, BUT THAT CAN'T ALWAYS HAPPEN. ALRIGHT. LET'S DO THIS! LET'S SEE. YOU STARTED OUT IN A BAND THAT HAD SOME GOOD PLAY AND SPENT SOME TIME ON THE CHARTS.
RB: OK, that was a ba... well, it was a group actually. We called them groups then, Quint. I know, a foreign concept to just about everybody today. We called them groups because well... in those days folk music was very, very popular. Bob Dylan had not even... I mean, he was just starting to become popular. Joan Baez was popular. People like that.
So, we had a group called the Greenwood County Singers and what happened with that was this guy named Terry Gilkenson who used to write a lot of the music for Walt Disney Productions. Things like... I don't know. Some of those action/adventure things. Like, I don't know. Name one! (laughs)
Anyway, he used to do a lot of that music. Somebody back East, the head of a label called KAPP told him that, hey, he was out here on the west coast, they were on the east coast in New York. They told him if he could put a big group together, because big groups in folk music was starting to be "the thing" to be happening. He said that he could. He contacted a couple friends of his that were brothers by the names of Carson and Van Dyke Parks, they held auditions.
I was big fans of them. They had a group called The Steeltown Two because they were both from Pittsburg. I was just honored that they asked me to audition for the group. When the smoke cleared, I was in the group, so, it was kinda cool.
We had four albums and as many singles. We had a single for every album. Every single did pretty well. The first one was written by a guy named Bob Gibson and Shel Silversteen, who used to write for Playboy, and it was called "The New Frankie and Johnny." It was a takeoff on the old story of Frankie and Johnny who were lovers and all that, but it was in a rag-time sort of feel. It did very well and we ended up doing a lot of touring and a lot of TV and things like that.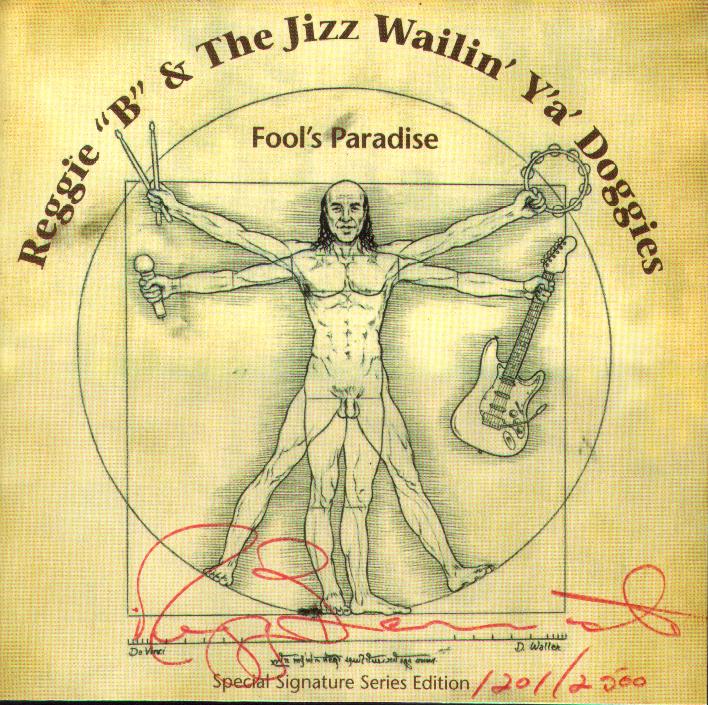 Q: COOL. I WAS SURPRISED TO FIND OUT YOU SPENT SOME TIME IN VIETNAM....
RB: Why were you surprised?
Q: WELL... I'VE MET YOU AND YOU AND WAR JUST DON'T SEEM TO GO TOGETHER.
RB: Well, unfortunately there was thing called "The Draft..." They didn't give you a whole hell of a lot of choice about it. In that sense because I was drafted... I mean, yeah. I didn't agree with the war. Not to mention I was in the throws of a great career. I was in the Greenwoods.
I actually got my draft notice... my parents brought it up to me. I was, I think, 19 or 20. Maybe 20. I was working in Lake Tahoe and we were working with Andy Griffith and Roy Clark and this was the Greenwood County Singers I was in. We were in the middle of our fourth album and I was swingin', man... from a star. I was doin' it! And my parents brought up this draft notice they had received at our home address.
Here I was. I went from makin' all this money and happenin' and playin' with people like Steve Stills, you know, and hangin' out with Dave Crosby and the Righteous Brothers and those guys. I went from that to in one week I had to report to Fort Ord to go in the army.
It wasn't my war. I didn't agree with it, but I didn't have any choice, like so many others that went. So, yeah. I went. I first went through training at Fort Ord, my basic training, and I went through a leadership school there. It was kinda like OCS (Officers Candidate School), only you didn't get the bars at the end. Then I got orders for Fort Gordon, Georgia, which really turned out not to be such a bad deal at that time because when I got to my command post I filled out an information sheet that was specifically for the first sergeant. It said, you know, what did you do. Did you have any hobbies before you came in the army, what did you do to make a living? I said, "Well, I played music. I was in the Greatwood County Singers, blah-blah-blah."
I get to my barracks. I haven't even unpacked yet. Somebody comes in and says, "Bannister." I go, "Oh, man! What's going on?" They said, "The first sergeant wants to see you." I went, "Oh, fuck, man! I am in the shitter. I know this to be true."
I go to the first sergeant, I stand at attention. I salute him first sergeant, sir, you know like that. He goes, "At ease, Bannister. I see on your sheet here that you play guitar, that you were in a professional group," and stuff like that. I go, "Yes, first sergeant!" He goes, "Call me Clifford." (laughs)
I think, "Hmmm... This is interesting." He goes, "Well, I'm putting together a little band." It turns out he really enjoyed playing bass guitar and he was putting together a band. He had a guy who played drums, a guy named Pedro who played drums and this other guy named James Gallagher, who was a great guitar player and knew all this really good rock and roll stuff and me!
So we started a band. I was in the first sergeant's band at Fort Gordon, Georgia. Also, we went into Augusta when we were there and I got to see James Brown in his home town, which was very, very cool. I mean, he came out and we were in this small municipal auditorium and he came out and gave like a $2500 check to his old school teacher who was practically up there on a cane. He hugged her and people went nuts in that place. It was his home town.
So, Fort Gordon was pretty cool until I got orders for Vietnam and everybody else got orders for other places. That was it. I went to Vietnam. I decided I better hunker down and become this soldier guy they always expected me to be or I would probably get my ass shot off. So, I did... I mean, I didn't get my ass shot off. Fortunately I still got my ass! I can't get any in the movies for Christ's sakes! (laughs)
So, anyway, I did my time in Vietnam, about a year, and was fortunate enough that I didn't get hurt and wasn't involved with a lot of heated battles and stuff like that, but made it through it and came home.
Q: COOL... WELL, NOT SO COOL, BUT COOL STORY ANYWAY.
RB: Well, you know, I got a lot of cool stories, Quint. They weren't always good for me at the time I was going through them, but in retrospect... some day I'll probably have to just write them down. Either that or I'll do enough interviews so I won't have to write 'em down. (laughs)
Q: JUST COMPILE A BOOK OF INTERVIEWS!
RB: Yeah! I better do that before I get old timer's disease and can't remember where I've been. (laughs)
Q: WHERE DID YOU GO FROM THERE?
RB: OK. So, what was going on was I went back to school in about 19... uh. Oh Geez. In the early '70s. I went on the GI Bill. I got out of the army in '69, I bumped around, played a bunch of music and as a matter of fact I started a band... I played some Blues and started a band called Jamie Rush that was a really good, strong rock band. Two lead guitar players, me. I didn't even play any guitar, just sang. Got really skinny, about 120 lbs. Just sang my ass off, you know.
Really good band. We went to Salt Lake City in Utah and we were really happenin' there. We were like the main band in Salt Lake City, the most popular band. Then some of the guys who were pretty young got homesick and wanted to come back to LA and I went, "Oh, man. You know, we go back to LA, we're fucked. We'll all go different ways. I mean, you got your family over here and I got mine over here. I just know this is the way it's going to go."
Sure enough, we came back and the band fell apart. I was really desponded, so I thought, "Well, I'll go back to school and just immerse myself in some acting." So, I did that. I got in the theater arts department. I just started doing that. I was involved with all kinds of productions. I'd finish one and I'd start another one.
Anyway, long story short, I was doing this play, a lot of original vignettes. Small pieces that were really neat and had been written by some students there. Then I tied everything together with little musical interludes in-between. I wrote music for it and I acted in about four of these vignettes. It was called Circle Games.
One morning some guy called me, woke me up out of a sound sleep. I was really kind of pissed. He identified himself as Paul Pepperman, who I found out later was producing stuff with Don (Coscarelli). He said, "Well, we saw you do this Circle Games thing and we're making a movie and we thought you'd be perfect for this one part that we've written into this one piece." I went, "That's cool." I thought he was a student film kind of guy. Basically my pay for most student films was lunch, but he said he had money. I went, "Heh, money, you know. Heh. Where do I go?" He said, "Well, we'll send a car for you on such and such date." I went, "Cool."
So, he did and it turned out to be Don's movie, Jim the World's Greatest that had Gregory Harrison in it, although he doesn't admit to it. (laughs) As a matter of fact, he was just fresh off the boat from Catalina. His dad ran the glass bottom boat over at Catalina Island and he grew up on the island. It was like he had fallen off the turnip truck, you know. He was this really nice, young guy. We got a long really well. There was a kid involved. Um.... I can't remember the kid's name. That's bad...
Anyway, Angus (Scrimm) was also in that film, but we never worked on the same day, so I didn't get to meet him. Anyway, that was the first time I ever met Don and I liked his style. I liked what he was doing he was just bound and determined to make film, running real film. Film that gets released and distributed. What a concept! It wasn't just for class time somewhere in some anonymous little, dark room.
I did that picture with him. He liked the experience. He's a director that likes to work with people that he knows he can get X out of, you know. Whatever he needs. So, I enjoyed it, he enjoyed it, so I did his second film called Kenny and Company. I also did some music in that. That was the first time we ran into Fred Myrow and that was the first time I worked with Fred. So, I wrote some of the theme songs and I wrote the Kenny & Co. theme song. It only appears a couple of times, but pretty cool.
Anyway, and I got all the musicians together and I got the studio together. That was my first experiences with Don. The third picture I did with Don was Phantasm.
Q: BEFORE GOING INTO THE PHANTASM STUFF, LET ME JUST FIRST SAY AS ONE OF THE FEW PEOPLE WHO HAVE SEEN KENNY & CO., YOU ARE THE COOLEST TEACHER EVER IN IT.
RB: Oh, thank you, man. You know, that really means a lot because Don, as Don as want to do, he makes characters out of people that he's met that he either liked or they disturbed him or something. He had me play a character that was his favorite teacher in, like, Middle School. So, yeah. He fashioned that character after him.
I thought it was a great little movie. Michael Baldwin was in it. It was just such a... I don't know. It was more realistic. It was one of the most realistic movies about kids their age that I've ever seen. You know, when they got the Playboy Magazine. Nobody was talking about kids like that then. That was about 1974 or '75.
Q: "I LIKE NAKED GIRLS!"
RB: (laughs) "I like naked girls!" And then they get that little Mexican kid to say... what? Bullshit or something?
Q: ASSHOLE, IF I REMEMBER IT CORRECTLY. COOL FLICK. I GUESS THAT BRINGS US RIGHT INTO THE PHANTASM STUFF...
RB: You know, it was hard to have a feel for what we were really doing. Everytime I'd go to shoot some stuff, I would generally see what we call sides. Basically scenes pulled out of the script. Don would go, "OK. Here's where we're at with this scene. You just came from such and such a place. After this scene you're going to such and such a place. Here we are here now. Look at the dialogue and tell me what you think. I'm not sure that Reg should say this. What do you think, Reggie? What do you think you should say?" It was wacky.
When I saw the film, I don't know what anybody else thought, but I certainly felt like I was seeing something that was almost foreign to me. (laughs) I mean, it had been changed a lot. There was a lot of footage shot that didn't make it into the film. Thankfully, actually, it didn't because what it gave the film was that kind of nonsequiter feel. Really, like "What the hell is going on here?" That kind of jumping reality, crossing lines and stuff feel. I think that carries the charm of the film.
Yeah, we worked on that for, jeez, probably a couple a years, to tell you the truth. I can remember working in clubs, playing music, and I would get a phone call at the club and one night they said, "Hey, we're sending a car for you." I said, "Well, I'm not done here until like 2 in the morning." They said, "That's OK. We'll send a car."
We went up into the mountains this one time, that's when we shot the scene where we take Tommy out of the car when he was a shrunken down dwarf. We stick him in the ice cream truck and I go, "This guy's not gonna leak all over the ice cream, is he?"
By the way, the guy who played Tommy (in the first Phantasm film) was my lead guitar player at the time. Great lead guitar player. He was also one of the musicians I used in Kenny & Co. for the music and stuff.