Hey folks, Harry here with a good ol fashioned "spy report" from the Symphony Hall in Boston where jazzy Johnny Williams took the stage and delighted and amazed everyone. There were rumors on STAR WARS: THE FORCE AWAKENS that Michael Giacchino was working with Williams with the idea of taking over, but that never materialized. If Williams just provides Rey themes for the next film with another composer adapting Williams' past work and creating new themes of their own... I'm not opposed, but man it sure would be an amazing thing if we got 9 Star Wars feature compositions... Personally I'm hoping for miracle nano-tech medicine that takes 60 years off of John Williams so he can simply provide music for film throughout eternity. But I'm greedy that way. Here's the report: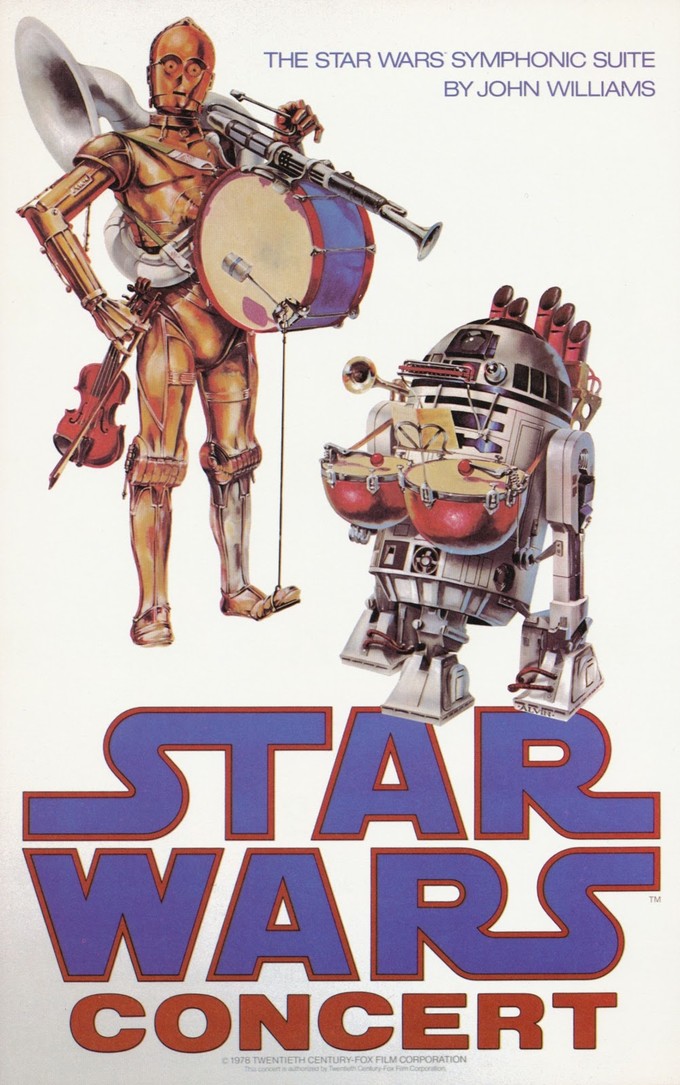 Hi Harry,

Last night, I had the privilege of attending John Williams' Film Night at Symphony Hall in Boston. The living legend himself conducted the Music of Star Wars in the second half of the concert and brought the house down with the new (Rey's Theme, Scherzo for X-Wings, Jedi Steps) and old (Star Wars Main Theme, Princess Leia's Theme, The Asteroid Field). I didn't take an exact count, but Maestro Williams received at least six standing ovations from the enthusiastic and knowledgable crowd. Mozart himself could have walked out and I don't think the audience would have been as excited as they were to welcome John Williams back to Symphony Hall.

Mr. Williams provided some interesting and fun anecdotes between pieces that I wanted to pass along to your readers. Please note in reading these that he always comes across as a humble and gracious individual:

- On his involvement with Episode VIII, he did not provide confirmation one way or another and simply repeated that he previously told the Producers that he didn't know if he could do it. Interestingly, prior to performing Rey's theme he did sing the praises of Rey (and actress Daisy Ridley) who he "became crazy about from the first frame of the film". Mr. Williams commented that if new music was needed for Rey, he didn't want anyone else to compose it as that would make him jealous. It was clear that this character is one element of the new trilogy that provides creative inspiration for him. Makes me wonder if he may contribute some new themes to Episode VIII but not score the entire film. I'd happily take that.

- Prior to conducting Princess Leia's Theme he told the audience that he originally wrote this piece to be a love theme between Leia and Luke, as George Lucas had not yet told him they were siblings. I hadn't heard that one before. He later commented that this resulted in an admittedly "confusing romantic situation" which got good laughs from the audience. At the end of the anecdote he switched topics and returned once again to Rey, simply stating "I'm still concerned about Rey and her future..."

- Between pieces Mr. Williams also openly questioned who Rey's parents are. He thinks Luke is her father but admitted he never asked JJ Abrams and has no better idea than the rest of us. He genuinely came across as just another fan who want's to see what's going to happen next.

- Prior to Scherzo for X-Wings, he (endearingly) commented that in the movie "you didn't hear too much of it because the sound effects were a little bit loud". He was pleased to have this piece performed by the Boston Pops so that everyone could hear "the virtuosity" of the orchestra and the energy of the music. Amen, Mr. Williams and where the heck is the isolated soundtrack option for The Force Awakens!?

After bringing down the house, Maestro Williams treated the audience to three encores including Yoda's Theme, Imperial March and the E.T. Theme. He could've done another 15 encores and would not have come close to exhausting his classic catalog!

P.S. Keith Lockhart conducted the first half which included the opening of Star Trek Into Darkness with the score performed live. I have mixed feeling about the film itself, but this performance was AWESOME. On June 3rd and 4th, the Boston Pops will screen and perform the live score of Raiders of the Lost Ark(!), which promises to be INCREDIBLE. Some tickets are still available:

https://www.bso.org/Performance/Listing?brands=6425

If you use any of this, you can call me "Ash from '73"
Oh man - I so wish I could go!
Keep it cool,
Harry