Hey everyone. Capone in Chicago here.

The road Karyn Kusama has taken in her movie-making career is a strange, but sadly not an uncommon, one. She burst onto the scene with in 2000 the Sundance mega-hit GIRLFIGHT, which also thrust Michelle Rodriguez into the spotlight, and it probably seemed to many (including Kusama) that the movie world was her oyster. But after spending an inordinate amount of time helping to get ÆON FLUX made, a studio head change resulted in her having the film taken away from her and unceremoniously gutted. She fared a bit better in the making of JENNIFER'S BODY (written by Diablo Cody), but the marketing emphasis on Megan Fox being hot (which shockingly enough wasn't the point of the film) left a lot of people sour on the darkly funny little film.

With Hollywood leaving a bad taste in her brain, Kusama has spend a great deal of the last couple of years directing television for series such as "Chicago Fire," "Halt and Catch Fire," "The Man in the High Castle," "Casual," and most recently "Billions." But she was also quietly working with screenwriter husband Phil Hay and co-writer Matt Manfredi on an emotionally driven thriller (bordering on horror film) called THE INVITATION, which finally began opening up around the country this weekend, after premiering at the SXSW Film Festival a year ago (where I first saw it).

Without saying too much about the film, it surrounds a gathering of old friends who haven't seen each other since Will (Logan Marshall-Green) and Eden (Tammy Blanchard) split up years earlier after a personal tragedy. Both have remarried, but that isn't the most awkward thing about this reunion. THE INVITATION also stars Emayatzy Corinealdi (MILES AHEAD), Michiel Huisman ("Game of Thrones"), and John Carroll Lynch (ZODIAC, FARGO, SHUTTER ISLAND).

For those of you in the Chicago area, I'll be doing a post-screening Q&A with Kusama and co-writer Hay on Friday, April 15 after the 7pm show at the Music Box Theatre. In the meantime, please enjoy my recent (mostly spoiler-free, but fair warning) chat with Karen Kusama and Phil Hay…





Capone: How are you both?


Phil Hay: Hi. Good How's it going?



Capone: Good. I might be the only person who talks to you today who has seen this movie twice. I saw it at SXSW and really liked it, then I watched it again this weekend just as a refresher. It's a very different movie, obviously, if you know the things that are going to happen, but I don't think it lessens the impact, because the drama works so well. And I'm assuming you figured this out at some point, that if the emotional content doesn't work, then the horror part doesn't work. Talk about sort of establishing that both in the script and striking the right balance while shooting as well.



PH: Yeah, I think that's a great way to put it, the way that you did, that the drama is actually the prime focus…





Karyn Kusama: The engine.





PH: …and engine of the movie. We see it, in large part, as a drama first. It's also a thriller, and it's also a paranoid movie, and it's also a horror movie, and that was down to everything in terms of wanting to make sure no character in that room was just there to "play a role" or to be a function of a horror story. If the movie works, it's because the humanity of each of those characters is very important and you feel them as people and relationships, and the conversations seem like human conversation.





KK: Yeah, I think in making the film, it was important to look at each moment from two perspectives—as a first timer in the audience who is still having to absorb information and ask questions and make decisions as they're watching, as well as the potential second-time viewer who now can see the layers, I hope, in some of the performances, particularly where there's this underlying regret or dread or anticipation towards the outcome of the evening. I hope that comes through, that there was a sense from the beginning that all of this was very real for all of these characters.



Capone: The heart of the film, all of the biggest emotions, stem from one event that happened two years earlier. You could actually look at the entire film as a metaphor for how different people grieve differently.



PH: Absolutely.



Capone: Was that the jumping-off point for this story?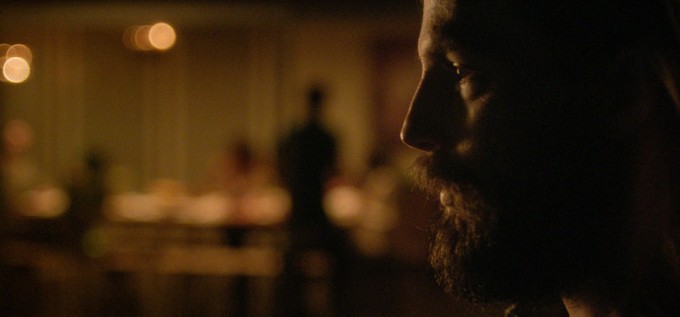 PH: That was, for Matt and I writing it, the nugget of story and feeling that we were trying to understand. It was about how powerful grief is as an emotion and how many different directions that can send you. So the entire movie really is a meditation on grief and the good and bad ways of dealing with that. Karyn has always talked about the idea that the true horror is denying grief or trying to pretend it doesn't exist or trying to find outside solutions to it. I think that was a big part of the origin, and also it was the feeling of alienation from someone you truly once loved and truly once knew so well and seeing that person go away and change so much to where you don't recognize them anymore when they come back. It was the human horror that we were also exploring.



Capone: Usually when a film shoots in such a small space and in a single location, you have the luxury of shooting in sequence, which I can imagine would add to the dramatic elements. Were you able to do that?

KK: We were and we made a point to try and keep everything as much in sequence as we could, simply because there was the opportunity, but also there was the experiment, given that it's so rare that you do get to do that. It was really interesting to see how shooting in sequence managed to inform the storytelling, and I hope enrich the relationships as they developed, because by the time we were shooting the third act, it felt very authentically horrible and pretty upsetting.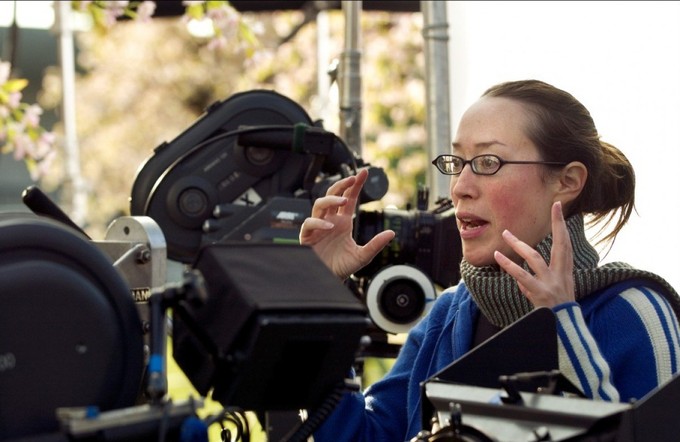 PH: Because we could see that coming down the line of the schedule, and we had all come to be very close over a short period of time, and I think actually the dread of getting to that point in the story did inform our experience. I could feel that in the actors. I could feel the sense of sadness that the community was going to have to pull apart and go through something.



Capone: You mentioned earlier that you didn't want any of the actors to represent a certain type of horror cliche, but I will admit when John Carroll Lynch walked into the place, I didn't trust him immediately, because we've been conditioned not to. But you give him this wonderful monologue in the middle of the film that turns it around to a certain degree and you're like, "This poor guy has been through hell." But in the telling of that story, you also become a little more scared of him, because it's a terrifying story. Did the other actors listen to him and learn from him, and did you even learn something from working with someone of that caliber?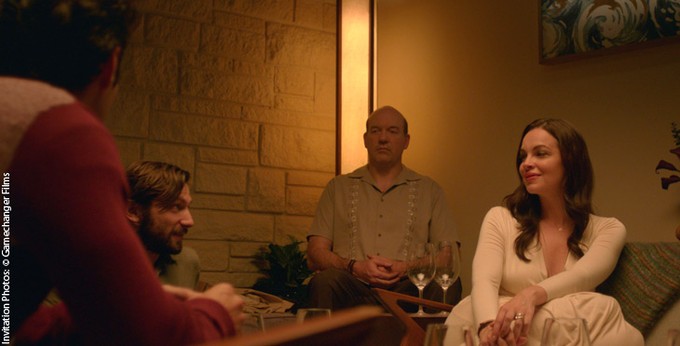 PH: Oh yeah. He's an incredible actor, obviously. He's an old friend of ours. The funny thing about that is we really wrote the part for him and from the moment we thought of the character, we wanted to play that role. And then we told him that, and we said, "John, we wrote this part for you. Only you can play it. Please read the script."





KK: And he was like, "That's so flattering. Everyone wants to hear that a role has been made just for them."





PH: Yeah, and then he read the part and he was like, "Um, thanks guys? I don't know how to feel about this." But you mentioned, the entire cast was full of people who are super talented and super professional actors. It felt more like a theater company than any other film I've done before. It felt like a company. These guys were really tight. We've all stayed very close since. That was again part of the experience, and having him, John is just one of the best actors I've ever seen.



Capone: It is a bit like a filmed play. I really love the scene where Will has his big outburst/breakdown/paranoia moment. How many times did you have to shoot that? How many times can you shoot that without losing the rawness and that complete, unfiltered emotion?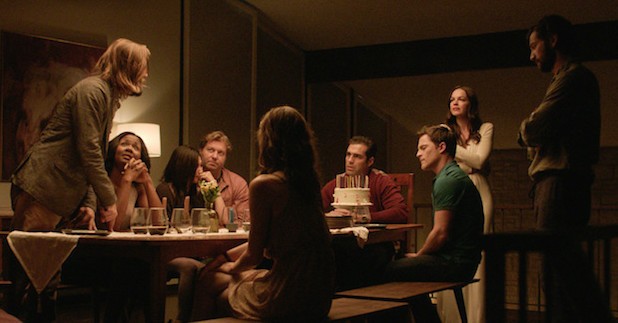 KK: That's interesting that you say that, because in fact, I think a lot of what we used to construct the body of that scene ended up being our first take of the first wide shot, because we had essentially rehearsed toward his outburst but at 70 percent, knowing that once the cameras were going, we wanted to go full bore with it. It's interesting because we were able to structure it so that when Will walks up there, in the structure of our rehearsal period, we were able to shield everyone from where Will was really at emotionally. So that from the moment we actually started filming, everyone was genuinely pretty taken aback by his outburst.

What I loved about what Logan did was he allowed that outburst to be incredibly shocking and socially awkward but also really, really vulnerable and sad. I get choked up in that scene because I feel how lonely and isolating it must feel to be that character and to feel like there's this specter of your lost child in that home, and nobody is talking about it. It must be the most terrible loneliness. In a way, it's an incredible indictment of the group. Even though it's so awkward and crazy, there's something very authentic about it. I think by the time you're in the space of watching the movie, you're really happy somebody's finally coming out and saying this evening is fucking bizarre.

Capone: The first time I watched the film, I was thinking, "Someone has to leave this party, because it's just too uncomfortable." But then I thought about it and if they were as close as they seemed to have been—and we see them in the flashbacks—that they would probably do everything in their power to get through those awkward moments. At the same time, I'm also the kind of person that if a freak show breaks out in the middle of a party, I'm not going anywhere. I want to see how it plays out.



PH: [Both laugh] Totally. I think that Tommy and Miguel, particularly, are totally with you on that. That's obviously something that comes up a lot talking about the movie, is whether people leave, or why they don't, or why only Claire leaves. What we were thinking of that, and what I think is real, is it's incredibly transgressive to walk out of a party like that. We have so many great denial mechanisms that they could be like, "I'm sure it's fine. If it's weird, it'll be a good story." Or, "We've got to be there for him, and he used to be here for me." It's also a movie about how our survival instinct can sometimes be muted by simply being polite.



Capone: That will kill us all, I'm sure.



PH: Exactly. That will be the end of us.



Capone: I usually don't talk about promotion or marketing, but this movie has to be hellish to promote and do interviews for and cut a trailer for, because there's a good chunk of this movie that you simply can't talk about.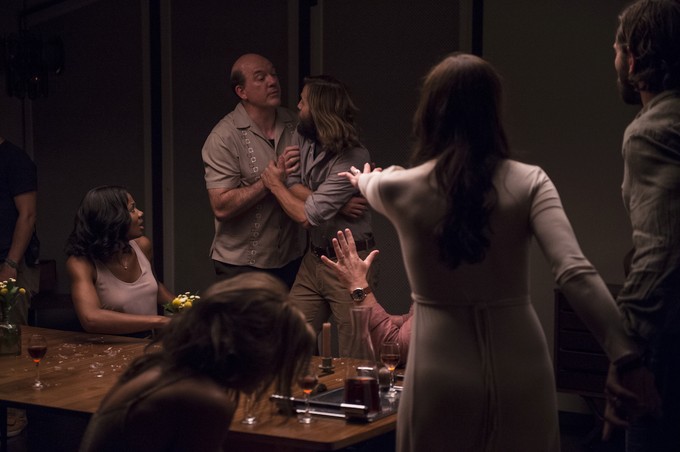 KK: It's hard. It's a really fascinating experience now to be showing it in festival environments prior to it's theatrical release, where we are seeing the film operates best when audiences can come into it without knowing where it's headed on a narrative level. That's a challenge. We've come to accept, to read off a menu and know what our entree is going to be. That can't really happen with this movie without dampening some of the surprise and some of the sense of true…I don't know if "pleasure" is the right word.





PH: Just shock, that shock is a part of this movie, and we need to find a way to preserve people from knowing the specifics. I think we're lucky to do this with Drafthouse [Films], because it's one of the first things they told us is we're not going to give away the ending of this movie. Our whole campaign is going to be, "Hey, everybody. Shhh! Don't give away the end of this movie, please."





KK: Yeah. In some ways, there's an opportunity here. It's a tough mountain to climb, but to me there's an opportunity to make a movie where what you're telling other people isn't "Here's what it's going to be." It's "You've got to see it, and then we can talk about it." Because I like mystery being retained in the marketing of a film, and it drives me bonkers to see trailers that just essentially give me no reason to see the film, because I know now exactly what's going to happen. And we hope that part of the pleasure of watching this movie is that while you can anticipate a particular kind of explosive outcome, you don't exactly know how you're going to get there or how it's going to play out, and that's a really pleasurable place to be, I think, when you're watching a movie.



Capone: Alright, guys. Thank you both so much, and best of luck with this.



KK: Thanks, we so appreciate it.





PH: Thanks so much.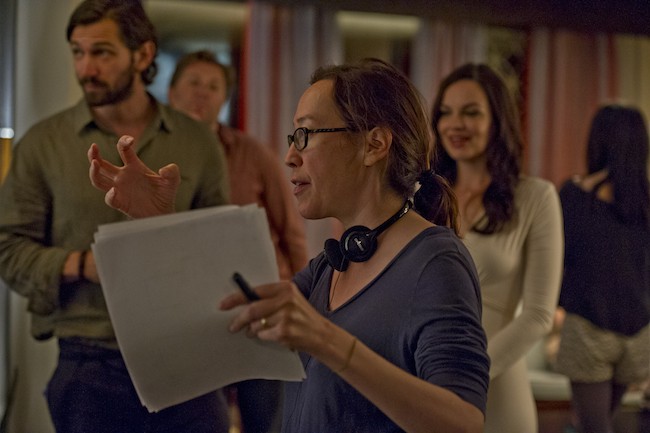 -- Steve Prokopy
"Capone"
capone@aintitcool.com
Follow Me On Twitter