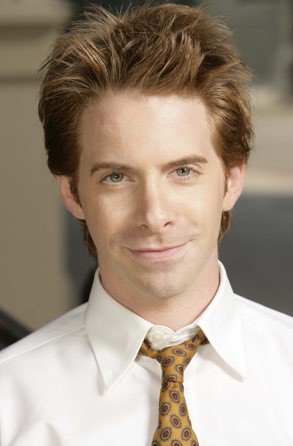 Wow. You know, I never noticed it myself, but look at that mug. Dead ringer, no?
David Wain's biopic of NATIONAL LAMPOON co-founder Doug Kenney has gotten a ton of choice cast members very quickly, and we can cap this week off with the news that Seth Green will be portraying Christopher Guest in the film. That follows up the news from two days ago that Thomas Lennon would be portraying Michael O'Donoghue (fascinating casting), and yesterday's announcements that Matt Walsh would be playing ANIMAL HOUSE producer Matty Simmons, Rick Glassman will be donning Harold Ramis' specs, and Jon Daly will be stretching his comedic talent as Bill Murray.
Guest, like Ramis, Murray, Chevy Chase, and John Belushi, joined the LAMPOON ranks when they expanded their magazine to radio and stage performances (the decision not to go forward with a LAMPOON TV show bit them on the ass when they lost a big chunk of talent to the similarly youth-skewing SNL). Though he made his film debut in DEATH WISH in '72, it was with LAMPOON that he developed the smart, behavioral style of humor that became the trademark of his films (just watch his subtle, perfect James Taylor impression below).
. Green, the rare child actor who blossomed into a fairly significant pop culture figure (he's fucking 42, can you believe it?), is a funny sommbitch when let free to run rampant (as many ROBOT CHICKEN fans can attest to), and he's the biggest name of those playing the legendary performers that'll pepper this story (sorry, Joel!). It's an uncommon big-screen showcase for Green's comedic talents, and an ability to remind folks that he's actually pretty fun to watch onscreen when the material suits him.
These are luminaries of the comedy scene that Wain is taking on here, and he's getting a handful of pretty excellent performers to play them. This shot very high up the list of my most anticipated projects as the names rolled out this week, and I implore you to watch DRUNK STONED BRILLIANT DEAD to get a gauge on how fascinating and funny this film depicting Kenney's life and the early days of NATIONAL LAMPOON could potentially be.
Just hope Wain's got the marbles for the darker stuff.