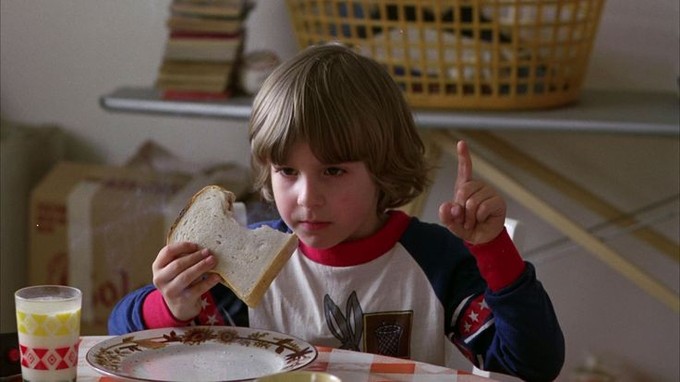 Tracking Board story 2 of 2: Akiva Goldsman is adapting Stephen King's 2013 sequel to THE SHINING, DOCTOR SLEEP, for the big screen.
WB has hired Goldsman, who, in addition to writing countless screenplays for the studio (everything from his BATMANs to PRACTICAL MAGIC, THE CLIENT and his directorial debut, WINTER'S TALE), has already dug into King's work for the DARK TOWER adaptation. Given that he's a director now (his second film, the Blumhouse-produced STEPHANIE, is already in the can), it's possible they might give him the helming gig, but I'd count on someone with either a filmatist's reputation or (at the very least) a good amount of horror experience. This is as much their follow-up to Kubrick's THE SHINING as it is a take on King's book, after all.
King's sequel focuses on grown-up Danny Torrance, who inherited his father's alcoholism as a way of keeping his E.S.P. at bay, but is now sober and uses his abilities to assuage the elderly on their death beds (thus the titular nickname). When a young psychic girl is kidnapped, Danny (now Dan) must use his telepathic bond with her to find her, rescue her, and protect her from the nefarious forces hunting the gifted girl down.
Obviously, don't expect Danny Lloyd to reprise his role, given that he retired from acting as a 9-year-old and is farming pigs and teaching in the Midwest. I'd expect it to be a hot gig, given that the actors who are age-appropriate for the role have presumably all grown up having seen (or at least been aware of) Kubrick's film. So who will they get? My mind jumps to Christian Slater, yes, partially because he had all those Nicholson-esque qualities back i the day, but also because I just dig Christian Slater and would love to see the newly-minted Golden Globe winner crush a leading role like this. However, I'm not stupid, and know that Slater's box-office appeal is next-to-none (he wasn't exactly packing them in with stuff like ALONE IN THE DARK and MINDHUNTERS), so it'll most likely go to someone "hotter" like Bradley Cooper (whose last leading man gig in a horror movie was in Ryuhei Kitamura's MIDNIGHT MEAT TRAIN) or James Franco (just coming off of the King-adapted series, 11.22.63) or someone.
I don't think I'm making waves by saying THE SHINING is probably the scariest, best produced horror film of all time, one which makes nearly every horror flick out there look like Ed Wood, so following it up on the big screen is a task which I hope WB or Goldsman aren't taking lightly. The writer has written more than his fair share of dogshit for-hire (man, both INSURGENT and THE 5TH WAVE?), but he's also an Oscar-winner for A BEAUTIFUL MIND and has projects like A TIME TO KILL, THE DA VINCI CODE, and CINDERELLA MAN under his belt, so it goes both ways with him (admittedly via decisions that are most likely out of his hands).
If he can deliver a script that has the bone-dry, close-to-the-chest terror of Kubrick's film, and it lands in the hands of someone who can evoke the genius's slow, steady camera movements and large, overwhelming production design, then could we potentially get a worthy follow-up to the greatest horror film of all time? Which director do you think is worthy of stepping into the incalculably large shoes of arguably the best American filmmaker in the history of the medium?