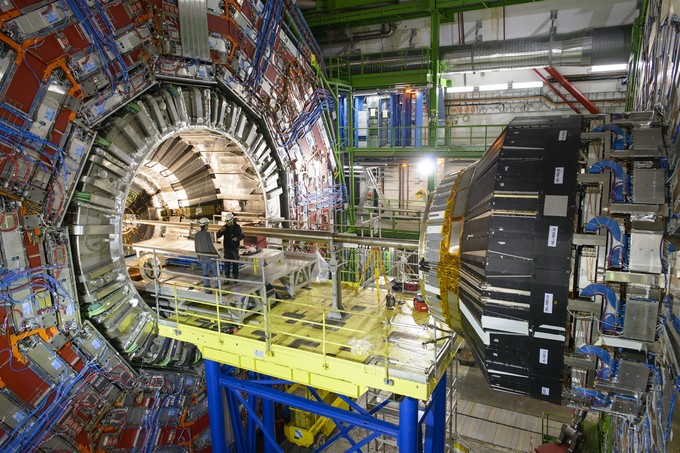 "The Cloverfield Paradox," once set to hit cinemas one year ago, just unexpectedly popped up on Netflix. A post from Feb. 16, 2016:
Before the July 16, 1945 atomic detonation was conducted in Socorro County, New Mexico, there were Manhattan Project physicists who feared the world's first-ever atomic chain reaction would never stop and wipe out all life on Earth.
Bad Robot's "God Particle" deals with a space station full of angry astronauts from a variety of nations. As I understand it, they're all trying to figure out how to survive after a Large Hadron Collider mishap creates a black hole that consumes Earth.
Slated for release Feb. 24, 2017, "God Particle" is directed by Nigeria native Julius Onah, whose Manhattan-set "The Girl Is In Trouble" murder mystery hits cinemas next week.
The sci-fi drama will star not Matt Damon but two people from England: David Oyelowo (the school principal in "Insterstellar") and Gugu Mbatha-Raw ("Jupiter Ascending," "Concussion"), who previously worked with J.J. Abrams and Bad Robot on the short-lived NBC spy hourlong "Undercovers."
Abrams' Bad Robot concern also produced (or is producing) "Alias," "Lost," "What About Brian?" "Six Degrees," "Fringe," "Person of Interest," "Alcatraz," "Revolution," "Almost Human," "Believe," "11/22/63," "Westworld," "Cloverfield," "Morning Glory," "Super 8," "10 Cloverfield Lane," four "Mission: Impossible" movies, three "Star Trek" movies, and three "Star Wars" sequels.
Find all of The Wrap's story on the matter here.