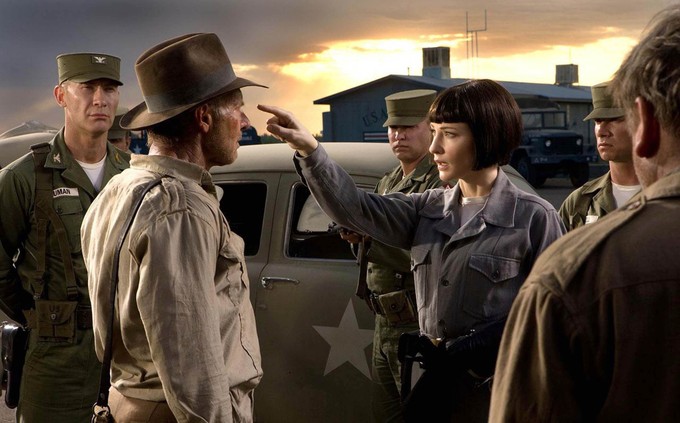 The Hollywood Reporter's Friday exclusive indicates that Steven Spielberg and Disney have hired longtime Spielberg collaborator David Koepp to script Harrison Ford's fourth sequel to "Raiders of the Lost Ark."
Koepp's resume is a decidedly mixed bag (he had a hand in both "Mission: Impossible" and "Jack Ryan: Shadow Recruit"), but it helps to keep in mind that movie writers aren't always the most powerful people working on movies. They can be brought down by idiot co-writers, idiot directors, idiot producers and/or idiot executives.
Did it help or hurt Koepp's labor on "Kingdom of the Crystal Skull" that he had to work from a story by George Lucas? Because, for good or ill, this fifth Jones adventure apparently will be the first Indy adventure not based on a story by Lucas.
Koepp's work as writer or co-writer:
1988 Apartment Zero
1990 Bad Influence
1990 Dark Angel
1990 Why Me?
1991 Toy Soldiers
1992 Death Becomes Her
1993 Carlito's Way
1993 Jurassic Park
1994 Suspicious
1994 The Shadow
1994 The Paper
1996 The Trigger Effect
1996 Mission: Impossible
1997 The Lost World: Jurassic Park
1998 Snake Eyes
1999 Stir of Echoes
2002 Spider-Man
2002 Panic Room
2004 Secret Window
2005 Zathura: A Space Adventure
2005 War of the Worlds
2008 Ghost Town
2008 Indiana Jones and the Kingdom of the Crystal Skull
2009 Angels & Demons
2011 The Little Engine That Could
2012 Premium Rush
2014 Jack Ryan: Shadow Recruit
Find all of the Reporter's exclusive on the matter here.