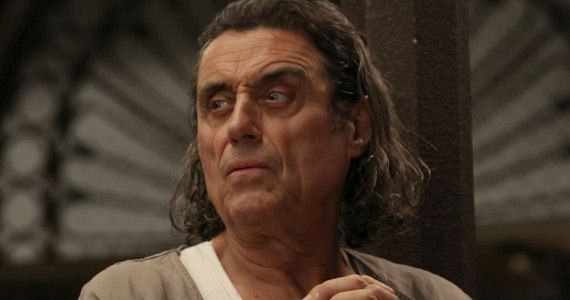 Ian McShane has been recruited for the lead role of Mr. Wednesday in Starz' adaptation of "American Gods," adapted by writer-producer Bryan Fuller ("Dead Like Me," "Wonderfalls" "Pushing Daisies," "Hannibal" and CBS' upcoming Star Trek series) from the novel by Neil Gaiman.
The hiring reunites McShane with "Gods" co-showrunner Michael Green -- who created NBC's McShane vehicle "Kings" – and Starz, for whom McShane starred in "The Pillars of the Earth."
In America Mr. Wednesday is a con man; elsewhere he is Thor's dad Odin and leader of the Old Gods. (Thor himself is barely mentioned in the book, having killed himself in 1932 Philadelphia.)
Also coming up for McShane are roles in the new season of "Game of Thrones" (launching next month) and the big screen's Sasha Baron Cohen comedy "The Brothers Grimsby" (launching next week).
Press release:
IAN MCSHANE CAST AS MR. WEDNESDAY IN STARZ AND FREMANTLEMEDIA'S "AMERICAN GODS"

The Golden Globe-winning Actor Will Play Mr. Wednesday in the Adaptation of Neil Gaiman's Blockbuster Fantasy Novel

Bryan Fuller and Michael Green Serve as Showrunners

Beverly Hills, Calif. (March 2, 2016) – Starz and FremantleMedia North America (FMNA) announced today that Ian McShane ("Deadwood," "Ray Donovan") has been cast as Mr. Wednesday in the upcoming adaptation of Neil Gaiman's acclaimed contemporary fantasy novel, American Gods. The series will begin shooting in April.

Neil Gaiman said, "When you write a beloved character (beloved with, or despite, or because of all his faults) like Mr. Wednesday, you get to watch the internet trying to cast the role. I've seen a hundred names suggested, but few make me grin like Ian McShane does. I've already been lucky enough to have him in one film (he was bright blue in it, animated, and probably Polish). Now I count myself even luckier: he's made the journey from 'Lovejoy' to 'American Gods.' Yesterday was Super Tuesday. Today is Wonderful Wednesday."

Commented Bryan Fuller and Michael Green, "Actor. Icon. And now god. It is a goddamn delight to be collaborating with the incomparable Ian McShane -- again and for the first time -- on a story about faith and belief, with the utmost faith and belief in Mr. McShane as our Mr. Wednesday. A wonderful Wednesday indeed."

Playing Mr. Wednesday, McShane joins Ricky Whittle, who was recently announced to play Shadow Moon in "American Gods." Mr. Wednesday is a crafty and endlessly charismatic con man, full of perverse wisdom, curious magic, and grand plans. He hires ex-con Shadow Moon to be his bodyguard as he journeys across America, using his charms to recruit others like him as he prepares for the ultimate battle for power.

Acclaimed British actor McShane catapulted to American TV stardom by playing the ruthless frontier kingpin Al Swearengen on "Deadwood," for which he was nominated for both Emmy and SAG Awards and won the Golden Globe for Best Actor in a Television Drama and the Television Critics Award for Individual Performance. He also starred in Starz' "The Pillars of the Earth," for which he received a Golden Globe Nomination for Best Actor in a Mini Series. Across film, he is best known for his portrayal as 'Blackbeard" in Pirates of the Caribbean: On Stranger Tides and as "Teddy Bass" Sexy Beast. Other television appearances have included "Ray Donovan," "American Horror Story," ""The West Wing" and "Lovejoy." This year he will appear in "Game of Thrones" and "Dr. Thorne" and can be seen in the upcoming films John Wick: Chapter 2, The Hollow Point and Bolden. McShane is also an accomplished and award-winning stage actor appearing in productions on Broadway, in the West End and Los Angeles throughout his career.

American Gods been translated into over 30 languages and earned numerous accolades including Hugo, Nebula and Bram Stoker Awards for Best Novel. The plot posits a war brewing between old and new gods: the traditional gods of mythological roots from around the world steadily losing believers to an upstart pantheon of gods reflecting society's modern love of money, technology, media, celebrity and drugs.

"American Gods" is produced by FremantleMedia North America. Bryan Fuller ("Hannibal," "Pushing Daisies," "Heroes") and Michael Green ("The River," "Kings," "Heroes") are writers and showrunners. David Slade ("Hannibal," "The Twilight Saga: Eclipse") is directing the pilot and additional episodes. FMNA's Craig Cegielski and Stefanie Berk are executive producing the series along with Fuller, Green, Slade and Neil Gaiman. Senior Vice Presidents of Original Programming Marta Fernandez and Ken Segna are the Starz executives in charge of "American Gods." Starz retains all network pay TV and SVOD rights to the project. FremantleMedia is distributing the series worldwide.