Logo by Kristian Horn
What the &#$% is ZOMBIES & SHARKS?
---
Welcome to the darker side of AICN! Mark L. Miller aka Ambush Bug here with another AICN HORROR: ZOMBIES & SHARKS column. We go full-on indie this week and check out a whole bunch of low fi horrors that might be worth your time. I've also got some very cool horrors from yesteryear. But first, check out these bits and pieces of interest…
---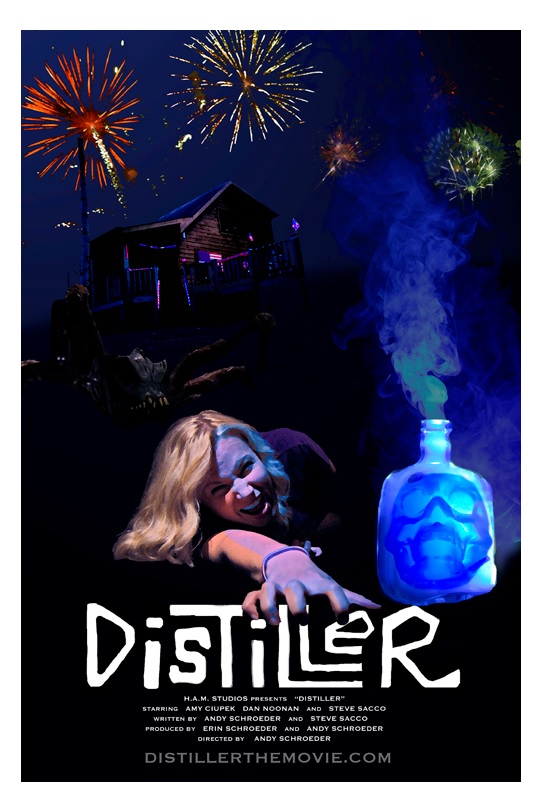 The folks behind the indie ghost hunting movie DISTILLER (
reviewed here
) are running a contest celebrating one year of weekly comic books based on characters from the film called the "What killed Uncle Matt?" contest! Background clues laced throughout the movie and comics link up to tell the story of how Uncle Matt really disappeared and what happened to him (unseen in the film).
To enter, contestants only need to post their theories of what happened to Matt on our Facebook page, which can be found by clicking the link here
. The grand prize will go to the person who is first to post the correct answer. They will win the screen-used puppet of the Goblin (with Teddy Bear suit) which we are having mounted as a hunting trophy. The first 100 contestants will get an 18x24 movie poster, and ALL participants will get a free download of the movie soundtrack. The contest will run from March 16 to April 20th, the winner will be announced on the 20th.
Best of luck to all who participate and support this very cool indie gem by checking it out!
---
Looking for something else to support? Check out
Russell Nohelty's MY FATHER DIDN'T KILL HIMSELF
kickstarter, which is a novel classified as a black comedy about death, and loss, and junk. It looks to be a pretty fun book and writer Nohelty has a whole bunch of free stuff he's doing as incentives. Check out the pitch video below!
On with the horror reviews!
Today on AICN HORROR

(Click title to go directly to the feature)
Retro-review: MALATESTA'S CARNIVAL OF BLOOD (1973)
Retro-review: THE SINFUL DWARF (1973)
Retro-review: R.O.T.O.R (1987)
Retro-review: THE CURSE (1987)
Retro-review: SERPENT & THE RAINBOW (1988)
BIGFOOT VS. ZOMBIES (2015)
PHANTOM OF THE WOODS (2013)
UPSIDEDOWN CROSS (2014)
RIDDLE ROOM (2016)
And finally…"Lights Out: Knock At the Door"!
---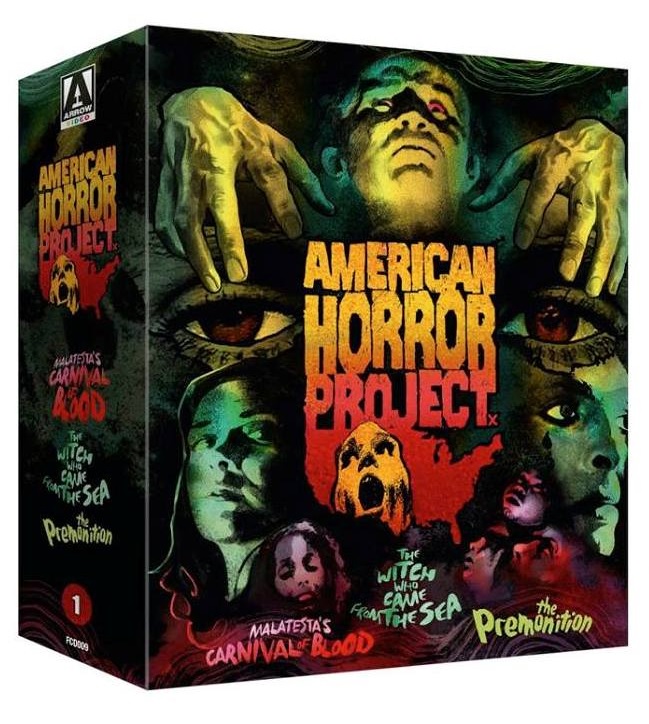 Retro-review: New this week as a BluRay Collection from Arrow Films/MVD Visual!
MALATESTA'S CARNIVAL OF BLOOD (1973)
aka CARNIVAL OF BLOOD
Directed by Christopher Speeth
Written by Werner Liepolt
Starring Janine Carazo, Jerome Dempsey, Daniel Dietrich, Lenny Baker, Hervé Villechaize, William Preston, Paul Hostetler, Betsy Henn, Chris Thomas, Paul Townsend, Sebastian Stuart, James Lambert, Rebecca Stuart, Jim McCrane
Find out more about this film here
Retro-reviewed by Ambush Bug
While it's only got a shred of story, there's something to be said about the atmosphere and sheer lunacy at play in the once-lost gem MALATESTA'S CARNIVAL OF BLOOD.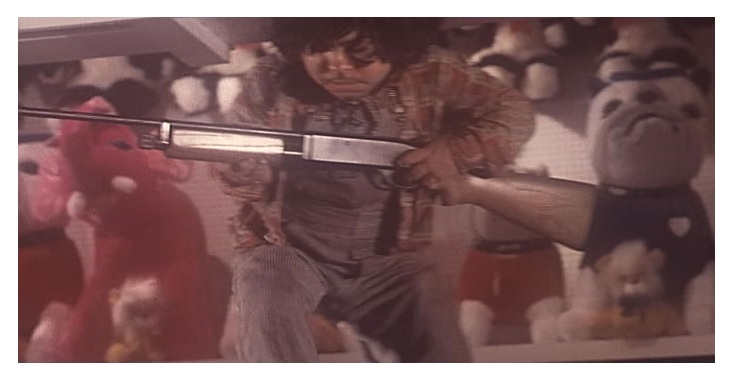 Let me see if I can piece together the plot of MALATESTA'S CARNIVAL OF BLOOD. The Norris family plans to work in a carnival and are being taken around the grounds by the enigmatic Mr. Blood (Jerome Dempsey), but the Norrises have a secret: they believe their missing son was taken by the carnival. And while they plot to crack the mystery in their mobile home, their daughter is flirting with a carnie and scores of carnival zombie cannibals begin to swarm outside. All of this occurs under the watchful eye of Malatesta (Daniel Dietrich), the carnival's reclusive benefactor.
That's what the story is, but it's not made entirely clear and I admit, I had to look some of those details up in order to map it out for you in the paragraph above. This is mainly because the sound of the film is flawed to say the least, so the lines the actors are saying were sometimes hard to determine. But it is also because of the non-linear method of storytelling at play in MALATESTA'S CARNIVAL OF BLOOD. This is a film that is more interested in showing the viewer the oddity of carnival experience rather than telling a straightforward tale of vengeance. The story gets there eventually, but really this is just a film to sit back and experience rather than make sense of.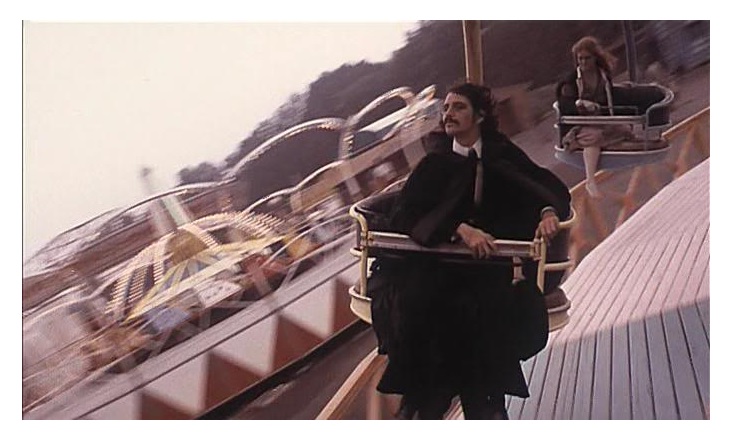 I found this film interesting. I don't know if it was entertaining, but my attention never waned. This may be because of my own fascination with the circus and the carnie life (see my own comic book series PIROUETTE, which will be released soon in trade—plug, plug!) and this film does do its best to paint the life as offbeat and filled with madness. There are stretches of this film that drop the story altogether and simply focus on some kind of weirdness going on with the carnies. Carnies break out in harmonized song. A house of horrors is repeatedly visited which contains an upside down VW Bug covered in bubble wrap and suspended from the ceiling and used as a swing. Silent movies are played in a makeshift theater to entertain Malatesta's cannibal ghouls. The card reader sits on a rotating table, which spins while she tells her customer's fortune. The film takes us on a complete literal rollercoaster ride with Malatesta in tow. The visuals here are absolutely engrossing because they feel utterly authentic.
Director Christopher Speeth soaks every odd nook and eccentric cranny up with his camera, which seems transfixed with carnie culture. Though I don't know for sure, this film feels as if it takes place at an actual working carnival. Maybe Speeth was an ambitious filmmaker paying his way through school by working at an amusement park and took advantage of this setting to film his epic tale of circus horror. I don't know, but it sure seems like the setting is the real deal.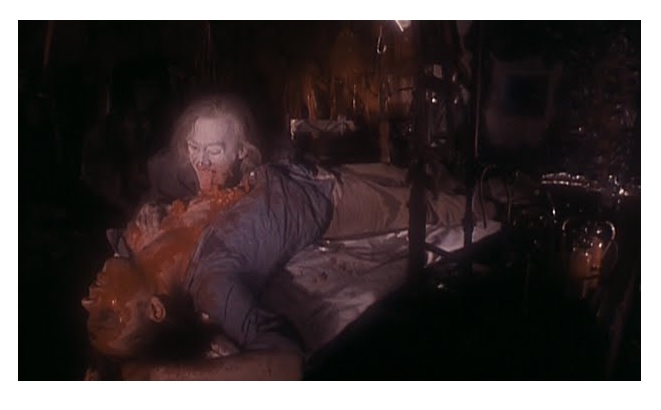 Most of the acting is pretty amateurish, which also leads to some confusion in terms of plot as it feels, at times, the actors don't really know what to do in the scene and are making it up as they go along. The editing is rough as well, as some scenes seem to end just when they are getting to the point.
Still, MALATESTA'S CARNIVAL OF BLOOD offers up a lot of twisted visuals as the cannibal monsters stalk the grounds at night in search of blood, and Malatesta seems to be collecting souls for his own amusement. A pre-FANTASTY ISLAND Hervé Villechaize shows up as a dwarf with a gun and a warning. Pardon the pun, but his part is small and seems almost tacked on towards the end. I don't want to say that MALATESTA'S CARNIVAL OF BLOOD is good. It's not. It's pretty shoddily made and technically all over the place. But you can't deny the film's love of the culture it is depicting, and it serves as an interesting collection of bizarre imagery.
---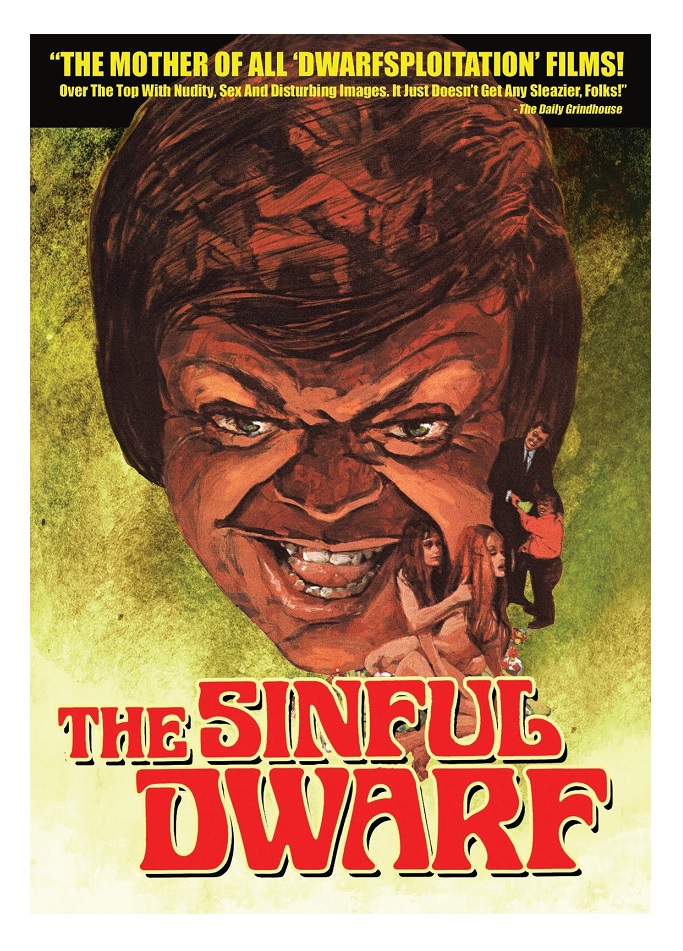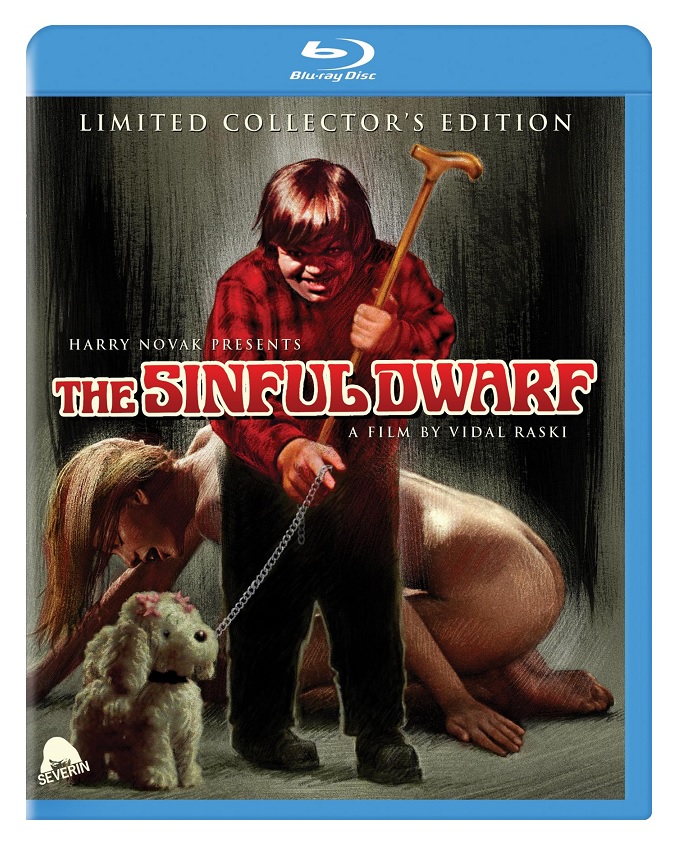 Retro-review: New this week on BluRay from Severin Films!
THE SINFUL DWARF (1973)
aka SATANIC ORGY, TEENAGE BRIDE, THE DWARF, THE ABDUCTED BRIDE
Directed by Vidal Raski
Written by Harlan Asquith (story), William Mayo (screenplay)
Starring Torben, Anne Sparrow, Tony Eades, Clara Keller, Werner Hedman, Gerda Madsen
Retro-reviewed by Ambush Bug
Wow, this film really takes me back.
Waaaaaaay back to 2009, when I reviewed THE SINFUL DWARF in what would become the very first AICN HORROR Column, even though I wasn't calling it that back then
. I've updated my review of the film below since it's being rereleased as a special edition from Severin Films this week on BluRay!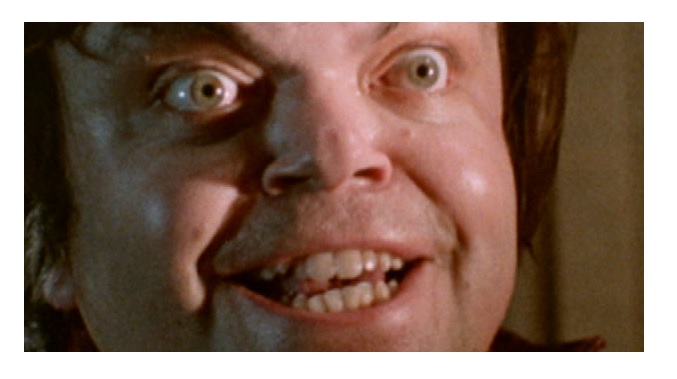 Want to learn a new word? Howzabout dwarfsploitation? Not sure what it is? Check out THE SINFUL DWARF, a wicked little film about a dinky deviant living in an inn with his equally cracked mother.
The duo trap innocent girls, drug them up, then pimp them out to strangers. This is exploitative horror to the maximum degree, and despite my steel disposition some of the scenes had me squirming. There's an overall ickyness to this film. The dwarf, whose real name is Torben and whose profession before this film was that of a host of a Danish children's show, is just about as sleazy as you can get.
Looking like a mini Jack Black, Torben sweats profusely and contorts his face into a wide smile, shaking uncontrollably during the more disturbing scenes. More ickyness ensues as Torben lures young women to his attic with filled dirty mechanical toys, then pricks them with bent needles full of drugs. When a young couple comes to stay at the inn, Torben and his mother see a new victim in their midst.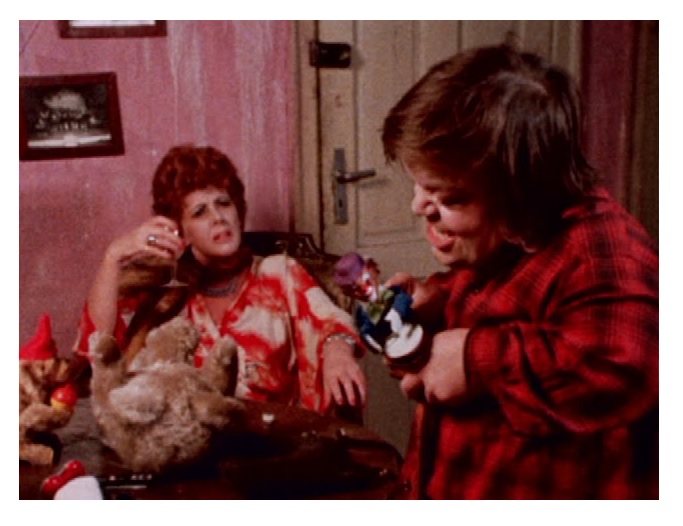 THE SINFUL DWARF definitely has that grimy grindhouse quality, with mad synthesizer riffs and tons of sex and violence. The gore is at a minimum. Most of the horror comes from the torment the dwarf's captives endure and the bizarre actions of the dwarf himself. One of the most disturbing scenes has Torben acting out sexual acts with his toys while his mother watches!
It's Seventies exploitative horror at its most disturbing and sure to offend just about anyone who takes the time to watch it. This is definitely not one I will play at Christmastime when the family comes over, but the moments of psychological terror and the hilarious use of a dummy as a stunt double for the dwarf, plus the disturbing performance from Torben, make this obscure reel of celluloid something to remember (whether I want to or not).
This new special edition features both the international version of the film titled THE DWARF as well as the American edit titled THE ABDUCTED BRIDE. It also features a doc called "The Search For Torben" about finding out what happened to the cast and crew of the film, as well as "The Severin Controversy" which talks about how influential this little film really was. And just when you thought it couldn't get sleazier, there are bits from the Torben sex film he starred in and a lost film, THE BLUE BALLOON, remastered and never before released in video format. That's a whole lotta sleaze, sin, and dwarfism to enjoy in this extensive BluRay rerelease.
---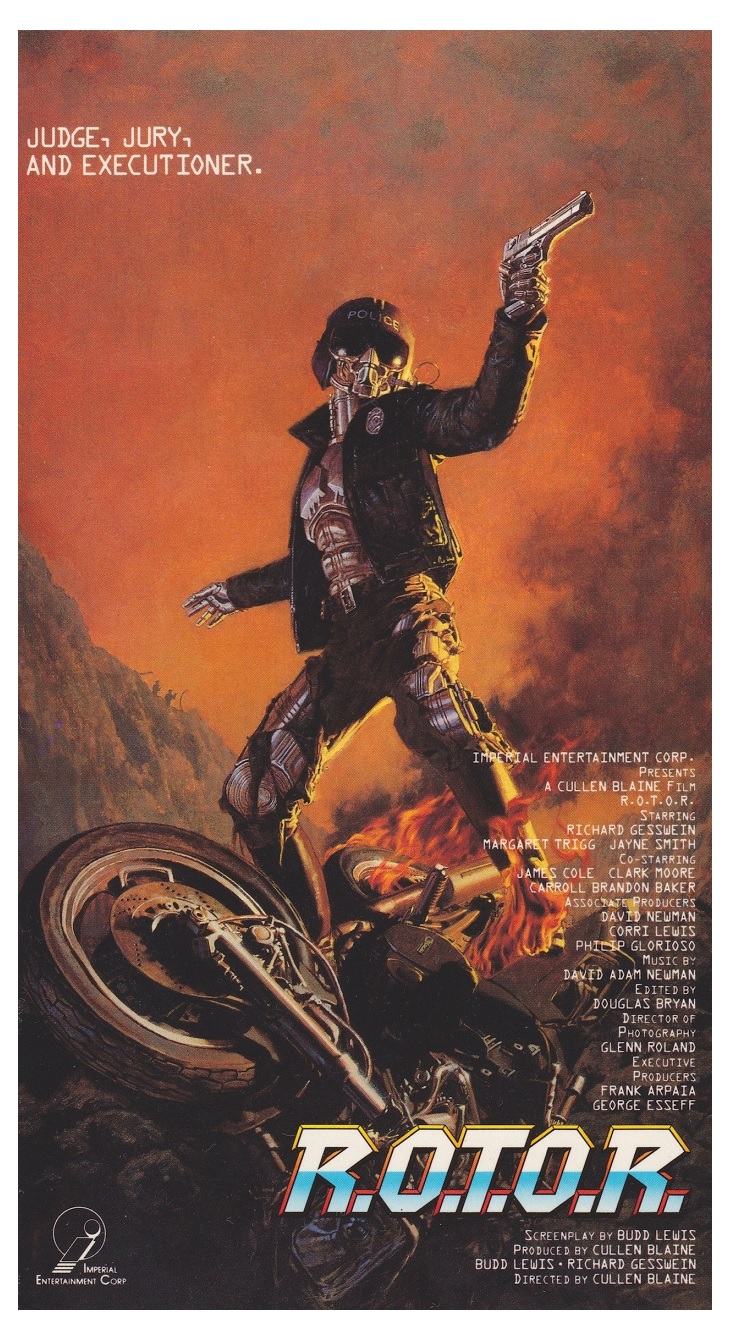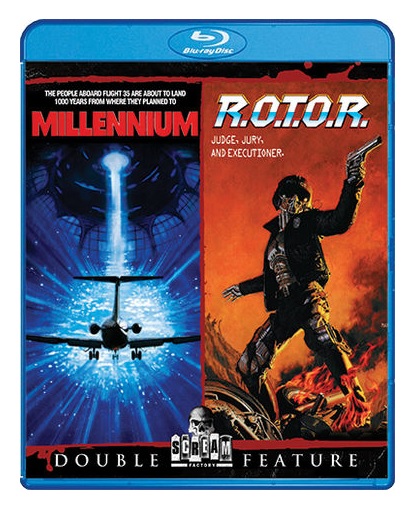 Retro-review: New this week on a BluRay double feature from The Shout Factory!
R.O.T.O.R (1987)
aka ROBOPOLICE, R.O.T.O.R. POLICE FORCE
Directed by Cullen Blaine
Written by Cullen Blaine (original story idea), Budd Lewis(screenplay)
Starring Margaret Trigg, Richard Gesswein, Jayne Smith, James Cole, Stan Moore, Nanette Kuczek, Shawn Brown, Victor Kwasnick, Ron Baker, Diana Hurd, Bill Blair, & Brad Overturf as R.O.T.O.R!
Retro-reviewed by Ambush Bug
This ultra-lame version of ROBOCOP was released on video a year after Verhoven's film was released and looks like it was made in about a week for a couple of hundred dollars and about 1% of ROBOCOP's imagination.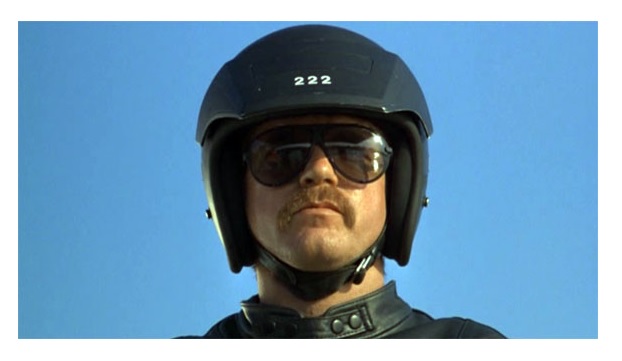 A poofy-haired scientist, Captain Coldyron (Ricard Gesswein), is working hard on the future of law enforcement--a robot cop he has dubbed R.O.T.O.R. But when a hapless janitor accidentally drops his walkman into the mainframe of R.O.T.O.R.'s mechanics, the robot awakens and goes on a rampage across the city streets and the countryside. Now it's up to Captain Coldyron and the eerily androgynous Dr. Steele (Jayne Smith) to stop this bad robot cop from upping the body count and shut him down for good.
This is a film made for the MST3K treatment. In fact, one was performed on RiffTrax (see below). The story is a blatant rip-off of ROBOCOP and THE TERMINATOR, as the robot cop targets one woman and will stop at nothing to take her down. Things just inexplicably happen in this film. One scene has Coldyron's girlfriend roundhouse kicking a thug who tries to rob a gas station over and over in the face. A muscular Danny McBride lookalike takes on the robo copper with less than successful results. A snarky talking robot is third in charge of a delicate scientific operation (one hilarious scene later in the film has Colyron calling his robot on the phone and having a lengthy conversation with him). Basically, the film decides to follow the first half of ROBOCOP and the last half of THE TERMINATOR—it's doubtful much else was planned as far as narrative ingenuity goes.
But just when I thought I would write this film off as unwatchably bad, in comes Dr. Steele, whose grey-streaked and permed hair is as weird as the suspicious Adam's apple. This muscular person comes out of nowhere late in the plot and seems to be the second generation R.O.T.O.R., though this one has what the other robot doesn't have: compassion. The awful fac-off between Steele and R.O.T.O.R. is one for the ages and turns this bad, bad film into a so-bad-it's-good film in one fell swoop. The hotel scene alone between Steele and Coldyron is enough laugh petrol for an entire evening.
R.O.T.O.R. was a hard film to endure, but I ended up having a lot of fun with it. Get together with your friends and watch it. It'll definitely entertain, though you might feel as if you lost some brains cells after watching this inane, nonsensical 10th generation carbon copy of some of the best sci fi movies of the 80s.
Here's that Rifftrax Highlight reel I was talking about…
And the trailer itself.
---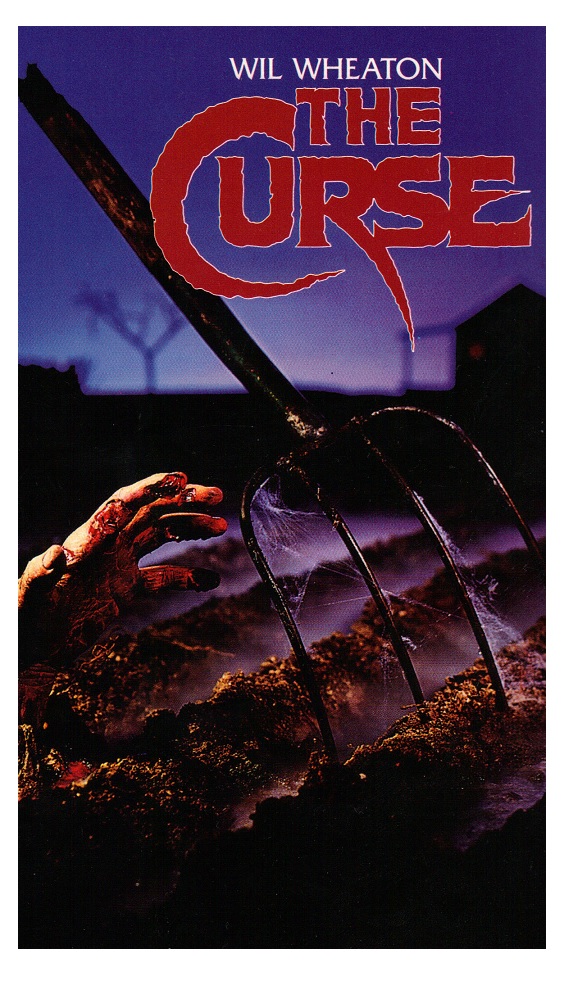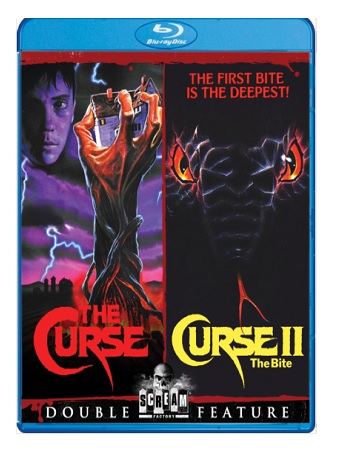 Retro-review: New this week as a BluRay Double Feature from The Shout Factory!
THE CURSE (1987)
aka THE FARM, THE WELL
Directed by David Keith
Written by David Chaskin (screenplay), inspired by the work of HP Lovecraft
Starring Wil Wheaton, Claude Akins, Malcolm Danare, Cooper Huckabee, John Schneider, Amy Wheaton, Steve Carlisle, Kathleen Jordon Gregory, Hope North, Steve Davis
Retro-reviewed by Ambush Bug
I remember being creeped out immensely by THE CURSE when I first saw the film. The tale, inspired by HP Lovecraft's "The Colour Out of Space", retains its creepy edge even though there are plenty of inexplicable and hokey moments littered throughout.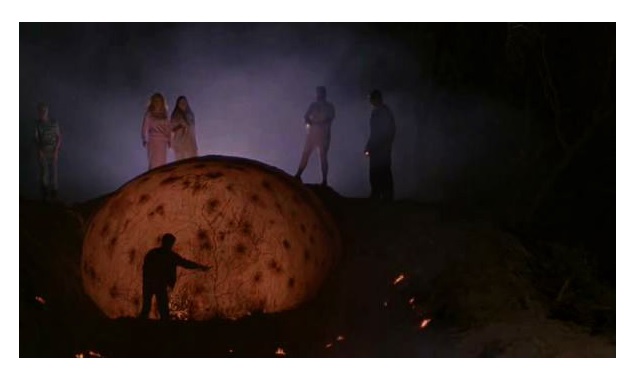 When a meteor falls onto the farm of a rural family, it causes all kinds of trouble for young Zack (Wil Wheaton). Forced to be a part of a family that is not his own when his mother remarries Nathan (Claude Akins), a religious man who thinks Zack is lazy and undisciplined, Zack dreams of being in another home with another family. But when the meteor falls from the sky and contaminates the crops and water with disease, his wish turns into a nightmare as his family begins to turn into homicidal, boil-covered maniacs.
THE CURSE is the second film to adapt HP Lovecraft's "The Colour Out of Space." While DIE, MONSTER, DIE (
reviewed here
) preferred to make a rather typical monster movie in the Hammer vein, THE CURSE is more of a body horror story about the destruction of the house and home. Zack longs for the old days when his family was a loving one. He refuses to accept this new family and fears the old days will never come back. This is especially true when the only thing that reminds him of the old days, his mother, is the first to become sick from this horrific plague from the stars. As his mother begins to turn into a monstrous creature and must be bound in the basement to keep her from attacking people with cutlery, all semblance of home drifts away. As the plague moves to the rest of the family, not even the house itself is safe, as it seems to want to collapse on top of him in order to keep him from escaping.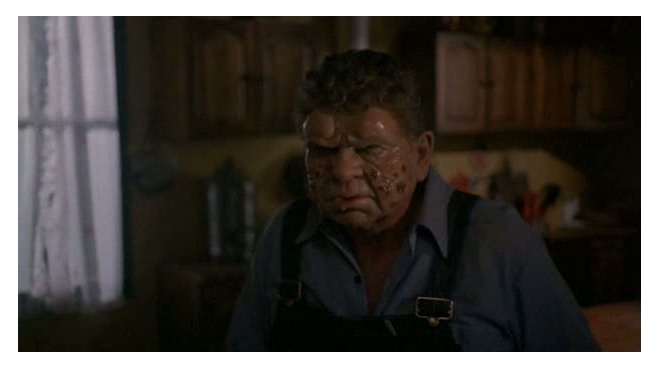 The crumbling house scene is one of the goofier parts of the film as there is no real reason, in a physical sense, for it to be crumbling and quaking as it does in the climax of this film. And while an earthquake is inexplicable, it does serve as a nice metaphor for the crumbling family around Zack.
While the destruction of the house is downright goofy, the rest of the effects in THE CURSE are fantastic. From simple gross-out scenes like apples full of maggots to scenes of the progressive physical deterioration of the entire family, this is a special effects masterpiece. While the body horror wave was already getting to be rather passé with Cronenberg's THE FLY being released a few years prior, this movie does a good job of documenting the stages of infestation, starting with puss-filled warts and ending with the people becoming slimy piles of goo.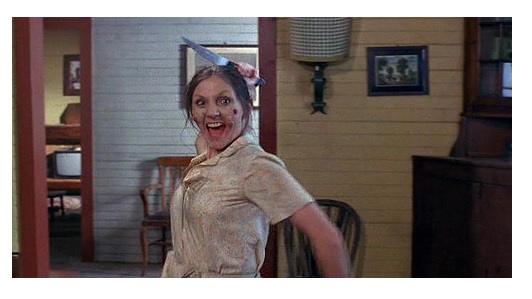 THE CURSE really hit a nerve with me when I saw it in my youth; having experienced someone close to me deteriorating from cancer, this film struck a little too close to home as it depicts the physical corruption of Zack's family with excruciating detail. It didn't help that I was Wheaton's age when I saw this film. Wheaton is great here as our young hero. He's confident and strong when he has to be, but still able to whimper like a young child when the terror begins to evolve. The rest of the cast is decent, but Wheaton really steals the show as he pretty much has the most things to say and do here.
There are some really odd moments in THE CURSE that almost send it skidding off the rails. There's some kind of weird relationship between the town doctor's wife and the Mayor that isn't fully fleshed out, so it just seemed off to me. The Mayor is supposed to convey a sense of comedy throughout the film, but it just doesn't work and comes off as interchangeable with the representation of government in most monster movies that refuses to shut down the water supply/close the beaches/evacuate the park. Actor David Keith directed this film and did so darkly, relying on tactile horrors and strong performances to exude the chills. For the most part, THE CURSE was successful in conveying these chills. The BluRay is light on bells and whistles, but I will be covering the accompanying sequel to THE CURSE, subtitled THE BITE, in a future column.
---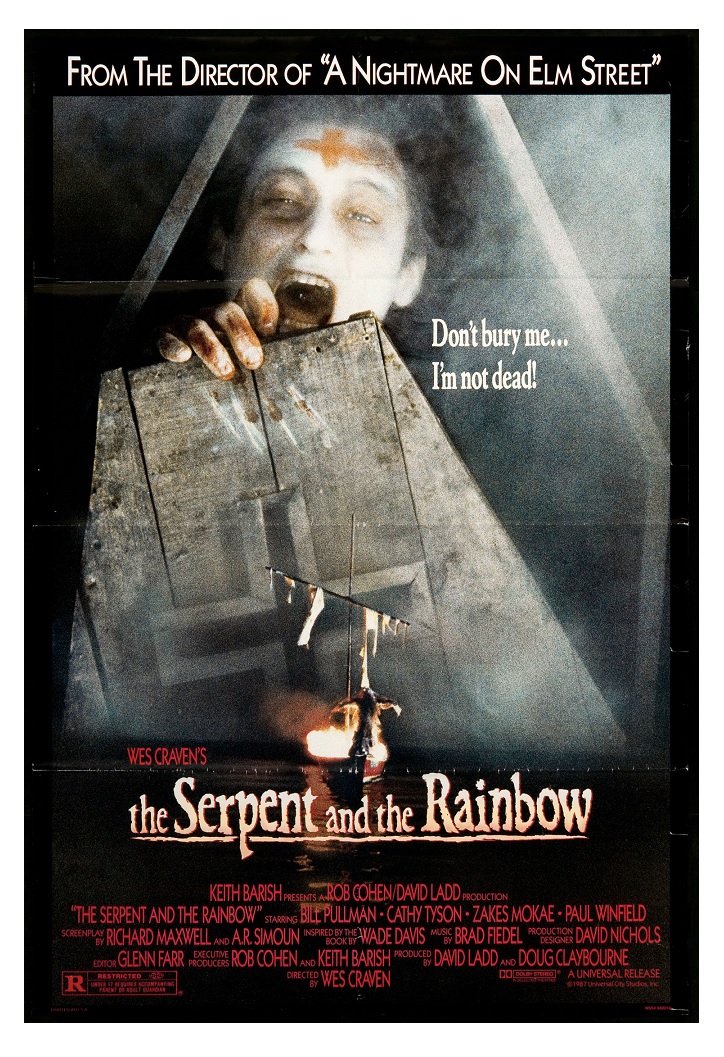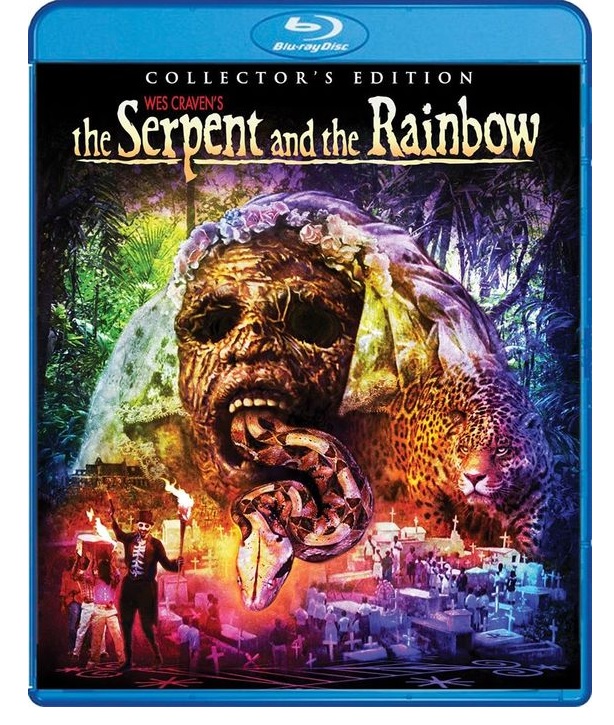 Retro-review: New this week on Bluray from The Shout Factory!
THE SERPENT & THE RAINBOW (1988)
Directed by Wes Craven
Written by Wade Davis (inspired by the book), Richard Maxwell & Adam Rodman (screenplay)
Starring Bill Pullman, Cathy Tyson, Zakes Mokae, Paul Winfield, Brent Jennings, Conrad Roberts, Badja Djola, Theresa Merritt, Michael Gough, Paul Guilfoyle, Dey Young, Aleta Mitchell, Jaime Pina Gautier
Retro-reviewed by Ambush Bug
THE SERPENT & THE RAINBOW is one of Wes Craven's more effective horror films, mainly due to the quality of the cast and the down and dirty version of voodoo. Still, there's all kinds weirdness at play during the climax that does its damnedest to counter any effectiveness the film achieved leading up to it.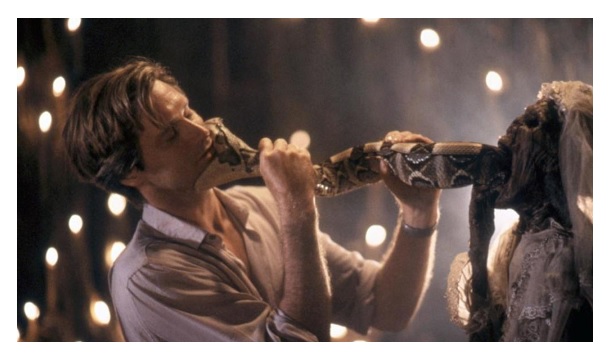 When anthropologist Dennis Alan (Bill Pullman) is sent to Haiti to find a special power that brings people back from the dead, he unintentionally walks into the dark world of voodoo. Bound and determined to find the mythic powder, Dennis is willing to tempt death itself in order to find what he's looking for.
THE SERPENT & THE RAINBOW is almost two movies in one. It's a film you can almost literally see Hollywood producers putting their fingers into, and it almost ruins the film. Thankfully, Craven's imagery and story is strong and survives to elevate this film to one of the late director's best.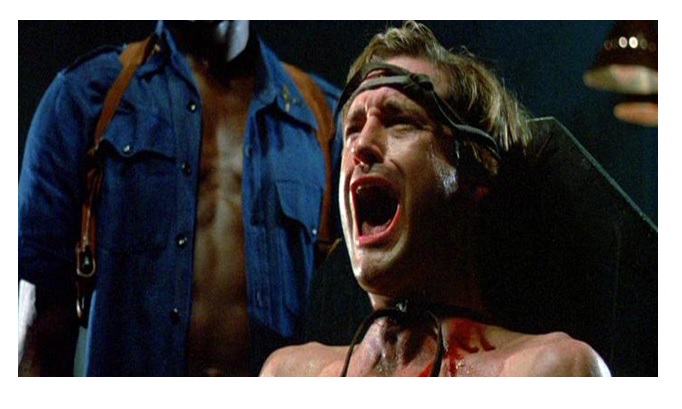 What works here is the dream-like imagery and mystic shamanism going on in this strange world Pullman's Dennis walks into. All of the ritualistic stuff and some of the trickery going on to ward off outsiders feel authentic and true. It really feels like director Craven and the writers behind this film (including the book's author, Wade Davis) did their homework and were able to show bits and pieces of the Haitian culture that we haven't seen before. There are some downright harrowing scenes depicting fever dreams experienced by Dennis that really prove to be effective, specifically a young girl zombie who shambles up to Dennis and then vomits a snake at him. This is paired with some truly grimy sleazy work from actor Zakes Mokae as a local crime boss who doesn't like outsiders in his land. Craven pairs up the real world and mystical threats pretty highly and really gives Pullman's character a lot of obstacles to overcome. There is the famous ball torture scene that is quite terrifying (mainly due to Mokae and Pullman's performances) and the scene where Dennis believes he is being buried alive that is the stuff of pure nightmare (something Craven is quite familiar with).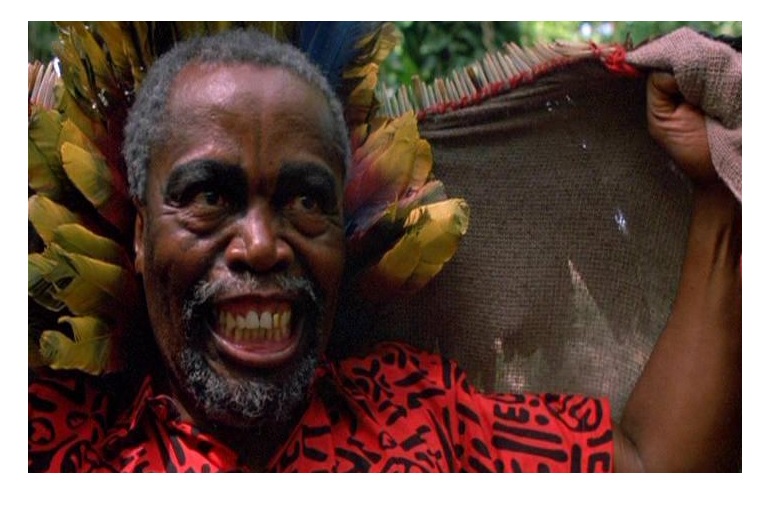 But every time there is an effective scene, there seems to be a hokey one to trump it. Dennis has a completely forced relationship with a Hatian woman (played by Cathy Tyson) simply because this film needed a love scene. Soon after the obligatory boobie scene, the character is done away with as if the only reason for her being there was to wake up the audience with nudity. During the film's climax, it really feels like there is a tonal shift from the subtle voodoo noir tale that went on for the first hour and fifteen minutes to a bombastic scene where a chair chases Dennis through a subterranean torture chamber and some kind of weird effects sequence takes care of the evil boss (Mokae). It's all over the top and makes very little sense given the nuanced way this story's horrors unfolded before. Everything simply culminates in a very unsatisfying ending where text explains the rest of the story before the credits run. It really feels like, somewhere in some unmarked editing room box, there's a much more subtle ending out there that the producers said "No" to, which is too bad because the way THE SERPENT & THE RAINBOW ends is on a pretty lame note. It just sucks that a film is so strong for most of the time only to have some big effects ending whittled together to wrap it up.
This Collector's Edition BluRay has a few special features such as a commentary from star Bill Pullman, plus a new "Making of…" featurette interviewing Pullman, Author Wade Davis, Director of Photography John Lindley and Special Effects artists Lance & David Anderson. This one is for any die hard Craven fan or those interested in Hollywood interpretations of the voodoo culture.
---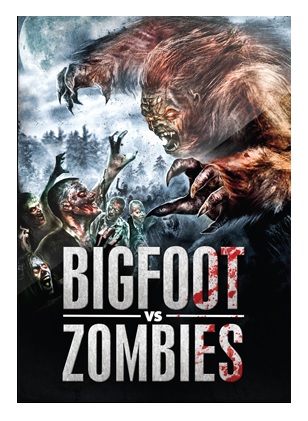 New this week on DVD from Wild Eye Releasing!
BIGFOOT VS. ZOMBIES (2015)
Directed by Mark Polonia
Written by Mark Polonia
Find out more about this film here
Reviewed by Ambush Bug
I was more excited than I really should have been when BIGFOOT VS ZOMBIES showed up on my doorstep. As with most Bigfoot films I had low expectations, but still, the name of this film made me laugh and the cover art was pretty amazing as well. If only that quality were shared with the rest of the movie.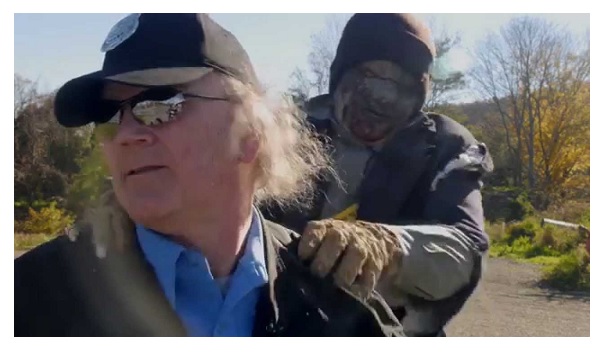 Man, I really wanted to like this film, but right from the start, when Bigfoot takes his first big foot steps on screen, I was disappointed. Most of the time, you can tell the quality of the film by the quality of the Bigfoot costume itself. Here, it's simply an ape suit most likely rented from a costume store. Sure the jaw is articulated, but you can see the skin of the actor under the mask and oftentimes, you can see the clothes he is wearing underneath the ill-fitting Bigfoot suit. Had this film tried to be ironic, it might have been somewhat impressive, but I don't want to give this film that type of credit. Since many of the zombies also are wearing dime-store masks, it just feels like no shits were given in terms of production.
Now, shitty production doesn't always mean a shitty film. Sometimes acting or the story itself can make up for it. But in BIGFOOT VS. ZOMBIES, it just doesn't feel like any effort at all was made by anyone involved. The cast mumble out their lines lifelessly and the story itself doesn't even bother to try to make things interesting. There's no reason for Bigfoot's killing spree and while there is a cause to the zombies rising, there's no real reason why Bigfoot would bother with them.
In the end, BIGFOOT VS. ZOMBIES would make for a great T-shirt. The poster would look good on a wall. But none of that effort was put into the movie itself.
---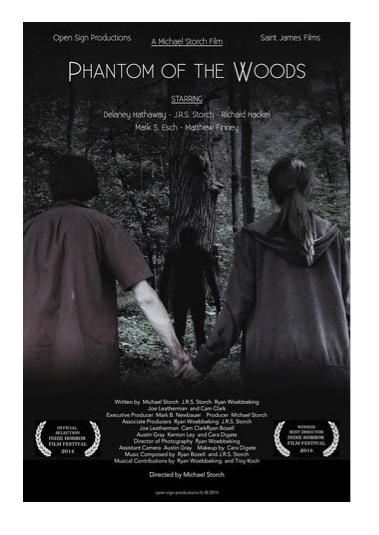 Available on digital download and on DVD on the website here!
PHANTOM OF THE WOODS (2013)
Directed by Michael Storch
Written by Cam Clark, Joe Leatherman, J.R.S. Storch, Michael Storch, Ryan Woebbeking
Starring Delaney Hathaway, J.R.S. Storch, Richard Hackel, Mark S. Esch, Matthew Finney, Nathaniel E. Barr, Rachel Bougher, Forrest Bower, Tim Burkhart, Melissa Chapman, Chris Clark, Rhiannon Cox, Emily Delagrange, Vaughn Feuer, Troy Koch, Kelron Mixon
Find out more about this film here and on Facebook here
Reviewed by Ambush Bug
Low budget doesn't mean low quality; at least this is the case with PHANTOM OF THE WOODS, a film done on the cheap, but one with some impressive writing and spooky imagery at play.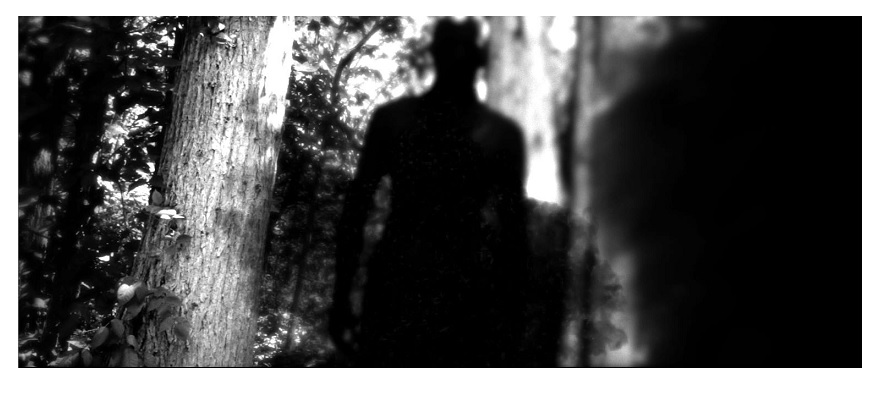 PHANTOM OF THE WOODS seems to have been filmed cheaply, but the story itself is rather fun to see unfold. The film focuses on a small town that has grown through the years. The woods on the outskirts of the town have always been an undisturbed place, but with the rise in population and industry, civilization is moving in and the woods don't seem to like it that much. A young outcast artist befriends a young photographer carrying a horrible secret, and the two outcasts work together to overcome a phantom which uses fears against anyone who dares enter the woods.
The line delivery is pretty rough here, as this film was made mostly with non-actors. But making up for it are some really nice effects of a shadow man haunting the woods and some nightmarish imagery as the phantom uses fears to drive people to kill themselves and others. This is one of those cases where the story elevates the film, and while the actors playing the characters are amateur, the character and story itself shows promise. Here's hoping that those behind PHANTOM OF THE WOODS go on to bigger and better things. The story here indicates that there is a level of storytelling skill here to make it possible.
---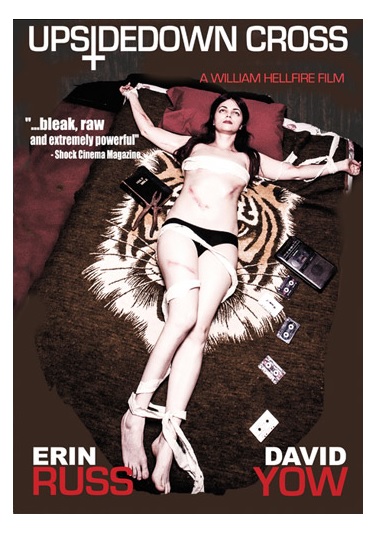 New this week on DVD from Independent Entertainment!
UPSIDEDOWN CROSS (2014)
Directed by William Hellfire
Written by William Hellfire, Mike Hunchback
Starring Erin Russ, Tina Krause, David Yow, Rick Savage, Colleen Cohan, Mark DeMicco, William Hellfire
Find out more about this film on Facebook here
Reviewed by Ambush Bug
UPSIDEDOWN CROSS is exploitative and sleazy to its core, but there's an air of authenticity that shines through all of that grime. You're going to want to take a shower after watching UPSIDEDOWN CROSS, but despite its crude nature, the message William Hellfire is trying to tell us is an intriguing one.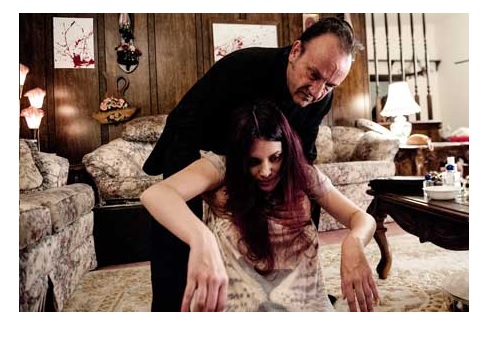 Erin Russ stars as Nadine, a young addict who poses nude for pervy johns with cameras for quick cash. When her brothel is busted by the cops, one of the cops feels sorry for her (after he makes her stroke him off) and lets her go. Upon returning home, Nadine is confronted by her religious mother Delilah (ZOMBIE HOLOCAUST's Tina Krause), who calls a religious hotline to have her daughter's demons exorcized. When a preacher (Jesus Lizard's David Yow) shows up at their home, Delilah thinks her prayers have been answered, but locked in a room in back of the house, the preacher's exorcism techniques prove to be devilish indeed.
There's a strong foundation of story going on with UPSIDEDOWN CROSS. At the beginning of the film, Nadine is taken advantage of by a representative of power (a cop). This serves to be a precursor for the way she is abused later in the film by her mother's neglect and then finally by the preacher's torture. So negating all of the abuse, rape, torture, and disgustingness, this film stands firm and actually shows a sophisticated storytelling hand as the tale unfolds in a symmetrical sort of way. The acting is also pretty good and helps elevate this low budgeter to higher levels.
But this is going to be a rough one to sit through for many. While the violence definitely seems to carry a point, there is a lot of it, and the amount of it that occurs definitely rattled me. The message of this diabolical film is strong and the actors are almost too convincing, especially Yow as the snake-tongued preacher and Russ with her apathetic and unnerving demeanor. But UPSIDEDOWN CROSS is not for those with a sensitive disposition. You've been warned.
---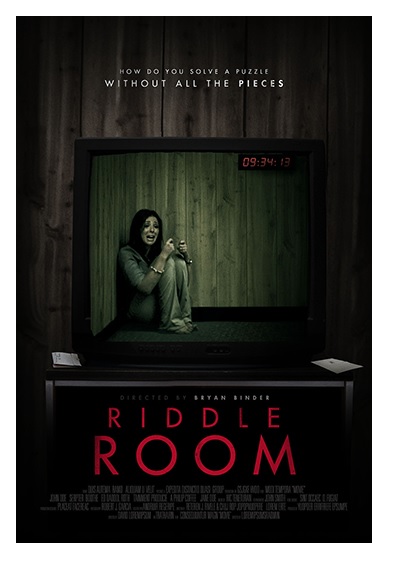 New this week on DVD from Breaking Glass Pictures!
RIDDLE ROOM (2016)
aka BREAKAWAY
Directed by Bryan Binder
Written by Bryan Binder
Starring Marisa Ruby, Peter Carey, Erika Hoveland, Daniel Usaj, Tiren Jhames, Ava Manson, Barbara Epstein, Phil Gawel
Reviewed by Ambush Bug
A tight story and some talented actors make the tense thriller RIDDLE ROOM something worth solving.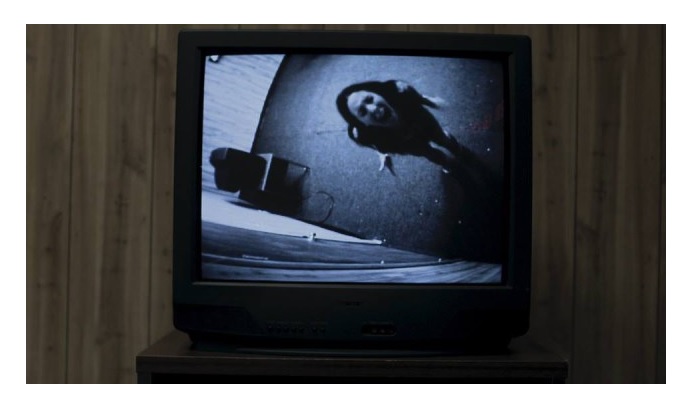 RIDDLE ROOM is a locked room mystery where we aren't given all of the pieces of the puzzle at first, but clues are doled out in a manner that keeps the interest flowing. Emily (Marisa Ruby) wakes up in a locked room with wood panels, a cot, and a TV monitor. Soon men in masks enter the room and ask her to solve a mystery, but Emily is clueless as to what the answer is. Enduring being bound, water tortured, and shown disturbing imagery on a television screen, Emily begins to piece events together, but still can't answer the questions of her tormentors. As the torture escalates, Emily doubts she will be able to endure much longer.
Though it may sound like torture porn, RIDDLE ROOM is more of a tension-filled mystery than my description above lets on. Ruby is center stage here and does a great job of carrying this movie from start to finish. The story unfolds slowly and will definitely frustrate those with low attention spans, but I found the whole mystery and how it inches its clues out to be pretty masterfully accomplished. The ending feels a little bit TWILIGHT ZONE-y, but still it all makes sense once the cards are all shown. In the end, I found the whole film to be much more entertaining and satisfying than I expected.
While most of the film takes place in one locked room, I was never bored with RIDDLE ROOM, a film that proves to be surprisingly efficient in keeping the mystery interesting and worth solving right up until the end.
---
And finally…here's another dose of terrifying radio from ages ago. This episode of the olden timey radio series "Light's Out" is called "Knock At the Door" and it's a doozy. Enjoy!
---
See ya next week, folks!

Ambush Bug is Mark L. Miller, original @$$Hole/wordslinger/writer of wrongs/reviewer/interviewer/editor of AICN COMICS for over 13 years & AICN HORROR for 4. Follow Ambush Bug on the Twitters @Mark_L_Miller.



---
Look for our bi-weekly rambling about random horror films on Poptards and Ain't It Cool on AICN HORROR's CANNIBAL HORRORCAST Podcast every other Thursday!
---
Find more AICN HORROR including an archive of previous columns on AICN HORROR's Facebook page!