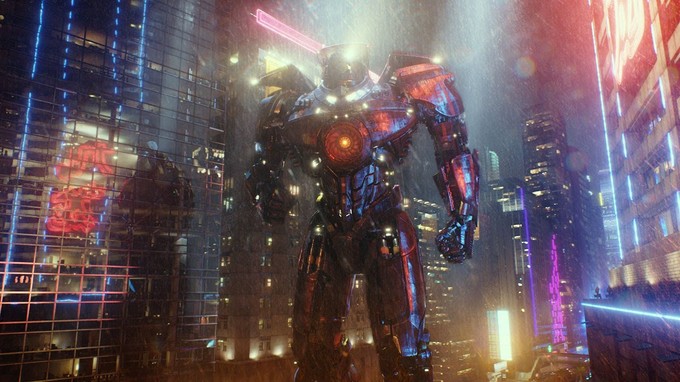 Back in September, it looked pretty certain that PACIFIC RIM 2 wasn't going to happen, but then this tweet from GDT last month made things a little less clear:
Pac Rim 2 cancelled? Don't believe everything you read. It's still going and I'll remain w it in one way or another!

— Guillermo del Toro (@RealGDT) January 11, 2016
Well, it appears to still be happening (for now), but "one way or another," appears to mean he won't be coming back as a writer or director.
DAREDEVIL showrunner (replacing Drew Goddard) Steven S. DeKnight is currently set to direct the follow-up, which Universal will distribute for Legendary this time around. DeKnight has never been credited in any way on any feature film, but has worked as a writer/producer on BUFFY, SMALLVILLE, DOLLHOUSE, and SPARTACUS. His directing experience extends to three ANGELS, two SMALLVILLEs, and one DOLLHOUSE and DAREDEVIL each.
Now, I'm not going to sit here and tell you how much of a part Del Toro's genre knowhow, unabashedly sincere tone, and unabashed love for creature and robot designs played in PACIFIC RIM. You know this. And we've seen TV guys like the Russo brothers and Alan Taylor do alright when jumping right into big-budget tentpoles, so it's not unthinkable. DAREDEVIL was pretty good, right?
No, my first reaction to hearing this is that it plain and simply won't happen. Del Toro, love him or hate him, has name value, and a large amount of the fan goodwill towards the first PAC RIM was directly aimed at him and what he brought to the film. Frankly, there's not a lot of inherent personality in the "big robots fight big monsters" premise, and by losing Del Toro, this project is running the risk of losing al relevance whatsoever. This isn't the kind of sure bet they can just throw anybody at and expect to kill it at the track, and I don't think DAREDEVIL (DeKnight's main credit to date) has the kind of love to get anyone excited for this simply based on his association with that show. We already know that the cast would be largely different, so losing Del Toro wipes away even more of the connective tissue between the first film and this currently-gestating follow-up.
I'm fully aware that Del Toro will still be hands on as a producer, and won't let his baby get disgraced under his nose (hell, he probably hand-picked the guy, right?), but not having him as a director not only cuts my excitement for this by more than half, but makes me think that this is going to stay in development hell a little longer before we never hear about it again.
But as Dennis Miller said, that's just my opinion, I could be wrong.
How you feel about a GDT-less PACIFIC RIM 2?