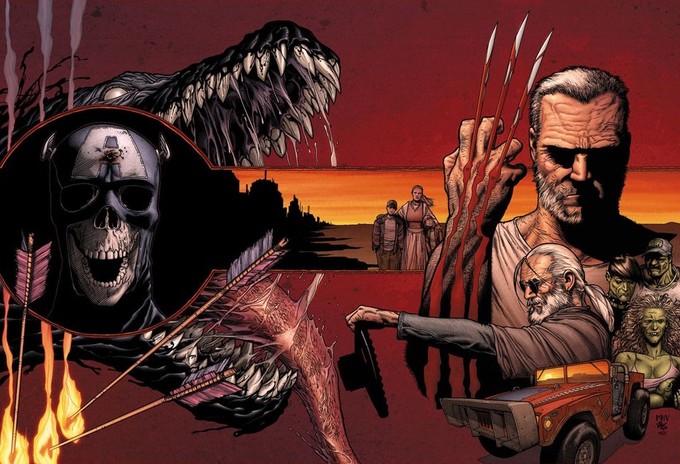 Den Of Geek says it has confirmed that Hugh Jackman's third and final "Wolverine" movie will be be based on the future-set "Old Man Logan" storyline penned by Mark Millar.
Millar also wrote the comics on which "Kingsman," "Kick-Ass," and "Captain America: Civil War" are based.
The site also says the next "Wolverine" feature, unlike the PG-13-rated "X-Men Origins" and "The Wolverine," will be rated R.
For my money "Old Man Logan" may be the most entertaining Wolverine story ever forged. Millar is on staff at Fox, home of the movie Wolverine, where he oversees scripting for the studio's X-Men movies.
Published in 2008 and 2009, "Old Man Logan" takes place more than 50 years in the future on Earth-807128. Most of the Marvel superheroes have been slain and the United States has been carved up into territories controlled by supervillains Kingpin, Doctor Doom, Red Skull and The Hulk.
Logan (he no longer uses his claws or identifies himself as "Wolverine" due to a horrific incident we learn about late in the story) lives with his wife and kids near Sacramento, now a component of Hulkland, where he must pay rent to the grotesque incest-derived offspring of Bruce Banner and Banner's She-Hulk cousin, Jennifer Walters.
To raise cash and avoid eviction, Logan takes a job helping a blind Hawkeye on a cross-country journey to deliver a mysterious package to a destination back east.
Now the bad news is most of the characters in Old Man Logan are not controlled by Fox, so unless some sort of deal can be worked out between Fox and Disney, the movie won't be able to utilize Hawkeye, Red Skull or Kingpin. Also, I think Universal might still have some control over the use of Hulk outside of the Avengers movies. So a lot might have to change.
Patrick Stewart, who played Charles Xavier in the last two "Wolverine" movies, is rumored to be substituting for Hawkeye as Wolverine's traveling companion. Stewart has said he will reteam with Jackman on one more project, and this appears to be it.
All this will prove hilarious news to gossip monger Umberto Gonzales, who in mid-June reported "Old Man Logan" would indeed form the basis of the next Wolverine. Hours later Gonzales backtracked, reporting that one of his trusted sources informed him that the next Wolverine film would NOT be based on "Old Man Logan."
Find all of Den of Geek's story on the matter here.