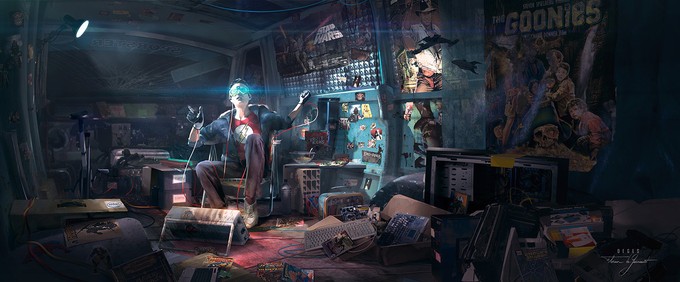 Ahoy, squirts! Quint here. It was only a matter of time before Steven Spielberg's adaptation of Ernie Cline's Ready Player One moved off of its announced December 15th, 2017 release date once big bad Star Wars Episode VIII moved in on that space.
It'd take a lot to force Steven Spielberg to move a sci-fi fantasy adventure film away from any date, but when it comes to Star Wars you just kind of have to get out of its way.
THR's Borys Kit says they've moved to March 30th, 2018, which gives them a little more time to get the movie prepped, filmed and, more importantly, finished in post.
Steven Spielberg's READY PLAYER ONE backs down from STAR WARS EPISODE VII, moves from Dec. 15, 2017 to March 30, 2018.

— Borys Kit (@Borys_Kit) February 9, 2016
I gotta say, I'm getting a ridiculous amount of glee watching the date-shift scramble post-Star Wars moving from May 2017 to December. Just shows how much of a juggernaut that franchise is, especially since this one will be the continuing adventures of Rey, Finn, Poe and BB-8!
Don't fret, though. There's more than enough room for Star Wars and awesome Spielberg adventure films. Man, it's a good time to be a geek!
(PS That awesome Ready Player One fanart was by Florian de Gesincourt)
-Eric Vespe
"Quint"
quint@aintitcool.com
Follow Me On Twitter