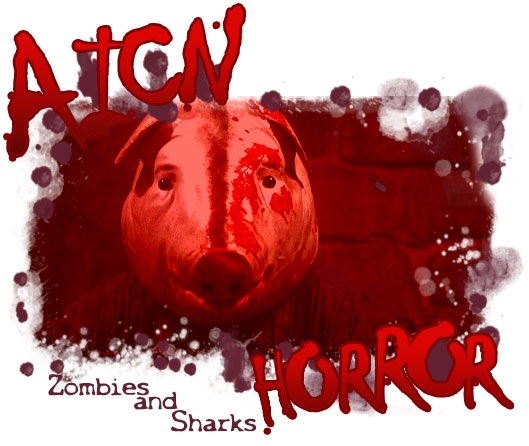 Logo by Kristian Horn
What the &#$% is ZOMBIES & SHARKS?
---
Welcome to the darker side of AICN! Mark L. Miller aka Ambush Bug here with another AICN HORROR: ZOMBIES & SHARKS column. This week we have horrors from budgets big and little as well as some films from all over the world. Take a look at the horror reviews below, if you dare!
Today on AICN HORROR

(Click title to go directly to the feature)
Retro-review: HIGHWAY TO HELL (1991)
THE BONE GARDEN (2014)
UNCAGED (2016)
ALL HALLOWS EVE 2 (2015)
GRANDPA'S PSYCHO (2015)
ZOMBIE FIGHT CLUB (2014)
THE PACK (2015)
THE LAST WITCH HUNTER (2015)
THE WORLD OF KANAKO (2014)
Advance Review: KRISTEN (2015)
And finally…Horror Bizarre's Ghost Hotel!
---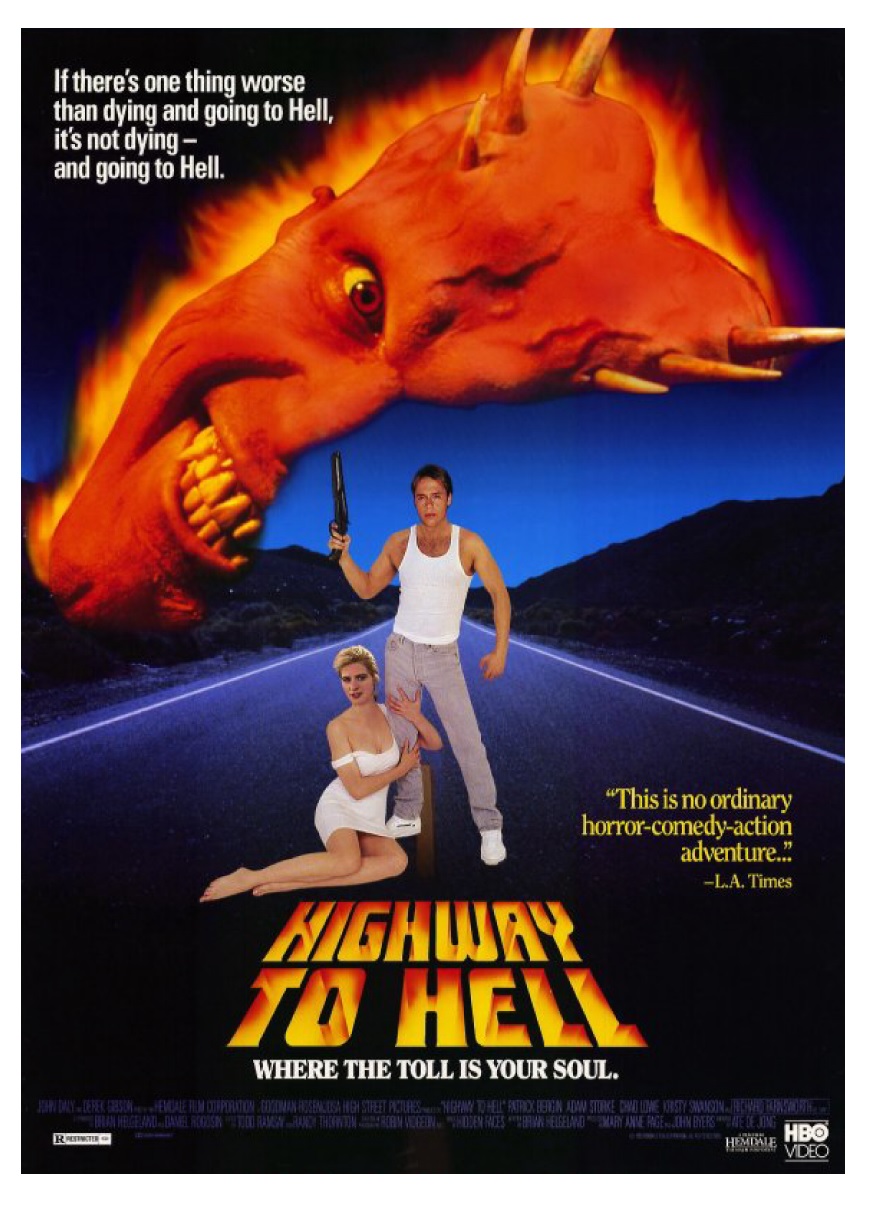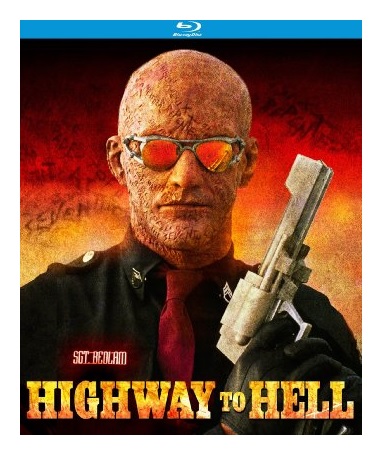 Retro-review: New this week on BluRay from Kino Lorber!
HIGHWAY TO HELL (1991)
Directed by Ate de Jong
Written by Brian Helgeland
Starring Patrick Bergin, Chad Lowe, Kristy Swanson, Adam Storke, Pamela Gidley, Jarrett Lennon, Richard Farnsworth, Lita Ford, Kevin Peter Hall, Anne Meara, Amy Stiller, Jerry Stiller, Ben Stiller as Attilla the Hun, Gilbert Gottfried as Hitler, & C.J. Graham as Sgt. Bedlam the Hellcop
Retro-reviewed by Ambush Bug
After BEETLEJUICE hit, there was a ton of horror comedies released to try to tap into the same feel. None of them tried harder than HIGHWAY TO HELL, which doesn't really knock off Tim Burton's story, but it swipes directly from BEETLEJUICE's look and feel of the afterlife with only about half of the laughs and creativity.
Highway to Hell Red from Mulholland Pictures on Vimeo.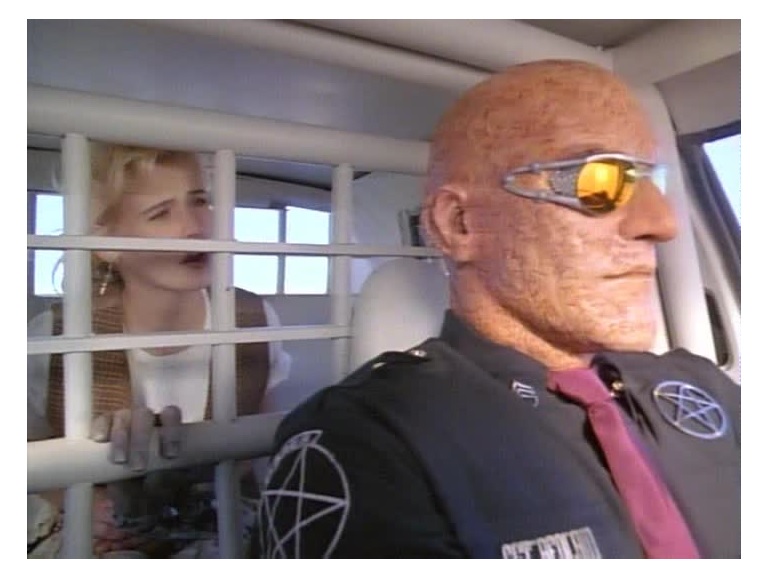 Charlie (Chad Lowe – whatever happened to him, by the way) is on a road trip to Las Vegas to elope with his best gal Rachel (Kristy Swanson). Taking a shortcut across the desert, Charlie finds himself on the edge of a portal through hell patrolled by the silent but violent Sgt. Bedlam, the Hellcop (played by FRIDAY THE 13TH's Jason CJ Graham). Snatching his virgin girlfriend away from him, Charlie arms himself with a magic shotgun and a roadster provided by an old timer who lost his girl similarly years ago and heads out to rescue his gal from Hell.
I did have a lot of fun with HIGHWAY TO HELL, though I remember liking it a whole lot more when I was a kid than I did upon revisiting it. Most likely Brian Helgeland (who wrote LA CONFIDENTIAL and MYSTIC RIVER) is not bragging about the script he wrote for HIGHWAY TO HELL. The story borrows heavily from Greek myths like Orpheus who had to venture to hell to rescue his lost love. But the film doesn't really pay homage to those myths. It more accurately lifts directly from them as Charlie is told not to look back, the same advice Orpheus was given. But while it's a powerful beat in that myth, in HIGHWAY TO HELL it's simply another small hurdle for Charlie to leap. I guess the power of love motivates him, but through this whole movie, these hurdles just don't seem big enough to match the epic-ness this film is attempting.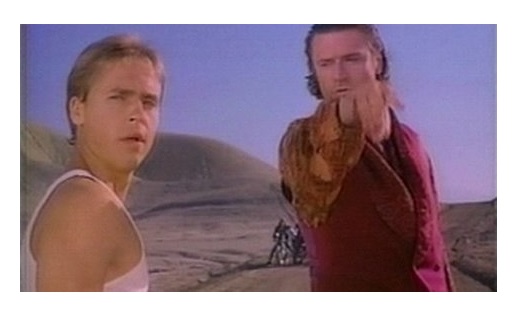 It doesn't help that Chad Lowe isn't the most macho man in the world, yet they insist on putting him in a tank top to show his skeletal arms for most of the film as if he were Arnold Schwarzenegger. Lowe is likable, he just isn't the physical type and this is a role that required a lot of physicality. Everyone's favorite girl next door and boy did I wish she lived next door to me, Kristy Swanson, is as wholesome as ever here as the damsel in distress. And Patrick Bergen is decent here as Beezel, though his true identity is one of the most transparent and unsuccessful secrets of the film.
While he doesn't have a line in the film, CJ Graham is pretty amazing as Hellcop and I almost wish the whole film revolved around him rather than the trek to Hell. His design is awesome with bible verses etched into his flesh and handcuffs made of real hands. While his hell gun looks a bit like it was made by Hasbro, the Hellcop's look is a winner. It's too bad the film only uses him sparingly and he didn't get a film of his own. Being a fan of FRIDAY THE 13TH PART 6 and his performance as Jason in it, I loved what Graham did with this role.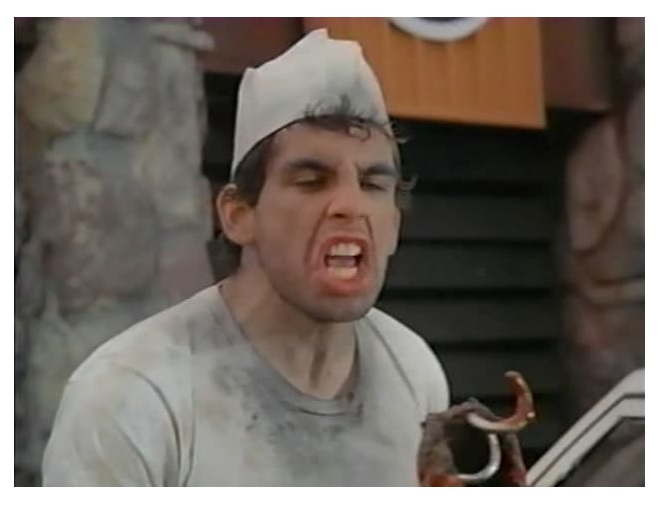 There are some really cool stylistic choices made in HIGHWAY TO HELL. The road to nowhere filled with like vehicles all speeding in one direction is an amazing image. This film has a few very strong visual ideas like this one. For every clever riff on the afterlife like a bunch of Andy Warhol's tossing trash and monitoring the road with good intentions, there are three groaners like a bumper sticker that says "Pontius is my co-pilot." The abundance of groaners don't help things.
There is also some offbeat oddness to this film that I wish there was more of like the stop motion Cerebrus and the insane killer ice cream man who screams "I'll scoop your brain!" Still it's just not enough and paired with weird cameos by rocker Lita Ford, Gilbert Gottfried as Hitler and the Stiller family as undead characters, this is a truly weird films. I just think the film is on the brink of something awesome, but never truly gets there and instead resorts to convention too many times. I don't know if it's a reluctance on the filmmakers' part to go full on nuts with it or just a lack of ideas, but HIGHWAY TO HELL ends up being just shy of greatness.
---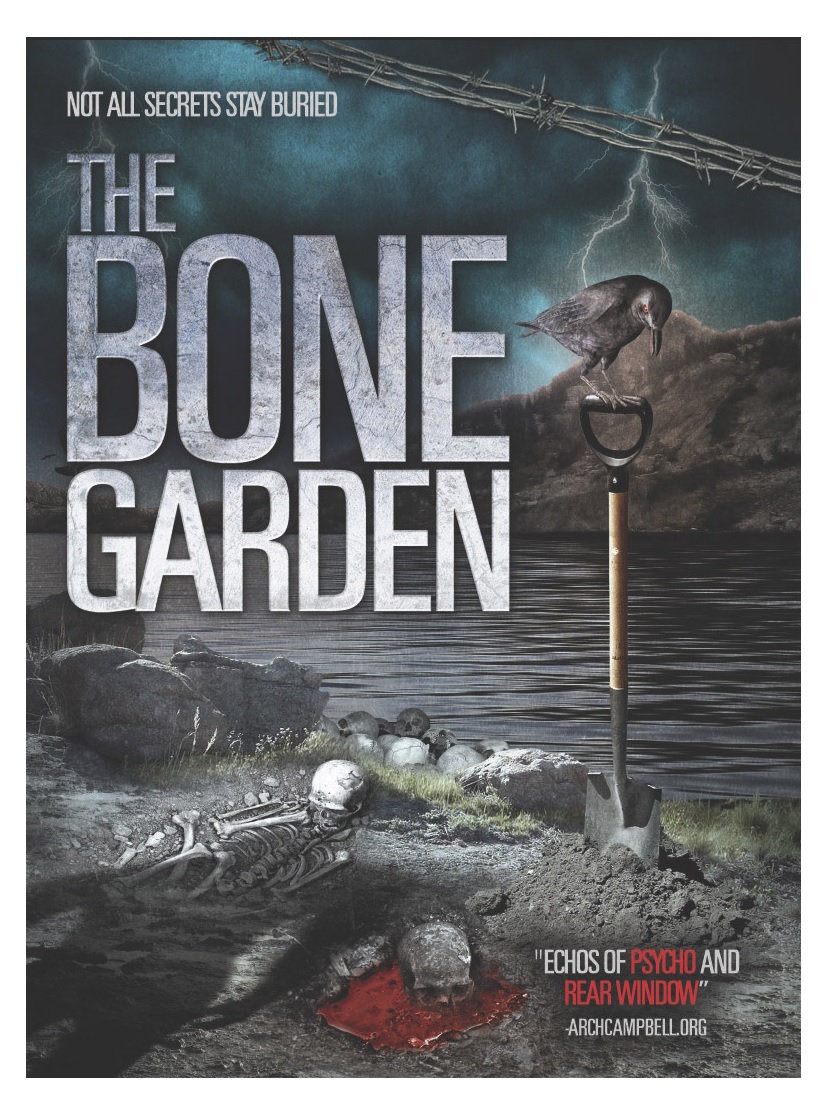 New this week on DVD from Camp Motion Pictures!
THE BONE GARDEN (2014)
Directed by Mike Gutridge
Written by Mike Gutridge
Starring Tracie Savage, Paul Kratka, Tammy Kaitz, Ron Millkie, Samantha Emerson, Terry McConnaughey, George Stover, Glenn Gutridge, April Monique Burril
Find out more about this film here and on Facebook here
Reviewed by Ambush Bug
I'm a huge fan of the FRIDAY THE 13TH series and it seems filmmaker Mike Gutridge is too as he pays homage to the film series with many winks and nods, plus some cast members who you probably haven't seen since the F13 series are prominently featured in THE BONE GARDEN as well.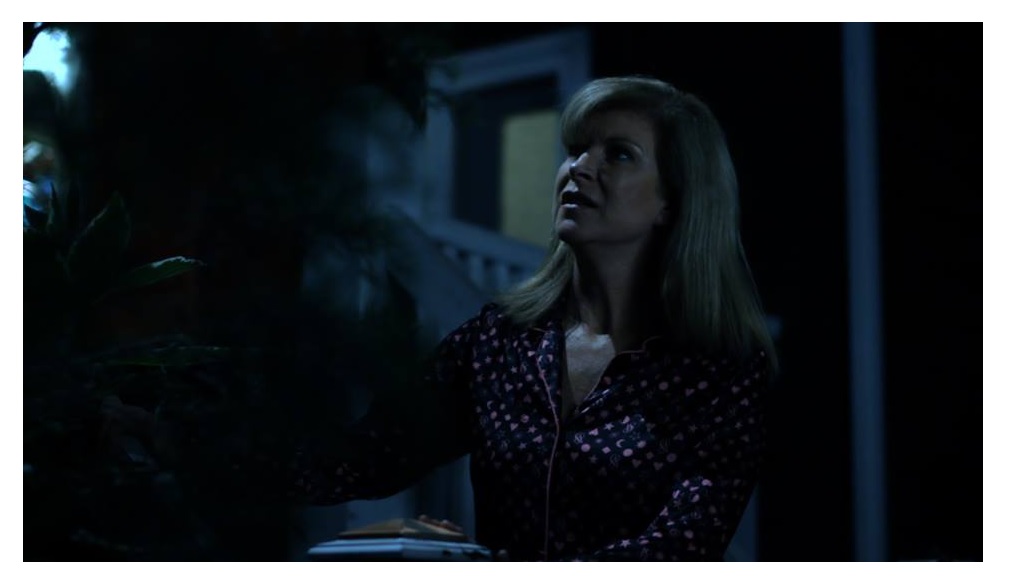 Alice Hardy (Tracie Savage who played Debbie from FRIDAY THE 13TH PART 3) plays the lonely housewife of college professor Norman Hardy (Paul Kratka who played final hunk Rick from FRIDAY THE 13TH PART 3). Alice suspects that Norman is cheating, but wants to stick with her husband and make things work. Meanwhile, someone is killing folks around town and there's a plethora of people who could be responsible including Alice and Norman's creepy neighbors, nosey Sheriff Meeker (Ron Millkie who played the motorcycle cop from FRIDAY THE 13TH and his character is named after one of the sheriffs in the HALLOWEEN series), or even Alice and Norman themselves.
THE BONE GARDEN is a low budget murder mystery that borrows heavily from the first FRIDAY THE 13TH putting into question just who the killer is. For the most part, from a story perspective, this is a pretty strong little mystery with quite a few well done twists and turns. It definitely didn't end the way I thought it would and I was surprised at how much fun I had with this film. I also really loved the tons of references to FRIDAY THE 13TH and other slasher films here and when I say tons, I mean TONS. The news station is called F13N. The dog's name is Jason. Many of the deaths occur in or around Carpenter University in Carpenter County. The last name of the neighbors is Myers. The opening is almost exactly like a kill from the first FRIDAY THE 13th where the victim is killed by an off-screen killer she knows all seen through first person POV. Alice mentions "Ben Tramer" when interviewed by the cops who is the date Laurie Strode is set up with in HALLOWEEN. This is a treasure trove of slasher trivia and it's fun to see how many you can pick out in this film.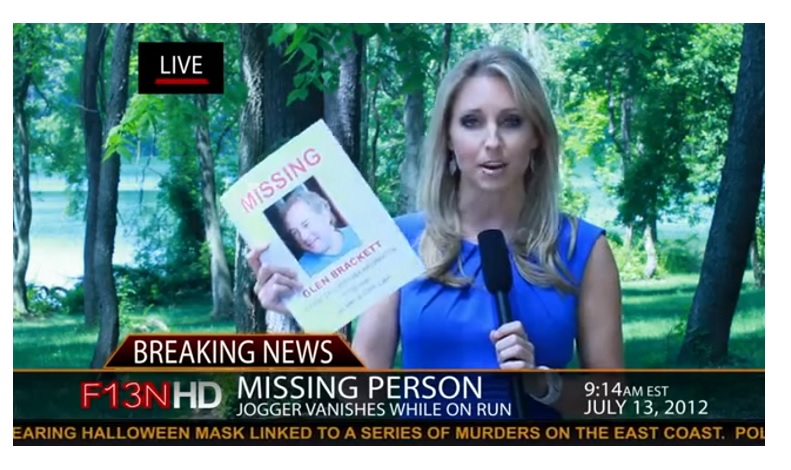 There are some directorial decisions that feel a bit off such as cartoonish and goofy music cuing us in when goofy parts are happening that cause more groans than laughs. The camera is often very static and flat, not really making this a movie that looks interesting to watch. And unfortunately some of the acting is pretty amateur in places, which doesn't help the film either.
But if you're a slasher fan, this is kind of a must see. Sure, it's got some rough edges, but the filmmaker obviously loves the subgenre of horror and shows it almost in every scene through some kind of homage. It's fun seeing folks murdered by Jason Voorhees show up in another slasher film and the story is unconventional and downright surprising in the way it all wraps up. THE BONE GARDEN is a love letter to horror worth taking a chance with.
---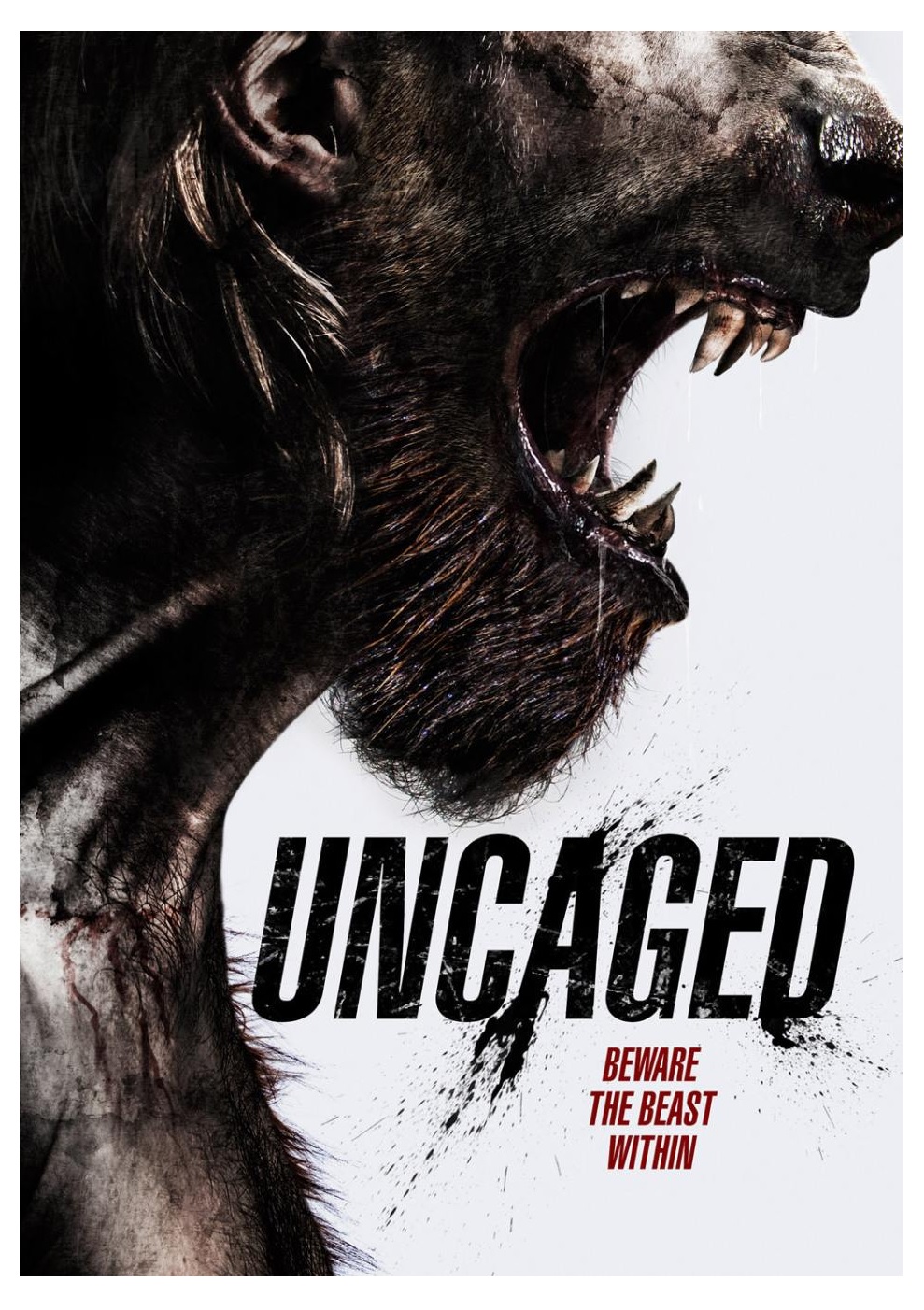 New this week on DVD from RLJ Entertainment!
UNCAGED (2016)
Directed by Daniel Robbins
Written by Mark Rapaport, Daniel Robbins
Starring Ben Getz, Kyle Kirkpatrick, Zack Weiner, Paulina Singer, Garrett Hendricks, Gene Jones, Michelle Cameron, Johnny M. Faulkner, Alex Emanuel, Angela Atwood, Brian Patrick Sullivan
Find out more about this film on Facebook here
Reviewed by Ambush Bug
SUPERBAD meets WOLF MAN pretty much encapsulates UNCAGED, a new attempt to sell the werewolf formula to the teens. There are a lot more good parts than bad ones here, but it's still a rather formulaic werewolf film.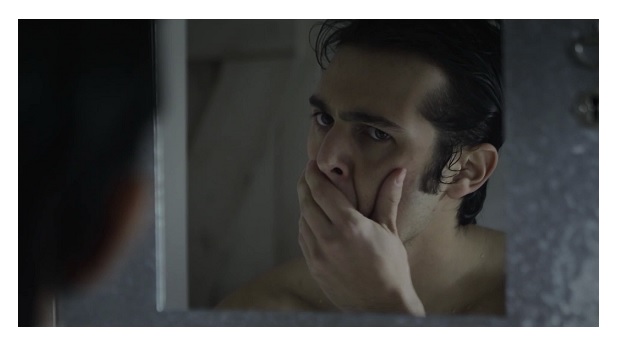 Jack (Ben Getz) is a typical teenager beginning college and hanging with his best bud Turner (Kyle Kirkpatrick) and his cousin Brandon (Zack Weiner) whose main hobbies are drinking and trying to get laid. But Jack has a twisted history of insanity in his family and was orphaned at a young age and sent to live with Brandon as a kid. Now that he is turning 18, he gets a mysterious invitation from his Uncle to meet him in a secluded cabin in the woods. Thinking it would be a prime spot for a party, Brandon and Turner tag along. But what they don't know is that Uncle Mike is trying to seclude Jack from others because he is cursed with the mark of the beast and turns into a werewolf when the moon is full. As you might imagine, this is bound to get in the way of all of that drinking and screwing the guys were planning.
What works most of the time in this film is the comedy. The three main actors in the lead rip on one another in a realistic and fun fashion. While it might not be as bitingly funny or witty as SUPERBAD, it still feels like realistic interactions between these guys and adds a lot to caring and believing in this story. Much of this film is focused on the complex relationship between these guys and it works most of the time. Though the humor is raunchy at times, it feels authentic.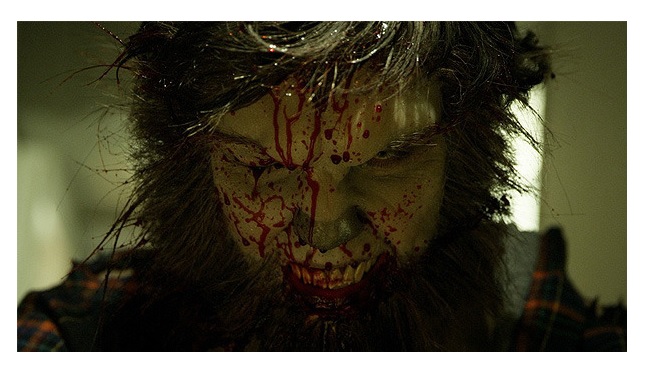 Which is good because though it is alluded to, there's not a whole lot of wolfing around going on in UNCAGED. Sure Jack grows tons of hair at the full moon, but except for the last fifteen minutes, we don't see any transformations or even see the wolfed out Jack himself. Everything is shown either in flashback from a first person POV or happens off screen. Most likely this was due to budget, but in this day and age, when we know what a werewolf looks like from many movies before this one, saving the werewolf reveal to the end is kind of a bummer. Once the wolfman is shown, he doesn't look half bad. It's just that for a werewolf movie, there's not a lot of werewolf scenes in here to be seen.
There's a resonance that this film attempts to capture in the end that really doesn't hit its intended level of gravity. But making up for it are some pretty cool comic book paneled moments that are interspersed in between scene changes. And while UNCAGED is decently acted, there's a lot of plot points that feel forced or unwarranted such as one character insisting on calling the police on Jack, though in the scene prior he is paranoid for killing someone himself and the level of cartoonish rage one character goes to that is far beyond anything believable. Of course, as in every werewolf film, during the two minute werewolf transformation scene, everyone stops and stares instead of running for their lives, which I always found to be inexplicably dumb. Still, there's a fun emotional core to this one between the three leads and when the werewolf in UNCAGED is finally uncaged, it isn't half bad.
---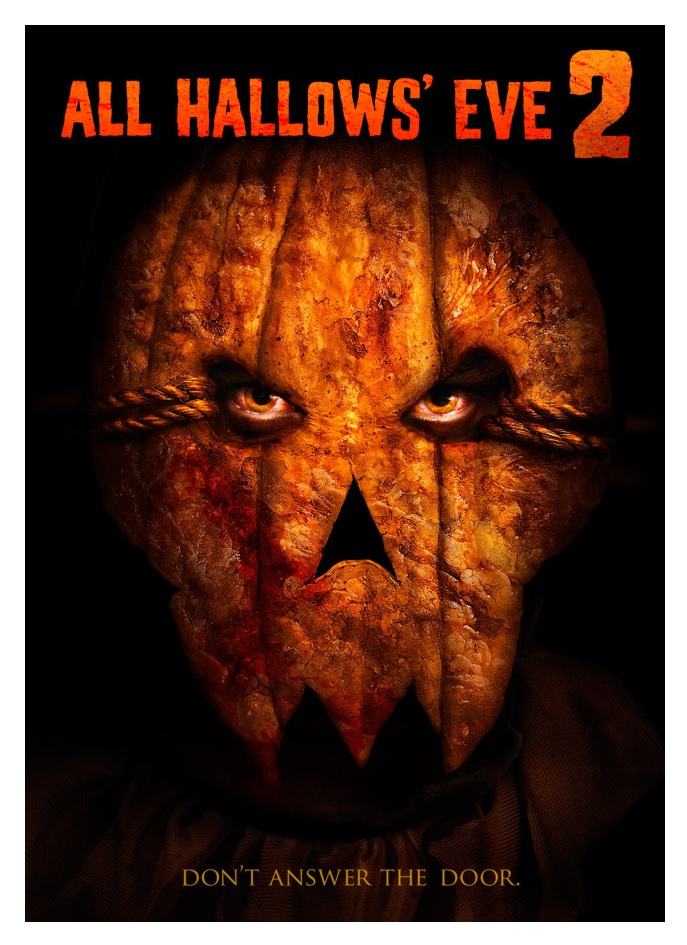 New this week on DVD/BluRay as well as on iTunes!
ALL HALLOW'S EVE 2 (2015)
Directed by Jesse Baget (wraparound), Bryan Norton & Antonio Padovan ("Jack Attack"), Marc Roussel ("The Last Halloween"), Ryan Patch ("The Offering"), Jay Holben ("Descent"), James Kondelik & Jon Kondelik ("M is For Masochist"), Elias Benavidez ("A Boy's Life"), Mike Kochansky ("Mr. Tricker's Treat"), Andrés Borghi ("Alexia")
Written by Jesse Baget (wraparound), Bryan Norton & Antonio Padovan ("Jack Attack"), Marc Roussel & Mark Thibodeau ("The Last Halloween"), Michael Koehler ("The Offering"), Jay Holben & Christopher Probst ("Descent"), James Kondelik & Jon Kondelik ("M is For Masochist"), Elias Benavidez ("A Boy's Life"), Mike Kochansky & Mark Byers ("Mr. Tricker's Treat"), Andrés Borghi ("Alexia")
Starring Andrea Monier, Damien Monier (wraparound), Helen Rogers, Tyler Rossell, Steve Anderson Jr., & Brazen the dog ("Jack Attack"), Ron Basch, Emily Alatalo, Angela Besharah, Julian Richings, Brendan Heard, Jake Goodman, Zoe Fraser, Drew Davis, Ali Adatia, Alastair Forbes, Adrian G. Griffiths, Kristina Uranowski ("The Last Halloween"), Bob Jaffe, Jared Mark Smith ("The Offering"), April Adamson, Renee Intlekofer, Robert McLaughlin, Anthony Backman ("Descent"), Bill Oberst Jr., Reno Selmser, Finn Kobler, Zion Healy, Jonathan Nation ("M is For Masochist"), Christie Lynn Smith, Griffin Gluck, Brian Majestic ("A Boy's Life), Michael Serrato, Carrie Seim, James Markidis, Patrick Logothetti ("Mr. Tricker's Treat"), Sergio Berón, Pilar Boyle, Paula Carruega ("Alexia")
Reviewed by Ambush Bug
ALL HALLOW'S EVE 2 is one of the rare instances when the sequel is much more enjoyable than the original. The first ALL HALLOW'S EVE was visually impressive, but the story was all over the place. It tried to tell a straight forward narrative, but felt disjointed as the segments blended into one another and ended up conveying a story that felt muddy and unorganized. It feels like the producers of this film finally got to the bottom of what they were going for and simply did the anthology format in the style of V/H/S. In fact, it's exactly the same format as V/H/S as a woman receives a VHS tape on her doorstep and dares watch it. All the while a weird man in a pumpkin mask stalks her from outside.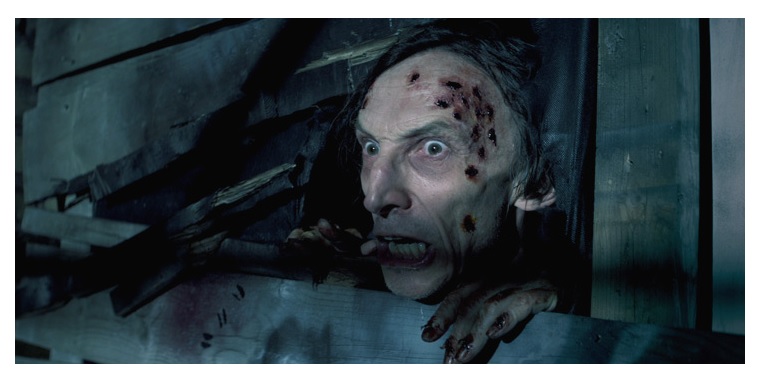 While there's little to it, the wraparound segment is decently realized, offering up enough scares to start things off and keep things moving. The reaction shots of the woman watching the videos feel unneeded and who has a VHS machine these days anyway. But all in all, a decent hook to hang the rest of the short stories on.
The first segment named "Jack Attack" follows a babysitter (the beautiful and talented Helen Rogers from BODY and V/H/S) who learns a valuable lesson about eating pumpkin seeds. Rogers is great here as the wholesome, but sassy babysitter and there are some fun gory moments by the end.
I actually saw and reviewed "The Last Halloween" a while back
. It's a post-apocalyptic tale with a raving Julian Richings, creepy kids who wander the streets only to turn into what their costumes represent and terrorize those boarded into their homes for real. This is a vivid and exciting short that really packs a punch with it's cool effects. Plus Richings rants are insanely fun.
"The Offering" is a foreboding tale that feels like just the right amount of a snippet of a horrible world. It's about a father and son who head to a desolate spot to give sacrifice to a pagan god only to forget the sacrifice of meat. It's well acted and left me wanting more, which is a good thing. This one is a fun and ominous short.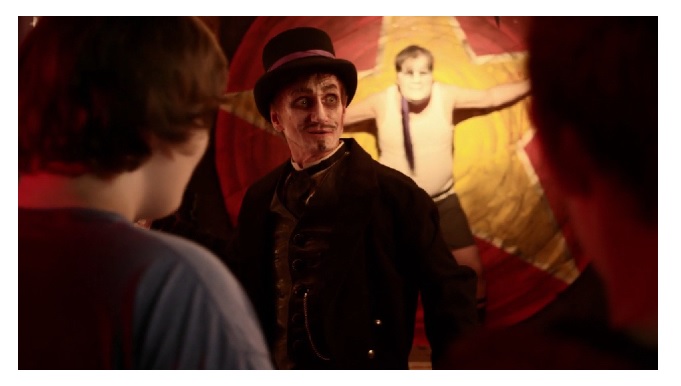 Dark and psychological, "Descent" is about a woman who witnesses a murder only to find herself trapped in a elevator with him. This one is full of really great moments of tension and has a nice twist ending.
I wanted to like the one note "M is For Masochist" more. Obviously, it was an attempt for the M spot in the ABC'S OF DEATH films that didn't make it. Horror actor supreme Bill Oberst Jr. does a great and creepy job as a sideshow barker who tempts a group of kids to torture a unique attraction, the Masochist. This one breezes by too quickly to make its mark.
"A Boy's Life" would be great if not for the fact that it is almost exactly like THE BABADOOK. A small child is afraid of the monsters in his room only to find them confirmed. This short takes a rather heartfelt turn halfway through and the kid is scores less annoying than in THE BABADOOK, but "A Boy's Life" still offers up a scare or three by the end.
Seems the more comedic shorts in this bunch are the least effective. I get what "Mr. Tricker's Treat" was going for, but it again went by pretty quickly and was forgettable soon after it was over. This one focuses on a neighborhood weirdo who takes his Halloween decorations deadly serious. Mr. Tricker's attack on a teenager wearing angel's costume is pretty fun though.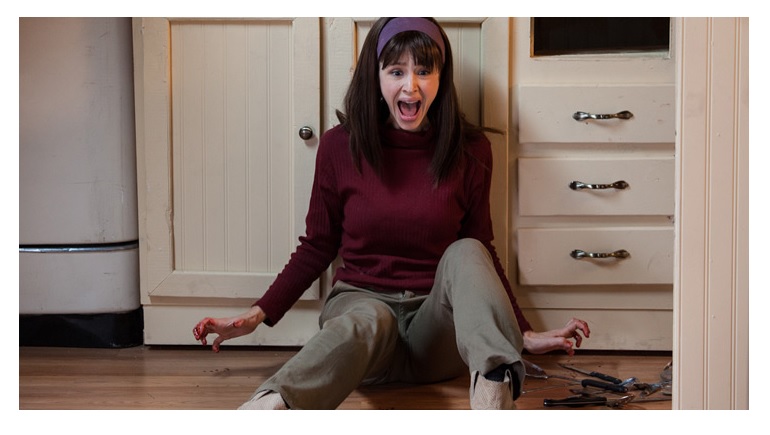 The final and best short film of the anthology is "Alexia" a Spanish short that hits with about the same visceral gut punch that the MAMA short did a few years ago. The story is simple and not unlike UNFRIENDED (
reviewed here
) but on a smaller, more personal level. A man decides to finally delete the friendship status of his girlfriend who died a year ago. Turns out, even though she's dead, she doesn't like that so much. What makes this short so effective is the tight close-ups that take you too close to the tense moments that are unfolding. Paired with some imagery that is truly harrowing and this is one potent and powerful horror in a small package. I recommend this film simply for this short alone as it is edge of your seaty from start to finish.
Seems someone might have been listening to me as I've been saying there are too many amazing short films out there that go unseen by too many people. Anthologies like ALL HALLOW'S EVE 2 takes these shorts and arranges them in an anthology worth checking out. While it has its weaker segments, as a whole, ALL HALLOW'S EVE 2 is a winner and the movie the first film wanted to be.
---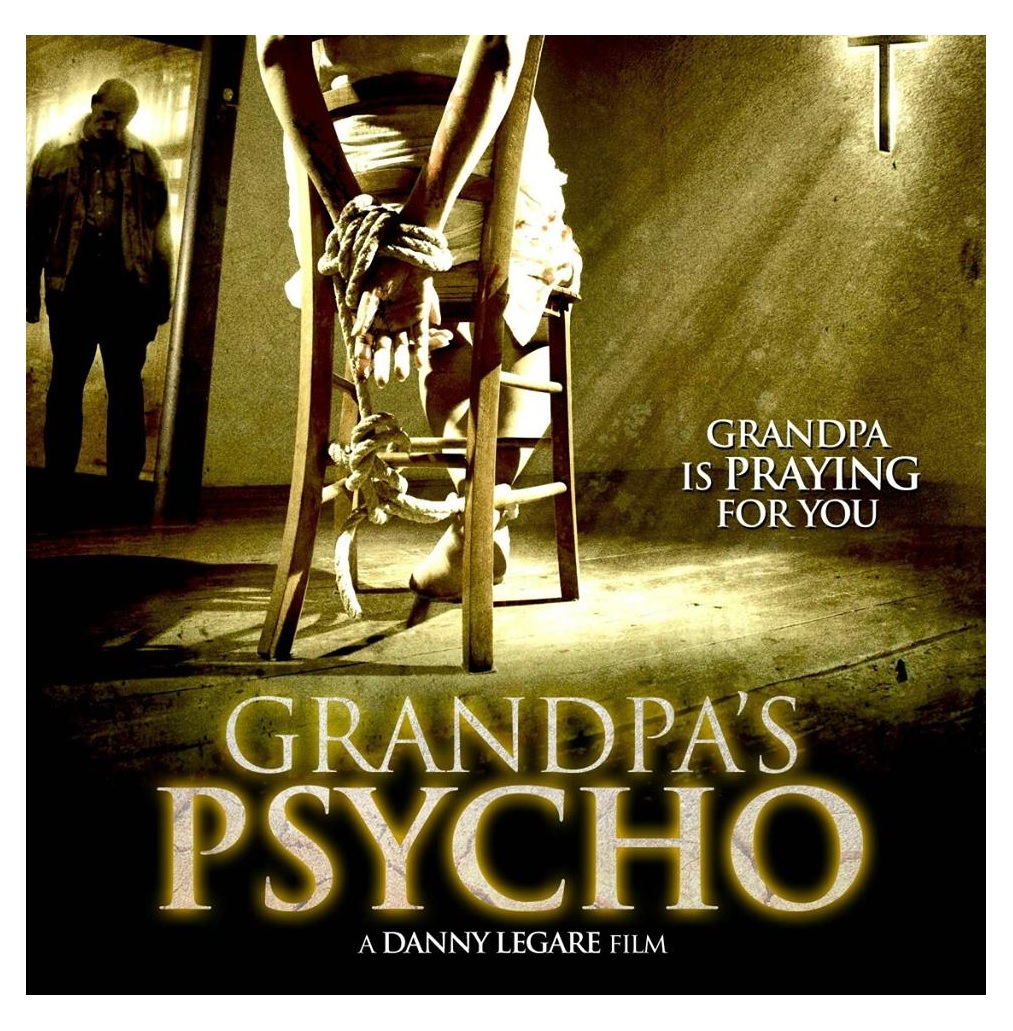 New this week to rent from Redbox from Osiris Entertainment!
GRANDPA'S PSYCHO (2015)
Directed by Danny LeGare
Written by Danny LeGare
Starring Kim Mulhauser, David Gere, Ashley Tramonte, Greg Nutcher, Nicole Bardis, Shivantha Wijesinha, Jessica Moore, Jamie Szantyr, Mary Liz Lewis, Alexandra Kane, Christian Rozakis, Gracie Day, Brandon Valdez, & Gunther Grambo as Grandpa Murray!
Find out more about this film here and on Facebook here
Reviewed by Ambush Bug
It's weird calling a horror movie a quiet little film, but that's what GRANDPA'S PSYCHO is. While the name is less than subtle, everything else about this film is. It's also quite an effective film to boot.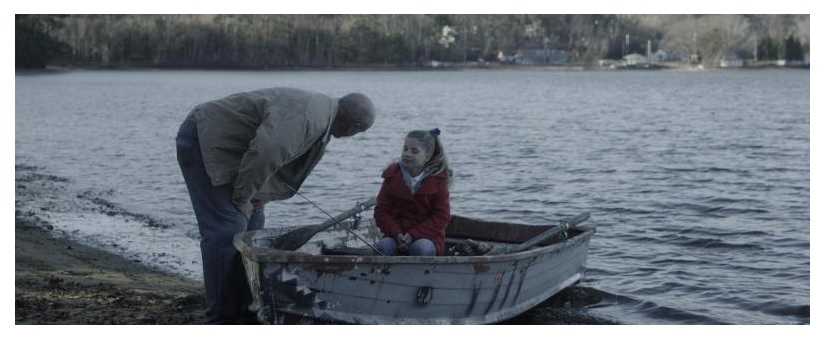 Grandpa Murray (Gunther Grambo, which by the way, is an awesome fucking name) is a god-fearing man who loves his granddaughter and runs a vehicle repair shop, which coincidentally seems to be patroned by the most bitchy women you're ever going to meet. And Grandpa Murray has a pretty high moral code, so when he sees one of these sinning women who dare curse in public, have sex out of wedlock, and simply don't live the churchy life, he chains them up in his lake cabin and attempts to cleanse their sins himself. This usually leaves the ladies dead, but Grandpa keeps on trying.
Small in scale, but powerful in delivery, GRANDPA'S PSYCHO isn't the type of scare a minute horror film that mainstream horror-goers are used to seeing. There are no jump scares to speak of and not a lot of times that will cause shivers. Still, this is a powerful film mainly by the fantastic performance of Grambo who is fascinating every second he's on screen. Much like the grumpy old man Clint Eastwood played in GRAND TORINO, Grambo has a no-bullshit line delivery that is entrancing. It's also extremely creepy and seeing him pray to god to save the souls of his victims definitely got under my skin. Grambo's performance is chilling and this uneasy feeling resonates through every second of this film whether Grandpa is fishing with his little granddaughter or whipping one of his victims.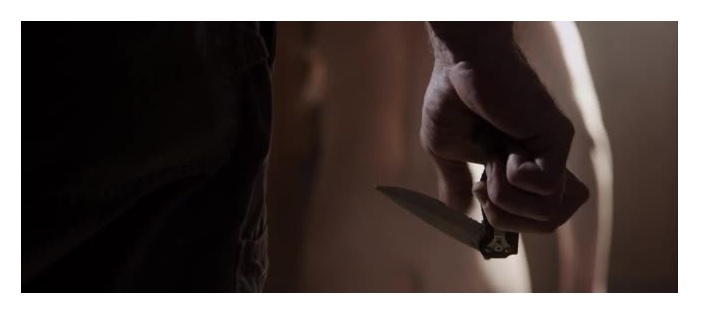 If there's a problem with GRANDPA'S PSYCHO it's that it feels like the film is a lead up to a punch line and then simply ends too quickly. I was left wanting with the ending which finishes just as quietly as the rest of the film. What happens if Grandpa's daughter or granddaughter disappoints him or "sins" in his eyes? I found myself asking that and never really getting an answer, which is somewhat disappointing.
Still, GRANDPA'S PSYCHO is a fantastic character piece with an amazing performance from Grambo that will crawl right under your skin. Sure the girls are one dimensional and not much work went into making them anything else, but this is Grambo's movie to shine in and it's great because of it. I guess elements of this film could be seen sort of as derivative of torture porn, but Grambo's performance makes it all feel distinct and much more meaningful than any torture porn I've ever seen.
---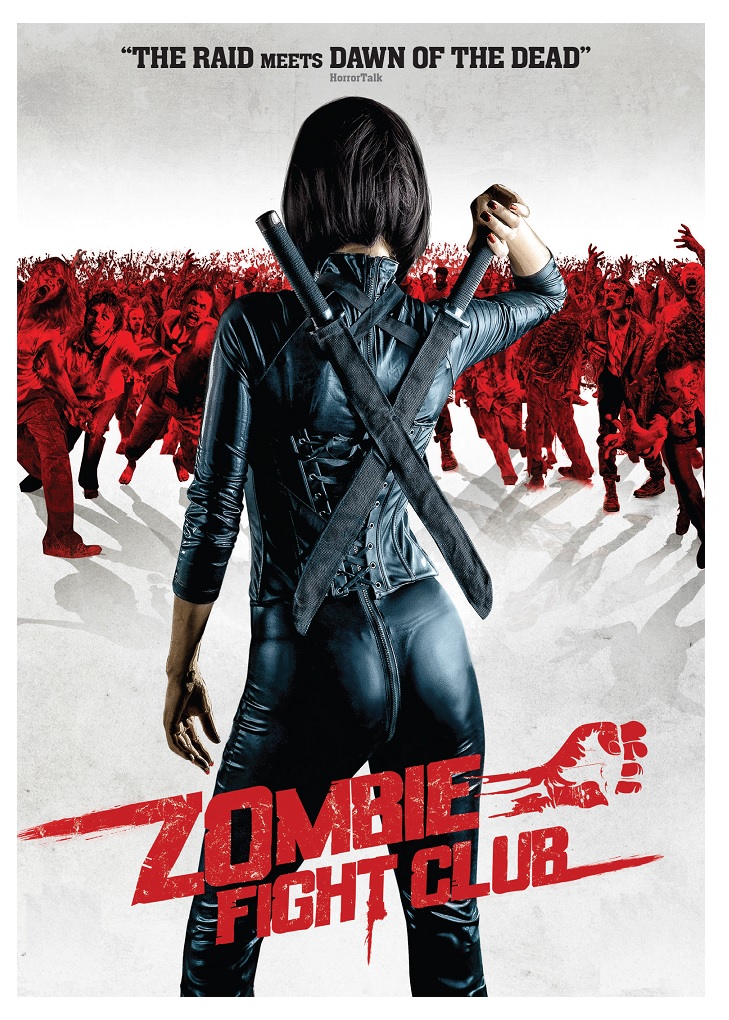 New this week on DVD/BluRay from The Shout Factory!
ZOMBIE FIGHT CLUB (2014)
aka SHI CHENG
Directed by Joe Chien
Written by Joe Chien
Starring Andy On, Jessica Cambensy, Michael Wong, Terence Yin, Jack Kao, Han Chang, Abby Fung, Heng-yin Chou, MC HotDog, Kwok Cheung Tsang, Chi Hung Ng, Philip Ng, Chi Zhang, Candy Ka-Man Yuen
Reviewed by Ambush Bug
To stand out among the scores of zombie films out there, you have to make something pretty distinct. Joe Chien wrote and directed this film set during the outbreak of the zombie apocalypse and then some time after the dust settles and tries something grand in scope with ZOMBIE FIGHT CLUB. He almost achieves making something special too.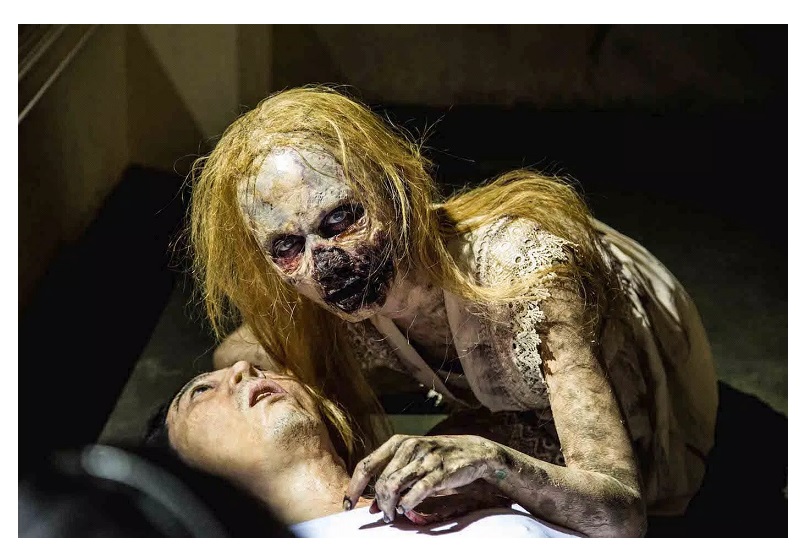 The first portion of the story focuses on the beginning of a zombie outbreak due to a wicked batch of bath salts. When the zombies start chomping the occupants of an apartment building, a SWAT team is sent in to take care of the situation floor by floor. But they are ill prepared against the legion of living dead there. After a bloody massacre and most of the cast dying in the apartment building, a timejump occurs and the survivors find themselves prisoners in an arena set up to entertain the masses by having humans fight zombies. Meanwhile, the top crime boss in the city has become the mayor of this decimated metropolis and secretly looks for a cure for the zombie virus because his daughter has been zombified.
This is a pretty expansive tale and while it's not quite successful as being epic, it is a fun little horror action film. Split into two parts, the movie feels more substantial than your typical outbreak movie. Here, by splitting the story into the outbreak and then a significant period of time later, gives it more heft. Still, out of the two segments, the second half is more fulfilling as the first is a rather typical outbreak scenario with a little of THE RAID: REDEMPTION tossed in with the SWAT team rushing in and fighting zombies from one floor to the next. The gladiatorial matches with the zombies is something hinted at in Romero's LAND OF THE DEAD, but this one is far more realized and on a broader scope with scores of fans lining up to see fighters take on the undead. I sort of wish the film just started at the halfway point because this is the stuff that we haven't seen before.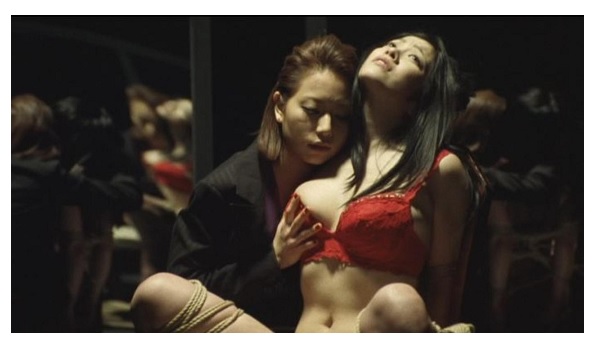 One of the main problems is that the film relies too much on CG for its own good, especially CG blood, which is always a no-no. The film is also shot with a saturated and gritty filter reminiscent of any Zack Snyder film. This gives everything a hyperactive and stylized look that occasionally borders on cartoonish.
Those in love with the female form, and I'm one of them, have a lot to ogle over as well as much of this film features Asian women in their unmentionables prancing around and fighting zombies. This isn't going to win the feminist vote, but it definitely held my attention the whole time as some of the women in this film are drop-dead gorgeous. One of the girls has the loudest, most annoying scream I've ever heard and if I were in her zombie survival party, I'd be tempted to toss her to the zombies to shut her up.
ZOMBIE FIGHT CLUB tries to be epic in scope, but only portions of the film achieve the intended level of awesome. Too much time is spent on scenes we've seen before, but it does go into bold new territory in the latter half. With a lot of CG and gratuitous gore and even more gratuitous T&A, on a visual level, ZOMBIE FIGHT CLUB is a hollow, but satisfying winner.
---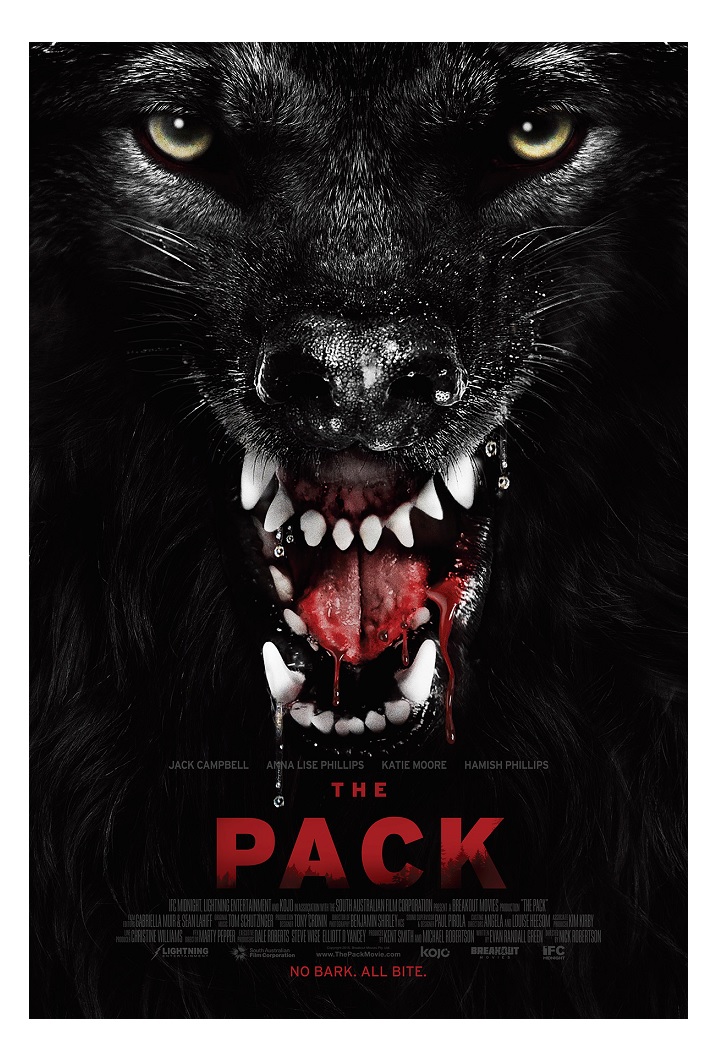 New this week in select theaters and On Demand from IFC Midnight!
THE PACK (2015)
Directed by Nick Robertson
Written by Evan Randall Green
Starring Anna Lise Phillips, Jack Campbell, Katie Moore, Hamish Phillips, Kieran Thomas McNamara, Charles Mayer
Reviewed by Ambush Bug
While it's definitely not a remake of the
2010 monster movie that I reviewed here
, THE PACK 2015 might be a remake of the 1977 Jo Don Baker flick of the same name. Both THE PACK '77 and '10 involve a group of people fighting for their lives against a pack of feral dogs who have developed a taste for human flesh. The original is a film I haven't seen in years, but I remember loving it fondly. This new dogs gone wrong film does everything right in terms of being a monster movie, but for some reason, it just didn't thrill me like the original (if in fact this is a remake, that is).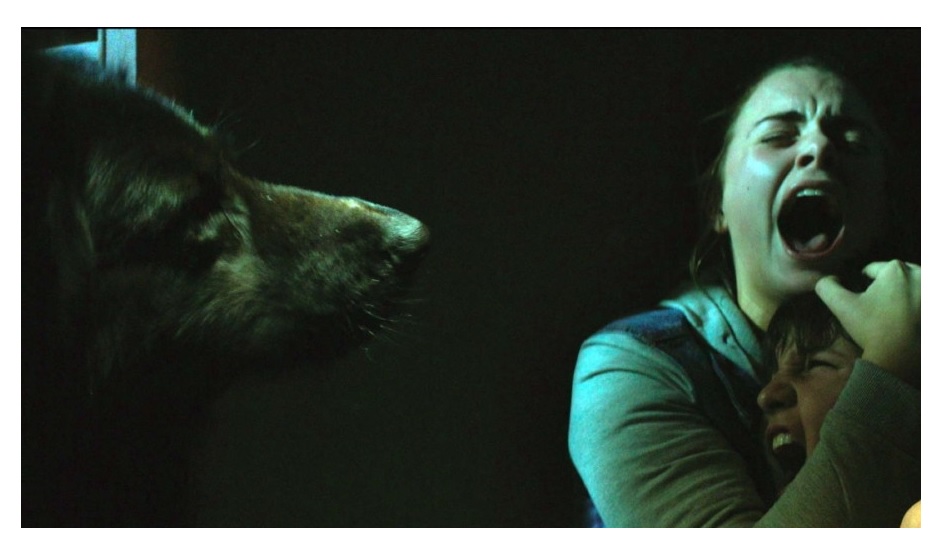 Set in the Australian countryside, the Wilson family have fallen on hard times. The Wilson farm faces foreclosure as the family's matriarch Carla (Anna Lise Phillips) tries to make ends meet by being the local veterinarian. Meanwhile, Carla's husband Adam (Jack Campbell) investigates the property and finds sheep partially devoured, which add to the financial woes. But as the banks encircle the farm to take it away from the family, so do a vicious pack of man-eating dogs who seem to be smarter and more vicious than any the Wilson family has seen before.
While there are typical elements of nature fighting back animals on the attack films, the more prevalent metaphor at play in THE PACK is how the pack of dogs represent the swirling financial troubles the family has. Both threaten to destroy the family and their home, only the dogs are much less subtle about it. While it's not the deepest of themes, it is one that is well done with THE PACK. The family really doesn't do anything to offend nature here, they are just trying to live peacefully. So thematically, though you wouldn't know it, THE PACK is much more like a haunted house film which is traditionally about the weaknesses and the strength of the family in most horror films.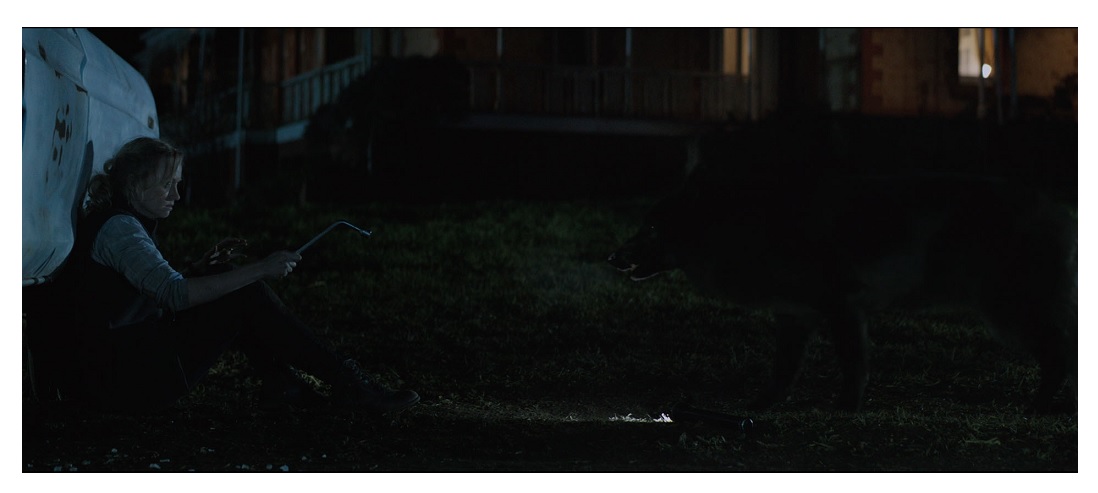 The dog attacks are pretty brutal. The mutts in this film are giant, black, and downright terrifying. Still, the film really doesn't get up close and into the fracas between man and dog. Most attacks are viewed from a distance, and unfortunately, seeing a man with padded arms getting bitten by a dog doesn't look all that real. The film uses real dogs, which I'm sure limits the camera to get up close and in the maw of the beasts as they attack, but as far as dog attacks go, THE PACK doesn't really deliver anything we haven't seen before. I'm not calling for CG dogs, but the distanced way every attack occurs just doesn't convey a level of tension I needed to b stirred with this film. It doesn't help that these dogs occasionally act very un-dog-like as they seem to be unable to smell its prey as the humans hide in their house and form a vendetta against the Wilsons for no real reason other than this is a horror movie and it needs to happy, so they rally and attempt to break into the house en masse.
The film is very dark and there are some really fine moments of tension as the dogs stalk the family. There is a real sense of danger here and it's cool to see real animals trained to be so monstrous. The acting is good and the Australian countryside is gorgeous. Still, if you've seen any bad dog movie, you're probably not going to find anything surprising with THE PACK.
---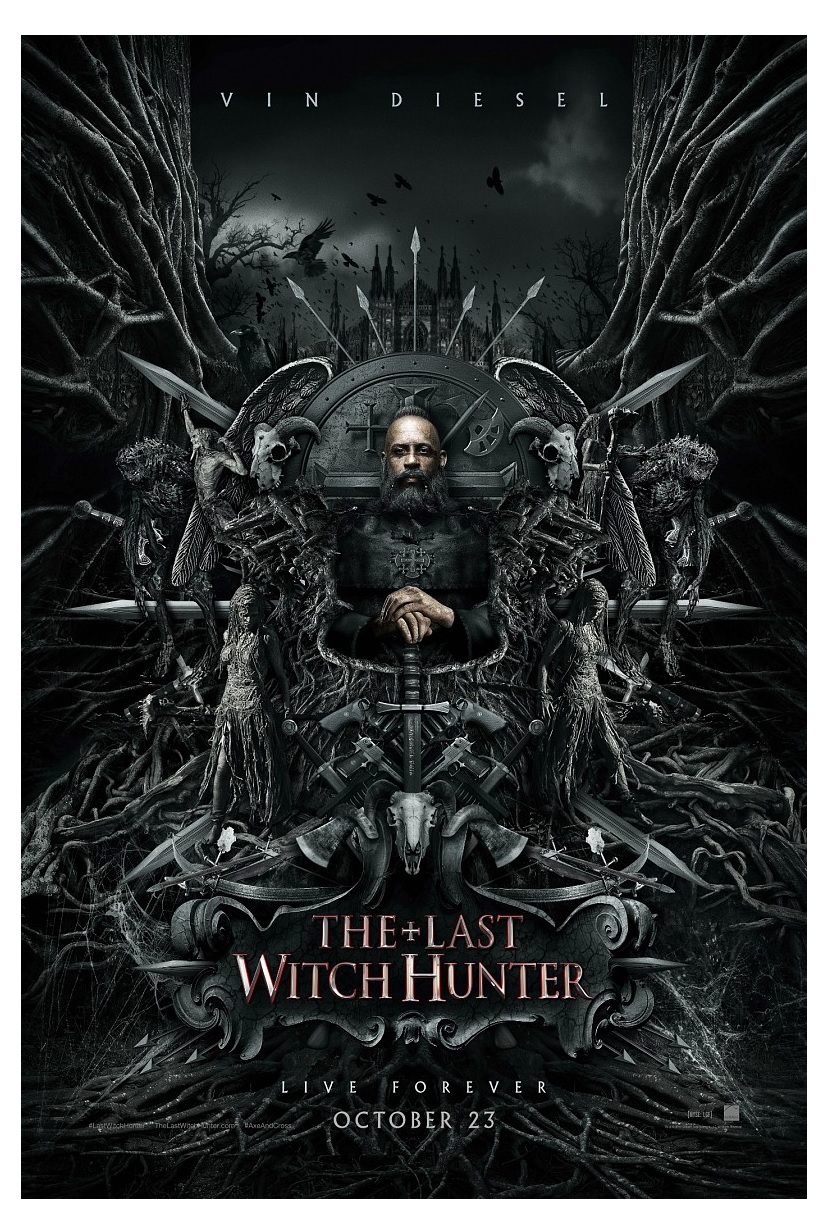 New this week on BluRay/DVD from Lionsgate Home Entertainment!
THE LAST WITCH HUNTER (2015)
Directed by Breck Eisner
Written by Cory Goodman, Matt Sazama, Burk Sharpless
Starring Vin Diesel, Rose Leslie, Elijah Wood, Ólafur Darri Ólafsson, Rena Owen, Julie Engelbrecht, Michael Caine, Joseph Gilgun, Isaach De Bankolé, Michael Halsey, Sloane Coombs, Lotte Verbeek, Dawn Olivieri, Inbar Lavi, Armani Jackson, Aimee Carrero, Bex Taylor-Klaus, Allegra Carpenter
Find out more about this film here and on Facebook here
Reviewed by Ambush Bug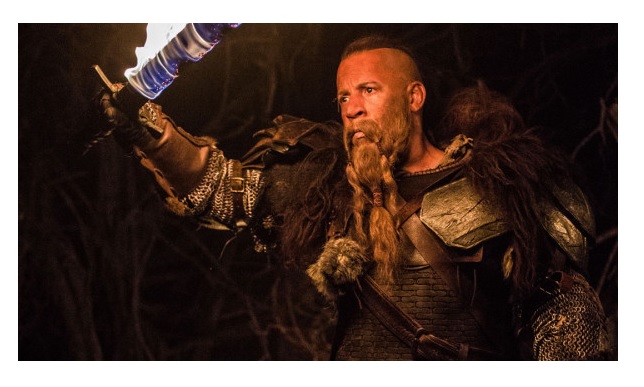 The latest Vin Diesel action vehicle, THE LAST WITCH HUNTER isn't necessarily a bad movie. I understand that the film didn't do so well in the box office, but compared to other witch-hunting flicks like Nicholas Cage's abysmal SEASON OF THE WITCH (reviewed here
), it's downright fantastic. Still the film falls victim to big budget blockbuster blandness.
Vin plays Kaulder, a Medieval witch hunter cursed with immortality as he drove his flaming sword through the heart of the Witch Queen (played mostly by CGI but played by Julie Engelbrecht). Flash forward to modern day and Kaulder is still righting witchy wrongs for the church with the aid of his young handler Dolan 36th (Michael Caine) to keep the peace between humans and witch folk. The two species have struck an uneasy truce and as long as the witches do not use magic on humans, the witch hunters will leave them alone. But a sudden rise in witchy activity and the death of someone close to Kaulder suggests the truce is about to break and Kaulder teams up with a sassy Scottish witch named Chloe (Rose Leslie) and a nerdy priest with a grudge against witches (Elijah Wood) to stop the Witch Queen from being resurrected.
I'm neither the biggest Vin Diesel fan nor do I hate the actor. He seems to be a bonafide fan of genre films, be they action or super hero, and I've liked a lot of his RIDDICK stuff, so a superhero horror style film like THE LAST WITCH HUNTER intrigued me when I heard about it despite the fact that Vin looks kind of ridiculous in his Medieval get up with a giant beard. Still, as far as action goes, this one's got it with Vin swording and punching his way through all sorts of witchy things. While he comes off as somewhat arrogant, that's sort of who and what Vin seems to be, so if that kind of big balls attitude annoys you about the actor, you're probably going to be annoyed here as well.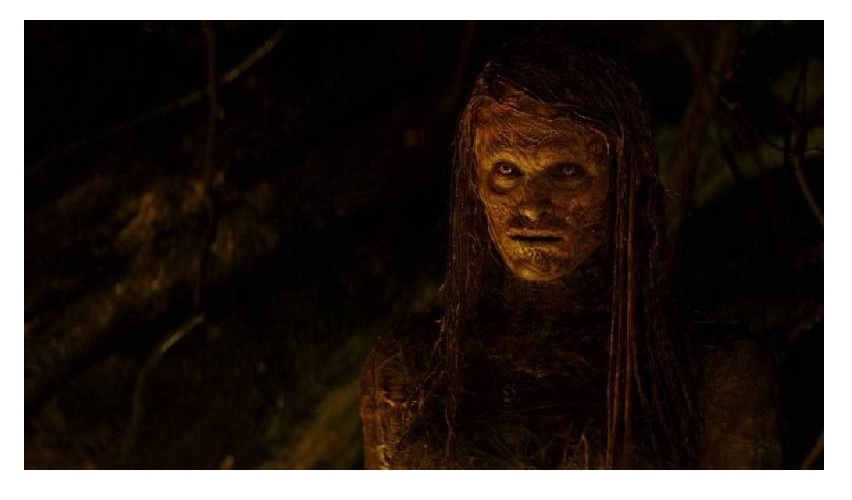 This is a Diesel vehicle, so I wasn't expecting much from the rest of the cast, but aside from Michael Caine and Rose Leslie, the rest of the cast is pretty underutilized. This is especially true for Elijah Wood who is hardly in this film and what he does is rather tertiary to the plot. Sure he's a character with a secret, but I was hoping for something meatier for him and instead he really doesn't get a chance to do much of anything but emote with those big eyes of his. The film also suffers from really not having a good villain. As I mentioned before, the Witch Queen is mostly CGI and only pops up a couple of times in the movie, leaving the heavy work for Ólafur Darri Ólafsson who plays Belial. But Belial is simply a giant brute who speaks with an accent and punches and stabs things while casting spells and really isn't a villain that matches Vin's charisma.
Rose Leslie gets some nice time to shine and I predict the beautiful Scottish redhead will be a huge star one of these days. Here she's given some depth as the owner of a witch bar and she does well with what she's got. Michael Caine is great to see as well, though he's basically playing the same Alfred character he played in THE DARK KNIGHT TRILOGY.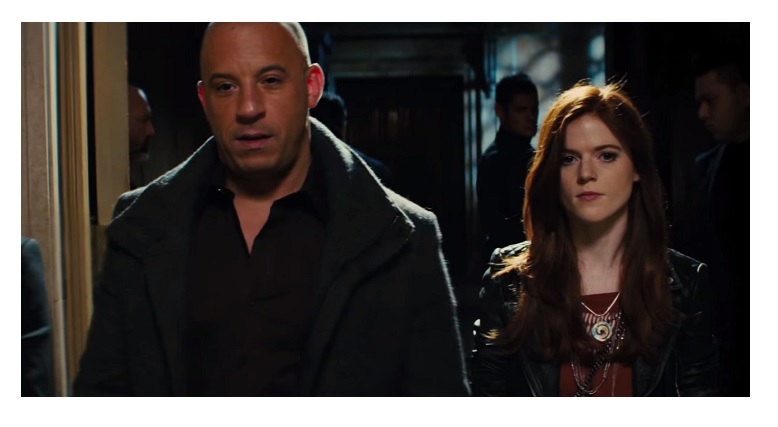 My main beef with the film, other than a rather simplistic story of keep the witch from resurrecting and then when that fails, fight the witch til she's dead, is the overuse of big, loud CG. I can't wait to see THE WITCH and I feel that when utilized in a more subtle sense, the subject of witchcraft can be pants-shittingly terrifying. Unfortunately, apart from some cool visuals of swarming bugs, dancing flames, and a monster made out of bones, there's nothing really scary to be seen in this movie. As a action horror film, this one points much more towards action than horror.
THE LAST WITCH HUNTER isn't bad. It's a popcorn chomping witch whomping movie that you'll most likely forget an hour after watching. With RIDDICK, Vin made an action vehicle with a heavy and capable dose of sci fi and it worked. With THE LAST WITCH HUNTER, the action is there, but the horror is definitely lacking throughout, making it a less successful venture by my standards.
---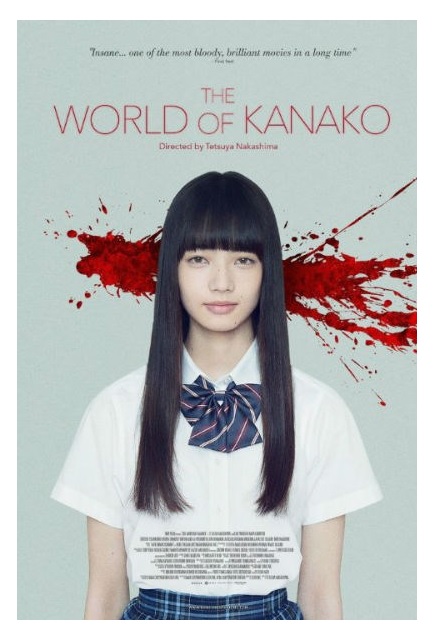 New this week on DVD/BluRay from Drafthouse Films!
THE WORLD OF KANAKO (2014)
Directed by Tetsuya Nakashima
Written by Tetsuya Nakashima, Miako Tadano, Nobuhiro Monma (screenplay), based on the novel by Akio Fukamachi
Starring Kôji Yakusho, Nana Komatsu, Satoshi Tsumabuki, Hiroya Shimizu, Fumi Nikaidô, Ai Hashimoto, Jun Kunimura, Joe Odagiri, Miki Nakatani, Aoi Morikawa, Munetaka Aoki, Asuka Kurosawa, Mahiro Takasugi, Shôno Hayama, Hiroki Nakajima, Hitoshi Hoshino
Find out more about this film here and on Facebook here
Reviewed by Ambush Bug
Fitting more accurately into the realm of a hard biting detective noir, THE WORLD OF KANAKO is a visual and emotional cannon blast of a movie.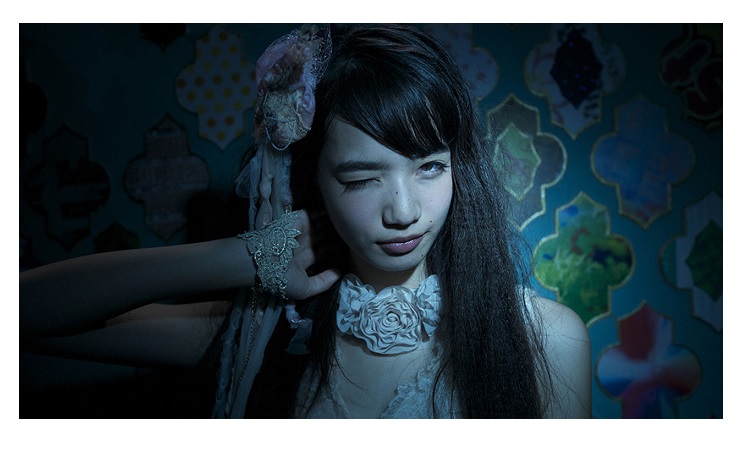 A washed up police detective Akikazu Fujishima (Kôji Yakusho) risks his life and limb to find his missing daughter Kanako (Nana Komatsu), but the deeper he digs, the seedy details about his estranged daughter's life are revealed involving drugs, prostitution, and even murder.
Elements of TWIN PEAKS are evident in THE WORLD OF KANAKO, in that a seemingly innocent girl is involved with all sorts of deviant behavior unbeknownst to her family. But the arduous journey Akikazu takes to find his daughter is much more reminiscent of George C. Scott's performance of a father trying to track his daughter down in the film HARDCORE. Yakusho is amazing as a man obsessed with finding his daughter. He's not likable. He's an alcoholic, an abuser, and an angry man, but it's fascinating seeing him barrel through his life like a raging bull stopping at nothing to uncover the truth. The deeper he goes, his rage and sorrow for failing his family intensifies and it's shown on Yakusho's strained and clenched face all the way. It's fascinating and excruciating to see this brutal journey.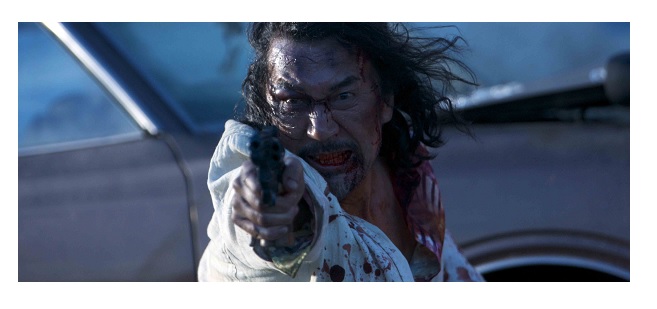 But this is no mopey and angst ridden film. This film is vibrant and alive from the very first frame. Tetsuya Nakashima intersperses anime, old school grindhouse edits, and hard-bashing in-your-face action to make every minute exciting. The film moves at a rapid pace and never lets you catch your breath. Every time Akikazu is hit or hits someone, there's an animated splash of blood. But it's not just brutal imagery, Nakashima slows the pace down enough to watch a shower of snowflakes gently fall to earth. Be it a shot of twinkling lights or the most gnashing bits of carnage, everything looks gorgeous.
I loved this film and though it's not straight up horror, it's down in the dirt brutal and shouldn't be missed by fans of OLDBOY and other stories of bitter vengeance. Through the breathtaking visuals, the rapid-fire editing, and a heart-wrenching story of obsession, betrayal, and woe, THE WORLD OF KANAKO is simply stunning cinema.
---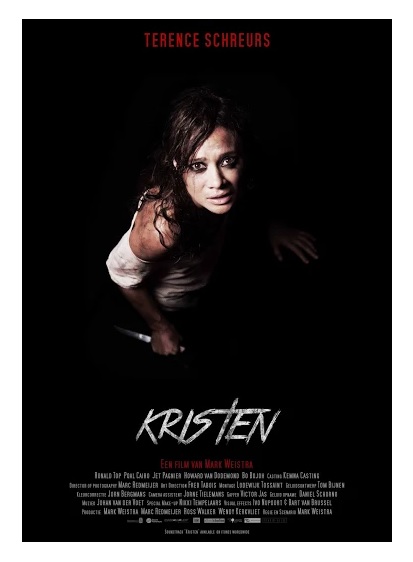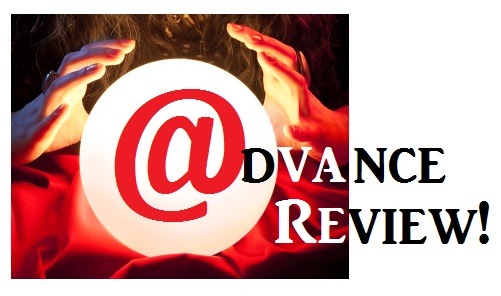 Advance Review: Playing at the Imagine film festival in Amsterdam in April!
KRISTEN (2015)
Directed by Mark Weistra
Written by Mark Weistra
Starring Terence Schreurs, Poal Cairo, Jet Pagnier, Ronald Top, Howard van Dodemont
Find out more about this film on Facebook here
Reviewed by Ambush Bug
Unpredictable and engrossing, KRISTEN is a film, once seen, will not be forgotten soon. It's a dark descent into madness that at times is cruel, at times is beautiful, and at times downright terrifying.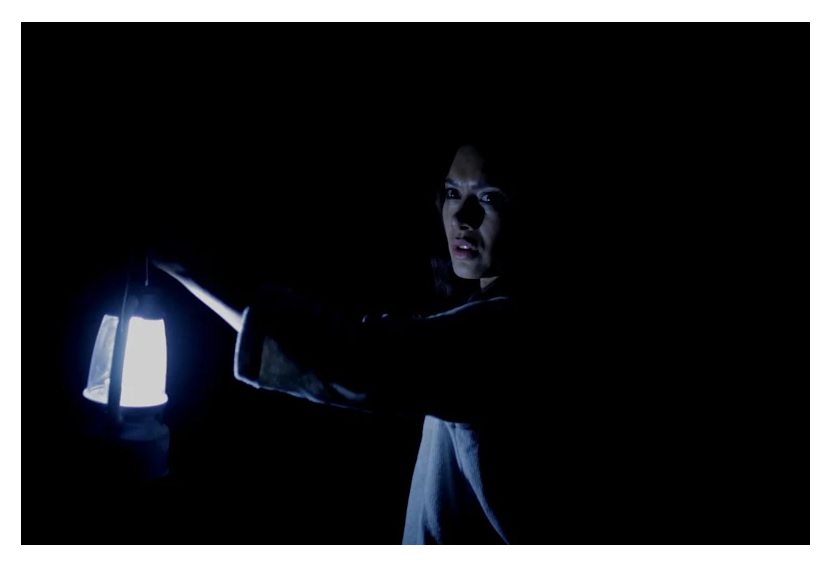 A young woman named Kristen (Terence Schreurs) who goes to her father's bar after hours to clean up after the night's festivities. Busy at work and alone, she soon hears a knock at the door and then a call on the phone from a stranger. At first the stranger seems kind and harmless, but his calls start becoming more sinister and soon, Kristen is petrified that whomever is outside will break inside any moment.
The original BLACK CHRISTMAS and the first half of the original WHEN A STRANGER CALLS have some of the most favorite and most terrifying moments I have ever seen on screen. As a simple stalker movie, KRISTEN is magnificent. The way the scares are ratcheted up inch by intense inch makes every second of this film pretty gripping. The woman alone with the stalker outside or on the phone is always one to send chills up my spine. But this isn't a simple stalker movie. Halfway through it becomes something else as the world that Kristen knows crumbles around her into little pieces. The rules of the game are changed halfway through and that's what makes this film so successful. The change is pretty seamless and only makes things more terrifying.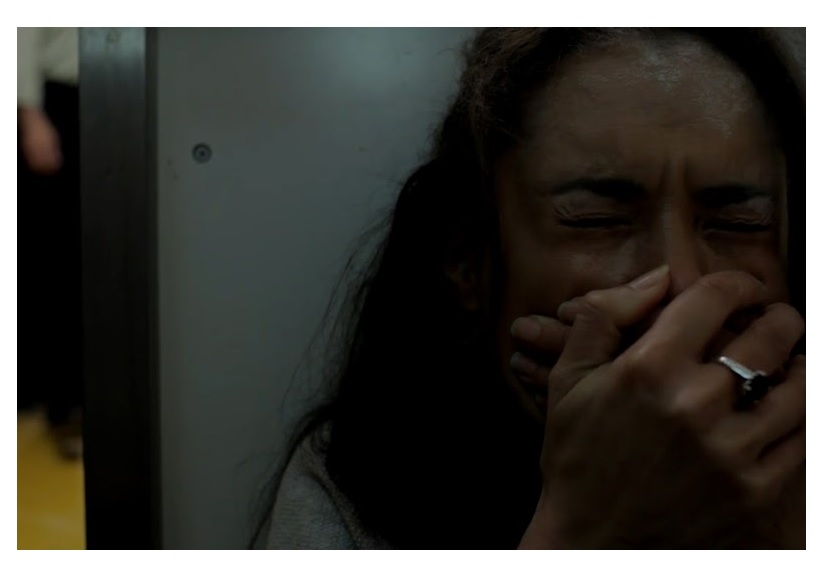 Personable and down to earth, Terence Schreurs is a fantastic actress. As the walls close in on Kristen, we are trapped in that small bar with her because she captured so much of my interest. When things start getting dark and dire, I couldn't help but care because of the strength of her performance here. This film is pretty much a one woman show and Schreurs does a fantastic job carrying the whole thing.
I also have to bring note, without revealing too much of the twisty and turny plot, to the subtle, but horrifying effects that are going on throughout the latter half of this film as reality starts peeling away. This is not an over the top effects extravaganza, but the effects that are used, paired with an expert use of endless darkness and deafening silences, makes KRISTEN one hell of a nightmare. Claustrophobic and spine-rattling, KRISTEN is one alone in the dark film that will leave you screaming.
---
And finally…here's another episode of HORROR BIZARRE, an ongoing short anthology series that I've featured in this "And finally…" section before. This is a lengthier segment called "Ghost Hotel" which runs longer than most shorts I feature here, but packs a heck of a spooky punch. This one is written and directed by Raymond Dullum and is exactly what it says it is; a couple wants to reopen a hotel, but they quickly realize that there is something strange going on at the hotel, putting their plans and lives in grave danger...

Check out this Norwegian short that may be a bit unsafe for work.
---
See ya next week, folks!

Ambush Bug is Mark L. Miller, original @$$Hole/wordslinger/writer of wrongs/reviewer/interviewer/editor of AICN COMICS for over 13 years & AICN HORROR for 4. Follow Ambush Bug on the Twitters @Mark_L_Miller.



---
Look for our bi-weekly rambling about random horror films on Poptards and Ain't It Cool on AICN HORROR's CANNIBAL HORRORCAST Podcast every other Thursday!
---
Find more AICN HORROR including an archive of previous columns on AICN HORROR's Facebook page!