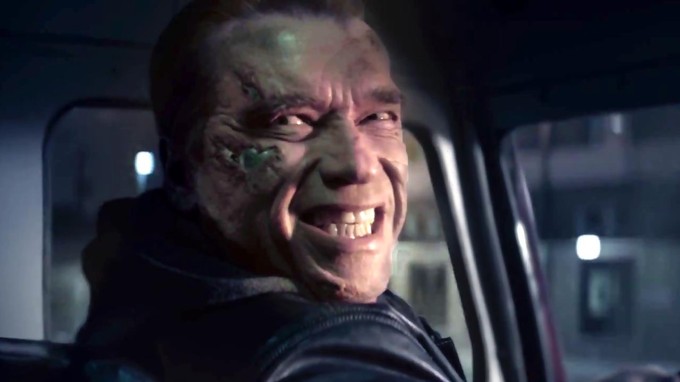 Like some had predicted would happen, STAR WARS got pushed back seven months today, which has obviously forced a bunch of other films to shift their release date to accommodate the inevitable behemoth. But one film's been lopped off the schedule completely; the follow-up to TERMINATOR: GENISYS.
T6 (which is hilariously being referred to as "Terminator 2" in the trades, as if) was scheduled to be released the week prior to SW: EP 8's previous release date, on May 19th of next year. However, Paramount has now set their BAYWATCH movie for that date, and has yet to announce their new date for the latest TERMINATOR movie.
I can't be the only one suspecting that this is the final death knell for the franchise, despite it's $440 m worldwide cume. Remember when those rumors came out that Paramount was putting the TERMINATOR franchise on hold "indefinitely"? Well, GENISYS' rep certainly hasn't improved in the interim, and I'm thinking dismal home video sales could definitely be a red flag as to the franchise's continued viability, at least stateside. There doesn't seem to be a lot of demand for this one, nor a lot of forward movement for a film that's set to come out in less than a year and a half, so I'm thinking this is Paramount finally throwing in the towel.
But who knows, maybe they're just scrapping their initial plans of banging out two more TERMINATORS over the next two years, and are rejiggering their approach to keeping this franchise going. All we know is, we won't be seeing any T-800s, T-1000s, or any other model come May of next year.
Anyone out there bummed that they won't be getting their TERMINATOR fix in May '17 as expected?