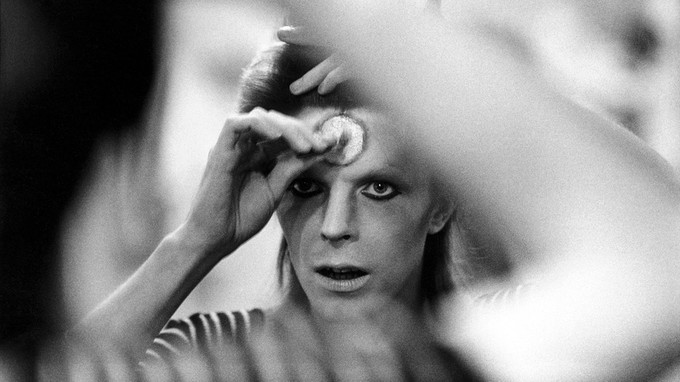 Hey, guys. Quint here. Well, 2016 is determined to kick off on a bummer note, isn't it? Like most of you reading this I was blindsided by the soft, quiet and casual announcement post Golden Globes that David Bowie passed away today, surrounded by his family after a lengthy, but private, battle with cancer.
The world already feels different. I'm not crying as I write about the man, but I feel a profound sense of loss, as I'm sure most of you reading this do. I never met the man and never saw him perform, but I weirdly feel the sense of depressing confusion that you'd get when someone you actually know dies.
In my head I knew that he'd go eventually, just like I know I'll eventually shuffle off myself, but that's an abstract. I knew it, but didn't understand it, if that makes any sense. I guess in some way I figured Bowie still had so much to give us that I considered his eventual passing to always be "sometime later."
And I'm saying this as someone who isn't obsessed with his music. I mean, I adore it. I'm a human being with ears, after all. I just don't know it inside and out, which only now occurs to me to be a bit of a blessing because there's undoubtedly hundreds of Bowie songs that I can discover over the course of my life.
While I am very familiar with Bowie's early output, I admit to getting a little hazy on his more recent stuff. Instead of listening to Young Americans or Hunky Dory as I try to do the man justice I'm instead streaming his newly released album Blackstar, which is a trip, by the way. His voice is still as strong as ever, giving no hint at all of the life or death struggle he was waging every day while recording this.
Listening to Blackstar now is a bit of a gut punch. If he wasn't saying goodbye with this last bit of art then it's a bizarre coincidence that so many of the tracks are about letting go or going away or straight up dying.
While Bowie's impact on the music scene is immeasurable, I'm a 1981 baby, so naturally I first knew of him not as Ziggy Stardust, but as The Goblin King.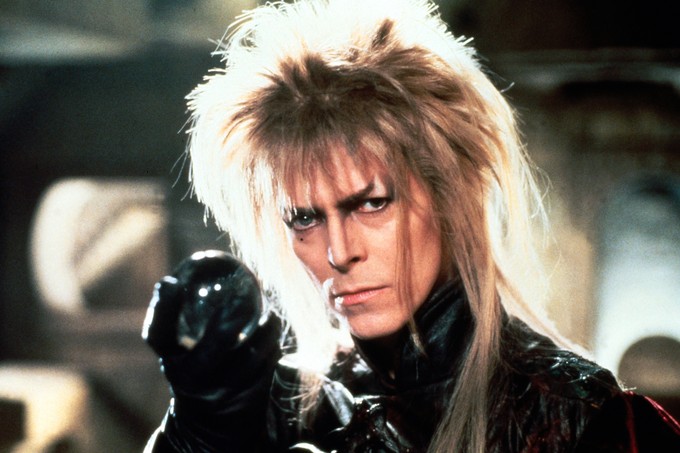 Labyrinth is a weird frickin' movie, but what's magical about it is that it only gets weirder the older you get. Casting Bowie as Jareth, the stealer of babies and tester of beautiful teenage girls, is a mean bit of inspiration itself, but choosing to make the heartbeat of the film Bowie's voice on top of that was a masterstroke.
Magic Dance, of course, is the hook. "You remind me of the babe (what babe?) the babe with the power (what power?) the power of voodoo (who do?) you do (do what?) remind me of the babe." Listen, even as a young boy I had a crush on Jennifer Connelly, but after that number is there any kid on this earth that would have chosen to go home instead of dancing with Bowie and his Henson-created Goblin army? No way.
I was a movie kid through and through, but I was also raised by a mother who was a frustrated hippy, so the music that played in my house was the good stuff. Beatles, Beach Boys, Stones and all sorts of '50s, '60s and '70s rock, so it wasn't very long before I explored more of Bowie's early stuff. It's cool in a way, to have Labyrinth be the gateway drug. That film and performance without a doubt prepared me for the weirdness of his Ziggy Stardust period.
His other film work wasn't exactly suitable for his Labyrinth fans, but that made it all the more exciting to stumble upon in my teenage years. Case in point: The Man Who Fell To Earth.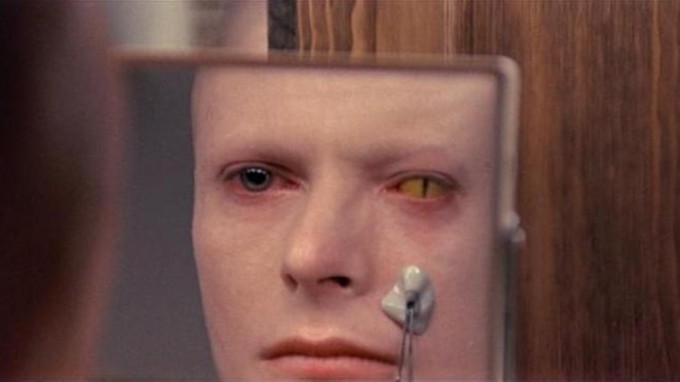 Watching something as experimental as The Man Who Fell To Earth carries an extra bit of weight when you catch it at an impressionable age. I think if I had waited until true blue adulthood Nicolas Roeg's tale of a space alien drawn to Earth for its water only to find himself a businessman would likely have been dismissed as a hippy-dippy anti-consumerism soap box, but much like Bowie's music itself it became an important bit of permission to test out new ideas and thoughts while I had one foot in adolescence and one foot in adulthood.
I wouldn't say The Man Who Fell To Earth is one of my favorite movies, but it's an important one for me.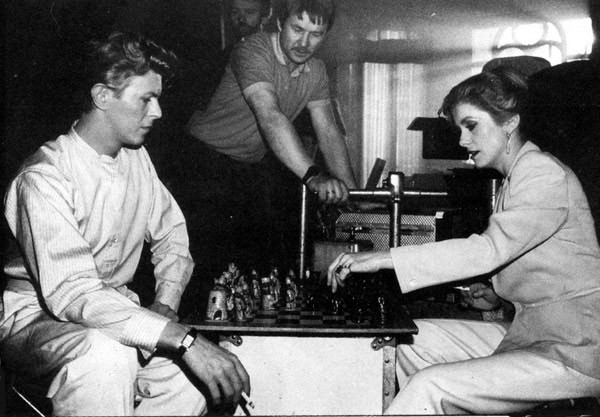 The Hunger, now there's a great movie. Once again, Bowie seemed to be drawn to the weird thing, this time a nutty vampire tale spearheaded by Tony Scott and featuring some incredible aging make-up work by the late, great Dick Smith. The Hunger is one of the great of-its-time movies. You can not make The Hunger today. Well, I guess you could, but why bother?
Merry Christmas Mr. Lawrence is one I watched, but have very little memory of. The only specific thing that pops into my mind is the image of Bowie buried to his neck. This one's due a revisit, for sure.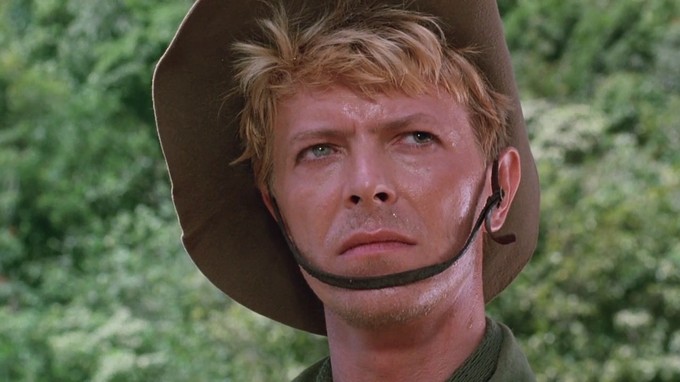 Bowie's post-Labyrinth film appearances were eclectic, to say the least. He played Pontius Pilot in Scorsese's The Last Temptation of Christ, popped up on HBO's Dream On, played Andy Warhol in Basquiat and even had a weird walk-on role in Twin Peaks: Fire Walk With Me.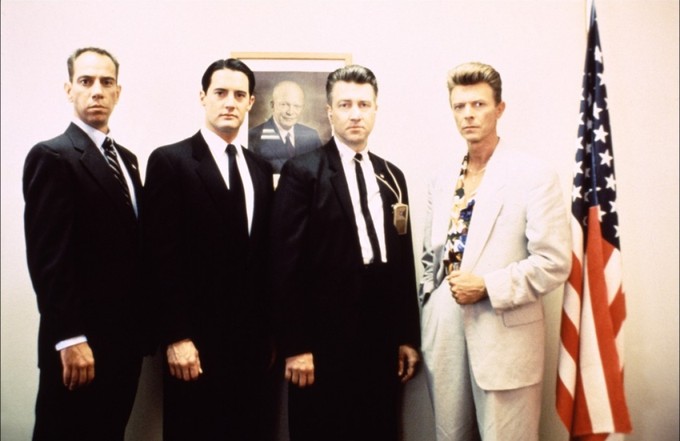 Most of his film work in recent years was in the cameo variety, playing himself in Zoolander, Extras and even Bandslam. But he did provide us one more great cinematic turn, playing none other than Nikola Tesla in Christopher Nolan's The Prestige.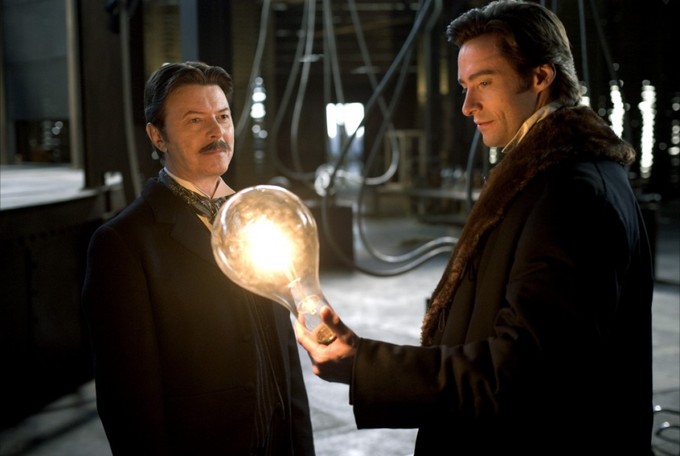 Bowie's role is small but crucial and in the few minutes of screentime he has in The Prestige he reminded everybody that he was not just a singer who showed up in movies sometimes. The conversation about what Jackman's character is willing to pay for his obsession is enthralling and just thinking about that scene makes me want to rewatch the movie.
If you just look at Bowie's impact on music that would be enough to cement his legacy as an all-time great, but thankfully for us film fans he wasn't content to stick to just one artform. He gave us brilliant turns in experimental movies, real deal dramas, nutty horror movies and even children's entertainment and never once brought less than his full attention to a project.
Bowie's passing is one that took me by surprise and I'm finding the sadness hard to shake, but not overwhelmingly so. When I think back on his career I can't help but smile because I know that his distinct mold-breaking voice will sing out for hundreds, if not thousands, of years. As long as there are ears to listen, people will take in his art and note the impact he had on mankind.
It's not like he has disappeared, just passed over to whatever's next.
As a wise man once said: It's only forever. Not long at all.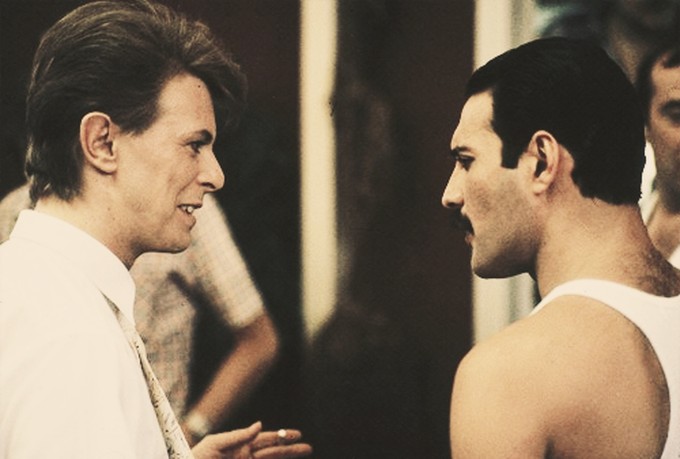 I'll leave you folks with a bit of a hodgepodge of Bowie's work, jumping back and forth between his film and music highlights. Hope it brings a smile to your face.
-Eric Vespe
"Quint"
quint@aintitcool.com
Follow Me On Twitter