Hey folks, Harry here with my top ten of 2015.
A Film Writer's Top Ten list is a fingerprint into the psyche of the film watcher. You'll find many of the same films, but in different orders and for entirely different reasons. For me – this is where my brain was at this year.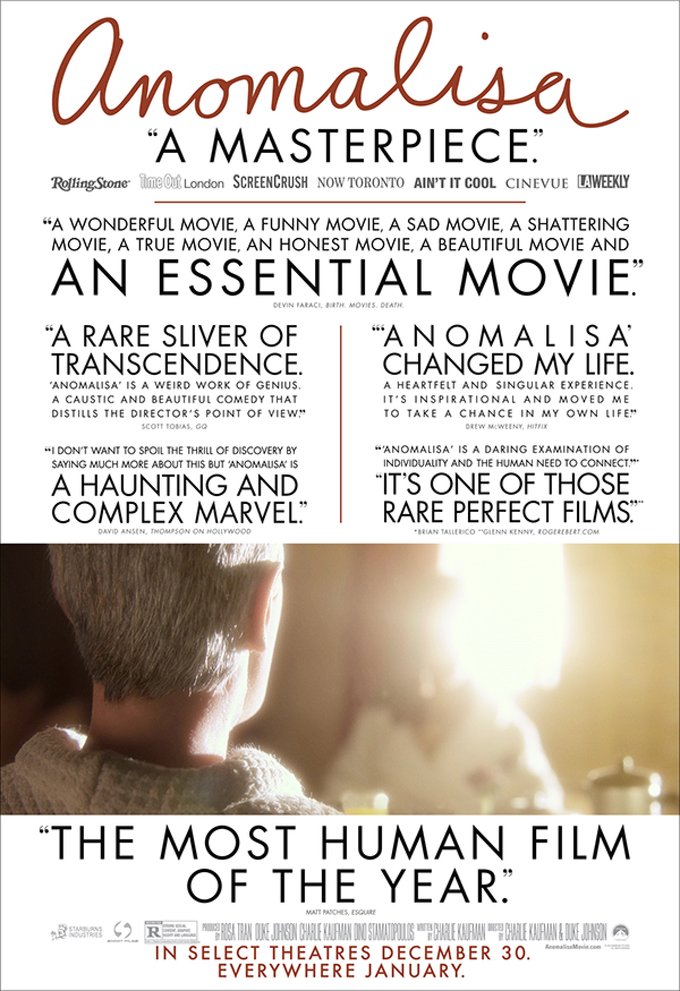 1. ANOMALISA – As close to a miracle of cinema as we get. I love animation, specifically stop-motion animation. It's a form that was very nearly my gateway to loving film. My father telling me that they're toys being moved by the unseen hands of the artists behind the films… it's amazing. ANOMALISA is more human than human. Charlie Kaufman wrote such a wonderful, existential middle aged nightmare, with a huge pulsing heart that was fragile and psychotic and beautiful all at once. It was like Arthur Miller writing an inspired piece of humanity after reading some Kafka and Bukowlski. That's a miracle. And it comes across so effortlessly perfect. Charlie Kaufman directed this with Duke Johnson who directed the MARY SHELLEY'S FRANKENHOLE, which is a great great series of it's own, but here… He's working with, very probably the best writer in cinema today. Kaufman's work is extraordinary, but him working in tandem with Duke Johnson produced magic. I know in a million years, the Academy won't nominate David Thewlis, Tom Noonan or Jennifer Jason Leigh – because they simply don't get it. But the performances of their voices and the animation – have created something we've never really seen in the history of animation. This is a towering achievement that can not be crowed about enough. We're blessed to have it in our theaters.

2. THE WALK – Robert Zemeckis' THE WALK walloped me. It caused palpable physical reactions in me that I've just never experienced watching a film before. My hands began sweating, my heart was racing and all at once I was falling madly in love with Robert Zemeckis all over again. Here was a MISSION: IMPOSSIBLE movie where nobody died, where the impossible mission relied on the skill, courage and fates. Now, I love MAN ON WIRE too, the James Marsh documentary detailing the beautiful insanity of Philippe Petit's magnificent walk, and while that shows exactly what he did, I loved Joseph Gordon-Levitt's performance of Philippe Petit. I love the story of a man who fell in love with walking on a wire and dreaming of the most perfect place to place his daredevil line. I love that it was a covert mission that only ever endangered the man with the cajones to walk out on that wire. To see a view that only he could ever see. The type of film this is, is SPECTACLE. To me, it harkens back to watching a film like MILLION DOLLAR MERMAID with Esther Williams, where she played Annette Kellerman, the inventor of the one-piece women's bathing suit and caused quite the ruckus of her own. It's the celebration of a mad artist that sees the world as his stage and dares to conspire with people he can affect with his passion for his insane dream. I found the experience to be one of the most purely exhilarating experiences I've had with a film – and I wasn't expecting to be hit by the film as powerfully as I was.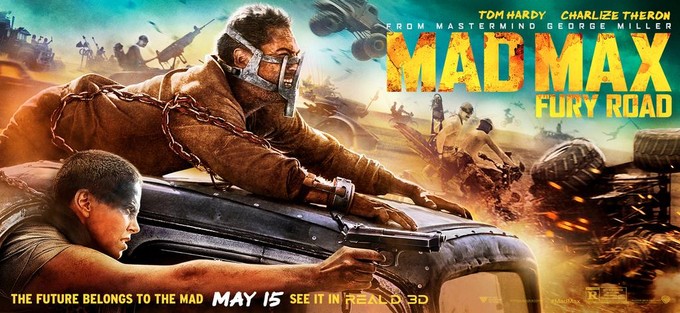 3. MAD MAX FURY ROAD – Like STAR WARS: THE FORCE AWAKENS… I've been waiting for the next MAD MAX movie like a fiend. When I saw it. Wow. I remember back in the 90s, when the world was going mad in love with the balletic violence of John Woo & Ringo Lam. I was right there with them, but I always held the best action film in history was THE ROAD WARRIOR aka MAD MAX 2. Although, personally there's a part of me that loves the original MAD MAX, just because it's Max's origin story – and I absolutely love the Toe Cutter! And… the sad way the world seemed to be dying. MAD MAX FURY ROAD is transforming MAX into a SHANE style character in massively more epic universe than we've seen Max in before. And yet, we come away from MAD MAX FURY ROAD – obsessed with everything buy Max. Instead, it's the FURY ROAD we're obsessed with, Charlize's incredible IMPERATOR FURIOSA… We're obsessed with IMMORTAN JOE and his War Boys like NUX. The story is about women fighting to no longer be the possessions of diseased insane men. I don't think the WASTELAND has ever felt as purely mythic. I think JOHN FORD would pay to see this over and over again if he were still around, cuz George Miller learned everything from him, but just ran in a completely new direction with it all. This is pure cinema unleashed.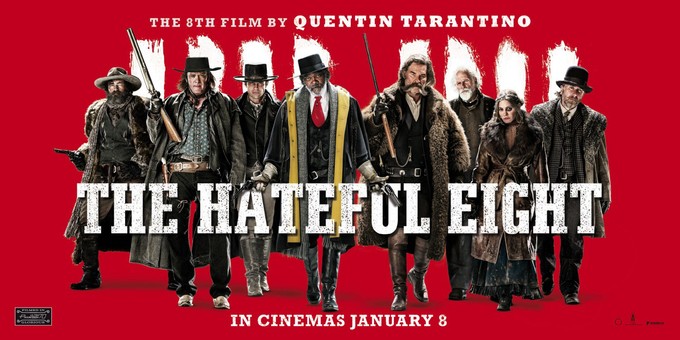 4. THE HATEFUL EIGHT – God Bless Quentin Tarantino. I love THE HATEFUL EIGHT. It's a wholly different film experience from Quentin, while still being essentially a theme we've followed from RESERVOIR DOGS to here. Bad people in a room that's gonna get plenty bloody. Every character is a delight to watch bloom in this bloody haberdashery in the midst of a blizzard. Ennio Morricone's score for this is wonderfully unsettling. Kurt Russell's John Ruth is the Cock of the Walk of the film, he's the Hangman, and if he gets you, you hang. But even grander is Samuel L. Jackson's Major Marquis Warren. Sam's the man and nobody does Quentin's dialogue better. His showdown with Bruce Dern is the best scene between two characters in cinema this year… Until you get to the ending. Walton Goggins' Sheriff Mannix is a real break out character. The film is exquisitely paced, shot and is a true ensemble film in the most gracious of manners. Everybody gets a moment to shine. I can already feel myself quoting dialogue in my head – and if nothing else, that Tarantino got Morricone to score another western after so long.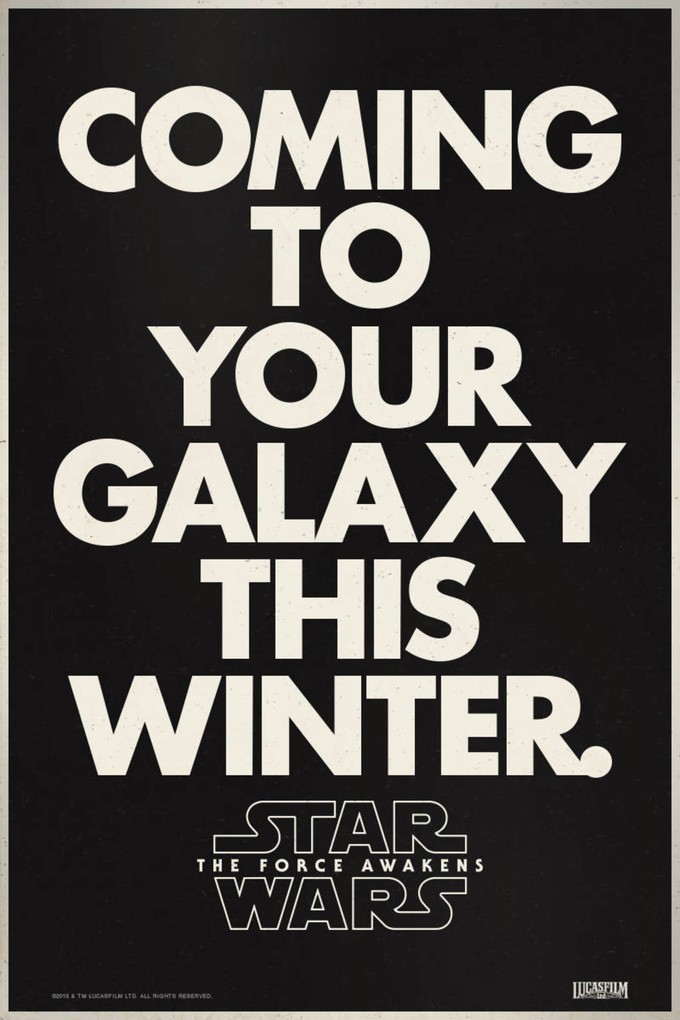 5. STAR WARS: THE FORCE AWAKENS – Given time, this will probably definitely be my favorite film of 2015, but I do feel the four films above are easily better, stronger films, but STAR WARS has an unfair advantage of HOLY SHIT NOSTALGIA, combined with HOLY SHIT DISCOVERY. For some this has been a 3 year road, but I've been speculating about the idea of the next film in the Star Wars saga for 33 years, and this was damn satisfying the four times I've seen it. There isn't a moment of the film where I'm not happy, though I still really wish we'd gotten to see that scene in Maz's where Chewie was to rip Simon Pegg's arm off. I've always wanted to see a Wookie do that! The biggest fault with the film is that it ended. But right now, you look at these 5 movies – and it's a friggin miracle we have a year where there's five films where I feel spoiled for getting a year quite this delightful. Playing to the film lover, film geek and inner child so effortlessly. Cinematically speaking, we're having a helluva time.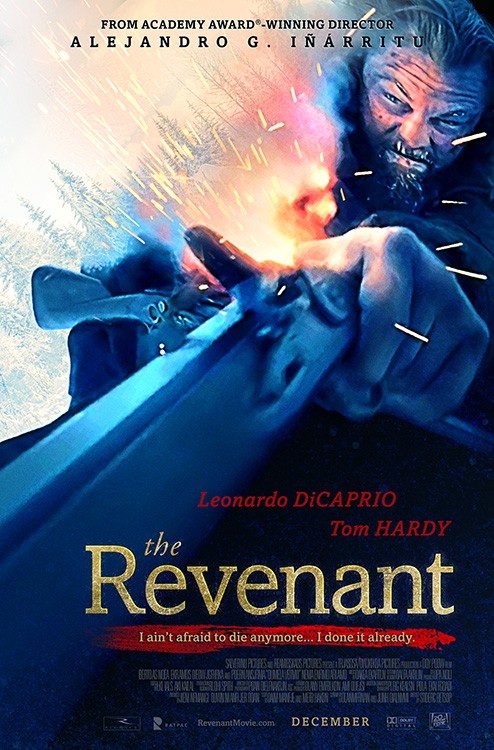 6. THE REVENANT – I've only seen THE REVENANT once, at BUTT-NUMB-A-THON as the end capper – and the film blew me away! The dialogue of HATEFUL EIGHT – and the depth of characters made me feel that it was the superior film, but my fever dream that was watching THE REVENANT was spectacular. How two Westerns set in the blowing snow, with exquisite landscapes and perfect lighting… The opening battle in THE REVENANT is so great it'll leave you shaken. Dialogue isn't this film's forte… it's naturalism and ferocity. This is a film that conjures the awesome of JEREMIAH JOHNSON and THE MAN IN THE WILDERNESS or A MAN CALLED HORSE… but it's all done with a finesse and a grandness… that's all Alejandro Gonzalez Inarritu's signature. DiCaprio suffers as much as any man has ever suffered in cinema history. The Bear sequence is… astonishingly well done and brutal in a way that makes you never ever want to go camping again. Same nightmare quality as JAWS. Ferocious animal attacks are jus… ungodly terrifying. Then there's Tom Hardy, these characters aren't big into exposition, instead you must look at them and judge them based on what we witness – and upon the surface, Tom Hardy's John Fitzgerald is a greedy, cowardly, ferocious bad guy. However, I was taught never to judge a man till you walked in their shoes – and a deeper look at Hardy's Fitzgerald – he's a man of pain and loss. Taught through lessons carved in flesh. It's easy to call the character a racist, but then, this man had been scalped. The raid at the beginning of the film was endangering years worth of hunting and trapping, wasting years of this man's life. Friends killed. Savagery. Sure, he is the invader to these lands, but this is the time of manifest destiny where these men went out into the wilderness to carve themselves out a better life. By the time Leo's Hugh Glass and Tom's John Fitzgerald meet to settle up, it's some legendary awesomery. Stunning film.
7. CAROL – I've been a fan of Todd Haynes' work since SAFE back in 1995, but I really love VELVET GOLDMINE. I have to admit, CAROL was a film that appeared on my radar late – and even when I looked it up to learn more – I still didn't have even the faintest grasp of the movie I was yet to see. Once I was seated for it, I was enraptured by Cate Blanchett and Rooney Mara. What resonated with me more was the notion of a Lesbian affair in the 1950's of New York. My great aunt fell in love with a black woman in 50's New York – her story couldn't be more different, but I imagine going out in that era – with a verboten life style. The film reminds me of Martin Scorsese's THE AGE OF INNOCENCE – the delicate nature of affection in the chaste times of yesteryear. When the slightest touch was the height of eroticism. But more, I felt Cate Blanchett's titular CAROL gave me a picture of my great aunt, that I never had before. I only knew her after she had the "Gay" electroshocked out of her. At times you could see such a sweetness, at other times such kindness… but watching CAROL – showed me who she might've been had my namesake Great Grandfather not been a bit of a monster. The performances are note perfect, the period work was exquisite. Took me to a place and time and character that I've not quite had the pleasure of meeting and being a fly on the wall for this particular tale. Beautiful work by all.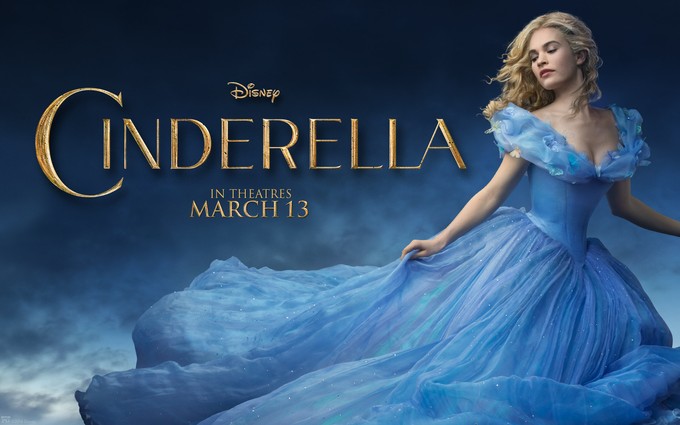 8. CINDERELLA – I know CINDERELLA came out ages ago now it seems, but this was the first film of the year that was just exquisitely precisely perfect. Kenneth Branagh simply shot a truly beautiful version of CINDERELLA. Lily James was perfect as the title character, Cate Blanchett as the wicked stepmother was so correct. Richard Madden as the prince. All of it was a perfectly told fairy tale. Branagh gets the idea of a well told tale, this was precisely in his wheelhouse – and it was perfectly executed. It was a delight from the great big desert of the year, and it was a true rose of cinema I most certainly haven't forgotten.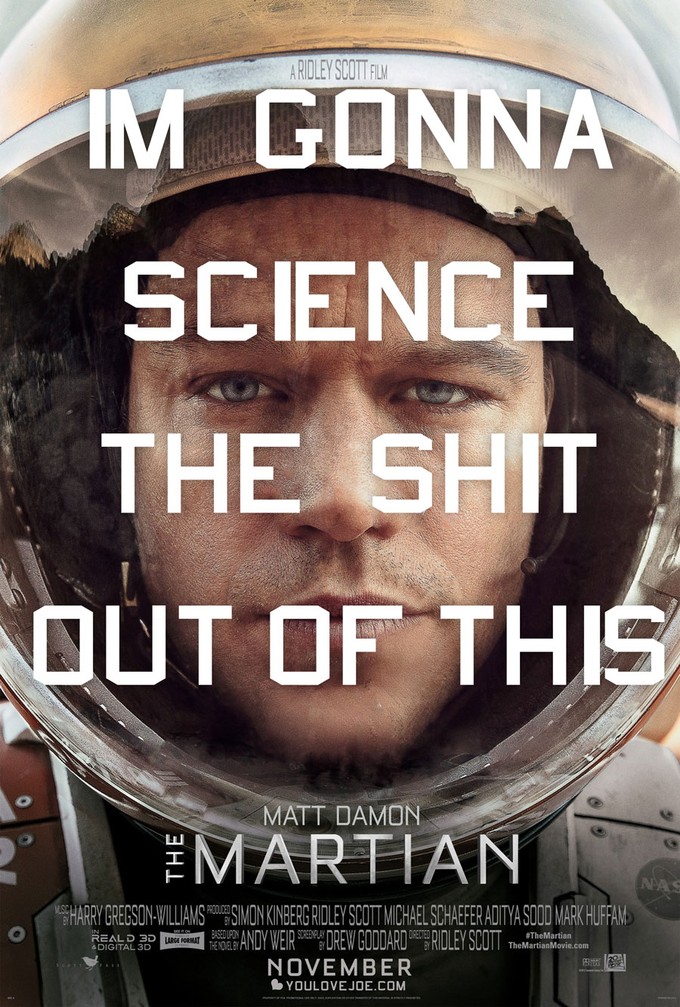 9. THE MARTIAN – Probably Ridley Scott's most perfectly directed film in a very long time. As a work of adaptation, the screenplay is perfect. The film, itself, has inspired Congress to actually increase NASA's budget, specifically for MARS! In many ways I can see how this film can be argued to be the best film of the year, as I probably could any film on this list. And probably a few that are not. I do feel this film was a full on tribute to his brother Tony Scott. At every level this film works, makes you dreamof what will one day be upon the surface of Mars and perhaps even below. Who knows for certain what 100… 200 years of Space Travel will bring to our Solar System. But I could very well imagine once we're a space faring planet that is colonizing the worlds around us… we could see this film being revered more and more. It's just a feeling I have.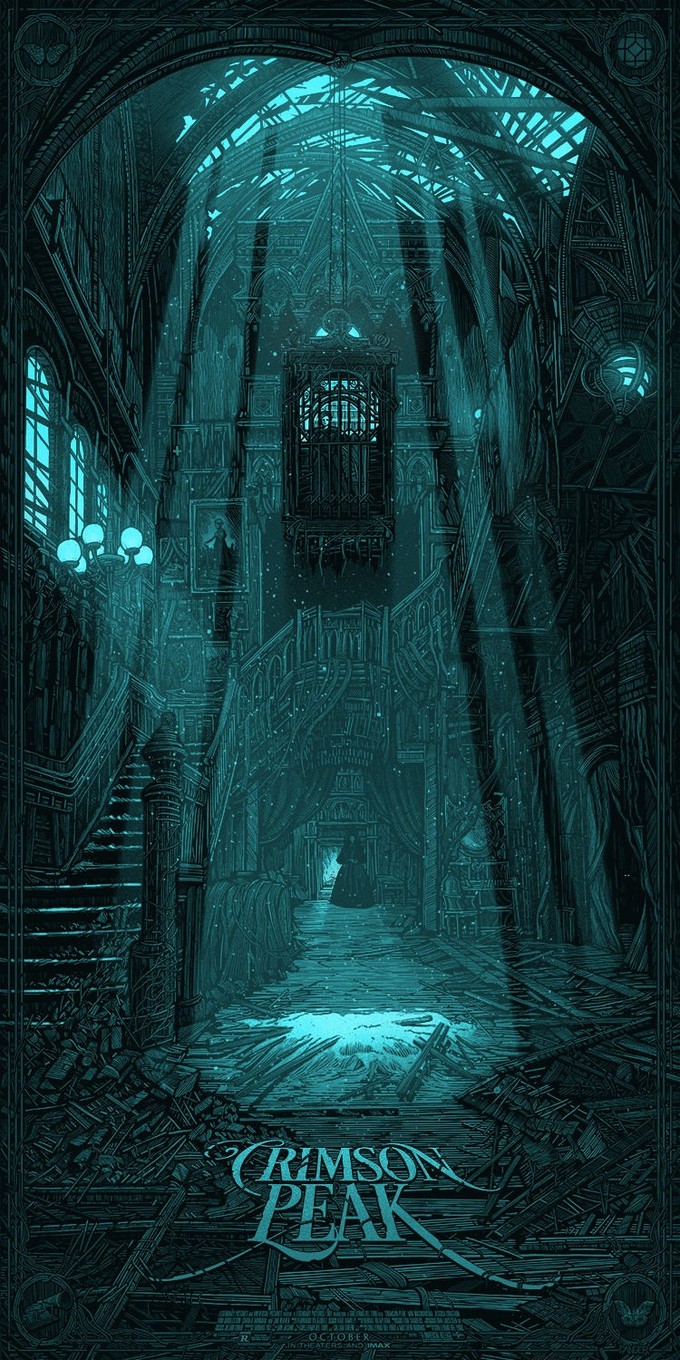 10. CRIMSON PEAK – I kinda hate the marketing that seemed to be setting up a Gothic Horror – film, when it should've been educating the audience as to what to suspect of a Gothic Romance, because that's what Guillermo served up for us. CRIMSON PEAK is a true delight by a cinema master. The colors and use of colors Guillermo gave us was as far from natural as you'd ever see, but that's how we know we're in Guillermo's head… where the light that pierces his inky blacks, will be startling and stunning artistry. I loved the evil brother/sister relationship between Tom Hiddleston and Jessica Chastain as the Sharpe Siblings, and Mia Wasikowska was a vision as the supernaturally curious Edith Cushing. And I LOVE – that as is often Del Toro's vision, the monsters were not the ghosts, but the evil we do to one another as a flawed, greedy, profane humanity. I believe this is the greatest underappreciated film of the year. It is exquisite. Watch Orson Welles' MAGNIFICENT AMBERSON, Robert Stevenson's JANE EYRE, William Wyler's WUTHERING HEIGHTS and then Hitchcock's REBECCA and most of all… Hitch's SUSPICION. Those films, along with Bava's BLACK SUNDAY and BLACK SABBATH. If after watching those films, you still don't love Del Toro's CRIMSON PEAK… I don't know what to say. I love this film dearly!
More to love:
As you can see from Capone's list of 50 best films and 20 best documentaries… it's been a helluva good year. It's very sad when Ron Howard makes one helluva a film and it gets shrugged off. I loved CREED like everybody else in the world – and I voted for Sylvester Stallone for best supporting actor for it in the local Austin Film Critic Awards. However, it didn't crack my top ten. Within the genre world IT FOLLOWS and WE ARE STILL HERE were great, but the most fun gore-fist-pumping-joygasm of a film was DEATHGASM, which felt like a powerstance rock legend in the gorgy I've waiting on. If you love over the top gore, DEATHGASM was the film of the year. The horror film that shook me and kinda fucked me up for a few days after I saw was the Turkish horror BASKIN which played at FANTASTIC FEST – I just loved it at every level. And it is a total mindfuck! Love that. Marvel kicked my ass with AVENGERS AGE OF ULTRON and ANT-MAN was just absolute sweet happy loving! Spielberg's BRIDGE OF SPIES was about as perfectly crafted film, that I could just absolutely imagine watching it alongside INHERIT THE WIND or JUDGEMENT AT NUREMBERG – and it fits perfectly. It is just classically constructed. Then there's INSIDE OUT – which was brilliantly told, in such a way that it helps you to understand your own emotions and mind processes… all while making you cry and laugh… often at the same time. EX MACHINA was the best First Time Director effort of the year for me. Alex Garland spiked that film in the end zone and dared us to watch his rather brilliant AI tale. SICARIO just made me feel sad. It's badass. Denis Villeneuve's films all have an ugliness & brutal reality that while I'm impressed, find nothing lacking in. It just isn't a film I'll be taking with me from this year like the 10 above. But nevertheless… it's fantastic. Tom McCarthy's SPOTLIGHT is another film where there ain't a damn thing wrong with it, it's perfectly executed and performed. But the way so many in media are absolutely fawning over it, reminds me of a saying of a friend of my father's used to say, the Media loves to Masturbate Over Their Station in this World. And it is true. But it is certainly no ALL THE PRESIDENT'S MEN. At least not for me, that film is in my all time top ten and hasn't moved since I was in College. I really appreciate Adam McKay's THE BIG SHORT as well as Ramin Bahrani's 99 HOMES… but like Michael Moore's WHERE TO INVADE NEXT… They're films meant to educate and enrage the audience member and they do that. THE BIG SHORT will make you despise Wall Street, 99 HOMES will make you hate the predatory housing industry – and WHERE TO INVADE NEXT will just make you want to change everything about the way things are done here in the so-called land of the free. And I hate feeling that way. It just isn't who I am.
But I know what you're wondering, what's Harry's pick for the most FUN movie of the year – and I'd have to say, KINGSMAN: THE SECRET SERVICE. Matthew Vaughn's KINGSMAN: THE SECRET SERVICE debuted at BUTT-NUMB-A-THON back in 2014, it blew the roof off the joint – and it has continued to delight me as a hero finally gets his just reward! And I'll tell you the Matthew Vaughn produced EDDIE THE EAGLE, which is coming this April – it's even more fun. Plus it has a heart that'll make you weep tears of joy! Really great fun flick!
2016!!!
As I look forward to the year of 2016, I find myself super curious about GODS OF EGYPT, mainly because I love Alex Proyas as a director and the artwork he's been showing on his Facebook account has been stunning, and he sees the film as a Science Fiction Fantasy film like STAR WARS – and I think somebody creating the Egyptian God World, like Stan Lee & Jack Kirby did for Norse Mythology with Asgard. Well, I'm fascinated. Of course like everyone else I'm dying to see the new Coen Brother film, HAIL, CAESAR! It looks to be a mystery set in 40's Hollywood – and I'm giddy as hell. My Superhero Geekmeter is going gaga over DOCTOR STRANGE, X-MEN APOCALYPSE, BATMAN V SUPERMAN: DAWN OF JUSTICE, DEADPOOL, CAPTAIN AMERICA: CIVIL WAR, SUICIDE SQUAD and hell – even TEENAGE MUTANT NINJA TURTLES: OUT OF THE SHADOWS – it's a special thing between me and my sister that I don't count on any of you to get. But TURTLE POWER FOREVER! As an Edgar Rice Burroughs and Margot Robbie fan, I'm dying to see THE LEGEND OF TARZAN! I'm wildly curious about WARCRAFT and ASSASSIN'S CREED, but I admit to not knowing the video game worlds behind them, but the casts and directors have me curious. We'll see. EVERYBODY WANTS SOME, Richard Linklater's soul brother to DAZED & CONFUSED… well, just privately, Jim Jacks has been telling me stories for ages teasing that this movie was coming… some day. He's gone now, but I know he never had anything but the best wishes and hopes for this film, glad to see it finally happening. I also find myself very curious about Michael Bay's 13 HOURS – I'm expecting it to be something very different from his bigger cinematic outings.
I'm also really excited about Jon Favreau's THE JUNGLE BOOK, ALICE THROUGH THE LOOKING GLASS and most of all THE BFG by the Beard! However, Morten Tyldum's PASSENGERS – the script is magnificent, the cast… perfect, but let's see how the execution comes to pass. Speaking of Chris Pratt project, he's also got that Antoine Fugua remake of THE MAGNIFICENT SEVEN! Very Curious indeed. Then there's those Adam Driver projects… Scorsese's SILENCE and Jeff Nichols' MIDNIGHT SPECIAL – both sound and look fantastic. Then there's those two asskickers… Jack Reacher & John Wick in JACK REACHER: NEVER GO BACK and JOHN WICK 2 – let us pray they somehow kick more ass than their originals. James Wan has THE CONJURING 2: THE ENFIELD POLTERGEIST for us, and Tim Burton has MISS PEREGRINE'S HOME FOR PECULIARS – both of which I'm quite curious about. Clint Eastwood has SULLY starring Tom Hanks as the titular character. Eastwood is always an engaging watch! We've got a new Terrence Malick project due this year, that was shot here in Austin – under a blanket of great secrecy, but every Malick film is something to await with great anticipation. Also – let us not forget that Mel Gibson is gonna slap us silly with HACKSAW RIDGE!
We get Nicolas Winding Refn's THE NEON DEMON, which I know next to nothing about – other than Keanu, Jena Malone and Christina Hendricks are starring and it's supposed to be a horror thriller – and if that doesn't get you giddy, you're on the wrong site. Another film I'd bet for being awesome is the new film from Ana Lily Amipour, which is allegedly a dystopian love story set here in Texas amongst a community of cannibals – and stars Jim Carrey, Keanu Reeves, Jason Momoa. If you haven't seen her A GIRL WALKS HOME ALONE AT NIGHT – you've missed one of the most engaging and amazing horror films in a good long while. This should be something special.
But as you can see – I'm quite excited about this year – and I haven't even mentioned the movie about stealing the fucking plans to the fucking DEATH STAR – and is called ROGUE ONE: A STAR WARS STORY!!! The cast is insanely great and with Gareth Edwards unleashing the full might of Lucasfilm…. I'm sure we'll all be gobsmacked. Rightfully so.
So catch up on what you haven't seen and prepare for a helluva year. God I love the movies!