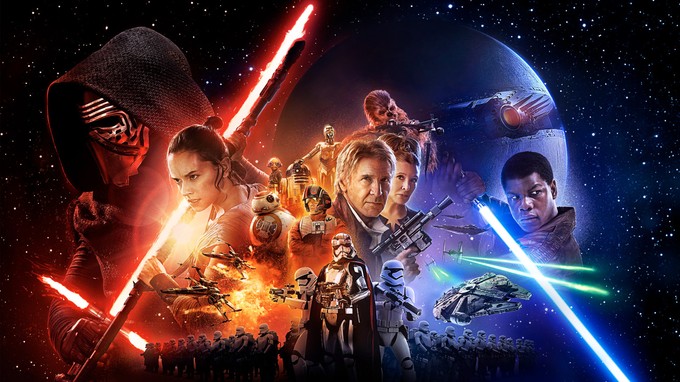 Today, Tuesday, "Avatar's" record $760.5 million domestic gross is expected to be exceeded by that of J.J. Abrams' new Star Wars movie.
As of Monday, "The Force Awakens" had garnered a domestic total of $742.2.
Get this. It took 2009's "Avatar" 72 days to hit $700 million at the domestic box office six years ago. It took "The Force Awakens" 16 days to accrue the same amount in the same territory.
Worldwide, "Avatar" remains (for the moment) all-time champ with a $2.788 billion theatrical gross grand total. In the next few hours "Awakens" will have jumped to more than $1.520 billion worldwide, taking its place as 4th biggest grosser, behind only "Avatar," 1997's "Titanic" and last year's "Jurassic World."
"Avatar" ultimately made 72.7% of its gross overseas. "The Force Awakens" begins its 30-day run in China Saturday.
ORIGINAL POST:
It took The Millennium Falcon only 12 parsecs to complete the Kessel Run.
And it took only 12 days for writer-director J.J. Abrams' "Star Wars: The Force Awakens" to gross $1 billion worldwide.
That's the fastest ever.
"Jurassic World," the year's top grosser and the third-biggest grosser in history, needed 13 days to hit $1 billion.
Disney paid $4 billion for all of Lucasfilm in 2012, and it has not yet begun cranking out new sequels to "Raiders of the Lost Ark."
Lucasfilm seems now perfectly justified in reportedly paying to Harrison Ford $25 million (plus 0.45% of the gross, which will rocket an additional $9 million into Ford's pocket when "Awakens" hits its $2 billion gross).
The $1 billion "Awakens" gross reportedly triggers (smaller) gross participation for Daisy Ridley and Jon Boyega, who each also allegedly received a flat upfront fee of $450,000 for the seventh live-action "Star Wars" movie. Carrie Fisher reportedly received $1.5 million upfront to reprise the role of Leia Organa. (No word on how much was paid Mark Hamill, who gets second billing on the "Force Awakens" poster.)
James Cameron's "Avatar" currently holds the all-time record movie gross, tallying up more than $2.7 billion worldwide.
As we post this, 94% of critics surveyed by Rotten Tomatoes have given positive reviews to "The Force Awakens." That's almost a personal best for Abrams, whose 2009 "Star Trek" movie received an RT score of 95% positive.
RT ranks "Awakens" among the three most highly rated Star Wars movies to date:
94% The Empire Strikes Back (1980; Irvin Kershner)
94% The Force Awakens (2015; J.J. Abrams)
94% A New Hope (1977; George Lucas)
80% Return of the Jedi (1983; Richard Marquand)
79% Revenge of the Sith (2005; George Lucas)
66% Attack of the Clones (2002; George Lucas)
56% The Phantom Menace (1999; George Lucas)
18% The Clone Wars (2008; Dave Filoni)
Star Wars movies will begin arriving in cinemas at a much faster pace going forward.
"Godzilla" director Gareth Edwards' "Rogue One: A Star Wars Story," the prequel to 1977's original "Star Wars," hits cinemas in less than a year: Dec. 16, 2016. Chris Weitz ("About A Boy," "The Golden Compass") receives a screenplay credit on that one.
"Looper" writer-director Rian Johnson's sequel to "Force Awakens" is slated to hit cinemas in less than 18 months: May 26, 2017.