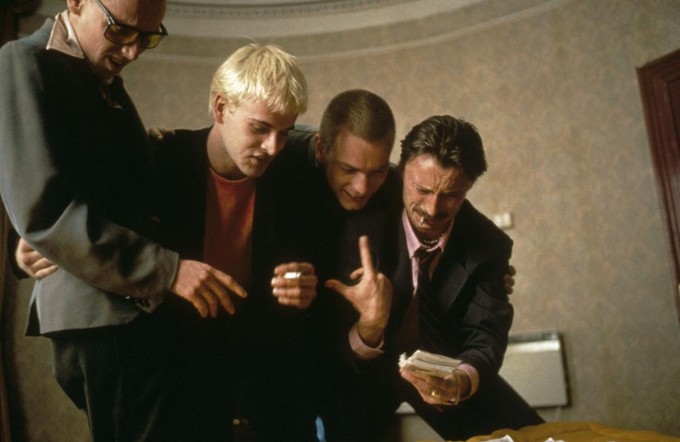 Some good news to send you off for the weekend.
Danny Boyle has been talking about doing a sequel to TRAINSPOTTING for years now, but even though he continued to trot the idea out, claiming he was waiting for the actors to age up a little bit, I had long-dismissed it as a VEGA BROTHERS-level pipe dream.
According to Borys Kit at THR, Tri-Star has bought worldwide rights to the 20-years-later sequel, which will still be based on Irvine Welsch's follow-up, Porno. Boyle will direct, and original scribe John Hodge will pen the script. The idea is to shoot this spring for a 2017 release date, which cements it as Boyle's next project.
Want to know who's coming back? Ewan McGregor, Jonny Lee Miller, Ewen Bremner, and yes, Robert "Begbie" Carlyle. No word on whether Kelly MacDonald, yet another cast member whose star power has only grown over the past two decades (BRAVE, BOARDWALK EMPIRE), will return as Diane, Renton's former squeeze.
TRAINSPOTTING doesn't get mentioned quite as much as the other mid-90s indies that dominated pop culture, like FARGO and PULP FICTION, but damn if it doesn't hold a special place with those of us who grew up in that era (my generation was a little young for the sex and drug references, but we caught on eventually). It's one of those pics, like DAZED AND CONFUSED, where you rewatch it as much to hang out with its characters as you are to actually watch a piece of cinema, and the idea of seeing Renton, Sick Boy, Begbie, and Spud be stupid together again seems slightly too good to be true. And indeed, it almost was; they were worried that they wouldn't be able to work around Jonny Lee Miller and Robert Carlyle's TV schedules for ELEMENTARY and ONCE UPON A TIME, respectively, but it seems that they've worked out whatever they've needed to to get the four principals onboard. Thank god, because
I never got around to reading Porno, and now I'm glad, because I'll get to watch the narrative play out with the cast members that helped make me fall in love with this world and its particular brand of drugged-out mayhem.
I just hope the guys have all deleted Mother Superior's number.