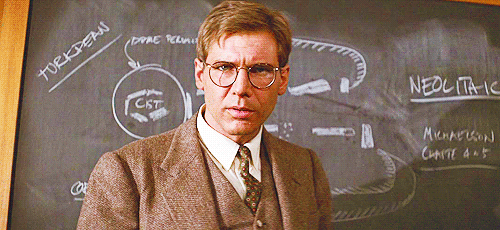 "I don't think anyone could replace Harrison as Indy, I don't think that's ever going to happen," Steven Spielberg tells Screen Daily. "It's certainly not my intention to ever have another actor step into his shoes in the way there have been many actors that have played Spider-Man or Batman. There is only going to be one actor playing Indiana Jones and that's Harrison Ford."
Spielberg's new comments confirm what franchise producer Frank Marshall told Total Film back in October: "[We're] not doing the Bond thing where we're going to call somebody else Indiana Jones."
Which means the plan is not to bring in somebody to replace 73-year-old Harrison Ford the way George Lazenby and Roger Moore replaced Sean Connery.
(Of course many besides Ford have already played Henry "Indiana" Jones Jr., among them River Phoenix, Neil Boulane, Corey Carrier, Sean Patrick Flanery and George Hall.)
While promoting "Jurassic World" last May Chris Pratt said the rumors of him being approached to take over the role of Indiana Jones were wholly false ones.
The real plan appears to be to introduce a new character into the franchise. When Total Film asked about Pratt's involvement, Marshall explained:
"There are a lot of rumours. We haven't even sat down to talk about Indy yet … at some point we'll sit down. But there's a bunch of people who could probably take the baton."
So maybe the series will continue after Indy leaves it? Will the post-Ford sequels be assigned names more like "Raiders of the Great Wall" or "Raiders of the Atlantean Tombs"?
Find all of Screen Daily's story on the matter here.