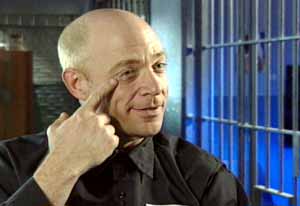 Hey folks, Harry here... There have been many rumored J. Jonah Jamesons over the past... In fact AICN was once given the lead that William H Macy was up for it... though as it turns out... that was never the case. Others have suggested that Tom Skerritt was in.... William Smith..... and fan favorite... R. Lee Ermey... who was cosmically created by God herself to play JJJ... but alas.... R. Lee does not look as if he'll be being cast by Raimi....
Currently, at this moment.... J. K. Simmons is the man with the offer on his table. Now you probably best know him from his work on the tv show OZ.... but for Raimi fans, you'll recognize him from FOR THE LOVE OF THE GAME... and this coming December in New York and Los Angeles... you'll see J. K. in Raimi's THE GIFT as well.
He seems to be one of Raimi's new.... 'fellas'.... that staple of actors that he's decided to return to and likes working with. Simmons is also.... THE VOICE OF THE YELLOW M&M!!!! which makes him pretty cool... don't ya think? But seriously... I am not all that familiar with him... I vaguely remember him in THE CIDER HOUSE RULES and FOR LOVE OF THE GAME... I've never watched OZ so... does he have cigar chomping and buzz haircuts in his skill range? I guess we'll have to wait and see. It should also be noted, that at this point the offer has been made to him, and as of yet, my sources say he hasn't necessarily accepted yet. BUT... given that he has worked with Raimi twice before.... I doubt seriously that he'd turn it down.... Though who knows? See ya....