Ahoy, squirts! Quint here. One of the highest compliments I receive year to year is when people tell me that cracking my Gift Guide reminds them of being kids and cracking open the Sears Holiday Catalog. That does my heart good because that's exactly what I'm going for every year.
I curate every single item with the goal of having the most intensive, broad and thorough gift guides out there every year.
This year saw a huge influx of Star Wars items as The Force Awakens gears up for release and it struck me while compiling the guide that I should go the extra mile and do a special Star Wars only installment, pulling every single Star Wars item from all categories and listing them in one piece.
To go back to the Sears Catalog analogy, consider this the Star Wars Pull Out section of the 2015 Holiday Gift Guide.
So, here you go. The entire Star Wars only version of the Gift Guide! May the Force be with you!
CLICK HERE TO JUMP TO PART 1 OF THE 2015 HOLIDAY GIFT GUIDE FEATURING BLUs, DVDs, ART and GEEK APPAREL!
CLICK HERE TO JUMP TO PART 2 OF THE 2015 HOLIDAY GIFT GUIDE FEATURING BOOKS, BOARD GAMES, VIDEO GAMES and MUSIC!
CLICK HERE TO JUMP TO PART 3 OF THE 2015 HOLIDAY GIFT GUIDE FEATURING TOYS, COLLECITBLES and GEEK HOUSEWARES!
DVDS/BLUS
Cheap ($24.99 and under)
You don't get anything new that hasn't already been released in high def, but you can individually buy all Star Wars films in these fancy new Steelbook editions. If you're going Star Wars crazy right now (and who isn't?) then here's your chance to bone up before Episode 7. Sadly, these are the special editions (bleh). There are rumors of the Original Theatrical Cuts being worked on, but nothing solid, so if you really want 'em and can put up with some extra CG crap every once in a while then you might want to give these a shot. The above image is for the original Star Wars and it costs $22.66.
This is Empire Strikes Back Steelbook. Fancy, I know. $22.66.
And now Jedi's Steelbook re-issue. They look really neat together, I'll give 'em that. If you want the prequels then you can search for 'em yourself, you poor bastards. $22.20.
Moderate ($25.00-$70.99)
Star Wars Rebels is legit, you guys. I've talked about how much I love this series a few times. I can't help it. Later season Clone Wars and Rebels almost singlehandedly turned me from the dark side of Star Wars fandom (ie burnt out and spiteful of the prequels) and reinvigorated my love of the universe. Just in time, too, since we got that little Force Awakens movie thing coming out in a few weeks. $33.81.
It's not John Williams himself, but rather a loving tribute concert of his greatest work, from Fiddler on the Roof to Star Wars, done by the LA Philharmonic. $25.26.
ART
Moderate ($25.00-$70.99)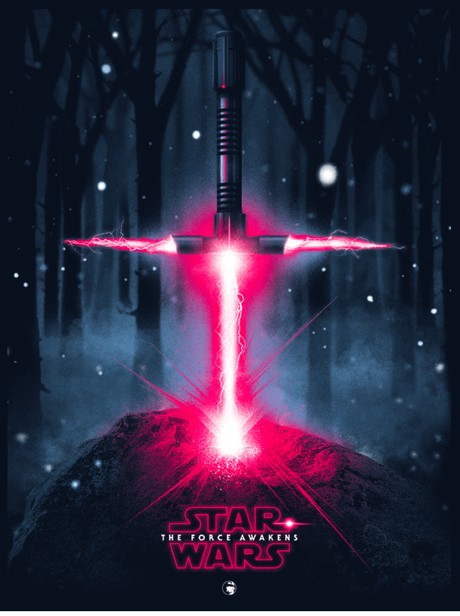 Hero Complex has this beautiful Force Awakens-inspired print done in metallic inks by Patrick Connan. Measuring 18x24 and limited to only 50 prints, if you want this pretty thing you better hurry on up! $40.00.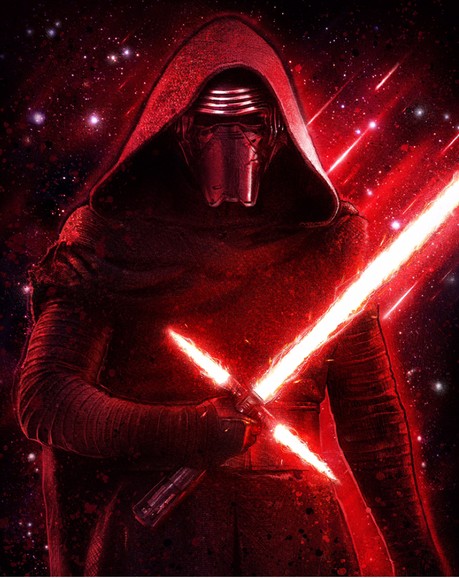 Now this is a tiny print (only 8x10), but I couldn't feature Kylo's weapon without giving him a feature as well. I don't want that dude showing up at my doorstep all butt-hurt that I didn't include him in the Guide. Great artist Paul Shipper did the above art, limited it to 250 prints, and you can get you one for $25.00.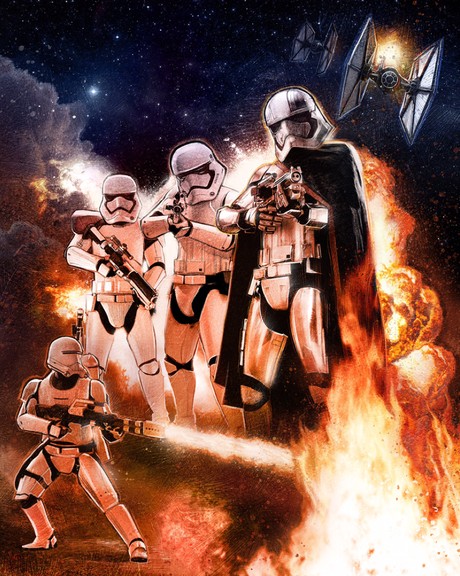 Here's another tiny Paul Shipper Force Awakens print. Same size and edition of the above Kylo piece. Same price, too. Figure that. $25.00.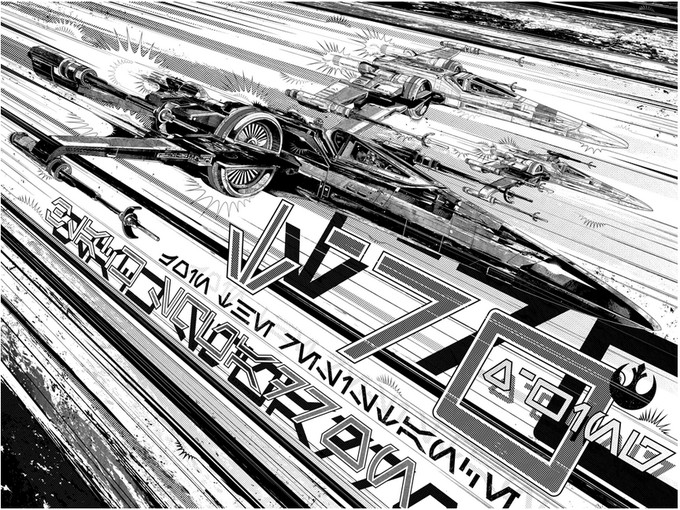 Artist Kako did a great job with this Force Awakens print featuring the T-70 X-Wing. Only 100 of these 24x18 prints exist, but you can still get your hands on them. $35.00.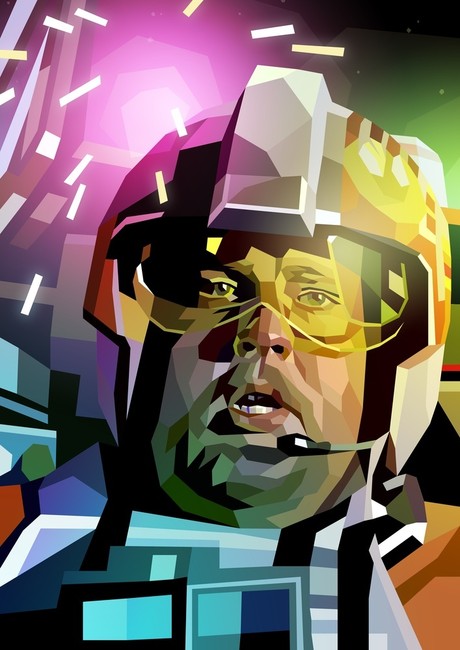 Liam Brazier has been doing a Star Wars portrait every week this year and while there are bigger stars he's covered, how could I not include Porkins? The poor, unsung hero of that first Death Star battle never gets his due, but not anymore damnit! Not anymore. $15-$80, depending on what size you want. 18X24 is $40.00.
Expensive ($71.00-$249.99)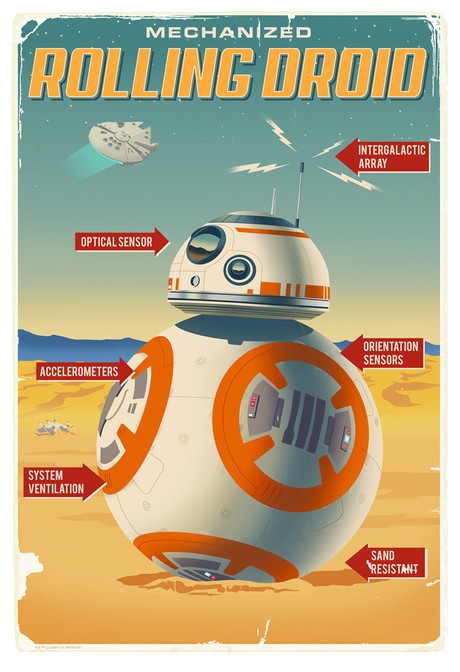 BB-8 gets his own giclee print, courtesy of Acme Archives! Hand numbered edition of 150, measuring 13x19. $89.00.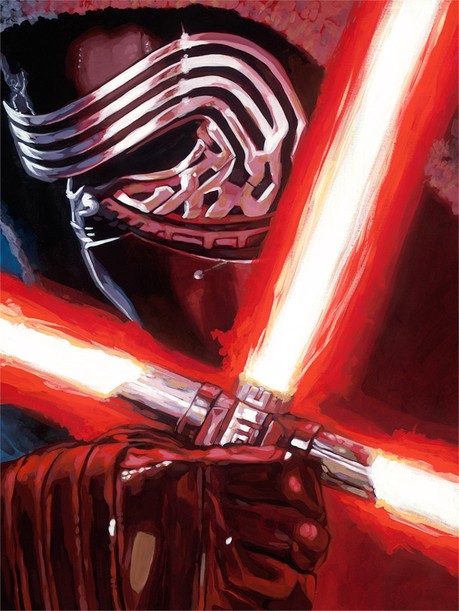 Oh, man, this Randy Martinez Kylo Ren piece is sooooooo pretty! It's incredible to me that no matter how they play out in the movie that we've already got new characters so iconic that people are obsessed with them sight unseen. I had Kylo Ren Trick R Treater come to my door this year! So, Acme has this giclee out, limited to 95 piece, measuring 16x21.25. $225.00.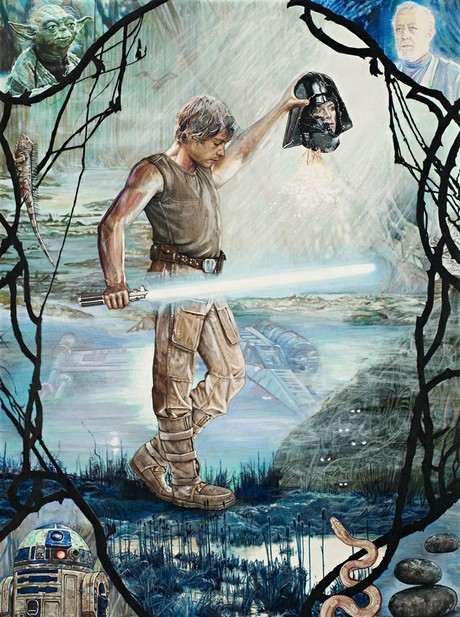 Perseus Skywalker by Jon Marro is flat out gorgeous, isn't it? Limited edition giclee, 95 hand-numbered pieces. 16X21.5. $225.00.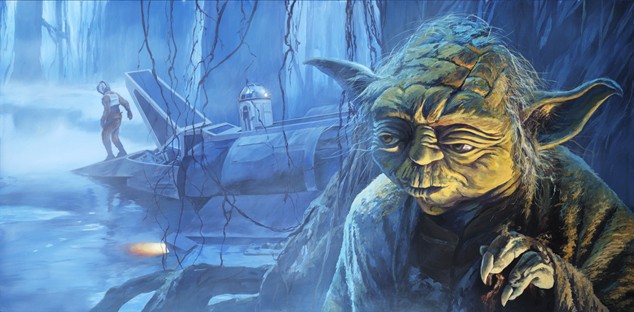 These high quality, highly detailed Acme pieces blow me away sometimes. This Yoda one in particular grabs me every time I look at it. Great work by William Silvers. Limited to 200 giclees, 12x24. $175.00.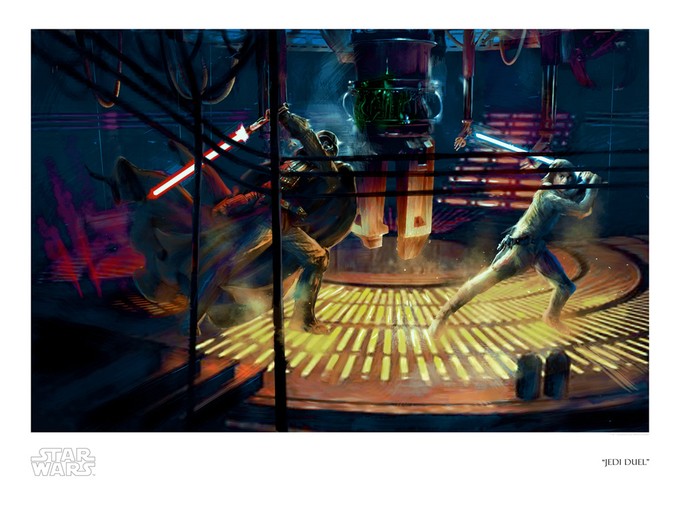 Here's another gorgeous piece of geek art. Vader and Luke crossing sabers on Bespin has never looked so beautiful! Thanks, Guy Vasilovich. Good job. Limited to 150 pieces, 22x17. $165.00.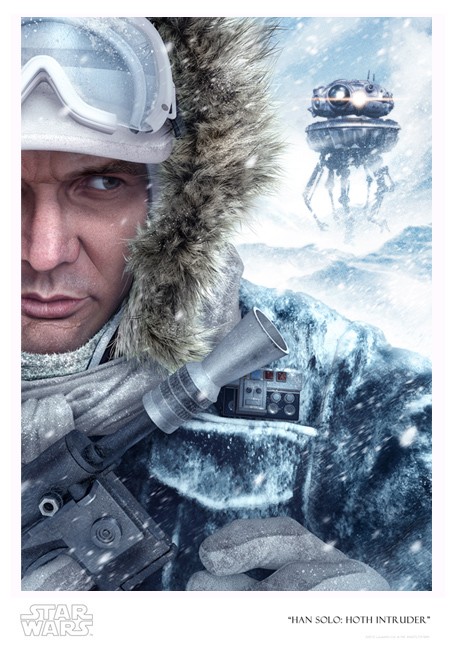 The detail on this Han Solo on Hoth piece is incredible. Chris Wahl even got the scar right! Great perspective, amazing detail... a great high quality nerdy gift if I've ever seen one! 195 hand numbered giclees exist in this world, 13x19. $145.00.
APPAREL
Cheap ($24.99 and under)
Dear sir or madame, may I present to you some fine, geeky stockings for your feetsies. That's right, BB-8 socks to keep your little piggies all nice and warm! $8.99.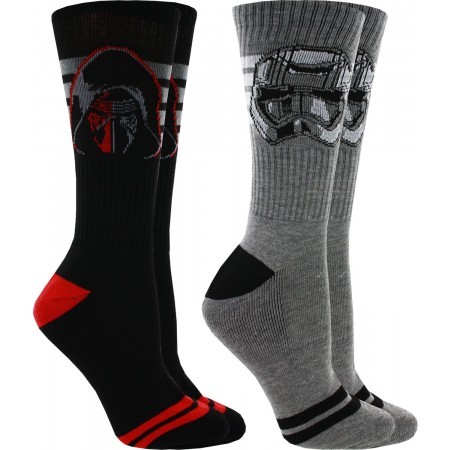 If you prefer more evil socks, might I suggest these new Kylo Ren and First Order Stormtrooper socks? Yes? Good. I suggest these Kylo Ren and First Order Stormtrooper socks. $12.99.
Kylo Ren and his sparky lightsaber look mighty menacing in this tee shirt. Everybody knows you're a Star Wars geek, so you might as well look the part, right? $17.95-$21.99, depending on size.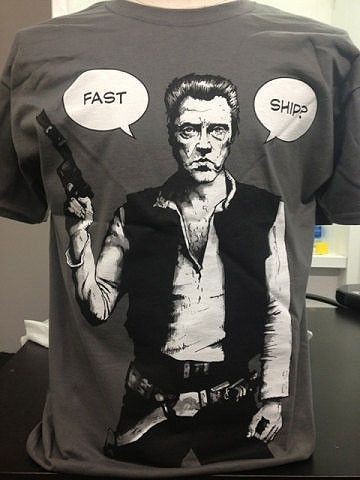 It's true that Christopher Walken was an early front-runner for Han Solo. In fact, he was one of the first actors that Lucas met with in person for the role. Cinema would have been radically altered had Walken been cast. I wouldn't trade Harrison Ford for a million dollars, but it's a great what if. Now you can show your deep knowledge of obscure Star Wars trivia and your love of SNL with this single shirt. $20.00.
This is perhaps the geekiest "going steady" gift you could possibly give your significant other. You know which one of you is the Han and which one is the Leia. The 'I Love You' Ring is size 7 and the 'I Know' Ring is 10, both are made of stainless steel. $21.03.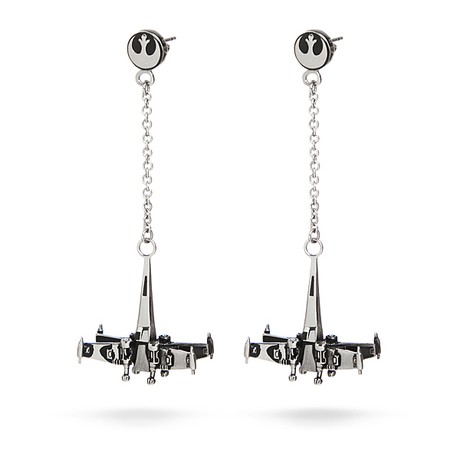 Alright, girl geeks. This one's for you. X-Wing dangle earrings. Not for nothin', but if a cute geek girl made eyes at me while rocking these suckers I'd just about fall in love on the spot. $18.74.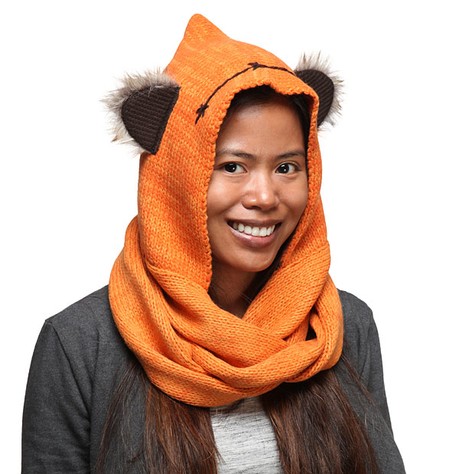 Why go for a boring old headscarf to keep warm this blustery winter when you can turn yourself into an Ewok instead? $24.99.
Ahahahahahaha. Ahem... This AT-AT costume for your dog is pretty coolahahhahahahhahahahaha. Please get it and walk your dog in it. Please, please, please! $14.82.
Moderate ($25.00-$70.99)
Somehow this dog costume is only slightly less ridiculous than the AT-AT one. I love them both. I'd never subject my dog to that kind of humiliation, but I'm so, so, so down for you guys to do it. I just hope I see one in the wild someday so I can never stop laughing. $39.99.
My favorite thing about this necklace is that it's going to turn some Christian heads when you're out and about. It seriously looks like a geek crucifix. Thank goodness they didn't invert it or else you could be accused of being a Satanist. A nerd Satanist. $29.99.
Captain Phasma ring for your dirty First Order-loving fingers! Stainless steel, dig? That means it's super shiny, just like the real life Captain Phasma! Available in ring sizes 9-12! $34.99.
BB-8 might be getting all the attention right now, but R2D2's still the king of random Star Wars tie-in merchandise (wait until you see what's in the Geek Housewares section!). Case in point, this admittedly cool-looking R2D2 knapsack. Lotsa pouches, pockets and carry room. Is there anything that little droid can't do? $47.94.
This will not be the last ugly Christmas sweater in the Guide this year. You've been warned! Festive Stormtroopers and Vader! You can get either geeky sweater in S-3XL. $49.99.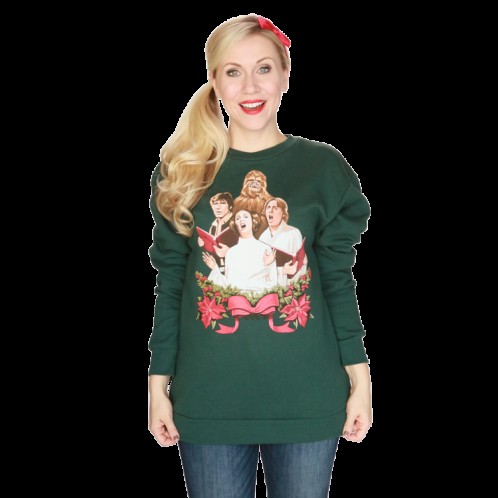 Tis the season to be Jabba, fa-la-la-la-laaaa la-la la la. Her Universe has a pretty funny Star Wars Christmas sweater to geek out over. Luke, Han, Leia and Chewie as carolers is a great idea and the shirt looks awesome. Pretty sure this is made for the ladies, but I won't tell anyone you're wearing a girl's sweater, guys. Available in sizes S-2XL. $40.00.
This Darth Vader Puff Jacket might not be as warm as the insides of a Taun-Taun, but it sure smells a hell of a lot better. Available in S-3XL. $65.31.
Yeah, a glow in the dark lightsaber hoodie, modeled after the Return of the Jedi teaser poster. Yep, yep, yep. That's certifiably rad as hell. Sizes S-3X available. $49.99.
Another ladies pieces of Star Wars nerdiness from Her Universe, this time dipping into the new stuff. Here is your very own BB-8 Bomber Jacket, available in XS-3X. $60.00.
If a nice dress is more what you're looking for, then Her Universe has you covered there, too, with this BB-8 dress. XS-2X available. $50.00.
BB-8 doesn't look like he holds a bunch of stuff, but what he lacks in storage space he more than makes up for in personality and love and I WANT SO BAD GIMME MY OWN REAL LIFE BB-8 DROID PLEASE THANKS. $38.99.
I guess you have to go to the Imperials if you want efficient cargo space. There are, like, a million pockets to this thing! Just don't try to shoot anything while wearing it. Your aim goes to shit. $57.94.
You can carry around your junk in this backpack. It should be quite well preserved. Han Solo In Carbonite Backpack. Ain't he cute? $39.99.
BOOKS
Cheap ($24.99 and under)
PRE-ORDER, December 18th. Oh my God, you guys. The Force Awakens is almost here! If you're anything like me one of the things you're most excited about is uncovering every little detail about the new world being set up, which makes the Art of The Force Awakens a top, top priority. It doesn't come out until the movie does (for obvious reasons), but if you want to make sure you get it in time for Christmas pre-order now! $23.84.
PRE-ORDER, December 18th. If Episode 7 details are what you're after then Pablo Hidalgo's Visual Dictionary is for you. You'll get up close and personal with all the new goodies, from Kylo Ren's lightsaber to BB-8's... uh... ball? I don't know, but I'm sure there's going to be some great, illuminating stuff in this thing. $14.02.
PRE-ORDER, December 18th. In this book you'll see detailed breakdowns of the new vehicles from The Force Awakens. You'll see new ships pulled apart, get a feel for their full layout, see exactly what kind of weapons systems they have, etc. We're getting into some deep-ass nerd territory here and I couldn't be happier about it. $14.02.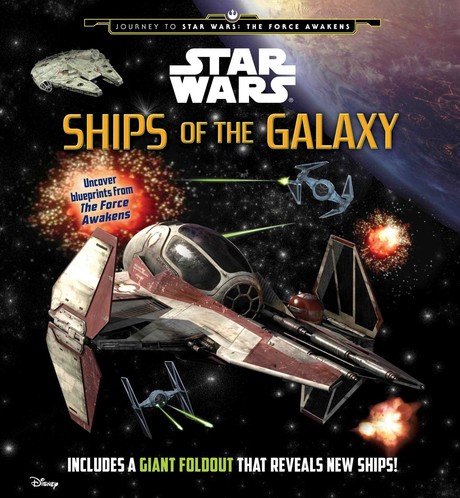 This one is a little less intricate and more for the kiddies than it is for the big geeks, but it's still got a ton of Star Wars goodies in it, including a foldout highlighting new ships from The Force Awakens. $9.16.
I bought Aftermath when it came out because I was so gung ho excited for The Force Awakens. I had some difficulty with the writing (which feels like bad fan fiction at times), but I have to say it was exciting to read something officially canon that connects Jedi to The Force Awakens. There are a few books that cover this time period that have come out, but this was the first. $16.80.
Han and Chewy get their own new adventure as well. Well, a new old adventure. This one takes place between Star Wars and Empire, but with hints dropped throughout that nod to stuff we'll see in the new trilogy, supposedly. Haven't read this one yet, but it's supposedly the pair on a top secret mission for the Rebellion. $7.14.
Luke's solo (yuk-yuk-yuk) adventure story also takes place between Star Wars and Empire and has him facing off against some new villain while stranded on a mysterious planet with only his faithful droids to keep him company. Same as before, hints about Episodes 7-9 are in there somewhere. $8.22.
Moving Target is the new officially official Leia novel, taking place between Empire and Jedi. Same as before, hints at what's to come, apparently. I'm told it's best to read this after Weapon of a Jedi and Smuggler's Run. $7.79.
This Young Adult novel tracks the events of Episodes IV-VI through the eyes of childhood friends and sweethearts who are pulled apart by the war, one joining the Rebel Alliance, the other becoming an Imperial Officer. You don't just get OT stuff from a different perspective, we also get a look post Jedi as well. Faaaancy. $9.89.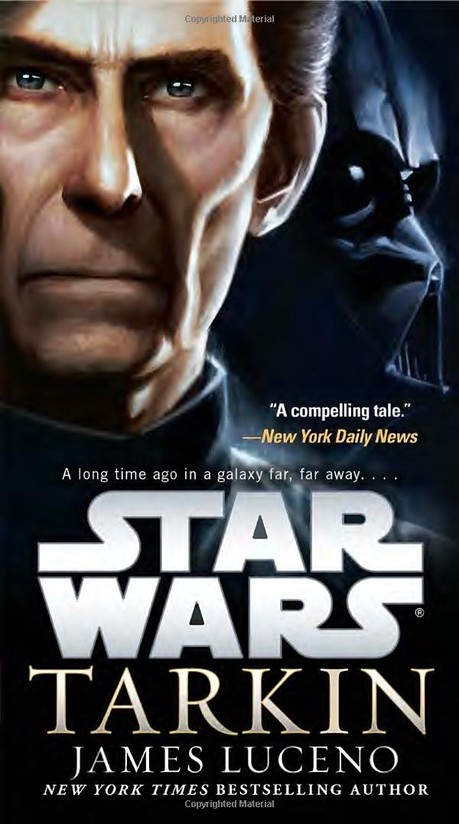 I've heard real good things about Star Wars: Tarkin from the author of the popular Darth Plagueis expanded universe book. I don't know if this is considered canon or not, but whatever it is I'm told it's a great read. $6.42.
Lords of the Sith is a great idea. Again, I don't think this counts as "real" anymore, but of all the new EU stuff this one grabs me the most. It has both Palpatine and Vader stranded together on a hostile planet and having to count on each other (and the Dark Side) to survive. Set shortly after Episode III this is what supposedly cemented Vader's loyalty. Cool idea. $17.11.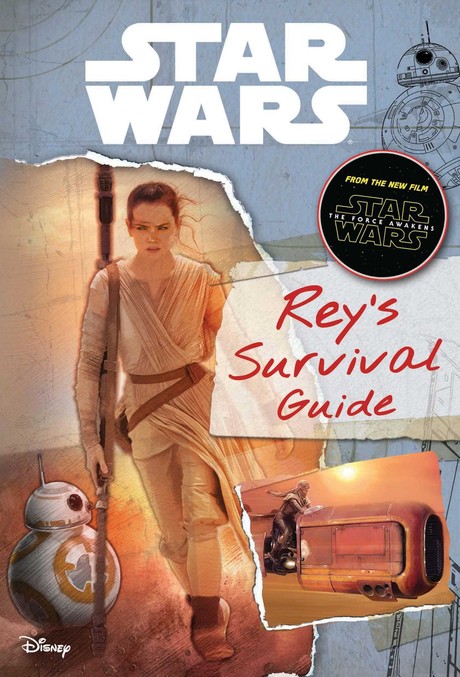 PRE-ORDER, December 18th. For the younger Star Wars fans, here's a replica journal with notes on salvaging and survival tips as written by Rey. $9.18.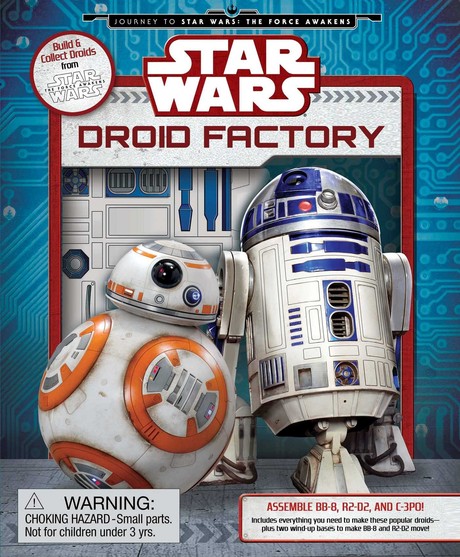 Another one for the younglings. Learn more about the droids of the Star Wars universe and even build your own with some press-outs. You can even make a BB-8 that actually rolls thanks to an included wind-up base! $15.19.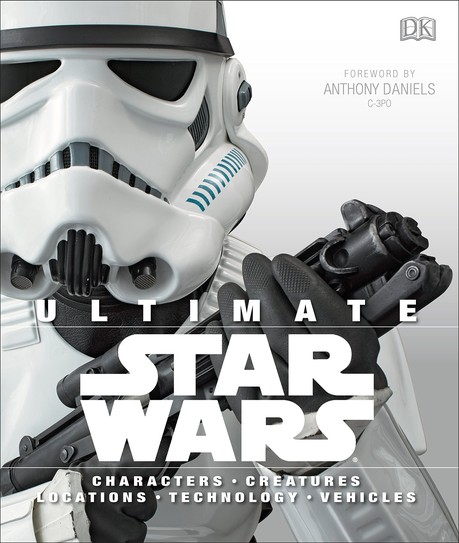 Released earlier this year, Ultimate Star Wars has just about every bit of info you could want from the films and Clone Wars and Rebels cartoons. $23.84.
PRE-ORDER, January 26th. Star Wars Insider was the official Star Wars fan magazine for a long, long time and as such they had a lot of access to Lucasfilm. This is Volume 1 in their Best Of series that recollects the best articles from the magazine that sheds light on your favorite moments from the films. $15.47.
Lego Star Wars: Small Scenes From A Big Galaxy is a photography book which recreates Star Wars movie moments with Lego characters and sets built out of Lego blocks.$13.74.
Dan Casey put out that nifty Avengers trivia book, but he wasn't content with covering only Marvel and set his sights on the big enchilada. Dan's a funny dude, so even if you're one of those Star Wars fans that knows every single piece of trivia ever I'm sure you'd get something out of this read. $12.17.
Ah, sweet! This book reprints all 1977 and 1978 Topps Star Wars cards, front and back, and doesn't forget about the stickers. Too cool! $14.50.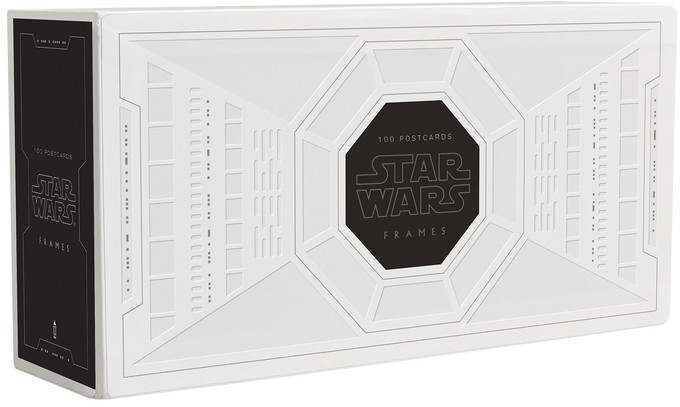 You might remember a book that George Lucas put out that pulled single frames from all the Star Wars movies. It was cool, but super expensive. This here release is a spin-off of Frames, that takes 100 of them and makes them nerdy postcards! Not bad. Not bad at all. $19.09.
Original Trilogy stories retold in a kid's picturebook fashion with some really pretty illustrations from Brian Rood. A great gift for the little, little kiddos in your life. $10.93.
If you ever thought Where's Waldo was missing Wookiees then this book is for you. Find Chewbacca... just watch your arms. He doesn't like to lose, or so I hear. $13.06.
A new entry in the series of cutified Star Wars books, this one focusing on friendships in the galaxy far, far away, be it Palpatine and Vader, Threepio and Artoo or Leia and the Ewoks. $10.71.
This is the new Visual Guide for Seasons 1 and 2 of Star Wars Rebels, which is the cat's meow so buy this book to support it since I don't think anybody's paying much attention to that little Star Wars franchise right now. $13.55.
Covering much the same ground as Aftermath (time-wise, anyway), this comic book series takes a look at what happened immediately after the destruction of the second Death Star... It involves Poe Dameron's mommy and daddy, but that's about all I know. I've ordered this myself since I hear all the Star Wars comics are on point and was just waiting for the trade paperbacks to start coming out. $10.82.
This trade takes issues 1-5 of the new Star Wars relaunch series from Marvel. Another post A New Hope series for ya'. $10.99.
Marvel's got a few Star Wars spin-off books out. This one is a Princess Leia focused one, written by Mark Waid, as everybody's favorite space princess mourns the loss of her home planet and helps fugitive Alderaanians on the run from the Empire. $9.34.
We're getting books showing what the Rebels were up to after A New Hope and now here's one about what Vader was doing. Word on the street this is the best of the new Marvel Star Wars books and the very little I've read of it (just one teeny tiny issue) I believe the hype. $13.89.
PRE-ORDER, January 5th. Volume 2 of Marvel's Darth Vader comes out early January and you can pre-order now, so why wait? What's well begun is half done, as they say, so get on it. Spit-spot! $13.89.
We know that Kanan survived Order 66, but not exactly how or what happened after... until this comic book. $12.50.
PRE-ORDER, January 19th. Hello, what have we here? It's about gosh darn time Lando gets his own series! And it's good, too! $13.59.
After all these new fangled Marvel Star Wars comics it's nice to go old school. They've remastered and reissued the first 6 issues of the 1977 Star Wars comic, covering the events of the fist movie. And that's not all they did! Keep scrollin'! $15.61.
They also grabbed the Star Wars issues that covered the events of Empire Strikes Back! $15.43.
And we can't forget Jedi! $15.43.
Moderate ($25.00-$70.99)
Tons of Marvel covers done by great artists like Adi Granov, Joe Quesada, Alex Ross and tons more! $25.59.
Straight from the Lucasfilm archives! They pulled out all their iconic wardrobe from the Original Trilogy and got high res photos of them as well as nifty vintage photography of the actors actually wearing them. Super cool book to get the Star Wars nerd who has everything. And yes, there's a whole chapter on Leia's metal bikini, you pervs. $39.47.
Art Director Alan Tomkins' career spanned everything from Lawrence of Arabia to Saving Private Ryan and a little movie called The Empire Strikes Back. He shares rare art sketches and photos from his entire career, including Empire... Don't be expecting an in-depth behind the scenes look at Empire, though. It's covered, but not the sole focus despite what the cover and book's title are trying to make you think. Still, if you love other movies besides Star Wars you won't be disappointed with this. $33.97.
Expensive ($71.00-$249.99)
Almost 900 pages of the original Marvel Star Wars Comic Books, collecting issues 1-44 and the first Annual. What better way to get in the Force Awakens spirit than by reliving these early Marvel stories, only a fraction of which cover the events seen in the movie. Some crazy shit in these issues! $84.27.
MUSIC
Cheap ($24.99 and under)
PRE-ORDER, December 18th. There are many things I'm excited about when it comes to Episode 7, but nothing trumps my anticipation of a new John Williams Star Wars score. No frills, no booklets, no lenticular cover... Just a new CD packed full of brand new Star Wars music by John Williams. No big deal... HOLY SHIT YOU GUYS IT'S ALMOST HERE! $13.98.
1980 saw the release of a Star Wars Christmas album. Official Star Wars Christmas album, with Anthony Daniels returning as Threepio and Ben Burtt giving voice to R2 and Chewie. This CD remaster includes all songs (including "What Can You Get A Wookiee When He Already Has A Comb" and "R2D2 We Wish You A Merry Christmas" which, believe it or not, has lead vocals done by a young upstart named John Bongiovi... who would later change his name to Jon Bon Jovi. I'm not pulling your leg! This is real! (Yes, it's a CD, but a CD made to look like an LP. I know it's confusing, but trust me it'll play in your CD player). $18.98.
Expensive ($71.00-$249.99)
PRE-ORDER, January 8th, 2016. This box set gathers John Williams' scores for Star Wars Episodes 1-6 in one handy set, complete with a bonus audio disc featuring new interviews with Harrison Ford and John Williams. They've also included the DVD of Star Wars: A Musical Journey. It's a little bit of bullshit they're not packaging The Force Awakens in there, but it's all great music so I can't get too upset. $74.98.
PRE-ORDER, January 8th, 2016. This is the reason to double dip, in my personal opinion. Having all 6 Star Wars soundtracks on vinyl sounds incredible to me. I have original pressings of Star Wars and Empire, but that's it. I have... complicated feelings when it comes to the prequels, but none of that bleeds into Williams' music, which was top notch the entire way through Star Wars. It's also important to note that the track listing for the Jedi LP indicates "Ewok Celebration & Finale" as the final track. Yes, that's the Yub-Nub song. That's worth the price of the records alone! $199.99.
GAMES
Cheap ($24.99 and under)
Yeah, it's kinda cheap and plastic-y by traditional Special Edition Monopoly standards, but it's the first time you can really play something as new Force Awakens characters! $19.99.
They say this edition of Battleship has new Star Wars ships, but all the pieces I've seen look like regular SW ships, but still... Star Wars Battleship is the perfect thing to play with the kiddos as you get close to December 18th... $15.00.
Star Wars Risk! What's interesting about this special edition is that the board is in the shape of a TIE fighter (more like a TIE Interceptor... oh, I just popped a blood vessel in my eye for straining my geek brain too much...). Not exactly sure how that would play, but the game is well-reviewed and cheap (for Risk). $23.77.
Moderate ($25.00-$70.99)
So, this is still Sorry, but now it's in the shape of the Millennium Falcon and it has BB-8 on the box! I'm not sorry I included this Sorry because it has The Force Awakens on it. Not sorry for Sorry, so don't ask me to be sorry. Okay, I'm done. $29.95.
Disney Infinity makes me feel really old. I get the collector mentality, buying little figures that actually unlock the ability to play them in game and all that, but other than that I felt lost when my nephews were running me through it after I bought them a Rocket and Groot. So, it's not for me, but the kids love it and now they'll love it even more since Star Wars is finally coming to Disney Infinite. This is the starter set, which comes with Clone Wars Anakin and Ahsoka and a new Play Set Piece. $49.99 on Xbox One and $48.50 on PS4.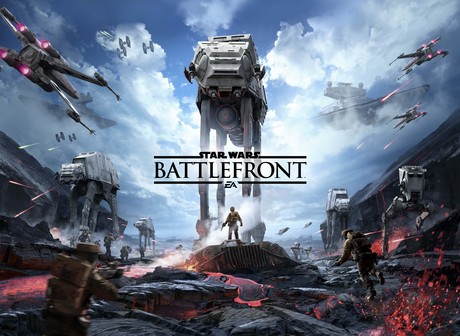 I've only gotten a chance to play about an hour and a half of Battlefront (I make so many sacrifices for you guys! I'm a damn living Saint!) and it seems to be a game that is best enjoyed with your friends. I can't imagine having much fun joining in to get your ass kicked by 13 year olds all by your lonesome is much fun, but it's a blast running around in Star Wars environments, hearing the music and familiar sound effects while you're blowing away Stormtrooper with your buddies. Looking forward to spending more time lost in this over the holidays. The game comes in two editions, the deluxe only really gets you early access to Han's blaster, which is a monster in the game, so it might be worth the extra $10. $59.88 regular edition on Xbox One, $69.99 deluxe edition on Xbox One and $59.88 regular edition on PS4, $69.88 deluxe edition on PS4.
Expensive ($71.00-$249.99)
If you're looking at PS4, this Battlefront Bundle is pretty good. You only get 500 gigs internally, but you save some cash. $349.00.
GEEK HOUSEWARES
Cheap ($24.99 and under)
A Dagobah shower curtain is just about the coolest thing ever, right? This could have come off as really cheesy, but it's uses beautiful art to keep the kitsch factor at a manageable level. $24.99.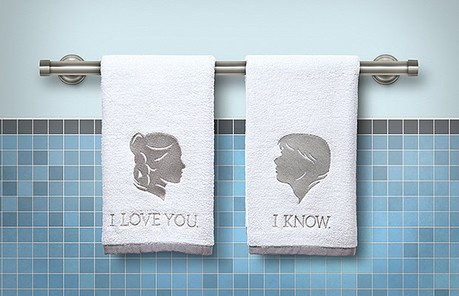 You can not get that shower curtain without then buying these hand towels. I don't care what your financial situation is, you buy those as a pair or the whole thing's off! His and Her Hand Towels with the I Love You/I Know exchange is one of the best Star Wars merch ideas I've ever seen. $19.99.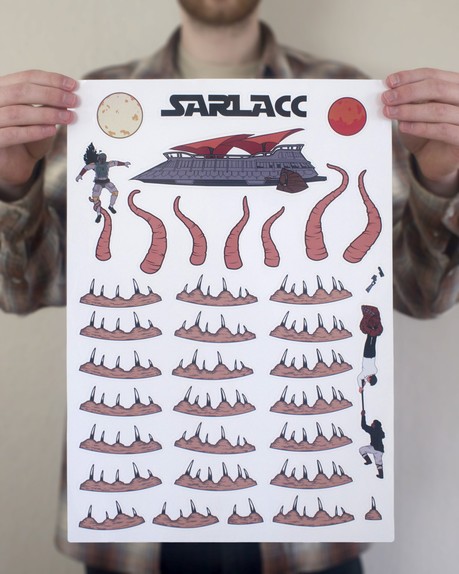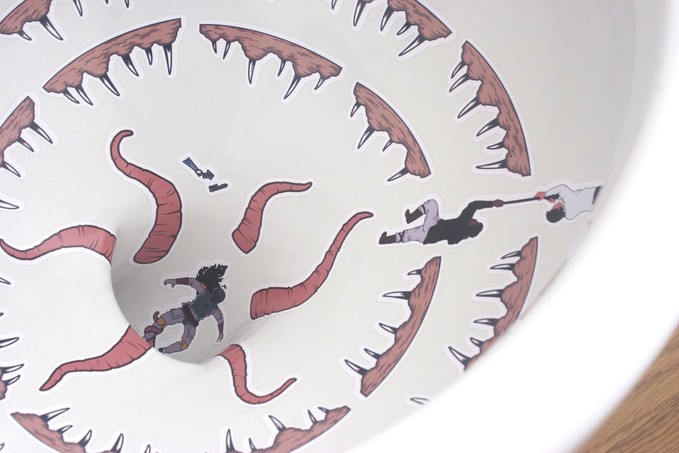 From the same people that made the Jaws decals comes this show stopper of nerdy Star Wars items... turn your toilet into a Sarlacc pit! It's both disgusting and awesomely nerdy at the same time. $25.00.

***********

I have one of these toilet Sarlaccs to give away as well. All you have to do to win is email me at this email address with the subject line "I'm Wanna Poop Down That Sarlacc's Throat!". Make sure to include your mailing address and phone number in the body of the email should you be one of the lucky winners. I will pick them at random sometime between the posting of this article and 11:59pm CST Saturday, November 28th. The contest is open to the entire world! Good luck!
This set of Star Wars throw pillows are perfect for geeks of all walks of life. If you're the kind of fan that flaunts it and doesn't care, leave R2 and 3PO out for all to see. If you're more closeted, you can flip 'em over to the plain side when your normal friends come over. $24.99.
The Force Awakens is about to take over all our lives, so of course you're going to want to get a jump on that rush of excitement with these pint glasses. Drink from Kylo Ren's head! $23.38.
There's also this set of The Force Awakens Heroes and Villains pint glasses. These are a little tougher to get your hands on, but if you can get 'em you'll be cooler than all of us! $23.99.
PRE-ORDER, January 2016. How cute is this mug? I mean, it's kind of disturbing when you think about drinking coffee or some other black liquid out of it... it's like you're a droid vampire. Still, BB-8 probably won't mind you putting your dirty lips all over his little dome head. $14.99.
This BB-8 mug is actually available right now. Figured it'd be nice to have one you could actually get right now. Made for you coffee addicts, obviously. $19.56.
Can you imagine rocking this out at the office? Yeaaaah, I'm gonna have to ask you for that weapon... yeaaaahhhh... $15.98.
Here's a different kind of Kylo Ren mug... when you pour hot liquid in he ignites his lightsaber. Incredibly cool, is it not? Got a few more like it below, but you can get this one for $11.99.
Vader gets in on the action here, too. He's got some big words backing him up. Literally. $11.99.
The light side gets in on the hot liquid changing mug action in this epic space battle powered by your morning dose of caffeine. $11.99.
The idea of holding a furry beer or soda doesn't sound too appealing, but I also want my very own can-shaped Chewbacca to join me on my adventures, so I'm torn. This furry Chewbacca Koozie is a conundrum, I tells ya'. $10.99.
I find your fridge's lack of Star Wars geekery disturbing. Old and new represented here, with BB-8 and R2 being all magnetic together. $9.99.
Star Wars cookie cutters come in a set of 6. You get Vader, Yoda, Chewie, Threepio, a Stormtrooper and Boba Fett. That's a whole lotta cookie geekery in store for you! $14.99.
That's no moon. That's a kitchen timer. If you want to go all out when baking those Star Wars cookies from above you can go for this spring-wound Death Star Kitchen Timer to let you know when it's time to take them out of the oven. Or blow up Alderaan. One or the other. $14.99.
So this plate set is more for the little jedis or sith in your household, but I won't tell if you want your very own plastic Phasma and Kylo plate/bowl/tumbler. It'll be our little secret. $14.99.
That hunka junk has it where it counts... and by "it" I probably mean hors d'oeuvres. That is indeed a serving tray and it is glorious, isn't it? Don't lend it to Lando, though. You'll get it back all dinged up! $19.99.
BB-8 wants in on this food-serving action, too. We don't even know him yet and he's already being super helpful. $19.99.
Death Star cutting board. It comes with non-slip rubber feet, a heat-resistant glass surface and an exhaust port just big enough for a precisely fired proton torpedo. $19.95.
By the time we're done with this guide your kitchen better be transformed. Hell, you could almost go entirely Death Star themed at this point. To help you reach that goal here's a Death Star chip bowl set! $19.99.
Since we don't get to have real life lightsabers we can at least get one that will cut something up for real. Pizzas, in this case. In previous years I've included an R2 pizza cutter and an Enterprise pizza cutter, so it was only a matter of time before we got a lightsaber one. Plus it's less clumsy than the blaster pizza cutter... $19.95.
Here I thought Spatula City had every kind of spatula, but apparently that's not true. You're full of shit, Weird Al! This fancy Death Star spatula is one of those heat-resistant silicone jobs. I know it's cool, but don't be too proud of the technological terror you constructed. The power to flip a pancake is insignificant next to the power of the Force. $15.95.
R2D2 has been many things in the world of Star Wars merchandise, including a series of measuring cups. That's strangely attractive to this homeowner who fancies himself a minor (very minor) cook. R2 breaks down into four different measuring cups. 1 cup, ½ cup, 1/3 cup and ¼ cup. Oh, and he'll project the Princess Leia message if you get the recipe just right. I might have made that last one up.... $19.99.
These aren't the cookies you're looking for. Move along. Stormtrooper oven mitt. That's what that is, in case you had trouble figuring that out. A silicone one, not one of those padded ones. The more you know. $14.99.
This R2-D2 Bento Lunchbox that has different compartments that stack on each other, so you don't get all your food cross contaminating each other. Can't have that! Plus it makes it harder for Yoda to steal your food like he did with Luke the first time they met. $19.99.
If you want an R2 lunch box alternative, might I suggest the softer "lunch kit" offered by Thermos? It lights up and beeps! $19.17.
Every year there's at least one "They made an R2-D2 what, now?" There's a couple this year, but none weirder than the R2-D2 screwdriver. I mean, I get the link. He's always handy with the right plug-in needed, but this thing can't possibly be easy to handle, can it? It looks cool, no matter what, so there's that. $15.99.
Collecting Hallmark Keepsake ornaments was never a big thing for me... until I bought my house. Now I must have a new one (or four) for the tree every year. It just feels right and a great way to mark passage of the years. I've already ordered Kylo here because I will always know when I bought him and just how excited I was for his introduction into the Star Wars cinematic universe. $16.95.
Phasma ornament! Captain Phasma ornament! Holy shit, it's beautiful! Shiny! Imagine your tree lights reflecting off of that armor! $24.59.
Vader's in the Holiday spirit, too. He's more expensive than Kylo, but he also talks to you, so quit your complainin'! $24.95.
If you want a little light side in your tree this year, festive R2's got you covered. Judging by his headgear he might have dipped into the eggnog, fair warning. $19.99.
Moderate ($25.00-$70.99)
In terms of bang for your buck, this The Force Awakens ornament set is your best option. For less than $40 you get 6 rad-tastic ornament representations of Kylo, Rey, Finn, BB-8, Phasma and a Flametrooper. $39.95.
I find your lack of stocking stuffers disturbing. Have a Dark Lord of the Sith make sure your holiday sock doesn't fall down. $29.83.
This AT-AT lawn ornament is a perfect item as we head into the blistery winter season. Not in Austin, we don't get snow, but if you do then this is going to look doubly badass in your front yard. The Battle of Hoth recreated in your garden! $39.99.
This BB-8 desktop lamp is pretty adorable. You turn on the light by pressing down on his head. So you have to pet him to illuminate your room. Amazing. $39.99.
If touching BB-8's head is too much work for you, but you still want to have the droid light up your room, I have another lamp option for you. Also available in Threepio, R2 and Stormtrooper designs. $39.99.
Kylo Ren's head can stick to your wall and light up your room with his red visor thing. I don't think that's a spoiler because this same company also made a Vader wall light head thing that has light up red eyes. Or maybe Kylo's got Cyclops powers, I don't know. $39.99.
It was only a matter of time before someone thought up a paper lantern Death Star. I mean, both are round and the real Death Star lit up real bright once. Real bright. $39.99.
How pretty is this Millennium Falcon, you guys? Light up glass lamp thing that I didn't know I needed until I saw it. $69.85.
You know those USB charger wall plugs that have a couple different USB ports so you can charge multiple devices at once? This is one of those, but it's in the form of R2-D2. $29.99.
Smart phones drain their batteries at an alarming rate. Most professionals have to carry an external portable battery, so why not have yours look like a lightsaber? I expect to see a lot of these next time I'm at Comic-Con... $29.99.
R2's a little teapot, short and stout... The handle and spout aren't canon, I don't think... $44.49.
I don't know. Chop casual. This Millennium Falcon cutting board is made of wood, which means your knives will stay sharper longer. Is there anything Han's bucket of bolts can't do? $29.99.
Lightsaber tongs... yes, it actually makes lightsaber sounds when you press the button on the handle and it also comes with a see-through red saber sleeve for when the tongs aren't in use. Vader's saber has never been more practical! Except when cutting off Luke's hand. That was a pretty good, too. $39.33.
PRE-ORDER, February 2016. These delicious waffles are each capable of destroying an entire planet, so you better eat 'em up before they do that. $39.99.
This talking Darth Vader cookie jar would make a great companion gift to that Star Wars cookie cutter set from earlier in this section. Search your feelings, you know it to be true. $39.95.
Oh, god! Someone decapitated R2! Luckily for us his decapitated head still wants to help you out, so you can turn him into a bluetooth enabled speaker. You can even take calls through him! You gotta get someone to sign off by saying "Help me, Obi-Wan Kenobi. You're my only hope." You just hafta. $49.99.
It's now been confirmed that Darth Vader is a dirty ol' Peeping Tom. Shouldn't come as much of a surprise, honestly. He did wipe out a ton of little Jedi kids once and will choke any bitch at the drop of a hat. If you want to take a shower with Vader all you need is this nifty shower head. Doesn't require any special tools to install and comes with a life-time warranty. If you only knew the water pressure of the Dark Side... $59.96.
Han Solo In Carbonite Rug. Yes, please. 31x71 inches of pure unadulterated geek goodness right there. $49.99.
A Yoda Yoga Mat? Brilliant. Inspirational and saying it out loud makes it sound like you're speaking in tongues, so bonus. $27.99.
Expensive ($71.00-$249.99)
PRE-ORDER, January 2016. Look at the detail on these AT-AT bookends. It's so good they almost look like the original models, don't they? Expensive for mini-AT-ATs, granted, but really cool looking. $224.99.
The Japanese thought it would be a good idea to make an R2-D2 trash can and here we are. Thinkgeek have exclusive rights to sell Trashy-D2 here in the States and I gotta admit it's kinda cool. He's knee-high to an average adult person and when you step on his center foot his dome opens and invites you to dispose of your blue milk carton. $129.99.
Your beer and/or soda should be quite well protected in this Han Solo In Carbonite Fridge. Cool thing, this is one of those fridges that can be either hot or cold depending what you need it for. Just don't let Boushh around it. Shifty look to that one, keeps hanging around my favorite decoration. $149.99.
TOYS/COLLECTIBLES
Cheap ($24.99 and under)
Disney Store has a lot of good Force Awakens exclusives, but here's one set you can get easily online with little teeny tiny click via Amazon. That gives you Kylo, BB-8, Phasma, Ray, Finn and a Flametrooper without having to hunt them down one by one! $22.49.
Rey's speeder has already made an impression just based on the glimpses we've gotten in the trailers. One of the more inexpensive Lego sets you can get is this one for that speeder and yes, it comes with a little Rey and something called an Unkar's Thug. That can't be good. $19.87.
While we're talking about Rey's Speeder, how about we take a look at Hasbro's toy (sized to fit the 3 ¼ inch figures). $19.99.

***********

Oh yeah, let's also give one away! Hasbro is allowing one of you fine folks to spend your Holiday season with little Rey and her Speeder bike. All you have to do to win is email me at this email address with the subject line "I Feel The Need For Rey's Speed(er)". Make sure to include your mailing address and phone number in the body of the email should you be one of the lucky winners. I will pick them at random sometime between the posting of this article and 11:59pm CST Saturday, November 28th. The contest is open to US residents only (sorry rest of the world). Good luck!
Gotta give a little love to Star Wars Rebels here. This vehicle set comes with Kanan and a Y-Wing Scout Bomber. $19.99.

***********

I got another Hasbro giveaway for ya'. All you have to do to win is email me at this email address with the subject line "Kanan Can Bomb My Scout Anytime". Make sure to include your mailing address and phone number in the body of the email should you be one of the lucky winners. I will pick them at random sometime between the posting of this article and 11:59pm CST Saturday, November 28th. The contest is open to US residents only (sorry rest of the world). Good luck!
So this basically gives you a Millennium Falcon laser gun and it projects a space battle on the wall and lets you shoot at TIE fighters. Reminds me a lot of the light-throwing toys I had as a kid (I remember a ghostbusters one that was a proton pack that would project a ghost on the wall when you aimed the proton stream thingy). This also comes with some glow in the dark TIE fighter decals. $22.93.
Science! I love that there's a whole slew of toys out there that's taking young people's love of Star Wars and using it to teach them a little science. This kit mimics Force manipulation using static electricity. I know that sounds more like what a Sith would do, but as long as you kid doesn't start cackling about ultimate power you should be all good. $21.45.
I think my eyes rolled out of my head when I read the words "Frylo Ren" but even I have to admit that's a pretty amazing pun. Super cheesy, but what else would you expect from a Mr. Potato Head Force Awakens tie-in? $12.29.

***********

I got another Hasbro giveaway for ya'. All you have to do to win is email me at this email address with the subject line "Call Me Darth Hashbrown". Make sure to include your mailing address and phone number in the body of the email should you be one of the lucky winners. I will pick them at random sometime between the posting of this article and 11:59pm CST Saturday, November 28th. The contest is open to US residents only (sorry rest of the world). Good luck!
Moderate ($25.00-$70.99)
I love the idea behind this Death Star home planetarium. It projects fictional planets from the Star Wars Universe, but it also has Earth's starfield as well. My 8 year old nephew gets all Rain Man when it comes to constellations. Space fascinates him and I'm doing my best to get some movie geek in there, too, so this would be a perfect gift for him. I was the same way as a kid. I loved the stars and mystery of outer space. Very neat gift, this one. $25.61.
These vehicles remind me of the big Falcon releases of my childhood. One kind on the block always had it and everybody'd want to play with it. This is the new First Order TIE Fighter complete with firing missile bolts and pilot figure. $31.99.
This is Hasbro's big ol' release of Poe Dameron's nifty Black and Orange X-Wing from The Force Awakens. You get the large X-Wing (it really is big), Poe and, if I'm not mistaken, a little BB-8 that fits snugly in the Astromech slot. $39.97

***********

Contest time, contest time! I got one of these to give away, courtesy of Hasbro. All you have to do to win is email me at this email address with the subject line "Where's BB-8's Scrotum, Poe?!?". Make sure to include your mailing address and phone number in the body of the email should you be one of the lucky winners. I will pick them at random sometime between the posting of this article and 11:59pm CST Saturday, November 28th. The contest is open to US residents only (sorry rest of the world). Good luck!.
Lego Snowspeeder. This time it looks like the bad guys get to rock the snowspeeders. Ah, too much info already! I don't want to know! I do, but I don't! $32.00.
Every year Lego puts out an Advent Calendar and this Star Wars related one is pretty nifty. I loved the chocolate-filled advent calendars my grandparents always gave me as a kid, but I would have flipped my shit to have gotten geeky Lego ones! $64.99.
Expensive ($71.00-$249.99)
One of the most jazzed about Force Awakens products is this Sphero remote controlled BB-8. I don't have one because I'm lame, but I've seen people all over my social media losing their shit over it. It's out of stock all of the place, but you can still get it right now via some Amazon sellers. $179.99.
Black Series doesn't just mean cooler single figures, they also go bigger. In this case, huge. This is definitely a classier, more detailed upgrade to the regular TIE fighter they released. This is scaled to the 6" figures (not the 3 ¼ figure) and the First Order TIE actually fits two 6" figures. Super fancy! $169.99.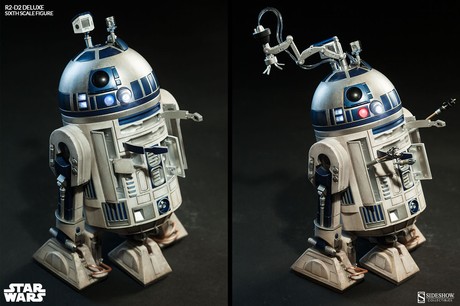 R2 here isn't Hot Toys, but he is a sweet Sideshow creation. 1/6 scale and he comes with a ton of extras, like Luke's saber, the drink tray thing on his head and all sorts of robot arms. He's also part of a Sideshow free shipping promotion, so that's an instant $15-ish savings! $149.99.
ForceFX's Kylo Ren saber is another high in demand item this Holiday Season. I've found a few on Amazon, but the mark-up was too ridiculous, so I'm linking to Entertainment Earth, who promises to have a shipment this December. $199.99.
We got Kylo Ren represented in a lot of ways in this guide, but we haven't gotten his ship yet, so we're gonna do that in the form of this 1000+ piece Lego set. $104.99.
Bad ship, now good ship! It's our old buddy, the Millennium Falcon! Square radar dish! This is going to be an epic build at over 1300 pieces, plus you get Han, Chewie, Finn, Rey and some pirate dickheads! $141.18.
Lego First Order TIE Fighter because I've put damn near every other toy version of the new TIE in this guide, so why stop now? Can you tell I'm a little excited to see this sucker in action? $71.50.
Another Science-y Star Wars toy. The Force Trainer uses the power of your brainwaves to actually make shit happen. Manipulate holograms in scenarios that re-enact stuff from the movies. Another great present for the aspiring science kid in your life. Assure they are shunned and wedgied for their entire high school tenure with this gift! $79.99.
I gather material for this Guide pretty much all year. My notes on this one is "Crazy Yoda talking statue thing from Target." I saw this guy at Target and he blew me away. Yoda teaches you the ways of the Force and will actually let you Force push him when you train. He also whips out his lightsaber and goes all whupass around the place. Definitely one of the cooler high tech Star Wars things out there this holiday season. And yes, you can get him at Target, but he's actually cheaper at Amazon (by about $50). $129.00.
Amongst the huge batch of new Star Wars merch is this remote controlled AT-AT that comes complete with it's movie-accurate sound effects and mouth-blaster things. $152.95.
Play Arts made a very cool Darth Maul that has 20 points of articulation, which means you can pose him in many different ways. Don't get any bad ideas, pervos. $138.45.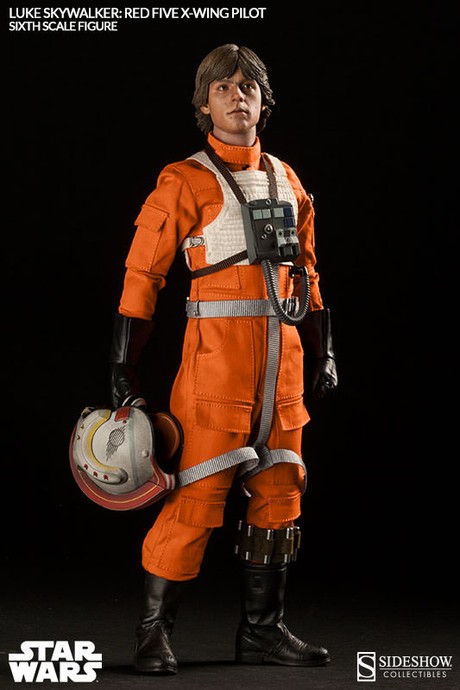 Sideshow's Sixth Scale Red Five Pilot Luke is amazing looking! The level of detail in these figures from places like Sideshow and Hot Toys never ceases to amaze me. Click through and look at all of their pictures... some of them look like photos of Mark Hamill from 1976! $239.99.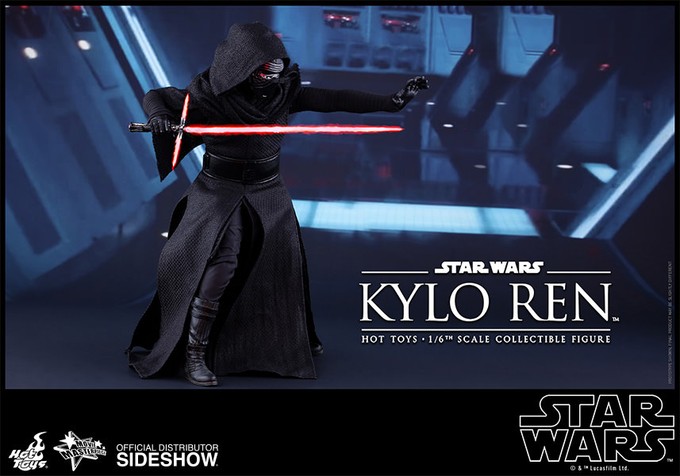 PRE-ORDER, December 2015-February 2016. The Hot Toys Kylo Ren is expected to ship in December, but knowing Hot Toys it'll probably be more like September. I kid, I kid! These things are totally worth the wait. I'm addicted now. I have four and the only thing that's keeping me from getting more is my stupid bank account. Kylo looks amazing, as should be expected. The work on the lightsaber in particular is crazy good. $224.99.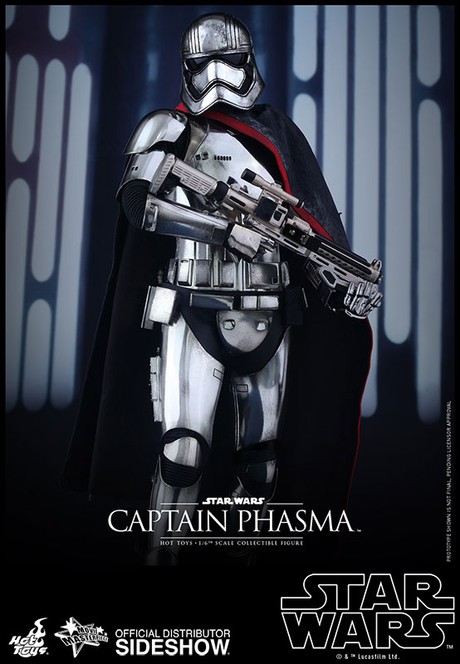 PRE-ORDER, May 2016. This is the first time I've taken a real hard look at that Phasma image Hot Toys and it occurred to me that while I have no idea how the story and character interactions are going to play out in Abrams' Star Wars, I'm already in love with the look of the movie. The used world aspect of the original trilogy seems to be in full swing and you can see that evidenced in this Phasma Hot Toys figure. Kylo's cool, but if I pull the trigger on any new Star Wars Hot Toys it's for sure going to Phasma. It's simply a stunning piece. $249.99.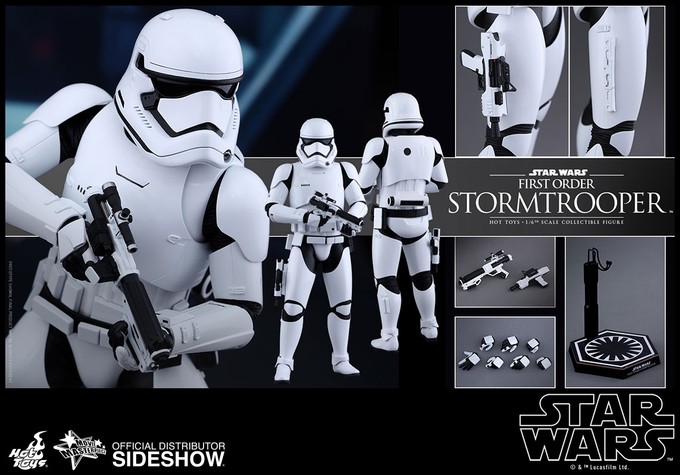 PRE-ORDER, December 2015-January 2016. Another example of exquisite design in the new movie. The First Order Stormtrooper is somehow both fresh and new and not all that far removed from the original look. If that ends up being the overall tone of The Force Awakens I'm going to be a really happy geek. The Hot Toys First Order Stormtrooper looks great! $204.99.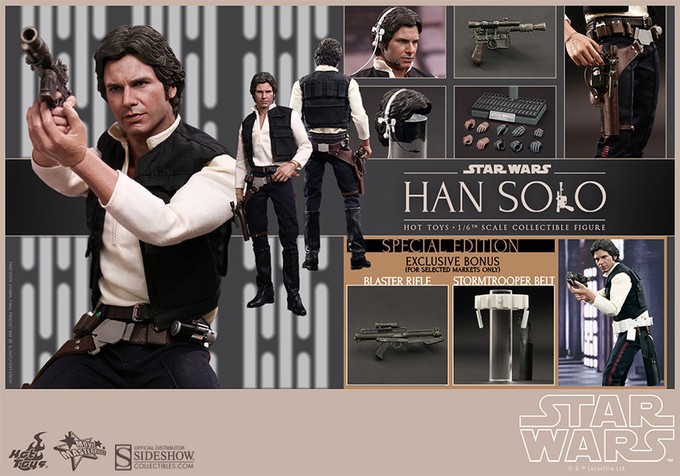 Remember when I say I have four Hot Toys figures? This is one of them. I couldn't turn down the chance to pre-order this rad A New Hope Han Solo and I can say he looks great in person. Almost like he runs around my place when I'm asleep discovering new wonderful smells. Han is shipping now and will run you $229.99.
For The Super Rich Only ($250.00 and Up)
Han as a Stormtrooper, courtesy of the folks at Gentle Giant. Sixth scale, limited polystone statue that doesn't put up with boring conversations or old geezers. $215.25.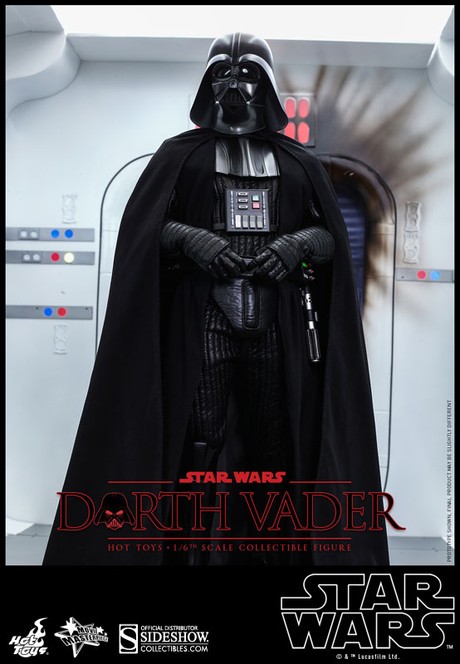 PRE-ORDER, December 2015. Hot Toys' A New Hope Darth Vader is yet another jaw-dropper. The level of detail is so fine that it damn near makes a grown geek cry with happiness that this is buyable. $299.99.
The rare Quarter Scale Hot Toys figure and we get the galaxy's baddest bounty hunter! He's highly articulated, which isn't common for figures as big as he is. He comes with his blaster rifle (and a damaged version, the one Luke cuts in half) and a bunch of other little things. $469.99.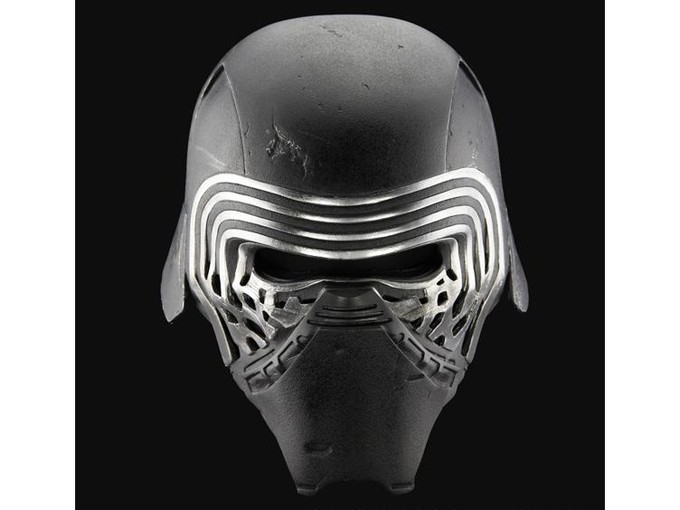 PRE-ORDER, Q2 2016. Owning this is the next best thing to having the actual screen-used Kylo Ren helmet. The original prop was analyzed, scanned and studied in-depth to make sure every bump, texture and scratch was accurate. You really should click through and look at all the pictures from different angles to see how used the helmet appears to be. It's definitely seen some action. This is an insanely cool prop replica and could be the basis for the best Kylo Ren cosplay ever. $699.99.
Thanks for reading along, squirts. Hope you liked this Star Wars Special Edition better than the other Star Wars Special Edition!
Happy Holidays!
-Eric Vespe
"Quint"
quint@aintitcool.com
Follow Me On Twitter