Ahoy, squirts! Quint here. The light at the end of the tunnel can be glimpsed. The end is almost here, but I couldn't call it quits without digging into some amazingly nerdy housewares and the best of the best of what's out there in the world of Toys and Collectibles.
Lots of goodies below, from Doctor Who, Jaws, Star Wars, Breaking Bad, Fallout, Game of Thrones, Marvel, DC and other random corners of geekdom.
There's also a fair amount of contest items below, so keep your eyes peeled. Let's get going!
CLICK HERE TO JUMP TO PART 1 OF THE 2015 HOLIDAY GIFT GUIDE FEATURING BLUs, DVDs, ART and GEEK APPAREL!
CLICK HERE TO JUMP TO PART 2 OF THE 2015 HOLIDAY GIFT GUIDE FEATURING BOOKS, BOARD GAMES, VIDEO GAMES and MUSIC!
CLICK HERE TO JUMP TO THE STAR WARS SPECIAL EDITION OF QUINT'S HOLIDAY GUIDE 2015!
GEEK HOUSEWARES
There was so much good geek houseware stuff that I had a hell of a time trying to figure out how to arrange the order, so I decided to group them by location. You'll notice the kitchen stuff is all together, bedroom stuff is all together, bathroom stuff, etc. So, let's see what you guys can get to make your parents roll their eyes when they come visit!
Cheap ($24.99 and under)
A Dagobah shower curtain is just about the coolest thing ever, right? This could have come off as really cheesy, but it's uses beautiful art to keep the kitsch factor at a manageable level. $24.99.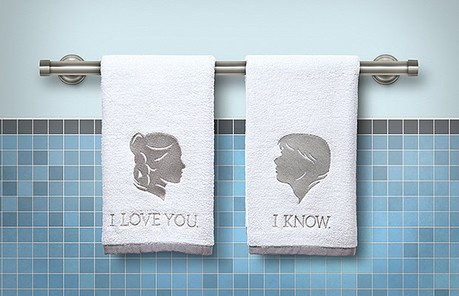 You can not get that shower curtain without then buying these hand towels. I don't care what your financial situation is, you buy those as a pair or the whole thing's off! His and Her Hand Towels with the I Love You/I Know exchange is one of the best Star Wars merch ideas I've ever seen. $19.99.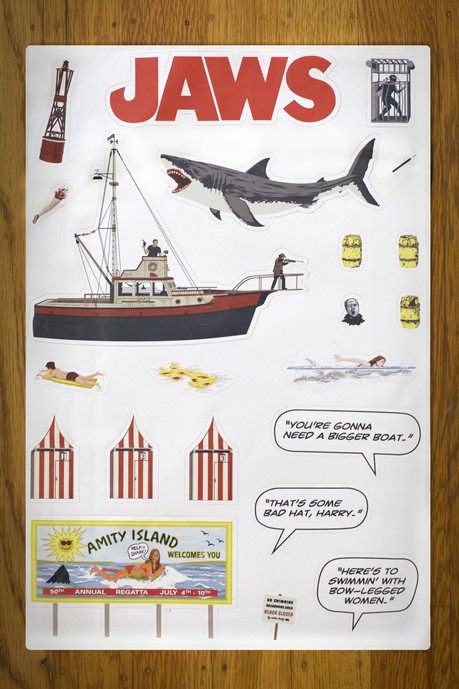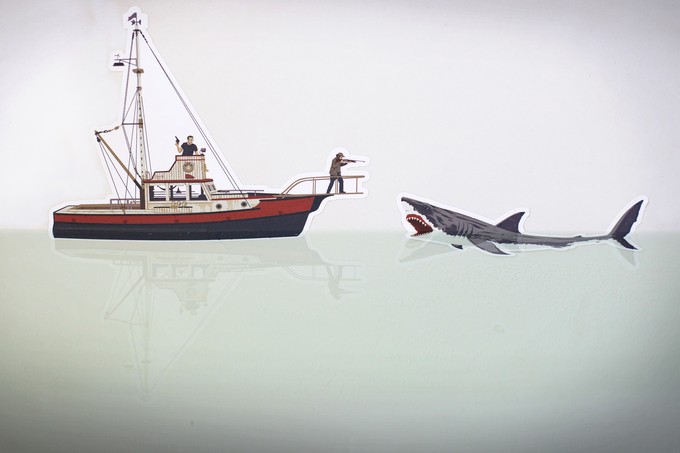 Get a load of this. It's a decal sheet that is filled with great Jaws imagery to fill your bathtub with. Yes, I have a set. No I haven't used them yet. Still trying to figure out where best to do it. I did buy a second set for my nephew, though. The idea of him, still young enough for tubby time, taking baths with Bruce, Brody, Quint and Hooper (and Ben Gardner's head) fills me with such happiness I can't even tell you. I know it's a penny over the price category, but it fit too well in here for me to let a little penny force me to move it. If you order between Black Friday (tomorrow) and Cyber Monday make sure enter in the code TIGERSHARK to get $5 off! $25.00.

***********

You better believe I'm giving away a sheet of these decals to one of you lucky folks. It's the least I can do to say thanks for reading and sharing these things every year! All you have to do to win is email me at this email address with the subject line "Farewell and Adieu To You Fair Spanish Ladies". Make sure to include your mailing address and phone number in the body of the email should you be one of the lucky winners. I will pick them at random sometime between the posting of this article and 11:59pm CST Saturday, November 28th. The contest is open to the entire world! Good luck!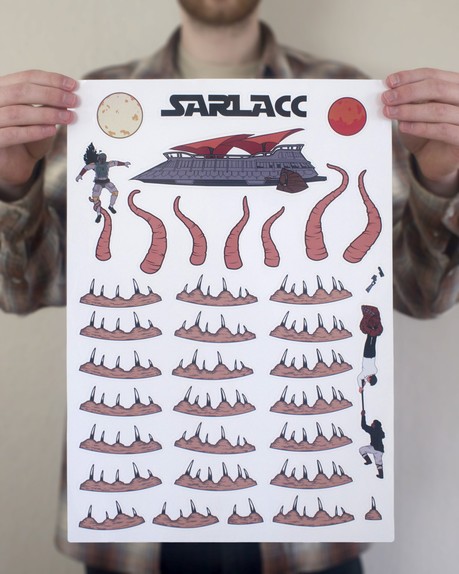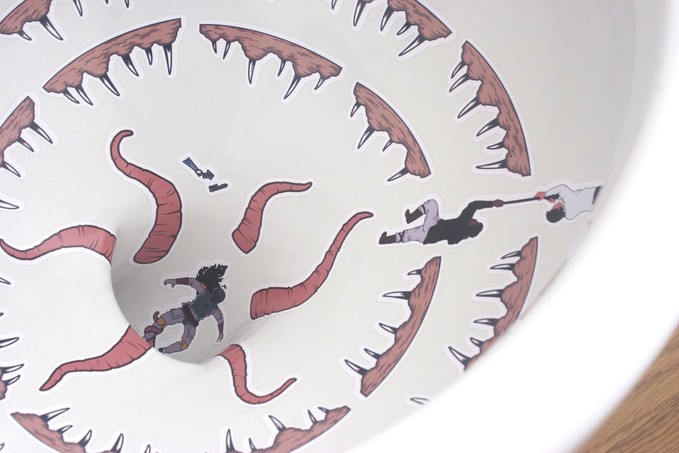 From the same people that made the Jaws decals comes this show stopper of nerdy Star Wars items... turn your toilet into a Sarlacc pit! It's both disgusting and awesomely nerdy at the same time. This one has a $5 off code, too: KYLO. $25.00.

***********

I have one of these toilet Sarlaccs to give away as well. All you have to do to win is email me at this email address with the subject line "I'm Wanna Poop Down That Sarlacc's Throat!". Make sure to include your mailing address and phone number in the body of the email should you be one of the lucky winners. I will pick them at random sometime between the posting of this article and 11:59pm CST Saturday, November 28th. The contest is open to the entire world! Good luck!
The TARDIS has been made into just about everything at this point, so it shouldn't be a surprise you that you can now cleanse your body with a Soap On A Rope in the form of the world's most famous Police Box. It even comes in a little TARDIS cloth bag that won't dissolve away to nothing with use and leave you sad. How thoughtful. $19.99.
If you want your novelty soap to somehow be even geekier than the TARDIS, you have to go with one of these SNES Super Smash Bros hand soaps. It's so pretty you might not actually want to use it! $14.99.
Keeping the video game theme going, there's this Please-Don't-Sue-Us "LaundryBoy" clothes hamper from the folks at Thinkgeek. $19.99.
If you're not a gamer, but really hate those boring old dirty clothes hampers then I hope you like Chinese takeaway because that's the only other one I got for you. Great, now I want Chinese food. I think I'm going to get Chinese food. $19.99.
This set of Star Wars throw pillows are perfect for geeks of all walks of life. If you're the kind of fan that flaunts it and doesn't care, leave R2 and 3PO out for all to see. If you're more closeted, you can flip 'em over to the plain side when your normal friends come over. $24.99.
Classic literature pillows are kind of brilliant. You have the option of two closed books (Sherlock and Treasure Island) or the slightly more expensive, but even cooler open book (Alice In Wonderland). $17.99-$24.99.
Since we all know winter is coming you kinda need a soft, warm fleece blanket, so why not get one that helps you memorize the map of Westeros? $24.99.
Thinkgeek made their own Doctor Who bed sheets, y'all. I thought you should know. Twin set is cheaper, but Queen and King available as well. $19.99-$29.99.
Sometimes it's scary when the room is too dark, so you want a nightlight. But what if you can get a nightlight that's creepier than anything that could be lurking in the shadows? This Weeping Angel nightlight is for you! $19.95.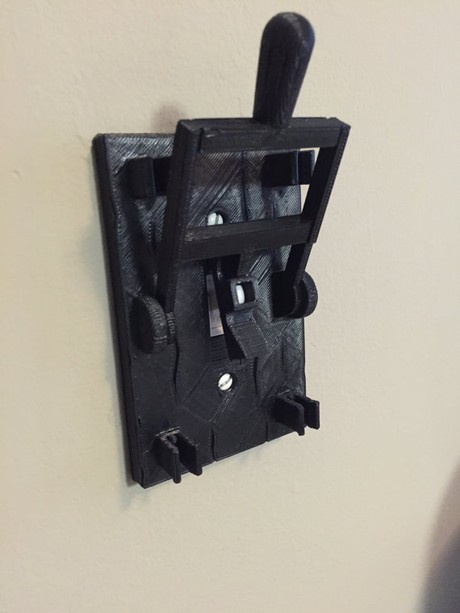 PRE-ORDER, February 2016. Some sharp Etsy person decided to make their own mad scientist-ish lightswitch. Throw the switch instead of lazily flipping a boring little tab. If you don't scream out "It's Alive!" every time you turn on the lights I'll be very disappointed in you. $14.99.
These alien attack bookends set is rad as hell. Man, I love this! $24.20.
If aliens aren't your bag, but you want some cool, striking metal bookends then how about this Kong set from the same company? $18.01.
The Force Awakens is about to take over all our lives, so of course you're going to want to get a jump on that rush of excitement with these pint glasses. Drink from Kylo Ren's head! $23.38.
There's also this set of The Force Awakens Heroes and Villains pint glasses. These are a little tougher to get your hands on, but if you can get 'em you'll be cooler than all of us! $23.99.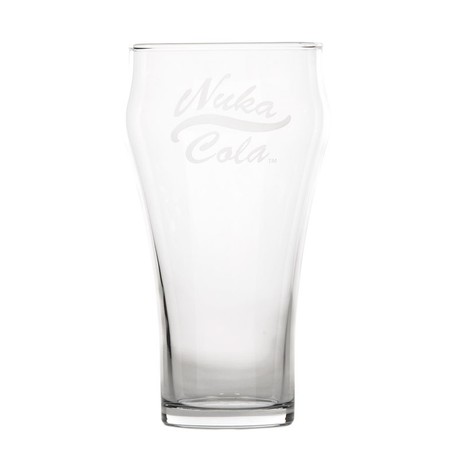 It only took a dozen or so items for me to work in a Fallout related entry! Simple, elegant, etched pint glass with the Nuka-Cola logo on it. $15.00.
PRE-ORDER, January 2016. How cute is this mug? I mean, it's kind of disturbing when you think about drinking coffee or some other black liquid out of it... it's like you're a droid vampire. Still, BB-8 probably won't mind you putting your dirty lips all over his little dome head. $14.99.
This BB-8 mug is actually available right now. Figured it'd be nice to have one you could actually get right now. Made for you coffee addicts, obviously. $19.56.
Can you imagine rocking this out at the office? Yeaaaah, I'm gonna have to ask you for that weapon... yeaaaahhhh... $15.98.
Here's a different kind of Kylo Ren mug... when you pour hot liquid in he ignites his lightsaber. Incredibly cool, is it not? Got a few more like it below, but you can get this one for $11.99.
Vader gets in on the action here, too. He's got some big words backing him up. Literally. $11.99.
The light side gets in on the hot liquid changing mug action in this epic space battle powered by your morning dose of caffeine. $11.99.
Sorry, you guys. I couldn't help it. This just popped in here... I dig that you get both sides to Mr. Stay Puft with this mug. Peaceful smile on one side and angry-brow on the other. You can let people know in advance what mood you're in! $14.99.
You totally want this, I know you do. Dancing Groot mug (he only dances when you're not looking)? Get right outta town with that! And it's super cheap! No-brainer. $6.08.
PRE-ORDER, January 2016. The Ancient One demands you fill his head with delicious liquids. DO IT OR GO MAD!!! $15.99.
Quite possibly the nerdiest thing in this guide: A D20 mug. You're welcome. $12.99.
The idea of holding a furry beer or soda doesn't sound too appealing, but I also want my very own can-shaped Chewbacca to join me on my adventures, so I'm torn. This furry Chewbacca Koozie is a conundrum, I tells ya'. $10.99.
I'm an equal opportunity geek Koozie includer. Never let anybody tell you otherwise! Here's Spock to keep your beer cold, just like Gene Roddenberry intended. Kirk's available, too. Just click through and you'll see him as an option. $9.99.
This concealable flask is perfect for those who are addicted to both gaming and public drinking. That's pretty much everybody, right? Disguise your booze by making people think you're carrying around an old NES cartridge! Comes in a few different varieties. $19.99 for "Drunk Hunt", $19.99 for "Legend of Drink" (Zelda) and $19.99 for "Super Bar-Hop Bros".
I find your fridge's lack of Star Wars geekery disturbing. Old and new represented here, with BB-8 and R2 being all magnetic together. $9.99.
Recreate last night's Walking Dead on your fridge! Make up your own scenario of bloody thirsty zombies attacking terrified people that you can admire every time you get that snacking urge. $9.99.
It's dangerous having really cool nephews because I see shit like this and think about how much they'd love it and before you know it I've spent a mortgage payment on random Christmas presents for them. Zombie cereal bowl, though? I mean, how great is that for a cool kid in your life? Or a cool kid like yourself, even. Cheerios not included. $12.99.
Have you ever wanted to be the mother of dragons? Now's your chance, thanks to this Thinkgeek cake pan in the form of a dragon curled around her eggs. Game of Thrones returns in April, so if you're a baker and want a showstopper for the big Welcome Back Viewing Party you're going to then this is the item for you! $24.99.
Star Wars cookie cutters come in a set of 6. You get Vader, Yoda, Chewie, Threepio, a Stormtrooper and Boba Fett. That's a whole lotta cookie geekery in store for you! $14.99.
That's no moon. That's a kitchen timer. If you want to go all out when baking those Star Wars cookies from above you can go for this spring-wound Death Star Kitchen Timer to let you know when it's time to take them out of the oven. Or blow up Alderaan. One or the other. $14.99.
So this plate set is more for the little jedis or sith in your household, but I won't tell if you want your very own plastic Phasma and Kylo plate/bowl/tumbler. It'll be our little secret. $14.99.
That hunka junk has it where it counts... and by "it" I probably mean hors d'oeuvres. That is indeed a serving tray and it is glorious, isn't it? Don't lend it to Lando, though. You'll get it back all dinged up! $19.99.
BB-8 wants in on this food-serving action, too. We don't even know him yet and he's already being super helpful. $19.99.
Death Star cutting board. It comes with non-slip rubber feet, a heat-resistant glass surface and an exhaust port just big enough for a precisely fired proton torpedo. $19.95.
By the time we're done with this guide your kitchen better be transformed. Hell, you could almost go entirely Death Star themed at this point. To help you reach that goal here's a Death Star chip bowl set! $19.99.
Since we don't get to have real life lightsabers we can at least get one that will cut something up for real. Pizzas, in this case. In previous years I've included an R2 pizza cutter and an Enterprise pizza cutter, so it was only a matter of time before we got a lightsaber one. Plus it's less clumsy than the blaster pizza cutter... $19.95.
Here I thought Spatula City had every kind of spatula, but apparently that's not true. You're full of shit, Weird Al! This fancy Death Star spatula is one of those heat-resistant silicone jobs. I know it's cool, but don't be too proud of the technological terror you constructed. The power to flip a pancake is insignificant next to the power of the Force. $15.95.
R2D2 has been many things in the world of Star Wars merchandise, including a series of measuring cups. That's strangely attractive to this homeowner who fancies himself a minor (very minor) cook. R2 breaks down into four different measuring cups. 1 cup, ½ cup, 1/3 cup and ¼ cup. Oh, and he'll project the Princess Leia message if you get the recipe just right. I might have made that last one up.... $19.99.
These aren't the cookies you're looking for. Move along. Stormtrooper oven mitt. That's what that is, in case you had trouble figuring that out. A silicone one, not one of those padded ones. The more you know. $14.99.
This R2-D2 Bento Lunchbox that has different compartments that stack on each other, so you don't get all your food cross contaminating each other. Can't have that! Plus it makes it harder for Yoda to steal your food like he did with Luke the first time they met. $19.99.
If you want an R2 lunch box alternative, might I suggest the softer "lunch kit" offered by Thermos? It lights up and beeps! $19.17.
Houses Lannister and Stark don't get along, but they were able to band together to season your food properly. Yep, they took the map marker props from the show and made them salt and pepper shakers because of course they did. $19.99.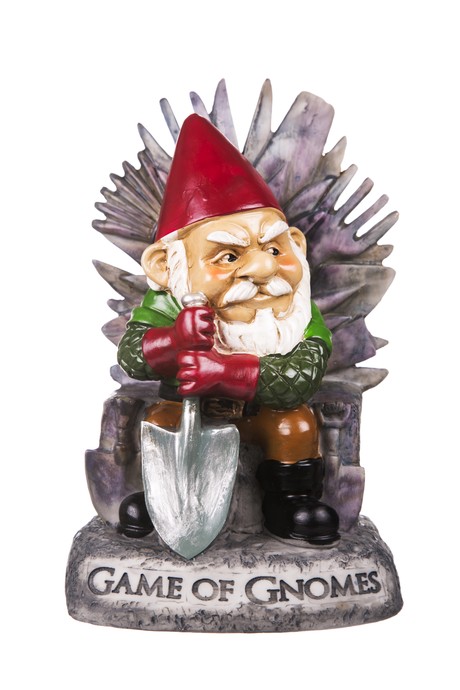 Humans aren't the only ones playing the Game of Thrones. There's one raging in you garden. Which gnome faction will win? House Stark with their Dire-Cats? Or will it be the surprise Mother of Dragonflies? $24.79.
Rampaging Kaiju Gnome Killer! Plant it in the front yard and make sure those damn garden gnomes know what's up and that you're sick of their shit. $18.24.
Looks like there was a hugely untapped geek garden gnome decoration market that gnome-making companies are finally getting wise to. How else do you explain the wealth (and variety) of geek lawn decorations? Here you have your choice of 4 Star Trek gnomes. I particularly like the Gorn/Kirk set. Dead Red Shirt gnome is pretty rad, too. $24.99 each.
SNES nostalgia seems to be coming around in a big way this year. There was that soap earlier in the Guide and now here's the "16 Bit Doormat" done in the shape and style of the SNES controller. Wipe your feet and pretend you're executing a barrel roll at the same time! $19.99.
Every year there's at least one "They made an R2-D2 what, now?" There's a couple this year, but none weirder than the R2-D2 screwdriver. I mean, I get the link. He's always handy with the right plug-in needed, but this thing can't possibly be easy to handle, can it? It looks cool, no matter what, so there's that. $15.99.
Star Trek paperclips! These come in a set of 40 paperclips in the shape of the Enterprise and the Federation Delta symbol. If you have a nerdy prof, paperclipping your next report with one of these might push you a little closer to a passing grade, just sayin'. $19.99.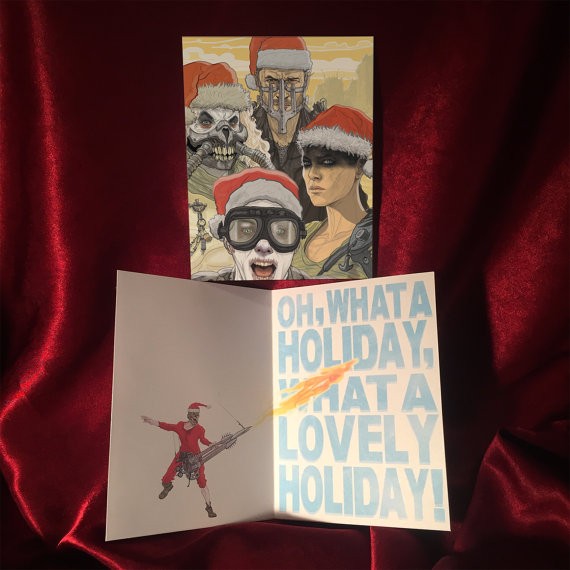 PJ McQuade always does Christmas up right. He made those Quint ornaments in years past. Now he's got a geeky great Christmas card design. A couple of them, actually. We're starting with his Fury Road one. If the cover was the only thing to this card it'd be awesome, but it's next level amazing with the Doof Warrior and "What A Lovely Holiday" interior. $5.00 per.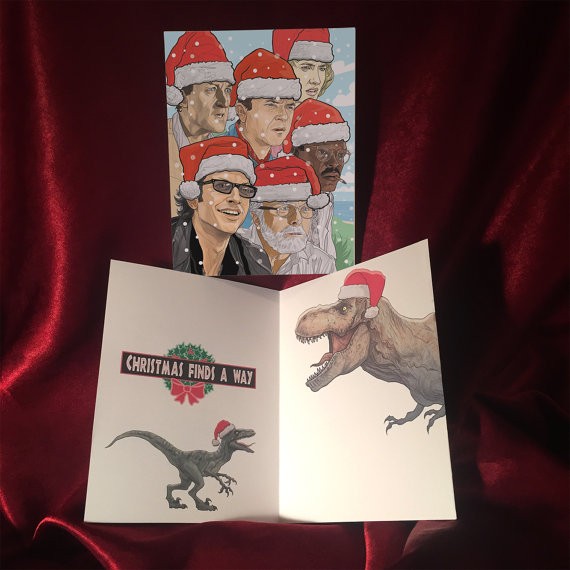 ::Insert Jeff Goldblum laughter here:: Nothing says Merry Christmas more than Dr. Ian Malcolm in a Santa hat. Another great geeky Christmas Card from PJ McQuade! $5.00per.
Collecting Hallmark Keepsake ornaments was never a big thing for me... until I bought my house. Now I must have a new one (or four) for the tree every year. It just feels right and a great way to mark passage of the years. I've already ordered Kylo here because I will always know when I bought him and just how excited I was for his introduction into the Star Wars cinematic universe. $16.95.
Phasma ornament! Captain Phasma ornament! Holy shit, it's beautiful! Shiny! Imagine your tree lights reflecting off of that armor! $24.59.
Vader's in the Holiday spirit, too. He's more expensive than Kylo, but he also talks to you, so quit your complainin'! $24.95.
If you want a little light side in your tree this year, festive R2's got you covered. Judging by his headgear he might have dipped into the eggnog, fair warning. $19.99.
So far the war for the Iron Throne has overtaken your kitchen, your front yard and now your Christmas tree. Don't be surprised if your favorite ornaments start showing up decapitated if you add this to your tree. $9.95.
If you're a tricksy sort, get a few sets of these and add one to granny's tree when you go visit for Christmas and see if it pops up again next year. I really hope Alec Baldwin had a set of these Schweddy Balls. $10.49.
Instead of the usual TARDIS-shaped thing, this is a nice, different gift for the Whovian in your life. K-9 gets some love, y'all! $6.98.
My family was pretty poor growing up, so these stocking holder things are new to me. We just used tape or a push pin. Look at the fancy weighted hook thing technology we enjoy now. Kids today have no idea how good they got it! This one has a snow-covered TARDIS on it, even. $24.99.
If you're going to spring for the TARDIS stocking holder then you kind of have to get the TARDIS stocking to go with it. Don't go half-nerd, folks. All in or nothing! $14.75.
Speaking of going full-nerd, how about a Weeping Angel Tree Topper? Forget having a stupid old regular boring Angel, right? This is the real shit right here. $19.99.
Moderate ($25.00-$70.99)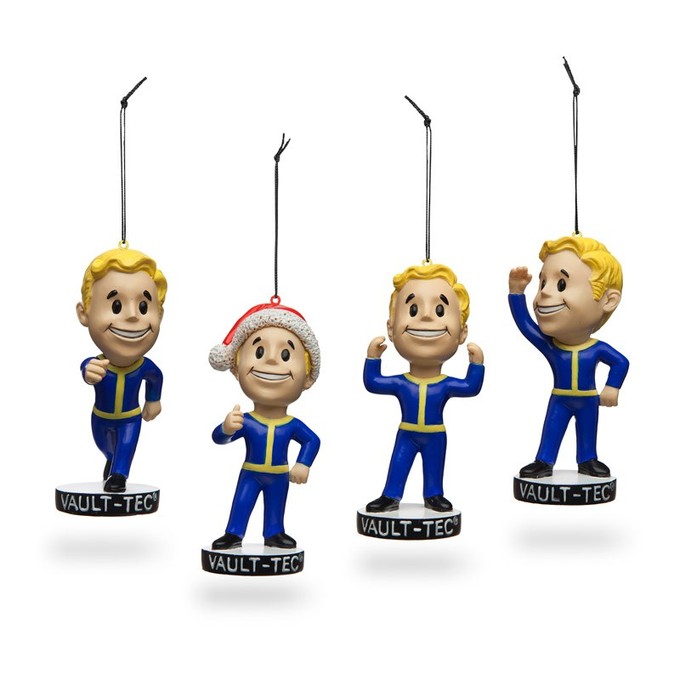 Make sure to level up your tree's SPECIAL skills with these Vault-Boy Bobblehead Ornaments. The Santa Hat Bobblehead gives you a bonus chance of extra bottle caps in every gift, I think. $25.00.
In terms of bang for your buck, this The Force Awakens ornament set is your best option. For less than $40 you get 6 rad-tastic ornament representations of Kylo, Rey, Finn, BB-8, Phasma and a Flametrooper. $39.95.
I find your lack of stocking stuffers disturbing. Have a Dark Lord of the Sith make sure your holiday sock doesn't fall down. $29.83.
I'm almost done with stocking holders, I swear. I couldn't leave out this one, though. It's probably the coolest looking of all of them. You'll want to have the iron throne out all year long! $29.99.
This AT-AT lawn ornament is a perfect item as we head into the blistery winter season. Not in Austin, we don't get snow, but if you do then this is going to look doubly badass in your front yard. The Battle of Hoth recreated in your garden! $39.99.
This BB-8 desktop lamp is pretty adorable. You turn on the light by pressing down on his head. So you have to pet him to illuminate your room. Amazing. $39.99.
If touching BB-8's head is too much work for you, but you still want to have the droid light up your room, I have another lamp option for you. Also available in Threepio, R2 and Stormtrooper designs. $39.99.
Kylo Ren's head can stick to your wall and light up your room with his red visor thing. I don't think that's a spoiler because this same company also made a Vader wall light head thing that has light up red eyes. Or maybe Kylo's got Cyclops powers, I don't know. $39.99.
It was only a matter of time before someone thought up a paper lantern Death Star. I mean, both are round and the real Death Star lit up real bright once. Real bright. $39.99.
How pretty is this Millennium Falcon, you guys? Light up glass lamp thing that I didn't know I needed until I saw it. $69.85.
PRE-ORDER, January 2016. Slow clap to the geek who thought this one up. It's just a lava lamp, but put in some black globby wax lava lamp stuff and slap a SHIELD logo on it and suddenly it's a Venom containment unit. Perfect. $27.99.
You know those USB charger wall plugs that have a couple different USB ports so you can charge multiple devices at once? This is one of those, but it's in the form of R2-D2. $29.99.
Smart phones drain their batteries at an alarming rate. Most professionals have to carry an external portable battery, so why not have yours look like a lightsaber? I expect to see a lot of these next time I'm at Comic-Con... $29.99.
Every geek car is missing this KITT voicebox USB charger. It has two USB ports to charge your devices and speaks 11 phrases, the lightbars moving in time with the dialogue. $31.99.
I should have put this Flux Capacitor watch in the apparel section, but I messed up, so now I'm squeezing it into Housewares because I'm King God of this Guide and can do what I want. It's just too cool not to include. I particularly like the date display. There's a trick to reading the time via the Flux Capacitor's lights flashing, but I don't really understand it. I'm sure one of you smart people who buy it will figure it out in no time, though. $54.99.
We don't have any real life buyable hoverboards yet (no, those ridiculous roller platforms that look even stupider than Segways don't count and that crazy magnetic prototype thing isn't something you can just go out and buy, so it doesn't count either), but we do have this 6 inch moving hoverboard set to distract you while you work. We're getting there, but we'll probably need another 100 years to be close to what Marty and Doc Brown saw. 2115, here we come! $39.99.
This Walking Dead Letter Opener is a gruesome addition to your desktop. Don't tell Michonne you ran off with her sword, though. She's pretty protective of that thing. $52.99.
Haha, this is pretty sweet. Enterprise Sushi set complete with wooden base, nerdy chopsticks and a soy sauce container hidden within the Enterprise's saucer. What will they think up next? $41.40.
R2's a little teapot, short and stout... The handle and spout aren't canon, I don't think... $44.49.
I don't know. Chop casual. This Millennium Falcon cutting board is made of wood, which means your knives will stay sharper longer. Is there anything Han's bucket of bolts can't do? $29.99.
Lightsaber tongs... yes, it actually makes lightsaber sounds when you press the button on the handle and it also comes with a see-through red saber sleeve for when the tongs aren't in use. Vader's saber has never been more practical! Except when cutting off Luke's hand. That was a pretty good, too. $39.33.
PRE-ORDER, February 2016. These delicious waffles are each capable of destroying an entire planet, so you better eat 'em up before they do that. $39.99.
Set of 10 fancy glass cups, all representing some sort of celestial body, including a larger than the rest Sun glass and a smaller than the rest Pluto one. These things are very striking, nerdy in a classy way. $49.99.
This talking Darth Vader cookie jar would make a great companion gift to that Star Wars cookie cutter set from earlier in this section. Search your feelings, you know it to be true. $39.95.
PRE-ORDER, January 2016. Cookie cravings come mostly at night. Mostly. So it might be good to hide those evil things inside a ceramic Alien Warrior cookie jar, no? $39.99.
Lock, Shock and Barrel want in on the ceramic cookie jar fun, too. Watch out for bugs in the food, though. Those pieces of shit love to cause all sorts of mischief. $55.63.
Oh, god! Someone decapitated R2! Luckily for us his decapitated head still wants to help you out, so you can turn him into a bluetooth enabled speaker. You can even take calls through him! You gotta get someone to sign off by saying "Help me, Obi-Wan Kenobi. You're my only hope." You just hafta. $49.99.
It's now been confirmed that Darth Vader is a dirty ol' Peeping Tom. Shouldn't come as much of a surprise, honestly. He did wipe out a ton of little Jedi kids once and will choke any bitch at the drop of a hat. If you want to take a shower with Vader all you need is this nifty shower head. Doesn't require any special tools to install and comes with a life-time warranty. If you only knew the water pressure of the Dark Side... $59.96.
This Captain America (Winter Soldier-costume if you want to be specific) towel set looks surprisingly nice. You get towels of the bath, hand and face variety in this set. Added bonus: when your non-geek conservative family members come to visit they'll be super impressed at your newly found patriotism. $49.99.
This Marvel sheet set is pretty great. It's nerdy, but doesn't look like the usual loud kids sheets/comforter sets. It's slightly more respectable and grown up. Just slightly. I mean, you're probably still going to have trouble getting laid in a bed that looks like that, but if you do you'll know you found the one. $49.99-$79.99.
Han Solo In Carbonite Rug. Yes, please. 31x71 inches of pure unadulterated geek goodness right there. $49.99.
A Yoda Yoga Mat? Brilliant. Inspirational and saying it out loud makes it sound like you're speaking in tongues, so bonus. $27.99.
Expensive ($71.00-$249.99)
PRE-ORDER, January 2016. Look at the detail on these AT-AT bookends. It's so good they almost look like the original models, don't they? Expensive for mini-AT-ATs, granted, but really cool looking. $224.99.
The Japanese thought it would be a good idea to make an R2-D2 trash can and here we are. Thinkgeek have exclusive rights to sell Trashy-D2 here in the States and I gotta admit it's kinda cool. He's knee-high to an average adult person and when you step on his center foot his dome opens and invites you to dispose of your blue milk carton. $129.99.
Your beer and/or soda should be quite well protected in this Han Solo In Carbonite Fridge. Cool thing, this is one of those fridges that can be either hot or cold depending what you need it for. Just don't let Boushh around it. Shifty look to that one, keeps hanging around my favorite decoration. $149.99.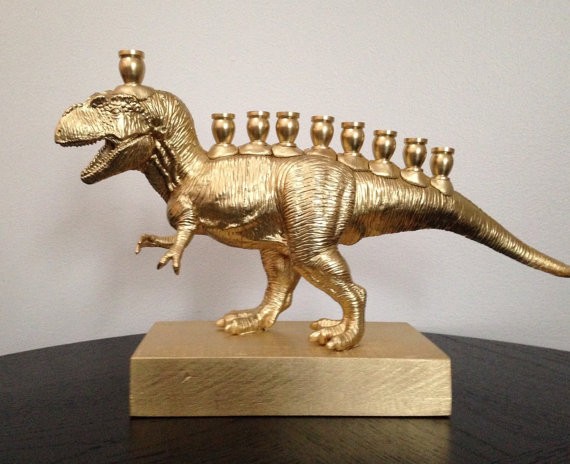 Here's some random shit I found while scanning Etsy... Sadly, this Menorasaurus Rex won't be available this Hanukkah season, but you can get a jump on next year since these guys start shipping out in January. The same artist also has other species of dinos available, my favorite probably being the Bronto. $85.00.
TOYS/COLLECTIBLES
Cheap ($24.99 and under)
That's Mr. Meeseeks. Look at him! If you haven't had the pleasure of watching Rick & Morty you're probably lost right now and want to know what that little weird blue thing is. It's time you went and watched Rick & Morty then you'll know why I had to include this Meeseeks plush. I called on him to help me with the Guide and things got really messed up, but as you can see (since you're reading this) the Guide got finished and everything is happy. $14.99.
Ant-Man Ant Farm. Of course this exists and the world is a better place that it does. I actually was sent one of these. Of course I immediately took it over to my nephews' place and we got sand and ants everywhere, but somehow managed to get the little guys settled into their new home without anyone getting stung or bitten. Miracle. I don't think it comes with ants, but you can actually order them from Amazon, believe it or not ($6.78). That reminds me, I need to check in and see if the kiddos have been able to keep the ants alive... $14.99.
Funko had to go and make a Jaws set this year. Naturally I got all of 'em, but the best part about it was that I didn't have to buy them. I came home from a trip and my awesome nephews (with a little help from their dad) were champing at the bit to gift them to me. Yeah, my heart melted a little bit. They know me so well! This one is for Bruce, complete with scuba tank. We'll get to the guys below. $13.99.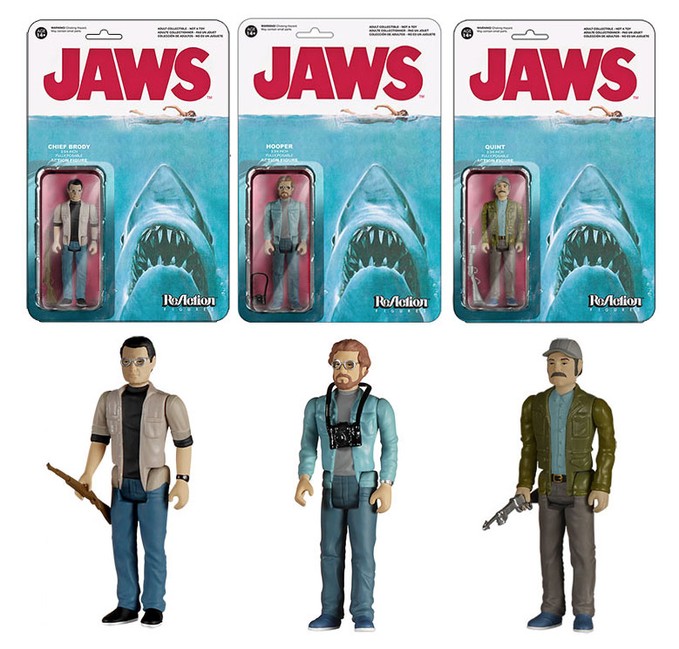 Can't have the shark without his hunters. Bless your hearts, Funko. Bless 'em. $9.93 for Brody, $9.31 for Hooper and $10.99 for Quint.
Funko's retro figures look super shitty. That's not a slag, it's a big part of their charm, but they stepped up their game with this Rocketeer Legacy figure. It actually looks pretty damn good, doesn't it? Stands about 6" tall and is the rare toy that looks just as good inside or outside the package. $18.46.
It's pronounced Eye-gore. Marty Feldman was the man and to have the chance to own a toy version of him is pretty outstanding if I don't say so myself. Funko's Idolz line did a few Young Frankenstein toys (you can get all three for $66.66 if you want), but this one is my favorite and you can get him for $16.50.
PRE-ORDER, January 2016. Neca's Ultimate line is pretty sweet and they're doing the 7" job on the T-1000. That sounded dirty. I just mean he comes with lots of accessories and stuff, not that other thing, you weirdo. $21.99.
Breaking Bad's been over for a while now, but I'm sure I'll get yelled at by someone for this spoiler-heavy toy. I get it, but I couldn't resist. I mean, it's Gus Fring at his most... iconic, should we say? Yeah, that works. $15.59.
I'm 34. If you're anywhere around my age then Garbage Pail Kids was a big deal for you back in the day. Disgusting, revolting, gross, crude and graphic... parents hated the cards, kids loved 'em. So it fills me with not small amount of nostalgia to see them recreated in vinyl figure form. This here is Adam Bomb in a 10" mega form. There's also some small mystery figure versions, but I like this one. Big, in your face... full of nuclear fire. The best! $17.95.
Neca's made about 3,000 Alien/Aliens related toys, but I really like this one. Ripley from Aliens at her most maternal badassiest. 7" tall and ready to abort all the alien eggs she can find. If you spring for the badass Power Loader (later in the guide) this Ripley fits into it. FYI. $20.90.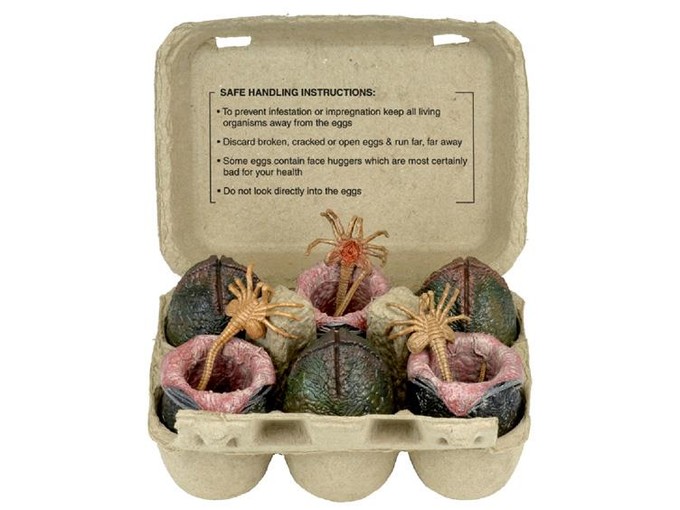 Half Dozen Xenomorph Eggs. Farm fresh, cage-free. The little face huggers included are actually scaled for their 7" Aliens figures, so if you have any of them you get accessories in a sweet bundle pack! $22.99.
PRE-ORDER, December 11th. Yes! Funko's Legacy series I mentioned above is now including a couple actually good-looking Fallout figures. It's about time they licensed and marketed the shit out of this franchise. Some second hand sellers have these in-hand, but are charging a ton for 'em. Looks like new stock hits in a couple weeks. $20.97 for the Power Armor and $20.53 for the Vault Dweller.
Bioshock's Big Daddy is one of the most iconic designs in any visual medium of the last decade. I adore those games and Funko has a sweet super-sized Vinyl Pop version of Big Daddy out that you can get and admire. $10.25.
Disney Store has a lot of good Force Awakens exclusives, but here's one set you can get easily online with little teeny tiny click via Amazon. That gives you Kylo, BB-8, Phasma, Ray, Finn and a Flametrooper without having to hunt them down one by one! $22.49.
Rey's speeder has already made an impression just based on the glimpses we've gotten in the trailers. One of the more inexpensive Lego sets you can get is this one for that speeder and yes, it comes with a little Rey and something called an Unkar's Thug. That can't be good. $19.87.
While we're talking about Rey's Speeder, how about we take a look at Hasbro's toy (sized to fit the 3 ¼ inch figures). $19.99.

***********

Oh yeah, let's also give one away! Hasbro is allowing one of you fine folks to spend your Holiday season with little Rey and her Speeder bike. All you have to do to win is email me at this email address with the subject line "I Feel The Need For Rey's Speed(er)". Make sure to include your mailing address and phone number in the body of the email should you be one of the lucky winners. I will pick them at random sometime between the posting of this article and 11:59pm CST Saturday, November 28th. The contest is open to US residents only (sorry rest of the world). Good luck!
Gotta give a little love to Star Wars Rebels here. This vehicle set comes with Kanan and a Y-Wing Scout Bomber. $19.99.

***********

I got another Hasbro giveaway for ya'. All you have to do to win is email me at this email address with the subject line "Kanan Can Bomb My Scout Anytime". Make sure to include your mailing address and phone number in the body of the email should you be one of the lucky winners. I will pick them at random sometime between the posting of this article and 11:59pm CST Saturday, November 28th. The contest is open to US residents only (sorry rest of the world). Good luck!
The Black Series Force Awakens figures are hard to get your hands on. At least here in Austin they are. I've never seen a Kylo or Phasma in the wild, just Finns (racists!). But I like those bigger, more detailed figures. You can get a few on Amazon without having to hunt and search for 'em (like Poe and Flametrooper and Chewie). $21.00-ish each.

***********

Or you can win a random one, courtesy of Hasbro! Yes, random. I don't know what they have, just that you'll for sure get a Black Series figure. If it's a Phasma I'm going to be super jealous... All you have to do to win is email me at this email address with the subject line "Gimme A Mystery Black Series Figure Please". Make sure to include your mailing address and phone number in the body of the email should you be one of the lucky winners. I will pick them at random sometime between the posting of this article and 11:59pm CST Saturday, November 28th. The contest is open to US residents only (sorry rest of the world). Good luck!
So this basically gives you a Millennium Falcon laser gun and it projects a space battle on the wall and lets you shoot at TIE fighters. Reminds me a lot of the light-throwing toys I had as a kid (I remember a ghostbusters one that was a proton pack that would project a ghost on the wall when you aimed the proton stream thingy). This also comes with some glow in the dark TIE fighter decals. $22.93.
Science! I love that there's a whole slew of toys out there that's taking young people's love of Star Wars and using it to teach them a little science. This kit mimics Force manipulation using static electricity. I know that sounds more like what a Sith would do, but as long as you kid doesn't start cackling about ultimate power you should be all good. $21.45.
Moderate ($25.00-$70.99)
Godzilla wants all your money!!! This is a Japanese import piggy bank that is just about the coolest thing ever. You put a coin on the "ocean" surface and Godzilla senses it... the theme starts pounding, he roars and pops up and pulls the coin down with him. Seriously, go look up a video of this thing in action. It's amazing. $34.24.
It's Jaws, so I had to put it in the Guide. 15" long Orca on a spring that reacts to the shark popping out of the water. Look out little toy Robert Shaw! $67.66.
Don't fucking Jimmy me, Jules. Okay? 13" Talking Pulp Fiction dollies is so awesome. I featured Tarantino's Jimmy because I just think it's rad to have an action figure of Quentin Tarantino (with the excellent cup of coffee, no less), but there's a bunch of others if you want Jules, Vincent or Butch. Links and prices: $49.18 for Jimmy, $49.99 for Butch, $39.93 for Vincent and $49.18 for Jules. Yes, he comes with his Bad Motherfucker.
X-Force Deadpool showed up and demanded some Chimichangas, but I didn't have any, so he said he'd settle for inclusion in the guide. Everybody's favorite Merc With A Mouth is represented here in X-Force duds in this cool ArtFX statue by Kotobukiya. $39.82.
I love the idea behind this Death Star home planetarium. It projects fictional planets from the Star Wars Universe, but it also has Earth's starfield as well. My 8 year old nephew gets all Rain Man when it comes to constellations. Space fascinates him and I'm doing my best to get some movie geek in there, too, so this would be a perfect gift for him. I was the same way as a kid. I loved the stars and mystery of outer space. Very neat gift, this one. $25.61.
These vehicles remind me of the big Falcon releases of my childhood. One kind on the block always had it and everybody'd want to play with it. This is the new First Order TIE Fighter complete with firing missile bolts and pilot figure. $31.99.
This is Hasbro's big ol' release of Poe Dameron's nifty Black and Orange X-Wing from The Force Awakens. You get the large X-Wing (it really is big), Poe and, if I'm not mistaken, a little BB-8 that fits snugly in the Astromech slot. $39.97.

***********

Contest time, contest time! I got one of these to give away, courtesy of Hasbro. All you have to do to win is email me at this email address with the subject line "Where's BB-8's Scrotum, Poe?!?". Make sure to include your mailing address and phone number in the body of the email should you be one of the lucky winners. I will pick them at random sometime between the posting of this article and 11:59pm CST Saturday, November 28th. The contest is open to US residents only (sorry rest of the world). Good luck!
Lego Snowspeeder. This time it looks like the bad guys get to rock the snowspeeders. Ah, too much info already! I don't want to know! I do, but I don't! $32.00.
Every year Lego puts out an Advent Calendar and this Star Wars related one is pretty nifty. I loved the chocolate-filled advent calendars my grandparents always gave me as a kid, but I would have flipped my shit to have gotten geeky Lego ones! $64.99.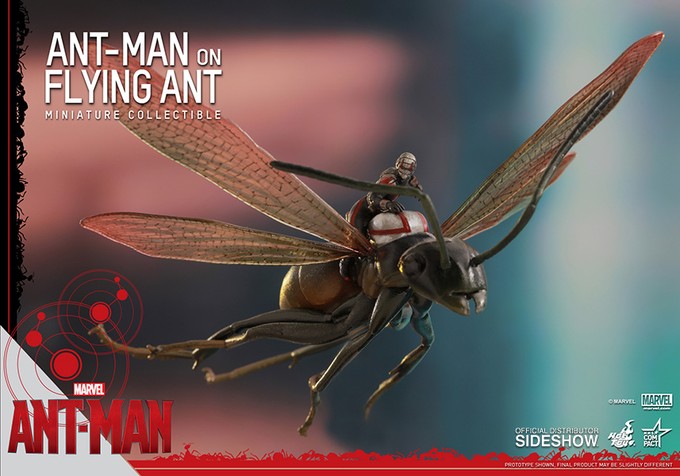 It's not often you can get a Hot Toys figure for under $40, so it is with great joy that I include this Ant-Man Riding A Flying Ant Hot Toys figure. It fits in the palm of your hand, but the detail is incredible on it. Dig it! Ships this week/early December. $39.99.
PRE-ORDER, January 2016. Disney storybook statue featuring the great Peter Pan. Hey, it can't all be Star Wars (there's still a lot of Star Wars). $69.99.
Man, remember Colorforms? I had a ton of those as a kid and it looks like they're still going strong. Here's a mega-set of a ton of colorforms from the newest incarnation of TMNT. $37.66.
Expensive ($71.00-$249.99)
One of the most jazzed about Force Awakens products is this Sphero remote controlled BB-8. I don't have one because I'm lame, but I've seen people all over my social media losing their shit over it. It's out of stock all of the place, but you can still get it right now via some Amazon sellers. $179.99.
Black Series doesn't just mean cooler single figures, they also go bigger. In this case, huge. This is definitely a classier, more detailed upgrade to the regular TIE fighter they released. This is scaled to the 6" figures (not the 3 ¼ figure) and the First Order TIE actually fits two 6" figures. Super fancy! $169.99.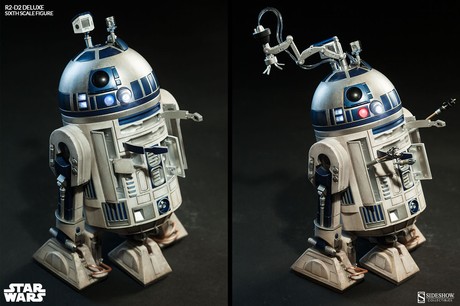 R2 here isn't Hot Toys, but he is a sweet Sideshow creation. 1/6 scale and he comes with a ton of extras, like Luke's saber, the drink tray thing on his head and all sorts of robot arms. He's also part of a Sideshow free shipping promotion, so that's an instant $15-ish savings! $149.99.
ForceFX's Kylo Ren saber is another high in demand item this Holiday Season. I've found a few on Amazon, but the mark-up was too ridiculous, so I'm linking to Entertainment Earth, who promises to have a shipment this December. $199.99.
We got Kylo Ren represented in a lot of ways in this guide, but we haven't gotten his ship yet, so we're gonna do that in the form of this 1000+ piece Lego set. $104.99.
Bad ship, now good ship! It's our old buddy, the Millennium Falcon! Square radar dish! This is going to be an epic build at over 1300 pieces, plus you get Han, Chewie, Finn, Rey and some pirate dickheads! $141.18.
Lego First Order TIE Fighter because I've put damn near every other toy version of the new TIE in this guide, so why stop now? Can you tell I'm a little excited to see this sucker in action? $71.50.
Another Science-y Star Wars toy. The Force Trainer uses the power of your brainwaves to actually make shit happen. Manipulate holograms in scenarios that re-enact stuff from the movies. Another great present for the aspiring science kid in your life. Assure they are shunned and wedgied for their entire high school tenure with this gift! $79.99.
I gather material for this Guide pretty much all year. My notes on this one is "Crazy Yoda talking statue thing from Target." I saw this guy at Target and he blew me away. Yoda teaches you the ways of the Force and will actually let you Force push him when you train. He also whips out his lightsaber and goes all whupass around the place. Definitely one of the cooler high tech Star Wars things out there this holiday season. And yes, you can get him at Target, but he's actually cheaper at Amazon (by about $50). $129.00.
Amongst the huge batch of new Star Wars merch is this remote controlled AT-AT that comes complete with it's movie-accurate sound effects and mouth-blaster things. $152.95.
Play Arts made a very cool Darth Maul that has 20 points of articulation, which means you can pose him in many different ways. Don't get any bad ideas, pervos. $138.45.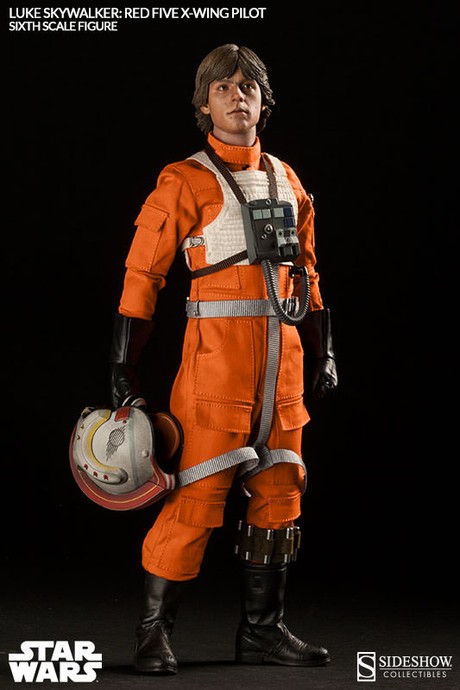 Sideshow's Sixth Scale Red Five Pilot Luke is amazing looking! The level of detail in these figures from places like Sideshow and Hot Toys never ceases to amaze me. Click through and look at all of their pictures... some of them look like photos of Mark Hamill from 1976! $239.99.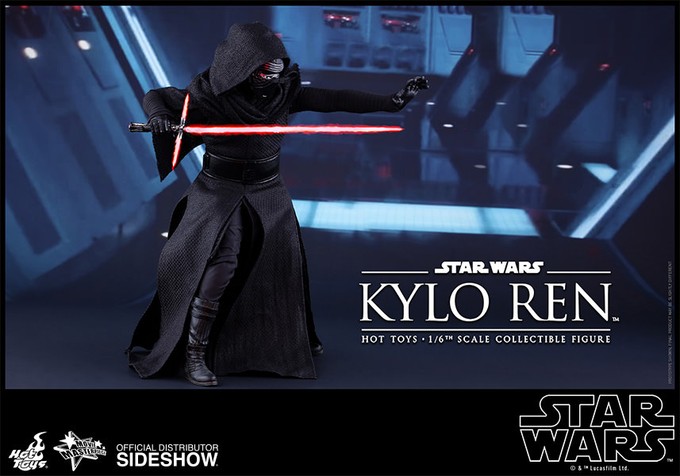 PRE-ORDER, December 2015-February 2016. The Hot Toys Kylo Ren is expected to ship in December, but knowing Hot Toys it'll probably be more like September. I kid, I kid! These things are totally worth the wait. I'm addicted now. I have four and the only thing that's keeping me from getting more is my stupid bank account. Kylo looks amazing, as should be expected. The work on the lightsaber in particular is crazy good. $224.99.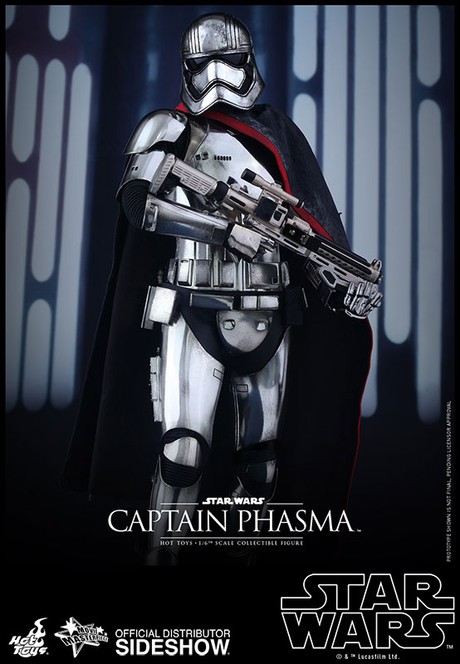 PRE-ORDER, May 2016. This is the first time I've taken a real hard look at that Phasma image Hot Toys and it occurred to me that while I have no idea how the story and character interactions are going to play out in Abrams' Star Wars, I'm already in love with the look of the movie. The used world aspect of the original trilogy seems to be in full swing and you can see that evidenced in this Phasma Hot Toys figure. Kylo's cool, but if I pull the trigger on any new Star Wars Hot Toys it's for sure going to Phasma. It's simply a stunning piece. $249.99.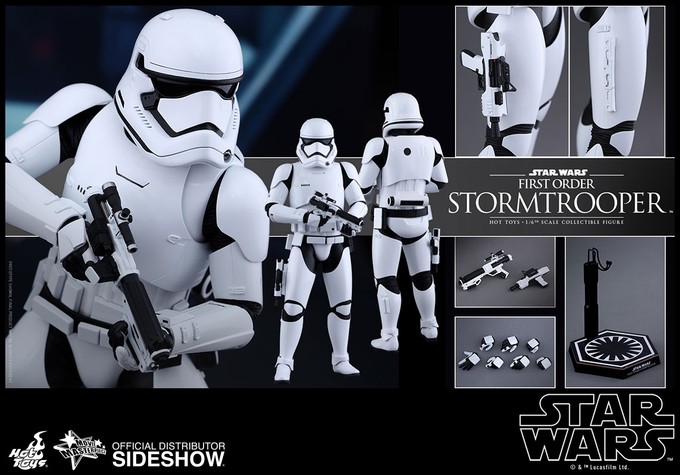 PRE-ORDER, December 2015-January 2016. Another example of exquisite design in the new movie. The First Order Stormtrooper is somehow both fresh and new and not all that far removed from the original look. If that ends up being the overall tone of The Force Awakens I'm going to be a really happy geek. The Hot Toys First Order Stormtrooper looks great! $204.99.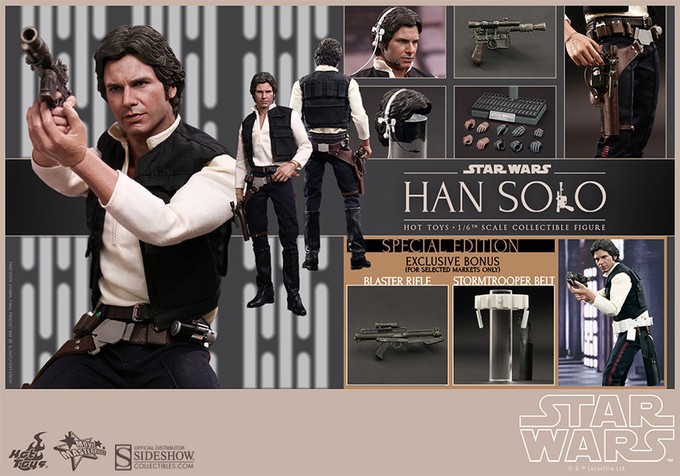 Remember when I say I have four Hot Toys figures? This is one of them. I couldn't turn down the chance to pre-order this rad A New Hope Han Solo and I can say he looks great in person. Almost like he runs around my place when I'm asleep discovering new wonderful smells. You're about to see a run of the Hot Toys I have, so prepare yourselves! Han is shipping now and will run you $229.99.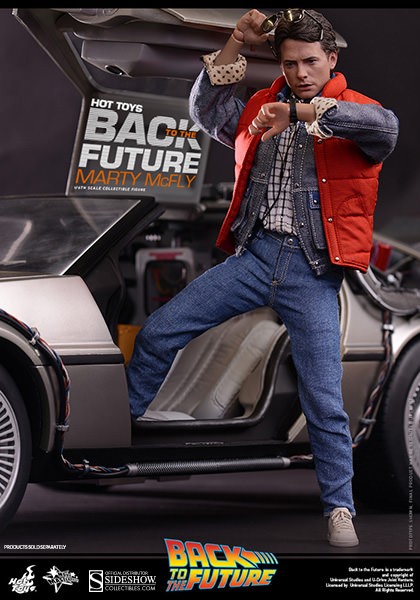 Marty's been on my shelf (next to ED-209 and the Hot Toy below) for half the year and I still stop and look at it every once in a while and think about how lucky we are to be geeks living in the world we do. This is one of the items Sideshow is doing free shipping on, so it'll just run ya' $224.99.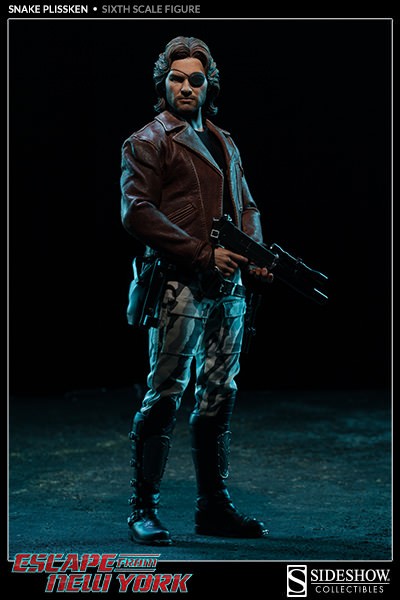 I had this in the guide last year, but since you can still buy it I had to bring it back. The Kurt Russell likeness is incredible and let's face it... there's always going to be a great new Joker or RoboCop or Terminator figure out there. How many Snake Plisskens do we get? I remember it being mind-blowing when MacFarlane came out with his Escape From LA Snake. Hot Toys has them beat by a country mile here. $159.99.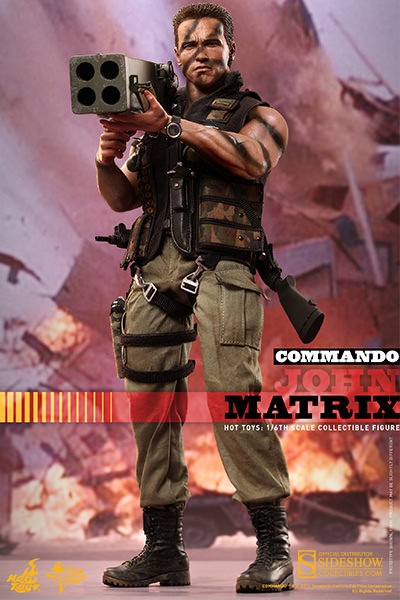 Remember when I said I'd list Commando last? I lied. Schwartzenegger's John Matrix from Commando gets the Hot Toys treatment. I love the variety from that company. Star Wars, Marvel and... Commando?!? Free shipping from Sideshow, right now. Bonus! $249.99.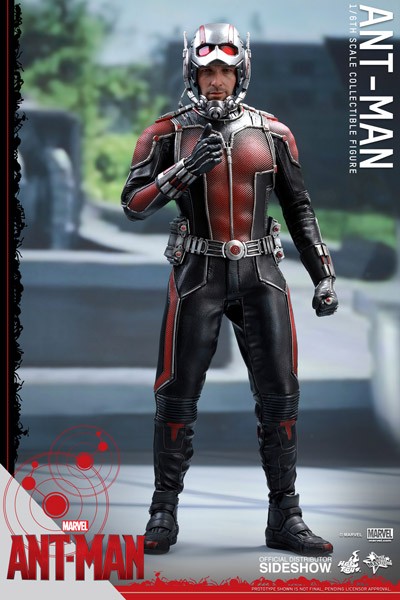 PRE-ORDER, February 2016. Do you know how long I've waited to have my own Paul Rudd? I won't say how long, but it's been a while and now my dreams have come true! As a bonus you get the Ant-Man suit! Heh. $234.99.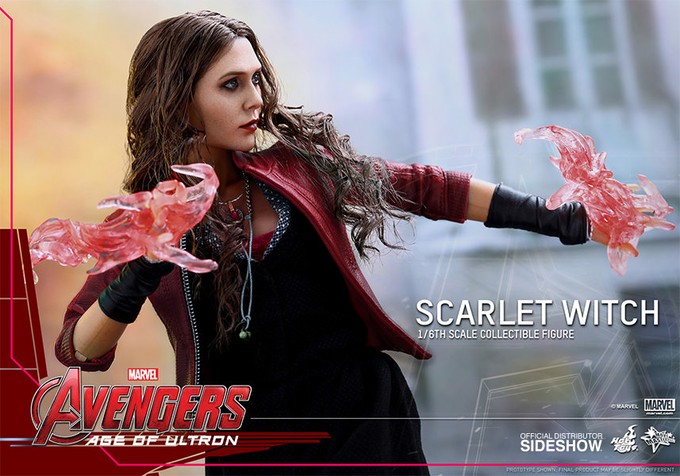 PRE-ORDER, December 2015. Marvel's been a cornerstone of Hot Toys for many years and here's their rather rocking attempt at Elizabeth Olsen's Scarlet Witch. Lots of different crazy hand accessories, from slightly glowy to full on jello covered! $229.99.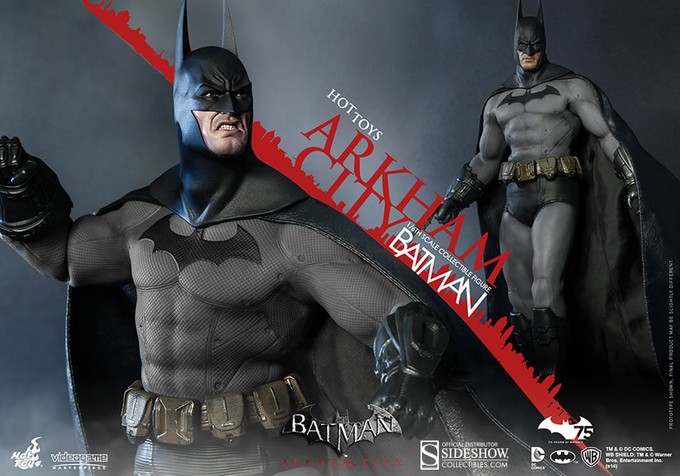 Arkham City Batman from Hot Toys continues the run of geek eye-candy in this section. It's impressive when they get the look of a real actor right, but even doubly so when it's a realistic looking figure from a video game. Very striking version of Bats. Free shipping! $229.99.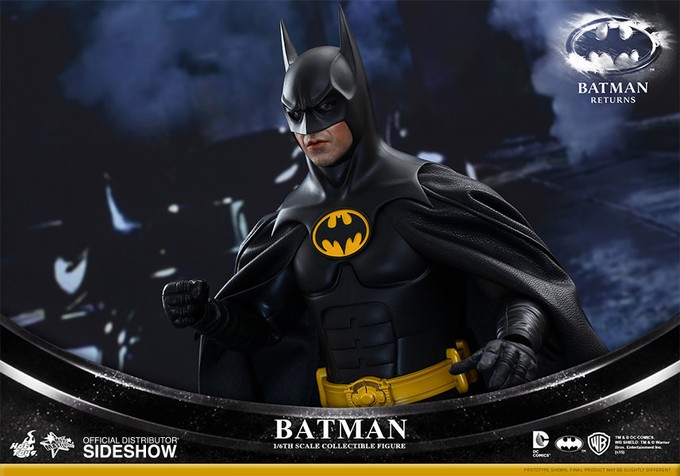 I have a big soft spot for Batman Returns. It's a weird movie, but that's why it stuck with me so much. There's a few Batman Returns items in the Guide this year and this is the first up, Hot Toys' great Michael Keaton Batman from Tim Burton's crazy sequel. Tons of accessories included, as you've come to expect from Hot Toys. $219.99.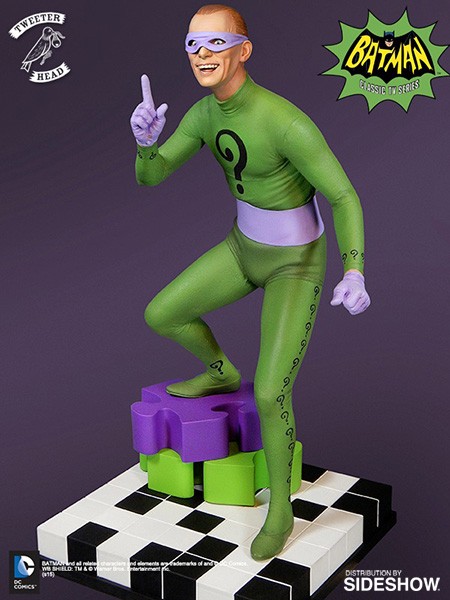 PRE-ORDER, March 2016. We're out of Hot Toys (for the moment). This sweet Frank Gorshin Riddler from the Batman TV series is from Sideshow's Maquette line. Stands almost 13" tall and is so brightly colored that it will jump out wherever you put it in your house! $249.99.
PRE-ORDER, December 2015. Arkham Knight was a pretty righteous bad guy in the new game. Well, kinda bad guy, but I won't say too much in case there are folks who haven't played it yet. It's a good one. And so is this 10+ inch statue, put out by DC Collectibles. $99.99.
Batman: The Animated Series rules. We all know that. And so does this DC Collectibles Batmobile. It's not only big (24" long) it also lights up! $97.99.
TV Flash fans get ready for this one! Here's a 1/6 scale (ie about 12.5 inches tall) statue of the Scarlet Speedster! I think one of his bad guys froze him into place because he hasn't moved since I added him to the guide and that's very unlike him... $102.84.
Neca made a quarter scale version of Christopher Reeve's Superman that looks like he's about to fuck some shit up. Seriously, this is pissed Superman and I'm not used to seeing that outside of Zack Snyder's movies! Joking aside, this is almost evil Superman from Superman III, which is cool in my book. This guy stands over 18" tall and will run you $124.95.
I think the fan love for Baby Dancing Groot kind of took Marvel by surprise. There was a hastily put out Pop Vinyl, but it took them half a year to get start flooding the market with Dancing Groot stuff. This is probably the best out there, an actual 1:1 scale "Motion Statue" meaning yes, it does dance. $175.42.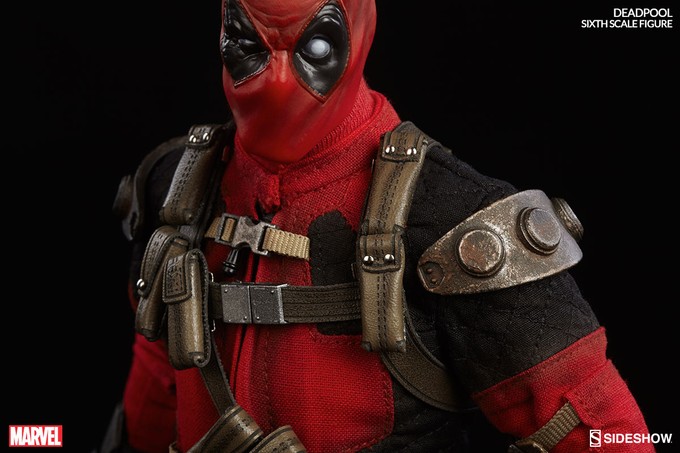 Sideshow's sixth scale Deadpool has all the right swagger. Not sure I like his face always being wrinkly, but I guess it make sense considering what's underneath that mask (insert Stephen Colbert dry-heave sound here). Figure comes with slicey stabby weapons and boom boom makers. Player's choice on what to equip. $229.99.
Kotobukiya's FineArt series gets a little carnage... They get a little carnage... Because his name is Carnage. I'm totally not really tired and barely aware of what I'm typing at this point. Obviously. Carnage is cool lookin', he's got the tendrils and you have the option of keeping his clawed hands or replacing them with included spiked weapon symbiote craziness. $174.95.
PRE-ORDER, February 2016. Mondo's had this cool Hellboy statue in the works for a while now. It's based on Mike Mignola's original sketch of the character, which is a really rad idea and it looks like they're pulling off a kickass statue. $200.00.
Ah, The Hound. I loved to hate you and then hated to sympathize with you. Here's a mini-bust you can either kiss or spit on. Or spit on after you kiss him. You do what you want. $71.19.
Dark Horse did this one, a Brienne of Tarth (Game of Thrones, for the 3 people reading this that don't know who Brienne of Tarth is) statue. Rightfully so, she stands tall, at 14", in this limited hand-painted edition of only 950. $221.37.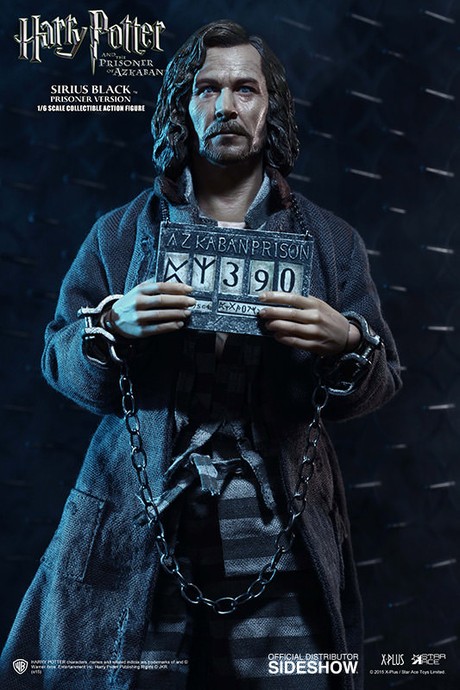 Gary Oldman! Sideshow has a sixth scale Sirius Black figure out now and I love it. I love it mostly because it tickles me to no end to see great character actors getting this kind of A-list treatment. Not that he doesn't deserve it, it's just that I never expected to have my own life-like Gary Oldman figure. $189.99.
Speaking of crazy actor's actor statues you'd never thought you'd get, here's Brian Cranston as Walter White as Heisenberg from one of the best shows to ever air on television. This sixth scale Breaking Bad piece comes with Heisenberg's trademark hat, gun, bloody money and tailored cloth outfit. $134.99.
Remember way, way back at the beginning of this section when I included a Neca Ripley from Aliens figure? She fits inside this Power Loader, which stands over 11" tall. I can't imagine buying this and not springing for Ripley to drive it. I mean, she has a Class 2 rating, afterall. $104.95.
This was another random thing I got my hands on a couple months back, which of course meant it was immediately donated to the nephews. The remote controlled Indominus is actually a pretty nifty toy. I would have flipped my shit if they had something similar for me back when Jurassic Park came out. This thing can be programmed to follow you, to go on "patrol" where it rolls around randomly until it finds a human (or pet) and then it goes nuts and roars and snaps its jaws and stuff. I know the kiddos got a kick out of it, so perhaps yours will, too. $79.00.
Looks like Lock, Shock and Barrel are becoming popular Nightmare Before Christmas Merch characters. We've seen them pop up a couple of times this year and here they are again in a set of three detailed mini busts. $109.99.
Remember those Millennium Falcons that were around in the '70s and '80s that opened up and had little spots for you to put your figures? This is like that, except it's a huge Leonard that opens up into a bunch of different playsets. This is the kind of thing you put under the tree for the kids and watch their minds explode to open up a toy bigger than they are. $119.99.
Speaking of huge, this massive Transformer is made up of 6 different vehicles. I have no idea what a Devastator is as I pay about zero attention to Transformers anymore, but I know this thing is sure to knock out any real Transformers fan. $179.99.

***********

Hasbro has foolishly decided one of you guys or gals needed that giant Transformer for free, so you know what that means! Another contest! All you have to do to win is email me at this email address with the subject line "I'll Be Devastated If I Don't Win". Make sure to include your mailing address and phone number in the body of the email should you be one of the lucky winners. I will pick them at random sometime between the posting of this article and 11:59pm CST Saturday, November 28th. The contest is open to US residents only (sorry rest of the world). Good luck!
For The Super Rich Only ($250.00 and Up)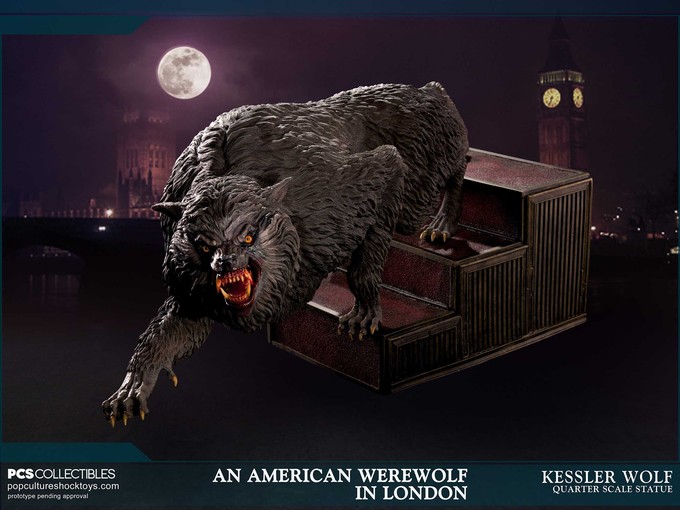 PRE-ORDER, September 2016. Look, I hardly ever include pre-orders that far out (it's almost a full year!), but the moment I saw this statue I knew I had to include it. It's so damn beautiful! I especially like the detail of the popcorn on the theater steps. The David werewolf is 21" long and has 2 heads you can switch, one with an open mouth, the other closed. This will be the centerpiece to some genre freak's collection, so I figured they might want to get a jump on it. Who knows? It could sell out before it starts shipping. $399.99 (or $359.99 if you pay in full instead of use the payment plan).
PRE-ORDER, Q2 2016. A quarter scale (that means over 19" tall) Bill Murray, you say? Well, I'll be a monkey's uncle! Lookin' good, Venkman! Limited edition, hand-painted polystone statue. Only 1,000 will be out there. It's Miller time! $399.99.
The Terror Dog was recreated from the original model's molds and hand-painted. Not just a mere statue, this is a highly detailed prop replica, approved by original animator Randy Cook. Dimensions are roughly 24Lx12Wx11H. $500.00.
PRE-ORDER, April 2016. 1:1 Alien Egg and Facehugger prop replica from Aliens. Yet another item on this list I'd impulse buy if I won the lottery. I'm sorry starving people and animals that need help, but it's an Alien Egg! You understand, right? $428.99.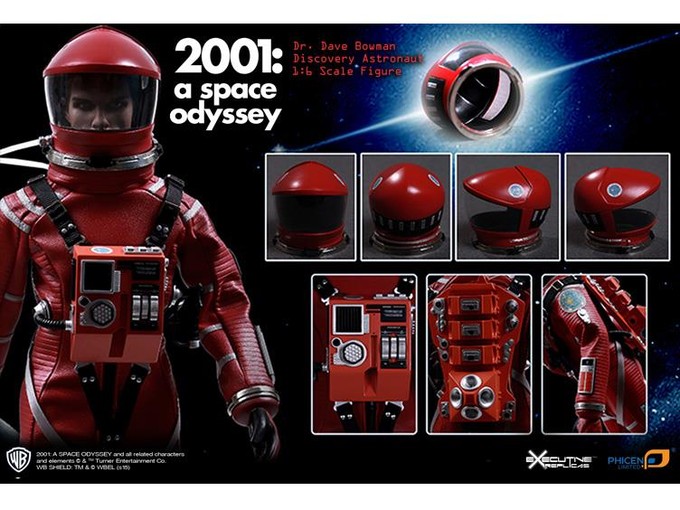 A Sixth Scale Dave Bowman has been made, complete with Keir Dullea's likeness and a fine attention to detail of his iconic red spacesuit. He also has 40 points of articulation so you can pretty much pose him however. Get a big black brick and you got yourself a full 2001 set! $379.99.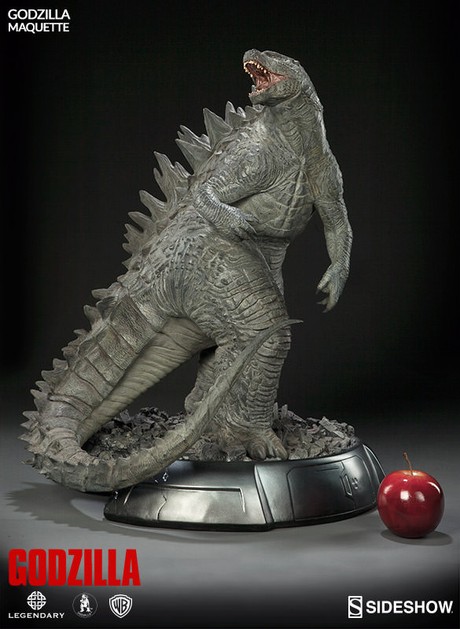 The King of Monsters really gets the royal treatment he deserves with this Sideshow statue. Godzilla stands 24" tall and weighs 22lbs. $799.99.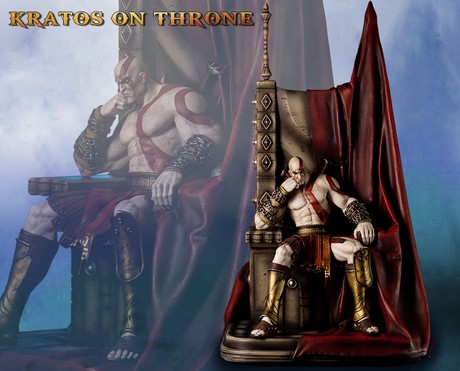 More giant statues! Kratos, from the super rad God of War games, get's this epic 29" tall statue of himself striking his best King Conan pose on Ares' throne (now his throne, sorry end of God of War 1 spoilers). Limited to 1250 pieces worldwide you can get this giant monument to nerdery for $479.99.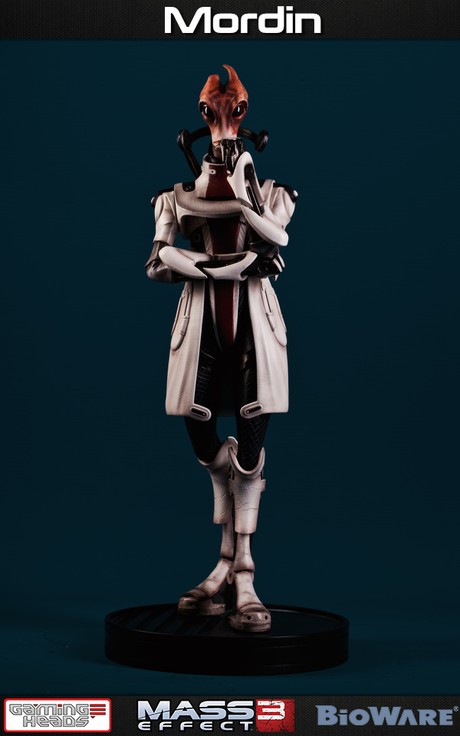 PRE-ORDER, Q2 2016. I'm surprised there's not a bunch more Mass Effect collectibles out there. Fallout was the same way, so perhaps when the next game comes out the market will flood with cool Mass Effect junk. In the meantime, let's be happy that Mordin is getting immortalized in this 20" statue, limited to 1000 worldwide. $369.99.
Considering all the superhero collectibles it's only fitting that Stan Lee get his own 1/6 scale articulated figure! And it's good, too! Look at that guy! Excelsior, indeed! $289.99.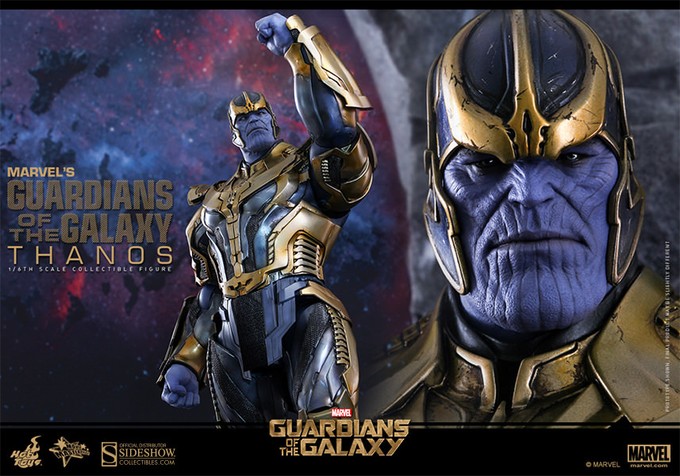 PRE-ORDER, December 2015. Even though Thanos has only been in the background of the Marvel Cinematic Universe, Hot Toys decided it was time to bring him front and center. Makes sense. We're only a couple movies away from him whupping all sorts of heroic ass up and down the cosmos. Thanos is pricier than most Hot Toys, but he's much bigger, too. He comes with his throne base (which lights up, by the way) and stand 15" tall. $414.99.
PRE-ORDER, January 2016. I am Groot. I. Am. Groot. Groot. Am. I. We. Are Groot. Okay, enough of that shit. Badass 21" tall statue of everybody's favorite unlikely duo, a smart-ass talking Raccoon and a tree with a limited vocabulary. The good folks at Gentle Giant are putting this one out and I really, really want one. Anybody want to give me $449.99?
More Batman Returns! This is a 1:1 life-sized statue of one of Penguin's Commando soldiers, complete with missile jetpack thing and cute little metal hat. Stand 20 inches tall and there are only 75 available for purchase in the US. $499.99.
PRE-ORDER, July 2016. Michelle Pfeiffer's Catwoman. Meow. This stunning statue was done in sixth scale and stands 17 inches tall. That's 17 inches of gleaming black leather and whips... I feel like somehow a horde of 50 Shades of Gray fans just clicked over onto this article and don't know why...$279.99.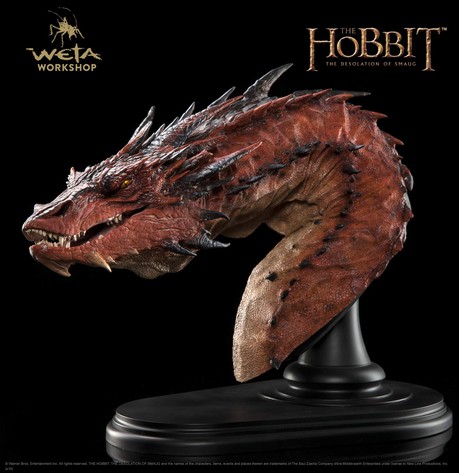 Weta outdid themselves with fantastic (and giant) bust of Smaug, that asshole dragon that stole all that dwarven gold and burned down Dale and all that stuff. What a jerk! $399.99.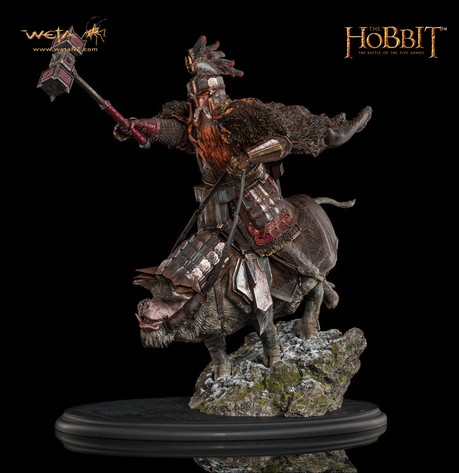 PRE-ORDER, Q1 2016. If what your home was missing was a statue of Billy Connolly riding a boar then I have the item for you! Recreating Dain's big entrance to the Battle of the Five Armies (yes, on a pig) here's yet another finely detailed Weta wonder! $449.00.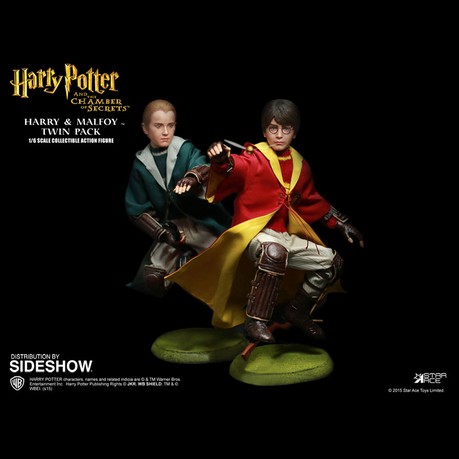 PRE-ORDER, January 2016. Draco and Potter are paired for this Star Ace Toys sixth scale set. Probably not the best idea. I hear they don't get along. Both are decked out in their Quidditch duds and come equipped with their brooms, a beater bat for Draco, Bludgers and a Quaffle. Oh, and a Golden Snitch, which of course Potter has to get because he's the good guy. I guess if you buy this set you'll can make up your own outcome, but don't be evil and let the bad guys win, 'kay? $384.99.
Comic book version Rick Grimes complete with missing hand is represented in this big McFarlane Toys-made statue. It's super detailed and violent and well-designed... but the reason to get excited about this is it also comes with a certificate of authenticity signed by both McFarlane and Walking Dead creator Robert Kirkman. $359.99.
PRE-ORDER, January 2016. Glenn's been the talk of the new season so far, so what better time to get a big Gentle Giant statue of Steven Yeun in the prison riot gear from Season 3? The statue is quarter scale, so it's gonna be big. $404.99.
I dig Tim Burton's Sleepy Hollow a lot and was surprised to see a quarter scale Headless Horseman statue out there. It's cool-looking, too, with a removable skull head. I mean, it kind of had to be removable or else he wouldn't be headless then would he? Anyway, gruesome, but awesome. Gruawesome. $279.95.
Yes! An official 1:1 scale Mr. Fusion! Turn your boring old Toyota into a time machine with this! And a Flux Capacitor. You need one of those, too. Not included here, sorry. $330.01.
And we're back to Star Wars stuff! Han as a Stormtrooper, courtesy of the folks at Gentle Giant. Sixth scale, limited polystone statue that doesn't put up with boring conversations or old geezers. $215.25.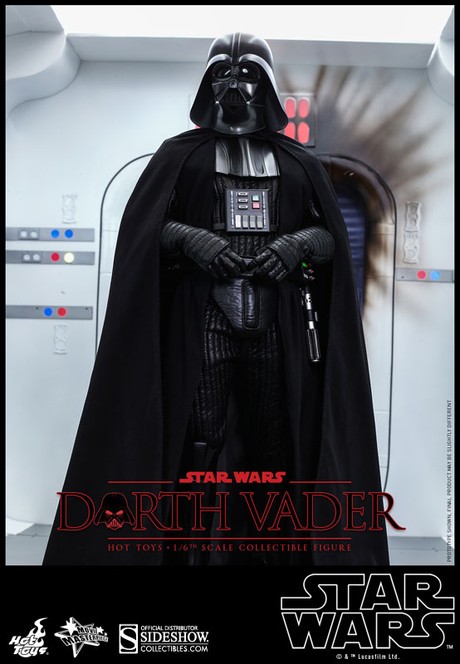 PRE-ORDER, December 2015. Hot Toys' A New Hope Darth Vader is yet another jaw-dropper. The level of detail is so fine that it damn near makes a grown geek cry with happiness that this is buyable. $299.99.
The rare Quarter Scale Hot Toys figure and we get the galaxy's baddest bounty hunter! He's highly articulated, which isn't common for figures as big as he is. He comes with his blaster rifle (and a damaged version, the one Luke cuts in half) and a bunch of other little things. $469.99.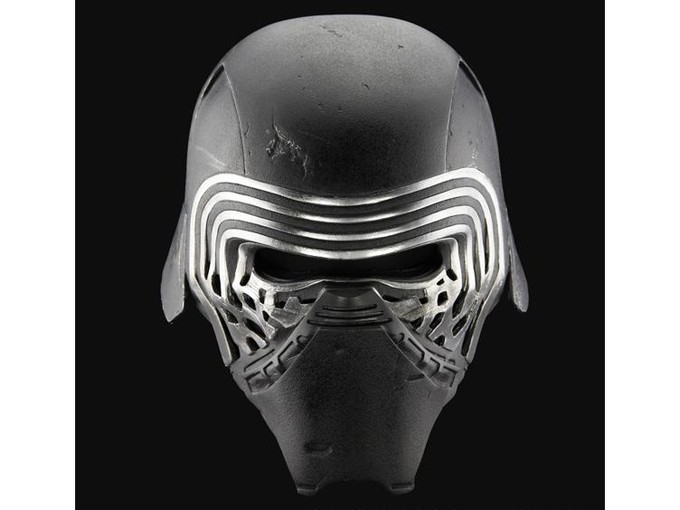 PRE-ORDER, Q2 2016. Owning this is the next best thing to having the actual screen-used Kylo Ren helmet. The original prop was analyzed, scanned and studied in-depth to make sure every bump, texture and scratch was accurate. You really should click through and look at all the pictures from different angles to see how used the helmet appears to be. It's definitely seen some action. This is an insanely cool prop replica and could be the basis for the best Kylo Ren cosplay ever. $699.99.
I figured we'd end with a doozy and a doozy we have here. If you've recently been adopted by a kindly bald billionaire or found a few bags of blood-soaked cash in the woods behind your house then I have the item for you! It's a 1:1 scale Iron Man Hulkbuster from Age of Ultron. Weighing in at over 1400 pounds and standing almost 10 feet tall, this light up beast is surely the best home security investment you could make. He lights up, too. LEDs in the eyes, palms, knees and arc reactor. All that for the low, low price of $18,499.99.
And that's the end of it. I can hardly believe it's done. Thanks to all who have followed along the whole way. I hope you found something of interest for you or your loved ones this holiday season. Happy Thanksgiving to my American brethren and happy holidays to everybody!
Now, if you'll excuse me I have about 4 days of doing nothing but catching up on Fallout 4 to do...
CLICK HERE TO JUMP TO PART 1 OF THE 2015 HOLIDAY GIFT GUIDE FEATURING BLUs, DVDs, ART and GEEK APPAREL!
CLICK HERE TO JUMP TO PART 2 OF THE 2015 HOLIDAY GIFT GUIDE FEATURING BOOKS, BOARD GAMES, VIDEO GAMES and MUSIC!
CLICK HERE TO JUMP TO THE STAR WARS SPECIAL EDITION OF QUINT'S HOLIDAY GUIDE 2015!
-Eric Vespe
"Quint"
quint@aintitcool.com
Follow Me On Twitter