Hey folks, Scurlock here.
Ice Cube has unequivocally moved comfortably into the skin of a highly successful man in his late forties that likes to do comedies. If anyone had told a twenty-something Cube he'd one day weave his feelings on gun violence in the black community into the narrative of a group of hilarious hair stylists in South Side, Chicago, well...you'd probably get one of these: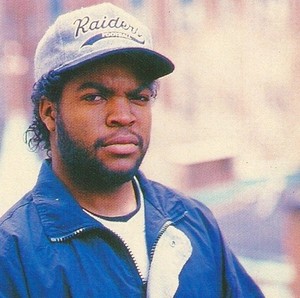 And yet, here we are, and there he is, starring for the third time as Calvin Palmer, Jr. in BARBERSHOP: THE NEXT CUT. Of course, it maintains the expected joke, punchline, everyone laugh formula of the previous two films, but this time throws in the before-mentioned heavy stuff and the dynamic of sharing their once male-dominated space with the ladies. Give 'er a look below:
At this rate, the entire cast is going to be replaced entirely with musicians in potential future films. This go-round we have Ice Cube, Common, Nicki Minaj, Eve, and Tyga, not to mention cast who've dabbled. I've always seen the BARBERSHOP films as pretty harmless fun with a simple formula. Jokes about men and women, relationships, basic barbershop drama, and a social issue that generally fits with the times, though wrapped in enough saccharine not to kill the haha vibes.
Tracy Oliver (THE NEIGHBORS) and Kenya Barris (BLACK-ISH) share co-writing duties for this Malcolm D. Lee (THE BEST MAN HOLIDAY) directed entry, with Ice Cube pulling first time producer duties.
Also filling out the cast are Anthony Anderson (BLACK-ISH), Regina Hall (THINK LIKE A MAN), Cedric the Entertainer (all sorts of things), Lamorne Morris (NEW GIRL) and J.B. Smoove (CURB YOUR ENTHUSIASM), who is funny in literally anything ever, forever.
BARBERSHOP: THE NEXT CUT arrives in theaters April 15, 2016.