Aho-ho-hoy, squirts! Quint here once again with a new installment of my ever-expanding (Lord help me) Holiday Gift Guide. I'm still hard at work on Parts 2 and 3, but Part 1 is finished and ready for you to enjoy below!
This Guide is easily my biggest job every year and this year in particular is a doozy, thanks in no small part to the introduction of a whole buncha Star Wars stuff as the world prepares for The Force Awakens next month.
It takes me (not kidding) months to research, compile, organize and compose this thing, so keep that in mind if you find a price that has fluctuated dramatically. Especially with Blu-Rays. These things go on sale at a drop of a hat this week, so forgive me if I fail to update every single thing. The prices were correct as of late last week!
Some of the below carry an affiliate tag, which means if you click through and buy something I get a little cut of it. Many thanks to all who do so. It's a huge help to me personally every year and I really appreciate it.
Also, Mondo fans might want to check the top of the Art Section for a huge announcement. I will say no more, but it's gonna be a big deal to you Mondo collectors out there.
Part One covers Blu-Rays/DVDs, Art and Apparel. Parts 2 and 3 will hit soon and will cover Books, Games, Geek Housewares, Toys, Collectibles, Music and more! This is only the beginning, squirts.
As the week progresses I'll keep note of any special Black Friday Blu-Ray sales I see and list them at the top of the Blu-Ray section, so keep checking back for the latest!
That should be about it. Sit back, relax, keep your eyes peeled for some contests, and let's start 2015's Holiday Gift Guide!
CLICK HERE TO JUMP TO PART 2 OF THE 2015 HOLIDAY GIFT GUIDE FEATURING BOOKS, BOARD GAMES, VIDEO GAMES and MUSIC!
CLICK HERE TO JUMP TO PART 3 OF THE 2015 HOLIDAY GIFT GUIDE FEATURING TOYS, COLLECITBLES and GEEK HOUSEWARES!
CLICK HERE TO JUMP TO THE STAR WARS SPECIAL EDITION OF QUINT'S HOLIDAY GUIDE 2015!
DVDS/BLUS
Here's a quick rundown of the Amazon sales I've spotted before we jump into the Guide proper. I'll be updating this list through this weekend, so keep checking back!


-Drive Blu $5.99
-Romancing The Stone Blu $4.50
-Source Code Blu $5.00
-The Deep Blu $5.99
-Hannibal Season 1 Blu $4.99
-Raiders of the Lost Ark Blu $6.00
-Wolf of Wall Street Blu $6.00
-American Hustle Blu $4.99
-Winter's Bone Blu $4.96
-The Town Blu $7.00
-This Is The End Blu $6.31
-Tropic Thunder Blu $7.50
-Cabin in the Woods Blu $7.64
-No Country For Old Men Blu $4.96
-Shawshank Redemption Blu $6.99
-American Psycho Blu $5.63
-Good Will Hunting 15th Anniversary Edition Blu $5.00
-Pulp Fiction Blu $5.00
-Reservoir Dogs Blu $5.00
-The Hurt Locker Blu $4.50
-Black Swan Blu $6.50
-Juno $5.70
-Semi-Pro Blu $5.65
-X-Men Days of Future Past Blu $9.99
-Safe House Blu $5.00
-End of Watch Blu $7.50
-Seven Psychopaths Blu $6.99
-Old School Blu $4.88
-Elysium Blu $6.23
-The Fly Blu $6.50
-Tree of Life Blu $6.76
-Collateral Blu $5.99
-Blue Jasmine Blu $6.99
-South Park: Bigger, Longer and Uncut Blu $5.99
-The Dictator Blu $4.97
-The Kings of Summer Blu $6.99
-Evil Dead 2 25th Anniversary Edition Blu $4.50
-Shaun of the Dead Blu $5.00
-The Others Blu $6.27
-3:10 To Yuma Blu $4.50
-Teenage Mutant Ninja Turtles (Bayified) Blu $6.00
-Fight Club Blu $5.99
-Snow White and the Huntsman Blu $5.00
-Ex Machina Blu $8.49
-Edge of Tomorrow Blu $7.99
-Cloud Atlas Blu $7.99
Cheap ($24.99 and under)
This is a regular on my personal Christmas rotation and figure it should be at the top of this holiday guide. You get Pee-Wee being crazy greedy and asking for so much stuff that Santa runs out of presents for the rest of the world's children AND Grace Jones singing Little Drummer Boy. What more could you want?!? $11.99.
I love everything about John Wick: The violence, the lore, the fight choreography and the fact that they put my name next to Keanu Reeves' head on the cover. I mean, that's probably my favorite part, but I can't say that up front or you guys will think I'm vain. The movie's awesome and the Blu is cheap, so have at it! $11.90.
I keep being asked what my favorite film of 2015 is and I'll be damned if Fury Road isn't the one that jumps to mind first every time. I've seen it at least 6 times so far and each revisit makes me love it even more. I dig the whole world, I dig that it feels like a hungry young filmmaker trying to prove himself made it and I adore the zero shits Max seems to give throughout. This will be a perfect "get excited to work" background movie for me. $14.99.
One of the fringe benefits of Fury Road coming out was we got a fancy Scream Factory Blu release of the original Mad Max. Scream Factory is a favorite distributor of mine, so you're about to see a bunch of their stuff. They always treat their material with respect and do a bang up job. This version has ported over commentaries and docs as well as brand new interviews with Mel Gibson and George Miller! Can't beat the price, either: $9.99.
Alright, you primitive screwheads. I know you've bought at least thirty four copies of Army of Darkness over the years, but I got another one for you to add to your collection. This is the perfect one if you're not sure if you have all available cuts because it comes with three! The theatrical, international and Director's Cut are all represented. That's a whole lotta Ash, but how could you ever have enough? $17.99.
Scream Factory had a few great releases this year and this one is up there, thanks to a new 2k transfer and a sweet new commentary track from Adrienne Barbeau and DP Dean Cundey. Every geek needs at least one quality copy of Escape From New York in their collection or they've broken some nerd law that I can't reveal, but can guarantee is very real. We're watching you. Make the right decision. $17.99.
Gun to my head, this is the title Scream put out this year that I was most psyched for. I remember seeing Demon Knight in the theaters and being blown away by just how goofy and fun it was. Time has only improved it, especially when you consider just how unhinged Billy Zane's performance is. People have also really started coming out as fans, which they should have done since the beginning, but Scream helped make it okay to admit you're a fan of this awesome movie. Don't be embarrassed! This movie's the best! Buy it now! NOW! $22.97.
This one was another favorite from my childhood and one of the more overlooked films from the late, great Wes Craven. The People Under the Stairs is hard to categorize, which is why I love it so much. It's a horror movie, a thriller, a coming of age movie and a YA adventure all at the same time. There's nothing really like it, which it's now benefiting from. It might have been considered slight at the time, but I think people are now recognizing just how unique this one is. Some of us cool cats knew from the beginning... you know who you are... $17.99.
Here's another over-looked Wes Craven movie. I don't have the same kinda love for Shocker as I do People Under the Stairs, but it's still a very of its time weird-ass flick, the likes of which we don't see much anymore. Scream did another great job with this one. $17.99.
Dog Soldiers was a film we here at AICN championed in our early years. I can't speak for the rest of the folks from that time, but I still stand by it. This one launched Neil Marshall's career and is still one of my favorite werewolf movies of the last couple of decades. Gory, kinetic, smart, funny... it's the total package! $17.99.
Scream Factory put out a few double feature sets this year and I'm featuring my favorites. Let's start with the crazy mash up of killer animal movies: The Food of the Gods and Frogs. Now, Frogs is kinda shitty and boring, but when it gets weird it makes it all worth it. Food of the Gods, on the other hand, is a glorious piece of '70s cheese (pardon the pun). $17.99.
Giant, evil ants and Satan-possessed snakes. What a combo! Jaws of Satan is also notable for featuing a very young Christina Applegate. $17.01.
This is probably the best of the Double Feature disks in terms amount of good content. Not only do you get HD versions of Troll and Troll 2, you also get a DVD copy of the great Troll 2 feature doc BEST WORST MOVIE. Troll scared the shit out of me when I was a kid. It's more campy than scary to an adult, but it's still super fun. Troll 2 is flat out bonkers. Awful in a way that becomes fascinating. Great set here. $21.98.
Ghoulies! Both of these movies were on heavy cable rotation when I was growing up. Now, my Gremlins rip-off tastes lean towards Critters more than Ghoulies, but these movies are so much crazy fun I wouldn't turn my nose up at 'em. $15.83.
Need your '80s fix? This double feature of the Breakin' films, including the legendarily titled Breakin' 2: Electric Boogaloo, will make your holiday season funky in all the right ways. Play it for your kids and watch them marvel at the crazy shit you witnessed in your childhood! $15.83.
Here's another weird-o '80s double feature. Eddie and the Cruisers 1 and 2 gathered in one place, in beautiful high definition! It's really weird watching these movies in such clarity, actually. My only memories of them before this release was pan and scan. $15.89.
One of the reasons I love Scream Factory so much is it feels like they're catering specifically for my personal tastes. I mean, does anybody else on this earth adore High Spirits? Probably not, even though you all should because it's amazing. Drunken Peter O'Toole, lovestruck Steve Guttenberg, horny ghost Liam Neeson and super hot ghost Daryl Hannah. You gotta be crazy to ignore a movie like this! Vampire's Kiss is another classic piece of weird. It's the Nic Cage movie with the famous ABC outburst. Super fun set. $14.30.
Punk students vs. teachers? From the director of Commando comes this badass flick which you kind of have to see to believe exists. It also happens to feature a baby-faced Michael J. Fox. $17.89.
Robot Jox has been out of print for a while, but Scream has fixed that. Stuart Gordon's giant robots fighting each other movie was super far ahead of the curve. Matter of fact, why the fuck hasn't he directed a Transformers movie?!? Let's get on making that happen, shall we? $15.99.
Here's a great horror flick that's not often talked about. The Sentinel is one of those "gateway to hell" movies and features the outstanding makeup work of the legendary Dick Smith in a flick with a brilliant cast: Chris Sarandon, Beverly D'Angelo, John Carradine, Burgess Meredith, Jeff Goldblum, Tom Berenger and Christopher Walken, to name a few. $19.99.
Here's another one that doesn't get as much talk as it should. Based on a book by the author of Rosemary's Baby and starring Gregory Peck, Laurence Olivier and James Mason, this flick is about a Nazi-hunter hunting down escaped members of the Third Reich when he stumbles upon an insane plot. The plot is so insane that the movie is described as the "____ _____ movie" when discussed, but to do so would be to ruin it for those who haven't seen it. The film has the pedigree and an insane twist. Check it out. $15.71.
If you ever thought it'd be cool to see Jaws remade with a satanic car, then I got the movie for you! The Car is actually designed by George Barris (the dude who designed the '60s Batmobile) and is a beast that must be destroyed, so James Brolin, Ronnie Cox, John Marley and R.G. Armstrong team up to get it done. $21.99.
There was a huge rush of nostalgia online when Scream Factory released this 20th Anniversary blu-ray of Hackers. I have no idea if I have that same feeling since I honestly can say I haven't seen the movie since it came out, but everybody on my Twitter feed went nuts on their revisits. I'll likely throw it on while I'm working on this guide 'cause why not? $17.50.
Leave it to me to follow a weird '90s Angelina Jolie computer thriller with a 4k remaster of an obscure Alfred Hitchcock thriller from 1939. Starring Charles Laughton and the late, great Maureen O'Hara, this flick has been given the royal treatment thanks to help from the BFI and a super high def scan of the original negative. $19.91.
Speaking of underappreciated work from master directors, here's another gem beautifully restored from the negative. Orson Welles' Lady From Shanghai, starring Rita Hayworth, is a must-see for any true cinephile and the restoration is stunning. You can get it super cheap, too. $7.49.
Here's another drop dead great Orson Welles film, done up all purty-like by Kino. The Stranger follows Edward G. Robinson as a detective who believes he has tracked down a fugitive Nazi living in a small, quaint little American town. The man he suspects is a charming professor, played by Welles. Is he a war criminal or is Robinson barking up the wrong tree? You gotta watch the movie to find out! It's a blast! $22.95.
PRE-ORDER, DECEMBER 8th. Frank Capra's You Can't Take It With You gets a cool digi-book treatment. I'm a big, big screwball comedy fan and you can't go wrong with this classic, starring James Stewart, Jean Arthur and Lionel Barrymore. $17.98.
There's not much cooler in this universe than Robert Mitchum running moonshine. Thunder Road is worshipped by those that have seen it. If you haven't partaken in the Kool Aid, you owe it to yourself to pick up this blu-ray. $15.05.
The only thing cooler than Robert Mitchum running moonshine is Burt Reynolds as the best goddamn stuntman in the industry planning the best car stunt ever captured on film. Hooper is a damned masterpiece. It's just so much fun. I can guarantee this won't be one of those blu-rays you buy and keep in the shrinkwrap. You own this, you spin it. It's just that simple. $8.99.
Last year saw the release of Duel on Blu-Ray, but it could only be had in the big Spielberg Box Set. If you don't want to shell out for all the other movies, they've finally released it as a single. One man being tormented by an ominous truck. This is the movie that launched Spielberg's star for real and it's still incredible. $13.48.
Here's another Blu-Ray previously unavailable unless you bought the big box set. Everybody agrees Duel is a master work from Spielberg, but 1941 doesn't quite get the same love and deservedly so. It's a bit of a mess. It's an ambitious mess, but a mess. I happen to love it regardless. It's an indulgent film, but you can feel Spielberg's childlike enthusiasm in every frame. And it's a screwball comedy that makes me laugh, so I guess you can call it a success on that level. Plus it opens with Spielberg recreating the opening of Jaws. He spoofs himself! It's a fascinating movie and one that I happen to adore, despite its faults. Now you can add it to your collection! $7.88.
Always gets a bum rap. The bad word of mouth kept me from giving it a rewatch for over 20 years and when I finally did I fell in love with it. It might be lesser Spielberg, but if this would be most other filmmaker's best film. Richard Dreyfuss is fantastic in it, John Goodman is equally awesome and Holly Hunter is next-level great. Someday I'll program this as a double feature with Ghost and people will give it a second chance and love it and I'll have made a real difference in this world! In the meantime, you can get this on blu-ray and join the Always revolution a wee bit early! $11.99.
Kubrick's Spartacus gets a new Blu release. Who is Spartacus? I am, of course. And you are, too, dontcha know? If you haven't seen this classic... well, first, don't tell anyone and then buy this movie, watch it and pretend like you saw it a long time ago when talking about it. Then you won't get made fun of by snotty film fans and you can be ahead of the curve and get some of the inside jokes in the Coen's Hail, Caesar next year. $14.99.
Sergio Leone's Once Upon A Time In America is a must-own, especially this edition that also includes the restored extended cut. I think I prefer the theatrical, but the extended edition is fascinating. Any cinephile would love to find this one in their stocking this year. $14.99.
Lots of great movies have their 40th birthday this year. Jaws, Rocky Horror and the above title. Dog Day Afternoon is one of many masterpieces Al Pacino appeared in during this era of his career and outside of the Godfathers I think it's my favorite. Relevant, brutal filmmaking on display here. $18.46.
The World According to Garp isn't the most happy-go-lucky movie ever made and revisiting it after Robin Williams' death isn't something I'm looking forward to, but I will do it soon. The movie's too good, and Williams is too good in it, to let it slip away from memory. Warner Archives has done their part to preserve it by putting it out on Blu-Ray. Least you can do is shell out some bucks for it. $17.99.
Philip Marlowe has been played by a lot of people over the years, but one of the unexpectedly best to play the hard-boiled detective was Dick Powell, who was mostly known for playing goodie two shoes type characters. Edward Dmytryk directed the hell out of this movie, making it one of the hands down best noirs of its time. $16.99.
The Coen Bros have made so many great films that it's no surprise one of them can slip through the cracks. Their black and white noir starring Billy Bob Thornton, Frances McDormand, James Gandolfini and Scarlett Johanssen isn't often discussed, but it's an incredible movie and Roger Deakins' photography deserves the high def treatment. $14.75.
This is the very first Dick Tracy film adaptation. At the time RKO made this, Tracy was one of the most popular comic strip characters. The film was a huge success and spawned many sequels long, long, long before Warren Beatty brought the character back in his crazy Batman-influenced film. $9.99.
A few years ago a friend and I got on an Elliott Gould kick and one of the film we screened was Bustin'. Back then you could only find it on VHS, but now it's out in glorious high def! What a wonderful world! Very '70s, very awesome. Give it a shot! $19.99.
Harry and Walter Go To New York might be a movie you haven't heard of before, but I can vouch for it. It was another one of the movies I saw in my Elliott Gould phase. Add in James Caan and you got a great '70s conman/buddy flick to discover! $17.99.
Quentin Tarantino showed this film at one of his QT Fests (man, I miss those). It's a crazy violent and crazy entertaining Blaxploitation flick about Vietnam vets who come back home only to find the KKK a more brutal enemy than the Viet Cong. This movie is super badass, I promise! $9.99.
Detour is a bonafide classic. I was on a big noir kick years ago (back during my A Movie A Day run) and saw it then and it blew my socks off. I'm long overdue for a revisit. $9.99.
Now, this isn't a good film, but it's a fascinating entry to the druggie scare films of the era. Reefer Madness is the more famous entry from this time period, but this one is just as nuts. Sure to be a fun party night if you go for the weird stuff. $9.99.
I actually haven't seen this one yet, but I'm including it because it's something I would have liked to know was available and maybe there's one or two of you out there in a similar place. Directed by Willard Huyck, who would later go on to direct Howard the Duck (and more importantly, write Temple of Doom), Messiah of Evil is one of them '70s cult-y flicks, ya' dig? The description actually reads a lot like Wicker Man, with a young girl searching for her father and stumbling across a weird small town with even weirder inhabitants. Gonna order this one myself. Been curious about it for a long time! $9.99.
In a perfect world The Last American Virgin would be just as revered as Fast Times At Ridgemont High. If you don't know anything about this movie, but like Fast Time I recommend blind buying it. Don't read anything about it, just get it and watch it. If you're not blown away I'm not going to refund your money or anything, but I'll say sorry (and that you're wrong) on twitter or something. $13.99.
Happy Birthday, Breakfast Club! Thanks for the new spiffy Blu-Ray! That's too nice of you. I mean, it is your birthday and we should have all gotten you something instead. $11.95.
Pretty sure you get an older version of Breakfast Club in this set, but at the price if you just want three awesome John Hughes movies on Blu, then this is a hell of a deal. $17.49.
It's crazy awesome to me that Takashi Miike's Happiness of the Katikuris is easily found on Blu-Ray now. What a crazy, messed up, awesome kinda horror movie kinda musical. This one's really hard to categorize, but that's what makes it awesome. It's about a family that starts up a small hotel, but their guests start dying in random ways. There's an almost Wes Anderson-ish whimsy to this film and it's just pure joy from start to finish. $22.99.
From the title and cover art you might think this is a horror movie, but it's totally not. I mean, there's more blood in this movie than what you'd find in the entire Friday the 13th series, but it's all an exaggerated backdrop to a crazy crime movie, which itself is just a means to tell a story about the love of filmmaking. It's cute, brutal, emotional and super fun. Why Don't You Play In Hell was one of my favorite movies of last year and it'll be one I try to push on people for many more years to come! Starting with all you lucky sumbitches! $17.07.
Director Sion Sono followed up Why Don't You Play In Hell with this Japanese rap musical. Saying this movie is stylized is like saying Gone With The Wind is kinda long. You're going to love this movie or you're going to hate it. There's no middle ground. $20.99.
R100 is a little tougher to recommend. I mean, it's awesome, but you can't recommend a bizarre Japanese S&M thriller/comedy to just anybody. This thing is kind of like The Game, except with dominatrixes that pop up out of nowhere to fuck with a seemingly normal everyday businessman. If that sounds awesome to you (and it damn well better) then give this one a shot. $18.87.
There's enough new flesh goodness in Brian Yuzna's Society to make David Cronenberg's head explode. This is another one you can't recommend to just anybody, but if you dig this one I think we can be friends. $24.99.
If you want something reaaallly weird, you've come to the right holiday guide. Spider Baby is certainly that. From great exploitation director Jack Hill this bit of '60s madness features a great turn from the Wolf Man himself, Mr. Lon Chaney Jr. Very weird, very cool. $22.99.
The silent classic about a deal with the devil gets the Kino treatment, with two separate cuts of the film. You get both the 1930 theatrical cut (on DVD) and a high def Blu-Ray of the new HD restoration of the original German cut. $22.99.
If you ever thought your world was missing a movie starring Albert Finney, Edward James Olmos and Gregory Hines about werewolves in New York, then boy do I have a movie for you. This is a gorgeously shot movie that is more Native American folklore related than true blue werewolves, but it's still pretty badass. $17.99.
So, this one might not be the best present to get your grandma, but if you have a really fucked up friend then this is the disc for you! This film was kind of a legendary "hard to find" piece of trash when I was a young movie geek. The cool video store might have a copy if you were lucky and when you watched it it felt dangerous. Now you can get Cannibal Ferox in high def with a click of a button. Technology! $23.99.
The Babadook is one of the better horror films of the last couple of years. The mythology behind the central evil character is incredible and the flick looks like a million bucks. A must see, for sure. $18.99.
The other great horror mythology that hit us recently was the never-tiring always-creeping closer force featured in It Follows. It has a great set up (a curse that passed through sex), a great monster (that always knows where you are and is always slowly inching towards you no matter where you go) and a kickin' soundtrack. As an added bonus, if you listen to the critic's commentary track you can hear my stupid voice talk about how good the mythology is for a little bit. No lie! $13.99.
This one was a pleasant surprise at Fantastic Fest last year, but I'm a sucker for camp horror. Cub ain't afraid to off some shithead camper kids and is shot like a real movie (a huge plus in this day and age of shoddy camerawork and cinematography). If it slipped under your radar now's your chance to give it a view! $17.99.
You say you like zombie movies AND blaxploitation movies? Well, boy howdy it's time to thank your lucky stars because Sugar Hill can bring you both! Voodoo revenge zombies, y'all! Voodoo revenge zombies! $19.99.
Fred Williamson is the man and he's doubly so when playing a classic-style gangster in a crazy blaxploitation movie. I remember when these things were super hard to track down, but thanks to blu-ray we get pretty much every cool thing ever right at our fingertips! $13.99.
This is another fun one. Some racist mafia types make the mistake of killing Jim Brown's parents and he doesn't take too kindly to that. Rip Torn has a pretty good role in this one. $18.99.
Of this little run of blaxploitation flicks, Truck Turner is my favorite. This was an old Alamo Drafthouse staple. I can't tell you how many times I saw this at the original Drafthouse back in the day. Isaac Hayes is charming and totally believable as a (shirtless for some reason) badass bounty hunter. The music, naturally, rules and the overall tongue-in-cheek approach makes for a ridiculously fun movie. This is a great one. $12.99.
When your martial arts movie has a hero searching for something called "The Glow" and a bad guy named "Sho'nuff" you know you have a must-see movie on your hands. And this movie fucking delivers. Berry Gordy made it, so it has a ridiculous soundtrack. Stevie Wonder, DeBarge, The Temptations... This is a royally fun movie to watch with a group of friends, with our without libations. Sho'nuff! $9.99.
Silent Running is a sci-fi classic starring Bruce Dern and some awesome robots. This is what sci-fi was like before Star Wars. It was a bit headier, with a lot more social commentary... and yes, a bit less... exciting. But it's just as awesome. This is a super nerdy movie, so it's a great fit for this guide, no? $12.19.
Speaking of Bruce Dern, how about a weird hippie drug scene flick from the 1960s? Psych-Out's one of the better films to tackle this scene and as a bonus features a crazy turn from Jack Nicholson. $13.49.
Now this is a cool flick. An early outing by Tony Scott, a vampire movie unlike any you've ever seen featuring a brilliant turn by David Bowie. Great Dick Smith makeup and Scott's very '80s stylized photography combine to make something truly special. $17.99.
Burt Reynolds plays a Native American warrior with a vendetta against a band of murdering outlaws. He did this before he found his a-list status and you can tell he's young and hungry here. This is a quality, kinda-forgotten film that I only saw because Tarantino brought it to one of his fests. Now it's available to all in high def! $18.78.
I am so excited this is on Blu-Ray! I'll give you three guesses why... Yep, Robert Shaw in a badass western! Got it on the first guess! Good show! I've never seen this all the way through, though I've owned it on DVD for a decade. Problem is the only way you could get it was on a really, really, really shitty DVD that was sub-VHS quality and every time I'd start it the pan & scan third generation fuzzy transfer I'd only get 5 minutes in before shutting it off because I couldn't stand the quality. Now I can see it in high def! Hooray for the good guys. Robert Shaw, Telly Savalas, Fernando Rey, Stella Stevens and Martin Landau provide the acting. Hell of a cast, no? $16.48.
The Revengers is an edgy western that reunited two of the Wild Bunch (William Holden and Ernest Borgnine) in a revenge western about a rancher whose family is butchered by a posse of criminals, so he assembles his own posse to hunt them down. Look at that cover. How could you not want to see the movie that gets Borgnine to look that friggin' insane?!? $19.99.
So this is a really cool tough men gangster flick. The tough men in question are Lee Marvin and Gene Hackman, who butt heads against the backdrop of a meat packing plant. I saw this one on the big screen thanks to the Drafthouse and it's badass... Oh, and Sissy Spacek made her screen debut in this one. $12.99.
Garbage Pail Kids: The Movie on Blu-Ray? We truly have reached a turning point in the format. I don't believe in "So Bad It's Good," but I do believe in getting enjoyment watching something so batshit insane that it's a miracle it exists. Garbage Pail Kids: The Movie is one such film and now you can get it in high def! $21.99.
Cuuuupid, draw back your bow-oh! Another childhood favorite on blu for the first time! Innerspace might not be as iconic as Joe Dante's Gremlins, but it's still great. I love his output from this time period. The Burbs, Innerspace, Matinee... they speak to me for some reason. I'm beyond excited to add this one to my Blu shelf. $9.69.
Spaced Invaders! I'm nervous to revisit this one 'cause I loved it so much as a kid. Royal Dano is all kinds of awesome as the cranky old dude and I remember this film introducing my crush on Ariana Richards, which only grew with Jurassic Park and Angus (also directed by Spaced Invaders' Patrick Read Johnson). Little dickhead smart-mouth Martians in a tiny Illinois town. Yep. $8.49.
Traumatize a whole new generation with this remaster release of The Last Unicorn. I mean, Christopher Lee voices an evil king named Haggard. Of course it's going to mess with some kids' brains! $11.99.
Written by the late, great Melissa Mathison, this early '90s family film is full of fantasy, charm and optimism. It was a favorite of my family when it was released. I might have been entering my gloomy teenage years, but my little brother was the perfect age for it, so we watched it often. Really need to give it another view. $12.28.
Let's try to ignore the fact that Jumanji is 20 years old... because acknowledging that would mean that I'm old as fuck. No, let's look back on it and appreciate it for Robin Williams' performance if nothing else. It's actually a pretty fun little movie. The effects are dated, but the heart's there. $10.00.
Zathura is also celebrating an anniversary... 10 years old. That weirdly makes me feel way more ancient than Jumanji because I was actually on the set of Zathura. I saw little Josh Hutcherson, pre-Hunger Games fame, running away from a man-sized robot in a house built on a gimbal that could twist and turn it any which-a-way. 10 years ago. Ugh. The movie's good, though. Unfairly ignored upon release. Hopefully it'll get some new eyeballs on it with this anniversary blu. Fun trivia: if Zathura hadn't flopped it's very possible Jon Favreau would have made John Carter with Harry producing. Can you imagine what the world would look like if he didn't direct Iron Man? He was the one who pulled so strongly for Robert Downey Jr. What would Marvel be today if Favreau hadn't cast the perfect actor and nailed that first Iron Man movie? What if... $12.28.
The Land Before Time... man, what a tear-jerker. Don Bluth's animation paired with Spielberg's producing might resulted in a movie that HUGE when I was a young man. I remember the kids at school talking about this, about how scary the Rex was. We didn't talk about crying, because that'd mean we were wusses, of course, but we all knew that we cried. It was like a secret shared bond... Where was I? Oh, yeah. Land Before Time on blu-ray! Holiday Guide. Yes. Buy it. $12.92.
To the best of my knowledge this anniversary blu of Edward Scissorhands doesn't come with any new extras, but damn that cover art is pretty. Great film. If it's not already on your high def shelf then this is the one to nab. Cheap, cool cover, good movie. Check, check and check! $11.60.
I love that the Mass Grave of Atari's ET Games kind of became myth to video game nerds. I remember arguments about whether it was true. This doc shows us the definitive truth behind one of the craziest video game behind the scenes stories of all time. Definitely a must own for any geek. $24.95.
Man, is this a crazy making of. If the trials and tribulations of Richard Stanley on The Island of Dr. Moreau were a movie nobody would believe it. Well, I guess it is a movie now, but you know what I mean. If you wrote it as a piece of fiction people would say you're exaggerating. Holy crap, what a crazy flick. $24.19.
Narrated by Jason Bateman, this documentary tells us all about the history and impact of them little plastic things that cost a shit ton of money and fuck up your feet in the middle of the night. $12.99.
"In celebration of its 40th Anniversary milestone, immerse yourself in an experience with extras such as an all-new Q&A featuring the (remaining) Pythons, hours of slightly older special features, and a 40-year old movie presented in stunning high definition." Even the description is classic! Monty Python and the Holy Grail is an all-timer and if you don't have it at your beck and call fix that ASAP. $12.87.
The Michael Bayest of Michael Bay movies are finally available on high def! I say it a lot, but it's true... I 100% believe that Bad Boys 2 is the movie Bay is trying to make every time he steps behind the camera. It's so completely him from start to finish that I'd go so far as to say it's his masterpiece. Strong word, I know. But I stand by it! $19.99.
PRE-ORDER, DECEMBER 1st. Yeah, it's just a repackage, but it's a STEELBOOK repackage, which is better than most regular boring old plastic repackages. Plus it's a law that you can't reach December 25th without having watched Christmas Vacation, punishable by revocation of your Jello of the Month Club membership. Wouldn't want that, so make sure you have this one at your fingertips this holiday season. Holy Shit! $14.91.
Amazon has an exclusive blu-ray of Jean-Pierre Jeunet coming this season. Brilliant film and this HD remaster was supervised by Jeunet himself. This one's a no-brainer. Nab it quick! $17.99.
Now this one isn't really a holiday flick to cuddle up with the kids around the fireplace and throw on, but man it messed me up in my younger days. This new re-issue is the perfect excuse to get creeped out once again. $9.69.
PRE-ORDER, December 8th. You want a real crazy movie that you and your doofus friends (most likely) haven't heard about? Then Siege of Firebase Gloria is for you. Great exploitation director Brian Trenchard-Smith made this Vietnam flick starring the unlikely and amazing duo of R. Lee Ermy and Wings Hauser. This film is bananas and I'm so glad it's available on Blu-Ray. $15.99.
It's a very Trenchard-Smithmas indeed! Here's another BTS exploitation masterpiece, this time starring Steve Railsback (Lifeforce) and Olivia Hussey (my steamy adolescent dreams). It's another war/POW style violent flick like only Brian Trenchard-Smith can make. $17.99.
Did you know that legendary designer Saul Bass directed a nature run amock hard sci-fi flick about ants gaining intelligence and waging war on humans? It's true and it's called Phase IV. Boom. Ordered, amirite? $13.99.
If you can't tell, we're in the weird-ass section of the Blu list and you can't get much weirder than Roar, a film made by Noel Marshall and Tippi Hedren with a whole host of real lions. The movie is crazy for a family comedy, but even crazier when you know the backstory. You see, Tippi and Noel were animal activists that actually provided a home for these lions... which was shared with them and their children. The loveable lions in the movie mauled more than a couple people on the crew, including DP Jan DeBont and their daughter, Melanie Griffith, who does appear in the movie. Drafthouse Films unearthed this gem and it's now saved for all time on high def! $12.99.
Now this is pretty cool. So, Frank Zappa and the Mothers played famous shows at The Roxy, which was the basis of one of their most popular albums. Those shows were filmed in 16mm and that footage has been locked up for decades, but now it's out and edited into this concert film. Neat! $19.99.
Trey Parker and Matt Stone have yet to make a movie I've hated. Cannibal the Musical is awesome, South Park, Team America and even Baseketball rock. Orgazmo hit blu this year and it's great, especially when you watch it after having seen The Book of Mormon. It's about a do-gooder Mormon who becomes a porn star... If you haven't seen it, think of it as the less-fucked up comedy version of Boogie Nights. $9.99.
This Cinema Series feels a lot like those DTS special releases back in the early DVD days. Remember those? I have a few of them in this guide (scroll down for the others) and they all come with Dolby Atmos remixes and collectible packaging. The Professional also gets a 4k restoration of both the US and international (ie more weird sexual stuff between Leon and Mathilda) cuts. $24.96.
This '70s creeper is very much of its era, but that means it gets some of the best actors working in that era. Oliver Reed, Burgess Meredith, Bette Davis and Karen Black all appear in this very English creepy old house story. $21.72.
Blue Underground put out this collection of three of Lucio Fulci's more fun movies. Stuff like The Beyond and The Psychic might be better movies, but these three (City of the Living Dead, New York Ripper and The House by the Cemetery) are so much more entertaining. City of the Living Dead in particular is a gem. I mean, it starts with a dead priest making a chick cry blood and puke up her own guts. Best film ever made? Quite possibly... $22.99.
Avengers! Plus evil James Spader robot and The Vison being introduced in possibly the most badass way possible. I have a lot of issues with this movie, but even with that being said it's still hugely entertaining and sets the stage for what's surely going to be an epic one-two punch of Infinity War Parts 1 and 2. $24.99.
PRE-ORDER, December 8th. If Age of Ultron represented the worst in Marvel (a lot of things in that movie felt more set up than an actual story) then Ant-Man was a semi-return to form. Like Iron Man before it, the stakes aren't massive here. It's an intimate, small story about a charming guy becoming a superhero and that's about it. It's nice seeing Marvel happy to hint at a few bigger picture things again instead of blatantly set them up. And it worked. My nephew went as Ant Man for Halloween! What can I say? Kids love them their Paul Rudd, I guess. $22.98.
Chris Pratt and his Raptor friends made a ton of money for Universal this year. The flick has a dynomite final act that pleased every crowd I saw it with. $19.91.
I'll never get over just how frickin' crazy this series has gotten. I love that it turned into the working stiff's James Bond franchise. Big action, big stunts and over-the-top in every possible aspect. My only complaint about this one is that The Rock didn't get enough screen time, but then again we got to add Kurt Russell to the franchise, so they made up for it. $19.97.
I had a really good time with Paul Fieg's Spy, thanks largely to its super charming cast being really good at funny stuff. Especially Jason Statham, who was the flick's biggest surprise. It's been a while since he showed his funny side and it was a great compliment to the overall fish-out-of-water vibe. $9.90.
Kingsman was crazy fun. I love the "I don't give a shit" R-rated craziness that Matthew Vaughn injects in all his best work. The finale of this film is absolutely not PC, including the reward for our young hero for completing his task, but that only makes me love this film even more. It's weird when an actual James Bond movie is, like, the third or fourth best spy movie to come out in any given year. $9.99.
Cop Car didn't have a giant marketing budget, so it might have slipped under your radar, but it's a great little thriller that reminds me a little of the stuff we'd get in the '90s. It's about a pair of kids who find a cop car and take it for a joyride. Problem is the cop it belongs to is a little on the crooked side and really, really wants it back. Kevin Bacon is that cop and he's great here. The movie's so good it landed director Jon Watts the gig to be the next Spider-Man director, so check it out! $14.04.
I don't often get to feel like I'm ahead of the curve, but when I saw the first episode of Bates Motel I sat up and said, "Wait, who is that?" when Oliva Cooke showed up. She was great and I knew in my ample gut she'd be destined for great things. Then the rest of the world caught up with her fantastic turn as the titular "Dying Girl" in this very sweet, cinephile-friendly coming of age story. $17.99.
Channing Tatum is back in action and now you can have them gleaming abs in 1080p! $22.99.
One of last year's best movies. If I was king of the Academy Awards it woulda won more Oscars, but I'm sadly merely a lowly peasant and can't enforce my will on the history books. $14.99.
I think it's safe to buy this Blu-Ray now. The Koreans don't give a shit anymore, I heard. I loved this flick. Seth Rogen and James Franco work great together and Randall Park does a killer Kim Jong-Un. He's the secret weapon of this flick, making Dear Leader at once sympathetic and ridiculous. $9.99.
One of the biggest things to love about this series is how empowering it is for young girls. I've heard so many parents talk about how Katniss is a huge role model for their daughters that I can't help but smile. I also appreciate that this film in particular teaches young folks about propaganda and that it can be used for both good and ill. Nice heady stuff for what could be a stupid YA piece of fluff. $14.92.
The Guest is a super fun flick, full of personality and a star-making central performance from Dan Stevens. An old army buddy of a family's dead son shows up on their doorstep and they take him in, unaware that he's hiding a pretty big secret. When that secret comes out you realize you've been suckered into a pretty crazy little movie disguised as a standard thriller. $13.49.
I adore this movie. It's a super dark dark dark comedy about a psychopath, but told from his perspective, so everything is Pleasantville-like sunshine and rainbows, even when the bodies start piling up and his pets start telling him to kill more. I'm sad this one has been overlooked, but movies like this always find their audience. Hopefully it'll be sooner rather than later. $15.99.
You'd think a black and white Iranian drama involving vampires would be a bore, but director Ana Lily Amirpour injects so much personality and visual flair that it turns into something special. Big fan of this one. $22.03.
A pissed off mama fending off wave after wave of assassins from her lonely little apartment. Everly is a really fun little action movie with a great leading turn from Salma Hayek. $11.99.
From the director of the crazy Rare Exports comes this English language mashup of Amblin and Cannon schlock called Big Game. Samuel L. Jackson stars as the president of the United States, who is on the run from terrorists after Air Force One gets shot out of the sky. A boy on his right of passage hunt (played by Rare Exports' Onni Tommila), armed with a bow arrow, is the President's only chance to get out of this alive. Awesome premise and just ridiculous enough to be a super fun kid empowerment flick. I guarantee the young ones in your family will eat this up. $14.88.
A not so bright man is talked into being a drug mule and when he gets detained he decides his only way out is not to give up the evidence in his stomach. Yes, the movie is basically about Hugo Weaving trying to force him to shit and it's great. Underseen flick that made a splash on the fest circuit, but didn't get a huge push after that. $12.19.
As far as biopics go, Love and Mercy manages to break the typical formula by going back and forth between young and older Brian Wilson, played by Paul Dano and John Cusack. Both men turn in great performances, with Dano in particular riding a dangerous line between overacting and brilliant performance. I'm still not sure exactly where he lands at every moment, but he's swinging for the fences big time. I grew up with The Beach Boys' music, so the soundtrack alone was a joy to experience in a theater. $16.96.
PRE-ORDER, December 15th. The best James Bond movie to come out this year (sorry, Spectre). Christopher McQuarrie turned in a great espionage flick. I love that he's becoming Tom Cruise's go to guy. Great writer, great director... it's almost not fair... Some guys have all the luck. $22.44.
Ian McKellen as Old Man Holmes is almost too perfect. It makes me want to dock this movie from the great Bill Condon points for having an unfair advantage over other movies... $15.96.
There are a few unshakable truths in this world and one of them is that every single movie is missing Bill Hader. Trainwreck doesn't have this problem. In fact, he's given quite a lot of work as the stubbornly nice guy romantic interest of Amy Schumer's lead character. She makes a hell of an impression with this one. $19.93.
I haven't seen this yet, believe it or not, but I'm not at all surprised it was rated R. From what I saw on the set Jackson and Co were going all out for the final battle and very little of that ended up in the theatrical edition. For those eagle-eyed AICN readers, make sure to pay extra close attention to the bonus features and you'll see that I get my own little special feature where I get to goof around with the cast and crew for a surprise video we made for Harry's Butt-Numb-A-Thon. $22.98.
If you haven't seen What We Do In The Shadows then you need to take my word for it and just blind buy it. Unless, of course, you hate funny New Zealanders and good movies. Then you should probably move along to the next one. $14.39.
Killer zombie kids? Check. Elijah Wood as a timid teacher? Check. Rainn Wilson as a dickhead alpha male coach? Check, check, check. Yep, this movie checks off all the boxes. $14.99.
District 9 is Neill Blomkamp's only top to bottom perfect movie, but both Elysium and Chappie have great things in them. In fact, I'd say I like Chappie more than most. If you want any or all of these movies this is the set to get, breaking down to just around $8 per flick. $24.48.
There's a lot of shitty, annoying kiddie flicks out there, but Paddington is one of the rare family movies that the whole family can enjoy. Nicole Kidman is does her best mustach-twirling bad guy and the whole thing is just super charming. $9.99.
PRE-ORDER, December 8th. These little yellow bastards are kid-crack. Since getting really chummy with my nephews I've discovered just how much today's youth adores these guys. The movie itself, a prequel to the Despicable Me films, is filled with fart jokes and loud little guys that even my cold hearted cynical heart couldn't help but laugh at. But then again I like fart jokes and loud little guys. How else could I spend more than 15 minutes with my nephews? $22.99.
Disney's finally pulled Alladin out of their vault and now you can get one of them fancy Diamond Edition Blus of it. This film came at a time when Disney animation was entering a second golden age started by The Little Mermaid. Great music, beautiful animation and fantastic voicework, especially from the late, great Robin Williams. $23.52.
Another Disney classic got the Diamond Edition treatment this year. Gotta grab it before Uncle Walt's frozen head demands it be sealed back in the vault for another decade! $22.99.
Big Hero 6 hit all the right buttons for me. In a weird way it reminded a little of The Incredibles... a new superhero world that's close to our own, but not quite. Cute flick with a big heart. $22.99.
I saw Inside Out twice in theaters and both times there wasn't a dry eye in the house when the lights came up. This movie hits most people, but there are some hits on a deep, deep level. There was one lady in a screening that was straight up sobbing. Inside Out is Pixar at its best. Heady concept (sorry for the obvious pun) told with a ton of heart and smart comedy. $22.93.
I'll give Tomorrowland this: it's ambitious as hell. I think there's a better, more clear, story buried in there, but I kind of love 90% of this film unabashedly. Little robot girl should have been the main character, but what do I know? $22.99.
I haven't seen this one yet, but I really dug Toy Story of Terror. The quality of these TV spin-offs have been way better than they should be so far and who doesn't want to keep up with Woody, Buzz and the rest of the crew? Sad, sad, little people, that's who. $12.91.
Some great stuff in this collection, including the cool retro/meta Mickey Mouse toon Get A Horse and the fantastic CG animated heart-string tuggers Feast and Paperman. $16.99.
The new Studio Ghibli joint, this one about a tiny princess found inside a bamboo stalk who is freed by an elderly bamboo cutter. While not a Miyazaki film, it has all the hand-drawn beauty of his work and the complexity of emotion you're used to from his classics. Flat out gorgeous animation here. $19.99.
If Tale of Princess Kaguya has gotten you jonesing for more Ghibli goodness, might I suggest picking up one of the studio's flat out most awesome movies? That's right, the crazy flying pig flick hit special edition Blu-Ray earlier this year and you have no excuse not to add it to the shelf. Unless you already have it, then I guess I'll give that a pass. $23.99.
If you want your Japanese animation a little more bloody then how about this new remaster of Vampire Hunter D? $13.99.
Um, so Nick Frost played Santa Claus in Doctor Who and somehow the world survived that epic clash of nerd awesomeness. $13.89.
Oh, man. I'm so disappointed in myself that I haven't watched this yet. It's supposed to be great. For years the powers that be had been trying to make Susanna Clarke's book a movie, but everything I've read makes it seem like we dodged a bullet and got a much better adaptation thanks to the BBC launching a real deal mini-series. This one's high on my to watch list after I get finished with this little guide thing. $14.99.
Now I have seen this series and can't recommend it more highly. Clive Owen as an opium addicted genius surgeon in the 1900s... which means there's a lot of really primitive surgical techniques to gross you the fuck out every episode. This is a gorgeously shot, brilliantly acted addictive show. If you've missed out, boy am I jealous of you getting to start this one up over the Christmas break. It's a good 'un! $23.99.
Speaking of mainlining a show, one of my favorite times I've had watching anything this year was HBO's great documentary series The Jinx. It's as addicting as Serial with an actual ending that is about as iconicly satisfying as you could possibly get. You gotta see this thing. $19.99.
PRE-ORDER, December 8th. Speaking of charismatic murderers, Hannibal became a surprise hit in its short three seasons, but it went out on top, which is something a lot of like shows can't claim. Season 3 is just about to hit Blu at the low, low price of $16.99. Season 1 is $9.99 and Season 2 is $15.99, if you want to complete the collection.
And now for something completely different. You can actually get the entire run of Gumby on DVD now WITH YOUR OWN GUMBY!!! Is there a kid born between 1950 and 2000 that wasn't partly raised on this show? Are the new generation of kids being indoctirnated like I was? Well, now it'll be easier to do so since you can get every single episode for the super low, low price of $15.56.
South Park is still going strong after all these years and now Season 18 is out on Blu. Do I need to say more? Probably not, but I'm still going to keep on typing to see if you're still paying attention. Are you? If so, clap three times. I'll wait. $24.98.
Mike Judge's Silicon Valley has been wonderful. No surprise, with that pedigree in front of and behind the camera. So far it has sustained that painfully hilarious awkwardness that is just magic when pulled off correctly for two seasons. The first season hit Blu this year and can be had for $19.49.
I'm a little surprised in the year 2015 we still only see some TV series released on DVD, but Will Forte is the man and this show delivers the goods, so I'm including the Season 1 DVD set. It might not be 1080p, but the show's worth owning. $16.99.
If I could force every single one of you reading this to purchase one Blu-Ray it'd be this one. Preston Sturges is one of my all-time favorite writer-directors and Sullivan's Travels is probably his best front to back film. It's not my personal favorite (I can't get enough of Unfaithfully Yours), but there's a weight to Sullivan's Travels that is impossible to deny. It's an incredible film, but one that doesn't feel like homework to get through. So, where's the "make everybody buy this Blu-Ray" button on my keyboard? I know it's here somewhere... give me a second... $22.29.
Palm Beach Story is another great Preston Sturges movie that got a brand new Criterion Blu-Ray this year. Yes, it's hilarious and Criterion went all out. 4K Transfer and a bunch of special features, including the bestest dude ever Bill Hader talking about how much he loves Preston Sturges. Of course he does, because he likes good things. Palm Beach Story is one of the best screwball comedies ever made and this is best it has ever looked. $22.49.
Fisher King features one of Robin Williams' finest performances in a career filled with great performances. Terry Gilliam is also in top form in this film about two very broken people (one an ex-shock jock and the other homeless loon with a very good reason for retreating into a fantasy world) who help each other cope with their personal tragedies. It takes someone as brilliant as Gilliam to make a film with that premise that doesn't become a total bummer. Criterion has a 2K remaster with a bunch of new interviews with the cast and crew. $22.49.
If you want to see a great late-career Robert Mitchum performance, check out Criterion's release of Peter Yates' THE FRIENDS OF EDDIE COYLE, a gritty East Coast neo-noir that co-stars the great Peter Boyle. Yay Criterion! $22.53.
Carol Reed was a great filmmaker. His The Third Man is one of my all time favorite movies and while that might be one of his most famous films he had many more that aren't as talked about, including this one. Odd Man Out was a big hit when it came out and was reportedly what pushed star James Mason into icon status. This film makes a great companion piece to The Third Man, especially since it's shot in a similar way (lots of great silhouettes!). $22.49.
You get two great films in one here, both adaptations of Ernest Hemingway's short story The Killers and made by two fantastic filmmakers in two radically different cinematic eras. Robert Siodmak made his version in the '40s with Burt Lancaster and Ava Gardner and Don Siegel did his in the '60s with Lee Marvin, John Cassavettes and Angie Dickinson. Both are great movies reflecting radically different filmmaking styles and totally worth a comparison watch for you true blue cinephiles out there. $22.53.
Criterion put out a bunch of great crime films this year, including Night and the City, a rather unique noir in that it's actually set in London instead of the mean streets of New York, San Francisco or Los Angeles. This was born out of necessity as director Jules Dassin was a blacklist target and chased out of the US. Sucks for him and his real life and stuff, but good news for us film fans because it left us a great film. $23.49.
Here's a disturbing true crime story told in a verite style. The Honeymoon Killers is about two lonely psychos who find each other and go on a killing rampage. It's a tough film, but masterfully done. Criterion did a new 2k transfer and a bunch of new special features, including docs and new interviews. $23.88.
Five Easy Pieces was previously only available as part of Criterion's great, but pricey BBS Box Set, but now you can get it without having to fork over for the whole box set. 1970s Jack Nicholson is a thing to behold. In particular Cuckoo's Nest, Last Detail, Chinatown and this film, Five Easy Pieces are showstoppers and would be career-best roles for any actor and fucking Nicholson got them all and knocked them all out of the park. $22.53.
Your holiday season is surely lacking in Toshiro Mifune being a badass samurai. Criterion has your back, though, with their high def transfer. You're welcome. $22.48.
This one was a favorite of mine growing up and I'm really happy Criterion put it out. I actually just ordered a copy and really excited to revisit it. $22.49.
Say you have some stuck up friends/relations that have really shitty kids and want to really ruin their holiday you should gift them this movie and tell them to watch it as a family. The therapy bills alone will be hilarious. Watership Down is a classic, but don't watch it if you're feeling at all suicidal. I think that was on the original poster... $22.49.
Nicholas Roeg's Don't Look Now is one of those great "under the skin" squirmers, about a couple in Venice trying to get over the death of their child, but the supernatural won't let them. Awesome high class horror here, a must-have for any genre geek. $22.47.
Brian De Palma's Dressed to Kill is one of the few horror movies that Michael Caine took part in and it's a doozy (especially when you take into account what his role actually is). I'm a little surprised that Criterion took this one on since it's a little sleazier than the other big De Palma thriller they put out on Blu-Ray (Blow-Out). Hell of a flick, this one. $24.76.
Moderate ($25.00-$70.99)
Scanners might be Cronenberg's more famous early movie, but The Brood is probably my favorite. It has all the weirdness you'd come to expect from him, but turned up a notch. There's a murder scene at a school that is out of its mind crazy. Plus you get an amazing Oliver Reed performance to sweeten the deal. Criterion did a brand new 2k transfer, supervised by Cronenberg himself. $26.19.
David Lynch's weird ode-to/condemnation of Los Angeles got a 4k transfer for this Criterion release. That alone would be worth buying the disc, but they also went all out with new interviews and stuff. $26.19.
Yeah, it's a bit of weird serendipity that Robert Blake starred in a film adaptation of Truman Capote's In Cold Blood, a story about murderers on the run, but it's a great, understated movie done up in the way only Criterion can do it. $26.19.
In the mood for atmospheric Japanese ghost stories? Kwaidan will scratch that itch for ya'. It's an anthology film that previously was only really available in a cut down version, but Criterion don't play that shit. Here is the original 3 hour cut in a stunning 2k tranfer. $26.19.
PRE-ORDER, November 24th. Akira Kurosawa made more masterpieces than just about any other director and Ikiru is often hailed as one of his best. It's a highly emotional story about a man with cancer who spends his final days searching for the meaning of life. Criterion pulled out all the stops for this one, including a 4k high def transfer. $27.99.
PRE-ORDER, November 24th. This DA Pennebaker documentary captures one of American music's most fascinating artists at the top of his game. It follows Dylan as he tours London in 1965 and captures live performances of some of his most famous songs and lots of candid behind the scenes moments with the singer and his musician friends. $27.99.
River Phoenix turned in the best work of his sadly short career in Gus Van Sant's My Own Private Idaho. Keanu Reeves is great here, as well. Didn't mean to leave ya' out, brother. Don't get all sad on a bench again. $26.19.
There's an unwritten rule that every Wes Anderson movie has to end up on Criterion, which is fine by me because I like all his movies. Moonrise Kingdom is a super easy watch with some great performances, especially by Bruce Willis who is unstoppable when he actually gives a shit about the movie he's appearing in. He shows up here and watching him bounce off of Bill Murray is magical. $27.99.
Of course Criterion would put out The Apu Trilogy, famously India's debut on the art film stage, following a young man as he grows from child to young man. The original negatives were destroyed in a fire some years ago, but that wouldn't stop the Big C. I mean Criterion, not cancer. Probably should have thought of a different pet name for them, eh? Anyway, they spearheaded a huge restoration and the fruits of their labor can be seen in this set. $58.99.
Penelope Spheeris's The Decline of Western Civilization. Man, what a document. She gives us an unfiltered look at the hardcore punk scene of the late '70s and early '80s, including shows by Circle Jerks, Black Flag, Germs and Alice Cooper. A neat bonus: Dave Grohl does a commentary track! $45.15.
You don't get anything new that hasn't already been released in high def, but you can individually buy all Star Wars films in these fancy new Steelbook editions. If you're going Star Wars crazy right now (and who isn't?) then here's your chance to bone up before Episode 7. Sadly, these are the special editions (bleh). There are rumors of the Original Theatrical Cuts being worked on, but nothing solid, so if you really want 'em and can put up with some extra CG crap every once in a while then you might want to give these a shot. The above image is for the original Star Wars and it costs $22.66.
This is Empire Strikes Back Steelbook. Fancy, I know. $22.66.
And now Jedi's Steelbook re-issue. They look really neat together, I'll give 'em that. If you want the prequels then you can search for 'em yourself, you poor bastards. $22.20.
Star Wars Rebels is legit, you guys. I've talked about how much I love this series a few times. I can't help it. Later season Clone Wars and Rebels almost singlehandedly turned me from the dark side of Star Wars fandom (ie burnt out and spiteful of the prequels) and reinvigorated my love of the universe. Just in time, too, since we got that little Force Awakens movie thing coming out in a few weeks. $33.81.
It's not John Williams himself, but rather a loving tribute concert of his greatest work, from Fiddler on the Roof to Star Wars, done by the LA Philharmonic. $25.26.
This is the original Battlestar Galactica, seen for the first time in high def widescreen. You get the full original series, the 1980 series and the movie. Ain't it a thing of beauty? $65.00.
All of Peter Jackson's Hobbit films in their Extended Editions bundled together. If you're thinking of picking up Battle of the Five Armies EE then might as well go all the way and get the whole set for about double the price. That's just good financial planning! $58.49.
All five Home alone films together in one collection that looks like a paint can! Wait, there were five? Huh. Learn something new everyday... I'd just want the first two... but you get a cool package that includes Blus of the series, an ornament and a fake spider. Merry Christmas, ya' filthy animals. $39.99.
This is the super collector's edition of that 40th Anniversary Blu Release of Monty Python and the Holy Grail. Yes, you get a castle wall, a catapult and little rubber animals as well as the Blu-Ray. Inventive, no? $29.99.
And the super special collector's edition of Rocky Horror, complete with the regular blu-ray (that includes both US and UK versions of the film) in a special packaging that includes your own Frank fishnets, rubber gloves and a CD soundtrack. I see you shiver with antici... … … $33.99.
You want weird, I got you some weird. I got you a hell of a lot of weird. Richard Elfman's movie pretty much has to be seen to be believed. It's hard to describe, but I can say that you won't have any clue what the hell is coming next, which is a good thing in this particular case. $25.29.
This is the ultimate "everything and the kitchen sink" Blu release of Lucio Fulci's The Beyond, complete with the CD soundtrack, interviews new and old, commentaries and all bundled with a high def restoration of the original, uncensored, cut with a new 5.1 audio mix. $35.96.
I haven't seen one of these Cinema Series Blus in person, but it looks like they grabbed all the great extra features from the previous releases (commentaries, docs, etc) and give it a packaging make-over and an audio overhaul with a Dolby Atmos track. I'm quite fond of this movie and this looks like a very classy release. $25.89.
The Fifth Element's Cinema Series release is similar to Coppola's Dracula above... You get the collectible packaging (including booklet) and a Dolby Atmos audio track, but Fifth Element looks to have a brand new 4k transfer as well. I think Leeloo Dallas and her multipass would approve. $27.26.
This Blu collects 5 important movies from 1939: Gone With The Wind, Ninotchka, Dodge City, Dark Victory and The Hunchback of Notre Dame. Of those, the least exciting is Gone With The Wind, which has seen all kinds of Blu releases, but the rest are pretty exciting to have in high def. $51.72.
I love these pre-Code sets. They always contain rare, more risque classic Hollywood gems, new to even hardcore cinephiles. The new one, Volume 9, comes with 5 films: Big City Blues, Hell's Highway, The Cabin in the Cotton, When Ladies Meet and I Sell Anything. $34.99.
In this set you get high def transfers of Hammer greats Frankenstein Must Be Destroyed, The Mummy, Dracula Has Risen From the Grave and Taste the Blood of Dracula. That's a whole lotta Christopher Lee and Peter Cushing, which means that's a whole lotta awesome. $42.99.
50 Films and 150 TV episodes, all crime-related, in one giant 24 disc set. These big box sets are usually the same Public Domain titles, but there's good stuff here film-wise (like DOA and Gaslight) and a whole bunch of really random, rare TV. Click through and check out the full list. It's too big for me to include here. $69.98.
Since smart, 3D enabled TVs are more common than not, it's a safe bet that a good deal of you are hungry for some good home 3D content. It's cool to have a Pixar movie in 3D at home, but it's releases like this that really rev my motor. Meticulously collected and preserved, this set includes 3D rarities dating back to 1922. Many of these things are demo films made for exhibition at places like the World's Fair and capture a time in a way we're not used to. There are puppet cartoons, burlesque comedies, anti-atomic energy shorts, 3D newsreels, stand up acts and much, much more. In all it's almost 2 ½ hours of random/awesome 3D stuff. $35.96.
I kinda love that The Strain began as Guillermo del Toro's TV series idea and when that didn't happen he turned it into a book series... that was then adapted into a TV series! Crazy how the world works, isn't it? I thought The Strain started off a little rough, but it found its groove as the world in the show really went to hell. The Blu is light on extra features, but you get the show, which is what you really want, right? $31.99.
Like every other show ever made, The Walking Dead has had its ups and downs, but I don't get the recent fan backlash. The show most certainly hasn't jumped the shark, but the way people talk about it you'd think every new season is the final few episodes of Lost all over again. I wonder how much of that is a response to the material in the show and how much is a response to its ever growing mainstream popularity. I thought Season 5 was pretty solid, especially the epsidoes that focused on Carol. What about you? $34.30.
This is just a repackage of Season One of Game of Thrones, but it's a fancy steelbook! It also comes with HD downloads of the eps, so if you're going to own it might as well get this one, right? $44.93.
Better Call Saul is a different, but worthy Breaking Bad spin-off. How could it not be since they made the brilliant choice to focus on Bob Odenkirk's character? Add in a liberal dose of Michael McKean be his usual engaging self and you got a show worthy of your time and attention if I do say so myself. Which I just did. $39.97.
Just like the other Paddington Blu out there, except this one actually comes with a little stuffed Paddington bear of your very own. And don't believe that sticker... You don't have to shop at Wal-Mart to get it. Amazon has it for $33.63.
Amazon's got a nifty exclusive Collector's Edition of the Hobbit: Battle of the Five Armies Extended Edition. You get the regular Blu, with all the bonus features, but also a little statue of Gandalf and Bilbo. $54.89.
200 episodes of That 70s Show in high def! That's over 4400 minutes of Kurtwood Smith being a dick to Topher Grace, which is more goodness than us mere mortal deserve! $69.99.
All original Mission: Impossible Eps in one place! Sadly, only available on DVD, but still. That's a lot of impossible missions, should you choose to accept them. $63.99.
I tend to turn my nose up on superhero TV shows. I never got into Smallville or any of that CW shit, but The Flash grabbed me. It's silly, yes, but that tone fits the character. Plus everybody in the cast is super likable and that makes it easy to invest in their characters. Very strong first season. $34.49.
Season One kinda lost me, I must admit, but there's been a lot of strong talk about Season 2 course-correcting, so I will give it as hot. I want to love a SHIELD show with all my heart, so it makes me sad that I'm having trouble connecting to it. I'll marathon Season 2 sometime over the holidays, though. I'll always give Marvel a second chance. $54.99.
Now this is a much better Marvel show. Agent Carter has some similar water treading issues that Agents of SHIELD has, but I dig the period aspect and the high adventure tone more than the political intrigue of SHIELD. Plus who hasn't fallen in love with Hayley Atwell at this point? $35.99.
Expensive ($71.00-$249.99)
PRE-ORDER, December 8th. Remember that cool Phase 1 Blu-Ray set that none of my friends were cool enough to get me for Christmas 2013? Well, now there's a whole Phase 2 set that is exclusive to Amazon. That's every Phase 2 Marvel movie (Iron Man 3, Thor: The Dark World, Captain America: Winter Soldier, Guardians of the Galaxy, Avengers: Age of Ultron and Ant-Man) and over 2.5 hours of bonus material exclusive to this set, which includes new deleted scenes, Marvel One-Shots, Screen Tests and docs on Phases 2 and 3 of Marvel's Cinematic Universe. This is one of the higher profile geek gifts of the entire guide this year. $199.99.
Jeez, this is gorgeous. For the first time America gets the full collected works of every movie Hayao Miyazaki ever directed (Lupin III, Nausicaa, Castle In The Sky, Totoro, Kiki's Delivery Service, Porco Rosso, Princess Mononoke, Spirited Away, Howl's Moving Castle, Ponyo and The Wind Rises). Your Miyazaki loving girlfriend/boyfriend will love you long time if they find this in their stocking this year. $215.00.
This is just about the coolest idea for a Die Hard box set that I could imagine. The only way this would be cooler is if they replaced Die Hards 4 and 5 with extra back up copies of any of the first three because who the hell is actually going to watch 4 and 5, unless they're really wanting to piss themselves off. Still, the Nakatomi Tower looks amazing. I don't have one myself, but I have seen it up close and personal and I wants it! $104.95.
The only thing cooler than a Die Hard box set inside the Nakatomi Tower is this Back to the Future Trilogy release that includes its own Flux Capacitor (yes, it lights up). This set also is the rare series collection that doesn't have a dud in the bunch. You can like any one more than the others, but there's no Crystal Skull or Die Hards 4 or 5 in there that you have to ignore. You also get the entire run of Back to the Future Animated Series as well. That's heavy! $82.97.
I was lucky enough to have been sent this and it's MASSIVE. So much bigger than you'd think it'd be. I guess when you make all the money in the world you can go super snazzy with your limited collector's edition set. $81.69

*********************

Or you could just win one of your own! Yay, the first Contest and it's for that huge Jurassic World Collector's Edition Blu-Ray set! All you need to do to win is be a US resident (sorry, rest of the world) and send me an email to this email address with the subject line "Uh Uh Uh You Didn't Say The Magic Word" with your mailing address and contact phone number in the body of the email, should you be the lucky winner. I will pick an email at random some time between now and 11:59pm CST Saturday, November 28th. Good luck!
All Fast and Furious movies gathered in a tire because of course. Don't think there's any other exclusive bonus content, just the big tire and all 7 Fast/Furious movies on Blu-Ray. $169.99.
PRE-ORDER, December 1st. Gross! Awesome! Keep your Season 5 of The Walking Dead in a melting zombie! $134.99.
If your tastes are less bloody and more classy, you can go with this Mad Men Complete Series Blu-Ray set that comes with two tumblers and four coasters. You get all 7 season with all previously released bonus content PLUS four hours of new special features. $128.99.
20 Blu-Ray discs containing the entire run of one of the best shows to ever air on any channel ever. The Wire Complete Collection will run you $148.58.
Boardwalk Empire came to an end recently, but turn that frown upside down because that means you can get the whole run in one big box set! That's 20 Blu discs worth of Steve Buscemi goodness! $99.96.
All 7 Season of Sons of Anarchy in a collectible box and a photo book and 20+ hours of bonus features. Puuuurrrttty. $154.69.
You drunk Justified fans can show off your love of the show with your own super nifty flask! And you get the whole series on blu-ray, that too. $118.49.
Lost In Space gets remastered in high def and released in this nifty box set that contains all 83 episodes and over 8 hours of rare bonus features! A deal for any old fashioned sci-fi lover at $74.99.
Doctor Who fans rejoice! There's a really cool Blu set that includes all Christmas Specials from the new Generation of Who and it comes with a really cool TARDIS bluetooth laptop speaker! $99.99.
Ken Burns' in-depth documentary series on The Civil War turns 25 this year and to celebrate this landmark they've remastered it for high def and released it on Blu-Ray. This is a must for any history buff. The new release also includes 6 hours of bonus content, much of it brand new. $89.40.
ART
Welcome to the Art Section! You survived the massive trek through all the good movies and TV shows out there this season, congrats! Okay, so I said I had a big announcement to make and I wasn't kidding. You ready for this?
Mondo is allowing me to tell you exclusively through this Guide that they are doing their first ever Online Flat-File Sale this Friday. That means they're pulling over 400 different prints from their archives, including some incredibly rare pieces by their top artists (yes, that means Horkey, Stout, Moss, Ansin, Taylor, etc), going back as far 2010. The best part? They're selling them at original price.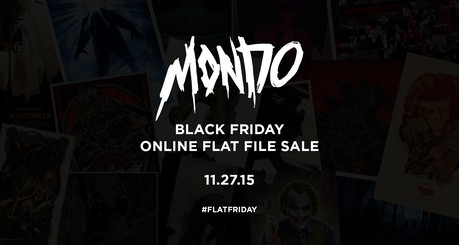 Here's the press release I was sent by Mondo. Remember, you heard it here first!
Mondo Presents Flat Friday, their first ever online poster Flat File Sale Since 2011 the folks at Mondo have opened up their poster flat file a couple times a year for a sale featuring a selection of sold-out prints from their archive. This has been something offered exclusively at their gallery space in Austin - until now. This Wednesday, Mondo will be shutting down its site to prepare for the first online Flat File sale in the company's history, kicking off at 10AM central time on Friday, November 27. Fans can expect over 400 different prints from artists like Aaron Horkey, Tyler Stout, Olly Moss, Daniel Danger, Ken Taylor, Martin Ansin, and many more. With just a few of each poster available, you'll want to be there when the Black Friday countdown clock hits zero. "We are very excited to be able to dip into our archives and offer these previously sold out print to our worldwide fan base. We have hosted flat file sales at our gallery pretty regularly over the years, but have never been able to open them up to fans outside of the Austin area. This will be a rare opportunity to purchase posters from as far back as 2010 at their original retail price. We hope you find something you like in there." Justin Brookhart, VP of Operations.
So, keep your eye on Mondo's Website starting at 10am CST this Friday, screen print fiends, and you might have the hap-hap-happiest Christmas of your life!
Now on to the Art Section!
Cheap ($24.99 and under)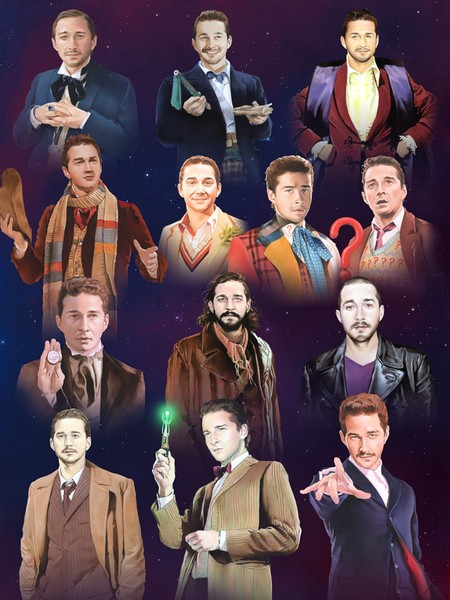 I bet you thought your life was complete until you saw this 18x24 poster of Shia LaBeouf as all the Doctors. Actual Doctor Shia LaBeouf. That empty feeling you have can be filled with the joy of Brandon Bird's glorious poster for only $10.00. (if you want a larger, more fancy print you can get one here)
Moderate ($25.00-$70.99)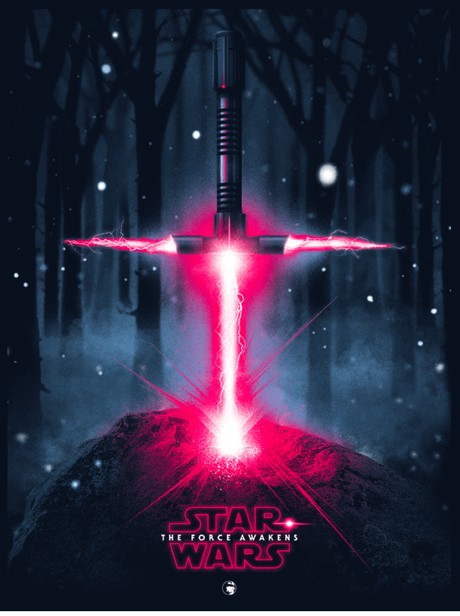 Hero Complex has this beautiful Force Awakens-inspired print done in metallic inks by Patrick Connan. Measuring 18x24 and limited to only 50 prints, if you want this pretty thing you better hurry on up! $40.00.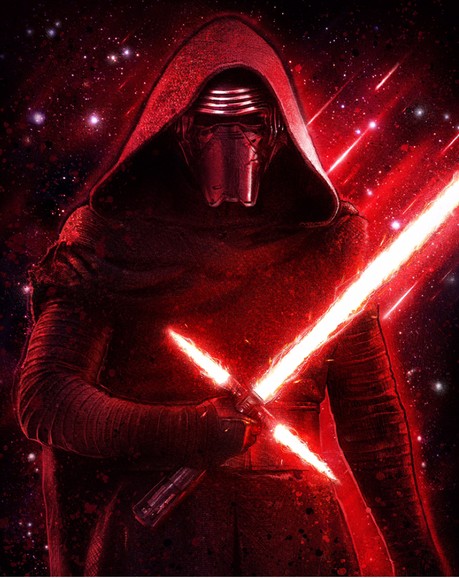 Now this is a tiny print (only 8x10), but I couldn't feature Kylo's weapon without giving him a feature as well. I don't want that dude showing up at my doorstep all butt-hurt that I didn't include him in the Guide. Great artist Paul Shipper did the above art, limited it to 250 prints, and you can get you one for $25.00.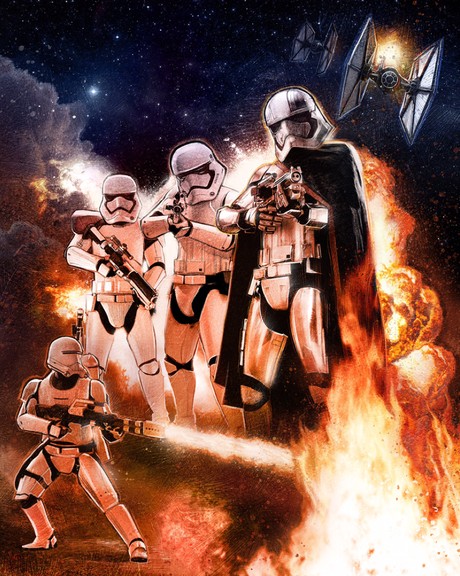 Here's another tiny Paul Shipper Force Awakens print. Same size and edition of the above Kylo piece. Same price, too. Figure that. $25.00.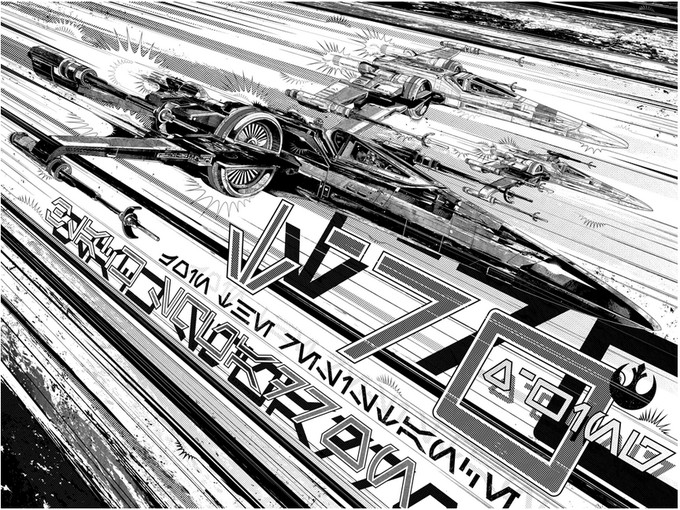 Artist Kako did a great job with this Force Awakens print featuring the T-70 X-Wing. Only 100 of these 24x18 prints exist, but you can still get your hands on them. $35.00.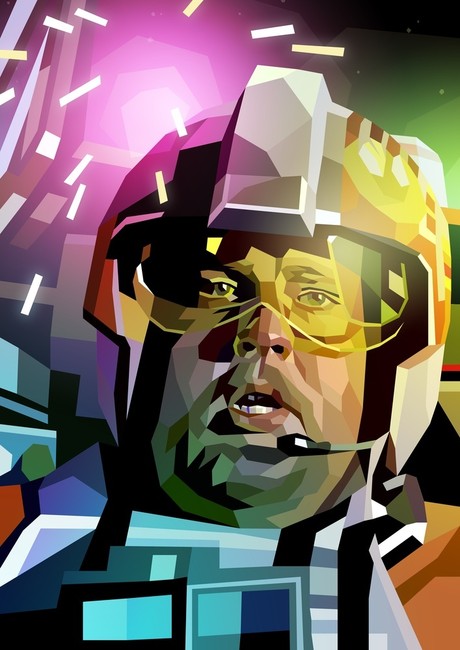 Liam Brazier has been doing a Star Wars portrait every week this year and while there are bigger stars he's covered, how could I not include Porkins? The poor, unsung hero of that first Death Star battle never gets his due, but not anymore damnit! Not anymore. $15-$80, depending on what size you want. 18X24 is $40.00.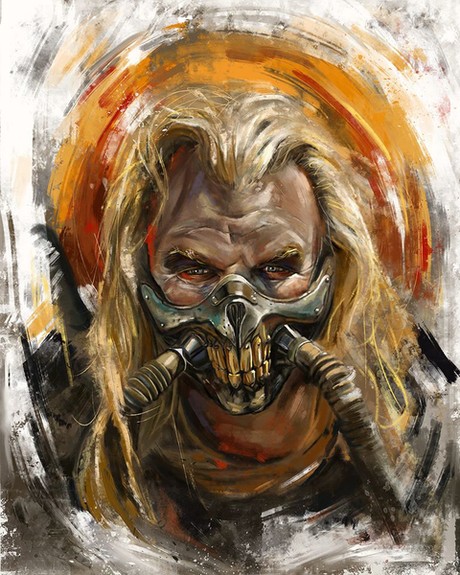 How gorgeous is this art of Immortan Joe from Mad Max Fury Road? Robert Bruno knocked it out of the park with this one. Only 50 of these 11x14 prints exist, so if you don't want to be mediocre place your order and you shall be carried to the gates of Valhalla by the great Immortan! $30.00.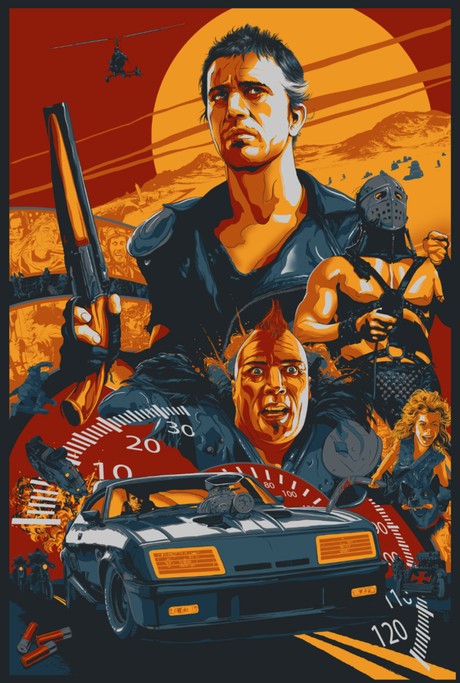 Vance Kelly made this impressive Road Warrior print for the good folks at Hero Complex and there are still a few available! Printed with metallic inks, this 24x36 piece is limited to 150 prints. $55.00.
Hero Complex did a show inspired by the work of the great makeup effects man Rick Baker and this was the show poster, a really great tribute to the man surrounded by his creations. Vance Kelly did the art for this and there are still prints available. Run of 100, measuring 24x36. Best part about buying one of these is that Baker himself signed some copies of this poster and they're randomly inserted into orders, so you could luck out and get one signed by the man himself! $55.00.

Rhys Cooper's Thriller poster for the Rick Baker show is actually sold out on the Hero Complex Gallery site, but I stumbled across Cooper himself still selling some via his own personal site. I saved you all from the funk of 40,000 years! You're welcome. $50.00.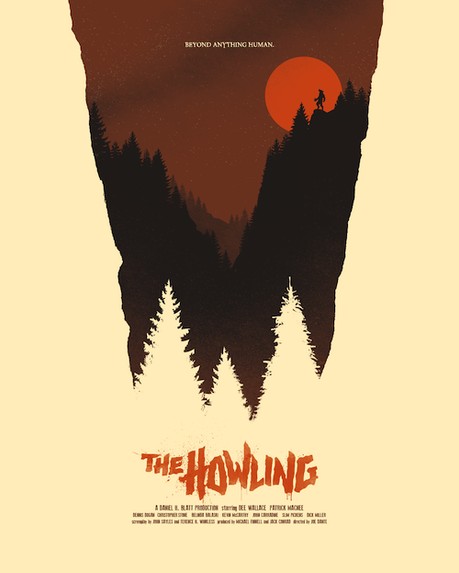 Here's a nice Olly Moss-ish Howling print by Moscati that is super limited (only 25). Measures 16x20. $30.00.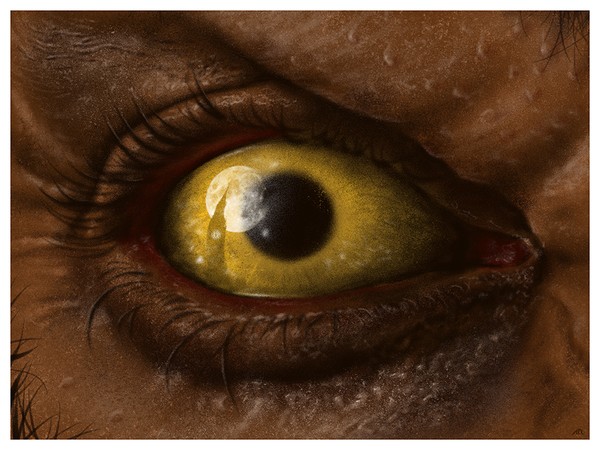 Oh shit, David. What is that?!? It's a flat out gorgeous giclee by Adam Rabalais, that's what. You don't need to be a naked American man to dig this awesome American Werewolf in London art. 24X18, edition of only 40. $45.00.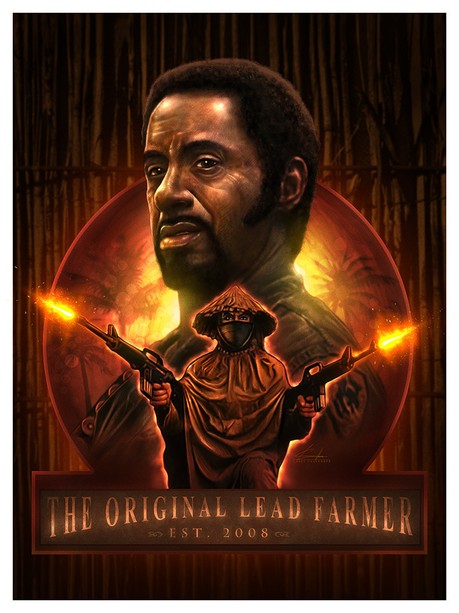 Casey Callender is a favorite of mine. I dig his realistic, but still very art-y style. And now he's gone and done up a Kirk Lazarus poster. There's no way you can't think this is an awesome poster... Unless you've gone full ret--- not gonna say it. I don't want anybody boycotting this guide! $45.00.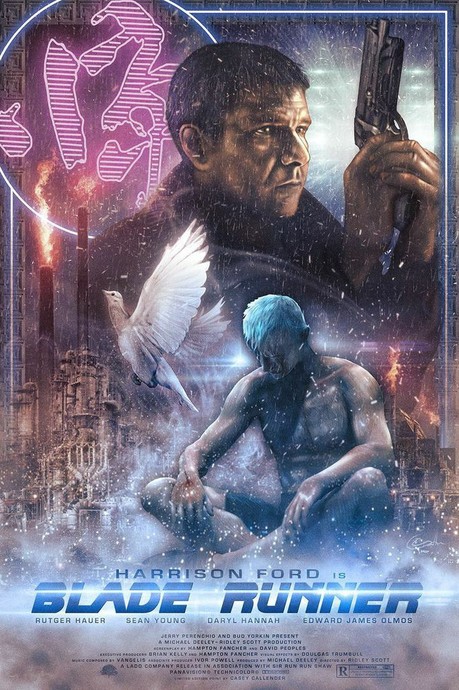 Casey Callender's Blade Runner is still available as well. Gorgeous 24x36 giclee print, edition of 150. $57.00.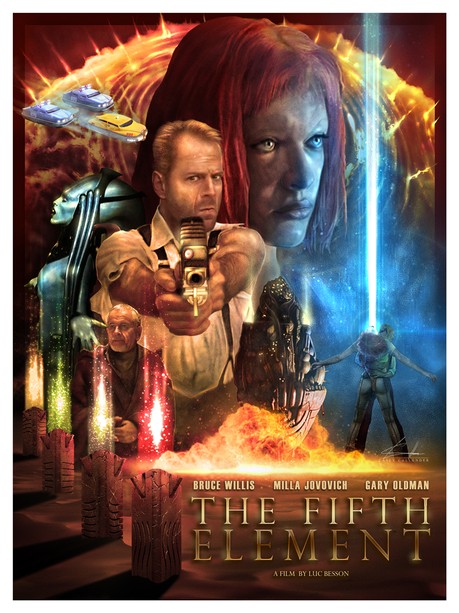 Yet another Callender print, this time a nicely laid out and illustrated giclee print for The Fifth Element. 18X24, edition of 150. $45.00.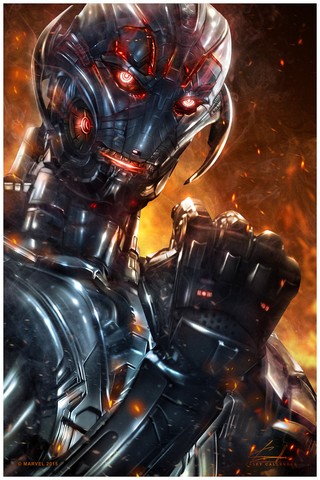 This is the last Casey Callender print, I promise! This is his Ultron, the variant that is actually printed on metallic paper! 24X36, limited to 100. $65.00.
If metalic paper isn't shiny enough for you, how about an Ultron on foil? This screenprint gives me a lot of nostalgia for my childhood spent collecting foil comic card inserts. Art by Oli Riches, limited to only 25 and measuring 15x24. $50.00.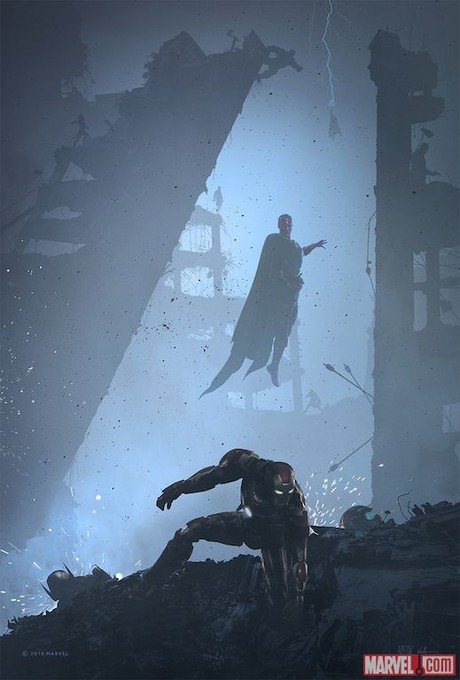 This is my personal favorite Avengers Age of Ultron print out there... at least that you can still pick up (sorry, Tyler Stout. You're just too popular to include in this Guide!). Design-wise, though, I adore what Kevin M. Wilson did here. Lots going on, but it's a clean, simple image. Also love the hidden Avengers logo. 24X36, edition of 100. $65.00.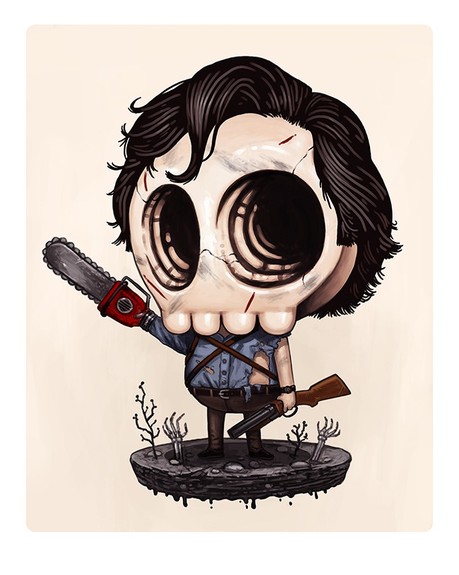 Mike Mitchell brings his popular Skully line into the geek world. Well, geekier world. Here's Skully cosplaying as Ash! It looks rad, right? I know Mike, we have board game nights every once in a while. I don't know if he wants this out there, but I heard that if you buy one of these Mike will personally pluck one of his pubic hairs and include it in the envelope... 8x10, signed and numbered and in an edition of only 200. Pubic hairs not signed and numbered. $35.00.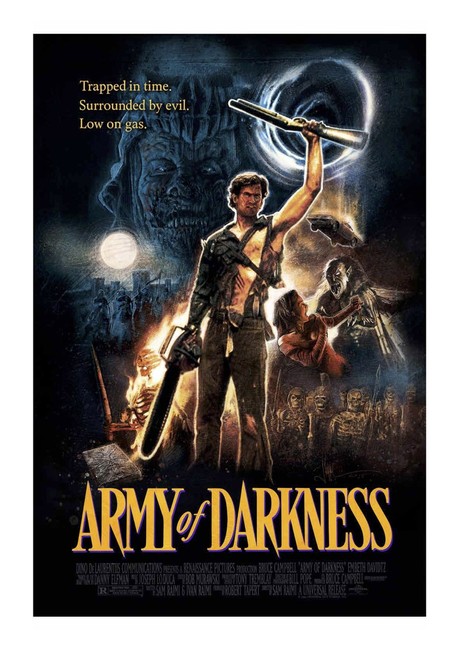 Paul Shipper is at it again, this time doing up this beaut, which Sceam Factory used for their Blu-Ray cover. All you primitive screwheads want the King on your wall, dontcha? Giclee print, 24x36, open edition. $65.00.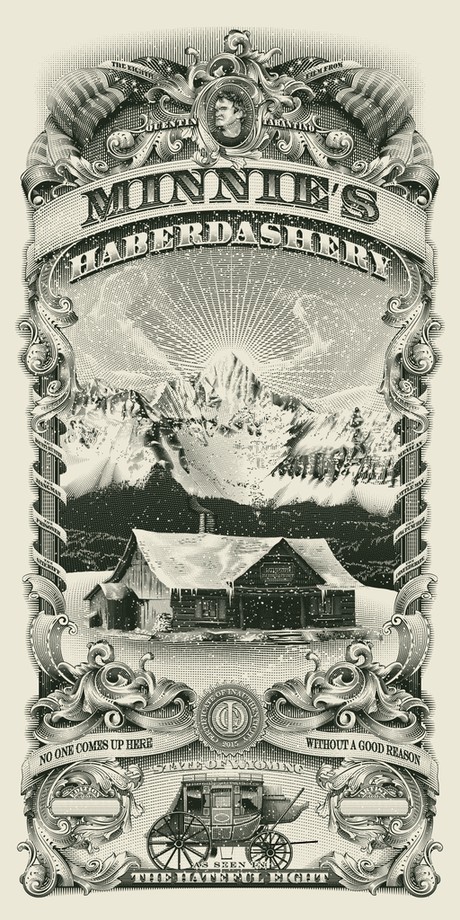 Tracie Ching gets ahead of the curve by putting out this pretty Hateful Eight screenprint before the movie's even out! Edition of 150, 12x24. $30.00.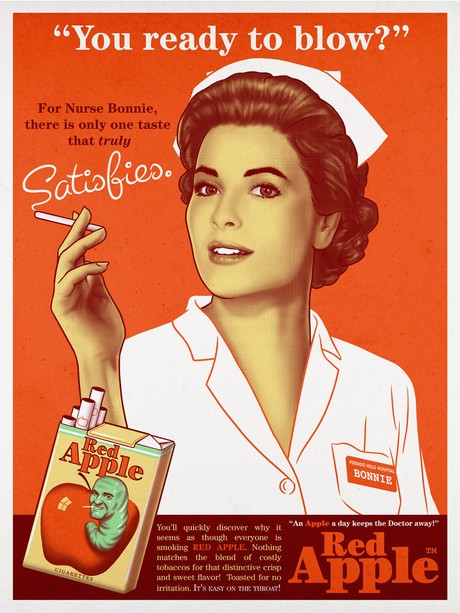 If you want your Tarantino-inspired wall art to be a bit more on the subtle side, then may I suggest Aled Lewis' Red Apple Cigarettes screenprint? I really dig this one. Four color screenprint, signed and numbed edition of 75, measures 18x24. $50.00.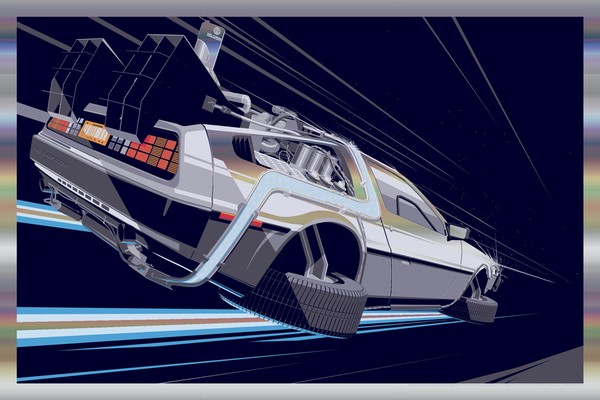 Craig Drake takes his instantly recognizable style to foil as well with this rather cool Back to the Future II variant foil print. Edition of 250, 36x24. $65.00.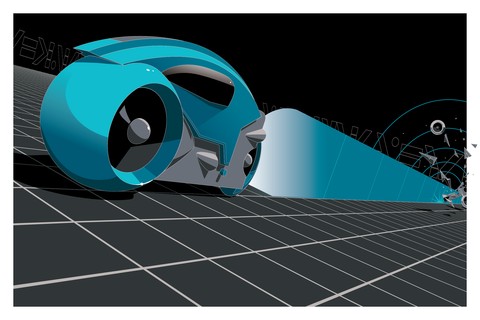 Tron perfectly fits Craig Drake's line-work-heavy style and this is the great resutle of that holiest of marriages. Lightcycle Blue is 36x24, limited to only 30. That's not very many, you know. $60.00.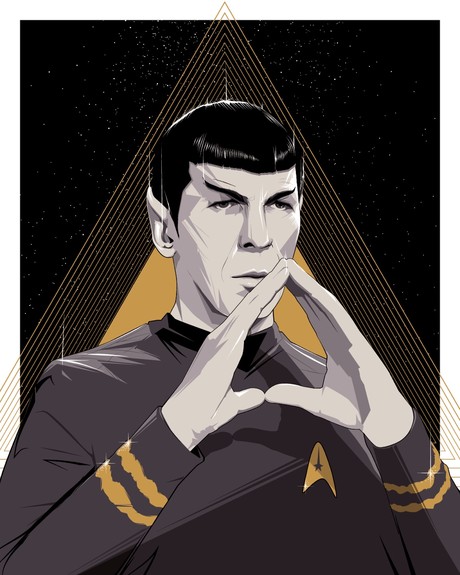 Another great Drake screenprint, this one honoring the late, great Leonard Nimoy's most famous character. Spock is done up in metallic inks in this 16x20 print, limited to only 50. $45.00.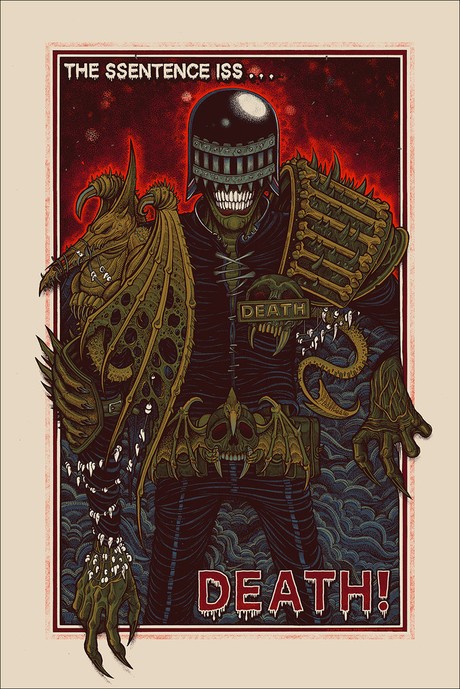 It's rare to see a Mondo poster appear in the Gift Guide since almost everything they do sells out instantly. Luckily for you guys there's a couple prints you can still buy from 'em direct and not at flipper ebay prices! First one up is Florian Bertmer's Judge Death poster. 36X24, limited to 225. $45.00.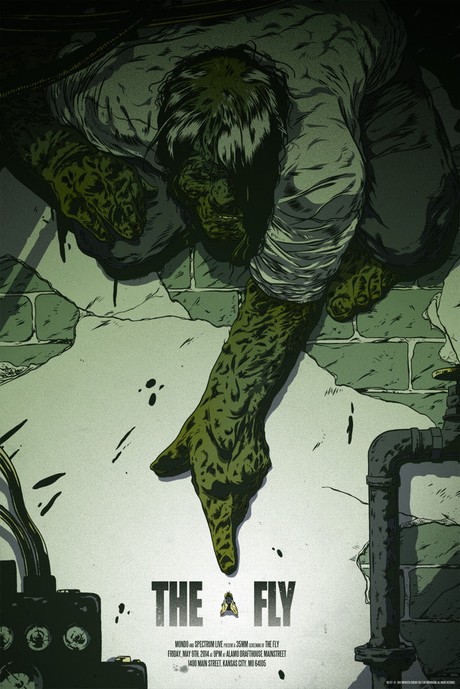 The other Mondo poster you can get right this very second is Johnny Dombrowski's The Fly. Be afraid (for your wallet). Be very afraid. Edition of 265, 36x24. $40.00.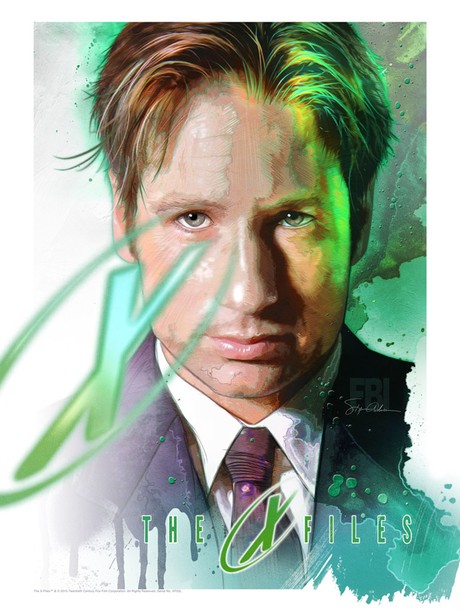 X-Files is about to come back in a big way and Acme Archives is here to make sure we're ready. Mulder wants you to believe... that this Steve Anderson litho is limited to 395 pieces and measures 18x24. $40.00.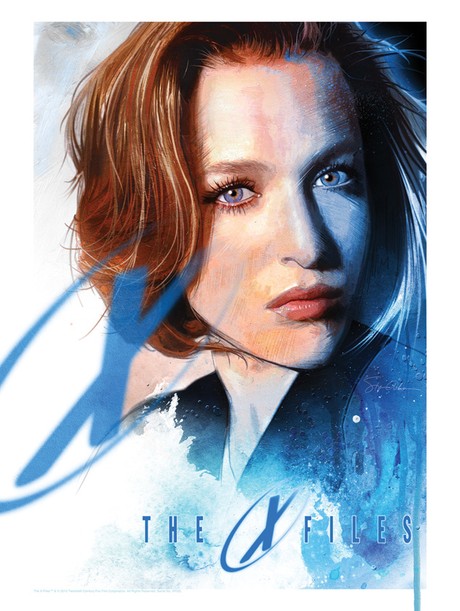 Can't have Mulder without Scully, can we? Steve Anderson made a matching litho so you can frame these two side by side on your wall the way our Alien Gods intended you to. Same deal as before, limited to 395, measures 18x24. $40.00.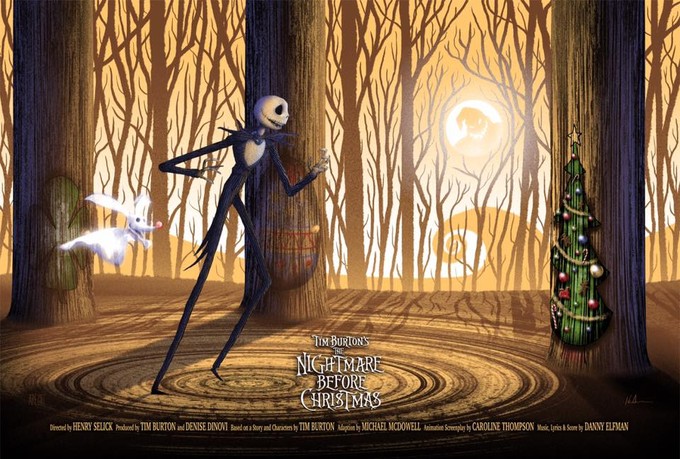 What's this? It's a screenprint, silly. Kevin M. Wilson (of Ape Meets Girl fame) did this sweet Nightmare Before Christmas print for Hero Complex. Limited edition of 125, measures 36x24 and needs to be on your wall before Sandy Claws comes or you're gonna get a man-eating duck or some shit instead of the Xbox you asked for. $55.00.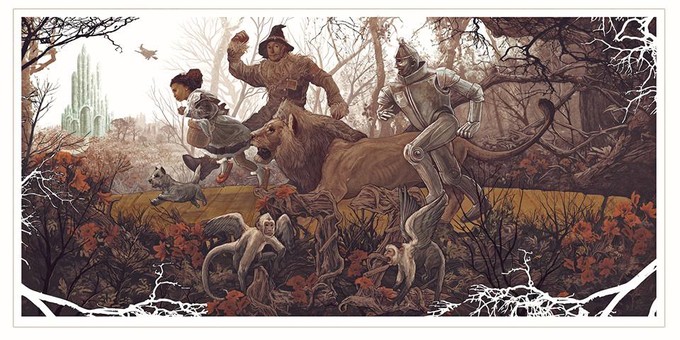 I love this gorgeous Wizard of Oz print by AJ Frena. It's not exactly the 1939 movie, but it's close and I love that it's a mix of the original book material and the movie iconography (mostly in the design of the Tin Man and Scarecrow). Limited to 150 giclee prints, measuring 36x18. $55.00.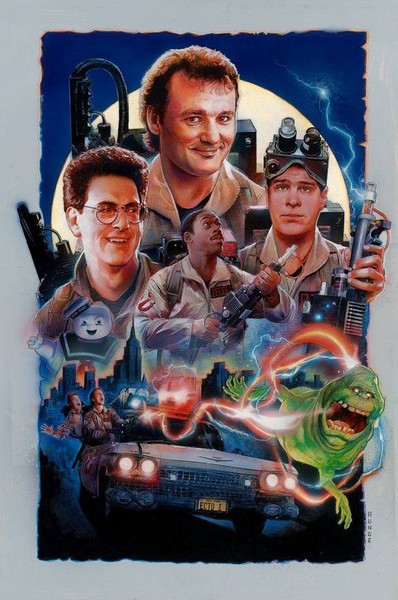 Nick Runge channels '80s era Struzan for this awesome Ghostbusters giclee print. I love this thing. Limited to only 75 24x35 prints! $65.00.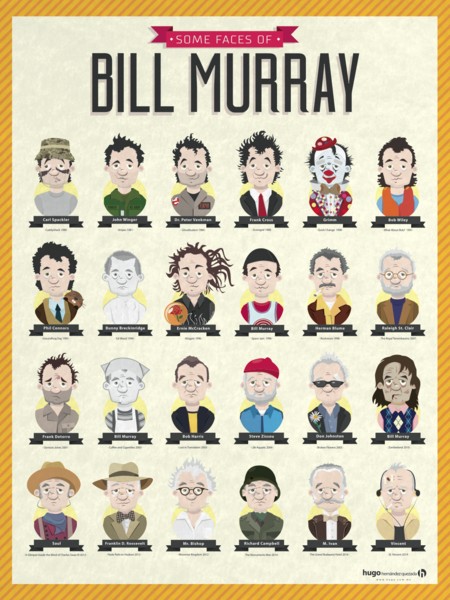 No such thing as too much Bill Murray. No. Sucha. Thing. Son. Hugo Hernandez knew this and created this Many Faces of Bill Murray poster. 18X24, limited to 65. That's the facts, Jack! $45.00.

How great is this Rhys Cooper Ripley/Jones print? Gallery 1988 has it. Six color screenprint, 12x36, limited to 150. $50.00.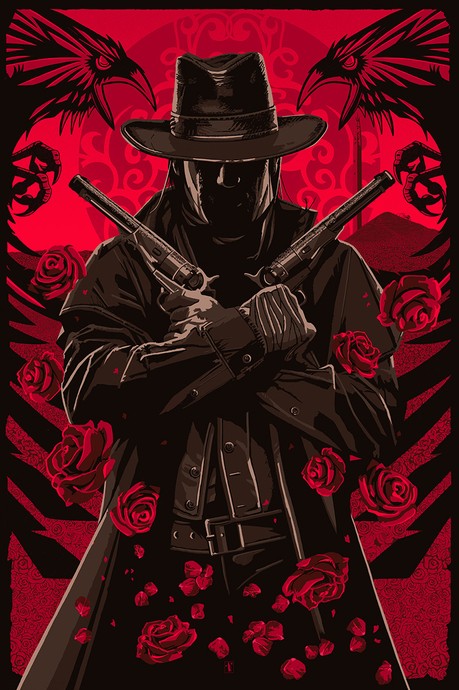 It's not a Holiday Gift Guide written by yours truly without some kind of Dark Tower representation. The mysterious Dark Inker did this Rosy Roland screen print. 24X36, edition of 100. $50.00.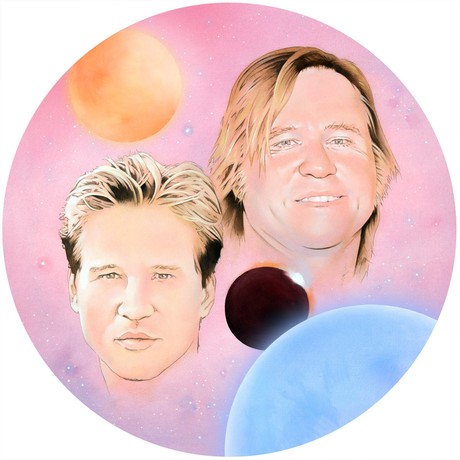 PRE-ORDER, Mid-December. Brandon Bird is putting out one of them fancy Collector Plates honoring the great, great, great Val Kilmer. I love that you have early Top Gun-era Kilmer and puffier Kilmer represented. A great off-kilter gift idea. $70.00.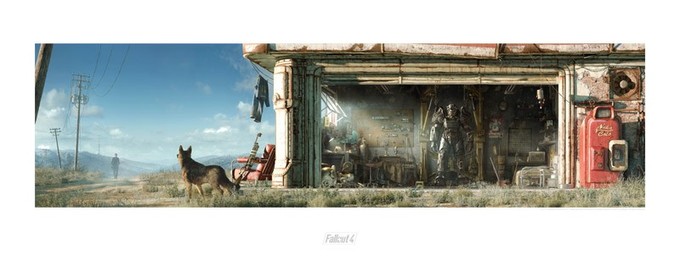 Yep, I'm going to force Fallout junk into every possible category that I can. Bethesda helped me out by putting out a cool 11x24 print of art from Fallout 4. Man, this makes me want to get back into the wasteland... So many quests and side-quests to do! Alright, fingers, let's get the load out and finish this fucker up! $25.00.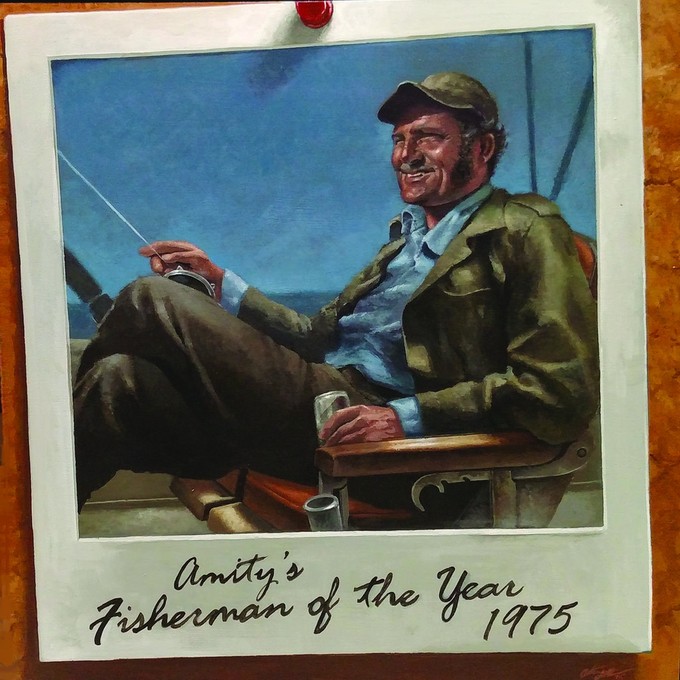 I'll give you three guesses why I liked this Ashton Gallagher print... 11x11, limited to only 25. Only 25 Quints! Call the Coast Guard! $30.00.
Expensive ($71.00-$249.99)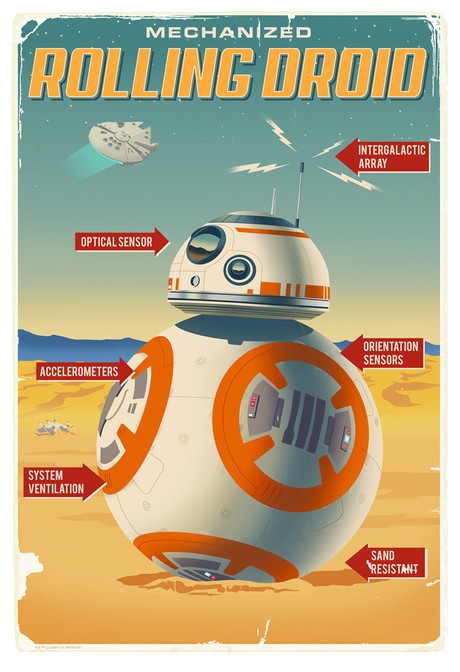 BB-8 gets his own giclee print, courtesy of Acme Archives! Hand numbered edition of 150, measuring 13x19. $89.00.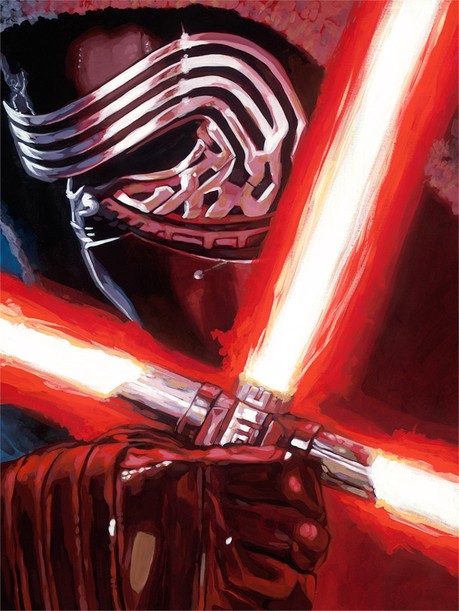 Oh, man, this Randy Martinez Kylo Ren piece is sooooooo pretty! It's incredible to me that no matter how they play out in the movie that we've already got new characters so iconic that people are obsessed with them sight unseen. I had Kylo Ren Trick R Treater come to my door this year! So, Acme has this giclee out, limited to 95 piece, measuring 16x21.25. $225.00.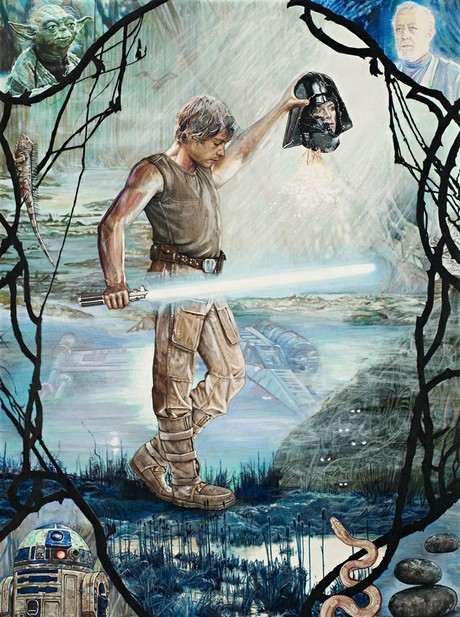 Perseus Skywalker by Jon Marro is flat out gorgeous, isn't it? Limited edition giclee, 95 hand-numbered pieces. 16X21.5. $225.00.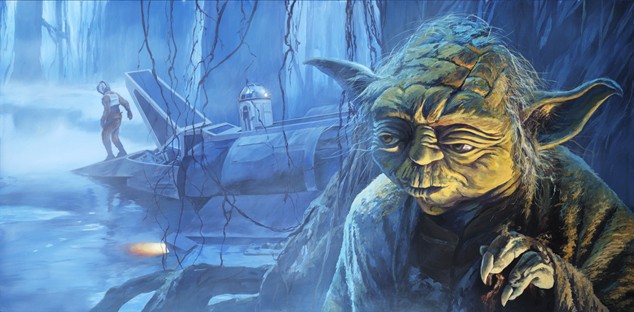 These high quality, highly detailed Acme pieces blow me away sometimes. This Yoda one in particular grabs me every time I look at it. Great work by William Silvers. Limited to 200 giclees, 12x24. $175.00.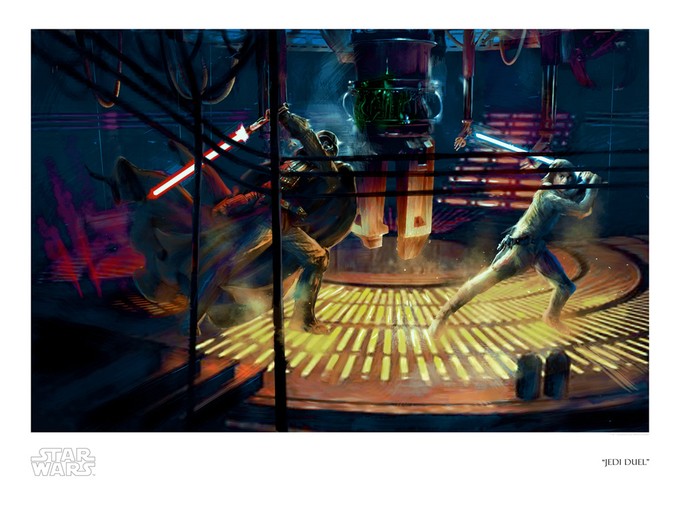 Here's another gorgeous piece of geek art. Vader and Luke crossing sabers on Bespin has never looked so beautiful! Thanks, Guy Vasilovich. Good job. Limited to 150 pieces, 22x17. $165.00.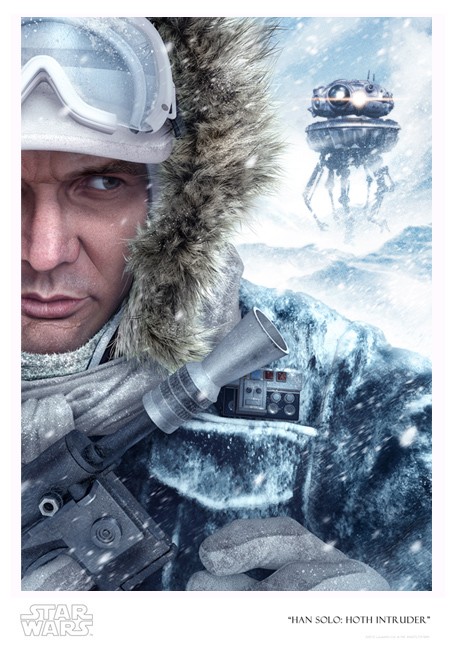 The detail on this Han Solo on Hoth piece is incredible. Chris Wahl even got the scar right! Great perspective, amazing detail... a great high quality nerdy gift if I've ever seen one! 195 hand numbered giclees exist in this world, 13x19. $145.00.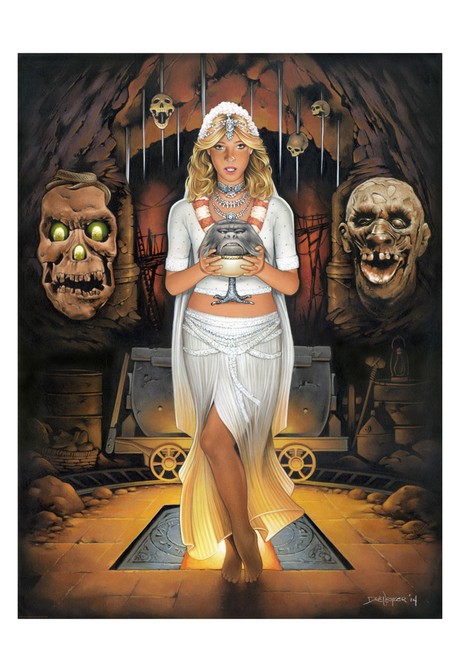 If you know me, you know I probably nerded out big time when I saw this Acme print. I love me my Temple of Doom! The sadly misunderstood Willie Scott and her monkey brains are front and center in Dave Nestler's very pretty art. Edition of 125, 13x19 giclees. $89.00.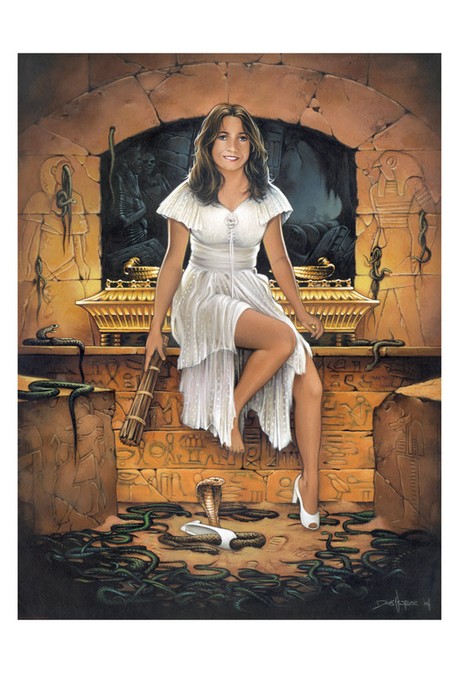 I don't think Nestler quite got Marion's face right, but I still dig this companion piece to his Temple of Doom one above. Same details as Willie. Edition of 125, 13x19. $89.00.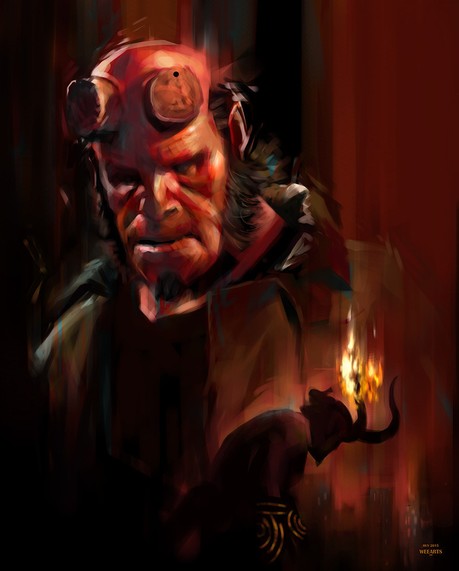 Huy Dinh's Hellboy poster is pretty epic, huh? Gets right at the heart of Big Red, don't it? 16X20 screen print that will run you $75.00.
For The Super Rich Only ($250.00 and Up)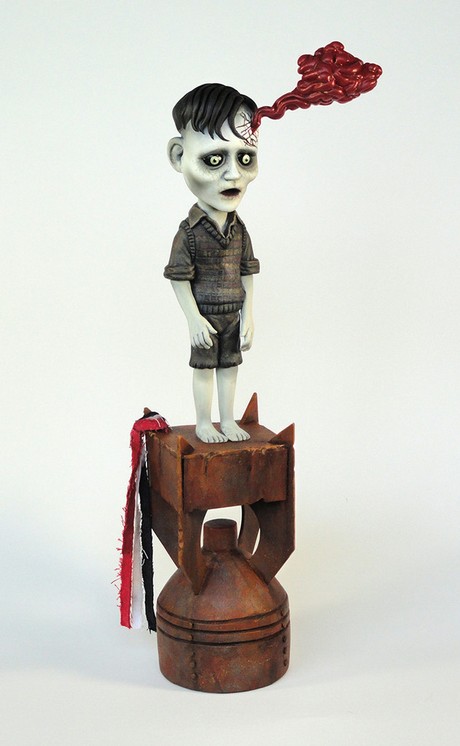 Blaine Hefner does these great little original movie nerd statues. I bought one of his early ones, which was a pretty epic statue of Quint crushing his beer can and it sit in a place of honor in my house. I've always said I wanted Hefner to complete the trio and commission me a Brody and Hooper, but as he's seen more and more success I'm afraid I'm getting priced out! If I had the disposable income I'd totally go after his Santi from Devil's Backbone, which is still my personal favorite Guillermo del Toro movie. I love the movie, the character and this interpretation of him. He stands 14 inches tall and can haunt your house for a mere $750.00.
These pieces of art remind of those tie-in book covers I loved to much growing up. Dolfi Stoki did the art for this limited edition giclee printed on canvas. Hand numbered edition of 95, measuring 30x20. $495.00.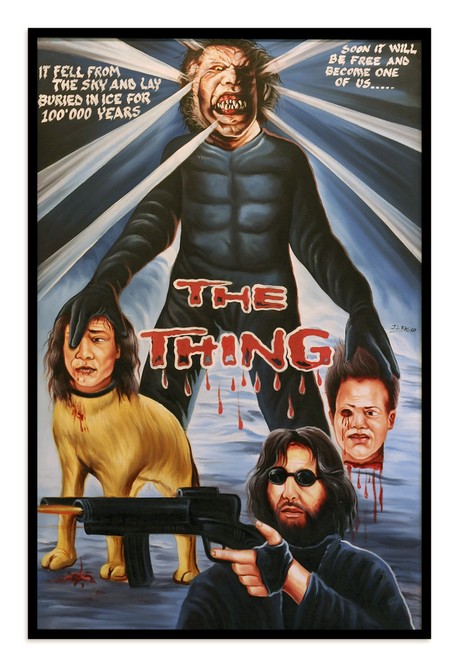 A while back the good folks at Mondo ran a show that was nothing but giant original posters done in the style of the weird-ass hand-painted Ghana movie posters. They have a few of the originals still for sale and my favorite of them is this one for The Thing done by J.A. Fasco. If you've ever seen any of those crazy Ghana posters you know how right on this is. Very cool, very different kind of geek art. $1,200.00.
APPAREL
Cheap ($24.99 and under)
Dear sir or madame, may I present to you some fine, geeky stockings for your feetsies. That's right, BB-8 socks to keep your little piggies all nice and warm! $8.99.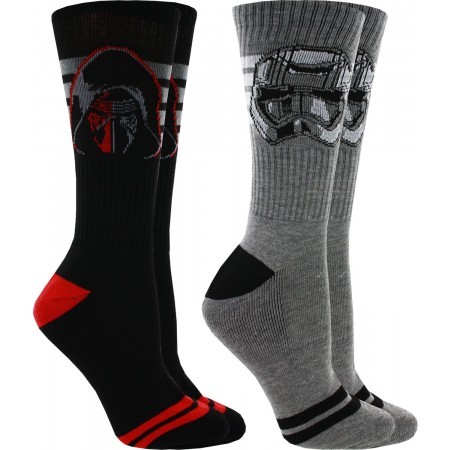 If you prefer more evil socks, might I suggest these new Kylo Ren and First Order Stormtrooper socks? Yes? Good. I suggest these Kylo Ren and First Order Stormtrooper socks. $12.99.
Kylo Ren and his sparky lightsaber look mighty menacing in this tee shirt. Everybody knows you're a Star Wars geek, so you might as well look the part, right? $17.95-$21.99, depending on size.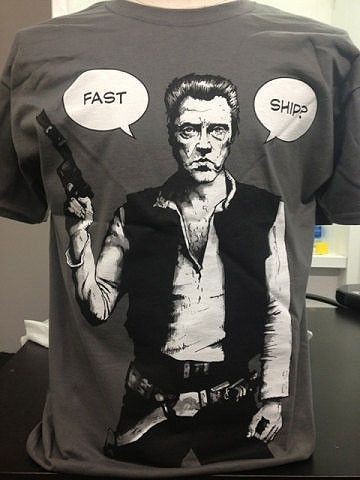 It's true that Christopher Walken was an early front-runner for Han Solo. In fact, he was one of the first actors that Lucas met with in person for the role. Cinema would have been radically altered had Walken been cast. I wouldn't trade Harrison Ford for a million dollars, but it's a great what if. Now you can show your deep knowledge of obscure Star Wars trivia and your love of SNL with this single shirt. $20.00.
This is perhaps the geekiest "going steady" gift you could possibly give your significant other. You know which one of you is the Han and which one is the Leia. The 'I Love You' Ring is size 7 and the 'I Know' Ring is 10, both are made of stainless steel. $21.03.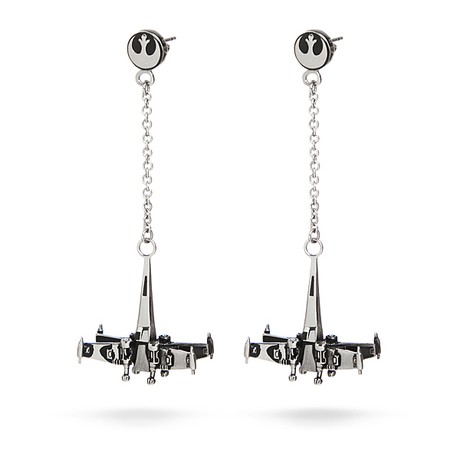 Alright, girl geeks. This one's for you. X-Wing dangle earrings. Not for nothin', but if a cute geek girl made eyes at me while rocking these suckers I'd just about fall in love on the spot. $18.74.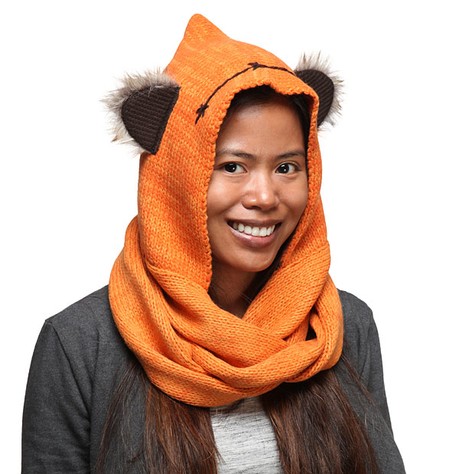 Why go for a boring old headscarf to keep warm this blustery winter when you can turn yourself into an Ewok instead? $24.99.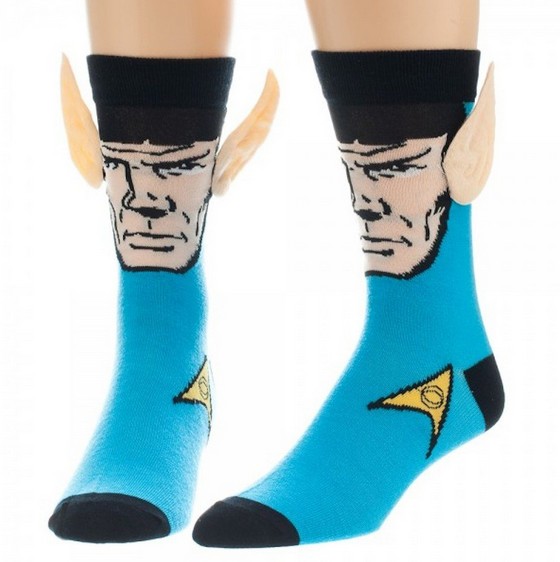 Since we're still in space mode it was only logical to include some Vulcan socks, specifically some that have pointy ears that actually stick out! $7.98.
One thing about wandering the wastelands... you get a fuckton of blisters. But never fear, Vault-Tec has you covered with these fancy blister-proof socks (warning, no guarantee is attached). I'm still kind of in a state of shock that Fallout 4 is out and it's so good. Must hurry up so I can get back to Commonwealth business! $13.95.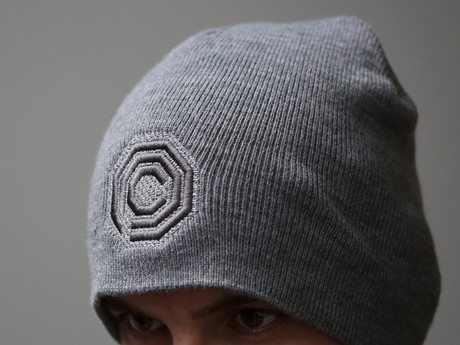 Got a few Last Exit To Nowhere goodies in the guide this year. We're starting with some beanies. Show some love for The Company... even if you did call the old man an asshole once. This is a nice subtle movie reference. Love it. $20-ish USD.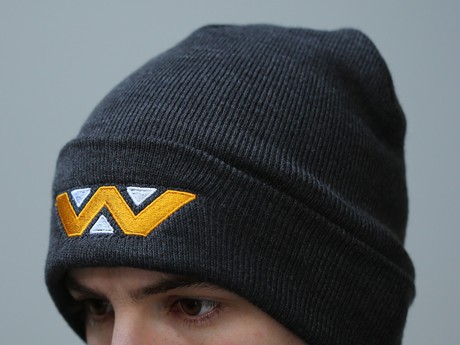 If you'd rather show support for an even worse sci-fi corporation, then this Weyland-Yutani beanie might be what you're looking for. You get the reference, right? Or did I.Q.s drop sharply while I was away? If you dig it (and you should because it's super cool) then place your order now. It's the only way to be sure... $20-ish USD.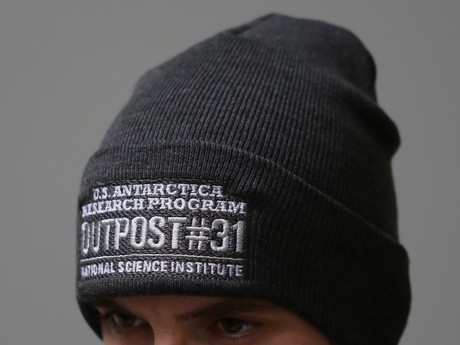 You gotta be fuckin' kidding me... a subtle THING beanie! Trust is hard to come by these days, but Last Exit to Nowhere has your back. $20-ish USD.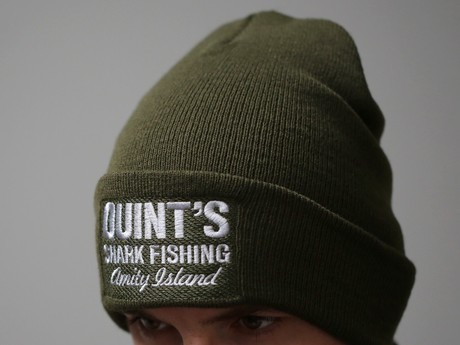 Uh-oh... More Quint merch for me to buy! $20-ish USD.
But don't let it be said I don't share with my fellow shark fiends. I've got some of the above Quint beanies to give away! Yep, this is... A CONTEST!!!!

*************************

To win one of these Quint beanies all you gotta do is email me at this email address with the subject line "HERE LIES THE BODY OF MARY LEE" and finish the limerick within the body of the email. Make sure to include your shipping info and contact phone number should you win. I'll pick one at random sometime between today and 11:59pm CST Saturday, the 28th. This contest is open worldwide, so anybody can enter! Good luck, squirts!$20-ish USD.
I like pins (thank Disneyland for that particular addiction) and while it's flawed I liked Tomorrowland, too. There are a few Tomorrowland pins you can buy, but the retro 1964 one is heads and tails the best looking one, so I'm linking it here. Cheap and a perfect stocking stuffer if one of your loved ones flipped for this flick. $5.49.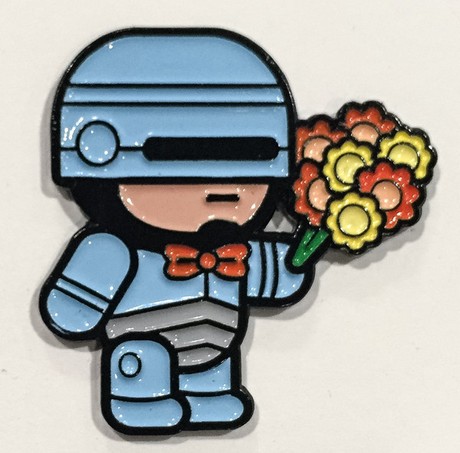 Hero Complex has a little pin action going on this holiday season themselves. Looks like little RoboCop is going out on a date. Ain't that cute? $10.00.
That's an eerily accurate representation of a Gameboy in backpack form. The buttons and D-pad are raised, too. The only way this backpack could be more authentic would be if the screen cracked the first time some pissed off flight attendant shoved a heavy suitcase into it while trying to make full use of the overhead space. $19.99.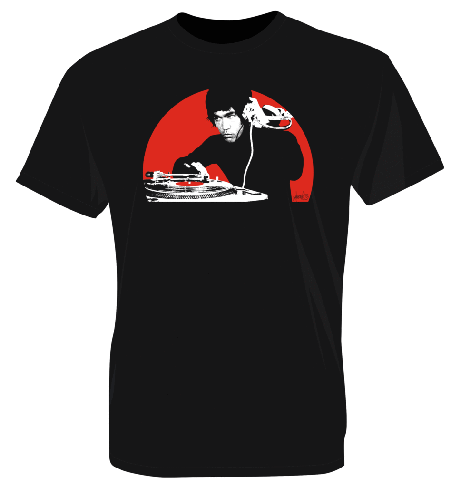 Feel like Robert Downey Jr. and rock a Bruce Lee DJ shirt! This screen printed shirt put out by Hero Complex requires total concentration... and $20.00.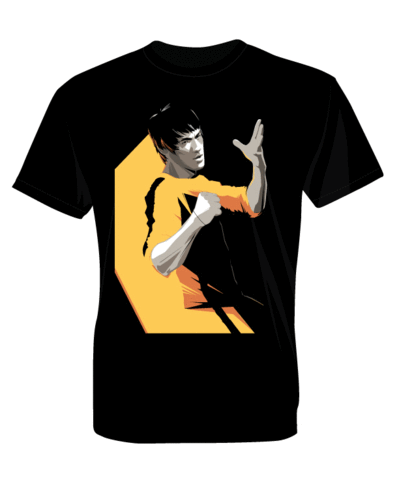 We're not done with Bruce Lee just yet. Craig Drake's work doesn't exist only on paper anymore, now you can wear him on your boobs! His Bruce Lee art is about the most kickass image they could have picked from his work for a shirt. $20.00.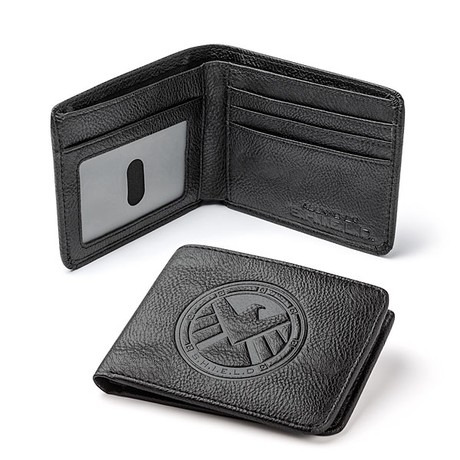 This SHIELD wallet not only looks cool, but comes equipped with RFID blocking technology to keep them evil Hydra thieves away from your credit card info! $19.99.
Nothing says "I love you" more than gifting someone an awesome mix tape... necklace. Everybody loves Guardians of the Galaxy, so anybody would love this very rad gift. $24.99.
Ahahahahahaha. Ahem... This AT-AT costume for your dog is pretty coolahahhahahahhahahahaha. Please get it and walk your dog in it. Please, please, please! $14.82.
Moderate ($25.00-$70.99)
Somehow this dog costume is only slightly less ridiculous than the AT-AT one. I love them both. I'd never subject my dog to that kind of humiliation, but I'm so, so, so down for you guys to do it. I just hope I see one in the wild someday so I can never stop laughing. $39.99.
My favorite thing about this necklace is that it's going to turn some Christian heads when you're out and about. It seriously looks like a geek crucifix. Thank goodness they didn't invert it or else you could be accused of being a Satanist. A nerd Satanist. $29.99.
Captain Phasma ring for your dirty First Order-loving fingers! Stainless steel, dig? That means it's super shiny, just like the real life Captain Phasma! Available in ring sizes 9-12! $34.99.
BB-8 might be getting all the attention right now, but R2D2's still the king of random Star Wars tie-in merchandise (wait until you see what's in the Geek Housewares section!). Case in point, this admittedly cool-looking R2D2 knapsack. Lotsa pouches, pockets and carry room. Is there anything that little droid can't do? $47.94.
This will not be the last ugly Christmas sweater in the Guide this year. You've been warned! Festive Stormtroopers and Vader! You can get either geeky sweater in S-3XL. $49.99.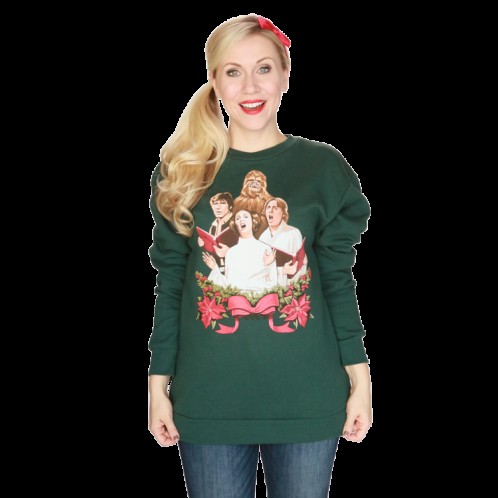 Tis the season to be Jabba, fa-la-la-la-laaaa la-la la la. Her Universe has a pretty funny Star Wars Christmas sweater to geek out over. Luke, Han, Leia and Chewie as carolers is a great idea and the shirt looks awesome. Pretty sure this is made for the ladies, but I won't tell anyone you're wearing a girl's sweater, guys. Available in sizes S-2XL. $40.00.
This Darth Vader Puff Jacket might not be as warm as the insides of a Taun-Taun, but it sure smells a hell of a lot better. Available in S-3XL. $65.31.
Yeah, a glow in the dark lightsaber hoodie, modeled after the Return of the Jedi teaser poster. Yep, yep, yep. That's certifiably rad as hell. Sizes S-3X available. $49.99.
Another ladies pieces of Star Wars nerdiness from Her Universe, this time dipping into the new stuff. Here is your very own BB-8 Bomber Jacket, available in XS-3X. $60.00.
If a nice dress is more what you're looking for, then Her Universe has you covered there, too, with this BB-8 dress. XS-2X available. $50.00.
BB-8 doesn't look like he holds a bunch of stuff, but what he lacks in storage space he more than makes up for in personality and love and I WANT SO BAD GIMME MY OWN REAL LIFE BB-8 DROID PLEASE THANKS. $38.99.
I guess you have to go to the Imperials if you want efficient cargo space. There are, like, a million pockets to this thing! Just don't try to shoot anything while wearing it. Your aim goes to shit. $57.94.
You can carry around your junk in this backpack. It should be quite well preserved. Han Solo In Carbonite Backpack. Ain't he cute? $39.99.
Okay, even I admit this Captain American shield backpack is really friggin' cool. I mean, wearing one in school woulda got my ass kicked, but that was in a time before everybody embraced comic book characters. Now you'd probably be the coolest kid in school if you showed up rocking that sucker. Yes, it does have a laptop pocket, so you can take your valuable SHIELD intel with you wherever you go. $59.99.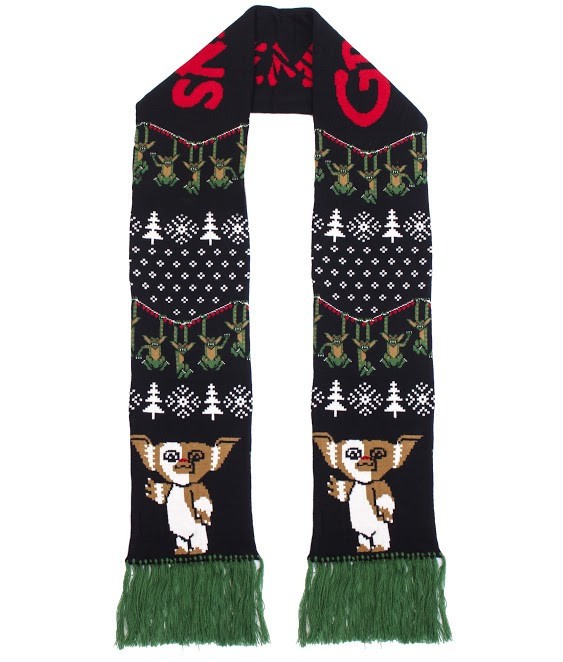 Mondo's got some great holiday goodies out this year. Let's start with their Gremlins scarf. Six feet long, heavy knit, tassels... the works! Also, Gizmo is featured on the front and a Gremlin head on the reverse. Just don't drop any food on it after midnight. Yeah, it was an obvious joke, but I'm nothing if not obvious. These Mondo scarves are cool and also come with FREE worldwide shipping! $40.00.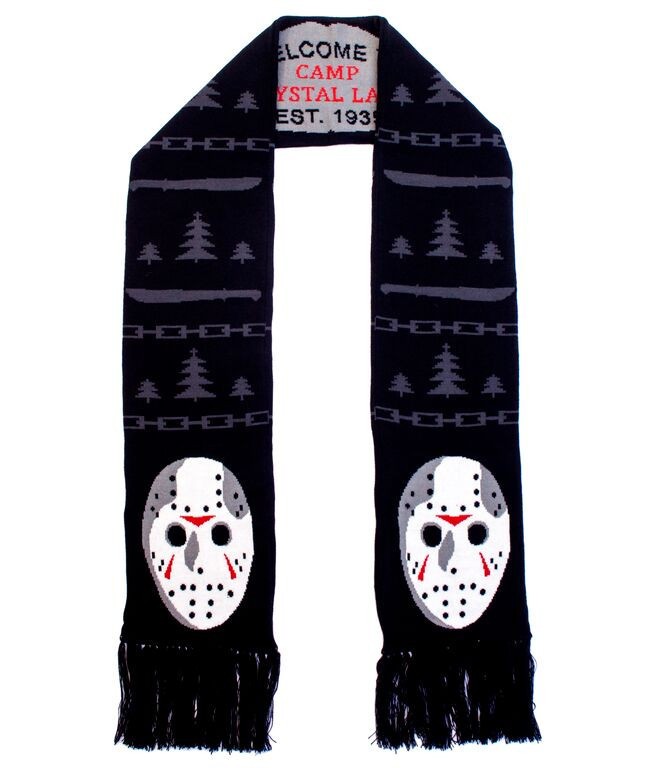 Jason Voorhees needs a little holiday cheer, too. Now you and the shy little guy with the hockey mask can celebrate together! Same deal as the Gremlins scarf... hard knit, six feet long and Mondo will ship it anywhere in the world for free! $40.00.
I've been going back and forth on buying this ever since I assembled the Apparel section of this guide. On the one hand I'm Fallout obsessed and have no shame in rocking an ugly Christmas sweater showing off my love. On the other hand, big guys rarely look good in Christmas sweaters. What's a Bethesda junkie to do?!? Available in XS-3XL. $49.99.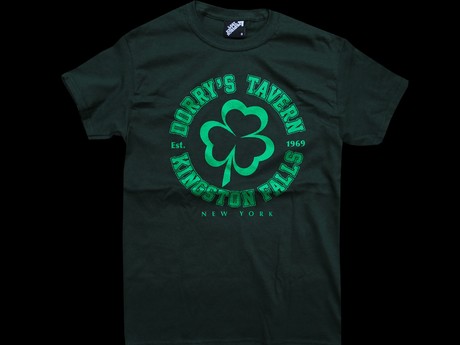 UK apparel shop Last Exit to Nowhere are really good with subtle geek tees. I'd wager a goodly amount of you didn't get this reference at first glance. Kingston Falls might have given it away, but Dorry's is the tavern in Gremlins. See, toldja! Subtle. $30-ish USD.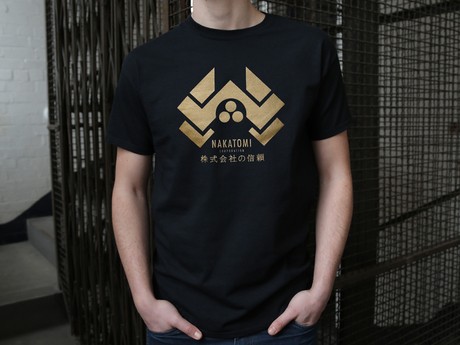 Alright, this one isn't as subtle. I mean, most non-big movie fans will probably think you like an obscure Soy Sauce or something, but anybody that is even halfway paying attention to movies will recognize Die Hard's Nakatomi right away. $30-ish USD.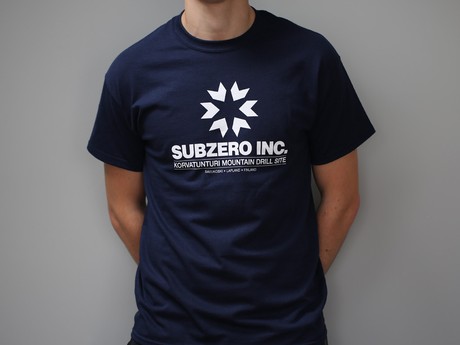 Back to the land of obscure! Do you know what this is? No, it's not a Mortal Kombat reference. Think Christmas... fantasy/horror... old man wieners... Yep, you got it! This is a Rare Exports logo shirt, it's for the company that was digging up the evil monster Santa Claus, ya' dig? $30-ish USD.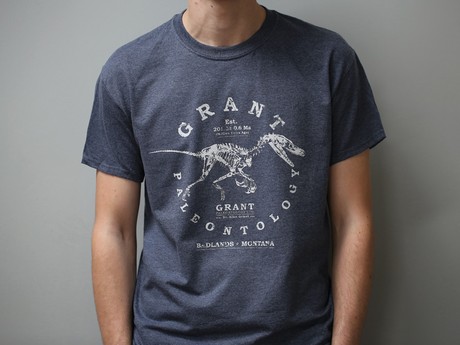 I don't see Alan Grant wearing tee-shirts, but if he did it'd probably look like this. If this was 1993 and I saw an adult wearing this shirt I'd probably think they were the coolest person in the world. Even in 2015 you'd probably get a nod of approval from a 12 year old nerd. But then again they'd probably think it referenced Jurassic World and then you'd be put in jail for smacking them upside their ignorant head. $30-ish USD.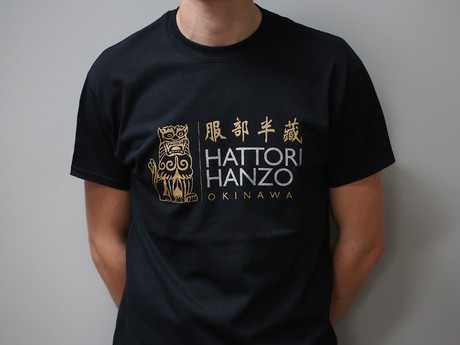 This Hattori Hanzo shirt is one of my favorites from Last Exit To Nowhere. Gorgeous design that pops. Add in the Kill Bill reference and you got yourself a winner winner chicken dinner! $30-ish USD.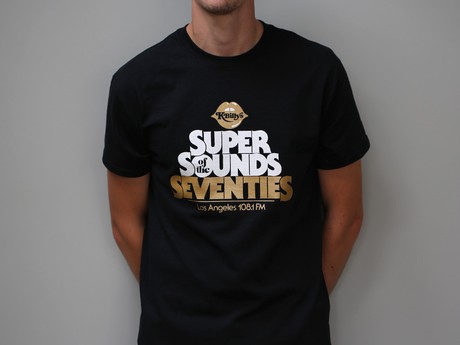 Here's another great QT reference shirt from Last Exit. I just about wore out my Reservoir Dogs soundtrack in the mid-90s, so K-BILLY Super Sounds of the '70s is a big deal for me. Neat shirt! $30-ish USD.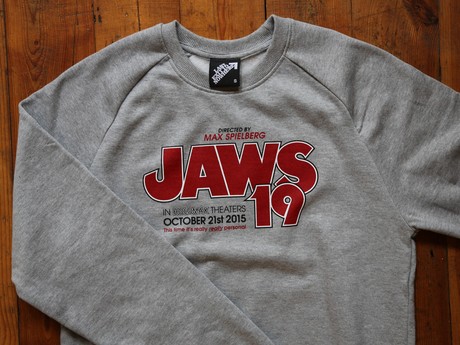 I have this in tee-shirt form. I actually got it direct from Last Exit To Nowhere when I was in London this summer and I, of course, rocked it during the October 21st Back to the Future party I went to. It's getting a little chilly, so I figured I'd include the Sweater version of the Jaws 19 shirt. You can get it for $45-ish USD.

Or...

******************

Win one in a contest! That's right, I've got a few of these guys to giveaway and I'll do that by picking an email at random sometime between now and 11:59pm CST Saturday, the 28th. To enter email me at this email address with the subject line "Goddamnit, Marty. The Shark In Jaws Didn't Look Fake!" with your mailing address and phone number should you win. Contest is open worldwide. Good luck!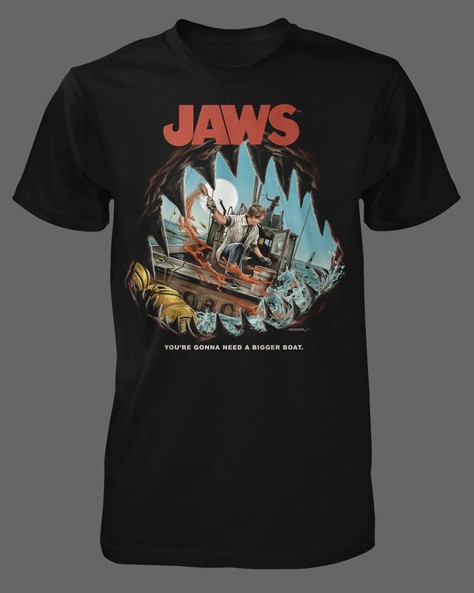 Fright Rags outdid themselves with their 40th Anniversary Jaws tee-shirts this year. In particular I love this one, from the POV of the shark's mouth as Brody is chumming. Striking image, super badass. Available in S-5XL. $27.00.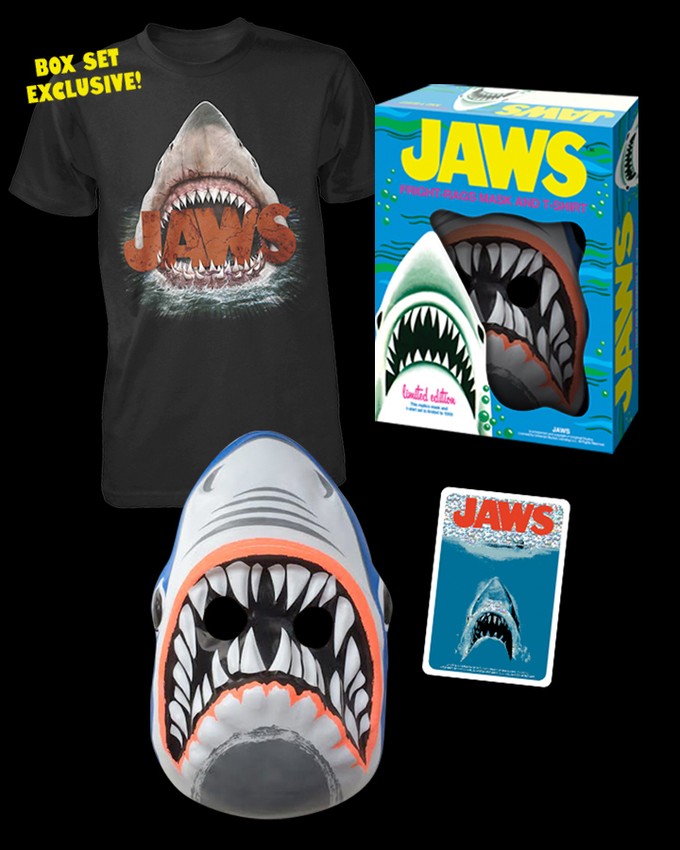 Fright Rags also did a limited collector's edition boxed set that comes with a tee-shirt design that can only be gotten in this set and a cool retro Jaws Halloween mask! Yes, I bought one. No, I didn't go as creepy Jaws-face Man for Halloween this year. Maybe next year. $40.00.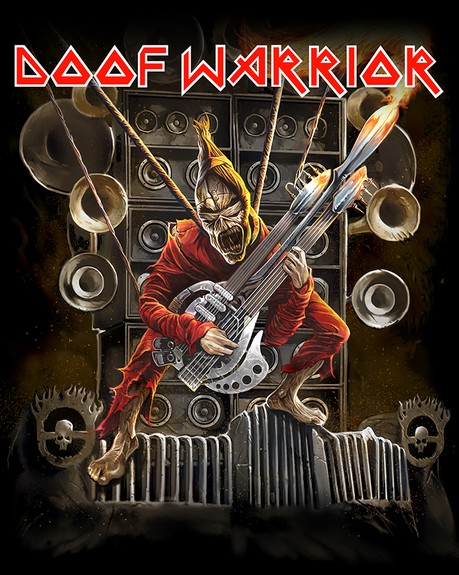 Yep, the Fury Road Doof Warrior gets his own tee-shirt image. How great is this? So great I want to spray my mouth with chrome and pull out my credit card, screaming "WITNESS ME!" at the computer as I order it. $27.00.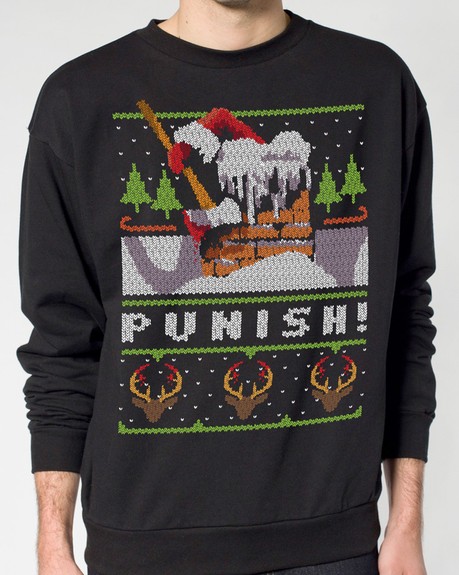 A Silent Night Deadly Night Christmas Sweater? Be still my beating heart! Fright Rags, you're too good to us. $50.00.
Not quite Ugly Christmas sweaters (not knitted), but these Doctor Who Holiday Fleeces look comfy as hell, I gotta say. Even though one of them has those fucked up Angels on 'em this is an easy recommend. Both designs are available in sizes S-3XL. $49.99ea.
An undead bathrobe to get all comfy in! I dig that this is the Comic Book Walking Dead, not that the show isn't good or anything, just nice to see something different. Don't be sad, show. You're still super beloved and you have Daryl, which the comic doesn't, so you got that going for you. Don't be sad anymore, 'kay? $35.99.
Thinkgeek's Tesla Watch is a thing of beauty. Metal, leather, LEDs pretending to be vacuum tubes on top... the works! $69.99.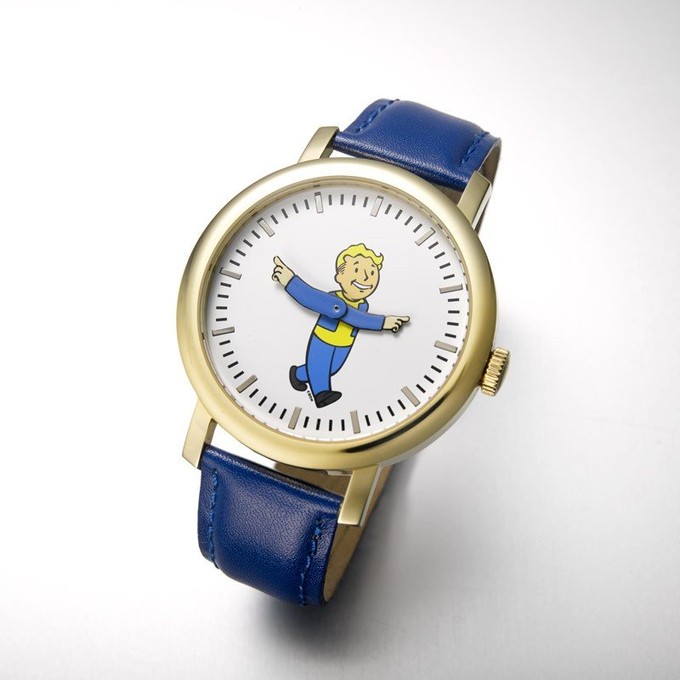 How fancy! The Vault Boy's gone all Mickey Mouse on us with this sweet-ass watch direct from the fine folks at Bethesda! Fallout's the gift that keeps on giving, you guys! $60.00.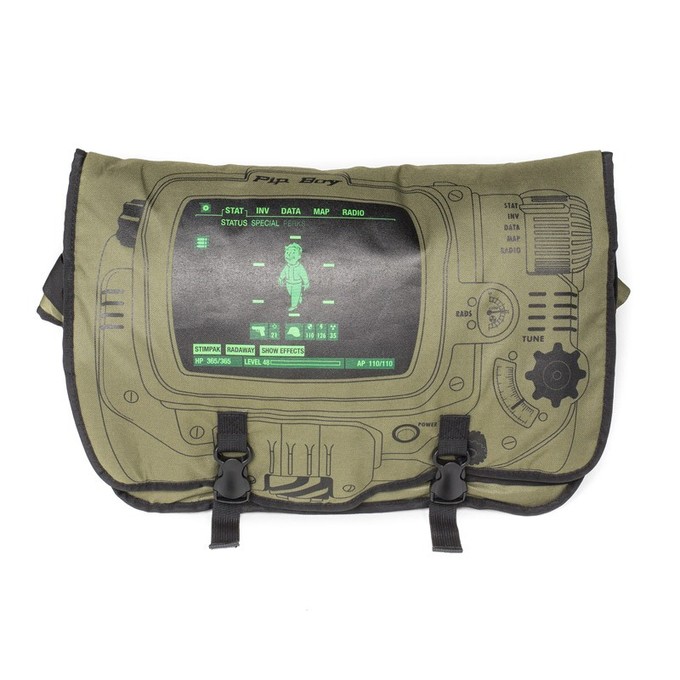 I'm not done with Fallout stuff, so bear with me. What we have here is a messenger done up to look like a Pip-Boy, complete with your Stat readout on the face of the bag (lookin' good, all topped up on Health Points). The inside is just as decked out, complete with a Vault-Boy zipper tab! $68.00.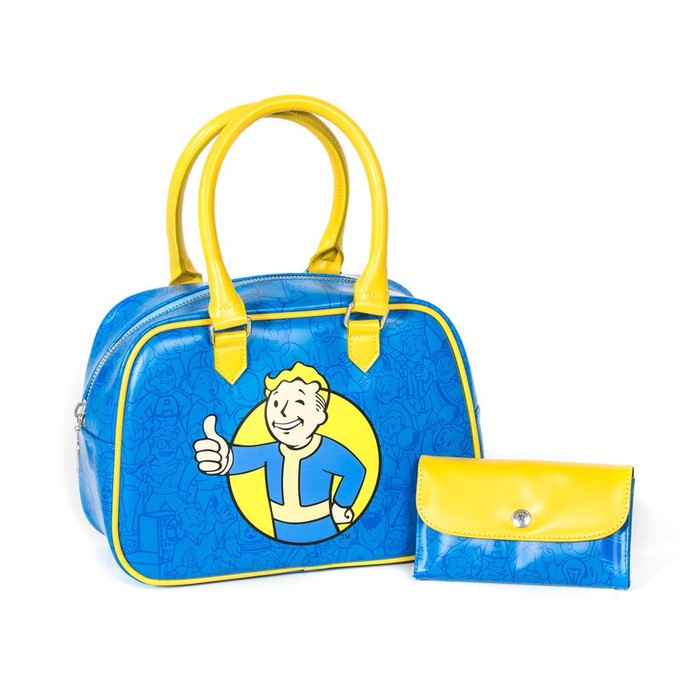 The Pip-Boy Messenger Bag is really a Man Purse, let's be honest. A sweet as hell Man Purse, but a Man Purse. Ladies, don't feel left out. We got a nerdy as shit Fallout handbag set for you, as well. Or guys who want to drop the Man Purse pretense completely and rock the handbag, you can do that, too. It's the year 2015, afterall. $50.00.
Thinkgeek's got a cool, worn-looking Brotherhood of Steel hoodie for sale. Yes, this is another Fallout thing. Sorry, non-Vault Dwellers. I'll try to restrain myself going forward... $67.99.
I'll try to be fair to other video game properties and give them some room here, as well. Case in point, this Witcher Medallion. Prove that you're a force to reckoned with by rocking this sucker at the office. That'll work out. $29.99.
If ring bling is more your thing (hey, look! I freestyled!) then look no further than this stunning stainless steel two-tone Voltron ring. Available in sizes 9, 10 and 11 for only $59.99.
Expensive ($71.00-$249.99)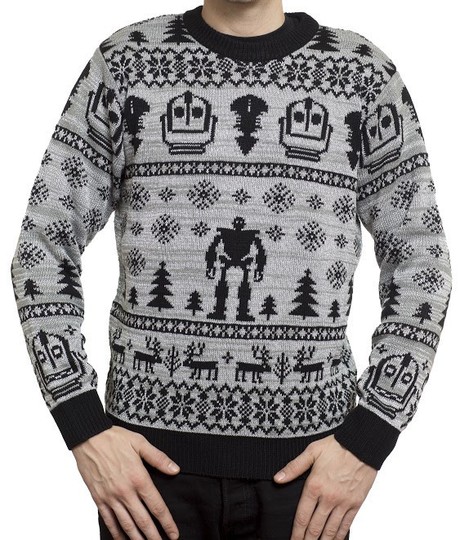 Last year Mondo debuted their Holiday Sweater line with Gremlins and Fargo. Now they have some new additions. The family friendly one is above. It's a lovely Iron Giant knit sweater and they have sizes from XS-3XL. $85.00.

Mondo's big contribution to their Ugly Christmas Sweater series is this Slasher set, featuring nods to Freddy, Jason and Michael Myers. All are knit sweaters, available XS-3XL. Freddy, Jason and Michael Myers are all $85.00. Also, there's a real cool 8-Bit Glow In The Dark Variant of the Friday the 13th sweater. That's $85, too!

********************

Holy moly, what's this? Why, it's another contest! Praise be! Mondo has allowed me to give away one full set of their Slasher sweaters (that's Freddy, regular Friday the 13th and Halloween) to ONE lucky winner! In order to win all you gotta do is send me an email to this email address with this headline "Horror For The Holidays" and your mailing address and phone number in the body of the email. I'll pick a random winner at some point between this very minute and 11:59pm CST Saturday November 28th. The contest is open worldwide. Good luck!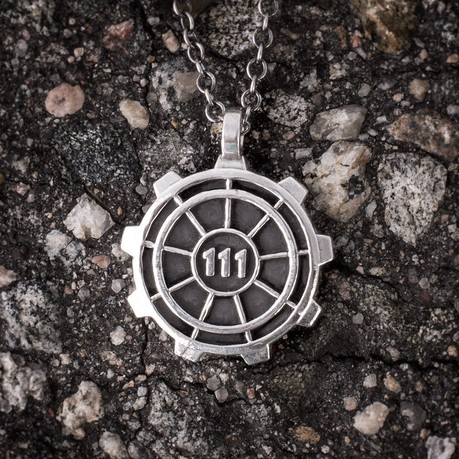 Hey, I snuck one more Fallout item into Part 1 of the Guide! Good on me! This little pendant is only 1 inch in diameter, so why is it so expensive? Why, this Vault 111 door recreation is cast in Solid Sterling Silver. You know what that means... You can kill a werewolf with it! And also conservative radio hosts will nod approval at you if you ever cross their paths... I think I'd rather face the werewolves. Anyway, this fancy-schmancy Fallout necklace will run you $120.00.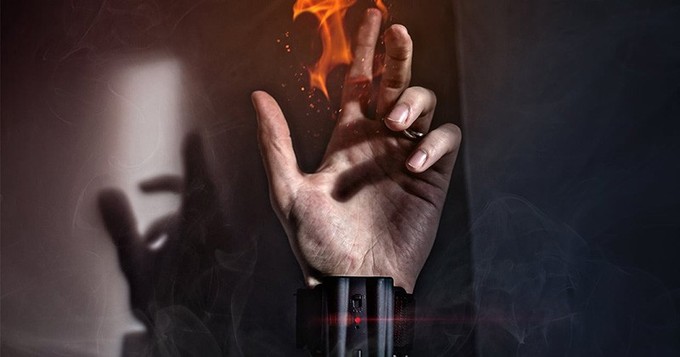 There are a lot of Holiday Gift Guides out there, but how many of them are going to include a fucking WRIST-MOUNTED FLAME THROWER? You know you're reading the best of the best when I drop the mic so hardcore on Day 1. This is the Pyro Mini and it was technically made for illusionists to add pizzazz to their shows, but who doesn't want to shoot fireballs out of their wrists? Us non-magicians want some fun, too! It looks dangerous (and it probably is), but it does use flash paper and flash cotton, so it's safer than what you'd imagine, but still... I take no responsibility for what you crazy assholes do with this device. $147.00.
CLICK HERE TO JUMP TO PART 2 OF THE 2015 HOLIDAY GIFT GUIDE FEATURING BOOKS, BOARD GAMES, VIDEO GAMES and MUSIC!
CLICK HERE TO JUMP TO PART 3 OF THE 2015 HOLIDAY GIFT GUIDE FEATURING TOYS, COLLECITBLES and GEEK HOUSEWARES!
CLICK HERE TO JUMP TO THE STAR WARS SPECIAL EDITION OF QUINT'S HOLIDAY GUIDE 2015!
-Eric Vespe
"Quint"
quint@aintitcool.com
Follow Me On Twitter