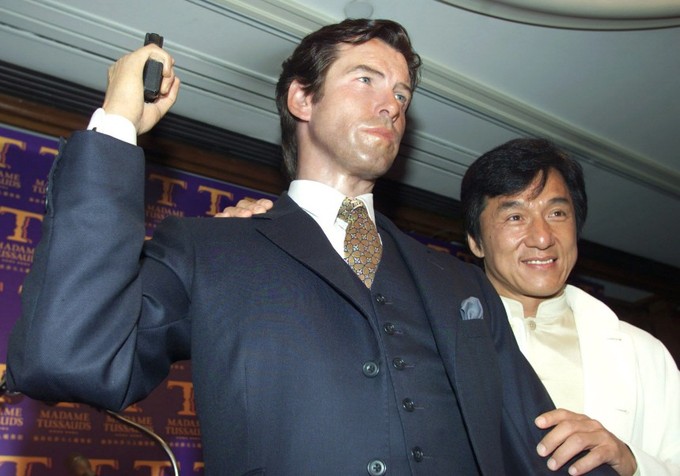 Jackie Chan's got SKIPTRACE coming out, pairing him up with Johnny Knoxville (who replaced his fellow Duke Brother Seann William Scott before production) but I gotta say this team-up sounds a lot more promising.
Jackie and Piece Brosnan will be starring in a London-set thriller about Irish terrorists. Martin Campbell, the guy who helped Brosnan launch his four-film run as Bond (in undoubtedly the actor's best turn as the character) as well as Craig's with CASINO ROYALE, will direct the script from David Marconi (ENEMY OF THE STATE) and Peter Buchman (JURASSIC PARK III), based on a book called The Chinaman by Stephen Leather.
Obviously, they're not going that route, and are keeping this untitled for now.
The story has an IRA bomb killing Jackie's wife, leading him on the path to revenge. Along the way, he encounters Brosnan's Liam Hennessy, "a former IRA member-turned-government official."
All I'm saying is, they better find a story excuse for these 60-year-old action starts to bust some heads together. Brosnan held his own in his Bond action scenes, and I hope he and Jackie end up on the same side, and that he's not the big bad of this particular story. Something about teaming Chan up with a former Bond gets my action-fan juices flowing, you know?
Campbell's directed his share of clunkers in his day (LEGEND OF ZORRO, GREEN LANTERN), but he's got a way with a set-piece (that GOLDENEYE opening remains breathtaking to this day), and a sense of humor that could potentially meld with Chan's very well. I thought SKIPTRACE was as exciting as a latter-day English-language Jackie jam could get, but this has proven that he, like his countless broken bones, isn't going for good anytime soon.