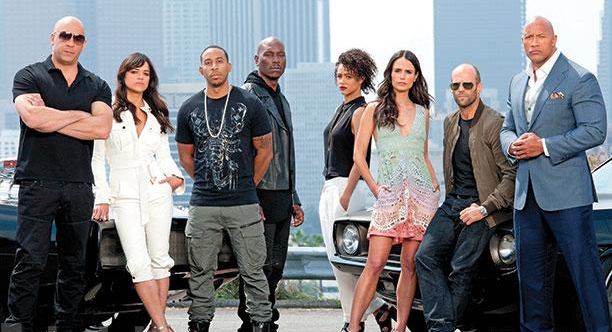 So Vin Diesel says he wants to close out THE FAST AND THE FURIOUS with a trilogy, each likely assuring at least to a billion dollars in grosses, and clearly, that's not enough.
Universal and Diesel are talking about developing spinoffs to the internationally successful series, going the origin route and explaining how one (or more) of these characters got by before becoming part of Dom Torretto's "family." They haven't announced which character(s) they're thinking about focusing on…
But come on. It's obviously Hobbs. The Rock revitalized his big-screen career with his oiled-up superman in FAST FIVE, and a lot of folks complained when he was sidelined for much of FURIOUS 7. He's the only member of the ensemble I could see headlining his own Dom-free flick, and there's certainly evidence thus far that Hobbs has been involved in some shit in his day. Plus, you solve the Paul Walker problem, as any other main character would likely either be in contact with Brian or, at the very least, reference him prominently. As much as I want more stories with Han and Gisele, I really don't see this going another way than THE ROCK is HOBBS, which admittedly would look badass on a poster.
But who knows. Maybe they're going with Nathalie Emmanuel's superhacker, "Ramsey." Or those two twins from 4 and 5.
There's a chance they won't go forward with this, but as the Variety post mentions, simultaneously expanding sideways, frontwards, and backwards is the hot move right now, and it seems like a safe way to extract more bags of money from this surprisingly lucrative and enduring franchise. Particularly when Diesel, who will be a producer no matter what they do, struggles so hard to get a non-FF movie off the ground these days.
I just hope this doesn't completely edge The Rock out of FURIOUS 8, simply because I really want another movie with VIN DIESEL, THE ROCK, JASON STATHAM, and KURT RUSSELL. Call me greedy.
FURIOUS 8 will inevitably suffer the DARK KNIGHT RISES of losing part of its audience to the fact that it doesn't have a recently deceased actor on April 14th, 2017.