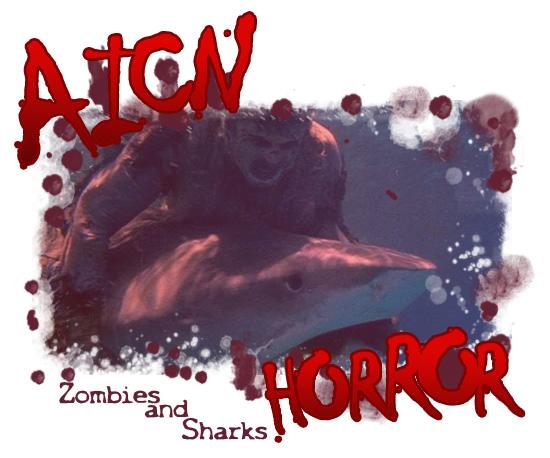 Logo by Kristian Horn
What the &#$% is ZOMBIES & SHARKS?
---
Greetings, all. Ambush Bug here. Happy Birthday to AICN HORROR which celebrates its sixth year on Ain't It Cool News in October! And what a fantastic year in horror it was! Always hoping to pass on new and exciting films for all of you ravenous readers, I have once again compiled a list counting down my favorite horror film released since last October 1, 2014 and covered in my weekly AICN HORROR: ZOMBIES & SHARKS column.

As far as how I compiled this list? Well, I simply looked over my AICN HORROR columns over the last year since October 1st, 2014 (which happens to be the birthday of this little column six years ago!) and worked and reworked a list throughout the year until I had 31. No real method to my special brand of madness; just my own personal favorites. The only rule qualifying the film for this countdown is that it had to be released to the masses (via theaters, digital download, On Demand, or DVD/BluRay) within the range of October 1, 2014 and October 1, 2015. Anything before or after that span of time doesn't count in this haunted dojo. I'll be counting down every day until Halloween to my favorite horror film of the year. I'll also provide a second film suggestion at the end of each post that is worth noting or just missed making the list for those who can't get enough horror.

So let's get to it! Chime in after the article and let me know what you think of the pick, it's placing on the list, how on the nose or mind-numbingly wrong I am, and most importantly, let me know your own personal faves from the last year in horror…let's go!
#1 THE CANAL
Why is THE CANAL #1? Choosing a number one was very difficult for me this year. THE BABADOOK was fantastic, as was CREEP, LATE PHASES, SPRING, and many others in the top ten. But THE CANAL was one of the films I saw this year that I felt not only deserved to be seen by more people, but also had the bone-chilling scares that none of the other films on this list had. The ending of this film is filled with utter dread, yet plays right in with the rest of this horrifyingly dark story of human insecurity and emotional faults paired with the supernatural. This is a film that will make you uncomfortable emotionally first, and then creep you the hell out with ghostly terrors in the latter half. Because this one resonated so much with me on an emotional and visceral level, I felt it is deserving of the top spot this year, despite more popular films on this list being very qualified for it. Critics of the film seem to think this is a boring film, but this is not a jump scare a minute flick that most call horror these days (or at least what most big studios want us to believe horror is these days). This is sophisticated and emotional terror of the highest caliber. I understand some of you might disagree (and I'd love to hear why and what your pick was), but for me, THE CANAL under the subtle and nuanced direction of Ivan Kavanaugh and guided through the emotive performance by HELLBOY's Rupert Evans was the most harrowing, most terrifying, and most satisfyingly horrific films of the year. Here's my review
from October 13th, 2014
!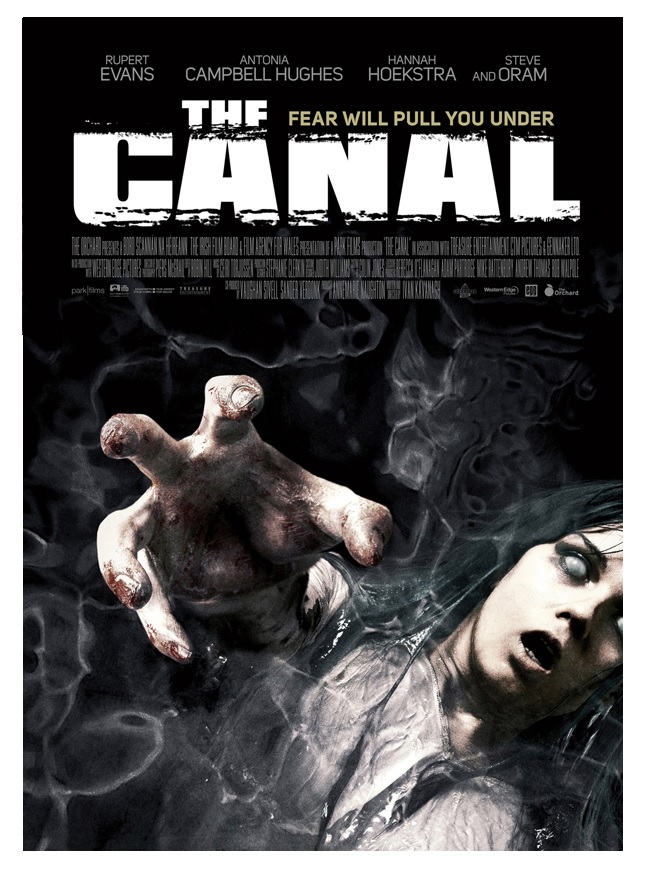 Available on iTunes here and Netflix here!
THE CANAL (2014)
Directed by Ivan Kavanagh
Written by Ivan Kavanagh
Starring Rupert Evans, Antonia Campbell Hughes, Hannah Hoekstra, Steve Oram, Kelly Byrne
Find out more about this film here and on Facebook here
Reviewed by Ambush Bug
Oh wow. This is a fantastic film. Just a fantastic, fantastic horror film. I hold films like THE ORPHANAGE and THE OTHERS as amazing modern ghost stories and THE CANAL just joined them on that short list.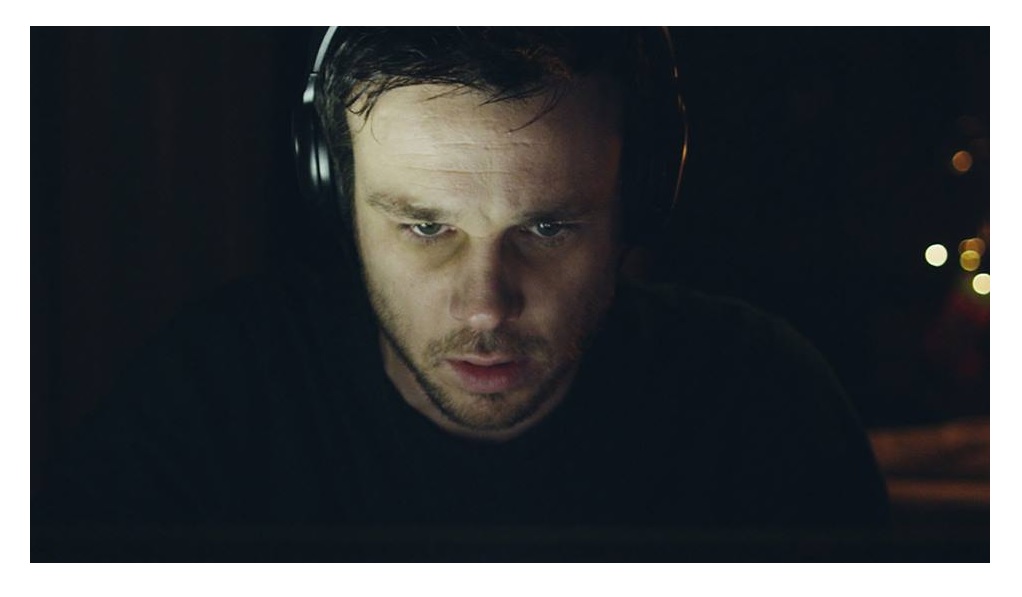 This slow pot-boiler of a film starts out happy enough. HELLBOY's Rupert Evans plays David, a film restoration specialist married to the beautiful Alice (Hannah Hoekstra) who is a real estate agent. With their young son Billy (played by the adorable and effective young Calum Heath), they appear to have the perfect loving family. But when David noticed Alice getting a little too close to one of her clients at a party, his suspicions begin to rise. After following her, David discovers Alice is sleeping with one of her clients and overcome by disgust, he throws up and passes out in a public toilet. Upon awakening, David finds his wife missing and soon after, her body is dredged up from a nearby canal. SIGHTSEERS' Steve Oram plays a police chief who suspects David of the murder, but David knows better as he begins to see ghosts in the shadows and on the periphery. As David's obsession with finding out what these lurking shadow figures are, all of those around him suspect he is going nuts.
This is a dark, dark film. It goes places most films are just too scared to go. That said, I haven't been more terrified as I have been with this film in a long, long time. There are scenes that take advantage of light and shadow that are so simple, yet unbelievably effective in sending chills right up and down my spine. Writer/director Ivan Kavanagh knows how to scare and does so with an unflinching tenacity that immediately makes him a major player in horror if he chooses to continue to make horror film (god, I hope he does).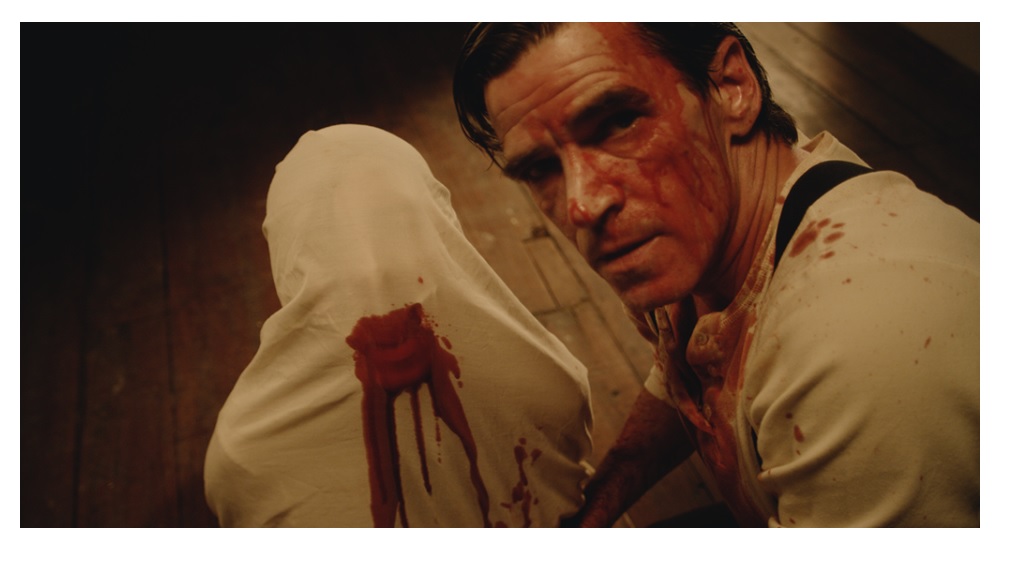 But none of this would be effective if not for the astounding performance by Rupert Evans who shows such a broad range here as a person overcome with grief, fear, suspicion, paranoia, anger, rage, and responsibility for his young son after his wife passes. Evans has always been strong, but here he commands every scene he is in, switching from responsible father to an anxiety-riddled paranoid and back again easily and effectively. Adding to the miss is the adorable and genuinely sweet performance by Calum Heath as David's son Billy and the scenes become all the more dire and investment-worthy because you want this little angel to be safe.
I had to reveal enough of this film just to get to the point of where I can talk about specific points, so I won't reveal any more. The film takes its time to let you know it's a horror film. This is a well acted, superbly paced, terrifyingly realized horror film of the highest caliber. The perfect mix of emotion and terror plays out here as THE CANAL is one film no horror fan should miss.
---
Interested in my BEST OF AICN HORROR Lists from previous years? Well, here they are!
2014 - #1: PROXY!
2013 - #1: MANIAC!
2012 - #1: THE WOMAN!
2011 – #1: THE LAST CIRCUS!
---
And here is the Best of AICN HORROR 10/14-10/15!!

#31 – AN AMERICAN TERROR
#30 – WE ARE STILL HERE
#29 – FROM THE DARK
#28 – THE TOWN THAT DREADED SUNDOWN
#27 – DEAD SNOW 2: DEAD VS RED
#26 – THE GREEN INFERNO
#25 – THE EDITOR
#24 – THE TAKING OF DEBORAH LOGAN
#23 – WITCHING & BITCHING
#22 – EXTINCTION
#21 – WYRMWOOD: ROAD OF THE DEAD
#20 – BACKCOUNTRY
#19 – POD
#18 – MAGGIE
#17 – A PLAGUE SO PLEASANT
#16 – THE NIGHTMARE
#15 – A GIRL WALKS HOME ALONE AT NIGHT
#14 – STARRY EYES
#13 – CLOSER TO GOD
#12 – THE FINAL GIRLS
#11 – LOST SOUL: THE DOOMED JOURNEY OF RICHARD STANLEY'S THE ISLAND OF DR. MOREAU
#10 – THE HOUSE AT THE END OF TIME
#9 – GOODNIGHT MOMMY
#8 – CUB
#7 – IT FOLLOWS
#6 – WHAT WE DO IN THE SHADOWS
#5 – SPRING
#4 – CREEP
#3 – LATE PHASES
#2 – THE BABADOOK
#1 – THE CANAL
Well, that's it! The best of AICN HORROR since October 1st, 2014! Your list might not be in the same order. There may be some I missed (and I'd love to hear which ones). But I think you'll agree that this was a great year for horror. Again, thanks for the amazing debtes in the talkbacks and thanks for sticking with this countdown all month! Happy Halloween everyone and be sure to check out AICN HORROR every Friday on AICN!

Ambush Bug is Mark L. Miller, original @$$Hole/wordslinger/writer of wrongs/reviewer/interviewer/editor of AICN COMICS for over 13 years & AICN HORROR for 6. Follow Ambush Bug on the Twitters @Mark_L_Miller.



---
Find more AICN HORROR including an archive of previous columns on AICN HORROR's Facebook page!