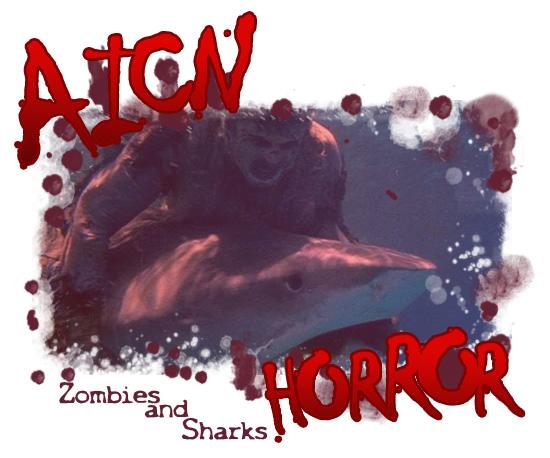 Logo by Kristian Horn
What the &#$% is ZOMBIES & SHARKS?
---
Greetings, all. Ambush Bug here. Happy Birthday to AICN HORROR which celebrates its sixth year on Ain't It Cool News in October! And what a fantastic year in horror it was! Always hoping to pass on new and exciting films for all of you ravenous readers, I have once again compiled a list counting down my favorite horror film released since last October 1, 2014 and covered in my weekly AICN HORROR: ZOMBIES & SHARKS column.

As far as how I compiled this list? Well, I simply looked over my AICN HORROR columns over the last year since October 1st, 2014 (which happens to be the birthday of this little column six years ago!) and worked and reworked a list throughout the year until I had 31. No real method to my special brand of madness; just my own personal favorites. The only rule qualifying the film for this countdown is that it had to be released to the masses (via theaters, digital download, On Demand, or DVD/BluRay) within the range of October 1, 2014 and October 1, 2015. Anything before or after that span of time doesn't count in this haunted dojo. I'll be counting down every day until Halloween to my favorite horror film of the year. I'll also provide a second film suggestion at the end of each post that is worth noting or just missed making the list for those who can't get enough horror.

So let's get to it! Chime in after the article and let me know what you think of the pick, it's placing on the list, how on the nose or mind-numbingly wrong I am, and most importantly, let me know your own personal faves from the last year in horror…let's go!
#2 THE BABADOOK
Why is THE BABADOOK #2? I know many of you thought this was going to be at the top of the list and I debated placing it there numerous times throughout the year, but it just missed it. A film like THE BABADOOK is bound to be hotly debated; some feel it's not even horror, but I think those folks are way off base in what they consider to be a horror film. This descent into madness and highly metaphoric tale of one mother's struggle with a hyperactive and problematic child gets under your skin, mainly due to the stellar performance by Essie Davis. But Jennifer Kent subtly drenches this film with television imagery, grey painted rooms, extreme lighting, and heavy shadows, making it a fantastically constructed tale of woe and horror. The film's ending is even debatably sweet or thickly pessimistic depending on how you look at it. Nuanced and complex in theme, story, performance, and look, THE BABADOOK is definitely worthy of a spot near the top of this countdown. Here's my review
from December 12th, 2014
!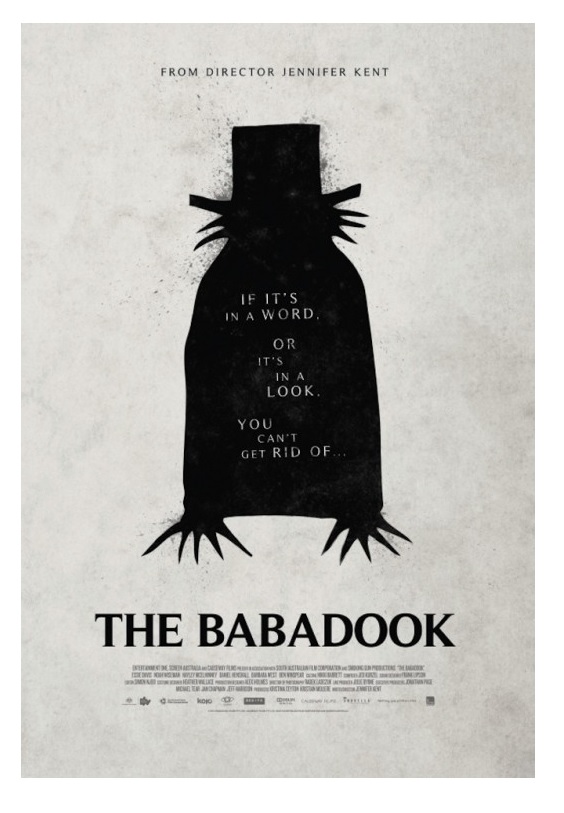 Available on iTunes here and Netflix here!
THE BABADOOK (2014)
Directed by Jennifer Kent
Written by Jennifer Kent
Starring Essie Davis, Noah Wiseman, Daniel Henshall, Tim Purcell, Tiffany Lyndall-Knight, Hayley McElhinney, Cathy Adamek, Benjamin Winspear, Barbara West, Craig Behenna, Terence Crawford
Find out more about this film here and on Facebook here
Reviewed by Ambush Bug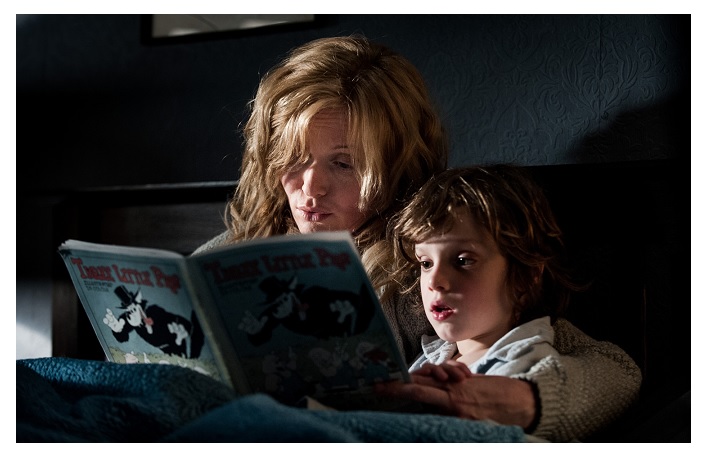 THE BABADOOK delivers the childlike thrills promised to us with MAMA and never kept. While that film devolved into an overly CG-ed mess, THE BABADOOK keeps things nice and uncomfortably close and is a better film for it about childhood fears and how it effects the parents almost as much as the children.
Essie Davis plays a worn down mother named Amelia who lost her husband the day her only child Samuel (Noah Wiseman) was born. Now a rambunctious child of 10, Samuel brings weapons to school, spastically keeps his mother awake all night, and seems to be having serious ADHD problems. All of this wears heavily on the beleaguered orderly who tries to be a good mother despite it all and keeps her chin up, hoping some day to find Mr. Right to make her life a little easier. After a particularly spastic day of being kicked out of school and terrorizing his cousins, Samuel finds a pop-up book called MR. BABADOOK and asks his mom to read it to him for bedtime. But upon reading this mysterious book causes all sorts of trouble beginning with nightmares and developing into outright paranoia and suspicion that the monster in the gloomy little book might actually be real and this means bad things for Amelia and Samuel.
If this were a major blockbuster big time Hollywood production, the Babadook would most definitely be real and there would be CG chases through endless corridors and dreamscapes with some kind of magic totem scaring it away right at the last moment before the credits. But THE BABADOOK is not a major blockbuster big time Hollywood production and because of that, it is more unclear as to whether the Babadook is real or the product of an unwell and worn down mind. Writer/director Jennifer Kent does a fantastic job of leaving things deliciously ambiguous, never really explaining who wrote the seemingly haunted children's book or what the Babadook really is. In doing so, she has crafted a story that can be absorbed and enjoyed on a multitude of levels. It is as much a monster on the loose story as it is a ghost story as it is a story of a descent into madness. It's actually all of that and a little more and a little less depending on which way you want to look at it, making it enjoyable on many viewings (and I plan on watching this one and rewatching it considering each angle). Because of this, more so than your run of the mill horror film, the film proves to be an utterly rich experience, making it a film you want to talk about immediately after viewing it.
Samuel is indeed a handful and hats off to little Noah Wiseman for being such a spastic little shit. As a person who works with this type of kid every day at my day job as a licensed therapist in a residential home for boys and girls, I know how exhausting a child such as this can be. Seeing Wiseman writhe around like he's got ten monkeys under his skin is entertaining until you see the toll it takes on Amelia and Essie Davis offers up a ballsy and convincing role of a mother trying her best against insurmountable odds. Seeing her come apart at the seams is both believable and terrifying since she has shown the viewer how much she really loves her child. Davis' performance is the stuff you rarely see in horror; a motherly character much like Dee Wallace's role in CUJO who struggles to do what is right in the face of danger and trying to keep her wits to her despite it all.
The effects in THE BABADOOK are equally amazing. Not overly done, never gratuitous—just some glimpses in the shadows, a faint movement in the background, or a subtle pile of clothes hanging in a hallway. Keeping to the less is more motto, director Kent had me pulling my knees up to my chin in during the climax of this film, fearing for the lives of all involved and hoping that the shadowy Babadook doesn't show his face.
And as this film reaches its quiet resolution and bizarre closure, I found myself wanting to see this film again (something that rarely happens these days with horror films). If you're looking for one of the most effective horror films of the year, THE BABADOOK is definitely one of them. It's not your typical horror film and it's a film that somewhat transcends the genre in terms of acting punch and directorial and story power. Those looking for a cookie cutter thrills can seek out cinematic sharts like ANNABELLE. But if you want to see real terror, THE BABADOOK delivers!
---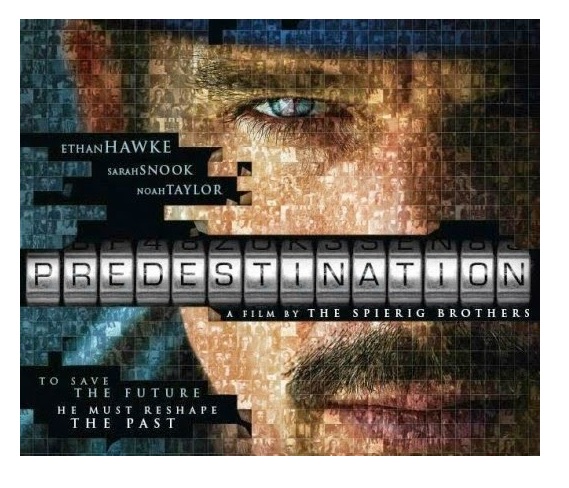 Worth noting: PREDESTINATION!
If this were AICN SCI FI, PREDESTINATION would be at the top of my list this year. It's a film that's not quite horror, but it is so drenched in suspenseful moments, cool ideas, and a story which blows your mind while never losing you with time travel muck-a-muck. The film proves that the Sperig Brothers (who gave us the awesome DAYWALKERS and UNDEAD) are now in the big leagues in terms of amazing filmmaking and big ideas. I know this ain't horror, but I'm sure you'll love it.
Check out my full review of the film here
and you can find it on
iTunes here
and
Netflix here
!
---
Previously on the Countdown!

#31 – AN AMERICAN TERROR
#30 – WE ARE STILL HERE
#29 – FROM THE DARK
#28 – THE TOWN THAT DREADED SUNDOWN
#27 – DEAD SNOW 2: DEAD VS RED
#26 – THE GREEN INFERNO
#25 – THE EDITOR
#24 – THE TAKING OF DEBORAH LOGAN
#23 – WITCHING & BITCHING
#22 – EXTINCTION
#21 – WYRMWOOD: ROAD OF THE DEAD
#20 – BACKCOUNTRY
#19 – POD
#18 – MAGGIE
#17 – A PLAGUE SO PLEASANT
#16 – THE NIGHTMARE
#15 – A GIRL WALKS HOME ALONE AT NIGHT
#14 – STARRY EYES
#13 – CLOSER TO GOD
#12 – THE FINAL GIRLS
#11 – LOST SOUL: THE DOOMED JOURNEY OF RICHARD STANLEY'S THE ISLAND OF DR. MOREAU
#10 – THE HOUSE AT THE END OF TIME
#9 – GOODNIGHT MOMMY
#8 – CUB
#7 – IT FOLLOWS
#6 – WHAT WE DO IN THE SHADOWS
#5 – SPRING
#4 – CREEP
#3 – LATE PHASES


See ya tomorrow, folks, as I count down the best of the best covered in AICN HORROR since October 1st, 2014!

Ambush Bug is Mark L. Miller, original @$$Hole/wordslinger/writer of wrongs/reviewer/interviewer/editor of AICN COMICS for over 13 years & AICN HORROR for 6. Follow Ambush Bug on the Twitters @Mark_L_Miller.



---
Find more AICN HORROR including an archive of previous columns on AICN HORROR's Facebook page!