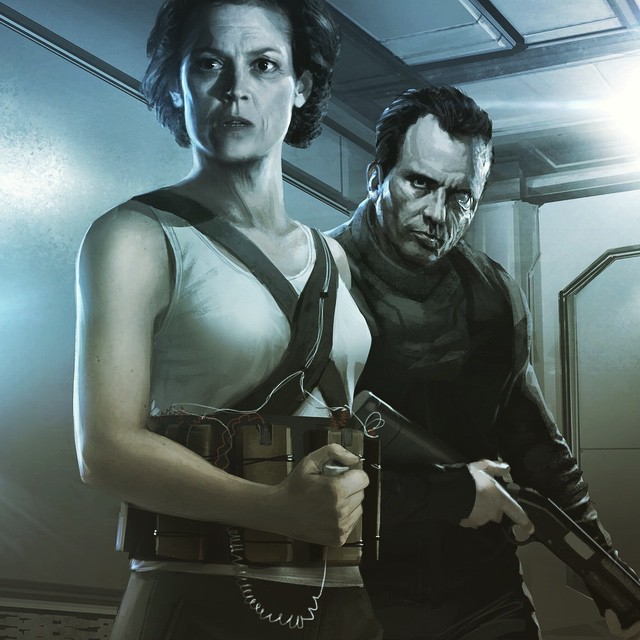 Ahoy, squirts! Quint here. It's been rumored for a little bit that Neill Blomkamp's Alien 3-ignoring sequel was backburnered thanks to Ridley Scott moving forward on Prometheus 2 and now Blomkamp himself has confirmed it:
alien is kinda holding/ pending prometheus 2. So I shall be working on other things... as much as I love the xeno- and Lt ripley

— Иeill BlomkΛmp (@NeillBlomkamp) October 30, 2015
So, what does this mean? Obviously, saying the movie is "holding" is very political. It's not dead, it's not alive, it's on hold. I'd wager that his movie is in a tough spot. If Prometheus 2 bombs then Fox will likely not want to dump money into another Alien movie (at least not right away). If it's a huge success, they'll want to follow up that story, not another Ripley movie.
I'm sure Fox loves the idea of Sigourney Weaver back in the lead (as much as Crystal Skull was panned, it brought a ridiculous amount of money in Box Office and if Star Wars is as massive as it appears it will be there might be another push at Fox to get their older star back in the franchise role), but it also seems like a huge task to explain to the casual movie-goer what this new movie would be and where it would fit into the established franchise.
I'm all about it since I am not the world's biggest fan of how the story was derailed by Alien 3, but if I were a betting man, I'd say Blomkamp's movie will live only as a "what if." I'd love to be wrong, though. I'd kill to see Weaver and Michael Biehn kicking Xenomorph ass side by side once more.
-Eric Vespe
"Quint"
quint@aintitcool.com
Follow Me On Twitter