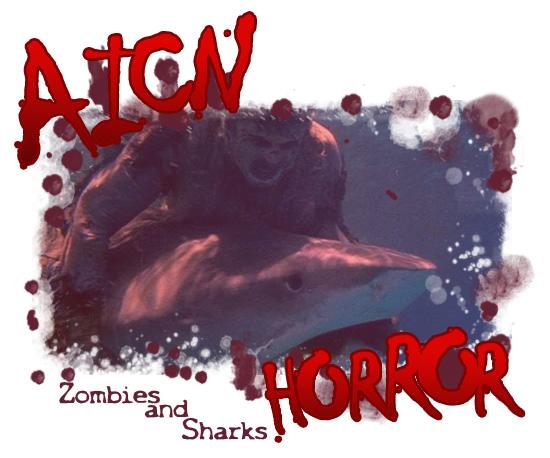 Logo by Kristian Horn
What the &#$% is ZOMBIES & SHARKS?
---
Greetings, all. Ambush Bug here. Happy Birthday to AICN HORROR which celebrates its sixth year on Ain't It Cool News in October! And what a fantastic year in horror it was! Always hoping to pass on new and exciting films for all of you ravenous readers, I have once again compiled a list counting down my favorite horror film released since last October 1, 2014 and covered in my weekly AICN HORROR: ZOMBIES & SHARKS column.

As far as how I compiled this list? Well, I simply looked over my AICN HORROR columns over the last year since October 1st, 2014 (which happens to be the birthday of this little column six years ago!) and worked and reworked a list throughout the year until I had 31. No real method to my special brand of madness; just my own personal favorites. The only rule qualifying the film for this countdown is that it had to be released to the masses (via theaters, digital download, On Demand, or DVD/BluRay) within the range of October 1, 2014 and October 1, 2015. Anything before or after that span of time doesn't count in this haunted dojo. I'll be counting down every day until Halloween to my favorite horror film of the year. I'll also provide a second film suggestion at the end of each post that is worth noting or just missed making the list for those who can't get enough horror.

So let's get to it! Chime in after the article and let me know what you think of the pick, it's placing on the list, how on the nose or mind-numbingly wrong I am, and most importantly, let me know your own personal faves from the last year in horror…let's go!
#3 LATE PHASES
Why is LATE PHASES #3? I know horror is often a polarizing thing and the final group of picks in this countdown is either of the love it or hate it variety, but I don't know anyone who didn't love Nick Damici's performance as a blind military vet who is just too tough to be scared by a pesky werewolf invading his retirement community in LATE PHASES. I hope this role gets Damici more starring roles as he is fantastic here and the story, while somewhat formulaic, is a touching and compelling tale of one very tough and very flawed man trying to come to terms with his life in his latter years. There are a few scenes where the practical werewolf effects are a little rough, but this one at least doesn't give us animated CG werewolfs to scoff at. Bogliano has made some great horror films, but this one has the most grit and the most heart. I dare you not to choke up at this film, that is, after being thrilled and chilled beyond belief by the werewolf mayhem. Here's my review
from December 5th, 2014
!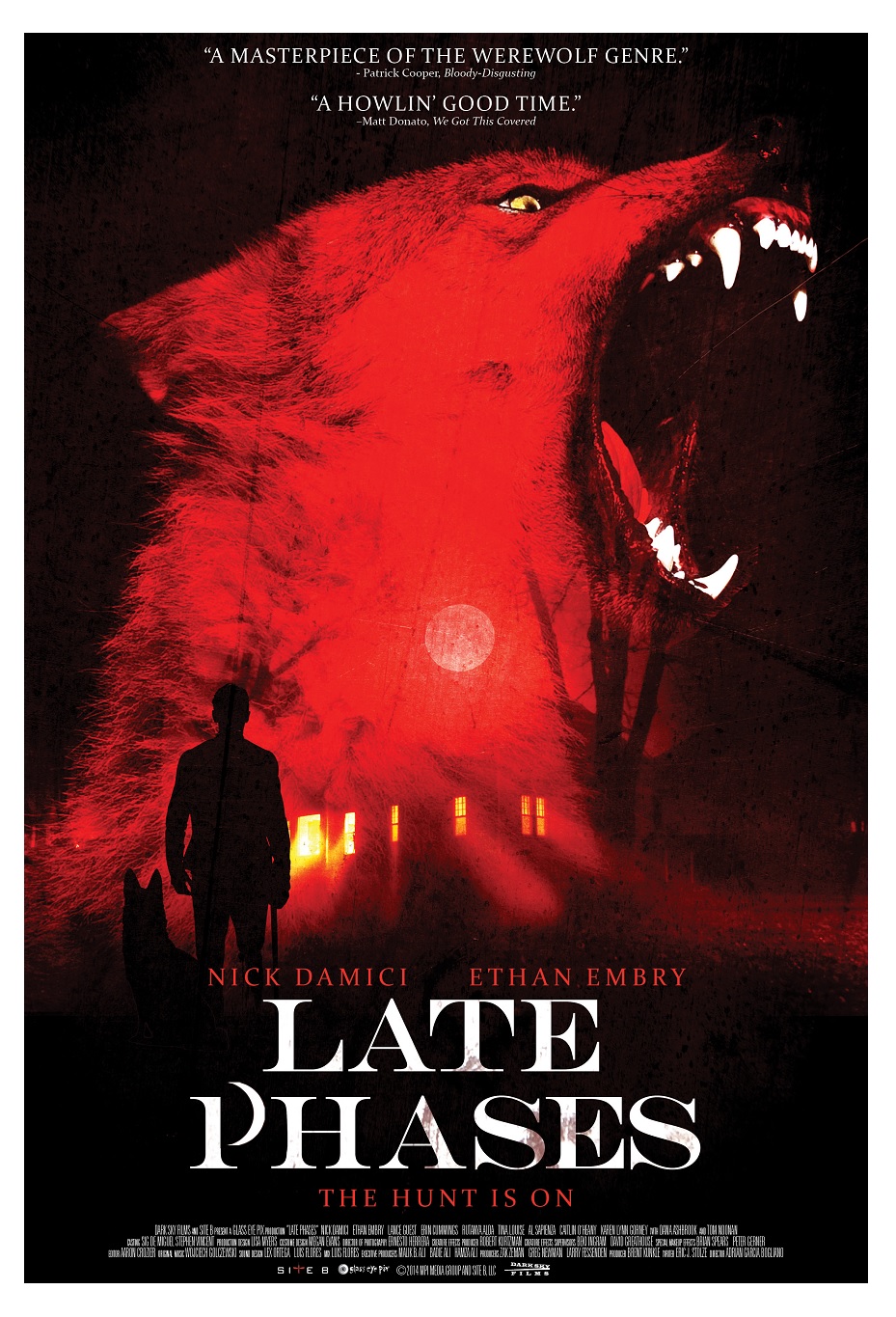 Available on iTunes here and Netflix here!
LATE PHASES (2014)
Directed by Adrián García Bogliano
Written by Eric Stolze
Starring Nick Damici, Ethan Embry, Lance Guest, Tina Louise, Rutanya Alda, Caitlin O'Heaney, Erin Cummings, Tom Noonan, Larry Fessenden, Al Sapienza, Bernardo Cubria, Karen Lynn Gorney, Karron Graves, Haythem Noor, Kareem Savinon, Charles Techman
Find out more about this film on Facebook here
Reviewed by Ambush Bug
Horror films with old people are hit and miss with me. When it is horror about growing old, it really strikes an uncomfortable chord in me as I have officially become middle-aged. So when those types of films, as with the recent Alzheimer's horror film
THE TAKING OF DEBORAH LOGAN
, are done well, it hits me like a Mack truck. Then there are the films about old age that I prefer, that of seeing the elderly as the underdog and showing that despite age, there's still some fire in the old heart still. LATE PHASES is such a film and it is a magnificent one at that.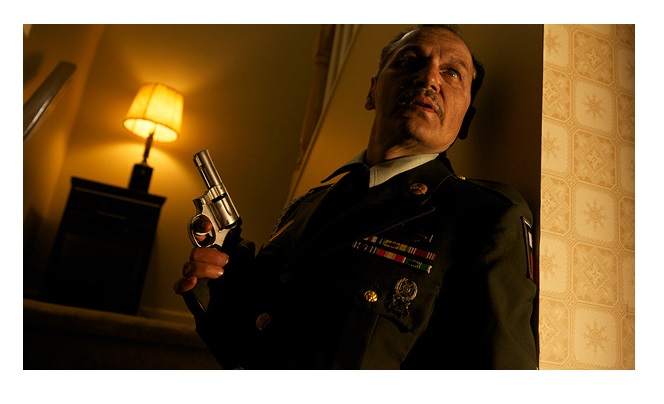 COLD SWEAT
and
HERE COMES THE DEVIL
director Adrian Garcia Bogliano makes his English language film debut with LATE PHASES, the story of a blind Vietnam War vet named Ambrose (STAKE LAND's Nick Damici) who moves into a retirement community the day before a vicious attack by a giant animal takes the lives of two of his neighbors and his own seeing eye dog. Ambrose encounters the monster, but of course, can't identify it, but we see that it is not a coyote or a bear, but a werewolf. Having survived the encounter and in a race against time before the next full moon appears, Ambrose investigates the mystery, scouring the retirement community to see if his outlandish suspicions are true—that it's a werewolf that is massacring these people.
An old dude vs. a werewolf sounds ripe with comic potential, but Bogliano plays everything dead seriously. As Ambrose uses his other senses to snoop around the community, his son (played by Ethan Embry) begins to think his old man is losing it. After the explosive first few moments where Ambrose encounters the werewolf, the film slows down, but maintains an intensity that grows and grows until the moon is full again during the climax of this film. Bogliano paces this film remarkably, interspersing quiet and patient moments of Ambrose interacting with a list of suspects with more drama between a distant father and a son who is attempting to connect with him. Dealing with the guilt one feels about leaving one's parent in a retirement home or under assisted care, Bogliano fills this film, not only with mystery and moments of sheer horror, but heart as well. This film made me tear up at the end and if you had a complex relationship with your own father, you may find yourself doing so as well.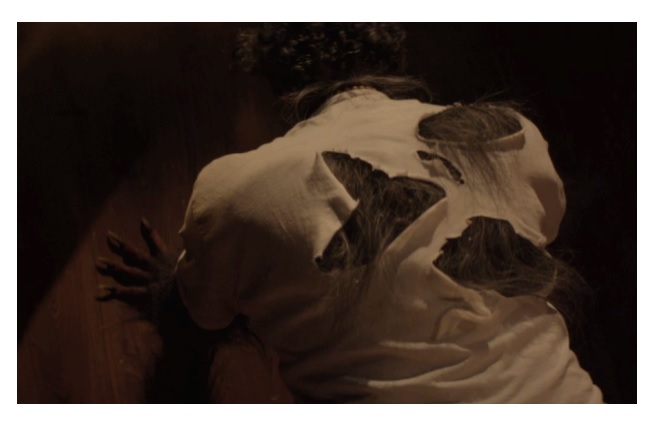 This film is nothing without the phenomenal performance of Nick Damici.
I was one of the few who was underwhelmed by his performance in STAKE LAND
, but here as Ambrose, you'd think Damici was channeling the ghost of Charles Bronson with his restrained, yet powerful performance as our central character. Ambrose is a soldier whose scars ran deep into his soul as he grew older and was a tough father and husband to his family. A man who measures his words carefully and succinctly, Damici's Ambrose is a wonderfully rich character you can't help but root for despite his gruffness.
This being a werewolf film, there's always the question as to whether the transformation scene and the werewolf effects are good or not. For the most part, they are, as Bogliano chooses to go practical effects all the way. The transformation scene isn't completely original, but it is fantastically done. There may be one scene where the werewolf is seen on a surveillance camera where the suit looks a bit ridiculous, but otherwise, Bogliano keeps things close—highlighting the articulated jaw and long strands of hair. The wolves here are immense and menacing, more reminiscent of THE HOWLING. But while THE HOWLING kept a lot of the wolves in the dark, this making them look scarier, Bogliano has them lit a bit more and that might have been the only mistake this movie makes.
It's tough to find a good werewolf film. Sure films like DOG SOLDIERS and GINGER SNAPS make the short list in terms of more recent and successful films in this genre. LATE PHASES can now be added to that list as it really is one of the good ones. Reminiscent mostly to STEPHEN KING'S SILVER BULLET, LATE PHASES is a remarkably acted, practically effected, and toughly told werewolf film like few others. Damici is amazing and I hope this leads to bigger roles for him and the supporting cast from Embry to Larry Fessenden and Tom Noonan hit all the right buttons as well. In terms of werewolf films this year, LATE PHASES is leader of the pack!
---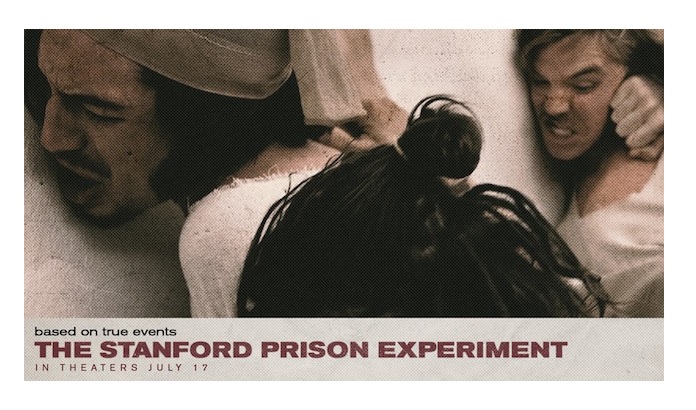 Worth noting: THE STANFORD PRISON EXPERIMENT!
Less about the physical devolution of man which is often the subject of werewolf films, this film is about the flaking away of mental faculties in a controlled environment. Less of a horror film and more of a deeply bent psychological thriller; I found this cold and dark film about students who volunteer to be in a prison like scenario and how demented things get was engrossing from beginning to end. What's even more disturbing is that this psychological Frankenstein tale is all a true story.
Check out my full review of the film here
and you can find it on
iTunes here
!
---
Previously on the Countdown!

#31 – AN AMERICAN TERROR
#30 – WE ARE STILL HERE
#29 – FROM THE DARK
#28 – THE TOWN THAT DREADED SUNDOWN
#27 – DEAD SNOW 2: DEAD VS RED
#26 – THE GREEN INFERNO
#25 – THE EDITOR
#24 – THE TAKING OF DEBORAH LOGAN
#23 – WITCHING & BITCHING
#22 – EXTINCTION
#21 – WYRMWOOD: ROAD OF THE DEAD
#20 – BACKCOUNTRY
#19 – POD
#18 – MAGGIE
#17 – A PLAGUE SO PLEASANT
#16 – THE NIGHTMARE
#15 – A GIRL WALKS HOME ALONE AT NIGHT
#14 – STARRY EYES
#13 – CLOSER TO GOD
#12 – THE FINAL GIRLS
#11 – LOST SOUL: THE DOOMED JOURNEY OF RICHARD STANLEY'S THE ISLAND OF DR. MOREAU
#10 –THE HOUSE AT THE END OF TIME
#9 – GOODNIGHT MOMMY
#8 – CUB
#7 – IT FOLLOWS
#6 – WHAT WE DO IN THE SHADOWS
#5 – SPRING
#4 – CREEP
See ya tomorrow, folks, as I count down the best of the best covered in AICN HORROR since October 1st, 2014!

Ambush Bug is Mark L. Miller, original @$$Hole/wordslinger/writer of wrongs/reviewer/interviewer/editor of AICN COMICS for over 13 years & AICN HORROR for 6. Follow Ambush Bug on the Twitters @Mark_L_Miller.



---
Find more AICN HORROR including an archive of previous columns on AICN HORROR's Facebook page!