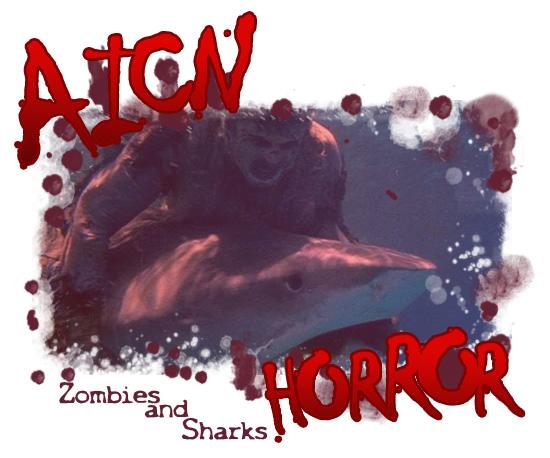 Logo by Kristian Horn
What the &#$% is ZOMBIES & SHARKS?
---
Greetings, all. Ambush Bug here. Happy Birthday to AICN HORROR which celebrates its sixth year on Ain't It Cool News in October! And what a fantastic year in horror it was! Always hoping to pass on new and exciting films for all of you ravenous readers, I have once again compiled a list counting down my favorite horror film released since last October 1, 2014 and covered in my weekly AICN HORROR: ZOMBIES & SHARKS column.

As far as how I compiled this list? Well, I simply looked over my AICN HORROR columns over the last year since October 1st, 2014 (which happens to be the birthday of this little column six years ago!) and worked and reworked a list throughout the year until I had 31. No real method to my special brand of madness; just my own personal favorites. The only rule qualifying the film for this countdown is that it had to be released to the masses (via theaters, digital download, On Demand, or DVD/BluRay) within the range of October 1, 2014 and October 1, 2015. Anything before or after that span of time doesn't count in this haunted dojo. I'll be counting down every day until Halloween to my favorite horror film of the year. I'll also provide a second film suggestion at the end of each post that is worth noting or just missed making the list for those who can't get enough horror.

So let's get to it! Chime in after the article and let me know what you think of the pick, it's placing on the list, how on the nose or mind-numbingly wrong I am, and most importantly, let me know your own personal faves from the last year in horror…let's go!
#5 SPRING
Why is SPRING #5? It's easy to bang a keyboard or flash something from off screen into your face and cause a start, but if you can chill someone by having them emotionally invested, that's something worth screaming about. SPRING does just that with a compelling story of a flawed protagonist who falls head over heels for a girl he meets while on the lam in Europe. The film not only fleshes out an affectionate love affair, but it also delves deeply into all of the fears one has when they fall in love and just aren't sure if that person is in love with them back. Now, before you say this is something for the Nicholas Sparks set, I also have to add this SPRING gets ultra gory and ultra-Lovecraftian. This film is a surefire indication that filmmakers Aaron Moorhead and Justin Benson are a writing and directing team to watch as they handle the drama, the fantasy, and the horror all with even and talented hands. Here's my review
from March 20th, 2015
!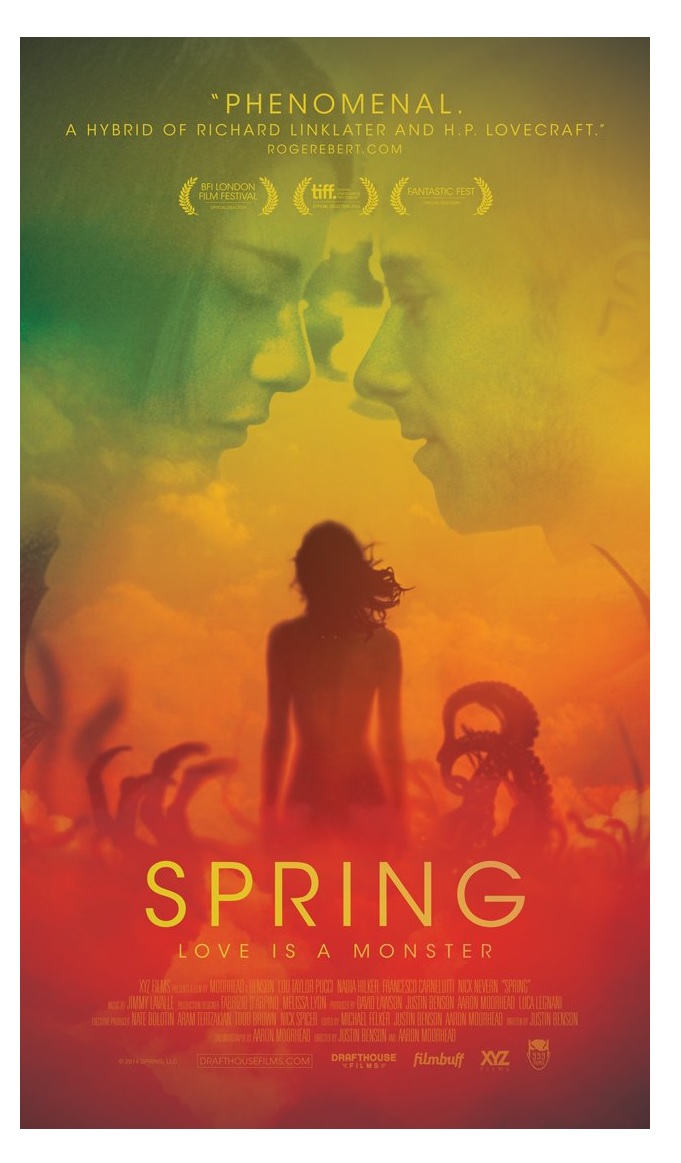 Available on iTunes here!
SPRING (2015)
Directed by Justin Benson & Aaron Moorehead
Written by Justin Benson
Starring Lou Taylor Pucci, Nadia Hilker, Vanessa Bednar, Jeremy Gardner, Shane Brady, Francesco Carnelutti, Vinny Curran, Augie Duke, Holly Hawkins
Find out more about this film on Facebook here
Reviewed by Ambush Bug
Filmmakers Justin Benson and Aaron Moorehead blew me away with RESOLUTION last year.
In an interview I did with them
, they told me their next project was going to be a cross between romance and horror, focusing on the horror of that ambiguous and downright terrifying time when someone loves someone else, but is uncertain about what the other feels. Add in a breakup where little is explained, and it feels ripe for material to be seen through an insidious lens. Knowing that these filmmakers have a truly unique take on the world, I couldn't wait to see what they could produce given this interesting premise. Then again, many a filmmaker has blown my socks off with their first film only to succumb to that dreaded sophomore slump as they produce a follow-up that just doesn't deliver the right goods that came with the first one. Either it's the filmmakers' first experience with bigger studios, or third party involvement by the studios who just want the filmmaker to repeat what has been done before, or the filmmaker giving into fan pressure to deliver what's been done before, it's more common than not to have the second film from a talented director suck balls.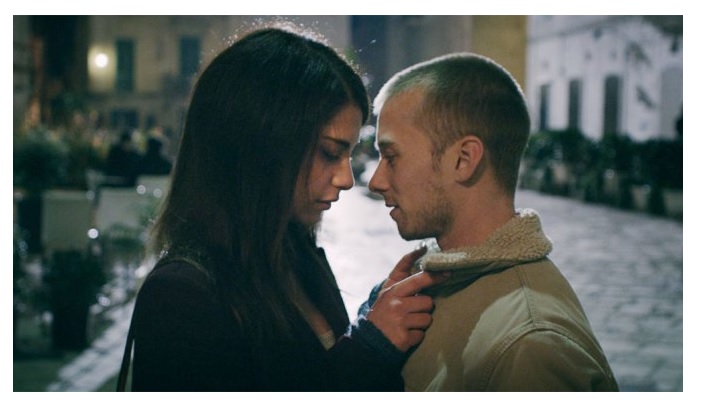 I say all of this because while I was hoping for the best from SPRING, I had a fear of approaching this film. Turns out my fears were all for naught and Benson and Moorhead have overcome the sophomore slump and delivered a truly unique film experience that rivals RESOLUTION in creativity and originality, wrapped in a delicious fantasy/horror coating. The story follows Evan (the EVIL DEAD remake's long-haired hipster Lou Taylor Pucci) as he deals with the death of his mother rather badly. Getting drunk with his best bud Tommy (THE BATTERY's actor/director/writer Jeremy Gardner), he starts a fight in a bar with a punk who is beating on his girl and gets targeted by both the police and the man he assaulted. Evan skips town and goes to walk the earth in Europe, ending up in Italy, where he meets the most beautiful woman he's ever laid eyes on, Louise (the gorgeous Nadia Hilker). After some flirtation between the two, they begin a relationship that begins hot and heavy, but just when Evan thinks it can't get any better, Louise tells him she needs to end the relationship without a reason given.
This is the fodder for many a love story, where the boy must take on whatever hurdle in between him and the girl of his dreams. But it also happens in real life, and it's not so romantical. I know this because it's happened to me too many times I can count and on a visceral level, I was pulled into this film simply because I've been in Evan's shoes before. And to this day, there are some relationships that ended that I have no idea why. Well, in this story, that great unknown is given tentacles and claws, as peppered through this romance we are privy to Louise going through some kind of odd transformation behind Evan's back. Too starry eyed, Evan doesn't see or just doesn't want to see the flaws that Louise has, and even when he does find out, it is hard for Evan to be too creeped out as he is madly in love with her.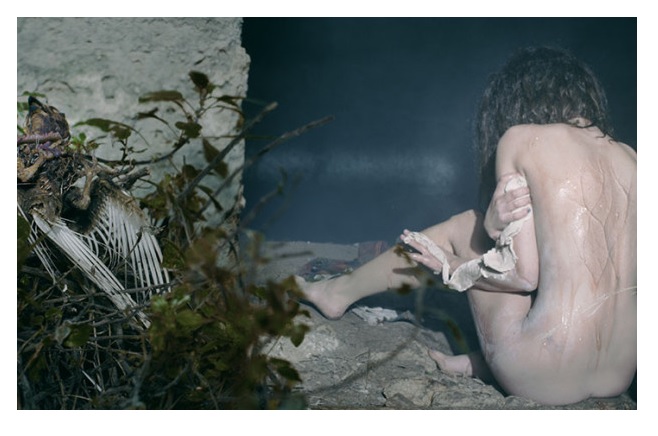 I don't want to delve too much more into the plot, because I think a lot of the appeal of SPRING is the fact that it is such an unconventional love story with rich horror elements. In many ways, it is like Disney's LITTLE MERMAID if it were told by the human dude who falls in love with the fish lady and the shock and conflict he must go through once he finds out that the girl of his dreams is actually the gill of his dreams (sorry, couldn't help myself). The fact that Moorhead and Benson are able to craft such a realistic romance and pepper in these monstrous transformations and attacks, all the while still managing to make the viewer still want these two people to be together despite these tremendous odds, is a testament to their immense talent as storytellers. We are right there with this couple from first glance to the end, and in that time, we get to know them fully and realistically, and a lot of that has to do with the fantastic direction and writing of this film.
The rest lays on the shoulders of Hilker and Pucci, both of who are engaging and fantastic actors. Pucci's character could so easily be unlikable. He drinks too much. Fights too much. Really doesn't have a lot of places to go with his life and doesn't seem like he has the character to change the lot he finds himself in. Still, as Evan, Pucci manages to convince us that he's an all-around good guy who deserves a break like this awesome girl he meets. Sure seeing him watch his mother die in the opening scene is one way to get the viewer to feel for the guy, but Pucci's line delivery is infectious and convincing—teetering between overconfidence and no confidence at all, and enough is known about the character to root for him because of his flaws. Same goes for Hilker, who is a literal monster here, but because we see her struggle to hide her monstrous side from Evan and because we see how genuinely painful it is for her to undergo these transformations, you can't help but feel sorry for her situation.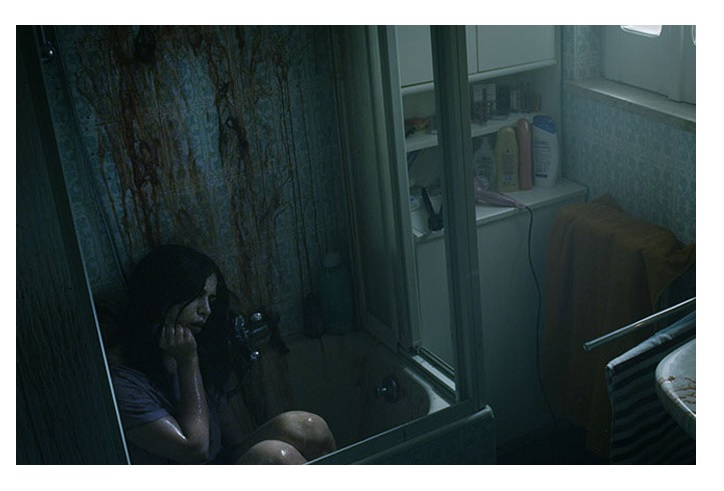 For a smaller-budgeted movie, the effects in SPRING are jaw-droppingly good. From subtle transformations to full on monster blowouts, every scene is not overly computer generated and rendered real enough to fool even the shrewdest and most critical CG eyes. The original look and "ailment" of Louise is sometimes horrific, and sometimes just beautiful in the surreal twisting and undulating of the flesh that goes on here.
The film takes a tiny stumble in the last act as it feels things are played a little too comical at times (the church scene comes to mind) and a bit drawn out and overly expository, as Benson and Moorehead make sure even the dullest of dullards in the audience are able to understand Louise's condition and a possible cure. It didn't bother me much, but it does slow the pace down a bit and pander to the audience to make sure all are following. That said, SPRING is a romantic tale that will warm even the blackest hearts of horror fanatics. With likable characters, engrossing story and conflict, and effects that feel effortless, SPRING is as unique as some of the monstrous forms Louise takes. It truly is a film unlike any other I've seen this year, and manages to be both romantic and disgusting all at once. Not for the squeamish, but something for the ghouls with a romantic edge, SPRING should not be missed.
---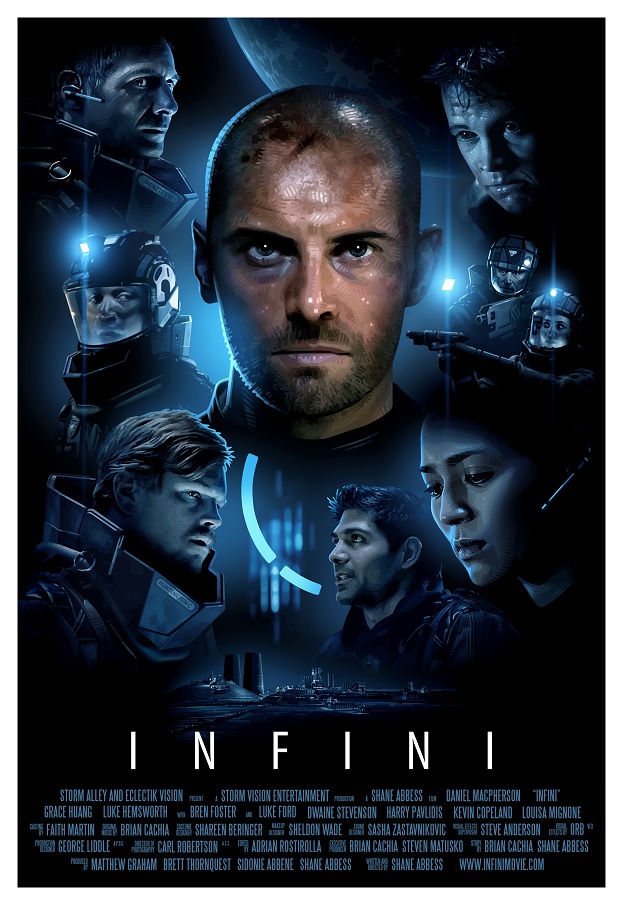 Worth noting: INFINI!
As we approach the number one spot, I wanted to include some sci fi films into the mix as they can be just as thrilling to watch around this time of year as well as sci fi doesn't really have a month dedicated to it. Also, the lines between horror and sci fi are often blurry. So look for some choice sci fi films and other films that aren't quite horror in this "worth noting" section from here on out. This time around, I want to raise some awareness for INFINI, a gritty and visceral sci fi film that feels more ALIENS than STAR TREK, but dealing with some pretty fun scientific tropes. This one is a fun and twisted little number that mixes military with the interstellar and focuses on a team sent to a decimated space station via a teleportation method that is not quite perfect yet. It's also got a Hemsworth sibling in it.
Check out my full review of the film here
and you can find it on
iTunes here
and
Netflix here
!
---
Previously on the Countdown!

#31 – AN AMERICAN TERROR
#30 – WE ARE STILL HERE
#29 – FROM THE DARK
#28 – THE TOWN THAT DREADED SUNDOWN
#27 – DEAD SNOW 2: DEAD VS RED
#26 – THE GREEN INFERNO
#25 – THE EDITOR
#24 – THE TAKING OF DEBORAH LOGAN
#23 – WITCHING & BITCHING
#22 – EXTINCTION
#21 – WYRMWOOD: ROAD OF THE DEAD
#20 – BACKCOUNTRY
#19 – POD
#18 – MAGGIE
#17 – A PLAGUE SO PLEASANT
#16 – THE NIGHTMARE
#15 – A GIRL WALKS HOME ALONE AT NIGHT
#14 – STARRY EYES
#13 – CLOSER TO GOD
#12 – THE FINAL GIRLS
#11 – LOST SOUL: THE DOOMED JOURNEY OF RICHARD STANLEY'S THE ISLAND OF DR. MOREAU
#10 – THE HOUSE AT THE END OF TIME
#9 – GOODNIGHT MOMMY
#8 – CUB
#7 – IT FOLLOWS
#6 – WHAT WE DO IN THE SHADOWS
See ya tomorrow, folks, as I count down the best of the best covered in AICN HORROR since October 1st, 2014!

Ambush Bug is Mark L. Miller, original @$$Hole/wordslinger/writer of wrongs/reviewer/interviewer/editor of AICN COMICS for over 13 years & AICN HORROR for 6. Follow Ambush Bug on the Twitters @Mark_L_Miller.



---
Find more AICN HORROR including an archive of previous columns on AICN HORROR's Facebook page!