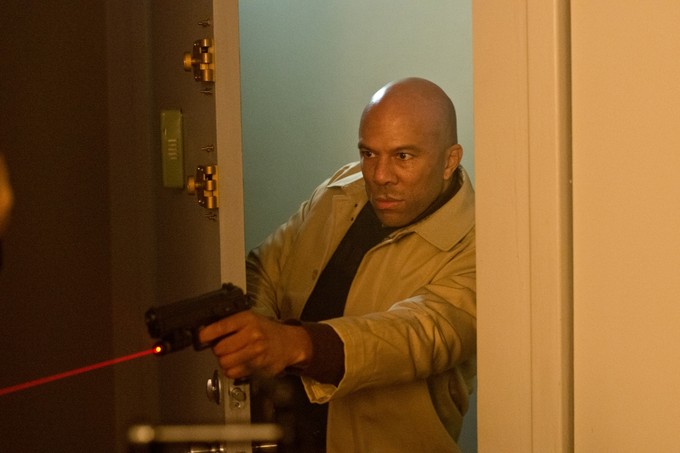 Part of the joke of JOHN WICK was how little of a stand its villains, played by Michael Nyqvist and Alfie "Reek" Allen, could make against the titular assassin (though Adrianne Palicki's Perkins had an edge by disregarding certain "house" rules). Presumably, he'll have a harder time facing off against the sequel's villains, one of whom will be played by rapper/actor Common.
Common, a.k.a. Lonnie Rashid Lynn Jr., will play a fellow hitman who works for a female crime lord out to get Wick's head. No word on who will play his boss, other than that she will be, you know, a woman (probably).
Common's been acting consistently since his debut turn as Jeremy Piven's bodyguard in SMOKIN' ACES, primarily in tough-guy roles in stuff like STREET KINGS, WANTED, and DATE NIGHT. Most recently, he had good moments an assassin opposite Liam Neeson in RUN ALL NIGHT. It's that performance that most convinces me that he'll serve as the tougher, scarier adversary to Wick than the handgun-fodder of the first film.
They're starting production this week, so expect to hear who is playing Common's boss soon, as well as who's comin' back for seconds (I personally hope we'll see more of the characters played by Ian McShane, Lance Reddick, and especially David Patrick Kelly). Even if Chad Stahelski is going solo without co-director David Leitch, I'm still super-excited for this follow-up, and I have faith that Common is going to help get us our money's worth in his pursuit of JOHN WICK.

Street Kings | Movie Trailer | Review
UPDATED(18:40): Just as I'd hoped, Ian McShane will reprise his role as Winston, the owner of the Continental Hotel which catered (exclusively?) to hitmen and various underworld figures, and which only accepted the gold coins that Wick & co. use as currency. His character was only in one scene, if memory serves, but it was another great entry in the actor's gallery of erudite, in-control villain types. Can't wait to see more of him.
McShane's's the first returning cast member besides Keanu; now, it's time to get Lance Reddick, David Patrick Kelly, and maybe even John Leguizamo back!