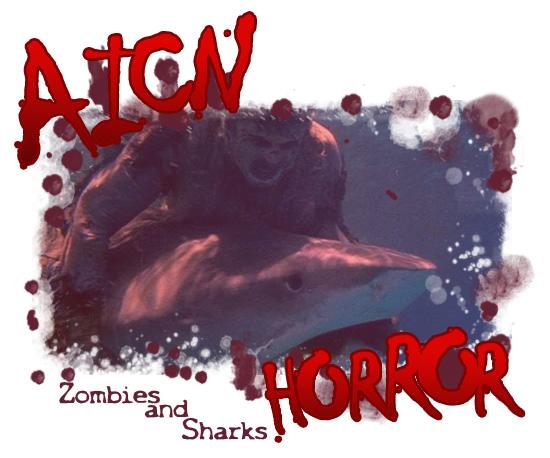 Logo by Kristian Horn
What the &#$% is ZOMBIES & SHARKS?
---
Greetings, all. Ambush Bug here. Happy Birthday to AICN HORROR which celebrates its sixth year on Ain't It Cool News in October! And what a fantastic year in horror it was! Always hoping to pass on new and exciting films for all of you ravenous readers, I have once again compiled a list counting down my favorite horror film released since last October 1, 2014 and covered in my weekly AICN HORROR: ZOMBIES & SHARKS column.

As far as how I compiled this list? Well, I simply looked over my AICN HORROR columns over the last year since October 1st, 2014 (which happens to be the birthday of this little column six years ago!) and worked and reworked a list throughout the year until I had 31. No real method to my special brand of madness; just my own personal favorites. The only rule qualifying the film for this countdown is that it had to be released to the masses (via theaters, digital download, On Demand, or DVD/BluRay) within the range of October 1, 2014 and October 1, 2015. Anything before or after that span of time doesn't count in this haunted dojo. I'll be counting down every day until Halloween to my favorite horror film of the year. I'll also provide a second film suggestion at the end of each post that is worth noting or just missed making the list for those who can't get enough horror.

So let's get to it! Chime in after the article and let me know what you think of the pick, it's placing on the list, how on the nose or mind-numbingly wrong I am, and most importantly, let me know your own personal faves from the last year in horror…let's go!
#6 WHAT WE DO IN THE SHADOWS
Why is WHAT WE DO IN THE SHADOWS #6? There were quite a few exceptional horror comedies this year, but if you're looking for king of that list, WHAT WE DO IN THE SHADOWS is at the top. This is a film not only with an infectious sense of humor, but also ingeniously creates characters I would love to see over and again. The comedy comes at you in a rapid fire method that almost required repeated viewings, and there's an homage/riff off of almost every vampire trope that makes every moment fun for any horror fan. Horror comes in all shapes and sizes and not all horror has to make you scared. Sometimes it makes you die laughing and WHAT WE DO IN THE SHADOWS does just that. Those worrying if there are any more comedies coming can rest easy, this is the last and best one. Here's my review
from July 31st, 2015
!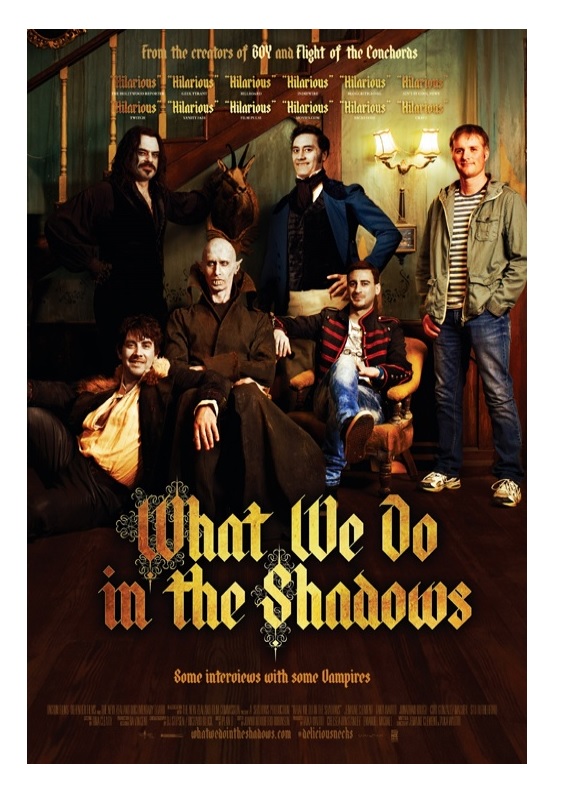 Availble on iTunes and Netflix here!
WHAT WE DO IN THE SHADOWS (2014)
Directed by Jemaine Clement, Taika Waititi
Written by Jemaine Clement, Taika Waititi
Starring Jemaine Clement, Taika Waititi, Cori Gonzalez-Macuer, Jonny Brugh, Stu Rutherford, Ben Fransham, Rhys Darby, Jackie van Beek, Elena Stejko, Jason Hoyte, Karen O'Leary, Mike Minogue, Chelsie Preston Crayford, Ian Harcourt, Ethel Robinson, Brad Harding, Yvette Parsons, Madeleine Sami, Frank Habicht, Kura Forrester, Simon Vincent, Cohen Holloway, Duncan Sarkies, Nathan Meister, Tanemahuta Gray
Find out more about this film here and on Facebook here
Reviewed by Ambush Bug
It's going to be hard to find a horror comedy funnier than WHAT WE DO IN THE SHADOWS, which mixes humor smart and lowbrow wirh everything we know and love about vampires.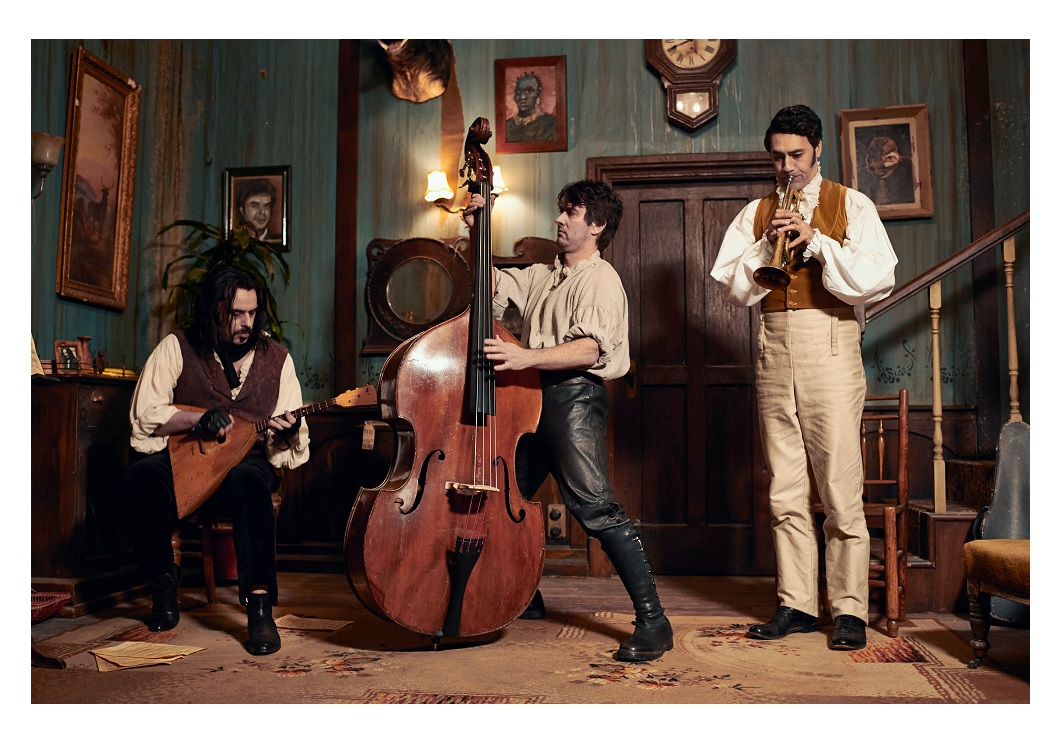 A camera crew was given access into the hidden world of the vampires. They were promised not to be harmed and given full access to the nocturnal lives of their undead world. At the beginning of the film, we meet Viago (Taika Waititi), a kind hearted vampire who accepted the invitation of the filmmakers to film this documentary and acts as the den mother to a quartet of vampires all living together under the same roof. Viago introduces up to Vladislav (FLIGHT OF THE CONCHORDS' Jemaine Clement) an egotistical vamp who has fallen on hard times since a creature he dubs the Beast harmed him deeply and left him a hollow man, Deacon (Jonny Brugh) a self-proclaimed ladies vamp who is labeled the "badboy" of the group, and Petyr (Ben Fransham) an ancient Nosferatu-esque vamp who is crabby in his old age and hisses at any attempt to invite him to house meetings. The camera crew follows the banal day to day (or more accurately, night to night) happenings in the home as they argue about who does the dishes, the difficulty of getting into clubs without being invited in by the bouncers first, and occasional run-ins with a gang of werewolves lead by FLIGHT OF THE CONCHORDS' Murray aka the hilarious Rhys Darby.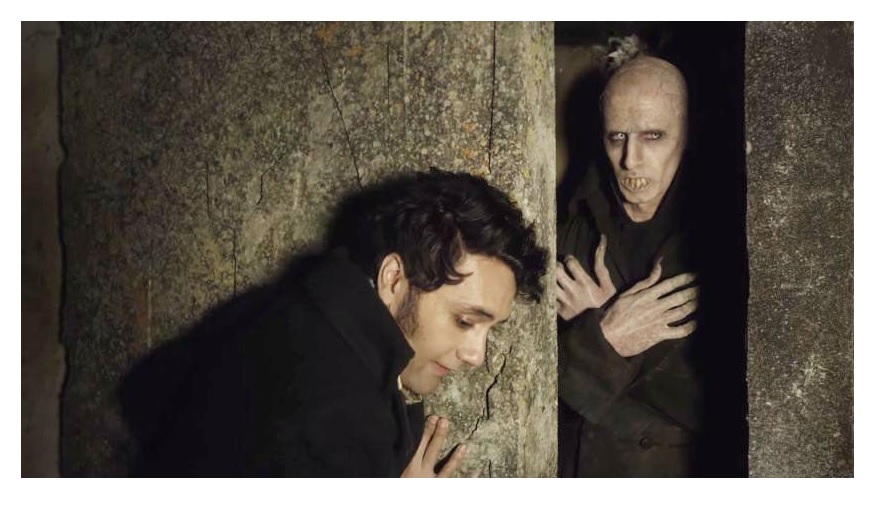 Part of the fun with WHAT WE DO IN THE SHADOWS is the fun the cast has with the language which turns out to be a cross between New Zealander and classic Transylvanian dialect. As the clip above shows, this is a goofy film, not really taking much seriously, but the way it presents everything in a kind of nonsensical and no-fucks-given attitude made every moment hilarious for me. Seeing the vamps swiping from popular culture like LOST BOYS movies and the like make it all the more effective as these vamps are aware that they are in a world where movies about vampires are being made and vampire culture is well aware of.
The film also has a lot of fun with vampire tropes such as the aforementioned setback of not getting into a club without being invited first and the vamps difficulty maintaining spells of hypnosis according to their current confidence level and state of mind. Again, lines about "you can't eat the cameraman" are infinitely more funny coming from Jermaine Clement's monotone voice, so it's the fact that I loved FLIGHT OF THE CONCHORDS that helped me love this movie to its very core. Another bit in the film is about the way the vamps treat their human servants, leading them on for years squeezing out as much servitude they can from them with the promise of turning them into vampires. Seeing the cast make excuses why they can't change their servant Jackie (Jackie van Beek) into a vampire is hilarious as the only reason they are prolonging things is because they are lazy and like it that Jackie does anything they want, which usually means cleaning up after their messes.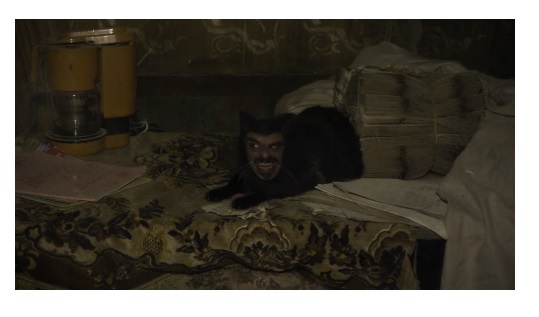 The movie also has a lot of fun with effects as the vamps constantly get into arguments and challenge one another by hissing and then launching into the air. It's something we've seen in vampire movies for years, but the fact that these vamps will go into full on hissing mode over unwashed dishes is what elevates things to a level of lunacy that evoked so much laughter. It's also fun to see the vamps go all out in one scene as Clement's Vladislav turns into a cat with Jermaine's face to terrify one of their house guests and Viago stumbles into a lovemaking session with Vladislav acting like Gary Oldman in BRAM STOKER'S DRACULA rolling around with two women on the wall with silk sheets. This film is filled from start to finish with little one notes that never failed in their delivery for me.
But this is not just a collection of one notes. Each character gets an arc of sorts and comes out the other end of this film a changed person because of it. That's what elevates this from a SCARY MOVIE-style horror farce to one that feels more like something Christopher Guest would make. The level of character here is fantastic and while each character is goofy in their own way, you can't help but like these weird vamps as they go though life's ups and downs.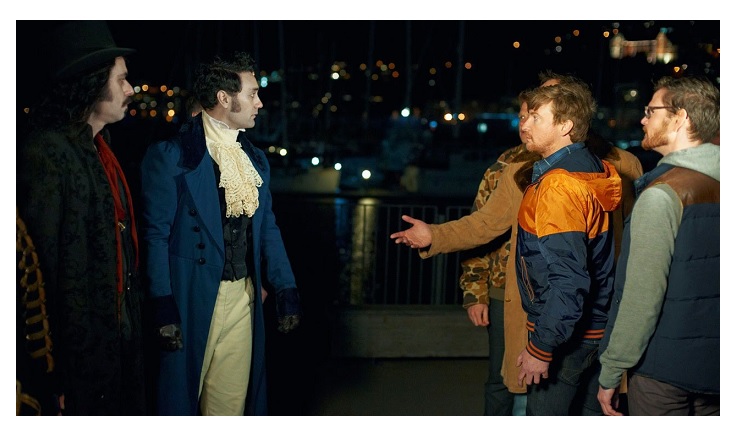 I'd be remiss not to point out Rhys Darby and his crew of werewolves as they are easily one of the most interesting sidebars this film goes to. As in FLIGHT OF THE CONCHORDS where Bret, Jermaine, and Murray would meet a rival gang on the street as if they are acting out a scene from WEST SIDE STORY, here the vamps keep crossing paths with Rhy Darby's group of werewolves who seem like they would be equally interesting to follow with a camera crew should this film ever want to have another go at it with a sequel (
Note: Since this review was posted, a sequel following the werewolves has been announced! YAY!
). Darby chastising one of his gang about swearing so much, stating "We're werewolves, not swearwolves." remains one of the funniest lines on the film every time I hear it.
I absolutely loved this movie as it both pokes fun at modern culture's fascination with vampires by having these vamps just as fascinated with it and also takes these characters seriously enough to make me care about them. This type of comedy, which hits you on multiple levels of funny, be it lowbrow or highbrow, doesn't often come around and while the vamps in WHAT WE DO IN THE SHADOWS is often downright hilarious, I never felt like it was making fun of the horror genre or coming from a place where respect wasn't given to vampire movies. It takes what we all know about vamps and what society has made of the mythology and makes it all to human and real. WHAT WE DO IN THE SHADOWS should be a must see for everyone and while it has a few bits of gore and pitch dark humor, I think even those who don't like horror films will get into this one.
---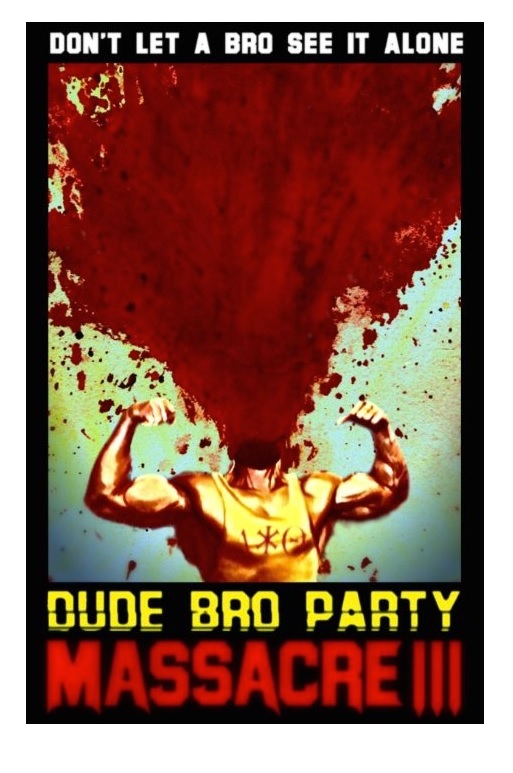 Worth noting: DUDE BRO PARTY MASSACRE III!
Another rapid fire comedic horror film released this year was DUDE BRO PARTY MASSACRE PART III. This film doesn't take one line seriously as all of the actors are comedically on from the beginning to end. Much more of a grossout farce than the more depthy and meaningful WHAT WE DO IN THE SHADOWS, I laughed at this film almost as much and I'm looking forward to seeing what this comedy troupe has coming up next—be it a PART IV of DUDE BRO or something entirely different, yet equally off the wall.
Check out my full review of the film here
and you can find it
Available on iTunes here!
---
Previously on the Countdown!

#31 – AN AMERICAN TERROR
#30 – WE ARE STILL HERE
#29 – FROM THE DARK
#28 – THE TOWN THAT DREADED SUNDOWN
#27 – DEAD SNOW 2: DEAD VS RED
#26 – THE GREEN INFERNO
#25 – THE EDITOR
#24 – THE TAKING OF DEBORAH LOGAN
#23 – WITCHING & BITCHING
#22 – EXTINCTION
#21 – WYRMWOOD: ROAD OF THE DEAD
#20 – BACKCOUNTRY
#19 – POD
#18 – MAGGIE
#17 – A PLAGUE SO PLEASANT
#16 – THE NIGHTMARE
#15 – A GIRL WALKS HOME ALONE AT NIGHT
#14 – STARRY EYES
#13 – CLOSER TO GOD
#12 – THE FINAL GIRLS
#11 – LOST SOUL: THE DOOMED JOURNEY OF RICHARD STANLEY'S THE ISLAND OF DR. MOREAU
#10 – THE HOUSE AT THE END OF TIME
#9 – GOODNIGHT MOMMY
#8 – CUB
#7 – IT FOLLOWS
See ya tomorrow, folks, as I count down the best of the best covered in AICN HORROR since October 1st, 2014!

Ambush Bug is Mark L. Miller, original @$$Hole/wordslinger/writer of wrongs/reviewer/interviewer/editor of AICN COMICS for over 13 years & AICN HORROR for 6. Follow Ambush Bug on the Twitters @Mark_L_Miller.



---
Find more AICN HORROR including an archive of previous columns on AICN HORROR's Facebook page!