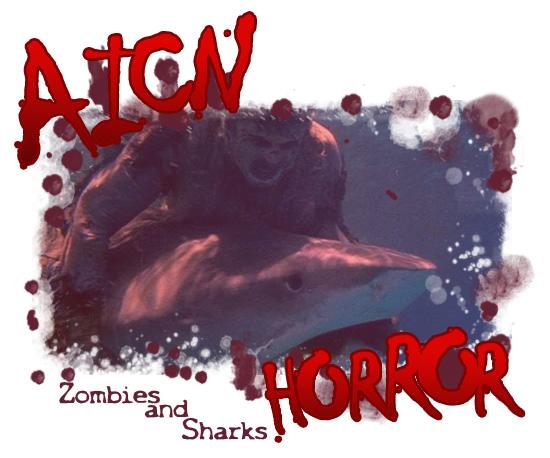 Logo by Kristian Horn
What the &#$% is ZOMBIES & SHARKS?
---
Greetings, all. Ambush Bug here. Happy Birthday to AICN HORROR which celebrates its sixth year on Ain't It Cool News in October! And what a fantastic year in horror it was! Always hoping to pass on new and exciting films for all of you ravenous readers, I have once again compiled a list counting down my favorite horror film released since last October 1, 2014 and covered in my weekly AICN HORROR: ZOMBIES & SHARKS column.

As far as how I compiled this list? Well, I simply looked over my AICN HORROR columns over the last year since October 1st, 2014 (which happens to be the birthday of this little column six years ago!) and worked and reworked a list throughout the year until I had 31. No real method to my special brand of madness; just my own personal favorites. The only rule qualifying the film for this countdown is that it had to be released to the masses (via theaters, digital download, On Demand, or DVD/BluRay) within the range of October 1, 2014 and October 1, 2015. Anything before or after that span of time doesn't count in this haunted dojo. I'll be counting down every day until Halloween to my favorite horror film of the year. I'll also provide a second film suggestion at the end of each post that is worth noting or just missed making the list for those who can't get enough horror.

So let's get to it! Chime in after the article and let me know what you think of the pick, it's placing on the list, how on the nose or mind-numbingly wrong I am, and most importantly, let me know your own personal faves from the last year in horror…let's go!
#10 THE HOUSE AT THE END OF TIME
Why is THE HOUSE AT THE END OF TIME #10? So we are finally to our top ten. Get ready for some amazing horrors ahead! This is probably one of the films on this list you have no idea existed, but it is definitely one of the best ghost stories in years. Bending time and space and mixing it with old school old dark house terrors, this film feels right at home to be seen with other creepfests like THE ORPHANAGE, THE INNOCENTS, and THE OTHERS. The atmosphere and emotional depth this one possesses is immesurable and the final moments of this film simply blew me away. Fantastically realized and creatively complex, THE HOUSE AT THE END OF TIME is an overlooked gem deserving of a high spot on this list. Here's my review
from November 14, 2014
!
#10 from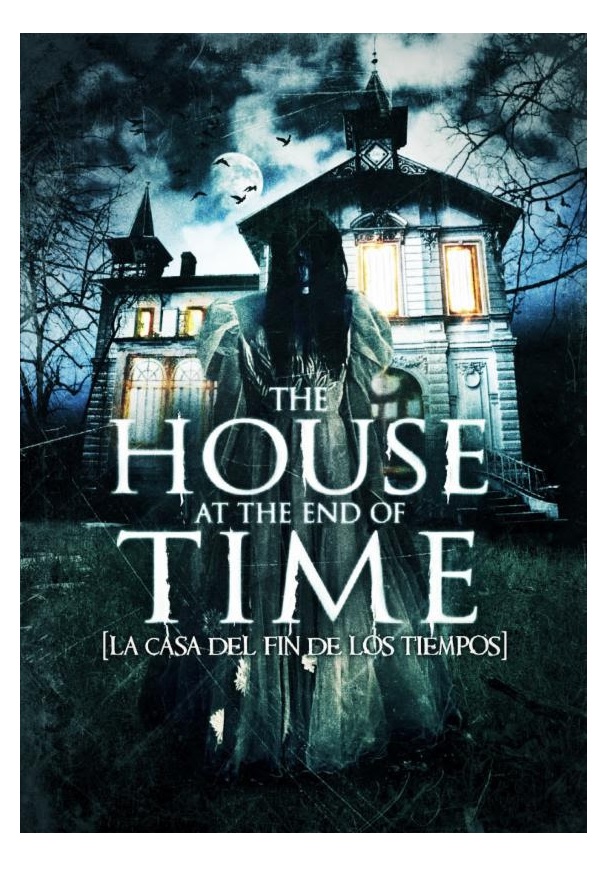 Available on iTunes here and Netflix here!
THE HOUSE AT THE END OF TIME (2013)
aka THE HOUSE OF THE END TIMES
Directed by Alejandro Hidalgo
Written by Alejandro Hidalgo
Starring Ruddy Rodríguez, Rosmel Bustamante, Adriana Calzadilla, Simona Chirinos, Gonzalo Cubero, Alexander Da Silva, Miguel Flores, Guillermo García, Amanda Key, José León, Guillermo Londoño, Héctor Mercado, Yucemar Morales, Efraín Romero
Find out more about this film here and on Facebook here
Reviewed by Ambush Bug
Joining the list of heart-wrenching yet powerfully scary Spanish ghost stories like THE ORPHANAGE, THE DEVIL'S BACKBONE, and PAN'S LABYRINTH is THE HOUSE AT THE END OF TIME, a story that touched me deeper than any American horror film has done in quite a while. Focusing on the power of a mother's love, this story takes complex elements and simplifies them by adhering to powerful characterization and emotion.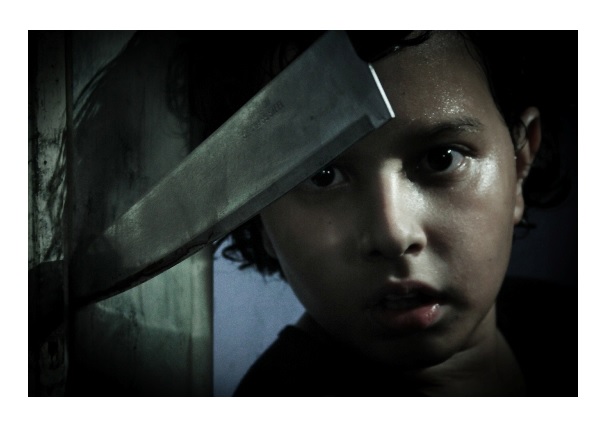 Ruddy Rodríguez is outstanding as Dolce, a burdened mother of two young energetic boys and wife to a lazy husband. Still, she manages to put up with all of them in the rundown and cavernous home they live in. The film opens at what looks like a climax to a previous film that was never made in mid-action as Dolce wanders around in the dark looking up and down stairwells for her family. As she approaches one of her boys, he is pulled back into the darkness by some kind of mystical force and she screams. Fast forward a bit and Dolce is accused of murdering her husband and family, though the bodies of her sons are not found. After a bit, we fast forward again as Dolce is released from prison and returns to her home only to find that despite the large amount of time in the slammer, the house remains haunted with some kind of otherworldly power. The rest of the film has Dolce investigating what really happened that night as she still attests that she is innocent.
Playing around with what happened and when, THE HOUSE AT THE END OF TIME could easily prove tough to understand to those who don't like to pay close attention to their films. But given that this is a Spanish film (and thought I took four semesters of Spanish, I still can't understand a lick of it), I was forced to watch this one closely in order to understand what was happening. Not everyone has that attention span, so I'm sure until the third act when all of the pieces start fitting together, some people may have already checked out. I was intrigued throughout as this film takes its time introducing you to the family, their conflicts, and their struggles, all the while peppering in some pretty inventive and simple scenes of pure bump-in-the-night goodness. Without the use of CG or really any kind of practical effects other than creative lighting and fantastically electric camerawork, this film does what 10 Hollywood horror films attempt and fail to do.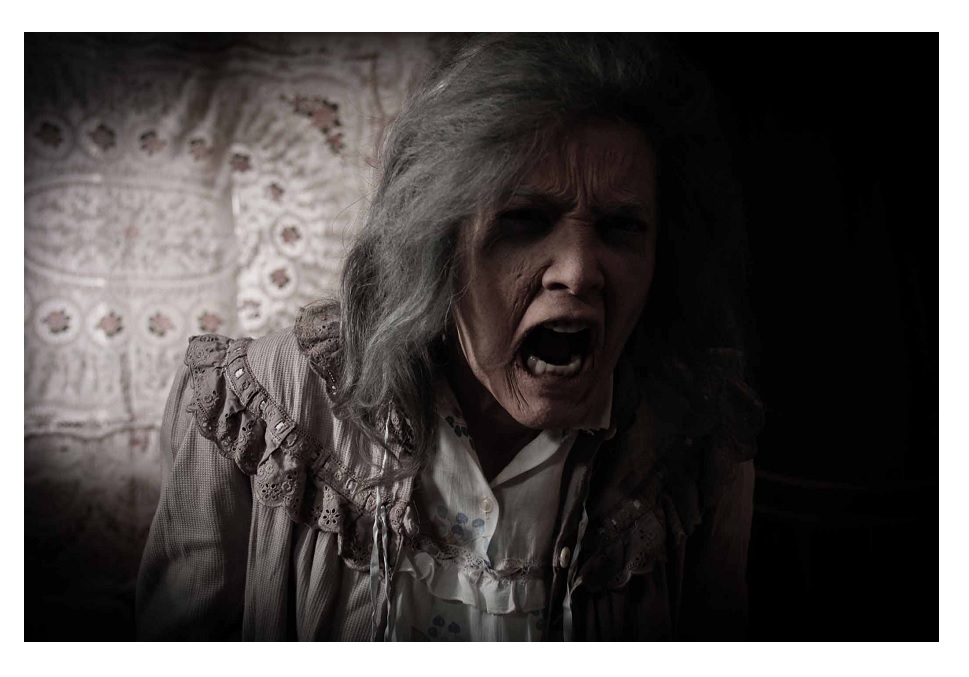 But what impressed me most is how the ending comes together so eloquently and ingeniously. While it should have been evident as to what was happening, when things start clicking together and making sense, this is one of those amazing ah-ha moments that really took me back. To have the lead up to the climax be so effectively haunting, I wasn't prepared for how emotionally impactful the whole thing is by the end.
If you're looking for a powerful ghost story that is striking in its simplicity in scares and handling of human emotion, THE HOUSE AT THE END OF TIME is one that delivers both with a skill and grace that few other horror films have done this year. Sure there are things that will make you shiver and scream here, but the emotion this one will bring out of you will make the horrors endured in this film all the more harrowing.
---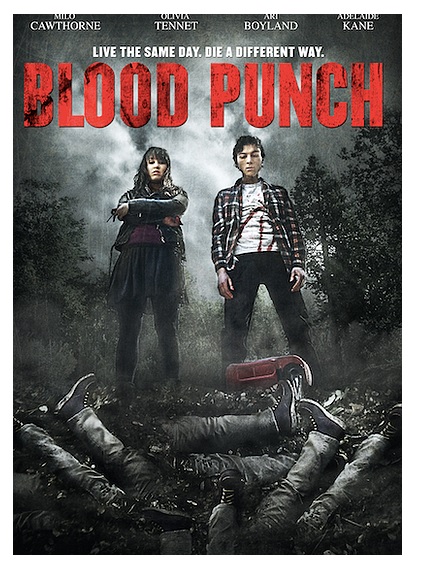 Worth noting: BLOOD PUNCH!
Another film that plays with time, though in a less serious manner, is BLOOD PUNCH; which is basically GROUNDHOGS DAY meets BREAKING BAD as a trio of meth producers find themselves in a time loop where they must kill each other in bloody ways over and over and over again. This is a quirky little number that didn't make the main list, but definitely something outside of the norm and is surprisingly fun in a morbid sort of way. A href=http://www.aintitcool.com/node/72955#10 target=_blank>Check out my full review of the film here and you can find it on
iTunes here
!
---
Previously on the Countdown!

#31 – AN AMERICAN TERROR
#30 – WE ARE STILL HERE
#29 – FROM THE DARK
#28 – THE TOWN THAT DREADED SUNDOWN
#27 – DEAD SNOW 2: DEAD VS RED
#26 – THE GREEN INFERNO
#25 – THE EDITOR
#24 – THE TAKING OF DEBORAH LOGAN
#23 – WITCHING & BITCHING
#22 – EXTINCTION
#21 – WYRMWOOD: ROAD OF THE DEAD
#20 – BACKCOUNTRY
#19 – POD
#18 – MAGGIE
#17 – A PLAGUE SO PLEASANT
#16 – THE NIGHTMARE
#15 – A GIRL WALKS HOME ALONE AT NIGHT
#14 – STARRY EYES
#13 – CLOSER TO GOD
#12 – THE FINAL GIRLS
#11 – LOST SOUL: THE DOOMED JOURNEY OF RICHARD STANLEY'S THE ISLAND OF DR. MOREAU
See ya tomorrow, folks, as I count down the best of the best covered in AICN HORROR since October 1st, 2014!

Ambush Bug is Mark L. Miller, original @$$Hole/wordslinger/writer of wrongs/reviewer/interviewer/editor of AICN COMICS for over 13 years & AICN HORROR for 6. Follow Ambush Bug on the Twitters @Mark_L_Miller.



---
Find more AICN HORROR including an archive of previous columns on AICN HORROR's Facebook page!