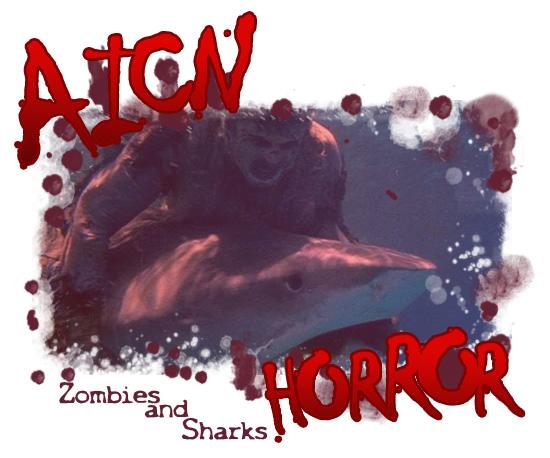 Logo by Kristian Horn
What the &#$% is ZOMBIES & SHARKS?
---
Greetings, all. Ambush Bug here. Happy Birthday to AICN HORROR which celebrates its sixth year on Ain't It Cool News in October! And what a fantastic year in horror it was! Always hoping to pass on new and exciting films for all of you ravenous readers, I have once again compiled a list counting down my favorite horror film released since last October 1, 2014 and covered in my weekly AICN HORROR: ZOMBIES & SHARKS column.

As far as how I compiled this list? Well, I simply looked over my AICN HORROR columns over the last year since October 1st, 2014 (which happens to be the birthday of this little column six years ago!) and worked and reworked a list throughout the year until I had 31. No real method to my special brand of madness; just my own personal favorites. The only rule qualifying the film for this countdown is that it had to be released to the masses (via theaters, digital download, On Demand, or DVD/BluRay) within the range of October 1, 2014 and October 1, 2015. Anything before or after that span of time doesn't count in this haunted dojo. I'll be counting down every day until Halloween to my favorite horror film of the year. I'll also provide a second film suggestion at the end of each post that is worth noting or just missed making the list for those who can't get enough horror.

So let's get to it! Chime in after the article and let me know what you think of the pick, it's placing on the list, how on the nose or mind-numbingly wrong I am, and most importantly, let me know your own personal faves from the last year in horror…let's go!
#11 LOST SOUL: THE DOOMED JOURNEY OF RICHARD STANLEY'S ISLAND OF DR. MOREAU
Why is LOST SOUL: THE DOOMED JOURNEY OF RICHARD STANLEY'S ISLAND OF DR. MOREAU? Not since HEARTS OF DARKNESS and LOST IN LA MANCHA has a film gone so in depth about the desperate struggle between art and the big studio system as LOST SOUL has. Richard Stanley seemed to have all of the ideas and potential, but none of the experience to pull off this expansive epic horror film as illustrated in depth by himself, cast, and crew. I was absolutely fascinated by this documentary which plays out like an absurd and surreal comedy of errors with the studio, an ego-mad Val Kilmer, and an insane Marlon Brando doing everything in their power to sabotage one man's dream. Here's hoping Stanley comes back hard and proves the studios wrong with something soon. In the meantime, the true horror is watching all odds go against Stanley and stopping him from achieving his vision of what seemed to be an epic Moreau tale. Here's my review
from July 20th, 2015
!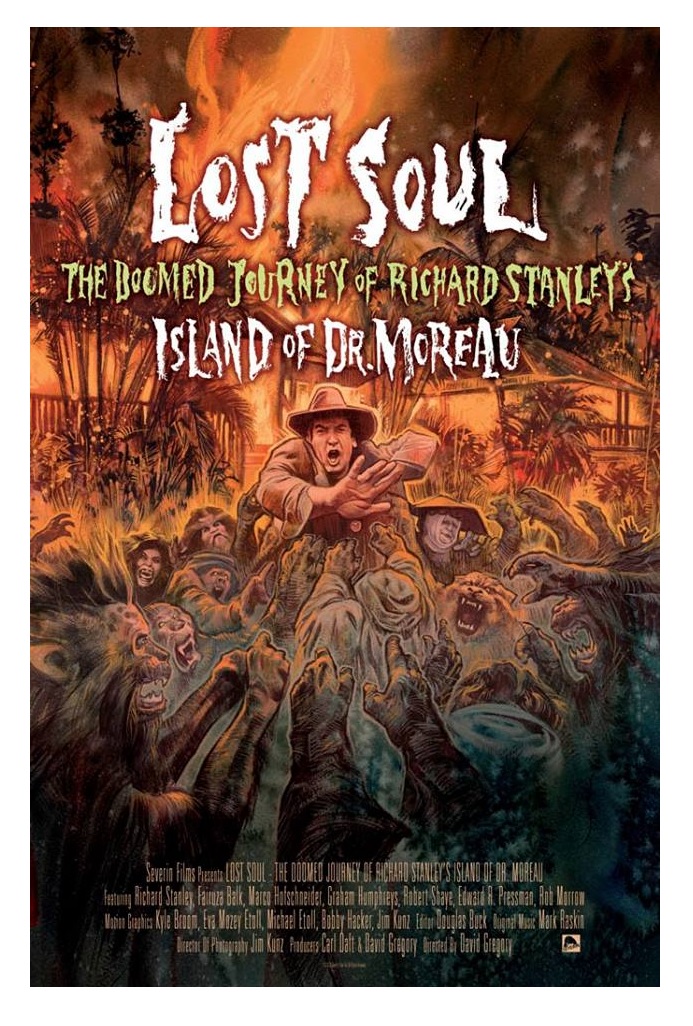 Available on iTunes here and Netflix here!
LOST SOUL: THE DOOMED JOURNEY OF RICHARD STANLEY'S ISLAND OF DR. MOREAU (2014)
Directed by David Gregory
Starring Richard Stanley, Fairuza Balk, Hugh Dickson, Oli Dickson, Peter Elliott, Bruce Fuller, Michael Gingold, David Grasso Jr., Marco Hofschneider, David Hudson, Graham Humphreys, Kier-La Janisse, Paul Katte, Fiona Mahl, Rob Morrow, Emile Nicolaou, Edward R. Pressman, James Sbardellati, Robert Shaye, Tim Sullivan
Find out more about this film here and on Facebook here
Reviewed by Ambush Bug
Having read the vague reports in FANGORIA as a kid and
talked with Richard Stanley a few years ago about the subject of this documentary
, I was chomping at the bit to dive into LOST SOUL: THE DOOMED JOURNEY OF RICHARD STANLEY'S THE ISLAND OF DR. MOREAU. While the true film Stanley envisioned will most likely never see the light of day (though one can hope), this documentary is the closest thing to seeing the film itself as it takes you step by step through the arduous and catastrophic voyage of this seemingly jinxed film from first inkling to final shot.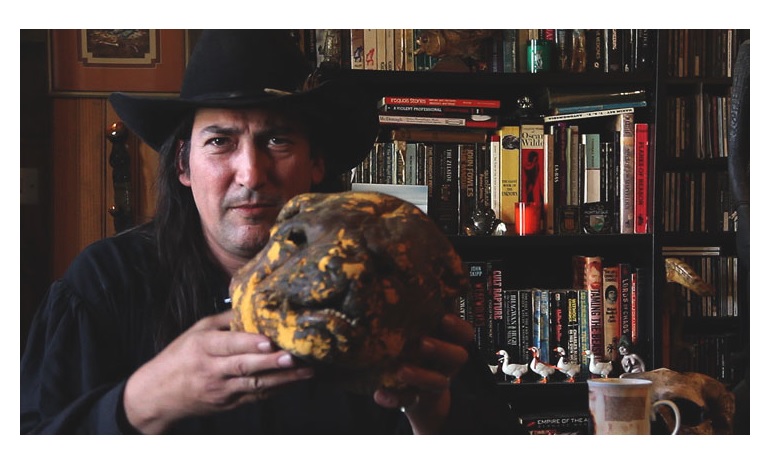 While key players like Val Kilmer, David Thewlis, Bruce Willis, Ron Perlman, and obviously Marlon Brando and John Frankenheimer (since they have both passed on) are absent from this documentary, the film does offer up an impressive set of interviews and recountings from actress Faruza Balk, producer Edward Pressman, New Line President Bob Shaye, and most importantly Richard Stanley himself. Stanley is a fascinating director to me, having shown such promise with HARDWARE and DUST DEVIL. There was something about the director that really felt distinct and special; kind of in the same way Clive Barker burst into the scene all of those years ago. His films were unpredictable, often times difficult to describe in a singular sentence, and imbued with a mysticism that took the viewer to new and dangerous places. The film does a great job of mapping out Stanley's fascination with H.G.Wells story as it shows the mountains of sketches, storyboards, and ideas cluttered around Stanley's office to this day. Stanley knows his material as he recounts his feelings of previous incarnations of THE ISLAND OF DR. MOREAU and its knockoffs like THE TWILIGHT PEOPLE. He talks about how he envisions how H.G. Wells would make a modern day Moreau tale as well. These opening scenes as Stanley still enthusiastically recounts his own ideas as well as praises toward the depth of Wells' ideas as well. In terms of understanding the jist of the material, Stanley had it all down pat.
But as the film plays out expertly, there were forces against Stanley mounting almost from the beginning. Interviews with Pressman and Shaye indicate that they never really felt Stanley could handle the film and while this would have been a great opportunity for Stanley to impress the hell out of them and make them eat their hats, hurricanes, unfortunate accidents, and seemingly Stanley's inability to direct on such a large scope worked again him which resulted in Stanley being replaced with John Frankenheimer. And while the film goes on the follow the film after Frankenheimer is attached to the film, this doc is firmly following Stanley as its thruway; depicting his depression and mental breakdown after losing the project and the now infamous measures he took to check in on the project even after he was banned from the set by donning a dogman costume and mingling among the extras. As if this loony story isn't weird enough, by the time they get to the scenes talking about Stanley in costume as a dogman (he himself pointing out the irony of how just as Moreau is a dethroned god in the film, he himself is delegated from overseer/director of the film to one of the dogmen extras), I couldn't believe how crazy this whole journey really was.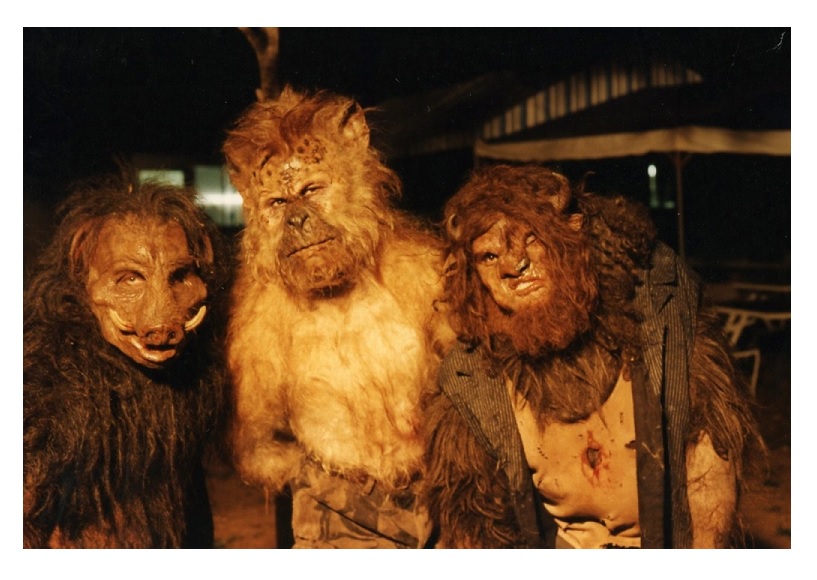 Interviews with PA's and extras help flesh out the behind the scenes stuff about Brando and Kilmer's rivalry and downright sabotage of the film. The film does a fantastic job of illustrating how bringing Stanley, Brando, Kilmer, and Frankenheimer all together is the perfect storm of cinematic catastrophe. The levels of lunacy in the making of this film are epic with one story out-crazying the previous by often hilarious proportions. And still, at the heart of it all, the director manages to anchor us all down with all of Stanley's imagination and flaws as both a person and a director. The youthful glee about the entire film may have been the one thing that destroyed his chances and at the heart of this film, it is an extremely sad film to see how Hollywood can chew up dreams as they did here.
Those of you who were paying attention to the stories swirling about the creation of Stanley's THE ISLAND OF DR. MOREAU will definitely want to check LOST SOUL out as will those who appreciate such films that were never made docs like MAN OF LA MANCHA and JODOROWSKY'S DUNE. But LOST SOUL is much more akin to the APOCALYPSE NOW doc HEARTS OF DARKNESS as it seems both films were destined never to be made. APOCALYPSE NOW overcame the odds. Stanley's THE ISLAND OF DR. MOREAU did not, which makes this tale all the more heartbreaking and effective. This is one of my favorite films of the year and no one who has ever reached for the stars and found themselves fighting for every inch should miss this tragic, entertaining, often hilarious, and downright soul-wrenching documentary.
---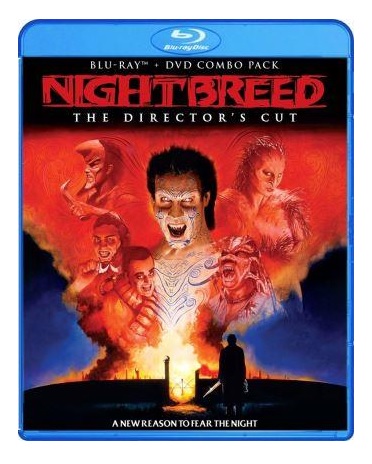 Worth noting: NIGHTBREED: THE CABAL CUT!
Clive Barker fought his own losing battle against the censors back when the original NIGHTBREED was released and it wasn't until this year that the director's cut or CABAL CUT of his monstrous epic NIGHTBREED was able to be seen by the masses. The film is still flawed and it's debatable whether or not the rerelease really adds anything besides a completely different ending, but still, the release of this oft rumored director's cut was something monumental this year and definitely worth noting.
Check out my full review of the film here
and it
was made available on at The Shout Factory here and Netflix here!
---
Previously on the Countdown!

#31 – AN AMERICAN TERROR
#30 – WE ARE STILL HERE
#29 – FROM THE DARK
#28 – THE TOWN THAT DREADED SUNDOWN
#27 – DEAD SNOW 2: DEAD VS RED
#26 – THE GREEN INFERNO
#25 – THE EDITOR
#24 – THE TAKING OF DEBORAH LOGAN
#23 – WITCHING & BITCHING
#22 – EXTINCTION
#21 – WYRMWOOD: ROAD OF THE DEAD
#20 – BACKCOUNTRY
#19 – POD
#18 – MAGGIE
#17 – A PLAGUE SO PLEASANT
#16 – THE NIGHTMARE
#15 – A GIRL WALKS HOME ALONE AT NIGHT
#14 – STARRY EYES
#13 – CLOSER TO GOD
#12 – THE FINAL GIRLS
See ya tomorrow, folks, as I count down the best of the best covered in AICN HORROR since October 1st, 2014!

Ambush Bug is Mark L. Miller, original @$$Hole/wordslinger/writer of wrongs/reviewer/interviewer/editor of AICN COMICS for over 13 years & AICN HORROR for 6. Follow Ambush Bug on the Twitters @Mark_L_Miller.



---
Find more AICN HORROR including an archive of previous columns on AICN HORROR's Facebook page!